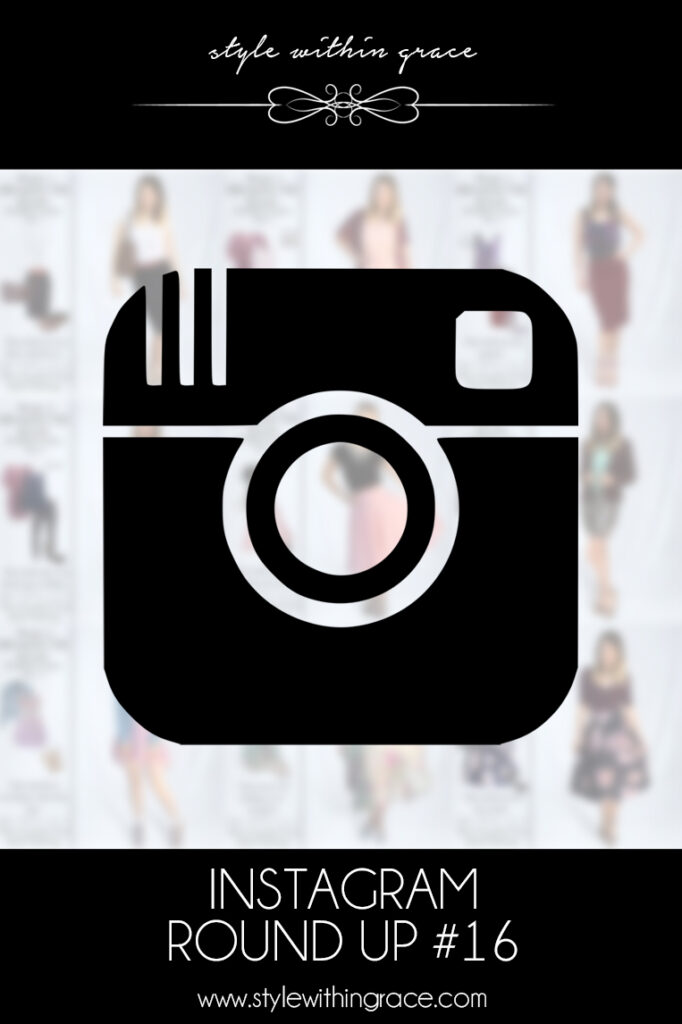 Are you feeling like a rebel queen after last month's #No[Rules]vember? What did you think of all the rules? Did you think any were ridiculous? Will you be throwing any of the rules you used to follow out the door? I hope so! There were a few I had a hard time breaking especially on the day because I quickly realised I didn't have the items needed for some. I plan to go back and wear the heels with sweatpants another day when I actually have some sweatpants to do that with. Haha some of you might be appalled that I don't actually own any sweatpants but I laze around the house in different items.
Week 1: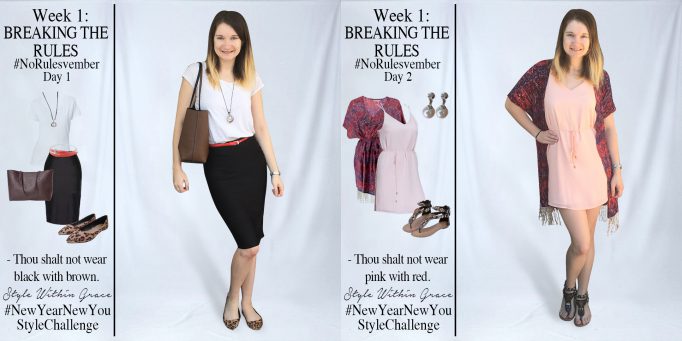 All the rules in this first week weren't too hard to break. I feel like I started us off with the easier ones. Most people these days are already wearing black and brown together but that seriously was one of my most hard and fast rules for quite a while there. Talking about black and brown together, this is the perfect handbag for that. It is a reversible tote with black on one side and brown on the other. It has gotten so many wears since I bought it.
You can find these reversible totes in quite a lot of places these days but I got this one from Big W. They have the reversible tote in other colour combinations as well. As do Kmart, where I bought my other reversible tote which is tan and cream. I am a big fan of Kmart but I think I prefer Big W's totes in this case because they are a little smaller and the straps are actually different colours on each side whereas the Kmart one just has tan straps. So when you have it on the cream side you still have tan straps.
The paisley kimono is back again for Day 2 of this week for my pink and red outfit. The pink dress was an item from my February Golden Tote last year. I wanted to keep the dress visible so instead of tying the kimono around my waist I tied the two straps together at the back. It keeps it back and out of the way, while also creating more shape at the waist. I don't think I'd ever worn pink and red together all that much before this month but now I love it and I am obsessed. I've come up with a few more outfits with this combination so you'll be seeing a lot more of it. I love challenges for getting you to try something new.
Week 2:

And there's the paisley kimono again! This time I scrunched the sleeves up to create more of a vest look. Navy and black is another colour combination that is quickly becoming a favorite. I imagine when this rule was put in place it was to do with suits. Because navy and black are so close in colour it was hard to determine which was which. Thus they accidentally got paired together without meaning to in the light of your closet. In the light of day the mistake was brought forward. I agree I still wouldn't pair black and navy pieces of a suit together but when done purposefully this two colours look very chic and modern.
Day 10's colour combo is a very new one for me. I never would have thought to pair this mint green almost fluro button up top with this tweed maroon blazer but I actually totally love it! Red and green are actually complimentary colours so they do actually work well when paired together. The colours weren't even suppose to be the challenge for this day though. The challenge was to wear sequins during the day. I've done this before though so no big for me. I've taken inspiration for Serena Van Der Woodsen from Gossip Girl some of my favourite outfit combos of hers have sequins dressed down. My black confess heels got quite the work out this week. Even though you can change out the straps on these shoes to be any colour you like I stuck with basic black.
Last week one of the rules to break was to wear socks with open toed shoes but I didn't have the right socks to pull off this look the way I wanted in my head so I went and bought a few pairs from eBay. That's the trick with wearing socks with open toes, the socks have to be totally cute! This day's prompt or rule to break was a fairly open one so I went with the "Tall girls shouldn't wear heels" rule. I paired my socks and heels combo with a cute floral dress, my denim jacket and decided to add a silver thin belt as well. Looking back though I feel a little bit 80s inspired.
Week 3: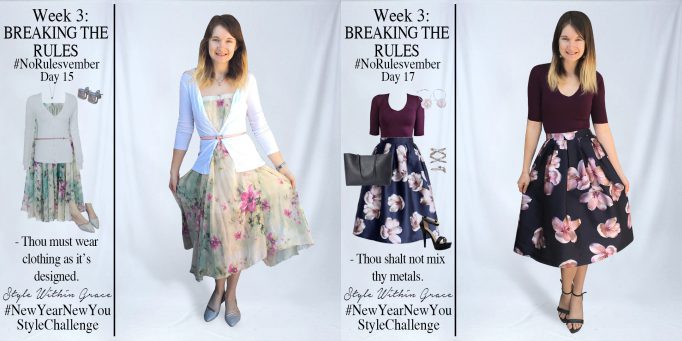 Day 15 was one of the rules I was most looking forward to breaking. Thou must wear clothing as it's designed. Not that this is a new concept for me, I do it all the time. I just love coming up with unique and interesting ways to wear things. This time I took my floral maxi skirt, pulled it up above my bust and wore it as a dress. I layered a white cardigan over the top and belted over the top of the cardigan to define my waist. Add some glitter flats and a simple chain necklace and I was ready to go. The glitter flats I've linked to are very similar to the ones I own but have a small heel.
It seems once I started wearing clothing in ways it wasn't necessarily design I could stop. For Day 17's outfit I wore my eggplant purple dress from my latest Golden Tote, underneath my floral midi skirt. I originally bought this skirt from Romwe but they have since sold out of this exact skirt. Shein have a very similar one, the same print but I think it might be a little bit shorter. Both these sites are having awesome sales at the moment so I'd recommend you take a look. To add in the rule breaking elements, I stacked some silver and rose gold rings.
Week 4: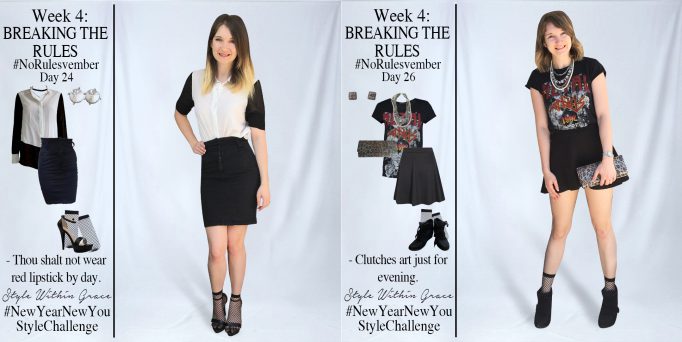 Along with the cute white lace socks I bought above, I also got me some black fishnet socks. I thought they would add an edgier look to some of my outfits and I think I was right. In the photo above you can see I wore them with heels for a business look and then with some wedged sneakers for a more rocker chic look. They were only $1 each but are such a great way to add some more interest to a look. My red lipstick day look was mostly thrifted but then right after I'd taken my outfit of the day photo a package from Shein arrived with my latest buys. I ended up wearing the floral kimono I had just bought, over the top of this outfit all day long as well.
You'll see it when I post my first ever YouTube video on my Channel. Hopefully it's not too far off. Why not subscribe to my Youtube Channel so you'll be the first to get notified when it goes up. I'm going to be doing the 'I Bought the First 5 Things Facebook Recommended' challenge. As for my Day 26 outfit, I did something a little unexpected when styling a clutch. I dressed it down with this band tee, black skater skirt and my wedge sneakers.
As you can see I got my hair got this weekend. It looks so good in the photo they took for their Facebook page but I swear it doesn't really look like that in real life. It doesn't look as caramel blonde as I wanted/expected. The cut looked great when I had my hair curled but my everyday straightened style looks kind of weird. Oh well it could be worst right, I mostly like it. The hairdresser says it will brighten as the toner washes out. We will see if it gets brighter.
Well that's my rebel rule-breaking month over. Next month is the last month of my New Year New You Style challenge and I've decided to end the year of style challenges with a style challenge for a good cause. I'm taking part in Dressember. Read all about it on the challenge page and I hope you'll support me by donating to my page and helping end slavery around the world.