And I'm back with another awesome gift guide for you for Christmas this year! If you missed my first gift guide it was specially for the cat lovers in your group of friends or family. Today's gift guide is for couples. I find that sometimes it's easier and less expensive to give a couple one gift then get something for each of them. Especially if you don't really know them individually all that well. But actually finding the perfect couple gift can be somewhat challenging, so I'm here to your rescue. Below are 16 gift ideas that I would use myself for the couple friends and family in my life. In fact some of them I have used myself before. Most of these don't have to be used just for couples either. Some stores have turned Cyber Monday into Cyber Week so get in there quick if you want some more discounts!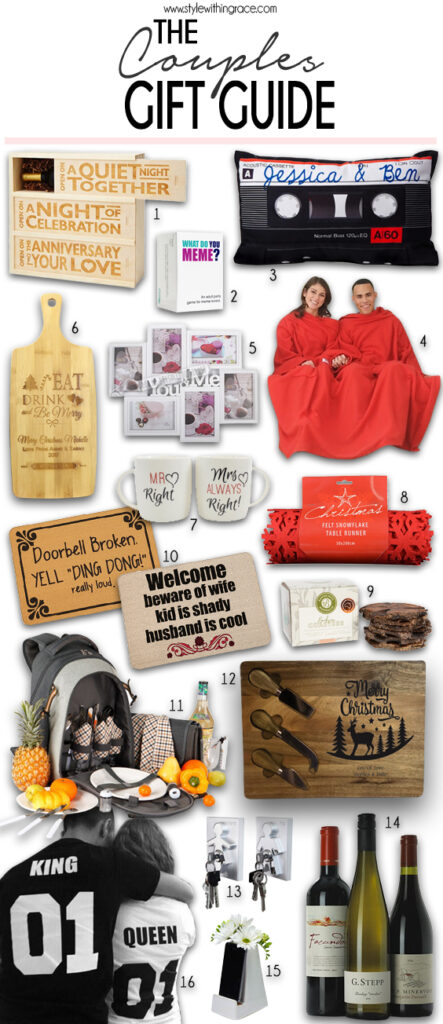 Links to Shop
1. Three Nights Wine Box
This gift is probably meant for anniversaries, engagements or weddings but I don't see why it can't work for Christmas as well. This particular wine box is a little pricey especially considering you don't get the wine included but you could totally make your own version of this for much cheaper.
2. What do you Meme?
This is an adults only humorous card game where you compete with your friends and family to create the funniest meme by pairing the caption cards with the photo cards. It's similar to Cards Against Humanity. The game is meant for groups of friends and family. As few as 3 and as many as 20. Board Games in general are a great couple gift. It's a cheap date night in for your friends that they can use again and again. Depending on their personality they might prefer Scrabble, Yahtzee, Pandemic or even Exploding Kittens. Look for board games that can be played with just 2 people so they don't have to wait for a double date to get their game on.
3. Personlised Mix Tape Throw Pillow
Back in the big-haired heydey of cassettes, there was nothing quite like finding a mix-tape in your locker, rushing home to your Walkman, and listening to a musically-coded love letter. Curl up with a bit of nostalgia (and maybe dust off your classic road trip mix from your freshman year) and enjoy this retro indoor/outdoor, double-sided pillow, personalized with their names.
4. Couples Snuggie Blanket
Surely you've heard of the snuggie, well meet the couples snuggies the blanket with 3 arm holes so your couple friends can snuggle with their other half while vegging out on the couch.
5. Photo Frames
You can either leave them empty or print out some photos you have of your couple friends and fill the photo frame for them. A beautiful gift where you can't go wrong!
6. Personlised Chopping Board
A chopping board is one of those things that I feel like you can never have too many of. They can also be really boring and yet are often kept out in the open. Remind your couple friends how much you love them every time they prepare dinner with a beautiful wooden chopping board with a message from you engraved into the front. Most places that make these are pretty flexible with what you engrave so you can have any number of messages for any number of occasions. There are heaps of different types to choose from too. This one has more of a simplistic message, this one is great for a couple with a family and this one plays with words to create beautiful patterns.
7. Mr Right and Mrs Always Right Mugs
Chances are your couple friends will drink coffee or tea. Ingest a little humour into their mornings with these cute his and hers mugs.
8. Christmas Table Runner
You don't have to get Christmas themed ones but I thought these were cute. Any other place settings work well as a couple gift as well.
9. Drink Coasters
These set of 6 drink coasters are hand crafted from the unique Australian Banksia and have a beautiful rustic chic look. There are so many different choices out there though when it comes to coasters. I also like these set of 4 tree of life coasters and these ecology fraser coasters.
10. Door Mats
Choose whichever phrase you feel fits with your couple friends best. I feel most people's door mats could use a replacement, if they have one at all. It doesn't take long for them to start looking a little worse for wear. Help them make their house feel like a home with a fun message.
11. Picnic Backpack
Do your couple friends love the outdoors? Then this might be the perfect gift for them. It's so much easier to go for a picnic when you have everything you need ready in one bag. I bought a similar backpack for my parents a while back and it's gotten great use. They've used it when we've gone to the beach together or whenever we go on outings. We can go find a park to sit in and enjoy a picnic rather than spend the money elsewhere. There are so many out there to choose from, both two person ones and four person ones. They generally include a picnic rug and the backpack is lined with stuff to keep the food cold.
12. Personlised Cheese Board and Knives Set
This gift is a similar idea to the wooden chopping boards. I gave a personlised cheese board to my hubby as part of our 5 year anniversary gift. He's a big cheese lover. We were constantly eating cheese and crackers with no proper board or knives. If your couple friends love cheese (and who doesn't) then this is a great gift idea. You could also add in some specialty cheese and crackers and make a hamper of it.
13. His and Hers Key Holders
If anyone elses husbands are like mine then they will lose the keys often. It greatly helps to have a designated spot to put them but my husband still manages to lose his sometimes. Help your couple friends out by giving them a cute place to put their keys while also making the house more homey.
14. Wine
Wine is always a good choice for couples and you can buy different brands depending on your price range. I'm linking to Naked Wine Angels above. I used to be a member. It's a very affordable way to get wine shipped straight to your door. It's all Australian made too so you are supporting Australians and the wine is delicious.
15. Bedside Smartphone Vase
Everyone these days has a smartphone and most people keep them beside their beds. I find the charging docks and cables to be a little ugly sometimes but these smartphone vases are the cure for that. Totally cute and practical too.
16. King and Queen Matching T-shirts
How cute are these matching t-shirts? But not so matchy matchy it's barf worthy, at least in my opinion.
Do you have any tried and tested couple gifts that you like to give?
I hope these ideas have been helpful and you've found something or at least gotten some ideas of what you'll buy the couple friends in your life. If all else fails I find baked goods are also a winner. Then you also have the gift cards. I find they can be a little impersonal but hey I've used them a ton before so it's whatever works. Good luck with your Christmas list!