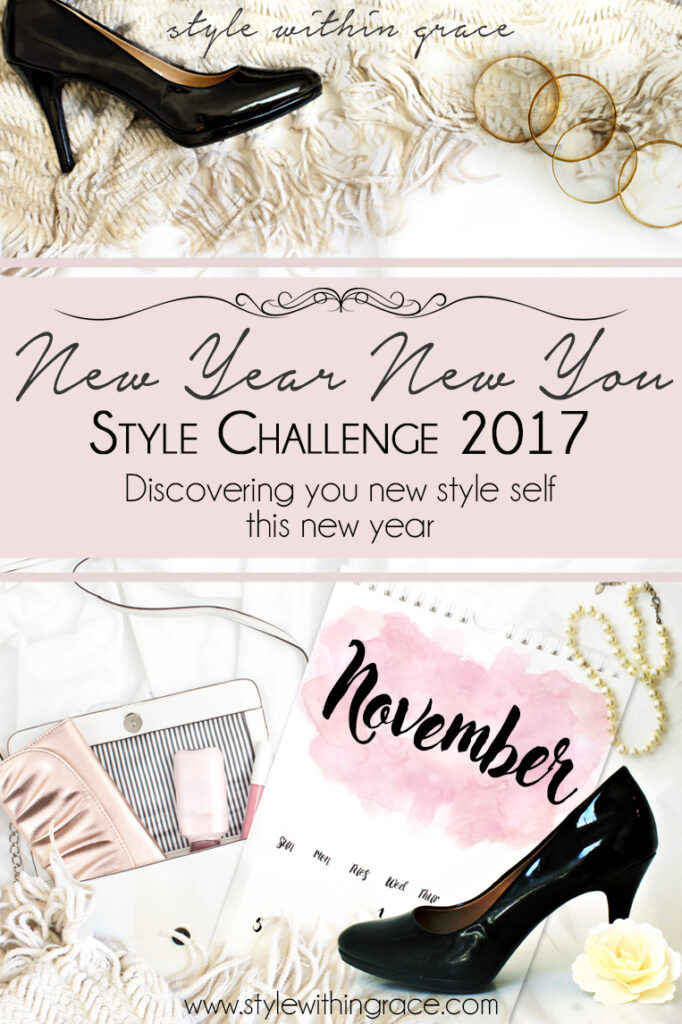 New Year New You Style Challenge
So did you last the whole #ShoppingBanOctober month? If you slipped up that's ok but I hope this challenge helped you to shop your wardrobe more often rather than just shopping in general. I hope it helped you to realise that owning ALL the clothes really isn't necessary! Now that the shopping ban is over don't just go on a massive shopping spree and spend all the money you saved! Speaking of the money that I saved, I think I saved at least $230. Not bad I think! I'm going to put it towards my personal stylist course which I hope to complete in February next year.  While I didn't have daily prompts this month I continued to post my outfits up on Instagram for you to see. If you missed them then head over to this month's Instagram Round Up.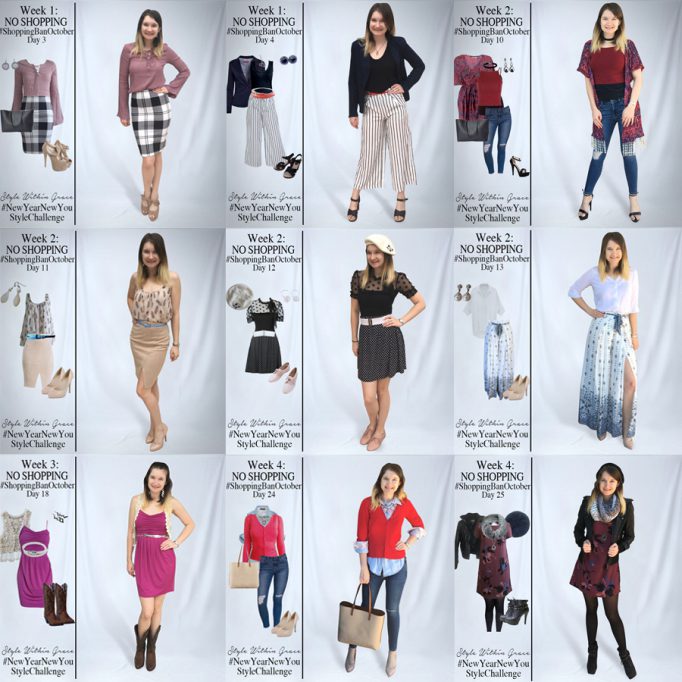 No[Rules]vember
Now that you've had the year to figure out your style, what works and doesn't work for you, I want to blow your mind just a little bit more. This month is all about breaking all the so called fashion rules. I'm sure you'll be able to think of a few that you have been told. They can be limiting and not entirely correct so each day I'll give you a fashion rule to break. After breaking the rule you might decide that you agree with the rule and not break it again but your mind might just be opened to even more fashion possibilities.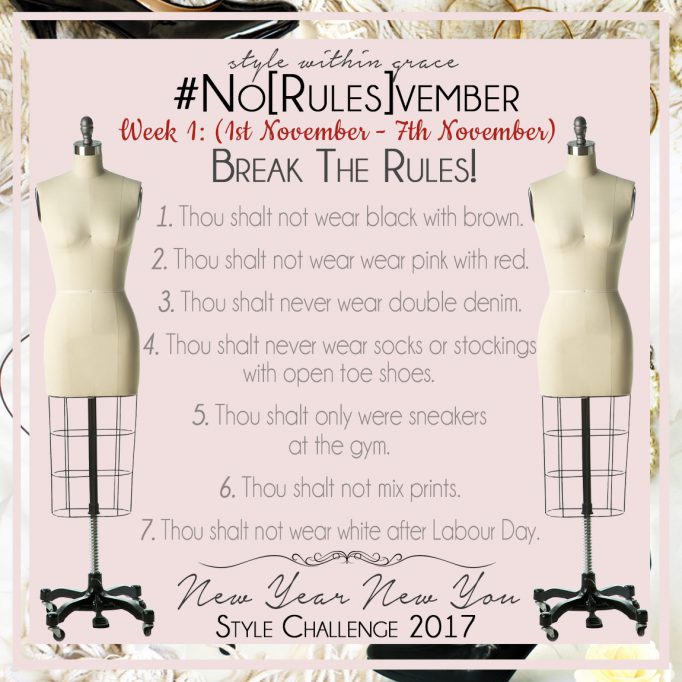 The Rules to Break:
Thou shalt not wear black with brown.

Is there any logic to not putting these super-neutrals together? They each, individually, match with EVERYTHING, so why the hell can't they match with each other? If you need a starting point here leopard print already mixes both of these colours expertly.

Thou shalt not wear wear pink with red.

I think the reasoning behind this rule is that these colours supposedly clash when worn together but there are many different tints and shades of both red and pink that it's definitely possible to wear these colours together both classily and stylishly. It's all a matter of personal preference as well. I obviously think these two colours go well together. I use them together for my Instagram prompts graphics.

Thou shalt never wear double denim.

While wearing denim on denim can take you into a flashback of the 80s, it can also be worn with a modern twist. The trick to wearing double denim is to wear contrasting shades. If you have a light-washed chambray shirt then wear it with a dark wash pair of jeans. This creates more interest than if you wore all the same shade.

Thou shalt never wear socks or stockings with open toe shoes.

I'm not suggesting you go and wear socks with thongs here but by generalizing a rule like this you can miss out on combinations that actually do work. Some tips: stay away from really summery type shoes, don't wear tights with a noticeable seam or if you do make sure to hide it under you toes, heels tend to work better than flats and worn out shoes are especially noticeable when wearing tights. That said, this month is all about breaking rules so don't feel like you have to follow my tips.

Thou shalt only were sneakers at the gym.

I feel like most people have gotten past this rule these days what with the white sneaker trend so in right now and athleisure taking the world by storm. Sneakers can be worn in many different ways but it does depend on the type of sneaker you have.

Thou shalt not mix prints.

You guys should be good at this after September so try to really challenge yourself by mixing prints that are out of the ordinary or even going into 3 levels of print mixing.

Thou shalt not wear white after Labour Day.

This rule is more of an American rule because what it's really saying is that you should only wear white in summer. In Australia Labour day has passed but we are just going into summer so we aren't really breaking the rule by wearing white in November but keep it in mind when winter rolls around again.

Thou shalt only wear brand name clothing.

You definitely do not have to wear really expensive brand name clothing to be stylish and look put together. Wear a unknown or unbranded item today.

Thou shalt not wear too many accessories.

This is basically the less is more adage. Have you ever been told that before you leave the house, you should look in the mirror and take off one thing. Well don't listen to them today. Stack your jewels! Layer you necklaces, stack you rings or create an arm party.

Thou shalt only wear metallics at night.

Sequins and pops of gold or silver make everyday looks a lot more interesting, helping you steal the spotlight and stand out in a crowd. Don't be limited to wearing shiny things only at night!

Suits shalt stay at the office.

When you think of suits chances are you think work apparel but suits can be dressed down and worn casually as well. Suits can be worn in place of super feminine dresses. Keep things casual with a graphic tee or skip a shirt altogether, showing off a lacy or strappy bra.

Thou must always hide your bra.

Bras can show through your outfit in more ways than one. Wearing a white shirt you might feel like you have to wear a nude bra. Break the rules and where a bright pink bra instead! If your shirt's a little baggy or see-through, just add a lacey, strappy or colour bra and let it peek out from underneath your outfit. If this scares you find a more modest fitting bra that looks more like a crop top. BraLab is a great example of including your bra as part of your outfit. These bras are meant to be shown with different coloured straps which you can wear multiple ways.

Thou shall dress according to thy body type.

I'm sure you are all familiar with all those says out there… curvy/petite/tall women can't wear certain styles. Whatever body type you identify with wear something that you have typically heard should not be worn by your body type.

Thou shall always match thy shoes, bag, and belt.

A playful mix of accessories can elevate your look while wearing all the same colours can look too matchy-matchy and boring. Whatever your styling preference you don't have to match these items.

Thou must wear clothing as it's designed.

Don't know what I mean by this? Things like skirts should around your waist. Wear an item of clothing untraditionally. Make a dress a top or a skirt, pull up a skirt into a dress and belt it, wear a necklace as a headband, a scarf as a skirt. Anything you can think of do it.

Thou shalt not wear navy with black.

Navy and black have gotten a bad rap in the past because they can be easily mistaken for one another but I think this is a very modern and chic colour combination.

Thou shalt not mix thy metals.

Most people tend to have a favourite when it comes to gold and silver (and even rose gold). I know I decided very early on that I was a silver gal and then decided only bought silver jewellery to the point of excluding jewellery I actually really liked if it had the slightest hint of gold hues. I fully believed and obeyed this rule but I'm starting to see the light. Mixing metals can actually add a lot of interest to an outfit. My tip would be though to still chose a main metal and let your other metals be features.

Thou shall only wear clothing of thy gender.

Haha so I'm not telling you to go full out and dress like the opposite gender necessarily but the menswear section can have some really interesting pieces. Get menswear inspired and create a more masculine feeling look. Similarly if you happen to be a male why not wear some pink? Call it salmon if it makes you feel better.

Overalls shalt only be worn by children.

Overalls or dungarees if you happen to know them of that name were actually created for children way back when but don't feel like you can't wear them because you are of a certain age. They come in many different designs nowadays, I'm sure you can find a pair that works for you.

Thou must always highlight your waist.

While I'm all about highlighting the waist it shouldn't become a rule. Try not belting it for a change.

Thou shalt not wear horizontal stripes.

This rule is similar to the dress for your body type but hey I needed 30 fashion rules to break. It's a myth that horizontal stripes make you look wider! Often times it's the width of the stripes and not the direction that creates this affect.

Thou shall wear clothes that fit.

You don't have to stick to your size. Oversized piece when styled the right way can look très chic!

As thy age rises, thy hemlines shall fall.

Once a woman hits a certain age showing leg could be considered "mutton dressed as lamb." Well I'm here to say that the length of your skirt should be based on your comfort level, not that of the people around you.

Thou shall not wear red lipstick by day.

Daytime make-up looks typically include a subtle nude lip and dramatic make-up is saved for the evening. I say you CAN wear red lipstick or even black eyeliner during the day.

Thou shalt not wear heels if thou art tall and thou shalt not wear maxi dresses/skirts if thou art short.

Depending which statement you identify with dress accordingly today.

Clutches art just for evening.

Wear a clutch during the day! The only issue is can you fit everything you need in it?

Thou shalt not wear one colour from head to toe.

Creating a monotone looks can be very stylish. I personally like to make sure that there is still contrast between each piece, mixing pastel hues with brights and jewel tones.

Thou shalt not wear sweatpants with heels.

Sweatpants and heels definitely does sound like an unlikely combo. The trick is the find more tailored sweatpants and more urban sporty heels.

Thou shalt not be over-dressed.

Everyone is always so worried about being over dressed but mostly no one else really cares but you. If you want to wear heels for a casual weekend day then go for it! If you want to wear sequins for running chores then why not?

Thou shall only wear one bold color at a time.

Too much and too many bold colours worn an once can seem a bit overwhelming but it can be done both stylishly and tastefully. Perhaps try the wearing the bold colours at different ends of your body with more neutral pieces in between them. For example wear bright earrings and a bright belt, or bold heels and a bold handbag.
*I used Stylecaster to source a lot of my rules.
Have I forgotten any rules?

Let me know in the
comments below.
I'm really excited about this month. I think this will be one of those most fun and eye-opening of all the challenges I've done thus far. Which rules do you agree with and follow? I think I'll probably struggle with sweatpants and heels and the more than one bold colour at once. Funny that I seemed to leave them for last.

Don't forget if you post on social media to use the hashtag #No[Rules]vember. I can't wait to see what you all come up with.