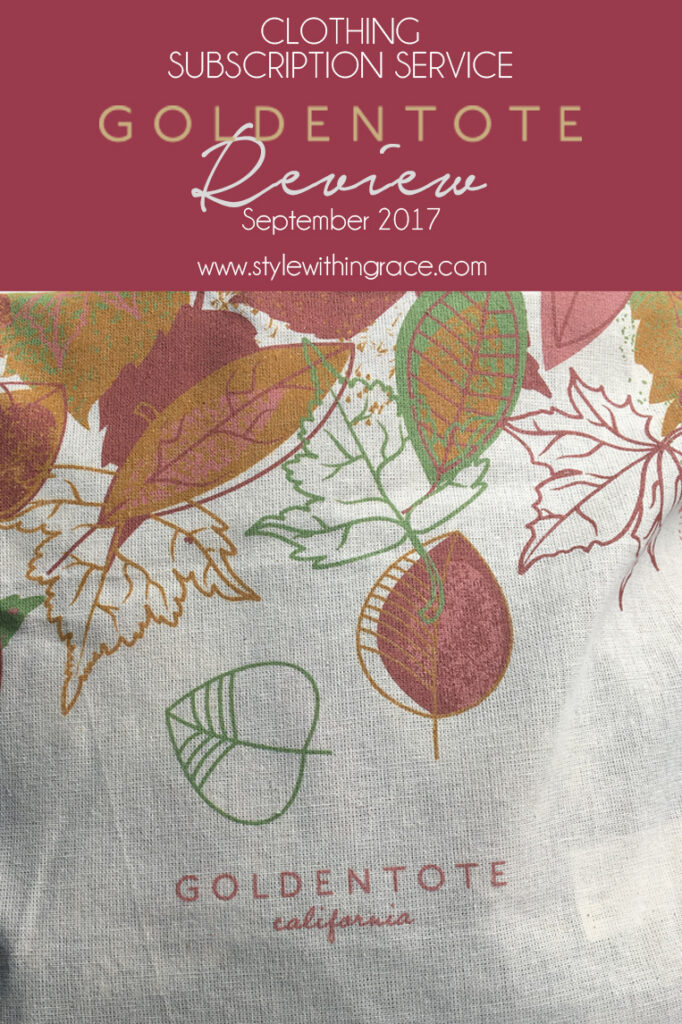 This is the second time I have bought from the clothing subscription service Golden Tote. Read my first tote review from February last year here. It goes into more detail about what exactly Golden Tote is and how it works. For those of you who are too lazy to make one little click basically there are 3 different size totes which you can buy. I bought the large size which is $149USD and allows you to chose two items from the chosens section and then a stylist selects 3 other items for you based on your style profile which you have to fill out.
You can also get a mini tote in which you select one chosen item and the stylist chooses the other item for you which is $59USD or a surprise tote which is $89USD which like the name suggest are 5 items which are all surprises. It is also possible to just shop the boutique and add on any pieces you also like to you tote orders. It has been over a year since my last tote because while my last experience was a positive one, it was a rather expensive endeavour and the chosen pieces haven't really spoken to me.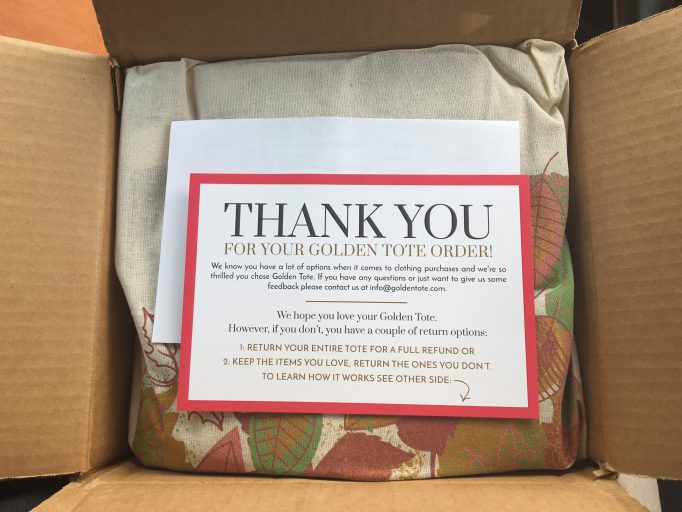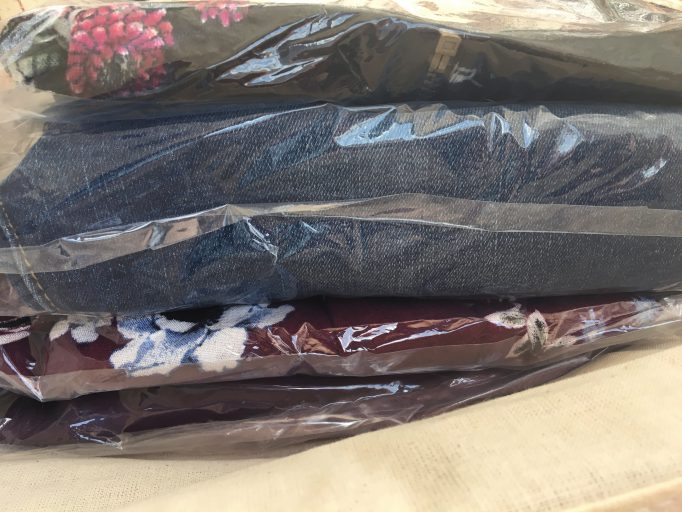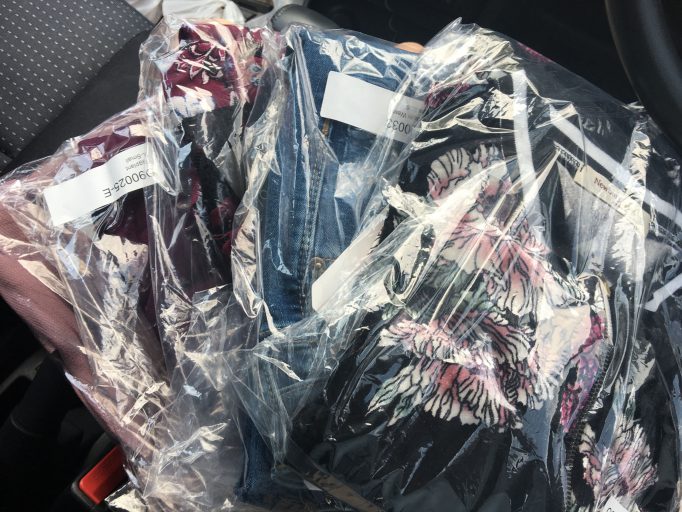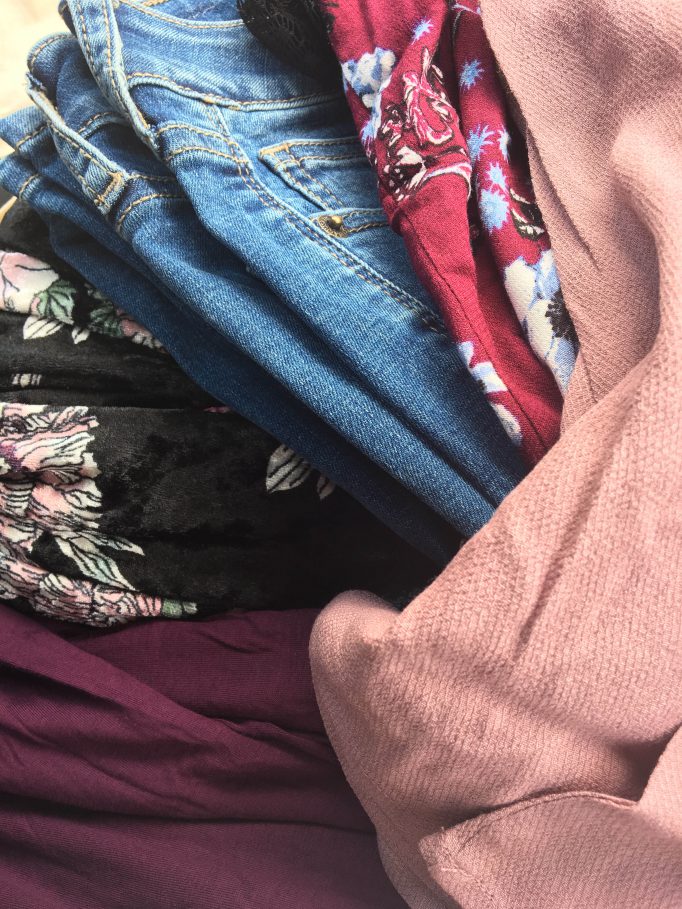 A note to make: I think international shipping has gone down from $30USD to $25USD which is awesome. Although it is still quite expensive. They don't seem to be including the styling cards for your chosen items any more though which I really liked but oh well. You've had all the teasers now onto what I actually got in my tote.
My Tote: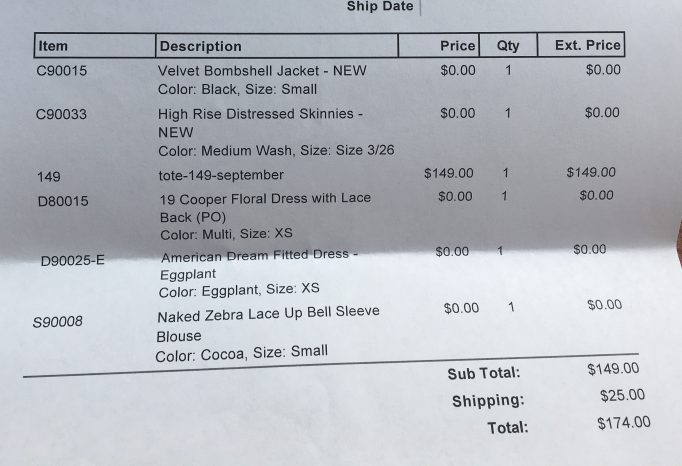 Chosen Item #1: Velvet Bombshell Jacket (Black) Size Small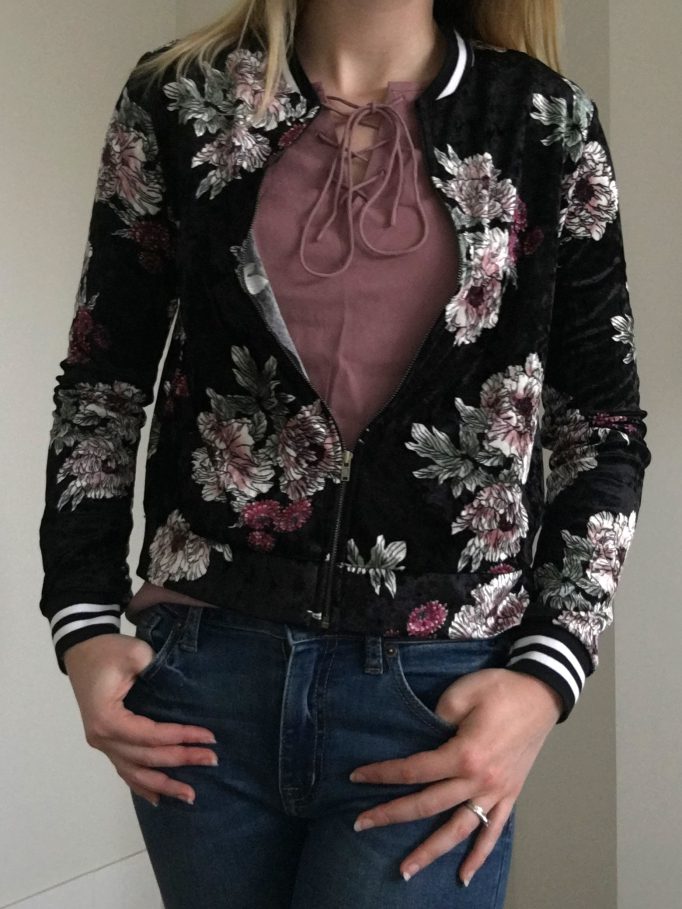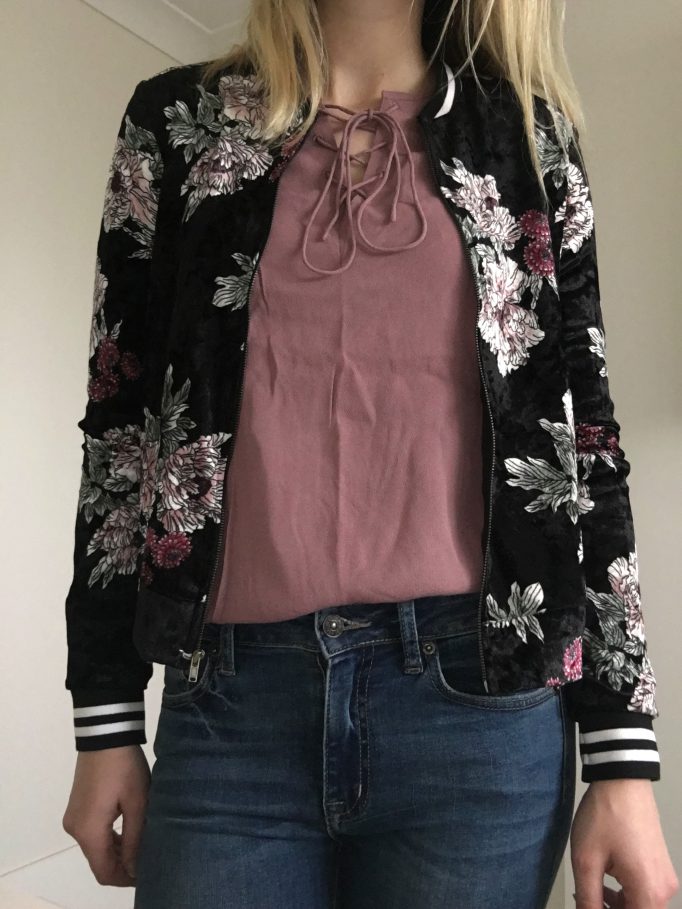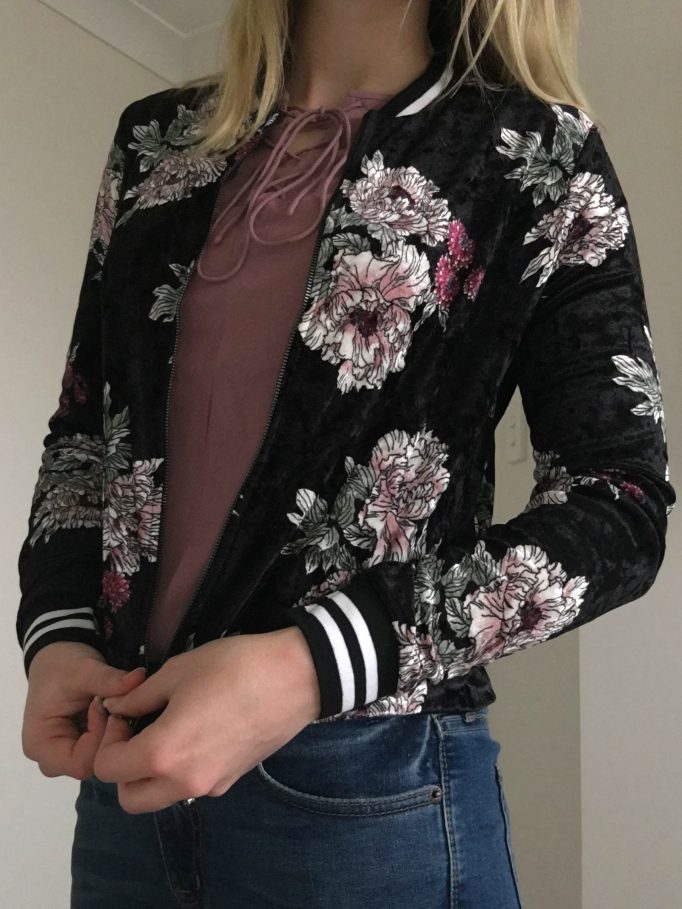 This piece was the whole reason I bought a tote in the first place. I saw this in the tumblr spoilers and I knew I had to have it! It's the perfect mix of trendy, feminine yet casual and cool. I already have so many ways to style this all planned out in my stylebook app.
It doesn't disappoint in person either. It's exactly like I thought it would be except maybe that the fabric is a little thinner than I imagined which is not a problem at all. That probably means I'll get more use out of it instead of only being able to wear it in winter. It still is too warm for the current weather though sadly and I'll have to wait until it gets cold again to style it for you guys. It goes very well with the other items in my tote though as you can see.
I was originally going to order the extra small as I tend to be that size for most of the items from Golden Tote. I put it into my tote but then I realised I hadn't updated my style profile and I went back out and uploaded a new montage image of what I was hoping to get this time around. By the time I went back to ordering my tote the extra small had sold out so I got a small instead and I'm glad I did. This fits perfectly. I think a size smaller would have been too snug.
Chosen Item #2: High Rise Distressed Skinnies (Medium Wash) Size 3/26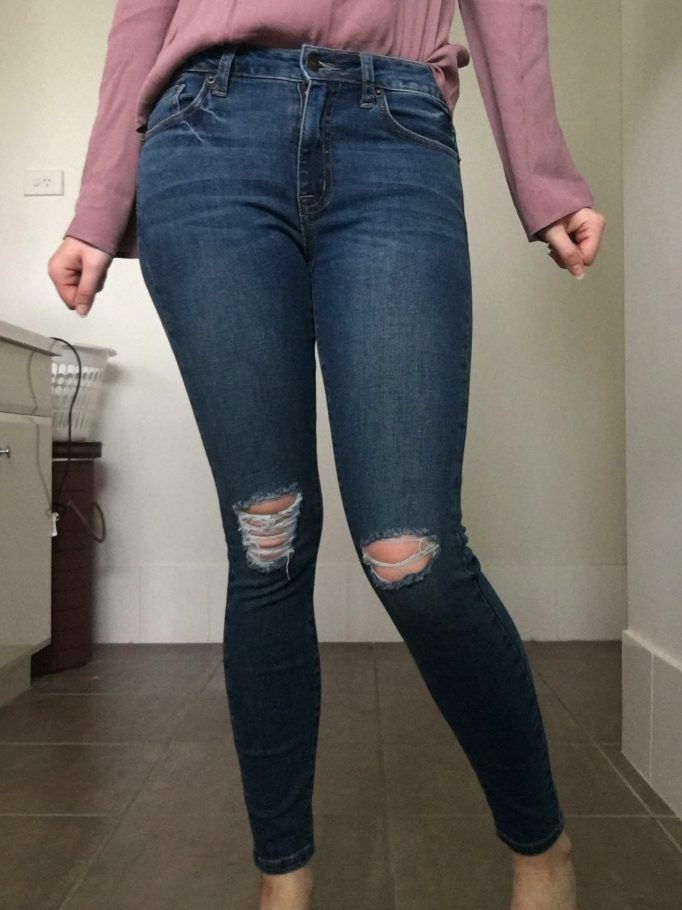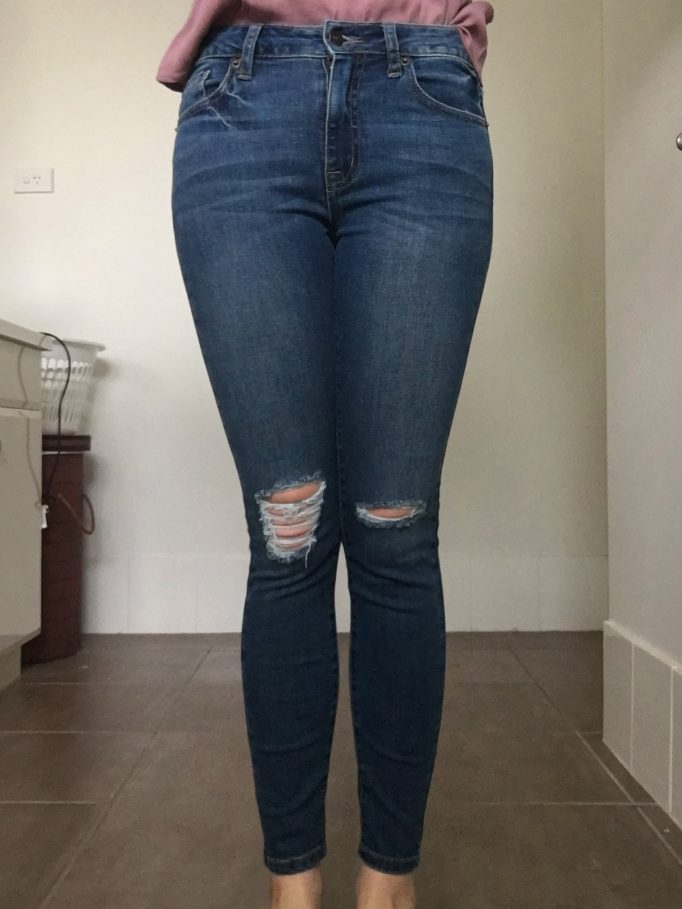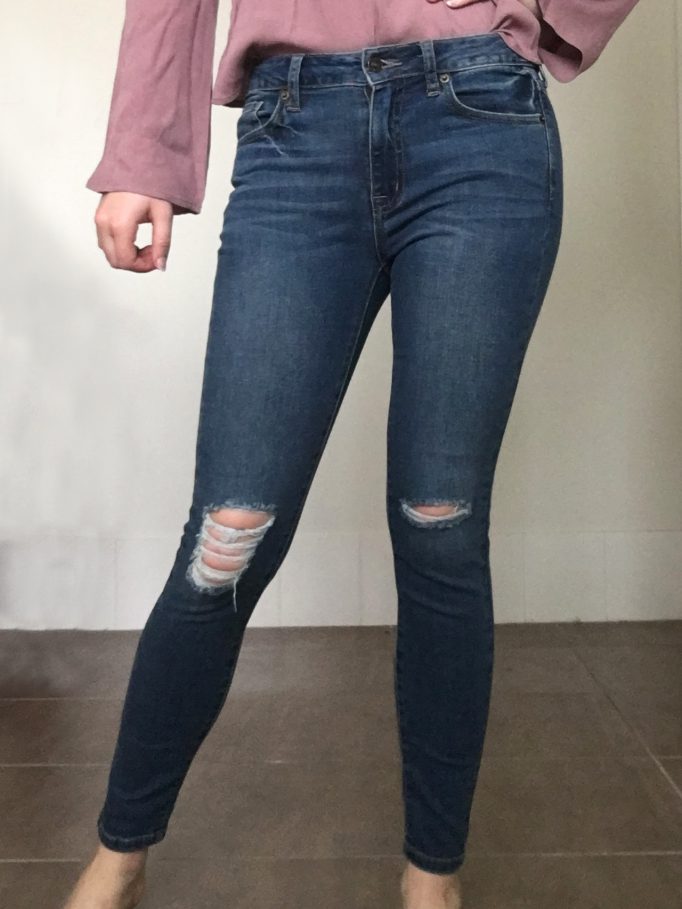 Since I knew I had to get a tote with the velvet bombshell jacket, I then needed another chosen item to include. There were a few things that I liked but had sold out in my size so I ended up going with these distressed jeans. It had been on my mind for a while that my current jeans were starting to look on the daggy side and also I wanted a darker wash denim as they look more dressy. These were just what I was looking for so I went ahead and added them to my tote. I had never bought jeans from Golden Tote before so I was a bit nervous about getting the right size as they are sized differently to everything else and differently from in Australia. I'm so happy that they one I choose ended up being perfect!
They are definitely my new favourite jeans! My old ones might just get retired now. I really like the distressing too. I still think they look quite dressy but can also be dressed down. The high-waistedness is really flattering and the length is great on me at my 5″7 height. All in all another really great choice on my behalf if I do say so myself.
Surprise Item #1: 19 Cooper Floral Dress with Lace Back (Multi) Size Extra Small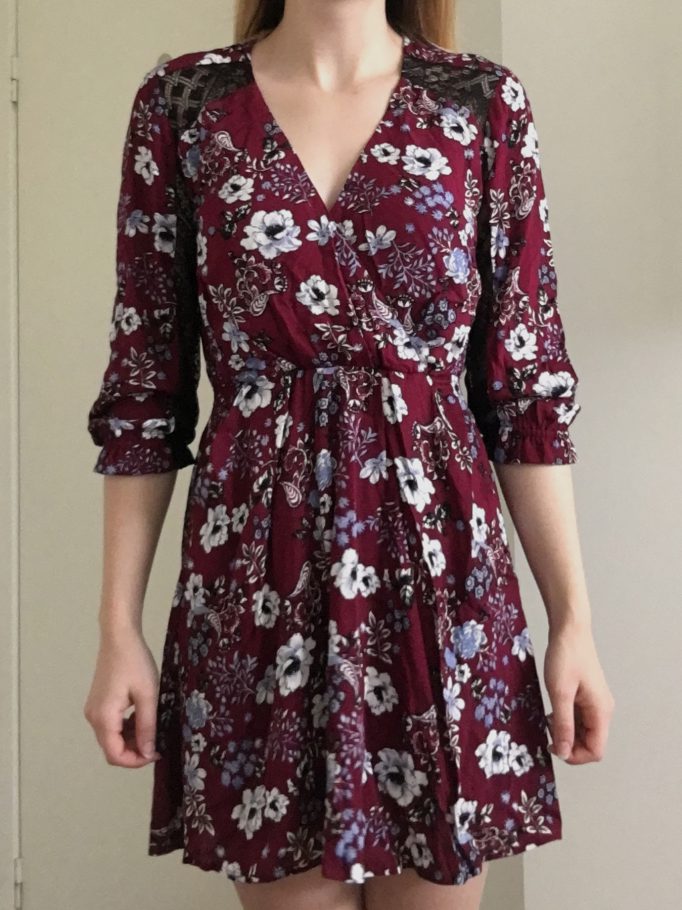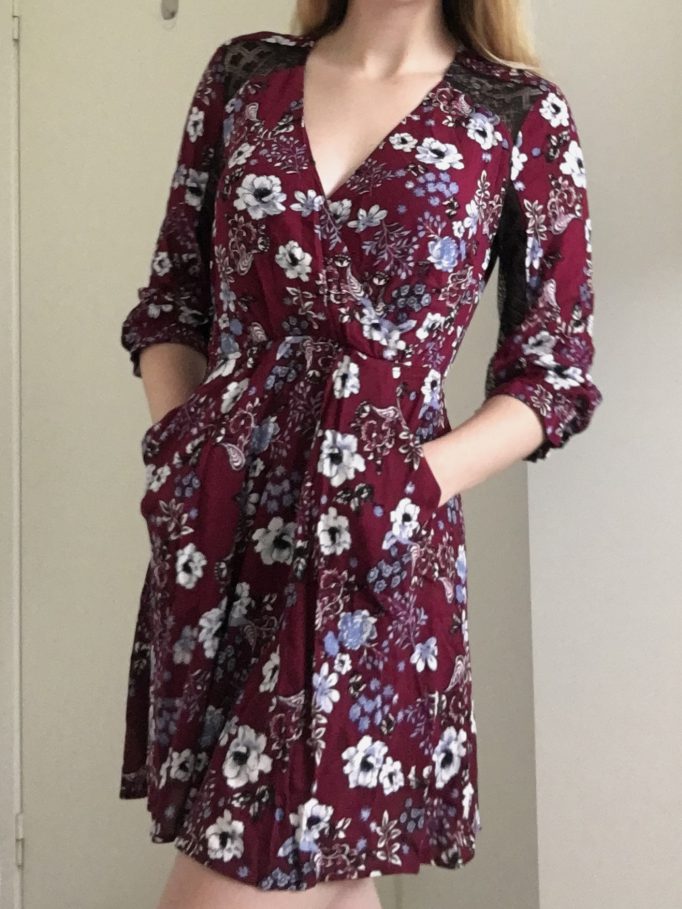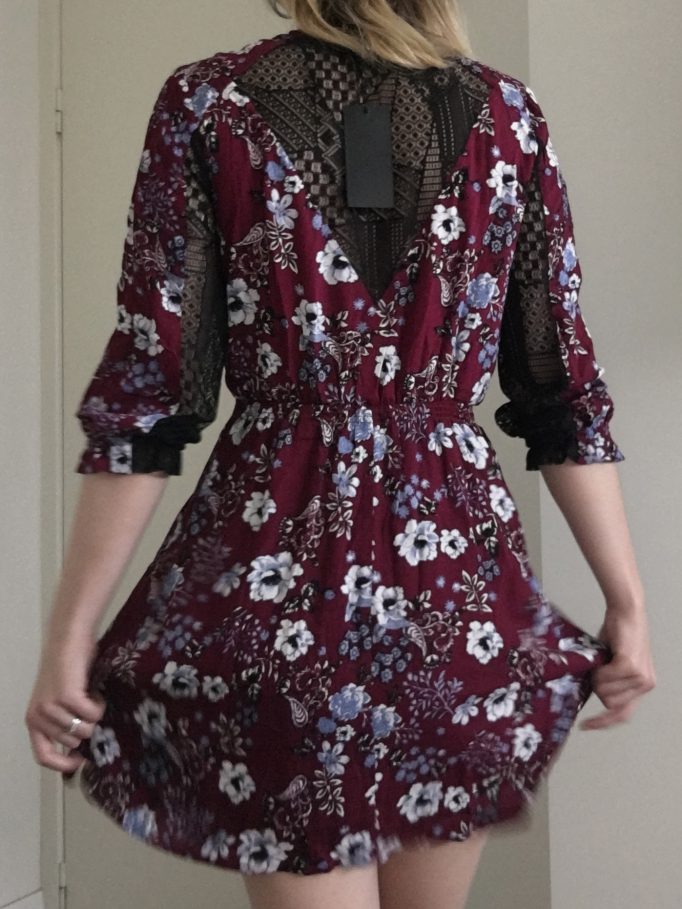 My first surprise of the bunch was this absolutely adorable floral dress. You should all know by now just how much I love floral and then to pair that with lace as well and a really cute back, you can't go wrong in my book. I also love the colours. This dark purpley colour is one of my favourites. I'm glad it also has the light blue in it as well because it opens up more styling possibilities rather than just being monochrome. And did you notice… It has pockets! I couldn't resist adding this meme. It's so true though. The similarity between the cartoon and my photo with my hands in my pockets is uncanny.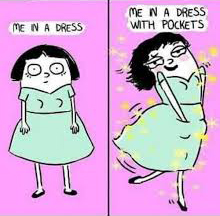 The lace back is just high enough that you can wear a bra with it without being seen. It's also long enough that I don't have to worry about my butt falling out. I know I have a way with words lol. When I saw that it had a crossover front I was a little worried how it would sit on me. I tend to fit them quite gapey unless I stand in exactly the right way but this one has a little clip to make sure no one's going to get more of a view than you intend. I love that the lace is also underneath the arms which allows for some breeze and prevents any underarm sweating.  I'm totally stoked with this surprise! I've already worn it to work.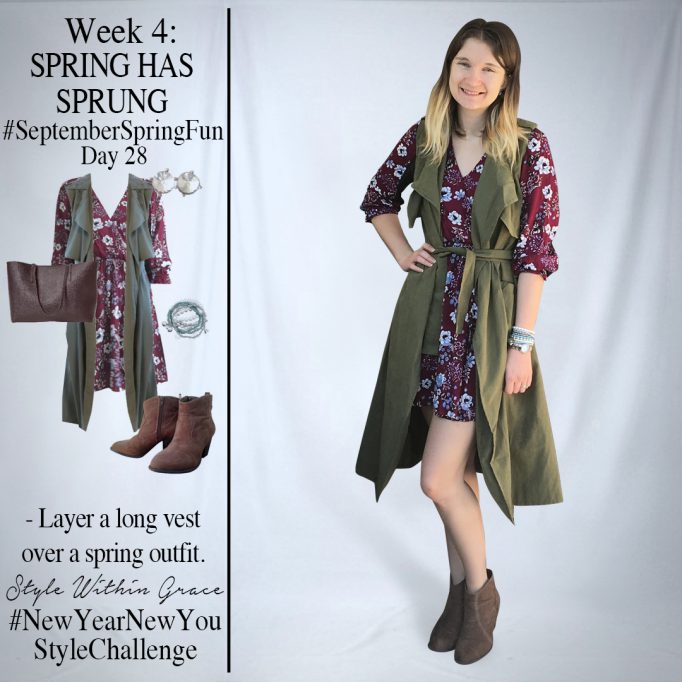 Surprise Item #2: American Dream Fitted Dress (Eggplant) Size Extra Small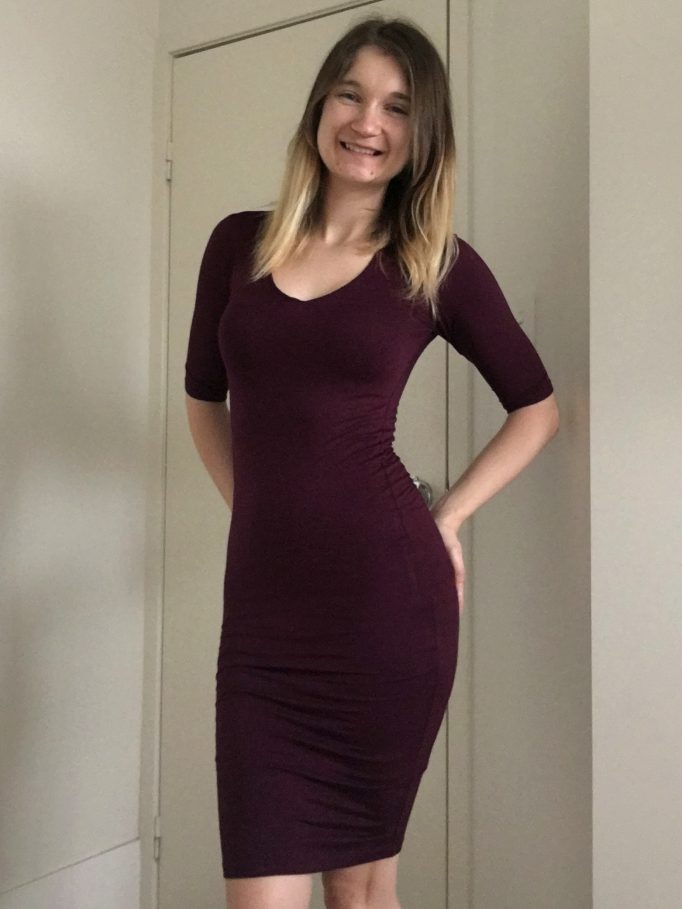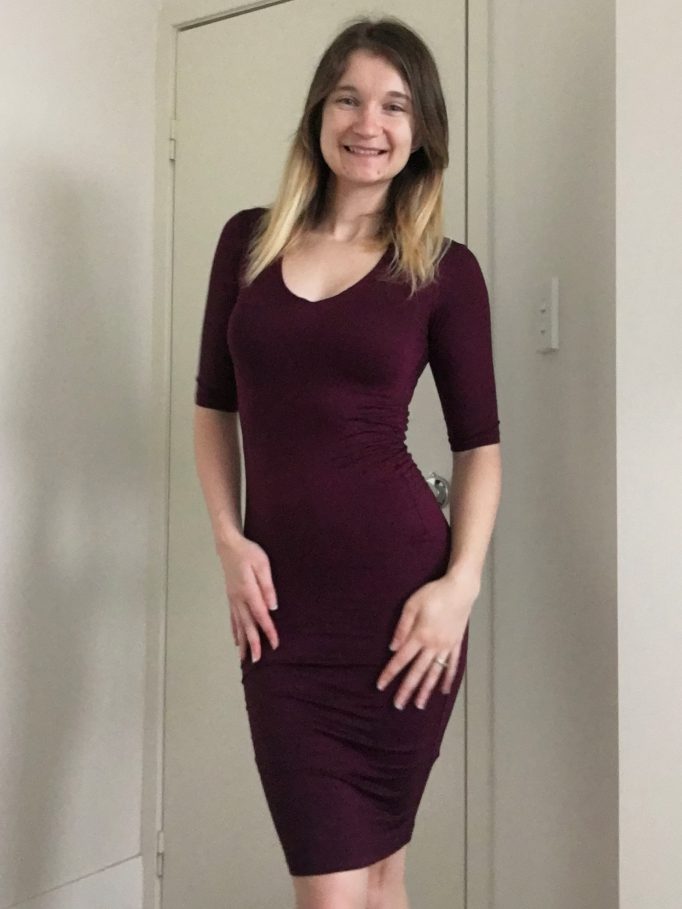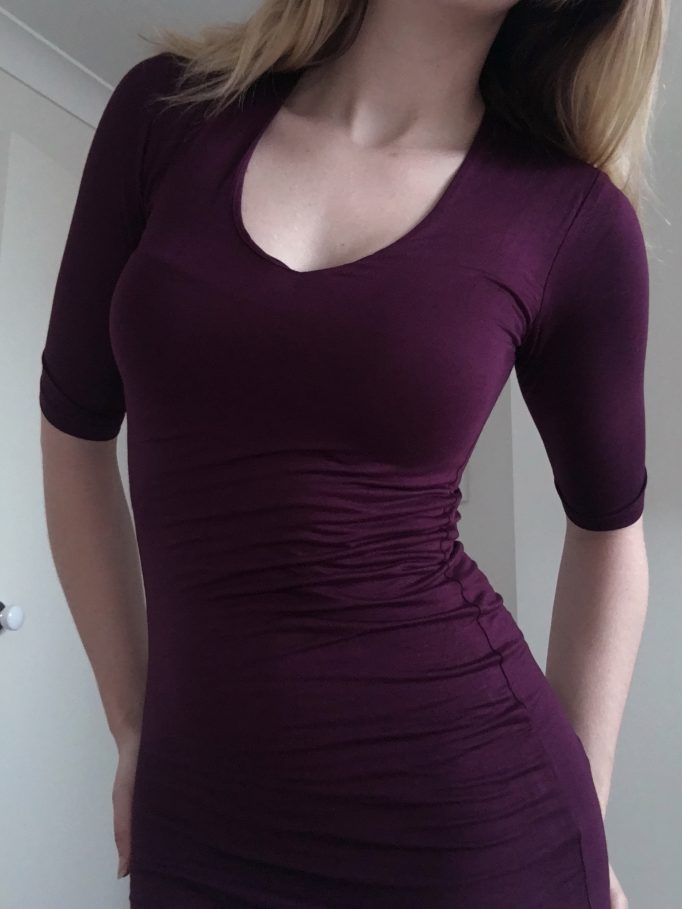 Another purple dress for my second surprise but this one has a completely different feel. It's very fitted and hip hugging, you might describe it as body con, but it's so incredibility comfy! The material is really nice and soft. It's lined as well so you don't have too much seamage happening underneath but it's still preferable to wear seamless panties. I love the length of the hem and the sleeves. It makes it the perfect dress for work paired with some heels but I also envision pairing it with the floral bomber and some sneakers for an everyday look. I think it will be very versatile and get a lot of wear. While it's not a neutral, it's quite muted and dark so I think I'll be able to pair a lot of different things with it. Another complete win from the styling team here.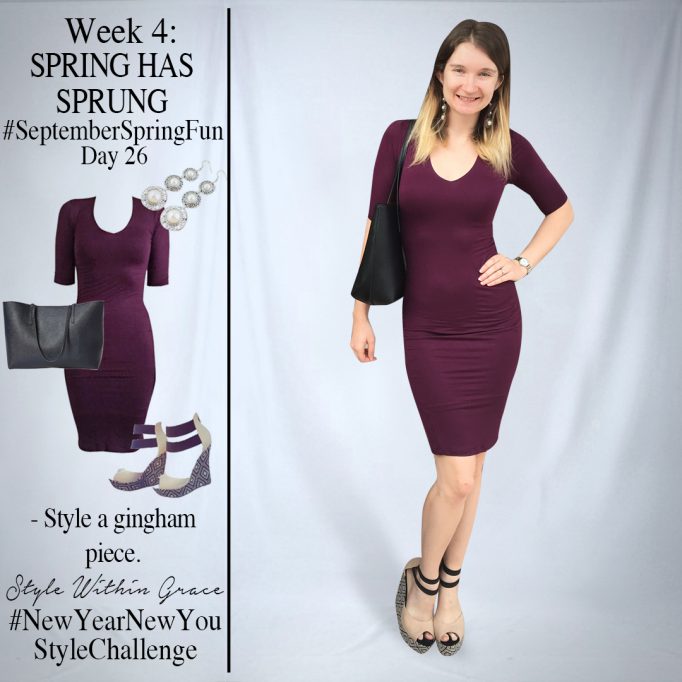 Surprise Item #3: Naked Zebra Lace Up Bell Sleeve Blouse (Cocoa) Size Small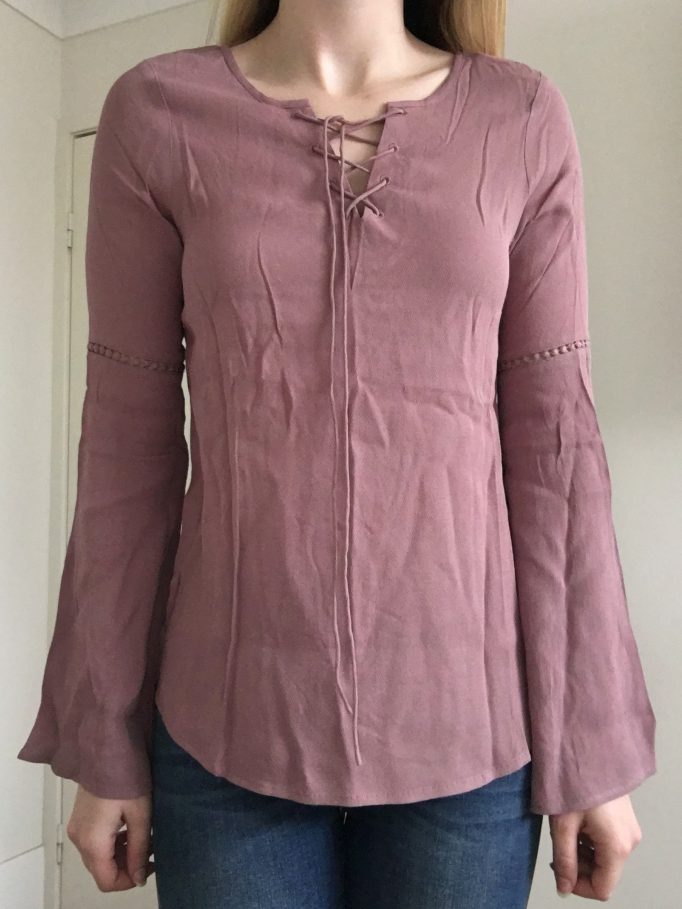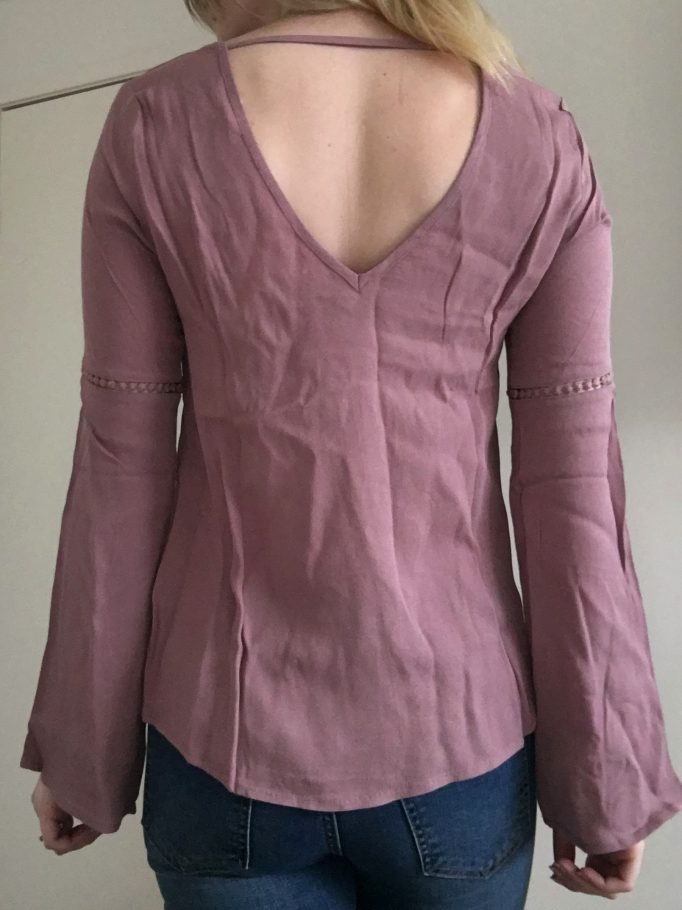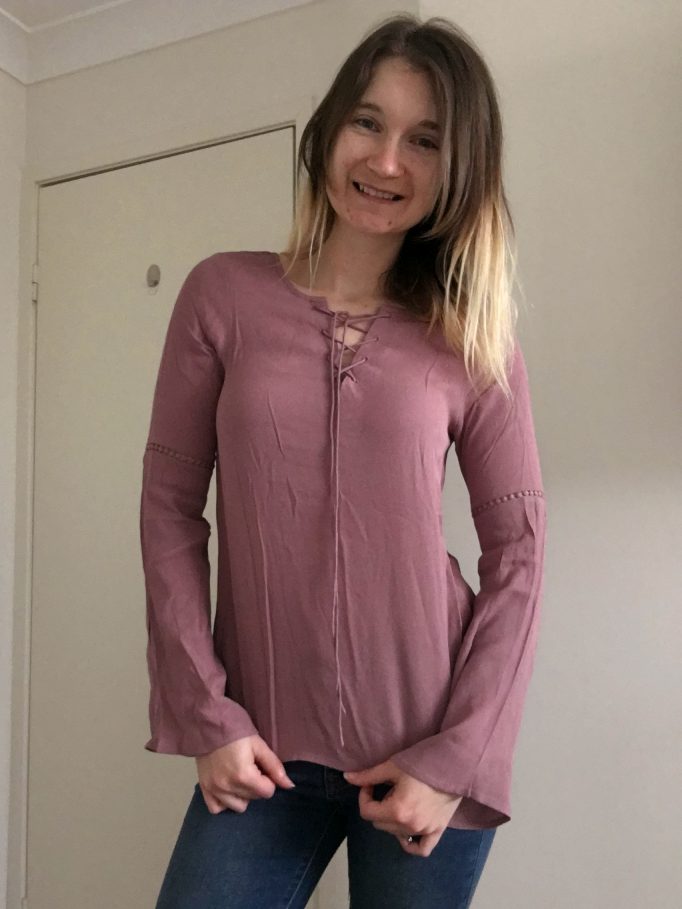 Last but not least another very trendy item. It has both bell sleeves and a lace up neckline. It's a little bit tight around my biceps but totally workable, the problems with doing pole fitness. On the packing slip the colour was defined as cocoa. While I'm not sure I'd call it that, regardless I love it. I feel like my long sleeve top collection is really rather boring and this is the perfect cure for that. Sadly I probably won't get a wear out of it now until next fall though. It totally has a cute back too! I love things with cute backs. Winning, winning, winning!
Verdict:
I am so in love with every single item in this tote! I'm so glad I decided to buy one this month! It is my favourite tote so far which isn't really saying much since I've only gotten two of them but I love it none-the-less. Since Golden Tote is American it can be somewhat annoying to buy fall clothing when I'm going into spring but I feel like I'll get a fair bit of wear out of most of these pieces even now. There seems to be a bit of a colour theme going on this tote with all purple type hues and I love it! They are all really complimentary on me and they fit my style perfectly.
Basically I can't tell you I love it enough! That is how stoked I am with this tote! I fully recommend you try it out for yourself.