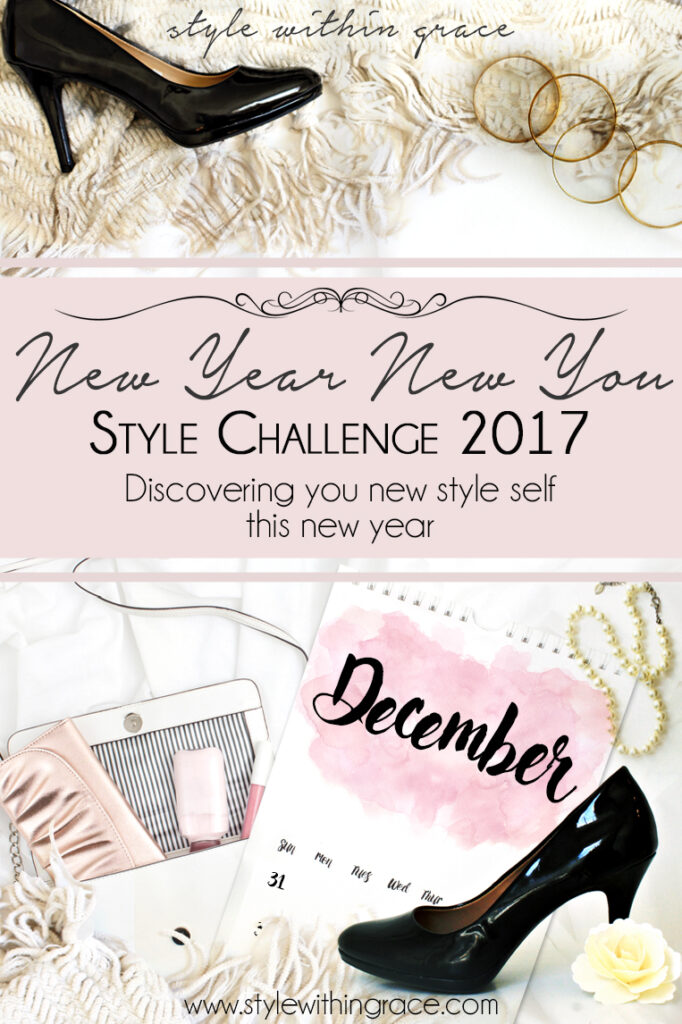 New Year New You Style Challenge
Did you break all the rules? Were you a rebel this month? I hope so! #NoRulesvember was all about debunking fashion myths and breaking the hold that so called fashion rules might have over you. Which rules were the biggest struggle for you? Which ones surprised you with how much you loved breaking them? I think my biggest struggle was wearing sweatpants with heels. I know that it is totally possible to pull this look off and look awesome but I'm not sure I had the right sweatpants for the job. Also I cannot wear sweatpants to work but I wouldn't want to wear heels around the house on my weekends. I'm not sure what the perfect occasion is to wear this look. What were your thoughts?
Some of the outfits I posted on social media are below for your perusal but if you want more then head on over to my Instagram to see the rest.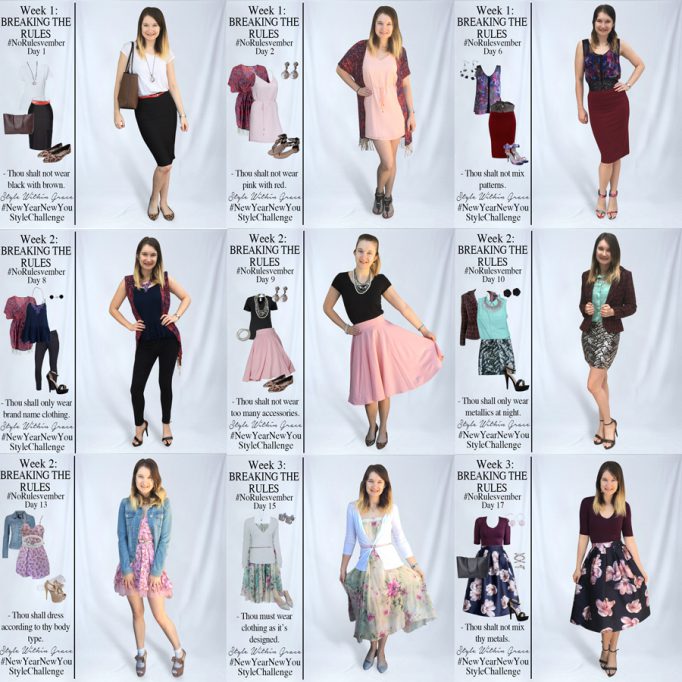 Dressember
So I can't admit to coming up with this idea but I think it's a great one and in support of a really great cause as well so I've joined on to become an advocate. What is Dressember you ask? Well the Dressember Foundation raises money every year to end world slavery. A shocking 30 million people are enslaved worldwide and 2 million children are currently exploited in the global commercial sex trade. This is just not acceptable in my eyes and I want to do something about it! Just like Blythe the founder of Dressember I'm not a doctor, lawyer or social worker but that doesn't stop me from making a difference. Started in 2013 Dressember has grown into an international movement to save lives and has raised over $3 million committed to increasing global awareness and the eradication of slavery and sex trafficking.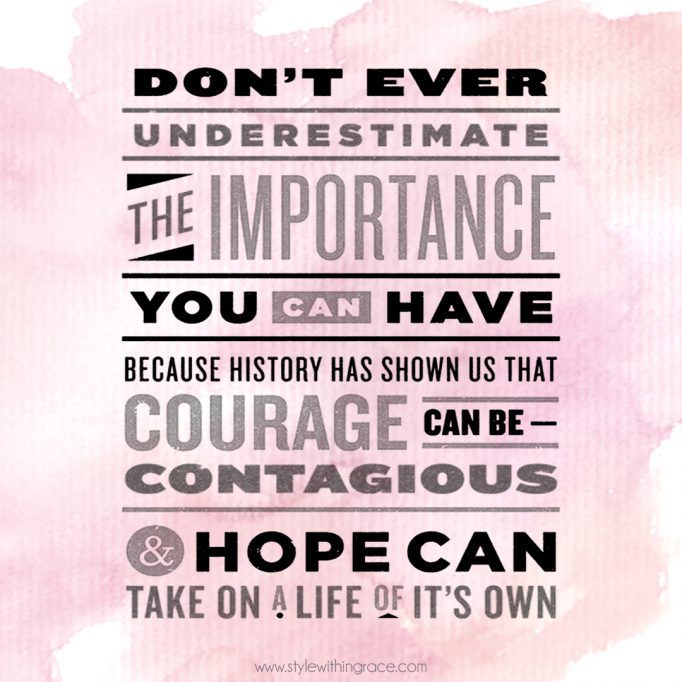 What better way to end my year of style challenges than raising money for a great cause through a style challenge! Support me in my efforts by wearing a dress for the entire month of December (or a tie if you are male) and donating to my page to help end world slavery one dress at a time! Still not convinced? Watch Blythe's TED talk on How a Dress can change the world below.
While watching this video, I was on the verge of tears most of the way through it. In particular when she told the story of a 12 year old girl who had had a baby. She didn't know who the father was because in the course of a week she had been raped by her father, grandfather and a neighbor. It breaks my heart to hear these stories. But it also sets it on fire and makes me want to do something!
As girls we can often feel like we need to be rescued. But I'm a firm believer in being your own white knight and rescuing others too. Take action and let the dress you wear be a symbol of your resolve to end the injustice.
The dress is our uniform, the flag of our movement. Dressember is an opportunity to reclaim and re-appropriate the dress as a symbol of freedom and power; a flag for the inherent dignity of all people.
Most parents tell their kids that anything is possible and that when they grow up they will change the world. But once you have actually grown up that belief in yourself somehow dwindles. It's easy to feel as though we are powerless to make a difference but as Blythe shows, it is possible to be a change maker, even if you don't have the skills you deem necessary, even if you don't think you are important enough. Take action and you'll be surprised at what you can achieve! We should be the voice for those that don't have a voice. We can be the generation that puts an end to this injustice.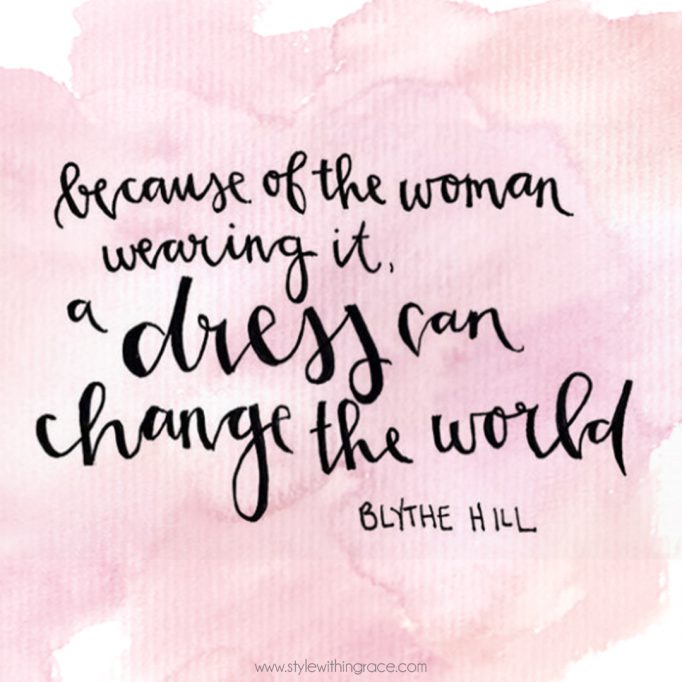 Dressember Tips
Are you in? Excellent! Even if you ARE a big fan of dresses, wearing one every single day for a month can still be a little daunting. So I'm here to help of course! Here are some tips on how to wear a dress everyday for all kinds of occasions:
1. Accessorize!
The way you accessorize any outfit has a huge impact on the overall look and feel. This is no different with dresses. One dress paired with white sneakers, a leather baseball cap and a button up shirt tied around the waist can feel completely different if paired with a sequin clutch, heels and some statement earrings.
2. Layer it!
Wack on some leggings or tights underneath or an outerwear piece over the top! But don't stop there! Wear a dress as a top by layering a skirt over the top of it or do the reverse and layer a top over the dress so that it acts more like a skirt.
3. Do something unexpected!
Button up dresses can be unbuttoned and used as vests. Short dresses can be tucked into jeans or trousers. Wear a stretchy dress around your waist and use the sleeves to tie a bow. There are more ways to wear a dress than you ever thought possible! Get creative!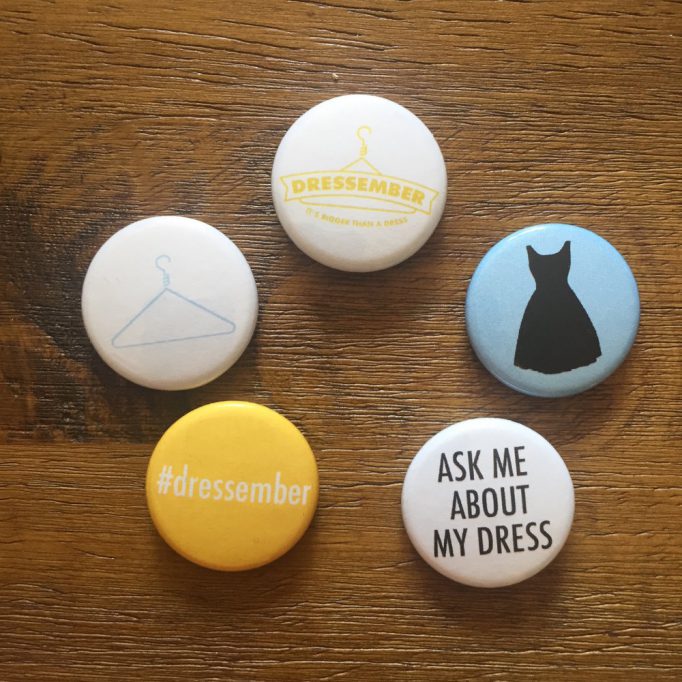 If you've been with me for a while now you'll remember that I first got into style challenges by participating in Fox in Flats #DAREcember style challenge. Well I think I'll join in on that again as well. It will be even more of a challenge to do both of these together. Follow along on Instagram to see my daily efforts to change the world with a dress and I'd love it if you'd support me and the great cause by donating to my page. If you wear a dress in December use the hashtag #dressember and see all the women intent on making a change!
Thank you for everyone who participated or just followed along in my whole #NewYearNewYouStyleChallenge series. As December comes to a close it will mark the end of it. If you came in late, you are always welcome to go back and do the whole year again or just the parts of it you want to. I may do more style challenge's in the future but I'll be putting them to rest for a little while at least. Feels almost sad but I'm excited to see what the new year will bring. I won't wish you a Happy New Year yet though because I'm sure you'll be seeing me in your feeds a heap more before then. So catch you later then 🙂