Even after a second month of winter layering I am still not sick of it. What can I say I'm a girl obsessed. At least it's a healthy obsession right? Not like my chocolate addiction. Are you feeling more confidant than ever with your layering skills after #JulyWinterLayering? I will more than likely still be all over the layering scene in August for the last month of winter but I'm changing up the challenges a little bit. Check out my post about #AccessorizeAugust which you guessed it is about accessorizing in the colder months. Head back to #NewYearNewYouStyleChallenge if you want to catch up on any previous month's challenges you might have missed. If you want more outfit ideas then follow me @stylewithingrace. I haven't included every outfit I came up with this month below so you'll have to head over to instagram to get the full suite.
Week 1 + 2: Winter Essentials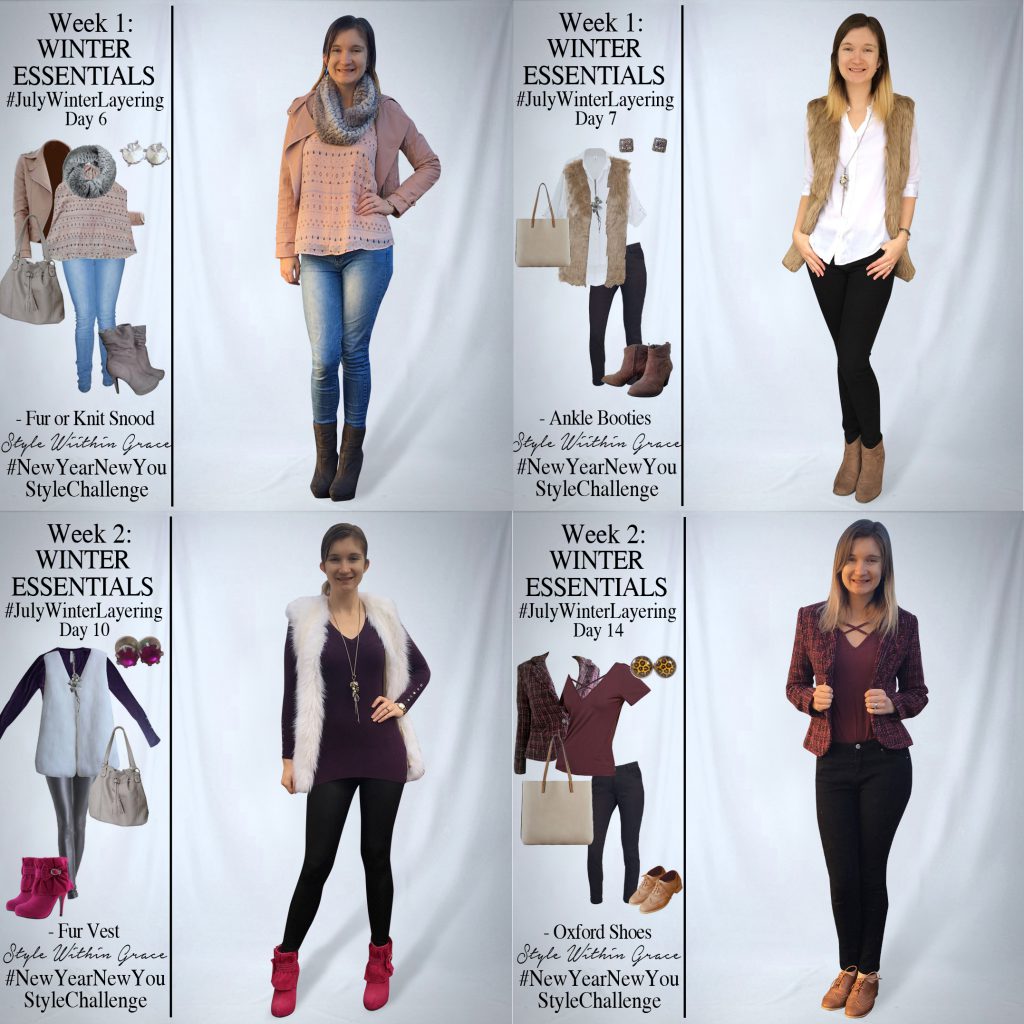 I'm quite amazed with myself that I was able to come up with another two whole weeks of winter essentials. Now even though I've called it all winter essentials don't feel like you have to go out and buy every single piece. Not every piece will be your style. If you like your wardrobe primarily comfy and casual, while the fur vest sure is comfy and warm it probably won't suit your taste and that is totally fine. Although it is remarkable to see how different types of vests can look way more casual then others eg. the brown one above compared to the white one. Just like if you prefer to class it up all the time then you might not get much where out of the white sneakers. Pick and choose which essentials work for you. I'm interested though… Do you have a winter essential I haven't mentioned? Do share it with me in the comments below.
The fur snood above is a fairly recent purchase and I am absolutely loving it! Despite it being fur I feel like you can easily dress this down and get lots of wear out it for all occasions. The gorgeous magenta boots are a fairly old purchase so I'm afraid I can't link you to wear to find them but I can recommend Shoespie which is the website I found them on. They have some of the most amazing and unique shoes on there to suit all tastes. The other new piece I want to mention featured in the outfits above is my new reversible tote bag. It's tan brown on one side and cream on the other which makes it so versatile. I love the idea of reversible handbags! I have donated a couple of my other handbags because I no longer need them with this piece. Makes for a smaller wardrobe and that's a huge plus in my book.
Week 3: Layering a Button Up Shirt

It wasn't until this week that I realised just how many button up shirts I actually have. I thought I'd probably be able to make a full 7 days wearing them but not only did I make it I had some shirts I hadn't even worn. They really are a great staple for any wardrobe though.
I was so happy to get to wear the body con dress on the left again. It's quite low cut so that makes a great way to get more wear out of it. And talking about a little too revealing, the dress on the right while a totally cute pattern was rather too short for work so after taking the photos for instagram I decided to layer my black pencil skirt underneath it to give it more length and make it more work appropriate. I was surprised how much I liked the combo actually and I'm disappointed I didn't take a photo to show you guys. It just goes to show that when you think outside the box, you can come up with so many interesting outfit combinations.
Week 4: Winter Wardrobe Boredom Busters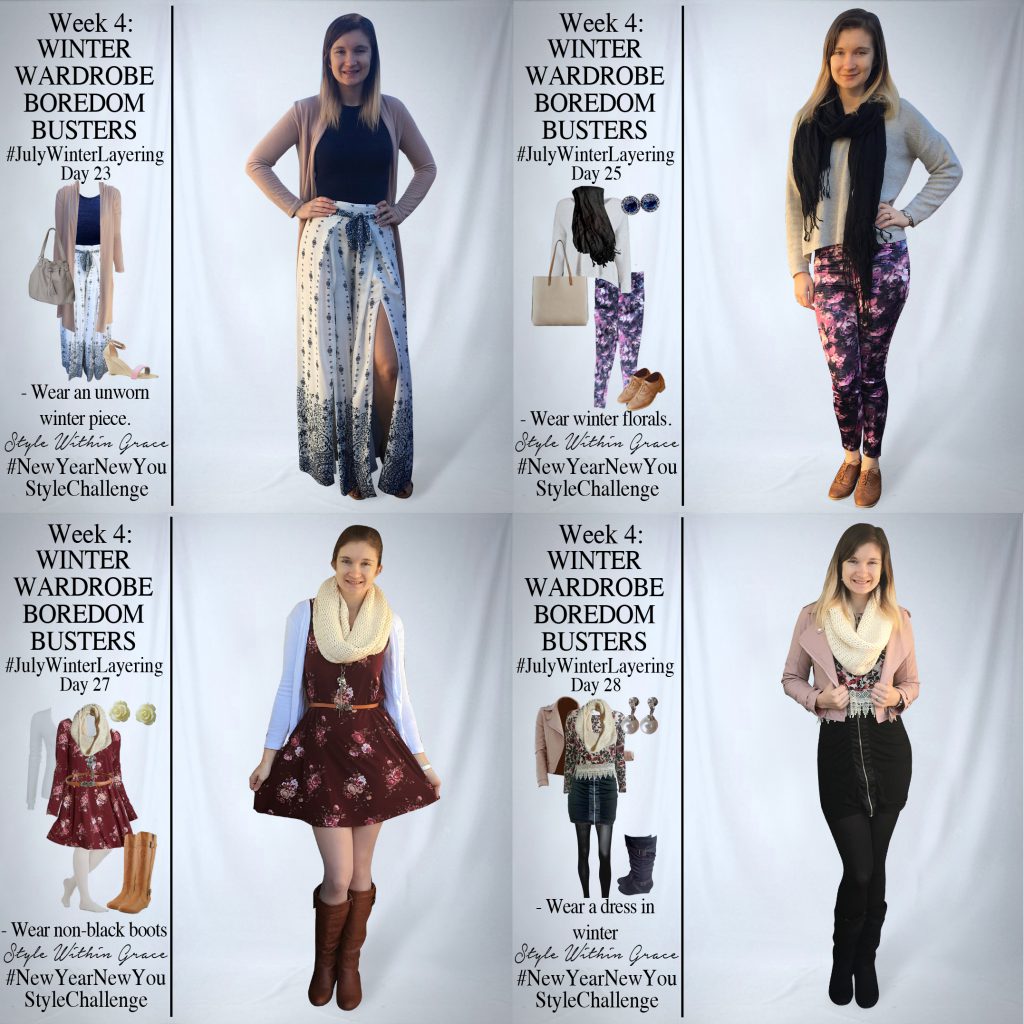 I had fun with the boredom busters this week. I didn't really need them though. I've been enjoying all the winter clothing and haven't gotten bored of it all yet. I wanted to challenge you to wear different items than you normally would in winter. I feel like winter clothing is often all neutrals, mostly dark hues and more often than not pants. There is nothing wrong with that but I feel like the lack of colour and diversity can lend to the seasonal depression a little. Despite the stress at my work this week, I think my outfits have helped me to stay positive. It's amazing how much feeling good in what you wear can affect you.
There are a few new additions in my wardrobe this week. The cute floral long sleeve crop top with the crochet hem which was a thrift store find which you have seen earlier this month. Then as I mentioned on my instagram post these wide leg pants I found at the new Sheike store at Chermside. They were the last ones left, greatly reduced on sale but they were only a size 6. I don't typically fit into a 6 but I tried them on anyway, low and behold they fit perfectly! What a score! Everyone in the store had apparently been eyeing them up but nobody could fit them. They were pretty jealous I think.
Lastly the burgundy red floral dress was bought with my birthday discount from Ally. The exact dress is no longer available. All in all a very floral month. It seems I took the wear winter florals challenge prompt on for the whole week just about.
I'm going to leave it there because the more I write on this old site the more I'll have to change over to the new site. It is coming along nicely but I'm anxious to get it finished as soon as possible. I can't wait for you all to see it. I think it looks so much better and more aligned to the direction I'm taking this blog. Anyway I'll be posting again soon with next month's challenge so I'll hope you'll check that out and join me.