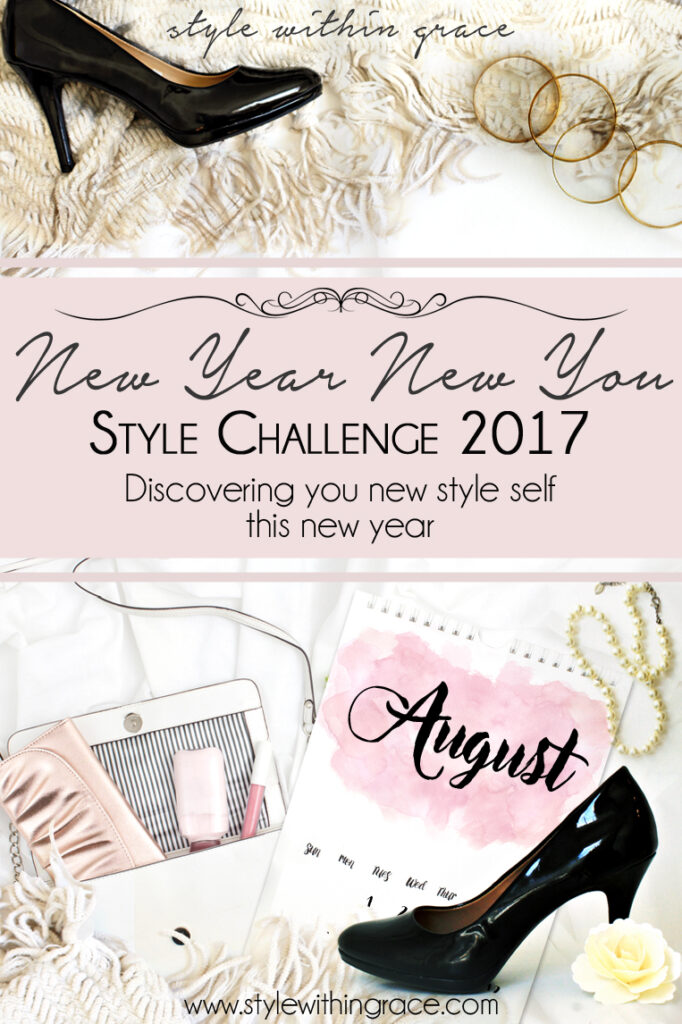 New Year New You Style Challenge
Another great month of layering has gone by in my #NewYearNewYouStyleChallenge for #JulyWinterLayering. A montage of some of the favourite outfits I came up with are below but for more outfits and more details check out my July Instagram Round Up. I enjoyed this month immensely as well. I truly am obsessed with layering and don't really find it a challenge any more, more like a pleasure. But how do you feel about layering? We are up to the last month of winter and I wanted to steer away from layering now for something a bit different. If you are still having issues or questions about layering feel free to contact me. I would be so happy to help. I'm sure I'll continue layering next month but the focus will be on a new challenge. Read below for more info.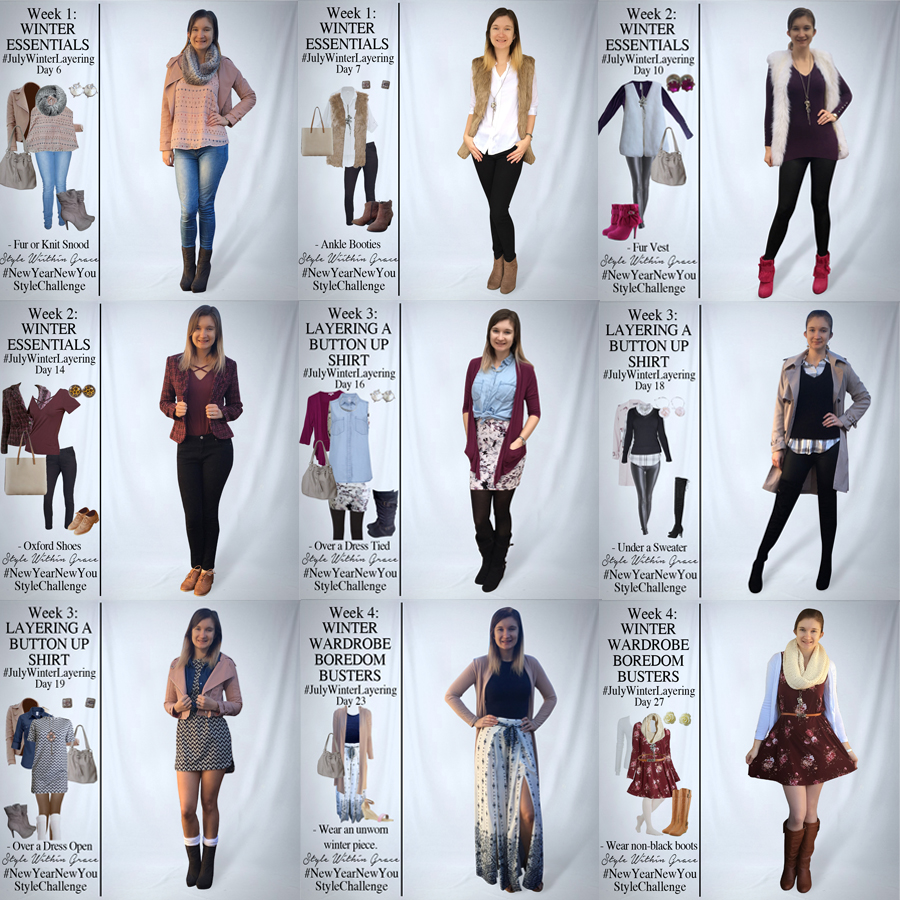 Accessorize August
If you surmised from the above title that this month is all about accessorizing you would be correct! If you think that sweater weather is an excuse not to wear accessories I hope I will prove you wrong. Every season has it's challenges for accessorizing. In summer I feel like I want to wear as little as possible on my skin to try and beat the heat. Accessories can irritate your skin when you have cheap metals mixed with sweat.
While in the winter I don't want to have the cold metals against my skin because that only serves to make me colder. With layering there can also be so much going on in your outfit already that it just gets to confusing to try and coordinate accessories as well. Despite all the excuses, I still believe accessorizing is a very important skill to have as you can change up an outfit completely just by adding different accessories. Also most accessories can be season-less. It's also one of those items you can update in an affordable way for each season.
Even if you don't go all out with your accessories, adding one accent piece can help your outfit go from good to amazing! I really like how Marissa Web puts it from Who What Wear.
"I consider accessories the icing on the cake.  Even if you consider yourself a more conservative or classic dresser, accessories are where many woman are willing to be a little more daring. It's about taking accessories, thinking about them differently, and incorporating them into your wardrobe and personal style." (Webb, 2017)
And that is exactly what this month's challenges are all about. Like with all facets of style, accessories are more about personal preference and aesthetics then any hard and fast rules. What I write below are probably a little biased by what I personally like when accessorizing. If you disagree with me that is fine. Finding out what you don't like gets you a step closer to finding what you do like. That said I've tried to take this from as many directions as I can and I hope this guide will help accessorizing feel more accessible to you and not as overwhelming as I know some people do find it.
Before we start I feel like we should talk about the difference between looking matchy-matchy versus looking coordinated as this difference was a real "Yes!" moment for me when I first came across it. Too much repetition of a colour, theme or accent starts to look overdone and monotonous and this is what I call matchy-matchy. It's just too much of the same. Instead of looking accessorized, the look can come across flat and boring. At least that's the way it comes across to me. Some people out there love this type of look and if that is the case with you then feel free to disagree but that is my take on it.
On the other hand, coordinated means accessorizing in a cohesive manner so that each piece goes well together and compliments each other but has more differences and thus more interest. It's hard to define with words and makes much more sense when you see examples of outfits in each different way. Bridgette Raes post about it was how I came to know about the subject. Her examples are perfectly styled to show you  the differences. I'd totally recommend you have a quick squizz at her post.
It seems to me, there are always two varying opinions.  Apart from the matchy-matchy versus co-ordinated case, you also have those that believe "You can never have too much" and then you have those who would tell you "Less is more". I'm sure you've heard the concept that every day before you walk out the door you should take off one piece. It sure can be hard to find the right balance. I'm going to try and explore both sides this month in the hopes that you'll land on the right balance for you. Let's begin with the "Less is More" ideology because that is a less daunting place to start.
Week 1: (6th August – 12th August)
Less is More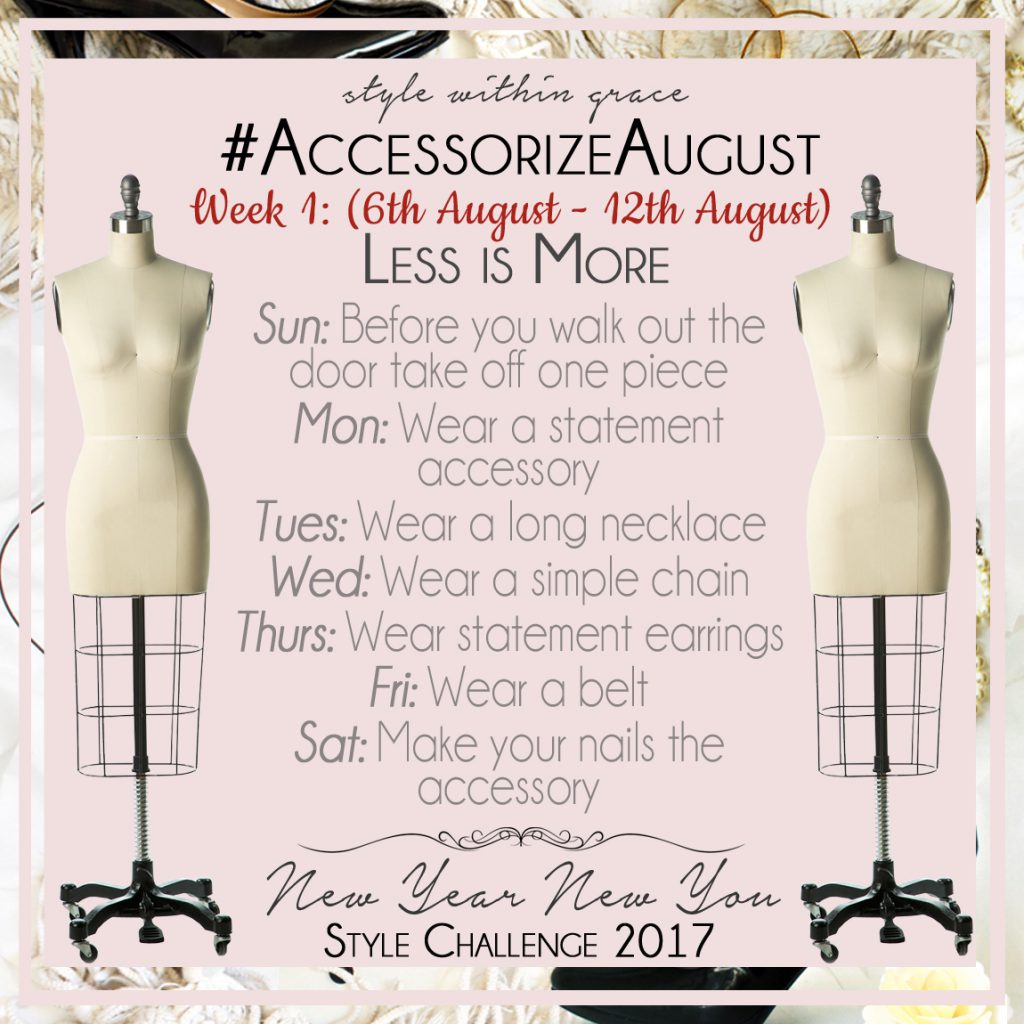 If you subscribe to the less is more philosophy then this week is for you. We start the week with the classic and well known advice from Coco Chanel, "before leaving the house, a lady should look in the mirror and remove one accessory." On Sunday I actually want you to do this. After that we are mostly focusing on wearing one statement piece accessory and not much else. You only want to have one focal point otherwise your outfit can be overwhelming. A long necklace that hits just below the bust is a great go to piece when in doubt as it makes you look taller and leaner. While a chain necklace worn underneath a collared shirt is a subtle and dainty addition to an outfit.
A lot of people might lean towards statement earrings for a more dressed up occasion but they can be great to pull out for an everyday outfit as well. The contrast of a dramatic earring with a casual outfit can be very interesting. Belts can be a tricky accessory to add. Sometimes it's all about the belt, other times, belts can complicate the look. Thus less accessories can be good when wearing a belt. If wearing with jeans it's a good idea to tuck your top into your pants (at least a half tuck at the front). A wider style elastic belt is great for wearing at your true waist. Belt over dresses, cardigans, pants and tops.
Lastly on Saturday I'm suggesting you make your nails the accessory. You don't have to do anything too complex with them if you don't want to. Perhaps just a nice coat of coloured varnish. I think nails are especially important when you are stacking your rings or wearing a statement ring. At the very least I suggest you keep your nails clean and even. A coat of clear varnish is great for keeping them strong and preventing breakages and I really like the shine it gives to you nails.
Week 2: (13th August – 19th August)
The More the Merrier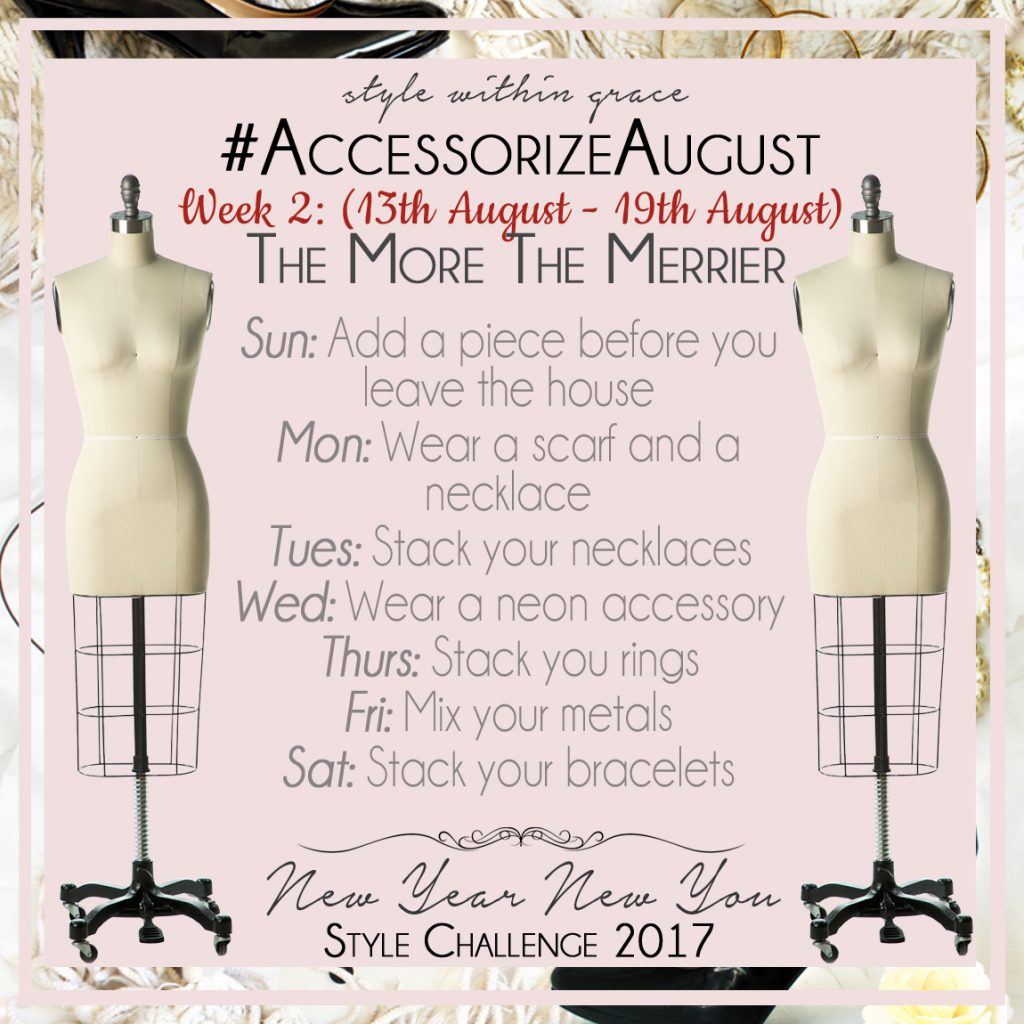 We are going completely down the other end of the spectrum this week. Start by completely reversing Coco Chanel's advice and add another piece before you leave for the day. A lot of people think that if you are wearing a scarf you can't wear a necklace too. Well I'm here to tell you, you can and to challenge you to do it! Scarves don't tend to stay on all day long, so it's good to still have something there when you take them off. Especially if you styled your outfit around a statement scarf. It can look like something is missing when you no longer have it on.
A couple suggestions on how to wear both… A collared shirt with a shorter statement necklace or chain peaking out from under the shirt with a large scarf wrapped around your shoulders or a collared shirt with a long necklace under the collar with a thinner scarf loosely wrapped around your neck.
Did you know that you can wear more than one of pretty much every item of jewellery? Stack your necklace, bracelets and rings (but not at the same time). I need a whole new post on how to stacking your jewellery, then I could go into more detail. But here's some small advice to get you going which is mostly rings true for all; Start with a one piece which is going to be the focal point and stack around that. Vary size and width and length so that it doesn't feel too heavy.
Don't be afraid to mix metals. This relates to the stacking but also in general. I know I tend to shy away from this because I decided very early on that I didn't like gold and I was a silver person so I'm going to be challenged this week too. I don't own much different coloured jewellery to mix, so we'll see how I go. Even with mixing choose a dominant colour and add pops of your other metals. If you want an even more seamless aid in mixing, you can get jewellery that has already premixed the metals for you.
Week 3: (20th August – 26th August)
Change It Up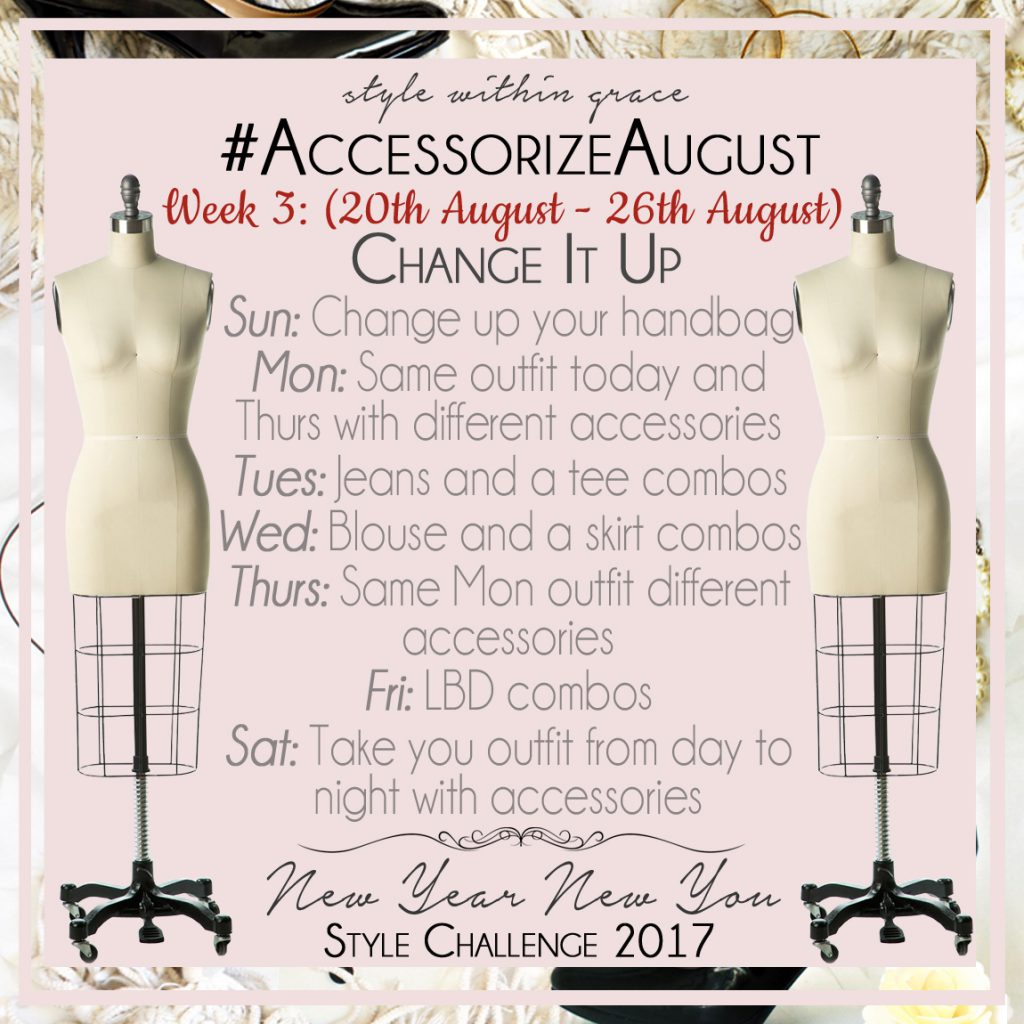 Accessories are so great at completely changing up an outfit so that it looks completely different, meaning that you don't need to have as many clothing pieces. If you are wanting a new look for your wardrobe but don't have the budget to go out and buy more clothing, maybe all you need do it buy a few new accessories. They are a much more affordable way to change up your look. Start the week by switching up the handbag you wear.
Now I hope the challenge prompts make sense to you here. The idea is you are going to wear the exact same outfit on both Monday and Thurs. The challenge is to make it look completely different with just your accessories. The same theme goes through the week with the challenge to do this with jeans and a tee, a LBD and a skirt and blouse combo. See if you can come up with 3 different accessory combos with these outfits and then pick you favourite to actually wear that day. I'd love to see pictures of all 3 though! I'll be posting mine. Lastly I want you to take you outfit from day to might on Saturday with just your accessories. Perhaps change the shoes from flats to heels and add a bit more sparkle. It's up to you.
Week 4: (27th August- 31st August)
Perfectly Co-ordinated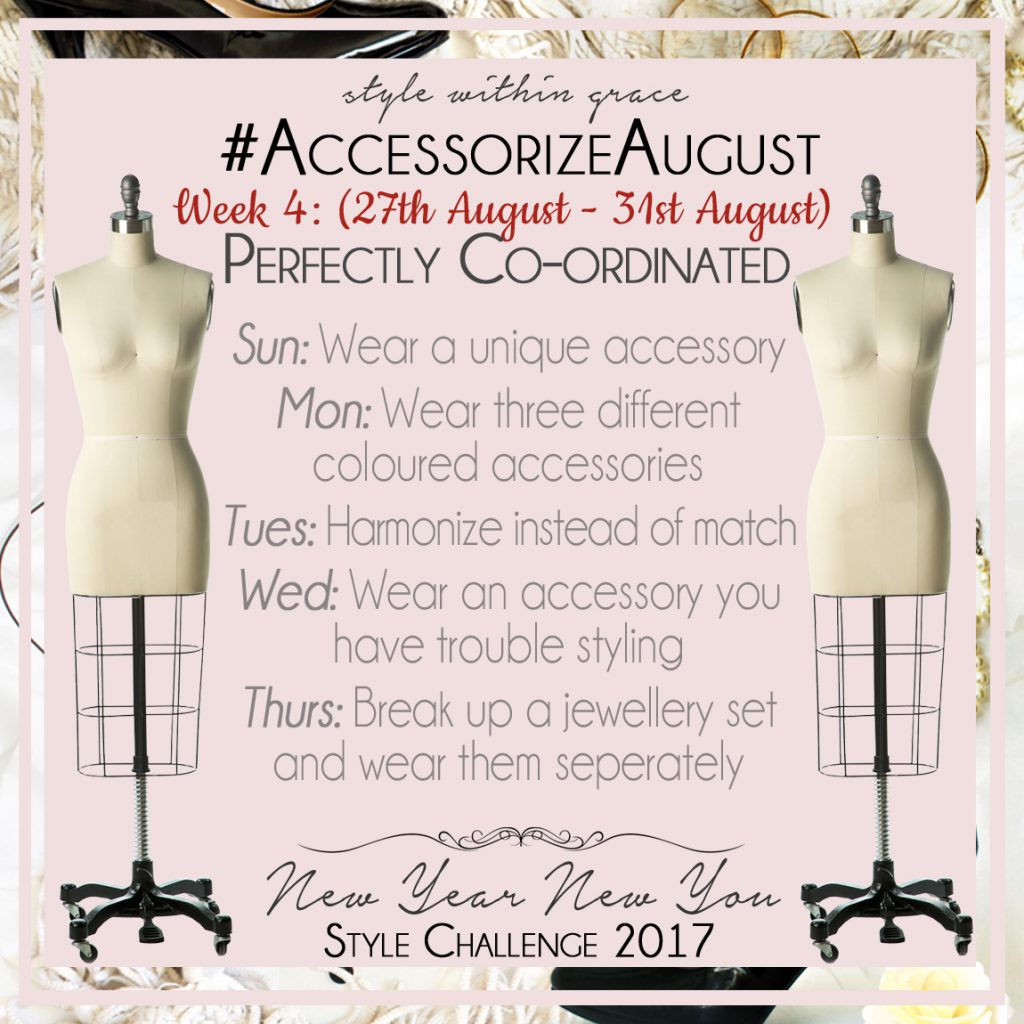 We are finishing off the week focusing on looking perfectly coordinated rather than matchy-matchy. Wear a unique accessory you own, then wear three different coloured accessories in the one look. When I say colour that includes shades and tints too. So a black accessory with a silver accessory with a pink accessory would count here. Whatever colour combination you want to come up with.
Now I realise Tuesday is rather an open ended prompt but I wasn't sure how best to challenge you to do this. Instead of choosing one colour and finding ever accessory you own that matches that colour and putting it all together, try to change up the tones of the colours a little and maybe mix in another colour that harmonises with that colour. It will lend itself to a much more cohesive outfit that while it still matches it doesn't look like you tried so hard, even though this is probably much more work to actually put together then a matchy-matchy outfit.
Wear an accessory you have trouble styling. If you need help feel free to send me a picture of the accessory. I'll try to give you some ideas. I believe in you though. I'm sure you can make it work. Lastly, back on the staying away from matchy-matchy track, break up a jewellery set you may own. I know I own a few earrings and necklace sets that I very rarely actually wear together. Choose either the earrings or the necklace but don't wear both.
If you do like the matchy-matchy look. That is totally fine. Each to their own but perhaps a little change in perspective will help you come up with some interesting looks you will like as well. Style is just showing the world who you are on the inside, on the outside.

A woman makes an outfit her own with accessories!
I hope these challenges will help you to feel less overwhelmed with accessorizing and more free to play around with whatever you like best. I'll be sharing my outfits on my Instagram page @stylewithingrace. Feel free to join me over there.
So excited to see how you accessorize this month. Enjoy the last month of winter and I'll see you again in the warmer months!