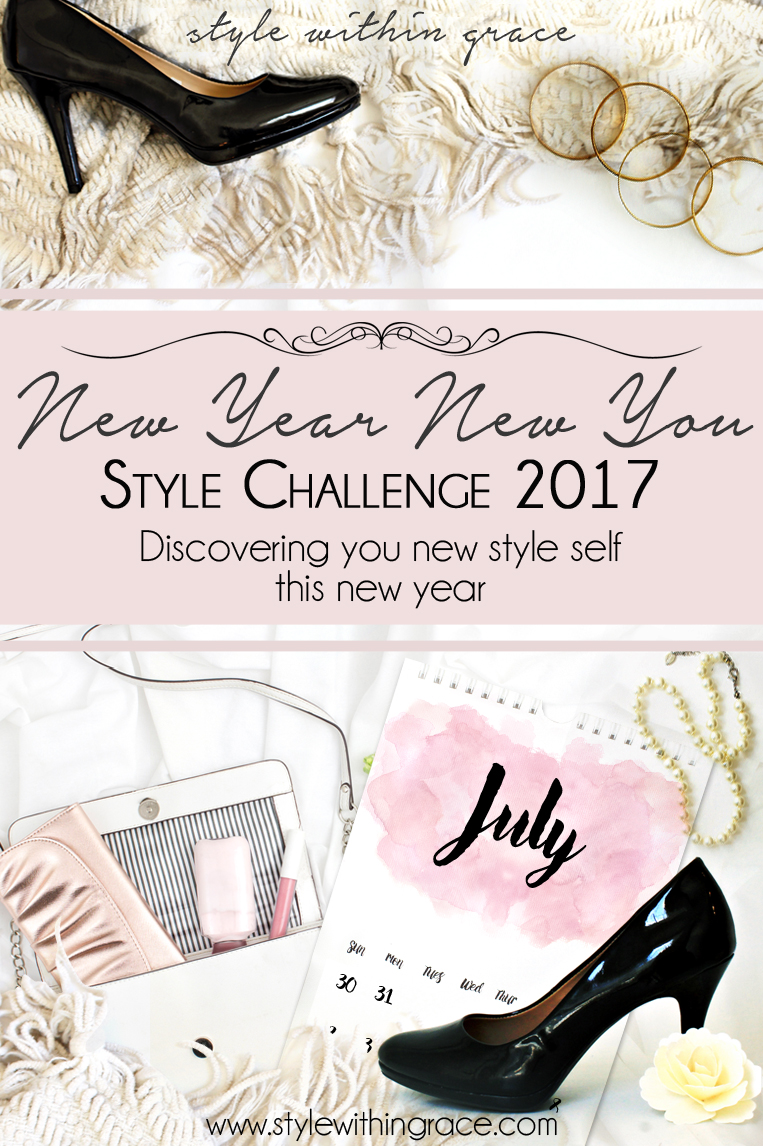 New Year New You Style Challenge
I really hope that everyone who participated in this month's  #NewYearNewYouStyleChallenge for #JuneWinterLayering now likes winter a little more than they did before, simply because now you are staying toasty warm while still looking cute and stylish.  You probably all know the deal by now. I've included a few of the outfits I came up with throughout the month below but you should all check out my instagram round up to see a more detailed look into each outfit. If you enjoyed and found #JuneWinterLayering helpful, you will also love this month's challenge as it's pretty much just an extension on this month, so read on below.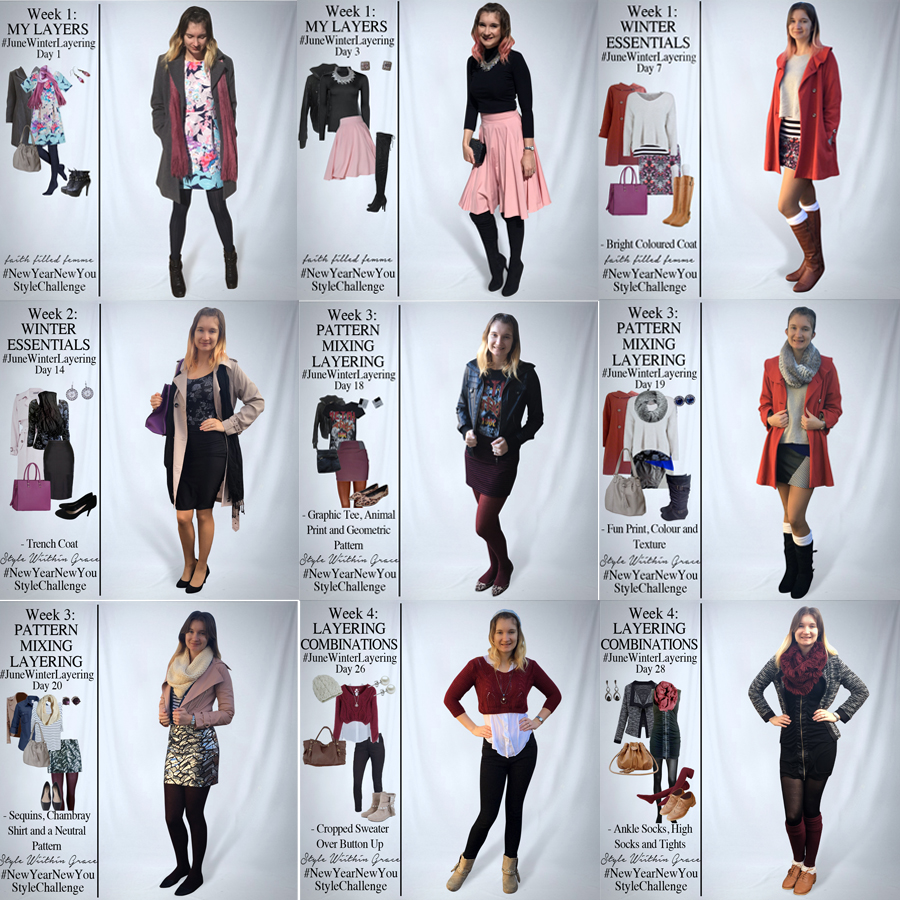 July Winter Layering
I'm rolling the winter layering challenges over into July because I still have enough left over to fill up another month and my plan for July was kind of sketchy again. The first two weeks will be even more winter layering essentials. Then for the last two weeks I'll delve into the versatility of using a button up shirt for layering and some challenges to get you out of your winter slump.
Week 1: (2nd July – 8th July)
Winter Layering Essentials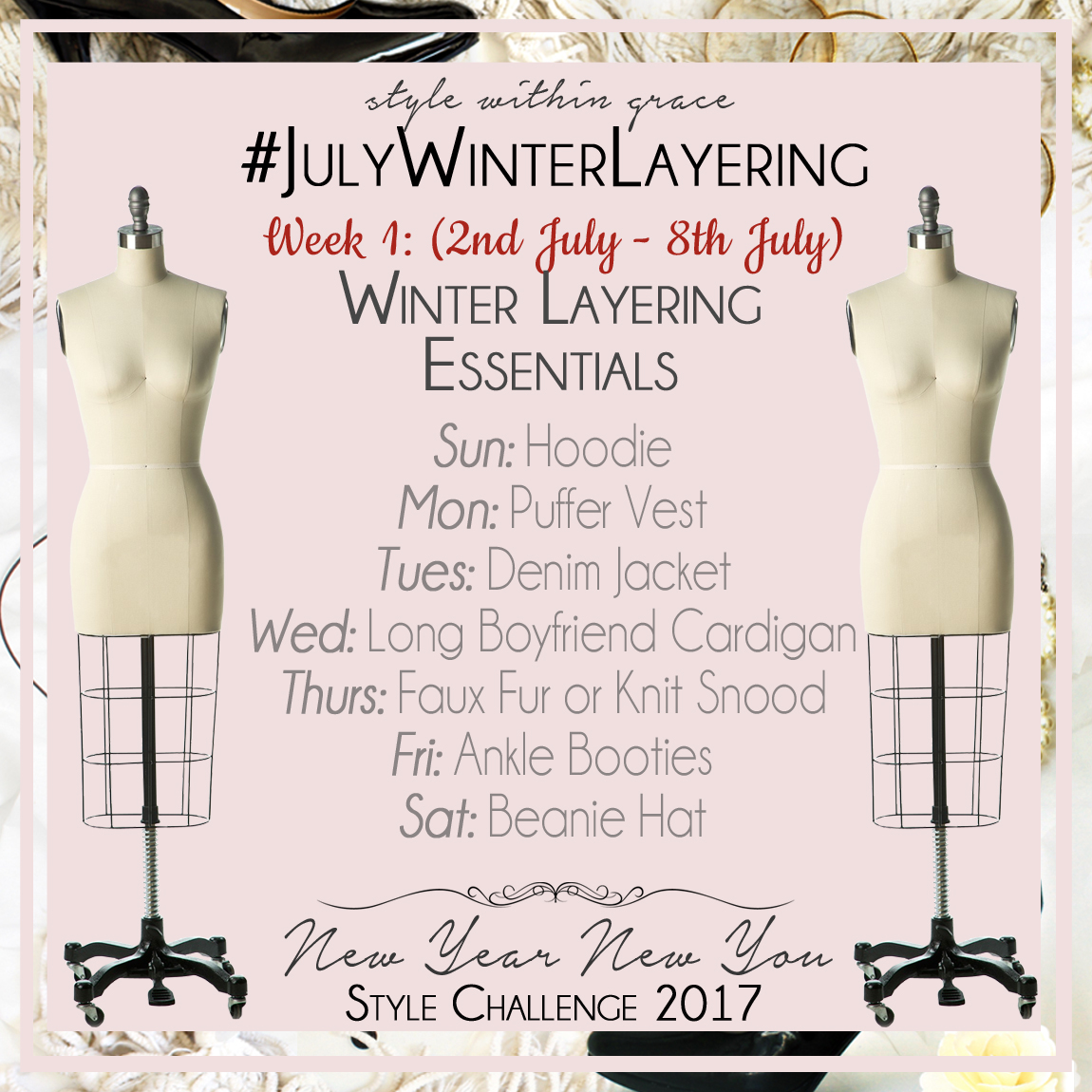 ONE | TWO | THREE | FOUR | FIVE
Sun – Hoodie
You can't get a comfier warmer piece than the good ole hoodie! I haven't had one of these in my wardrobe for years because they kind of felt like a daggy piece but what with athleisure trend so big right now they are back on my radar. I have to say I'm loving the look too. Something about the hoodie just says too cool for school. Crop it like it's hot or hood it up with an oversized piece. Either way prepare to look effortlessly cool, in a really warm way.

ONE | TWO | THREE | FOUR | FIVE
Mon – Puffer Vest
I used to think vests were a silly winter item because I was always cold and if I was going to put on an outerlayer I wanted it to warm up my arms as well but I have changed my tune. I have realised what a great layering item vests are. You can have a whole extra layer with a vest then you normally would because they don't inhibit your arm moving ability. They are also great for transitional weather when it's not quite cold enough to warrant a complete jacket. Puffer vests are particularly warm and I think can look very cute! My favourite is the quilted puffer vest but whatever one tickles your fancy.

ONE | TWO | THREE | FOUR
Tues – Denim Jacket
Cropped or oversized, dark or light wash, whichever way you want to go! The denim jacket has been around for ages and it's one of those pieces that will always be in style in one way or another. The current trend is the embroidered patches like on the second jacket above. Are you came to try?

ONE | TWO | THREE | FOUR | FIVE
Wed – Long Boyfriend or Grandpa Cardigan
The long boyfriend cardigan is typically made out of a thicker knit fabric and thus feels super soft and warm. Just like a cardigan hug! Get one with pockets for a super grandpa like feel. I quite like the nod it gives to menswear but you can also get more feminine pieces with a lighter material and a more drapier feel.

ONE | TWO | THREE
Thurs – Faux Fur or Knit Snood
Who wouldn't want to wrap their neck in an incredibly soft and warm piece of material? Not only is it going to keep you toasty in all temperatures the difference in texture is going to create awesome interest in your outfit. Who could ask for more?

ONE | TWO | THREE | FOUR
Fri – Ankle Booties
There are seriously so many options when it comes to ankle booties, from the colours to the styles. They come in various heel heights all of which are block heels so easy to wear all day long without getting sore feet. Their versatile nature, nonchalant aesthetic and comfort factor make them the ultimate wear-with-everything shoe.

ONE | TWO | THREE | FOUR
Sat – Beanie Hat or Beret
Beanie's are not necessarily for everyone but another great option for keeping your head warm which apparently 20% of your heat escapes from if I remember correctly from the movie Loser if anyone remembers that. I prefer the looser ones that sit towards the back of your head some what like a beret but whatever takes your fancy. I like the idea of those knit headbands too but I haven't completely figured out how to best wear them with my hair.
Week 2: (9th July – 15th July)
Winter Layering Essentials

ONE | TWO | THREE | FOUR
Sun – White Sneakers
The white sneaker is still so trendy right now. It speaks to the atheleisure craze but looks crisp and sharp at the same time, just make sure they are clean! Any kind of sneaker will do, converse, vans even flatform. Keep it casual with the classic jeans and tee look but you can also pair them with a dress or skirt to create a great classy casual juxtaposition.

ONE | TWO | THREE | FOUR | FIVE
Mon – Fur Vest
This piece is incredibly warm and just gives your outfit a certain "Je ne sais quoi". Long line or cropped in black, white, grey or beige, the choice is yours. Pair with a sweater dress or with a jeans and a white button up top to name just a few ways to get your usage out of this piece. You can even get them with a hood like the one on the end.

ONE | TWO | THREE | FOUR | FIVE
Tues – Military or Anorak Jacket
The military or anorak jacket is a totally comfy and casual outer piece that will keeps you totally warm. If you get the right piece it can be very versatile too. Pair it will jeans and a tee for a casual weekend look but you can also pair it with a little floral dress as well. I recommend to stick with the olive colour that most of these jackets come in as it is a pseudo neutral and goes with pretty much everything!

ONE | TWO | THREE | FOUR | FIVE
Wed – Cropped Cardigan
These come in basically any colour you can imagine! They are great for adding a pop of colour and while they aren't all that thick most of the time that just means they are super easy to layer over and under things. Very office appropriate in place of or as well as a blazer.

ONE | TWO | THREE | FOUR | FIVE | SIX | SEVEN
Thurs – Knee High Socks, Boot Cuffs or Leg Warmers
I am obsessed with knee high Socks now! They are great for pairing under tall boots to keep your legs doubly warm or with mid calf boots and oxfords to give you the warmth you crave. They come in all sorts of colours and patterns and variations like the stripes, cable knit or the lace lining. The choice is up to you. Check out my How to Wear Knee High Socks for some outfit inspiration.

ONE | TWO | THREE | FOUR
Fri – Oxfords or Brogues
I totally love the look of oxfords! The first pair I bought were the second tan brown pair and they go with everything but then I found a pair of cut-out pink ones at Rubi Shoes and couldn't help but buy another. I couldn't find them online any more so I guess they've sold out but the ones on the end are pretty similar.

ONE | TWO | THREE | FOUR
Sat – Floppy Felt Hat
Another item which you can get in pretty much any colour but I prefer to stick to the neutrals here. I have a black and a beige one. They are great for keeping your head warm and the sun out of your eyes when you are lazing about in the warm winter sun which I really don't do as much as I'd like to do.
Week 3: (16th July – 22nd July)
Layering A Button Up Shirt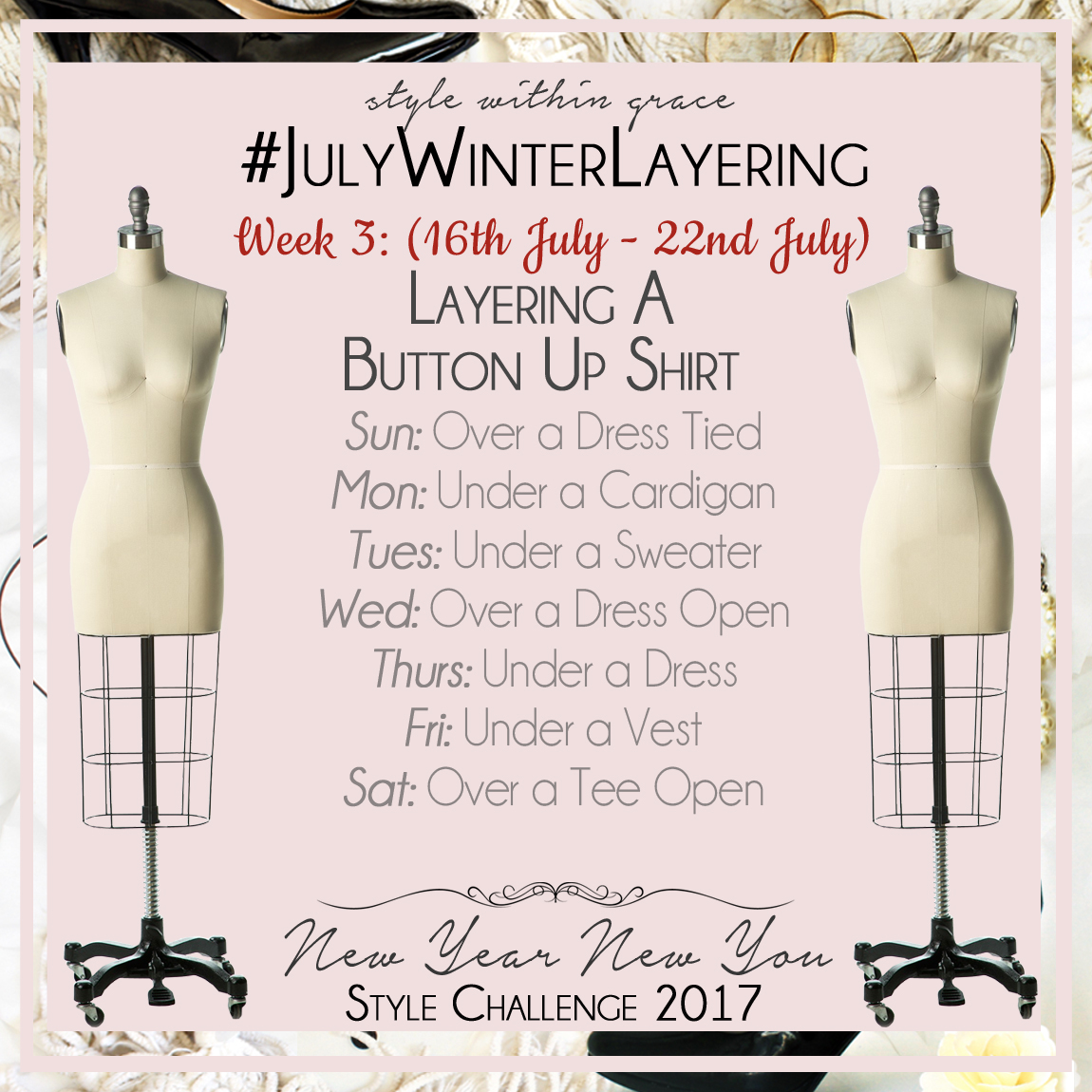 Sun – Over a Dress Tied
Mon – Under a Cardigan
Tues – Under a Sweater
Wed – Over a Dress Open
Thurs – Under a Dress
Fri – Under a Vest
Sat – Over a Tee Open
The humble button up shirt in whichever variety you prefer be it chambray, plaid, gingham or your classic white oxford shirt is an incredibly versatile piece for layering in the winter. This week we are going to explore the myriad of ways in which you can wear them. You can use which ever button ups you have handy and the overall look is up to you. I've just provided the basic formulas for you to mold into whatever you chose.
Week 4: (23rd July – 29th July)
Winter Wardrobe Boredom Busters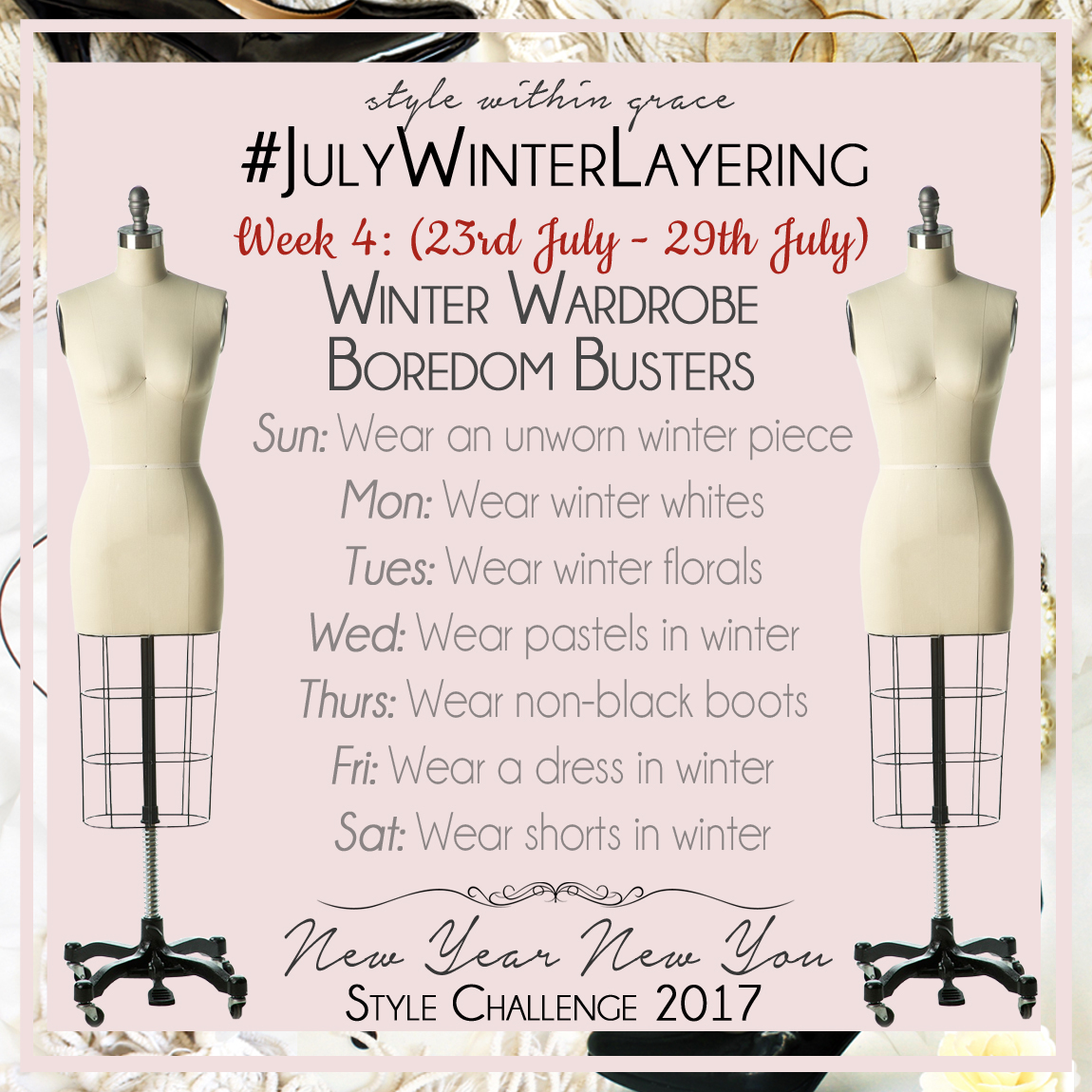 Sun – Wear an unworn winter piece
Mon – Wear winter whites
Tues – Wear winter florals
Wed – Wear pastels in winter
Thurs – Wear non-black boots
Fri – Wear a dress in winter
Sat – Wear shorts in winter
This far into winter I tend to find that I get into a bit of a slump. I really start to miss summer and the weather starts to bring me down. So this week's challenges are all about breaking out of the winter slump. I don't know about you but the official colours of winter tend to be really dark neutrals and that can contribute to the seasonal depression so I want you to wear some nice crisp whites, some florals and some pastels instead.
On Thursday, wear some winter boots that aren't the default black. Mix it up and really go bold if you have some coloured boots otherwise just a different coloured neutral will do. It's also really easy to get into the slump of wearing long pants every single day because yes they probably are the warmest, easiest option out there but on Friday I challenge you to wear a dress and on Saturday lets get a pair of shorts out and wear them. You most definitely will need to layer some thick tights and maybe some knee high socks with them but I dare you to make it happen! Don't let the season get you down!
Here's to outfit layering domination!
After a second whole month based on layering you will have surpassed the layering experts title and will now be dubbed layering goddesses! Well done oh layering goddess. Join me next month for your next challenge!
I bow down to you layering goddesses!