New Year New You Style Challenge
Can you believe it? Spring is here at last! Or more to the point, August flew by did it not? How was your last month of winter? I enjoyed focussing on accessories last month with #AccessorizeAugust. As usual here's a quick montage of some of my favourite outfits I came up with but if you want more detail head on over to this month's instagram round up. Also if you are joining us late in the challenge you can always go back and check out all the previous month's challenges from the  #NewYearNewYouStyleChallenge index page.
I think my favourite week was the Change it Up challenges. That's certainly when I posted the most. I get a great deal of satisfaction from seeing the same clothing pieces looking completely different just with a few accessory tweaks. I think I pendulum between the less is more and the more the merrier mindsets depending on the outfit and my mood at the time. Did you find you leaned toward one in particular? Tell me about it in the comments.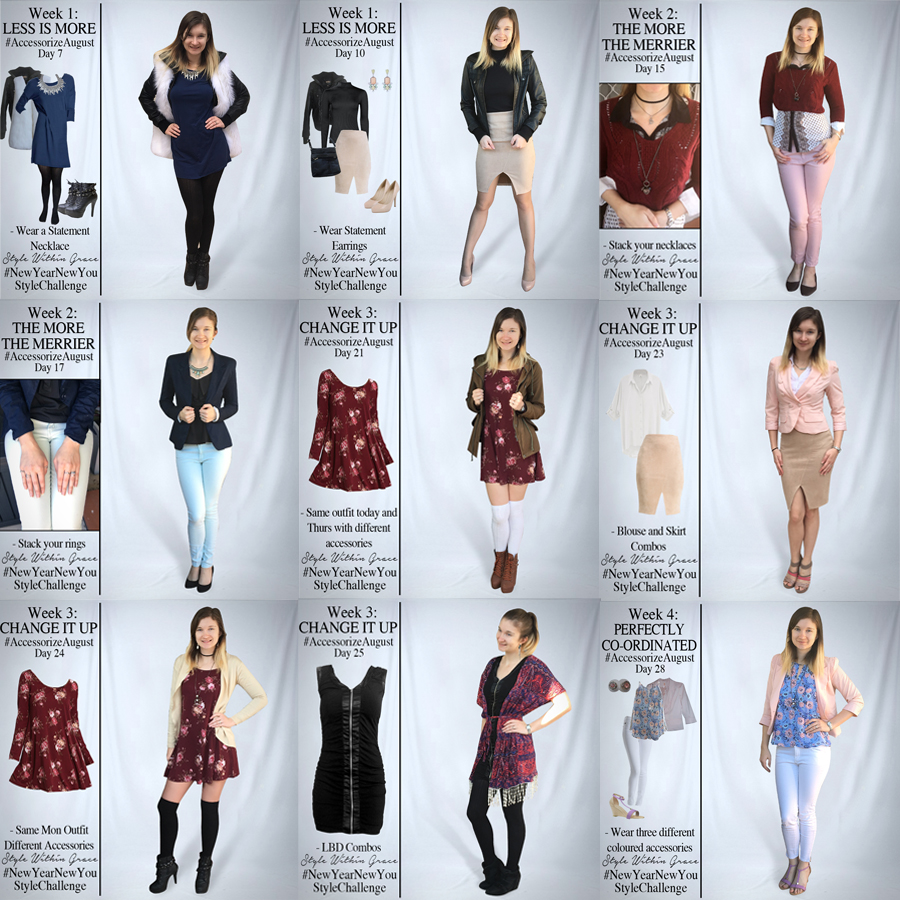 September Spring Fun
Spring has sprung so what better challenge this month then to be all about spring colours and pretty patterns. I find the first month of spring can be rather difficult to walk that line between florals and brights while still staying warm because even though the calendar says its spring it can sometimes feel a lot more like winter. Well I'm here to help you navigate the somewhat cold yet warming weather with these #SeptemberSpringFun style challenges.
Week 1: (3rd September – 9th September)
Styling Winter Pieces for Spring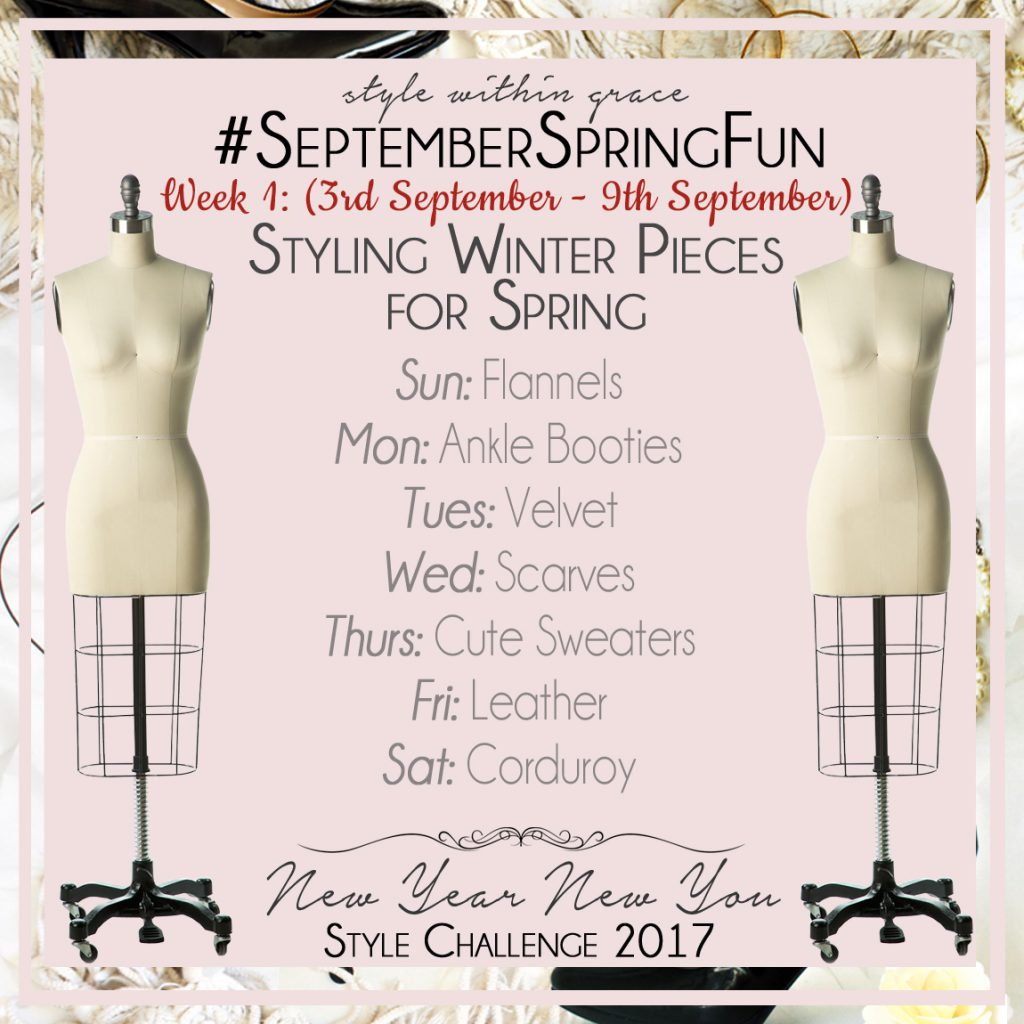 I don't know about you and where you are but I often find that the start of spring can very much still feel like winter. I find if I pack my winter clothing away too quickly I will be freezing in my spring finery. Thus my winter gear tends to stick around at least a little way into spring but instead of wearing the same winter combos, I like to put a spring twist on them. So that's what this week's all about, styling your winter pieces for spring.
I've chosen some of the more common pieces and fabrics that winter clothing tends to share but that will always work well mixed with for spring. Feel free to think outside the box here. For example on Sunday for Flannels, you don't have to necessarily wear the flannel as a shirt, you might want to tie it around your waste instead. Just like leather and corduroy don't have to mean pants they could be skirts or shorts. Try to really add a spring feel with these by embracing a riot of colour and patterns not just this week but the whole month.
Week 2: (10th September – 16th September)
Spring Clean Your Wardrobe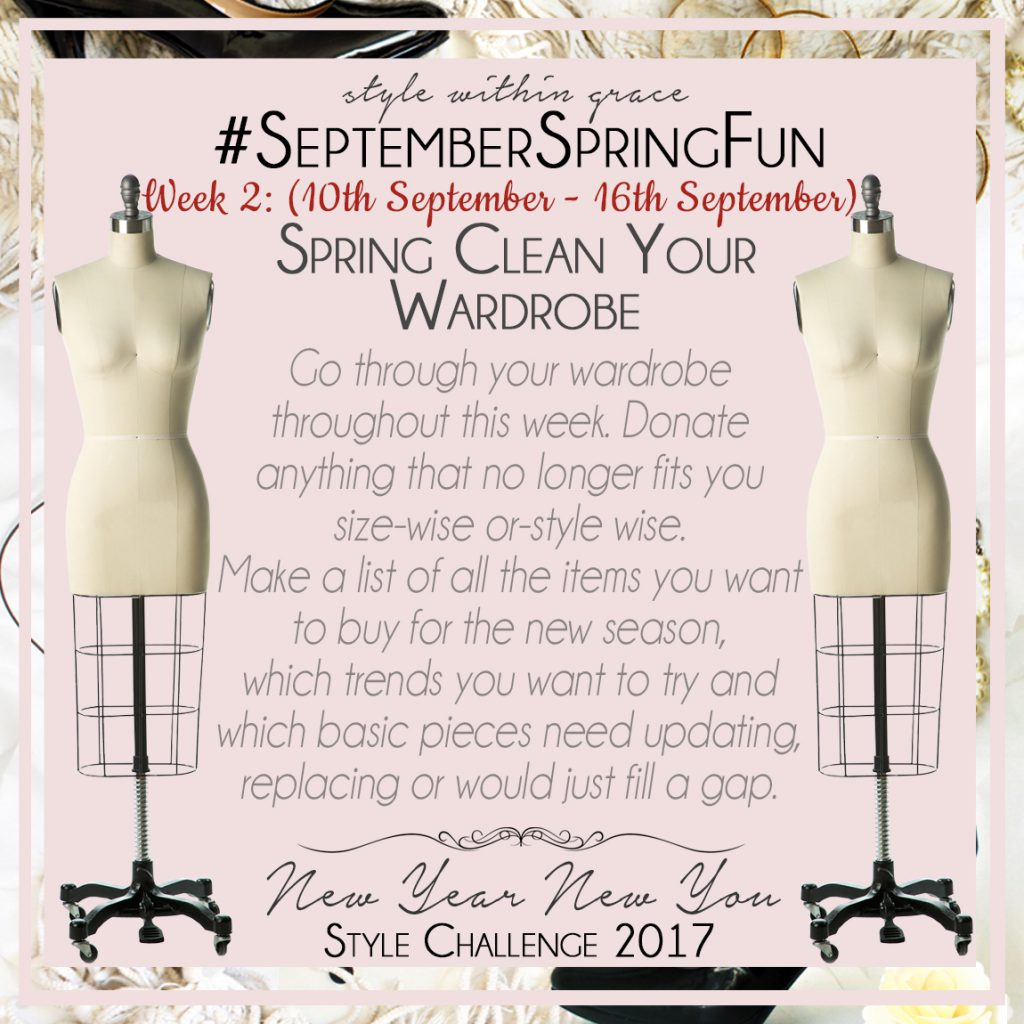 You had to have guessed this one was coming right? Spring is the month for spring cleaning and that should include you wardrobe. I've given you a whole week to get this done in it's entirety so do it thoroughly and properly. First make your bed (because it looks a lot cleaner and focuses your mind to the task at hand). Then take everything out of your closet and put in on the bed. Go through everything and sort into 3 piles; Love/Keep it, Donate it/Chuck it and Store it. You could have four piles here but I find I never have anything that needs chucking over donating. Here is a chart to help you decide which pile it should go in.

The store it pile is for items that are no longer in season (your winter clothing) but I also use it for pieces that I'm not ready to give away yet. I pack them all away and put them out of site and if I haven't missed them by the end of the season then I donate them as well, which is more often than not. Occasionally though I will unpack them and think, "I totally forgot about this! This would work great with some new piece I bought." There is something about giving a piece a break which can make it seem almost new again.
So after you have purged your closet of everything that no longer fits you size-wise or style-wise any more the next step is to make a list of a items you want to buy for the new season. Have you given anyway any basics that had worn out or no longer fit that need replacing? Can you see a gap in your closet? That means is there a piece that if you bought would instantly go with a ton of your clothing and make your wardrobe a lot more versatile.
Lastly is there any new spring trends that you want to try? This stage isn't a requirement but it can be fun to try a few trends just don't go for all of them. Just because they are in trend right now doesn't mean it is your style. Only choose trends that you like and that fit with your style. Trend pieces are the best pieces to get on sale because you don't want to spend to much on them because as the same suggests they might not stay on trend for all that long. Invest on your timeless and basic pieces and find bargains on the trend items. On that note that segways perfectly to next weeks challenges.
Week 3: (17th September – 23rd September)
Try Out the Latest Spring Trends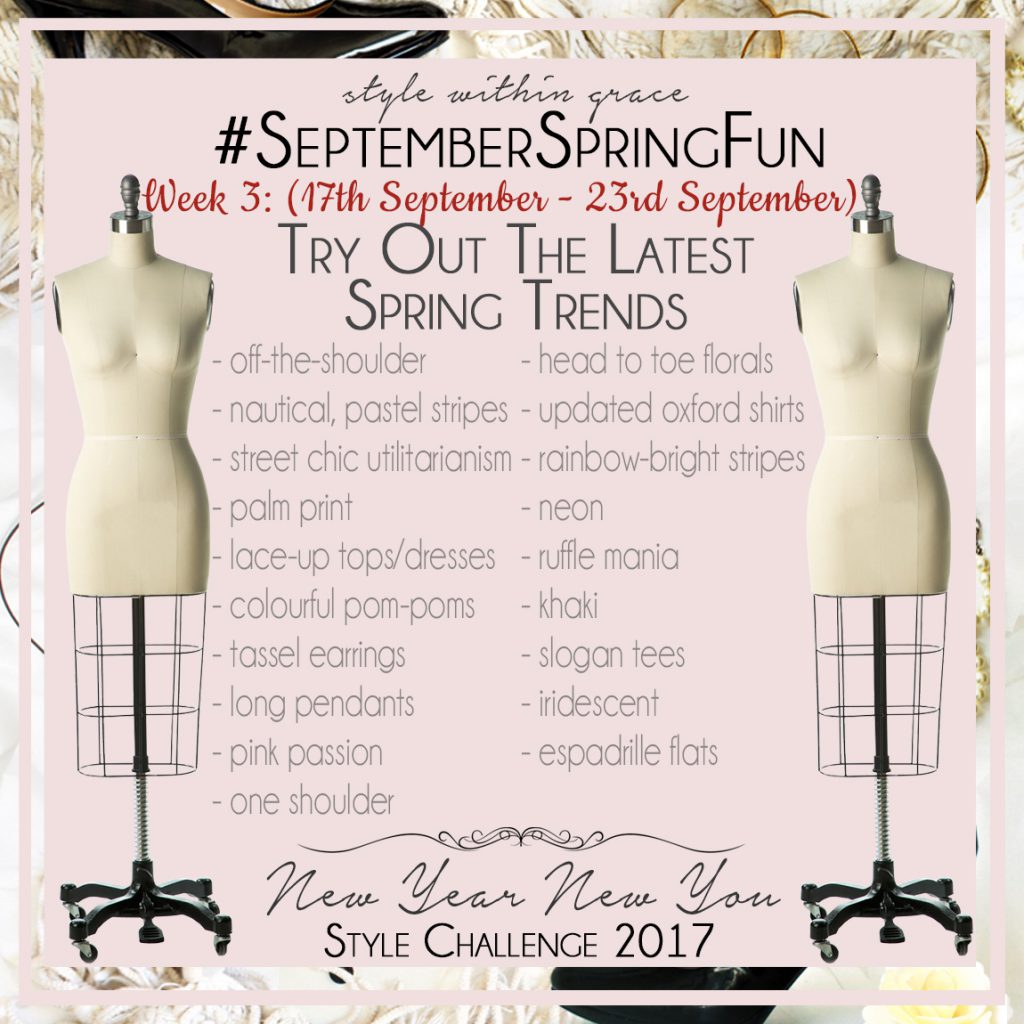 I've included a list of some of this springs trends and your task for the week ahead is to choose 7 trends that you like and try them out one each day. You can of course do more than one each day if you choose. But by no means should you feel like you must do all of these. Are there any trends that I have missed that you love? Let me know.
The ones that speak to me the most are the off-the-shoulder, nautical pastel stripes, lace up tops and dress, long pendants, head to toe florals and iridescent. I happen to own some neon and rainbow bright stripes so I'll add them into my mix as well. Which ones speak to you? What are you looking forward to trying? Need clarification on what any of these trends actually look like? Shoot me a message.
Week 4: (24th September – 30th September)
Spring has Sprung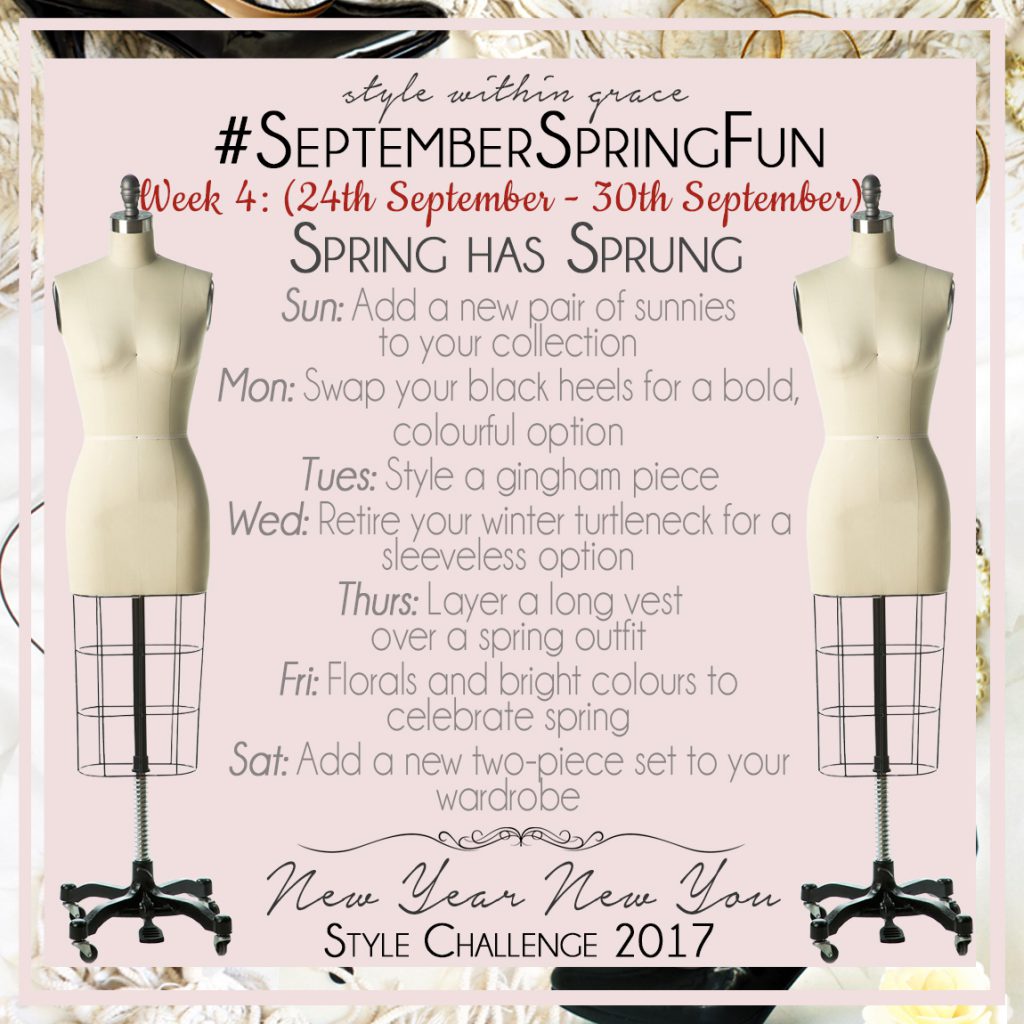 Spring should have fully sprung by now! Anyone else know that poem? "Spring has sprung the grass has ris, I wonder where the birdies is?" This last week of prompts is just some ideas on how to start dressing more for the spring after coming out of winter. Remember to keep wearing lots of florals and bright colours all month long because that's what spring is all about!

Now go at it! Shake off those winter blues and have some September spring fun!
If you post on social media please tag me @stylewithingrace and use #SeptemberSpringFun or #NewYearNewYouStyleChallenge. I'd love to see how you embrace the warmer weather with your clothing.
Need any help with any of the style prompts? No sweat! Feel free to contact me. I'd love to help.