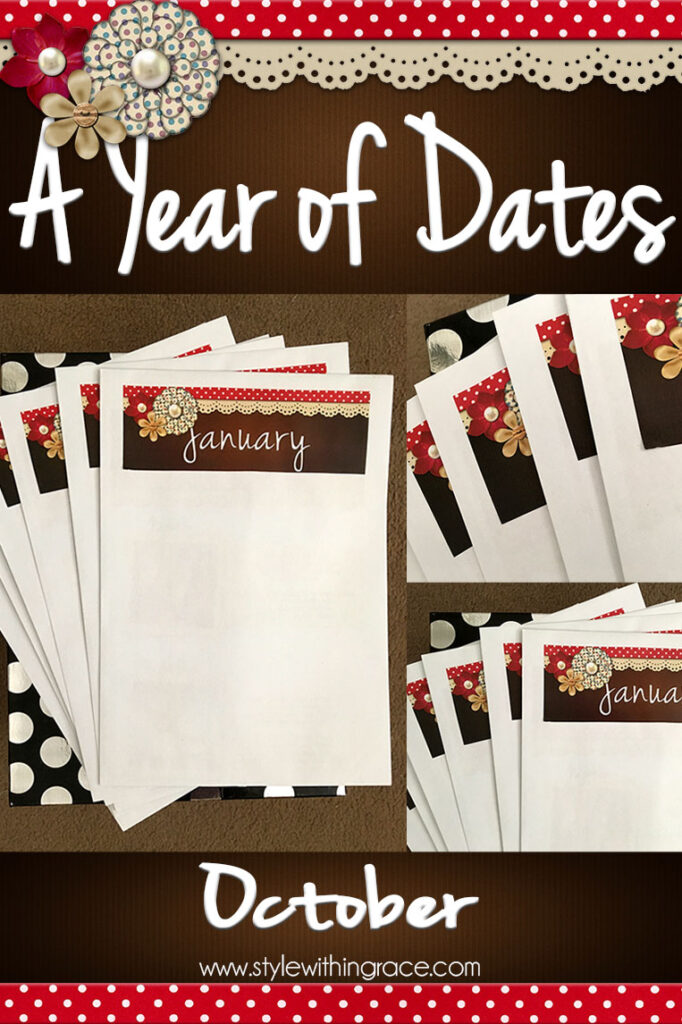 If you've only just joined us and don't know what I'm talking about, take a squizz at the introduction page for the Year of Dates series.
We started our year of dates with October as our anniversary is on the last day of September which makes it too late to do that month. Since October is known for being the month of Halloween, I decided to make this month horror themed. Here is the sheet I slipped into the monthly envelope to explain what we would be getting up to.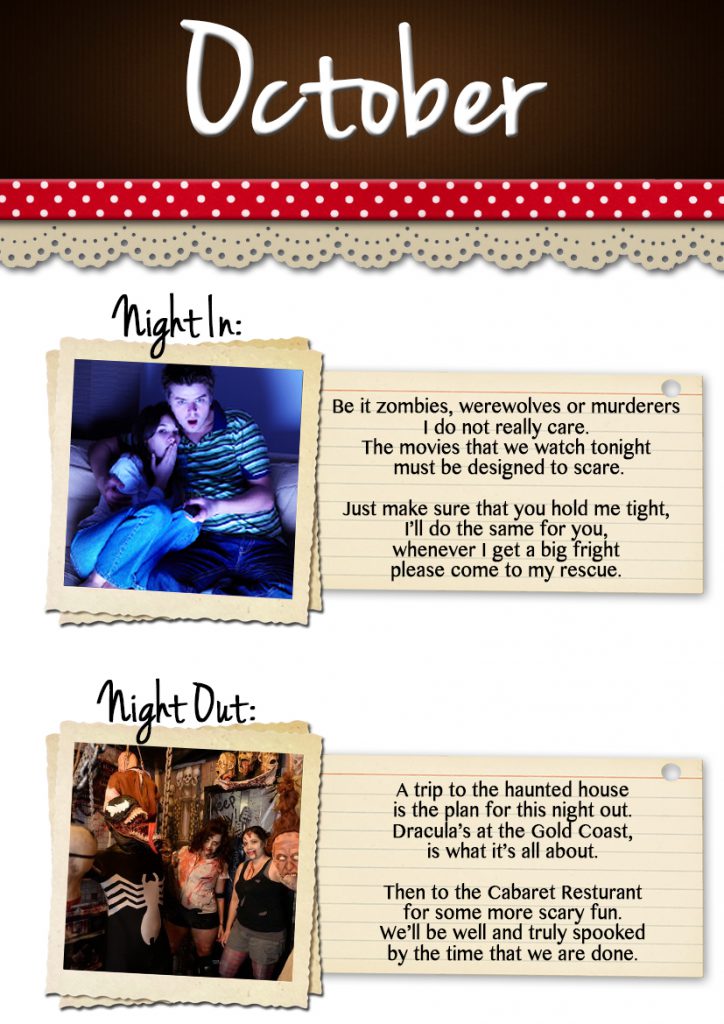 Night in:
Our first night in started with something fairly simple and expected for Halloween in my opinion, the scary movie night. While the hubby and I watch movies together at home all the time, we have never actually had a scary movie night. I have learned that, that is because he doesn't like scary movies. Whoops! The movie the hubby picked out was called The Stanford Prison Experiment (trailer below for those who are interested). It was more a thriller because of this reason. While it wasn't what I would call scary, it was a really interesting movie and had me on the edge of my seat.
To make it more of a date night than our usual movie watching activities, I made sure to have popcorn and maltesers included in our date box for the hubby to open right before the date. We also dimmed and tinted our Phillips hues slightly red just to set the atmosphere a little more.
It was a last minute plan to have the date night that night. We didn't really plan actual days for the dates which is poor organisation on my part. I meant to organise the days on the first day of every month but was slack this month. Suddenly it was already the 8th. I knew we would have to get cracking to get both the dates in. Next month I plan to get my act together and sit down on the 1st of November. When he opens the next months envelope, we'll figure out the days for each date then and there.
If I was to do this date again I think I might make the requirement for the both of us to sit on the couch together. Instead of on our separate recliner chairs, to encourage cuddling. Other than that, I count this one a successful date night in.
Night Out:
I've always wanted to go to Dracula's Cabaret Restaurant at the Gold Coast. The year of dates plan seemed like the perfect opportunity to do it as part of the horror themed month. I thought I'd throw in a visit to the Dracula's Haunted House there as well to make the trip down worth it. Included with the date envelope this month were some Groupon vouchers for the haunted house that I picked up for a discounted rate.
It is worth checking out all the deal sites for discounts. There was a coupon going for the Cabaret restaurant too but I didn't want to spend that much money up front for all the dates. Even all the little pieces add up a fair bit. But also because they only had a certain amount of seats available for the discounted rate which happened to be booked out every Saturday. We had to pay full price to ensure we got in while it was still October.
While we were driving down to the Gold Coast last Saturday afternoon we realised that that weekend happened to coincide with the GC 600. Lucky we had left so early, we had enough time to sit around in bad traffic for awhile without being late for dinner. Surprisingly we didn't find it too hard to find a park for the Haunted House. We were the only ones there at 5:45pm. Before we went in they asked if there were any handbags or what not that we would like them to take care of. So we emptied our pockets into their safekeeping box, not realising that we were in fact allowed to take our phones in and that there were various places throughout the house that you were meant to take photos in.
So unfortunately we missed out on taking any photos. Sad face. The haunted house was fun but I can't help but look forward to having children we can take through there and scare. Is that mean? The hubby and I were too cautious at every corner. We were always keeping an eye out for motion sensors which kind of dampened the experience. We were in and out fairly quickly and then off to Dracula's Cabaret restaurant.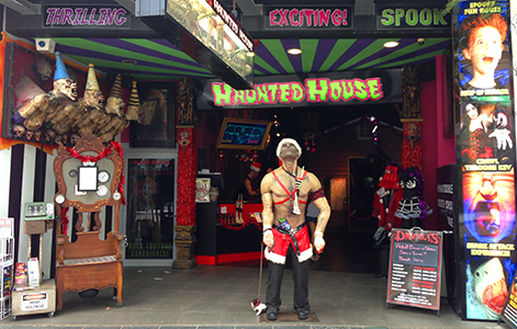 Just a note to anyone visiting Dracula's Cabaret, which I happened to miss. There is limited car parks available on-site! This wasn't a big deal though. They recommended parking at the Casino which was apparently only a 3 minute walk away. We just went over the road to Pacific Fair though. It didn't cost us anything and was much closer. Hopefully by letting you know this, you won't have to venture down that tiny side road with a bunch of less than great drivers.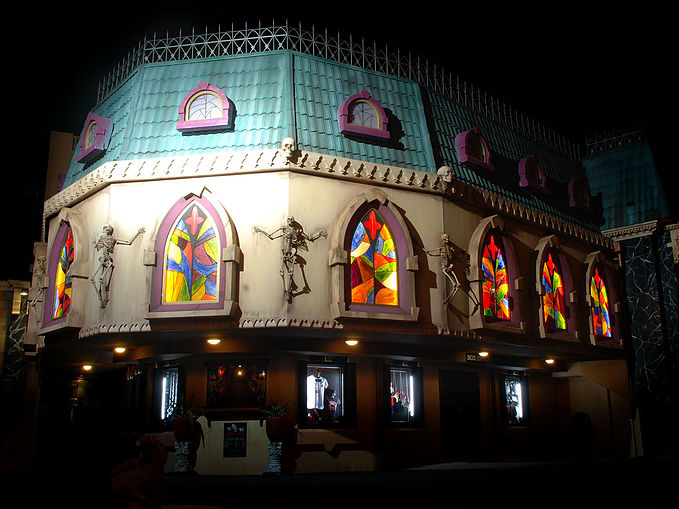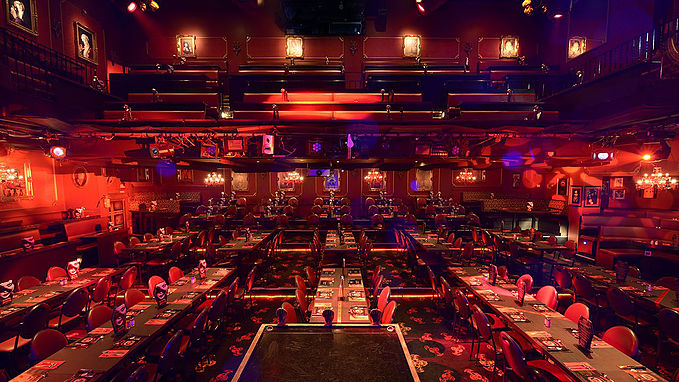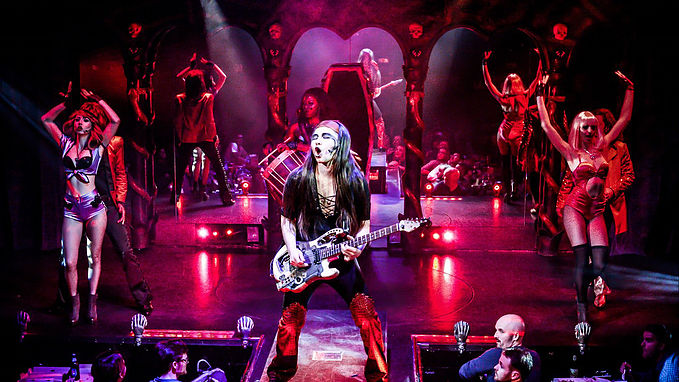 So Dracula's… well it wasn't quite what I expected. I expected a little more horror based humour and a little less 70's. I didn't really expect the 70's at all. It was fun but possibly not really the hubby's and my style. The singing was excellent and there were some really great parts to the show. But it also turns out that my hubby hates the Bohemian Rhapsody (I just keep learning more about him lol). He also doesn't get The Rocky Horror Picture Show which I'm not really surprised about.
There were so many different kinds of awesomely themed drinks (which I couldn't drink because I was driving us home). But the food was kind of average, although I did like the coffin mousse dessert. While it was a interesting unique experience, I wouldn't exactly go there again because it's just not really our style. Our year of dates is off to a bit of a shaky start. I'm looking forward to next month and I'm sure it will be full of even better experiences.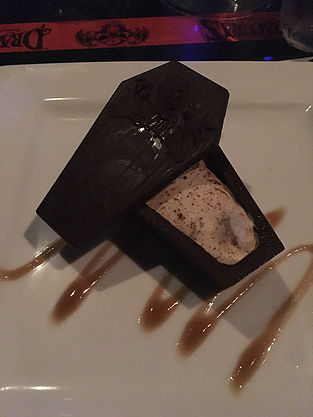 Check out how next month's dates go in November.
See you Next Month…