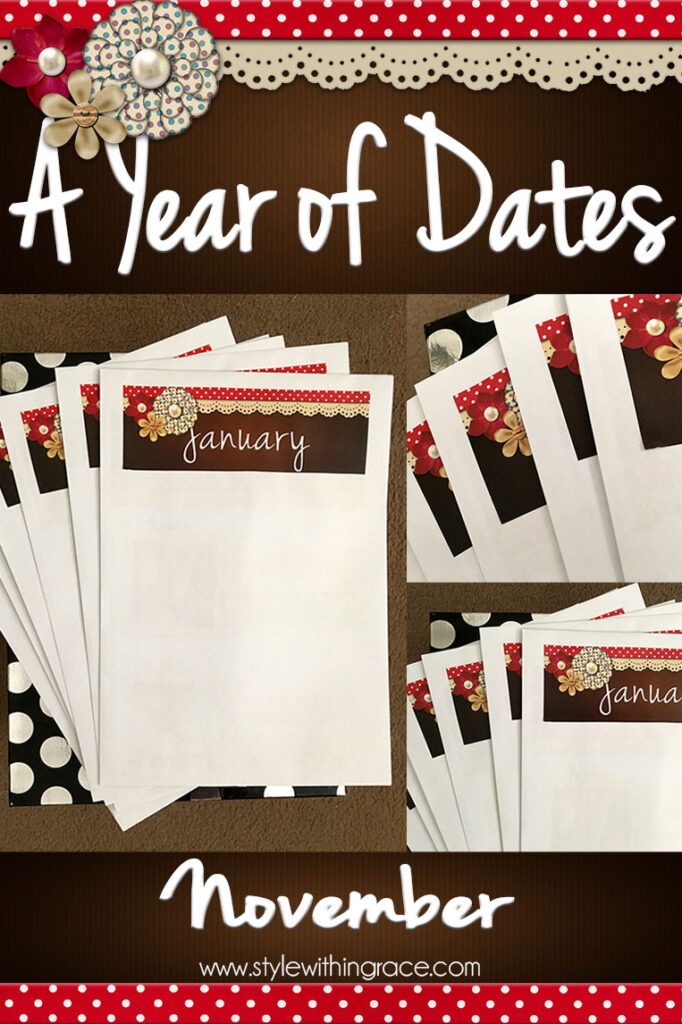 If you're only just joining us, you might want to check out the first post in the series about the Year of Dates gift I gave to my hubby for our anniversary this year to get the down low on what this is all about. Also if you missed the first month check out how October's horror themed dates went.
After October's rocky start to our year of dates I was keen for November's dates to come along. I went with a summer/spring theme for this month which was a lot safer and more vague as to activities to include. Here is the sheet that I included in the November envelope.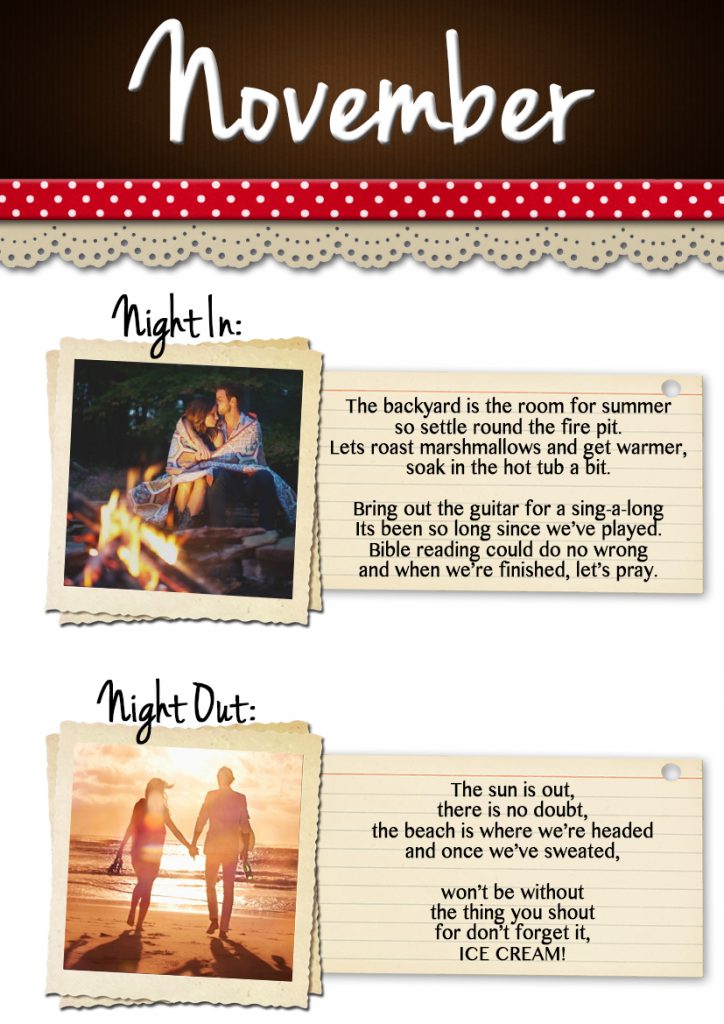 Unfortunately I think this month was even more of a disaster than last month. This month has been rather crazy as I had my first ever pole dancing competition on the 19th and I was too busy practicing as much as possible before that to even think about doing one of the dates but then we had one of my French cousins and her boyfriend come stay with us for a week after that. Before I knew it, there was basically no date time left!
Night in:
When I originally came up with the dates and wrote the corresponding poems, our backyard makeover had just been finished and I was looking forward to making use of the area, getting out the fire pit and roasting some marshmallows but things are never easy are they! Just recently the deck stain had been starting to peel slightly in a couple areas so a couple weekends ago we stripped it back and re-stained it, which then kind of ruined all our good work painting the concrete and fence because we got stain all over the backyard.
It is still waiting to be cleaned properly and all the chairs and plants are stacked in one corner. How are we meant to have a date out there when it looks like a bomb hit it. We didn't even attempt this one and decided we would just wait until our December dates envelope. I still hope to do this date down the track though when we have had time to clean up the backyard and get it back to how it should be. I'll update this post when we finally get to it. Surely next month will go better… Surely!
Night Out:
What with our time constraints and our visitors, the beach trip turned into a double date. The Frenchies were very keen to visit the beach anyway so it worked out well. We squeezed this date onto the last Saturday of the month, driving down to Caloundra fairly early in the morning. At this point, the day was already looking overcast and by the time we were half way there we had already experienced a couple of downpours. We scrutinised the BOM website several times and were still hopeful that as we travelled further north, we would find some sunshine.
Up ahead in the distance we saw some blue sky and headed towards it. The silver lining of the cloudiness was that there was ample parking for a change. The beach was near to deserted. But alas even in the blue spot it was still too cold to swim. We sat on the beach for about an hour hoping and praying the sun would come out. Instead the clouds drew nearer and we quickly exited before the rain came. What a bummer of a beach day! We didn't even have ice-cream 🙁
Check out how next month's dates go in December.
See you Next Month…