Once again, the quick end of month rush to get the Instagram Round Up completed. I sort of have a legitimate excuse this month though. I'm only just getting over a cold and you know how you feel like doing nothing but watching endless TV show after TV show when you're sick.. well yea that's my excuse. You know the drill… Lots of posts… Too many to include…  so if you want more follow me @stylewithingrace. Now to get right on to it.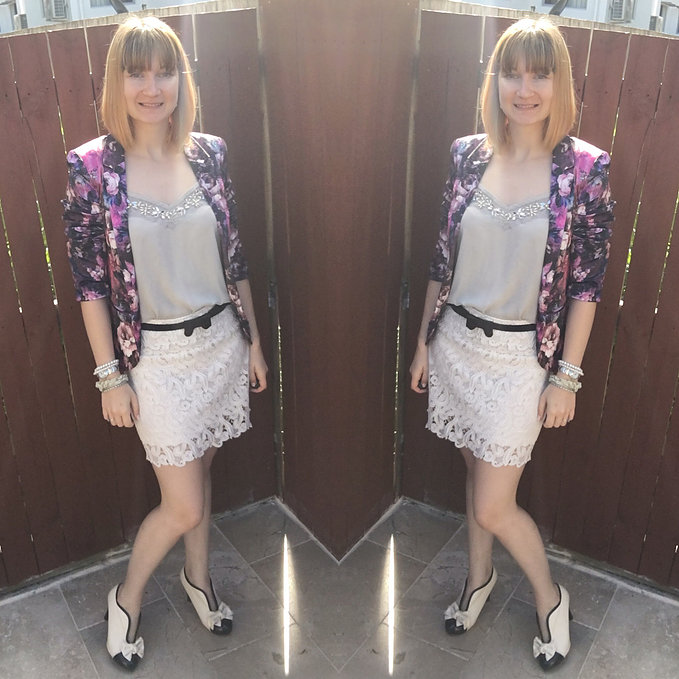 After I awhile I find that there are only so many ways you can wear a floral blazer as most of the time your other pieces have to be solid colours and neutrals which can be a little boring if you happen to take the blazer off at any point during the day. I was really happy with this outfit combination because a) the top had beading detail on it  and b) the skirt was a lace design, both of which weren't too much to clash with the floral but kept it interesting when it was too hot to keep the blazer on. I'm always keen to find new ways to wear these heels too as I really struggle to style them because of their unique shape. I didn't need the black bow belt but I felt it helped tie in the shoes.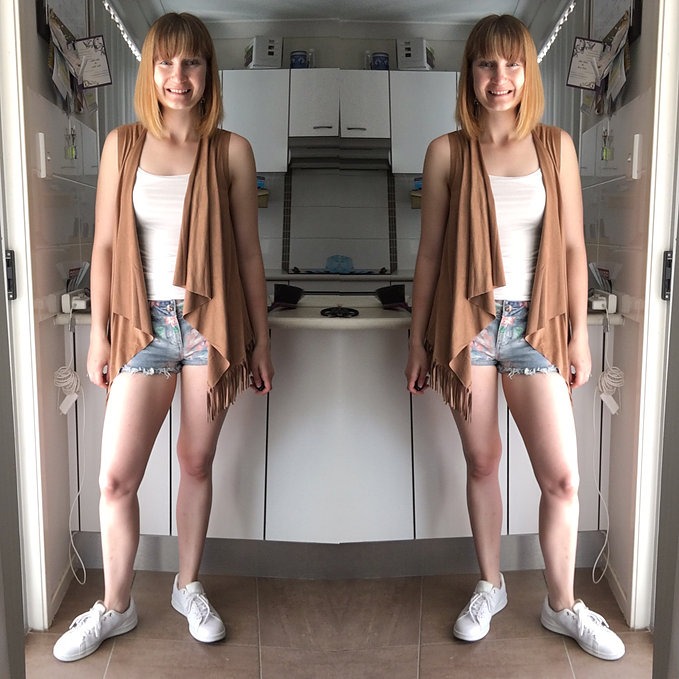 This was a quick casual outfit I put together so that I could wear my new suede fringe vest a had just received in the mail from Boohoo. I think perhaps it might have gone better with sandals but alas I'm kind of lacking in those. I shall have to find some new ones to add to the closet. I'll add them to my very long list of things I want/need. If you are fan of the vest though you can get your own here. It has fairly limited availability left though and none in the tan colour but Boohoo also have this vest which is similar.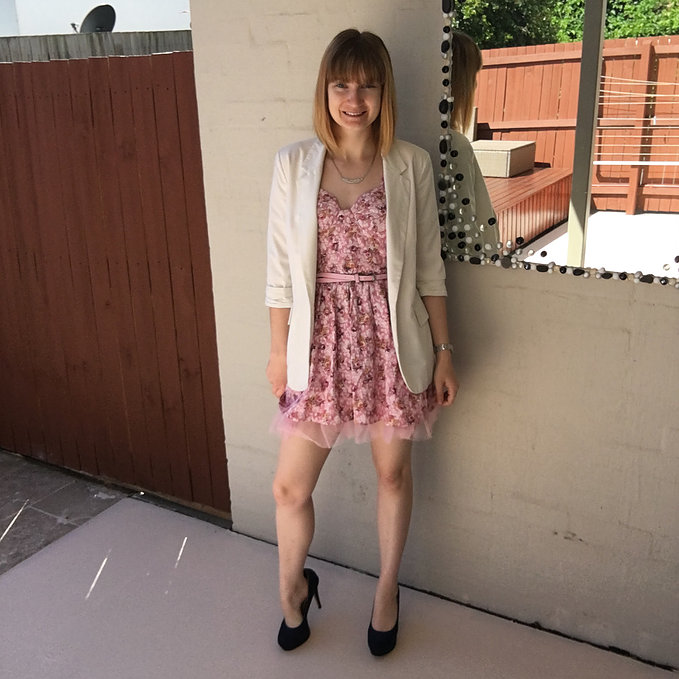 I always forget that navy is pretty much counted as a neutral! I confess this outfit was Cluise's idea (Wardrobe App) and I'm pretty pleased with what "she" came up with. A good navy pump will pretty much go with any outfit and is a nice change from the classic black pump. It can add a little more interest while still looking professional and coordinated. Finish off you floral dress with navy pumps (Similar, Similar) and a white boyfriend blazer (Similar, Similar, Similar) too.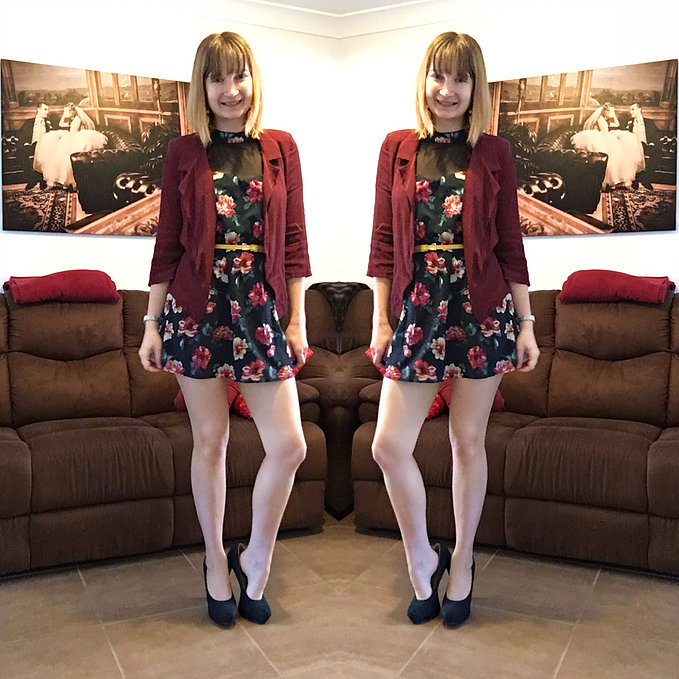 As you can see I use this basic outfit combination quite often: floral dress, navy heels, blazer and belt. This time instead of matching the belt to the dress I used it to give the dark outfit a pop of bright colour. You can get really cheap belts in all kinds of colours on eBay. They are a really inexpensive way to update an outfit and add more interest. You get plain colours, plaited ones and ones with bows. I think the plaited ones are great because you don't have to have the holes in the right places. You can poke in the buckle wherever you need it to be.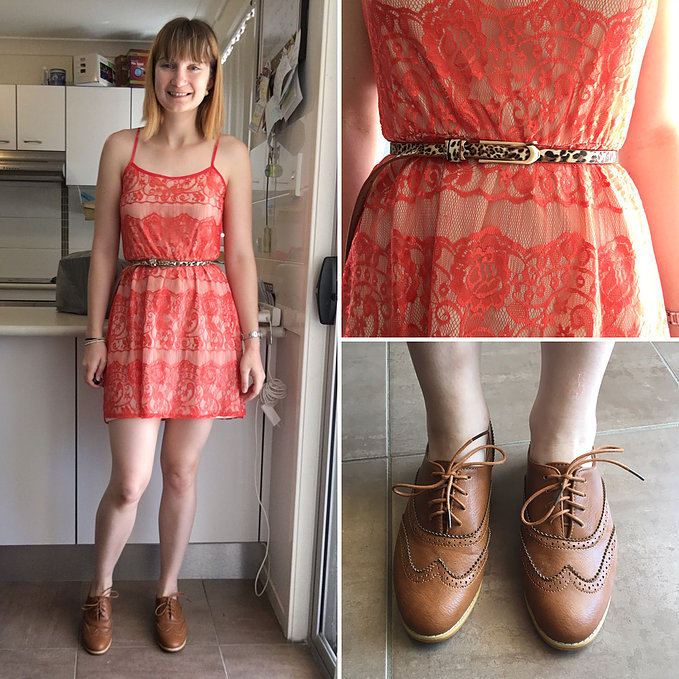 This month I got a pair of oxfords which I had been pining over for quite some time. I went with the classic tan ones to start with because I figured they would be the easiest to style. I figured they would also go with the greatest amount of pieces in my wardrobe. I'm also really craving some laser cut pink ones and some suede teal ones. Oh and floral ones and lace ones and I could just go crazy over oxfords. I think they are my new obsession. I got these ones from here but there are so many out there if you just start looking that you will be addicted too. Over the course of the month, I experimented with a few ways to wear them. Which way is your favourite? Do you have any great outfit ideas on how to wear oxfords?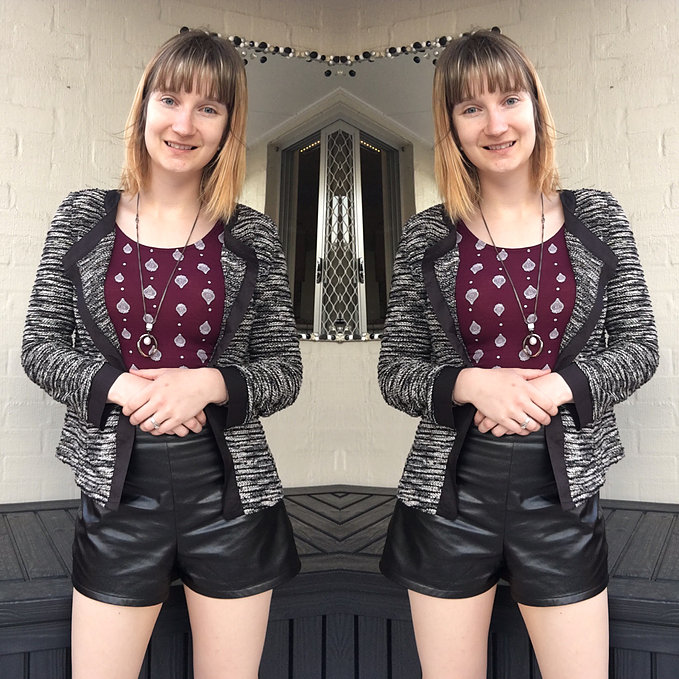 I've been wanting to wear this outfit for ages. Just waiting to actually get myself a pair of leather shorts. Now that I have them I can wear all the outfits I had prepared earlier. These are definitely better for the cooler spring days though (or autumn/winter days if you are headed in that direction) as they really do make you sweat if you are in the direct sunlight. If you missed it the last time I brought these out, you can still get yourself a pair of the exact same shorts at Boohoo.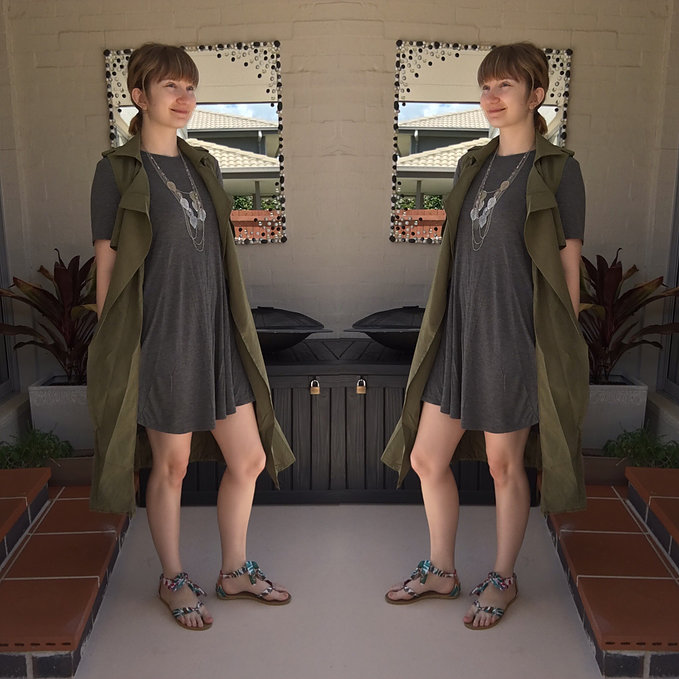 Guess what? I received another item in the mail and I had to wear this olive waterfall lapel vest immediately. It paired nice and simply with a grey t-shirt swing dress, my tie up floral flats and a silver leaf layered sweater chain necklace. I can't wait to see how many more outfits I can create with this new piece in my wardrobe. If you like the vest as much as I do you can find my exact one here.  Be quick as there are only 3 left. I'm sure if you search some variation of "Women's Lapel Sleeveless Long Waistcoat Cardigan Coat Blazer Jacket Vest Trench" you will be able to find other similar vests.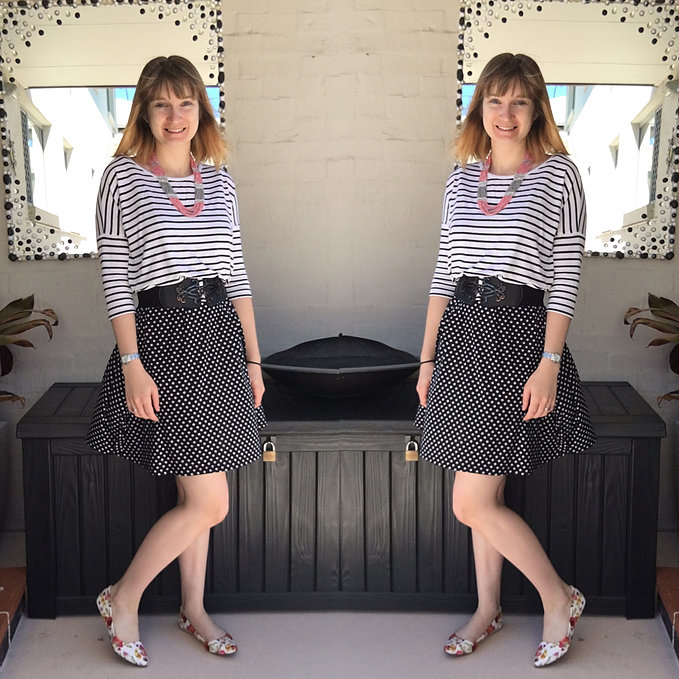 When I put this outfit together, I wasn't completely sure if I liked it. I based it on a Pinterest outfit I found whilst looking for ideas on how to wear my floral flats. I didn't quite have the exact pieces I needed so I got creative. Instead of a polka dot skirt, I paired my striped top over a polka dot dress and defined my waist with the black elastic belt. The shapes of the pieces weren't quite the same as my example outfit. I used the Pinterest outfit as more of a pattern mixing guide.
What do you guys think? It's still not my favourite outfit but I got such a lot of likes for it across my social media pages that it has made me very curious as to why. If any of you can express your thoughts to me I'd be very interested. I love the look of my glass stone mirror in the background of all my photos. Check out how I made it if you are interested. All for now. Catch you on Instagram or next month.