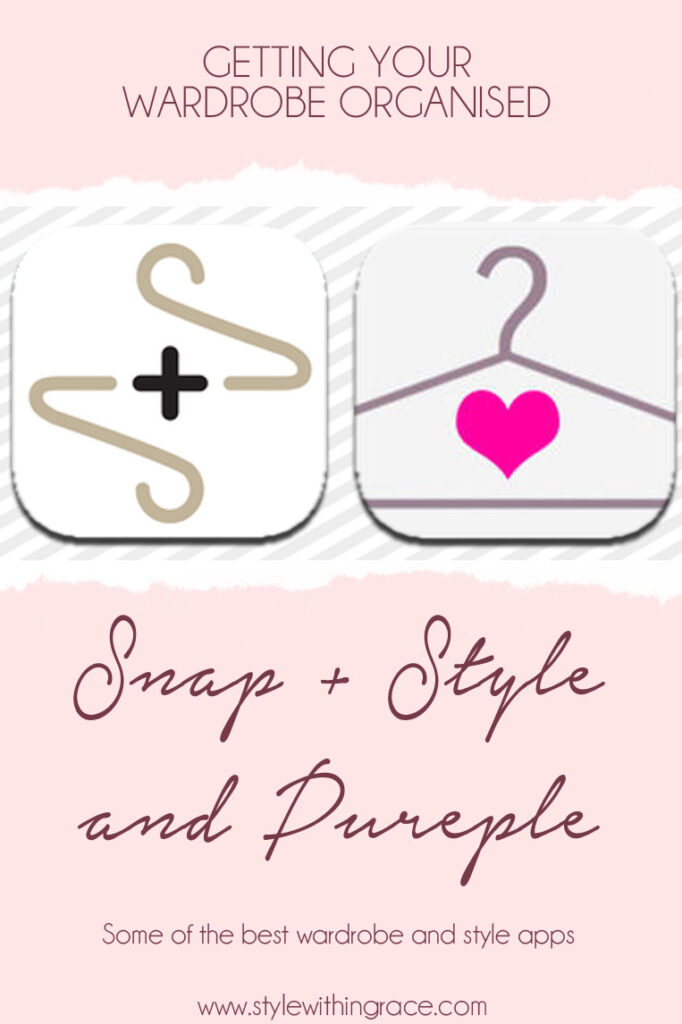 A while back I did a post on Stylebook, an app I have been using for over a year now which has helped me organise my closet and decide what to wear everyday. If you missed that post you can revisit it here. I still love this app but have recently come across two new apps that have excellent features for styling your wardrobe as well and both of these are free. There's no way I'm giving up Stylebook now but I've been using these other apps on the side and they have given me more inspiration in the closet department. Hopefully they'll help you too.
Pureple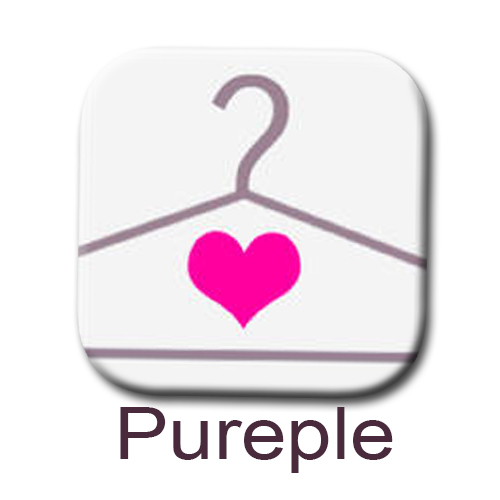 Pureple has many of the same features as Stylebook but the general layout overall all is clunkier and less appealing. You still load all your clothing and accessories into the app, categorise and remove the backgrounds. Pureple has a place to create outfits, then a calendar which will record when and how often you wear each piece of clothing. All much the same as Stylebook, if not clunkier, but Pureple is slightly better than Stylebook in a couple of areas.
It removes the backgrounds of the wardrobe photos slightly cleaner, it has the option of categorising your clothing by occasion as well as season and you can choose more than one colour per piece of clothing.  This was one of the things that bugged me about Stylebook, as it was hard to just choose one colour for patterns which had 3 or 4 colours in them. The best bit about this app though and the reason I'm using this one alongside Stylebook, is once you have loaded in clothing pieces from your wardrobe, it will suggest outfit combinations for you, taking into account colour, season and occasion. Some of the suggestions don't work at all but it is really handy because once in a while it will pair things that you would never had considered but actually work really well together.
The Closet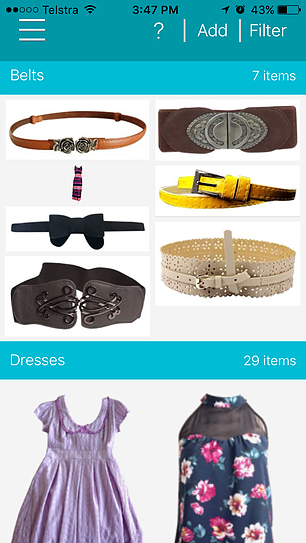 This is the Closet screen. You just have to keep scrolling down and down to get to Tops which is right at the bottom as it's organised alphabetically. I think it may have been updated since writing this but you can't even reduce each category. You can use the filter button but then you still have to scroll a lot depending on how many items are in that category. There is a lot of scrolling in this app in general and it is a bit of a time waster.
Suggest an Outfit
You choose which elements you want to put into the outfit and then the app generates outfits for you. Just swipe left if you don't like the combo and swipe right if it's "Nice". It supposedly gets better over time as it learns your style but I haven't been using it enough yet to notice it. To me it seems kind of random. It would be really helpful if you could set rules into the equation, like "Do not pair ankle boots with skirts that are below the knee" etc. Or if you could set which shoes do not go with particular bottoms. This app could be great but I think it needs finessing.
Snap + Style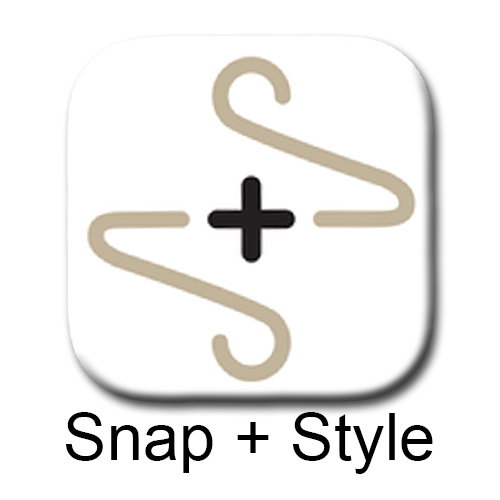 Snap + Style has a rather different set up to Stylebook and Pureple. Its main focus is that you can actually get access to real fashion stylists who will create an outfit just for you with items from your closet and new items from various brands. I love this! It's so great for those pieces that you love but can't figure out how to wear or you always wear the same way and are a bit stuck in a rut. I know I had a few pieces like this. You can chat to the stylist once they have come back with your outfit as well as ask for any changes or other advice you might want. They also explain why they picked the items they did. They take into account your style and budget as well. Before you start you have to do a personal style survey.
My biggest problem with this is that when bringing photos into the app to use for the closet, it will only look at the library folder. I synced all my wardrobe photos into a separate folder. The only way I can bring them in is to take screen shots of them, which doubles the space they take up on my phone and I'm already short on space. It will also take a fair bit of my time to do that and bring them all in again. Obviously the more of your own clothing you have in the closet the more the stylists will use stuff you already own in the outfits, which I prefer as I don't want to be going out and buying 3 new pieces of clothing every outfit.
Style Me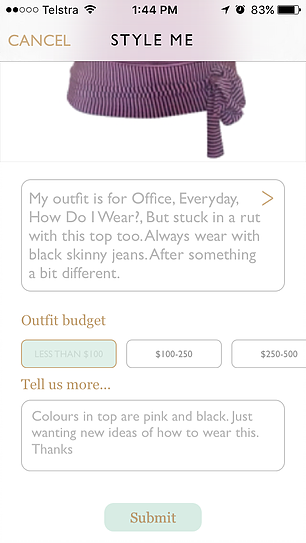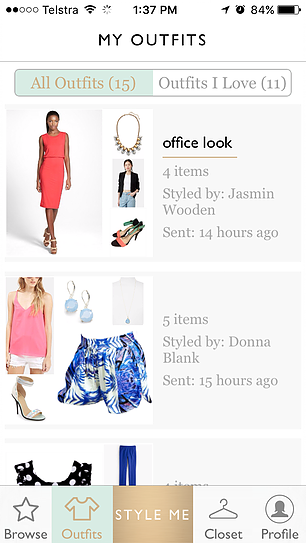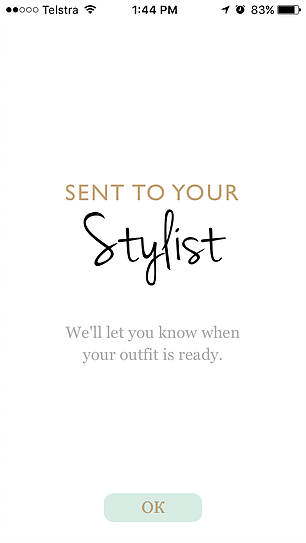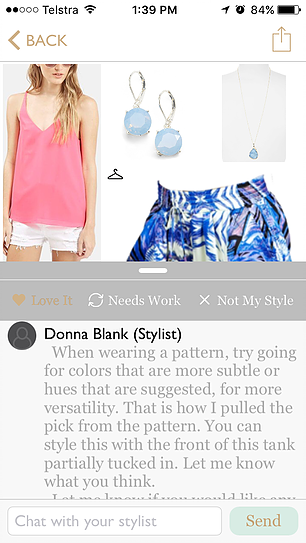 Above are some of the outfits I have had styled for me based on some pieces from my wardrobe to give you an example of how it works. It's so helpful and fun. I'm always excited when I get the notification to say that I have an outfit waiting for me. The stylists are all in New York so can take a few hours to get back to you depending on what time of day you put the request in. I personally don't mind waiting.
It would be totally excellent if they did an Australian version of this with Australia stores. I'd be buying so many things. I could still buy off the American sites as most do ship to Australia but I usually only buy the items I totally love! (Like those iridescent heels that were styled with my blue pattern shorts. Love!) I think even if you don't buy the exact items they suggest you can find similar items. It's really good at giving you ideas of what would go together.
Each of these apps have great things about them but also have clunky, not so great things. If only these 2 apps would get together with Stylebook and have an Australian app child with all the best features. That would be the best wardrobe app ever and they would definitely have me hooked! Until then I'll have to use features from all.