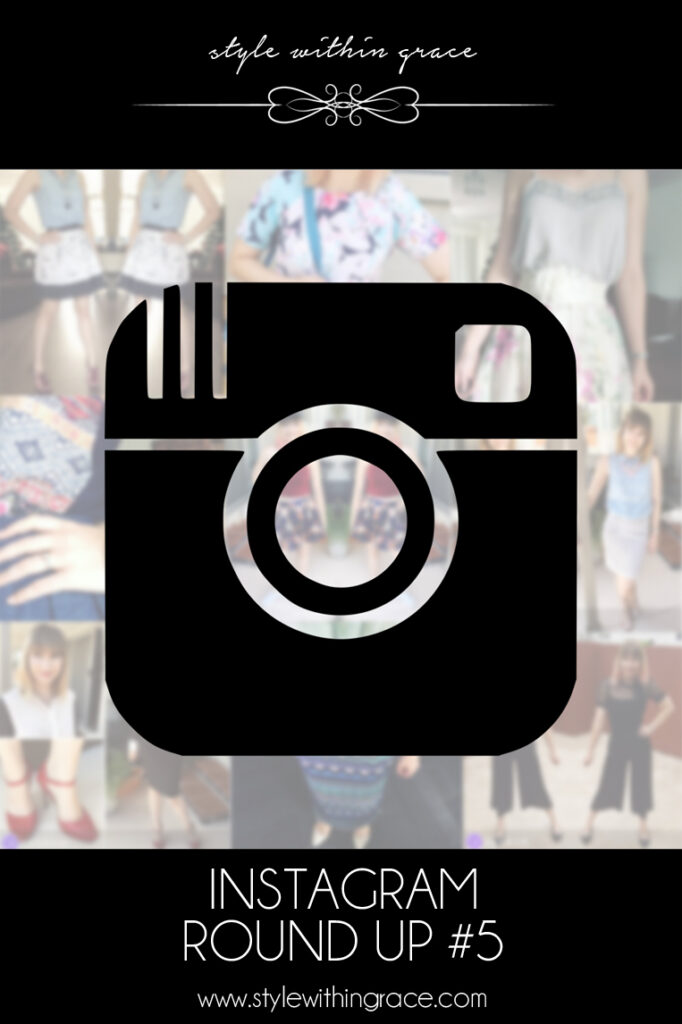 I hope you have all had a very Merry Christmas and have awesome plans for the New Year so as to celebrate in style. This month I decided to take part in Fox In Flats #DAREcember for the month. It was basically a style dare a day and I posted each dare on Instagram for all to see. Some dare's were really enlightening and helpful, others I won't be trying again any time soon, namely the orange lipstick. Style dares are great because they open up your style to things you wouldn't have thought to wear. I also find it easier to choose what to wear in the morning because I have a starting point to build the outfit around. Normally I find it hard to find a place to start.
I have started up my own style challenges for next year called #NewYearNewYouStyleChallenge. If you're keen to join me check out all the details. Each month is going to have it's own theme. You can join in for the months that are most relevant for you if you don't want to commit to a whole year. I'm not including every single day's worth of style dares below so if you want more check me out on @stylewithingrace.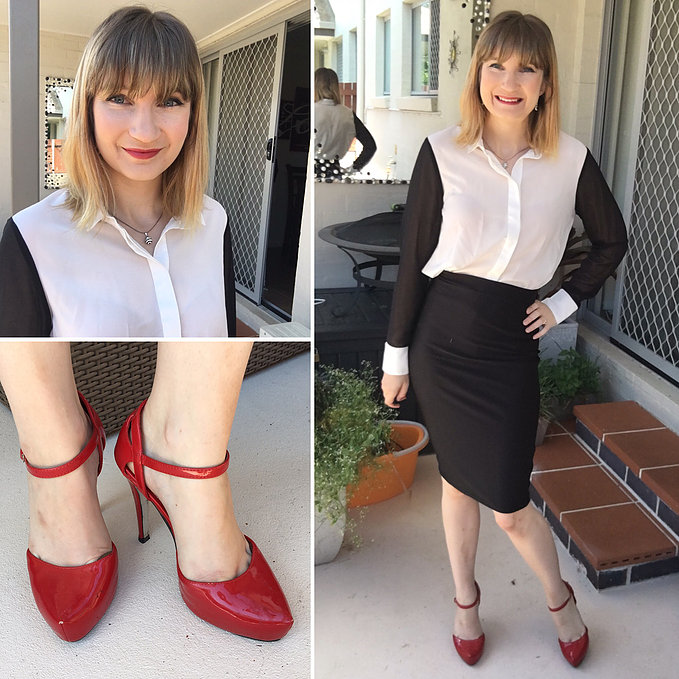 Day 1: Red Lip
I don't normally wear make up to work so I was already out of my comfort zone on just day 1 of DAREcember. I figured I couldn't just wear red lips without some make up as well so I went full out. My co-workers kept asking me if I was going out that night. I decided to focus the whole outfit around the red lip and wore my matching red heels while keeping the rest of the outfit neutrals. I've heard people say that wearing red lipstick makes you feel confident but I think I felt more self conscious than usual purely because I was constantly concerned I had lipstick on my teeth. Nevertheless it was good to try something different and I think I totally rocked the red lips.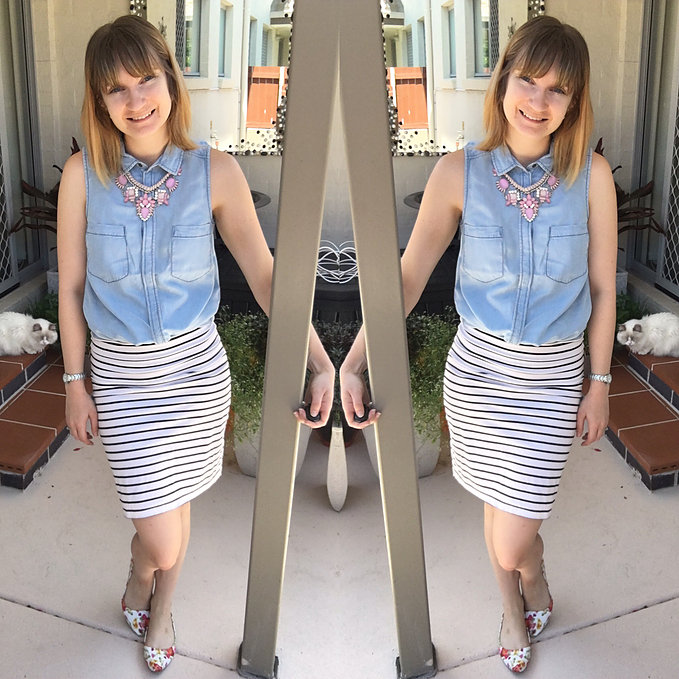 Day 2: Stripes
This style challenge was way more my style. Not too much of a challenge for me at all so I decided I wanted to challenge myself to wear stripes in a way I hadn't worn before. I styled my long sleeve mini dress into a longer more work appropriate skirt, paired with the ever versatile chambray shirt, sleeveless is great for summer, my floral flats and a pink statement necklace. A casual and comfortable outfit that is still classy enough to wear to work.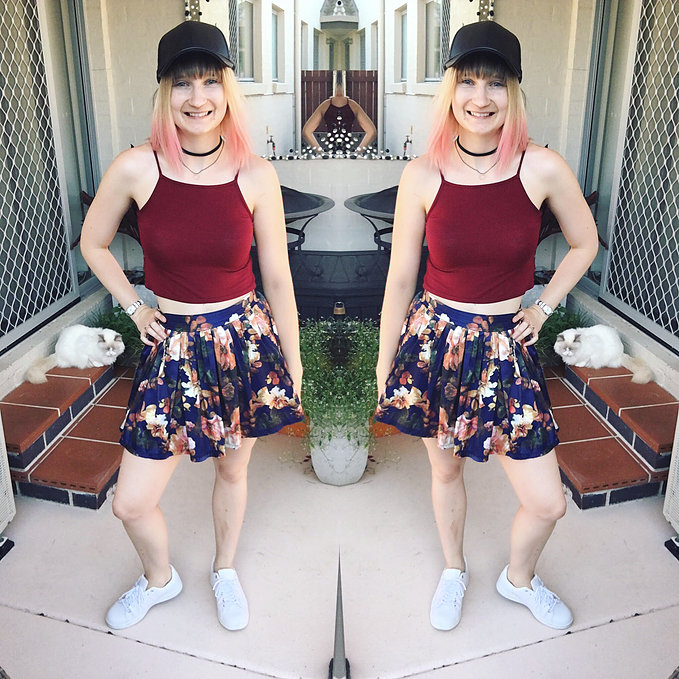 Day 3: Relaxed
My long awaited pink hair happened at last this day! I'm not big into relaxed fashion. My version is comfy white sneakers and I think the black leather baseball cap is rather relaxed too. It's a new addition to my wardrobe which I got from Sammydress. It's great quality and just gives any outfit a more relaxed and edgy look but it's not as casual as a plain baseball cap. It really helps make an outfit look put together in my opinion.
Day 6: Arm Candy
Recently I had decided that I was going to get into stacking bracelets more. I quickly realised that I didn't have any bracelets that I could stack. Luckily I went out and bought a few cheap sets off eBay before this challenge arrived. You can find a lot of great and affordable bracelet sets on eBay. I bought this one and this one. While I love the look of stacked bracelets does anyone else find it incredibly annoying to wear bracelets when you work at a desk job with your arm resting against a mouse all day long?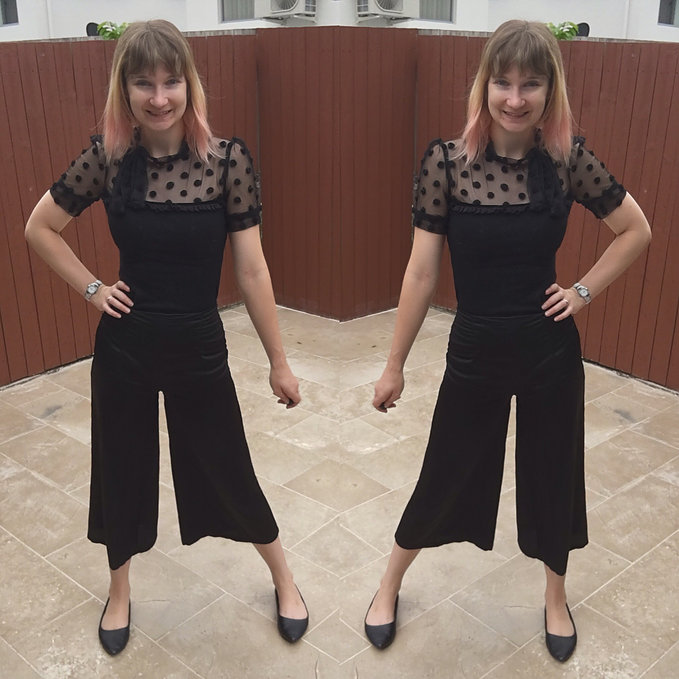 Day 7: Black Out
I don't typically wear all black outfits because a) they wash me out and b) I always end up with a truckload of white cat fur all over it but I gave it a whirl for the challenge. Black outfits can also feel a little boring to me. So to combat the boredom, I made sure to add black pieces that added interest to the outfit. The Kitten D'Amour top has the cute rosettes and the culottes add interest to the silhouette. I still think I like my colours too much to go all black all the time.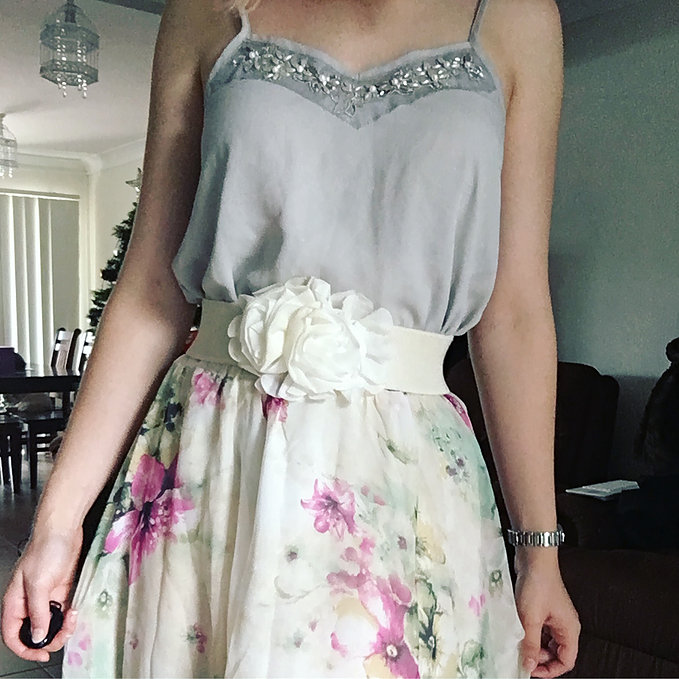 Day 8: Swishy
Ever since I watched Spankie Valentine's video on how to wear a floral maxi skirt like a bajillion different ways, I've been wanting to get my hands on one but they are not that easy to fine. (By the Way if you haven't heard of Spankie Valentine it is time you discover her because you will love her!) I found this skirt on eBay and while I love the colours and pattern, the quality is a little bit dodge. For one, the hem is not straight at all! One part is so much longer than the rest. I've thought about getting it altered but I'm not sure where to go as I need someone with the correct overlocker. I can get away with wearing it though. I'm pretty sure people would only notice it if I told them. Do any of you guys know good places to buy floral maxis?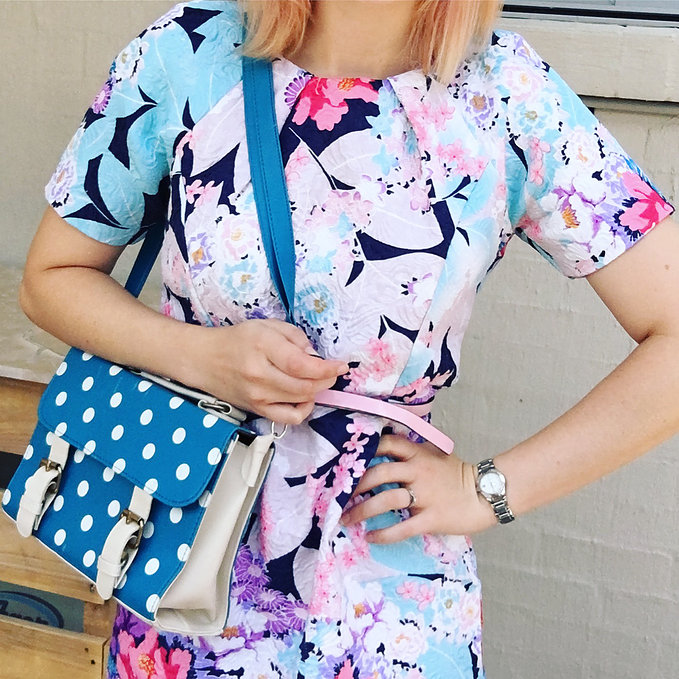 Day 14: Print Mix
My go to pattern mix is usually floral and stripes but I wanted to try something different for the DAREcember challenge so as to actually challenge myself. I'm pretty stocked I've finally come up with a way to style this polka dot bag. It's been sitting in my wardrobe for ages and while I've worn it once or twice it mostly doesn't get worn because I have always struggled to style it but no longer! This dress has a similar blue colour in it so thought I couldn't probably get away with it and since this day I've worn it twice more with other combinations. It seems I'm starting to get my head around print mixing at last.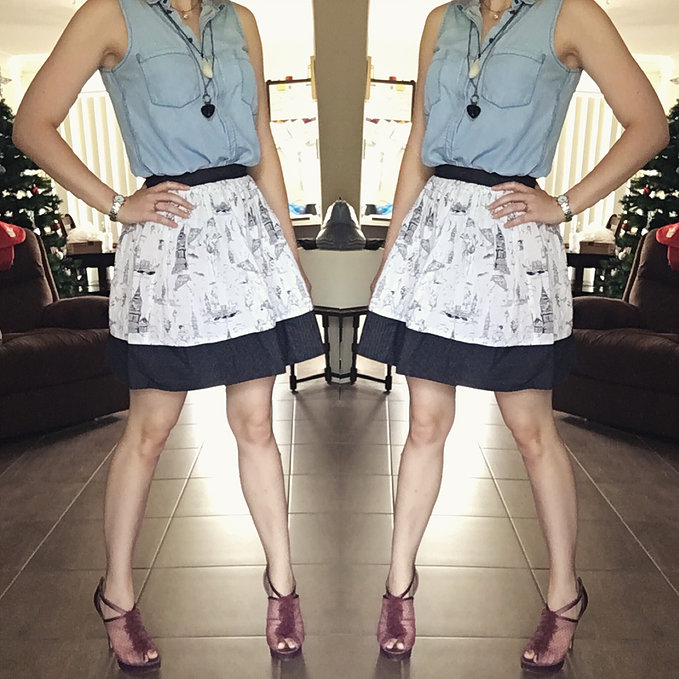 Day 16: Neck Party
I've been crushing on the layering necklace trend for a while but never got around to trying it until now and now that I have, I'm totally in love with it. I feel like I need to buy more necklaces of varying lengths though now. My choker would have made an excellent addition to this neck party but I couldn't find it :(. I am so keen to do more layering and would love to see how all of you layer your necklaces. Have you joined this trend too? Please share you photos with me on Facebook or Instagram.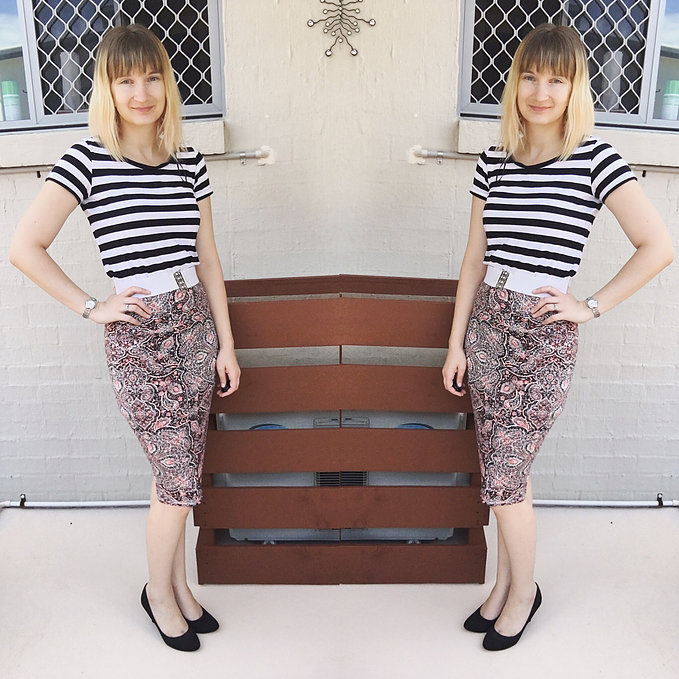 Day 21: I forgot I had this…
Except I don't forget about any of the clothes in my wardrobe because I use the Stylebook app. If you haven't heard about it yet read my post on it here. I still stand by my claim that it's the best wardrobe app out there. I can just scroll through all the items in my wardrobe on my phone which makes it hard to forget about anything. So for today I just picked a few pieces that I hadn't worn in a while, the belt, striped dress which I have worn as a top and the earrings which you can't really see in the photo but they are pink chandelier type earrings.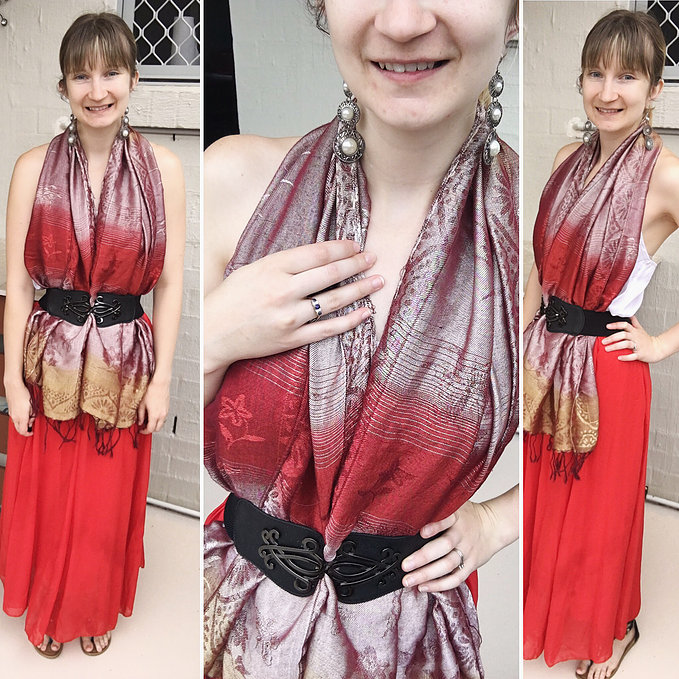 Day 23: Solid Gold
This day was another big challenge for me because I am really not a gold person. In the photo above I am wearing every single item I owe that contains some kind of gold in it (except of course for my gold hot pants which were from an old Ancient Egyptian dance performance, not really work appropriate). I pulled out my great, grandmothers engagement ring again and then this beautiful scarf which has gold on the bottom. I was having trouble figuring out how to wear the scarf in summer and decided to belt it. Through the day I continue to play with this arrangement. I pulled my maxi skirt above my bust and belted it higher and I could have done with the white singlet altogether. I think I need to keep playing with this belted scarf trend.
Day 25 & 26: Something New and Lazy Days
I got lazy posting over the Christmas weekend but I did continue my dares. I just didn't take photos of them. When I got back on the radar I posted this photo which I'm going to count as my Lazy days and Something New. I just got theses floral pants before Christmas from Boohoo and this was my first chance to wear them. They are super comfy even though they can look very dressed up. If you want to score some you can find them here. I got a size 10 and mine doesn't sit as loosely as the girl in the picture. There is limited sizing left though so be quick.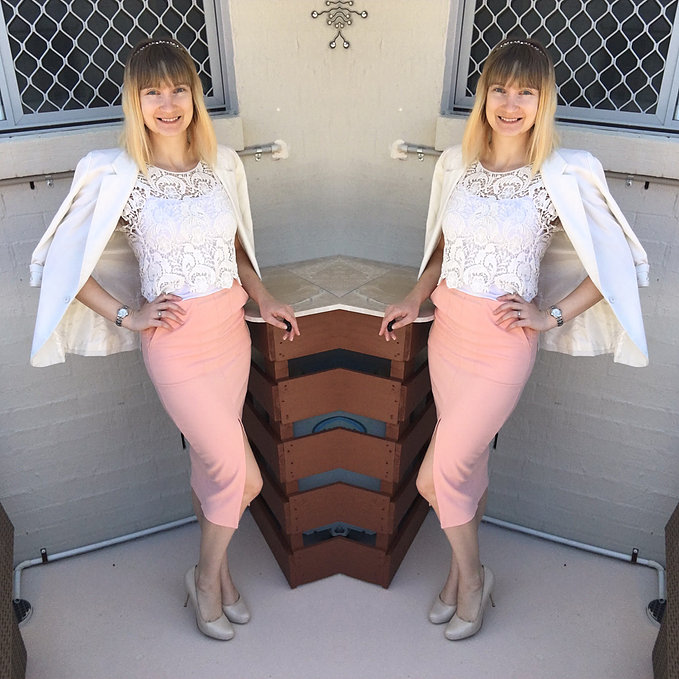 Day 28: Hair Bling
I was so pleased with this look. I just think it looks so classy and refined. For the hair bling I went searching for the sparkly headband I wore at my wedding. It was nice to be able to wear it again. I even pulled out my wedding earrings to chuck on as well.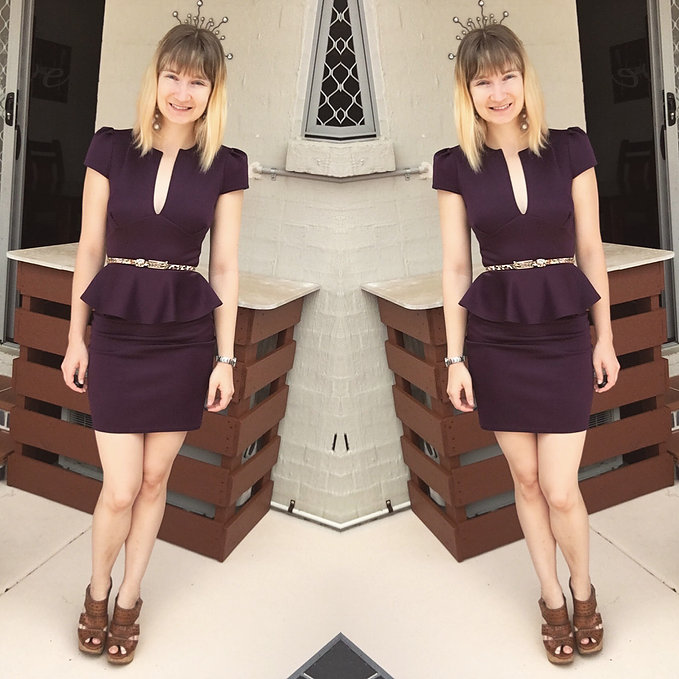 Day 29: Animal Instinct
I have quite a few leopard print pieces in my wardrobe but all the outfits I usually pair with them are for colder weather. I pretty much had to come up with something new for the hot weather. Leopard print is so versatile. It's great for adding interest without having something too wacky or hard to pair things with. This leopard print belt really creates the illusion of a tiny waist paired with the peplum dress. It's a great new way to accessorize this dress without going for the stock standard black.
I hope you all have a Happy New Year and I'll see you again next month.