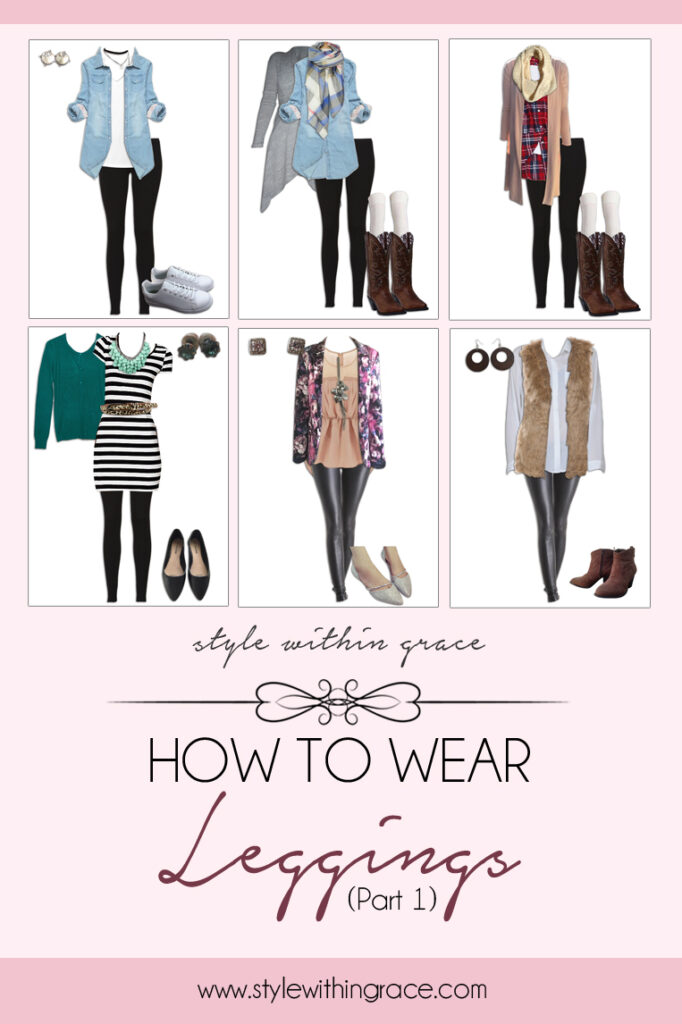 Now that #NoJeansJanuary has started I thought I might give you some more help styling some outfits that don't include jeans. Today I'm going to talk about how to style leggings. When it comes to leggings there are usually two very opposing views on the topic; most comfortable and versatile piece of clothing ever or leggings are not pants and thus should not be worn as such. My view is somewhat in the middle. How to wear leggings really depends on what you're comfortable with and what makes you feel confidant more than anything else. If you feel the need to always cover your butt when wearing leggings than do that. But if you are happy to wear them with more cropped tops than go with that.
Although if you do show off your butt I would definitely recommend wearing seamless underwear. Also make sure they are not see through (Big Must!). Do the bend over butt test. Also I'd suggest a legging that's made out of a more thick fabric that doesn't cling as tightly to your body. That being said, style is or at least should be about doing what makes you feel good. Who cares what everyone else thinks. No matter what you wear, it isn't going to please everyone so why not please the most important person; the person who has to actually wear it, YOU! Whatever your view on the matter you will be able to find an outfit idea below that suits your tastes. Who needs jeans!
I own 4 main pairs of leggings which I'll be basing all my looks around, obviously the plain black legging, the leather look, a leopard print legging and a galaxy print legging. Using the ideas below you should be able to craft quite a few outfits with the leggings you already have in your own closet or if you feel so inclined, I've included a few links to similar leggings on the web. Don't get too bogged down by the exact pieces of clothing and instead look at the basic category it falls into.
You don't have to get the exact same pieces as I have, instead identify what about the piece makes it work. You don't have to buy the exact same cardigan I have worn below, you just need to replace it with a long cardigan of some sort. Just like you don't have to have the exact same floral blazer that I have, if you get one that is patterned and has similar proportions it will look just as cool. A few things I feel that leggings always look really good with, no matter what colour or pattern, are button-up shirts, long cardigans, knee high boots, oversized sweaters and boyfriend blazers. I'll go into specifics for each type of legging below.
Black Leggings
Black leggings are incredibly versatile and there is really no end of ways in which you can wear them. Leather look leggings are just a great variant of the original that can be worn in any of the ways plain black leggings can be worn, to add more interest with a different texture. I think the biggest thing to think about when styling leggings is silhouette. Since they are so streamlined and skin tight on the bottom half, you can go looser or more bulky on the top half.
My go to look for plain black leggings is to pair them with a button up chambray shirt. You could also go for any solid colour button up including the plain white. Add on some knee high boots, boot socks and a blanket scarf and you have a gloriously warm and comfy fall outfit. A knit headband can look really cute with this too. You could then also add a long or batwing cardigan to add more warmth.
Switch the chambray out for a plaid shirt and the blanket scarf for a neutral scarf or snood and you have another great warm look. If you like your hats, this outfit also looks great with a floppy felt hat, beanie or beret. Are you starting to see how many possibilities there are and just how easy it is to create different looks using the same basic outfit formula just by tweaking a few accessories?
Basic Chambray Fall Look

Add a Knit Headband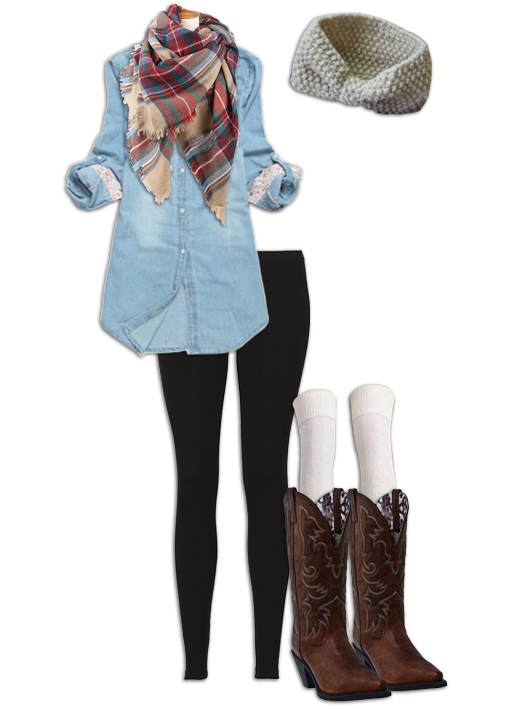 Add a Long Cardigan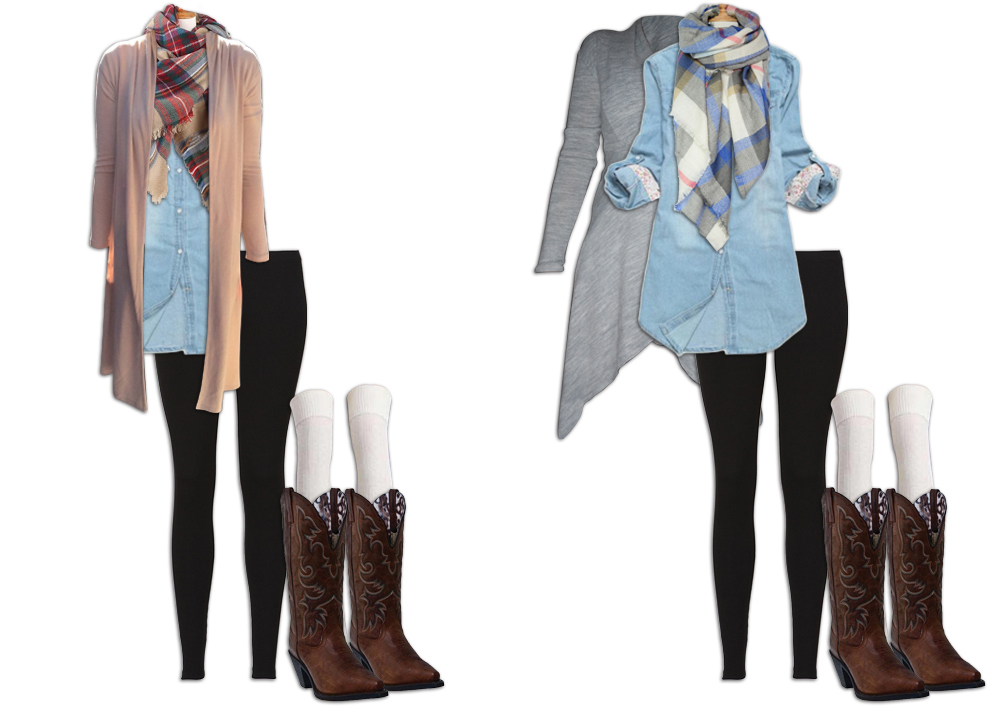 Try a Batwing Cardigan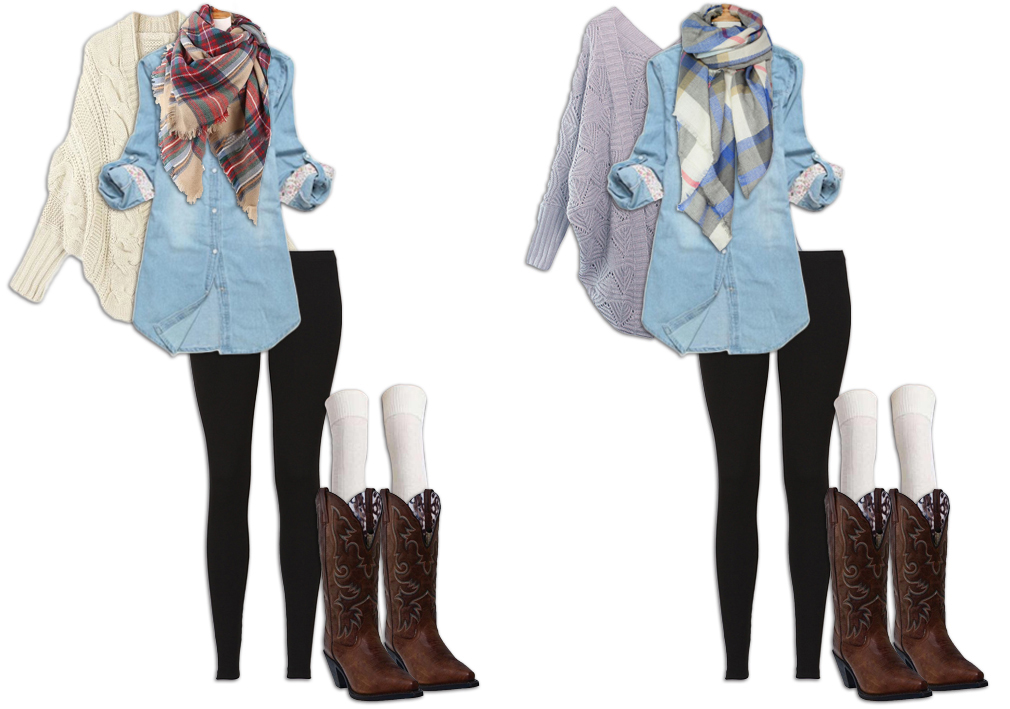 Switch to Plaid Shirt and Neutral Scarf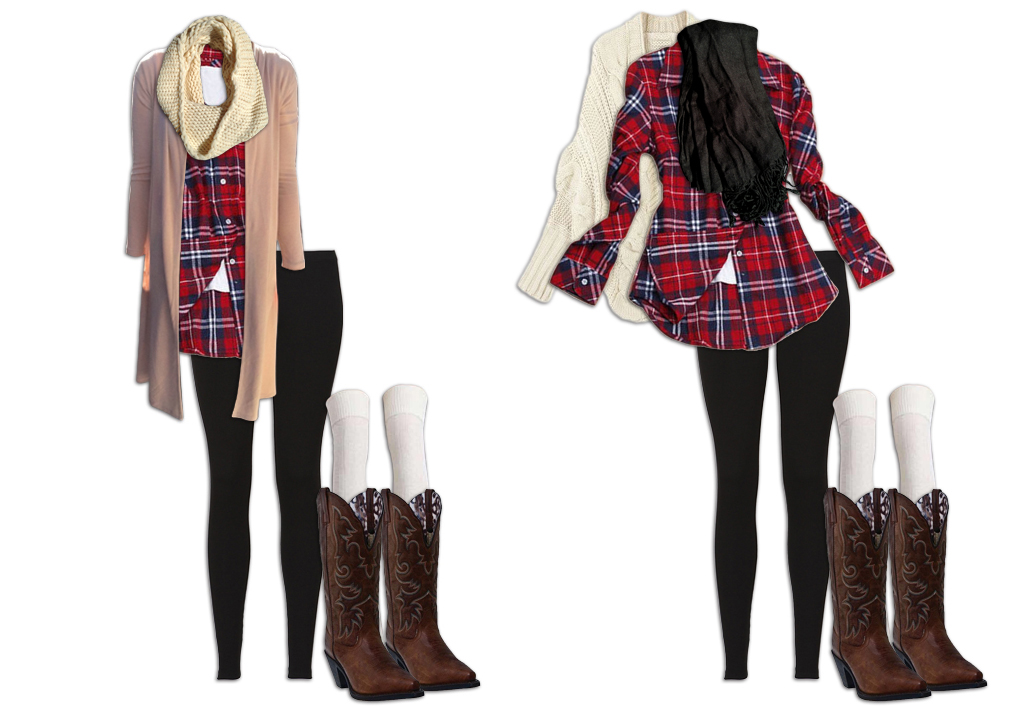 Add a Hat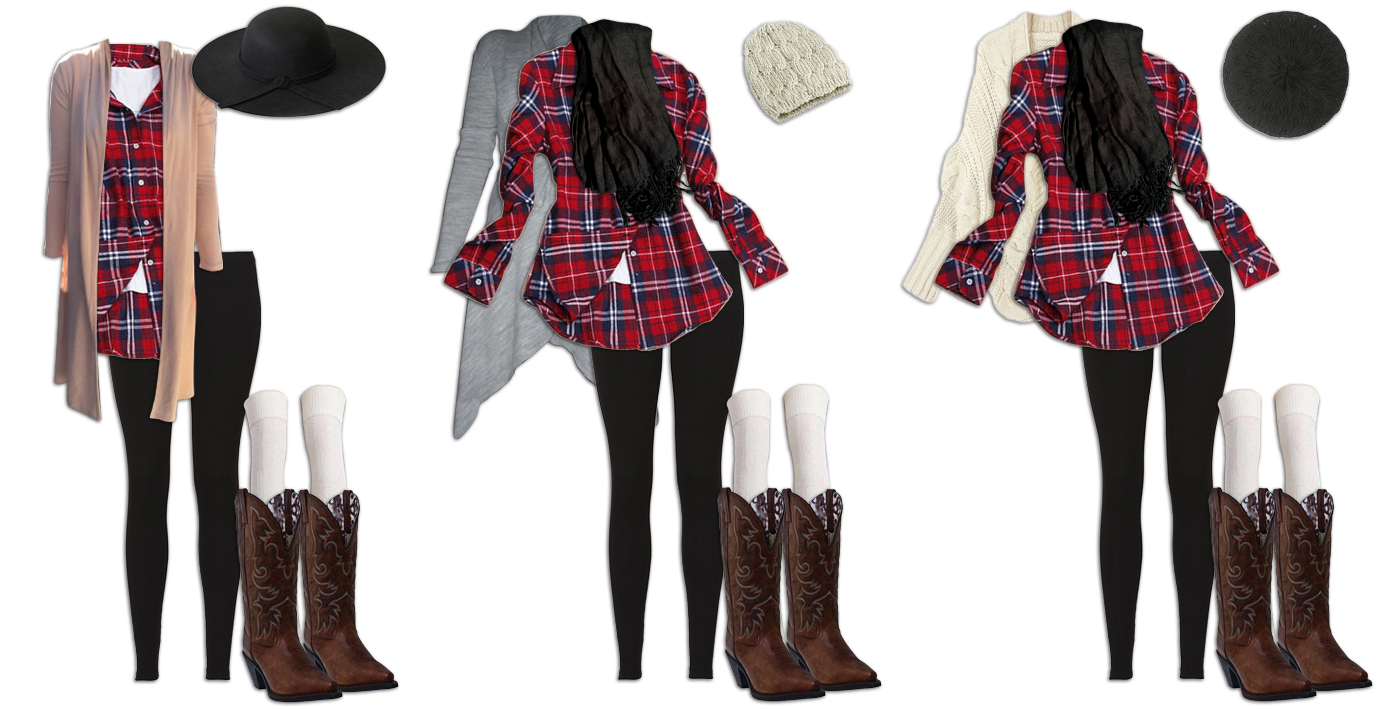 If warmth is not really what you are going for then you can just use the shirt as an outer-layer. Layer it over a singlet or tee and belt it at your natural waste. A nice dainty chain necklace inside the collar is a nice touch. I'd then tend to stick to small stud earrings for this look.
For a more casual look pair with white sneakers or ankle booties. I'd switch the jewellery up for a more sporty look, maybe a choker and a bolder stud. A fedora is a great hat to pair with this casual look. I added my crochet lace crop top over the white singlet to add more interest as well. You can add more layers as you see fit or you can of course loose the button up altogether. All of these looks will still work but that is when you start showing your butt. So it depends how you feel about that.
Unbuttoned Shirt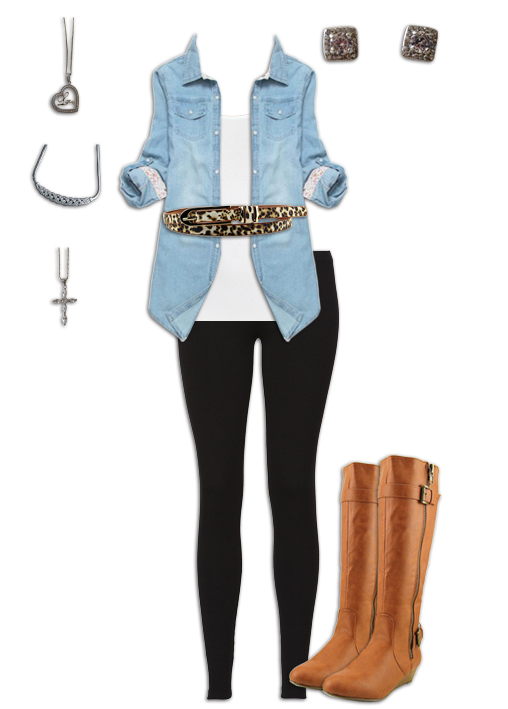 Casual Shoes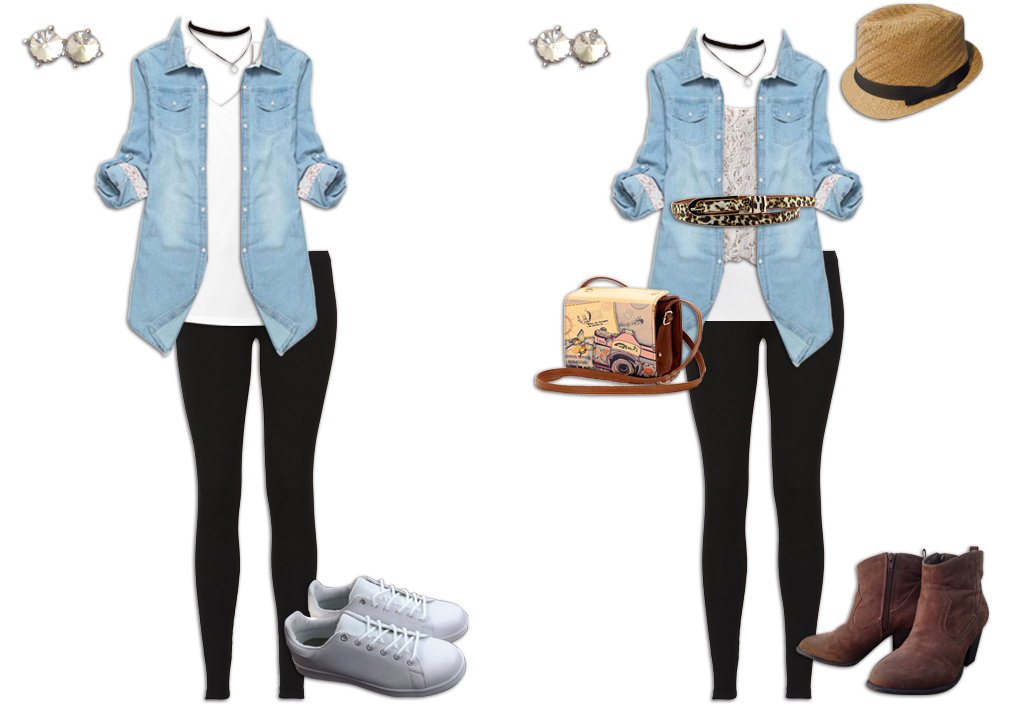 More Layers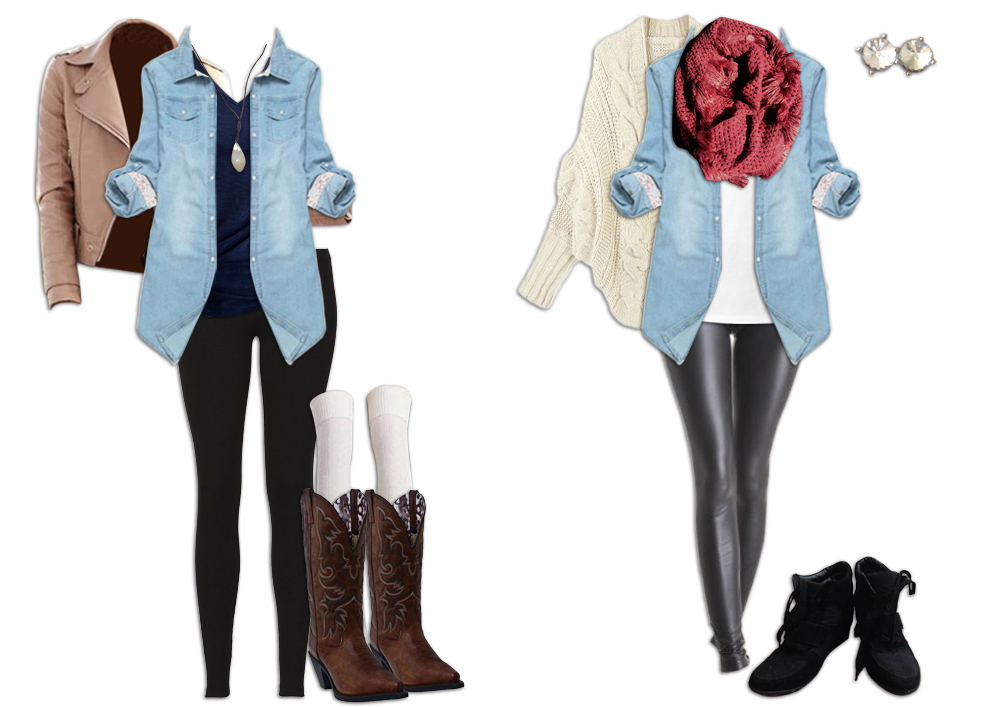 Black leggings are also obviously great to pair under short dresses to either take your summer dress into the colder months or just so that you don't have to worry about accidentally flashing someone. When I pair them with a dress, I tend to stay away from high boots as they then tend to make your legs look shorter. Instead pair with ballet flats, heels or black mid-calf boots. Wearing shorter boots that are the same colour as your leggings has an elongating effect for your legs.
Under Short Dresses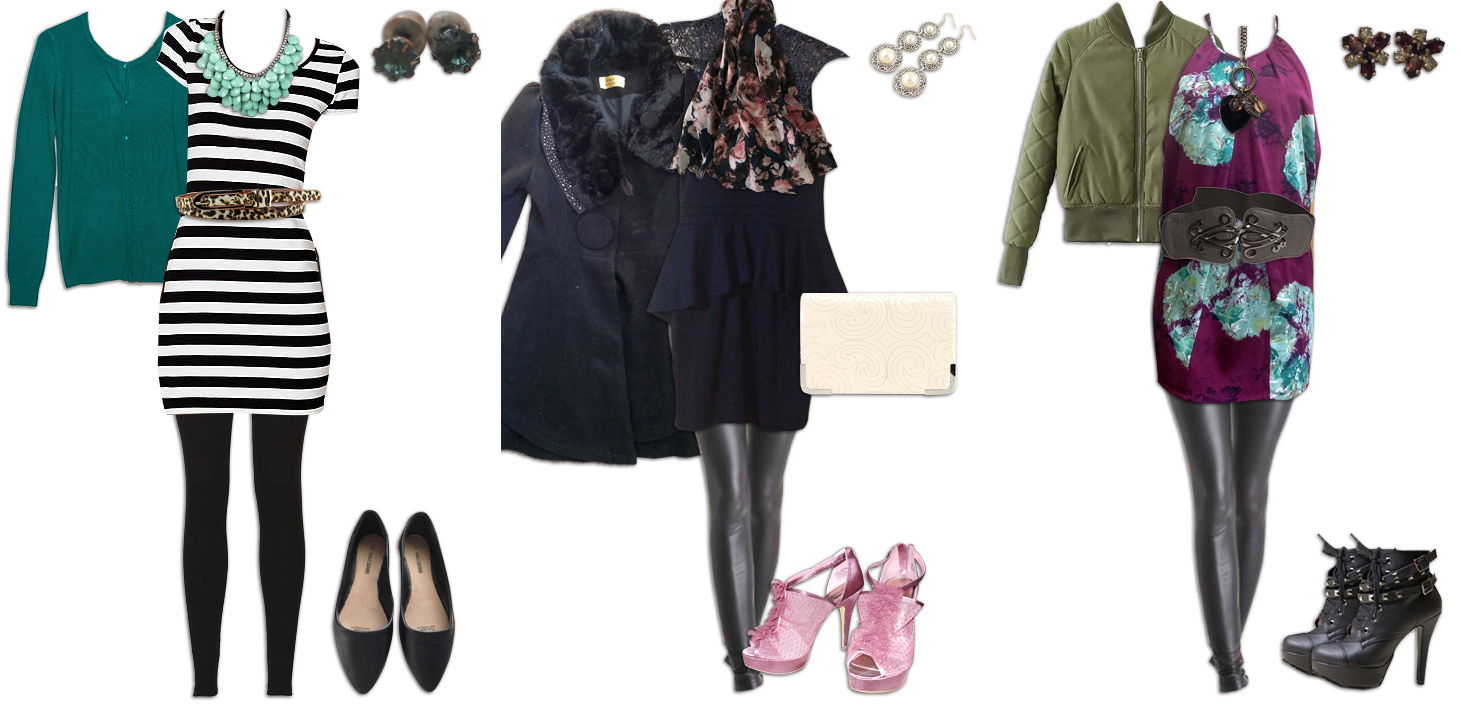 As I mentioned above, another clothing item that looks especially great with leggings is the boyfriend blazer. Another jacket that has a similar silhouette is the military jacket. It is a more casual option instead of the boyfriend blazer. I really like to pair leg-warmers over my mid-calf or ankle boots when wearing leggings. It's an unexpected pairing and definitely helps to keep your legs warm. If you don't own a boyfriend blazer you can get away with a regular blazer as well. I pair mine over a black sweater with a white button up peaking out from underneath it. This will hang low enough to cover your derrière. For this look I had a bit of fun pairing my tweed blazer with a pop of colour mint handbag.
Boyfriend Blazer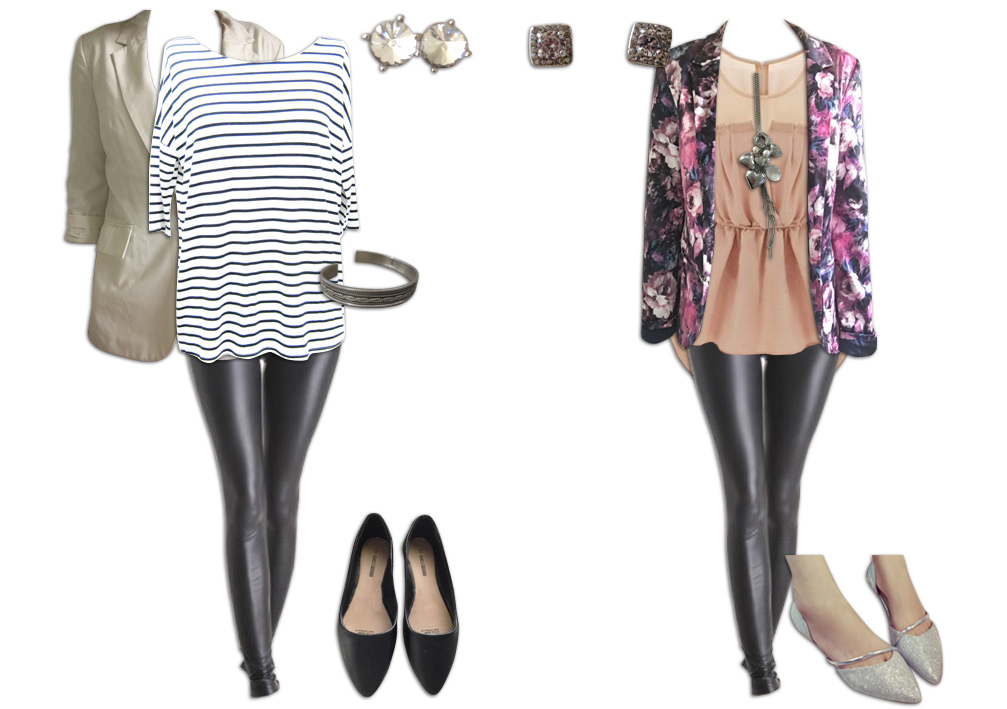 Military Jacket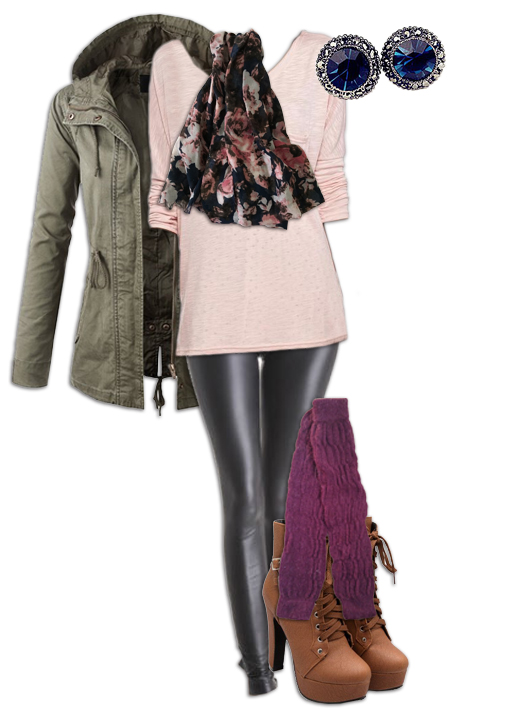 With a Blazer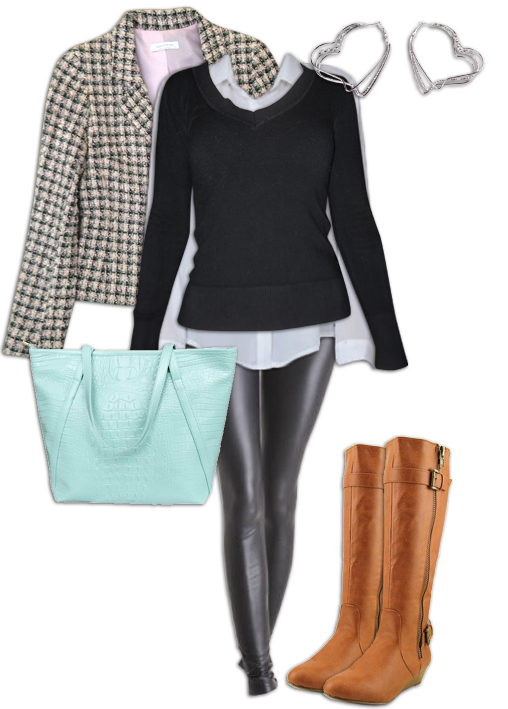 Sweater with Button Up Peaking Out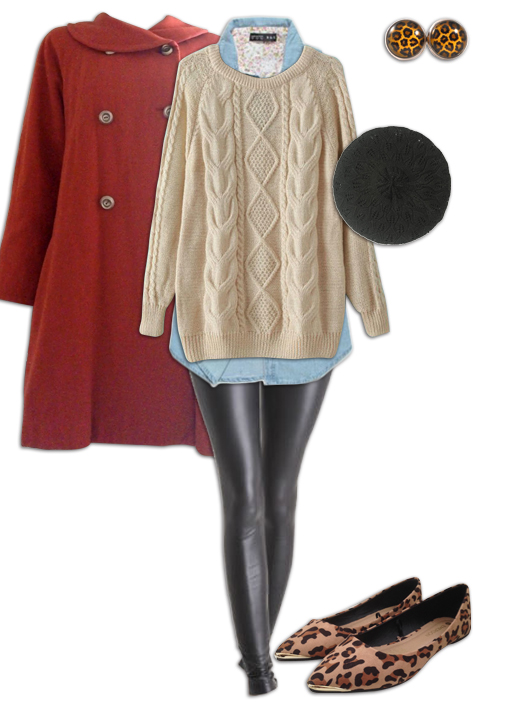 Long vests are a great way to layer with leggings without adding too much warmth. They can be layered over pretty much any top and can often add extra length to the back while adding more interest to the overall outfit. A fur vest can look very boho paired with a loose flowing white shirt and ankle booties. Another option is to go with the basic t-shirt again and some leopard print flats. A favourite versatile vest of mine is the Lapel Vest. Olive is a great colour because it's more interesting than black but can still be paired with just about everything as it's a pseudo neutral.
Long Fur Vest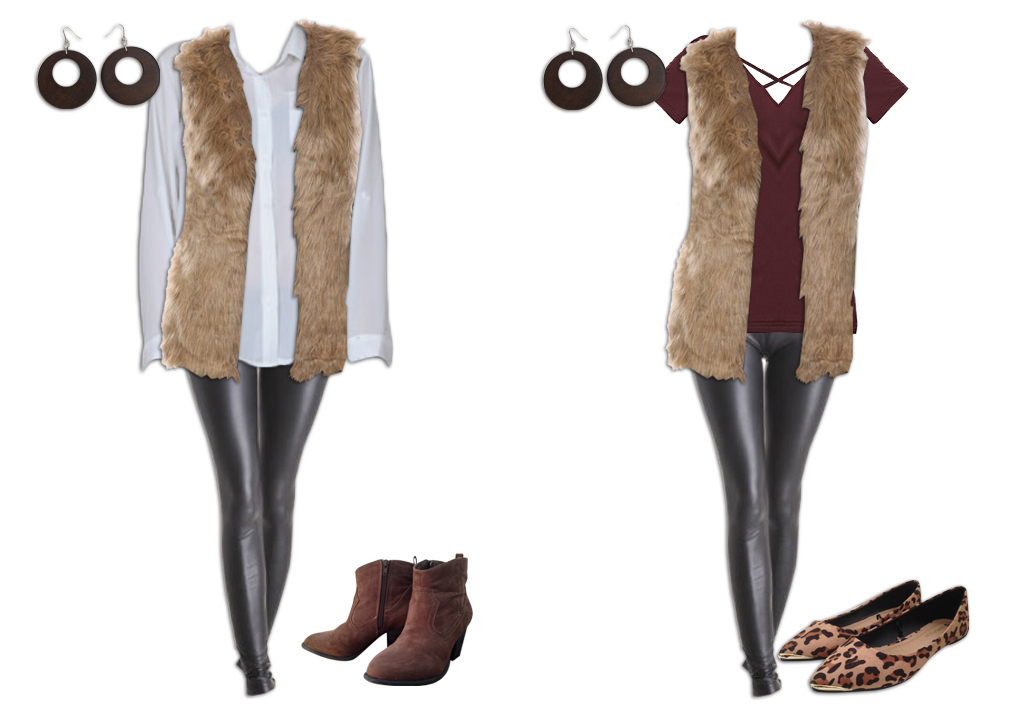 Olive Lapel Vest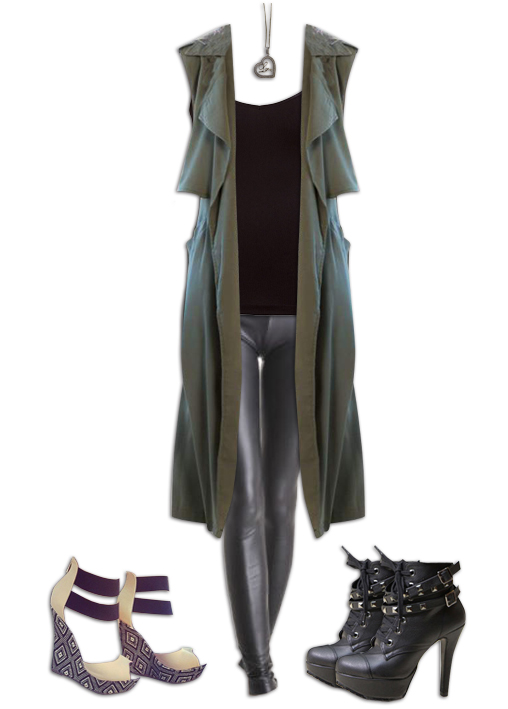 I really could keep going forever with outfit pairings for the simple black legging. But I think I have given you lots of really good ideas of what to pair with them. A lot of the pairings used for plain leggings can also be used with patterned leggings. But as this turned into a really long post, I'll go into greater detail about how to style patterned leggings in another post for Part 2. I hope what you have learnt so far can help you come up with plenty more outfits without jeans to tide you over until February.
As promised, here are a few black leggings at great prices to buy while your online shopping. If you can't decide between plain black and leather look, Boohoo have a pack where you can buy both for only $17. Otherwise Forever 21 is by far the cheapest for plain black leggings at only $3.90, first link. If you are looking for similar to my leather look ones, the last link is where I got mine from.