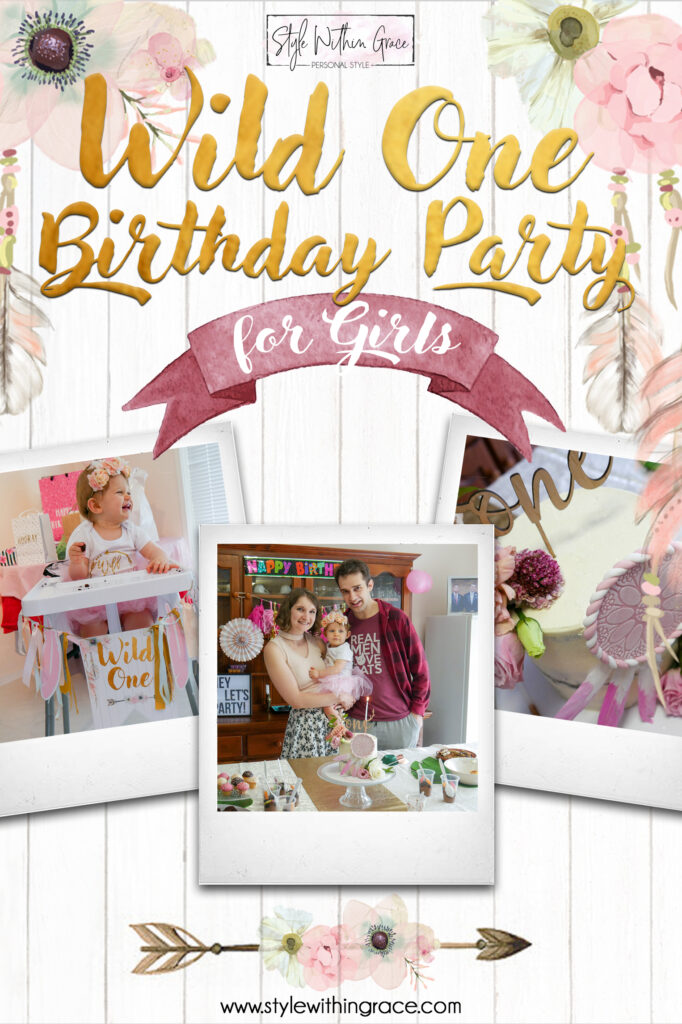 It only seems like yesterday that I was planning my Floral Baby Shower and suddenly it's my little girl's 1st birthday! How time flies! I started thinking about themes when she was about 9 months old so that I wouldn't have to rush anything at the last minute. For a while there I was going to go with a cat theme because she is very enamoured with our cat Cleo but I decided I wanted to save that theme for when she was a little bit older. Some of the ideas that went along with that theme would work better a little bit later on. So sit tight for future posts on that theme but for now get ready for a Wild One Birthday Party!
It turns out I'm still obsessed with the floral boho dream-catcher watercolour type look so I settled on a "Wild One" theme. I figured I could reuse a lot of the decorations I used for the baby shower and save myself some money because I pretty much had no budget to work with (I blew it all on the cake lol). I did want to change it up a little though so the colour palette and watercolour images are different. The overall theme is definitely very similar to my baby shower though but you can never have too much of a good thing right?
Invites
The first thing to organise is always the invites. This design was based around a free watercolour dream-catcher found on the web. I'm not normally a gold person but I was really feeling it in the colour theme. To save money, the invites weren't actually printed out this time. Instead I uploaded the invite to a Facebook event after discovering that you can invite people by email even if they don't have Facebook. This makes RSVPing easier to keep track of too.
Within the event description, I was able to add more details than I would have been able to on the invite. In a bid to save money, I asked that everyone bring a plate of food to share and to bring any spare seating they might have. I also mentioned that as the theme was "Wild One" parents were free to dress up their little ones if they felt like it but no pressure.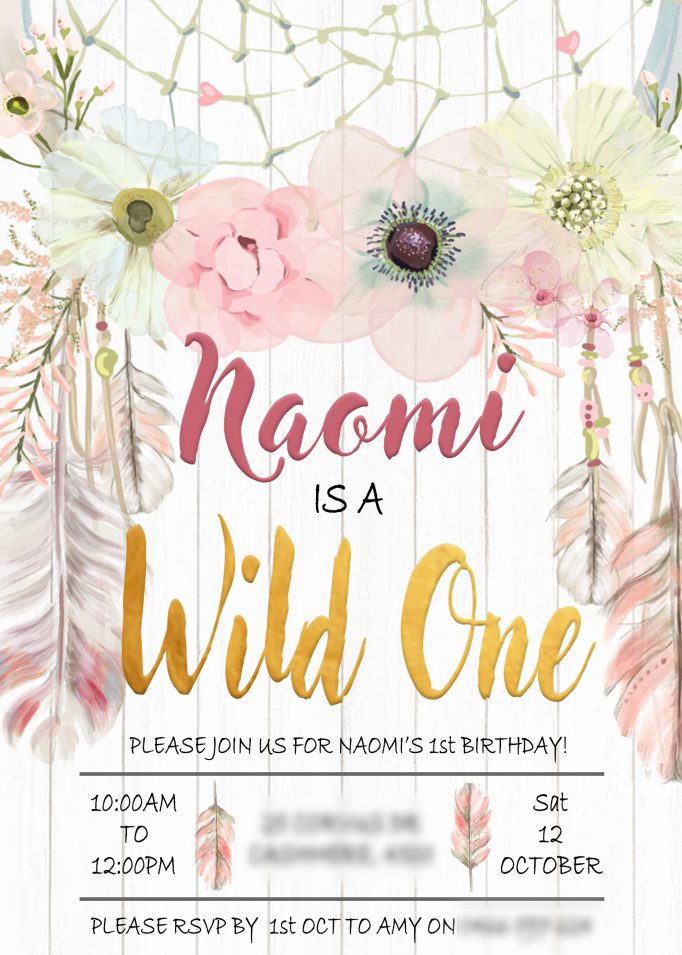 I will make this template available to you all in the Free Resources Library. If you aren't a member yet sign up to the monthly newsletter to gain access to it on the form below. It is a photoshop file so make sure you have software available to you to edit the text. If you don't have photoshop itself there are free programs out there that can open and edit photoshop files.
Food
As I mentioned above, we asked everyone to bring a plate of food to share and we ended up with more delicious things than we could possibly eat! For drinks, I bought a few bottles of cranberry juice and filled up my big glass dispenser with some pink iced tea. Here's the recipe I based mine off with added raspberries.
For my plate of food to share, I created some speared fruit skewers. I used some leftover rose gold contact paper I had lying around for the ends. We already had some paper plates and plastic knives and forks leftover from my father in-laws birthday celebrations a few weeks ago so I just had to buy some napkins, plastic spoons and cups. This cost a total of $6.50. I also couldn't help myself and bought a couple of pink tablecovers, two palm leaf placemats, some metallic charger plates for displaying everyone's food, a golden table runner, a wooden tray for my fruit skewers and a pink tassel garland. This cost an extra $31.75.
My favourite part of the food is by far the cake! We ordered ours from Vanilla Pod. We had ordered from them before for my 25th birthday and we knew how delicious their cakes were so we couldn't resist. This blew most of our budget costing $316 for a one tier cake that would feed about 25 people with finger sized portions. It was so cute, absolutely delicious and so worth the money though!
Decorations
For decorations, I reused most of the items I had bought for my floral baby shower. I did DIY a high chair banner to add to the mix though. I designed and printed out the main section and glued it to a piece of cardboard. A couple of holes were punched in each side so I could thread some string through it, making sure it was centred in the middle. Then I tied bits of ribbon I had round the house to the string.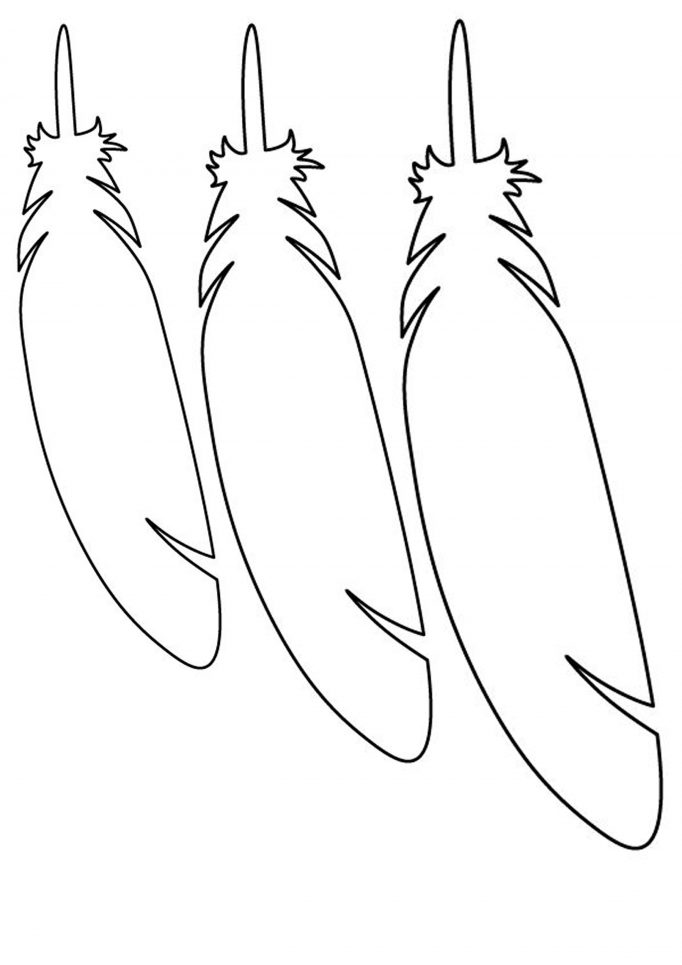 I also used the above template to cut out some feathers in coloured card-stock. They were glued onto the same cardboard as the main banner. With another hole punched they were threaded onto the string as well. A perfect home-made Wild One birthday party high chair banner crafted for literally zero dollars!
Favours
Typically kids parties have favours for everyone to take home with them to say thank you for coming. Since most of the guests were adults, I didn't want to have the standard lolly bag. Sticking with the Wild One birthday party theme, I bought 13 dream-catcher key rings, one for each family that had rsvped as coming. They didn't really match the colour theme but they were the cheapest I could find. I really didn't want to spend much money (remember no budget). They were only $1.83 each, I paid $23.27 in total.
I displayed these on my Kmart black wire memo board attached with some rose gold clips. To really personalise the favours, I printed out some little thank you tags to tie onto the key rings. The tags really pull together the colour theme and are a nice touch! The printable templates are in the Free Resources Library for you.
Costume
I ordered a special Wild One birthday party outfit for Naomi to wear from eBay for $13.99. It came with a little pink rose headband but I swapped that out for a floral feathered headdress I also bought on eBay for $4.35 to match the theme a little better. There were sets out there that had the costume and feathered headdress in the same pack but they were much more expensive. I contemplated getting myself and my husband these matching t-shirts but knew we would never wear them again.
Games
It's rather hard to include games at a 1st birthday party. Most of the guests are adults and the ones that are kids are usually too young to participate. I wasn't intending on having any games because of this. But then I decided to transform the display of the monthly photos I had taken of Naomi into a game. The idea was to get the guests to try and match the photo to the month it was taken.
This isn't a new concept. If you search for Guess My Age game on Pinterest you'll find many different takes but this is mine. I printed out a photo for each month of the last year in the same square size. Pinned onto my Kmart letter-board in a random order, each photo was labelled from A) – L) . Game cards were designed and printed off so guests could write down their guesses. I also displayed a little instructional card on one of the Kmart A4 clipboards I used at my baby shower. The person who guessed the most correctly won the honour of blowing out the candle for Naomi!
Momento
I set up a letter writing station to include in a time capsule for Naomi to open on her 18th birthday. I read about others who did this and how a portion of the people who wrote letters had passed away. How precious it was to read the letters from those who couldn't be at the 18th party. I loved this idea and wanted to recreate it for Naomi.
Though it was rather hard to find, I bought two stacks of letter paper for $5 each from the news-agency. Then I purchased 3 packs of 10 fancy gold foiled envelopes for $3 each to put them in. I used a pink box I had round the house to store them in. Once again I reused the Kmart clipboard to hold an explanation sheet .
As with all the elements I designed for this party the printable templates are available on the Free Resources Library. Just sign up to the monthly newsletter to gain access below.
All up I spent $411.86 (not including the fruit skewers or drinks because I didn't record them) which is not bad for a Wild One birthday party on a budget! Naomi had a ball, we got lots of great photos and it was the perfect way to celebrate surviving the first year! Shout out to all you mummas planning your little ones 1st birthday. I hope this helps take some of the stress out of planning it while still creating a rocking celebration for you surviving the first year too!