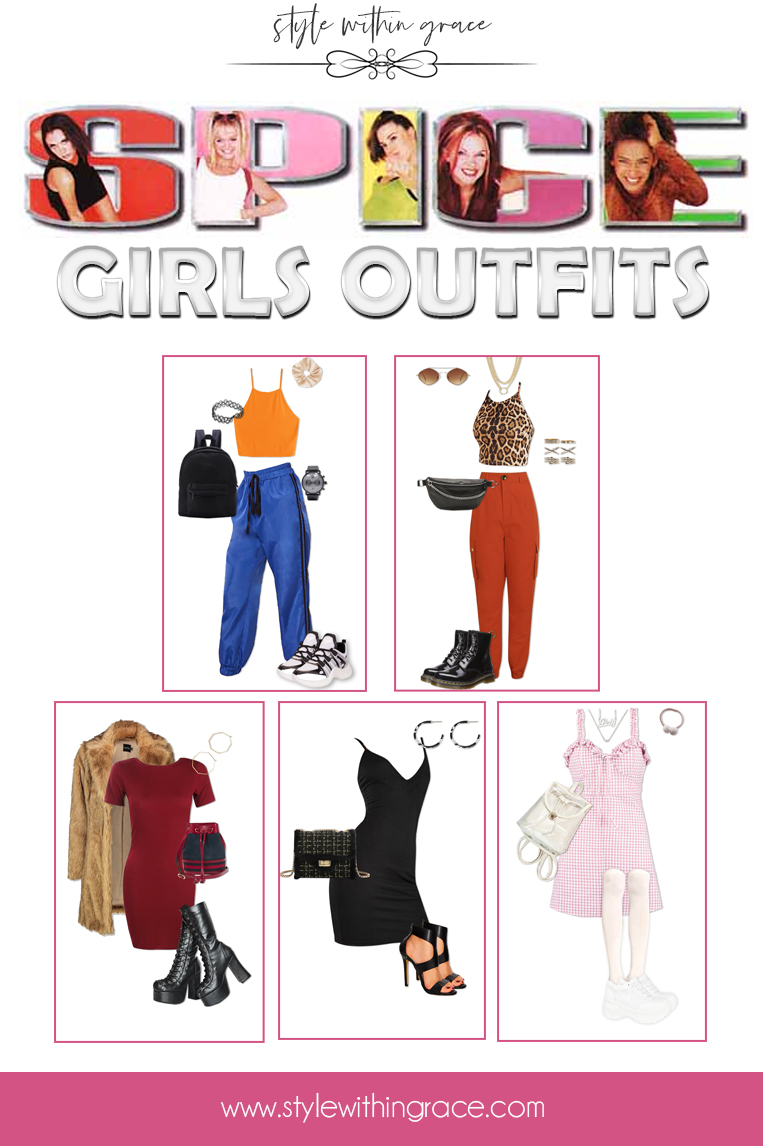 If you grew up in the 90s chances are you and your friends pretended to be the Spice Girls. What 90's girl wouldn't be over the moon to hear that the Spice Girls have at last decided to set out on a long awaited reunion tour! And Australia is on the list for once! Of course I am psyched and so keen to go. I couldn't resist creating an outfit guide inspired by Spice Girls fashion. I didn't want these outfits to be too costumey and I wanted the pieces to be things you would find and wear today but I wanted them to still be recognizable. So this is what I've come up with.
Baby Spice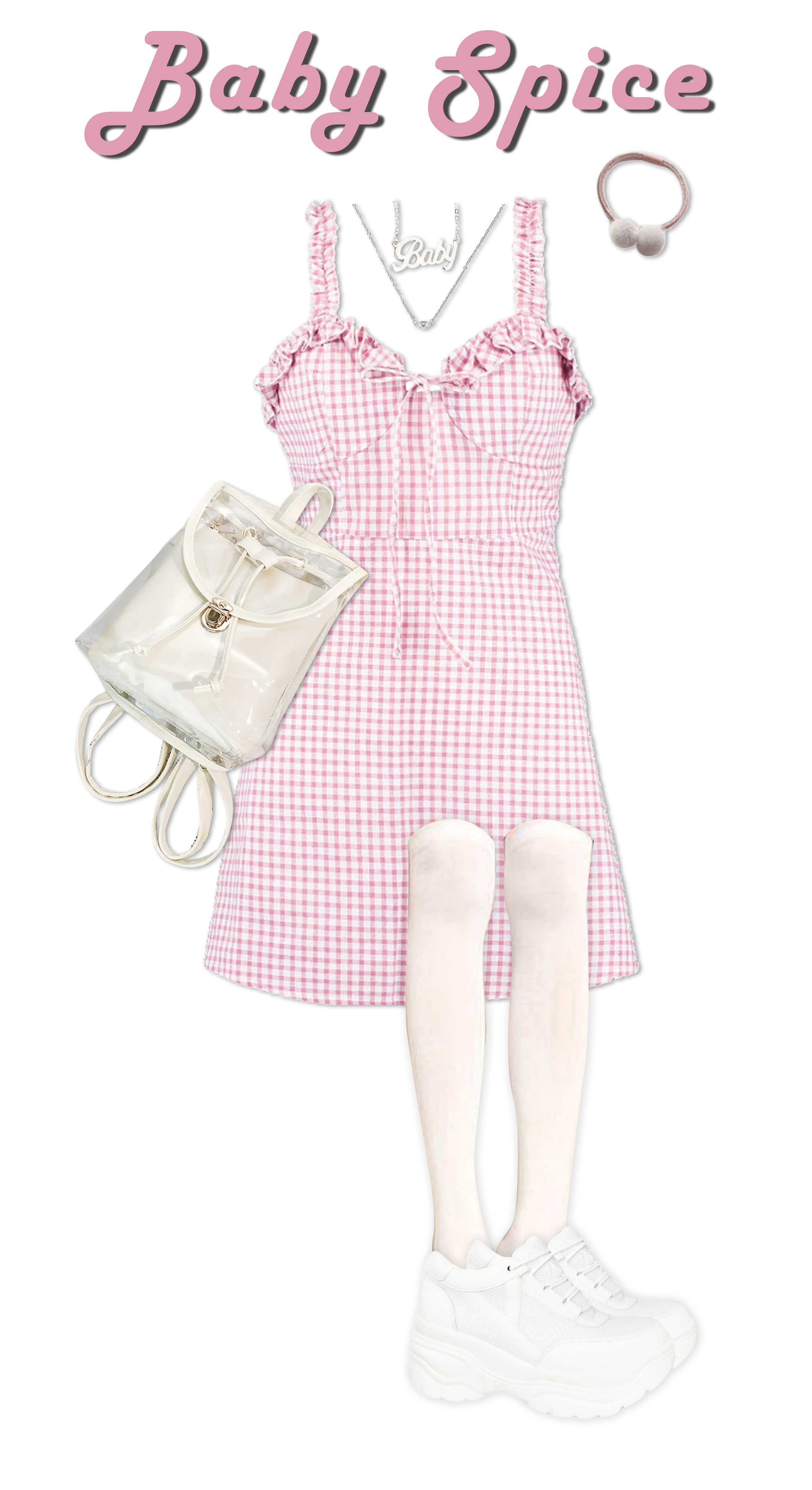 Baby Spice's iconic look is her little pink dress with platform white sneakers. This is an incredibly easy look to recreate right now as the platform white sneakers are super trendy! Wear your hair in two fluffy pigtails and you've got Emma's look down pat! This clear plastic backpack screams 2000's throwback to me and matches perfectly with the outfit.  If you can get your hands on a "Baby" pendant necklace everyone will know who you are! Layer it with another dainty silver necklace to complete the look!
Shop the Look
Ruffle Shoulder Gingham Mini Dress
Ice Matrixx Platform Sneakers
White Knee High Socks
White Push Lock Detail Backpack
Pom Pom Hair-ties
Baby Pendant Necklace
Faux Diamond Pendant Necklace
Posh Spice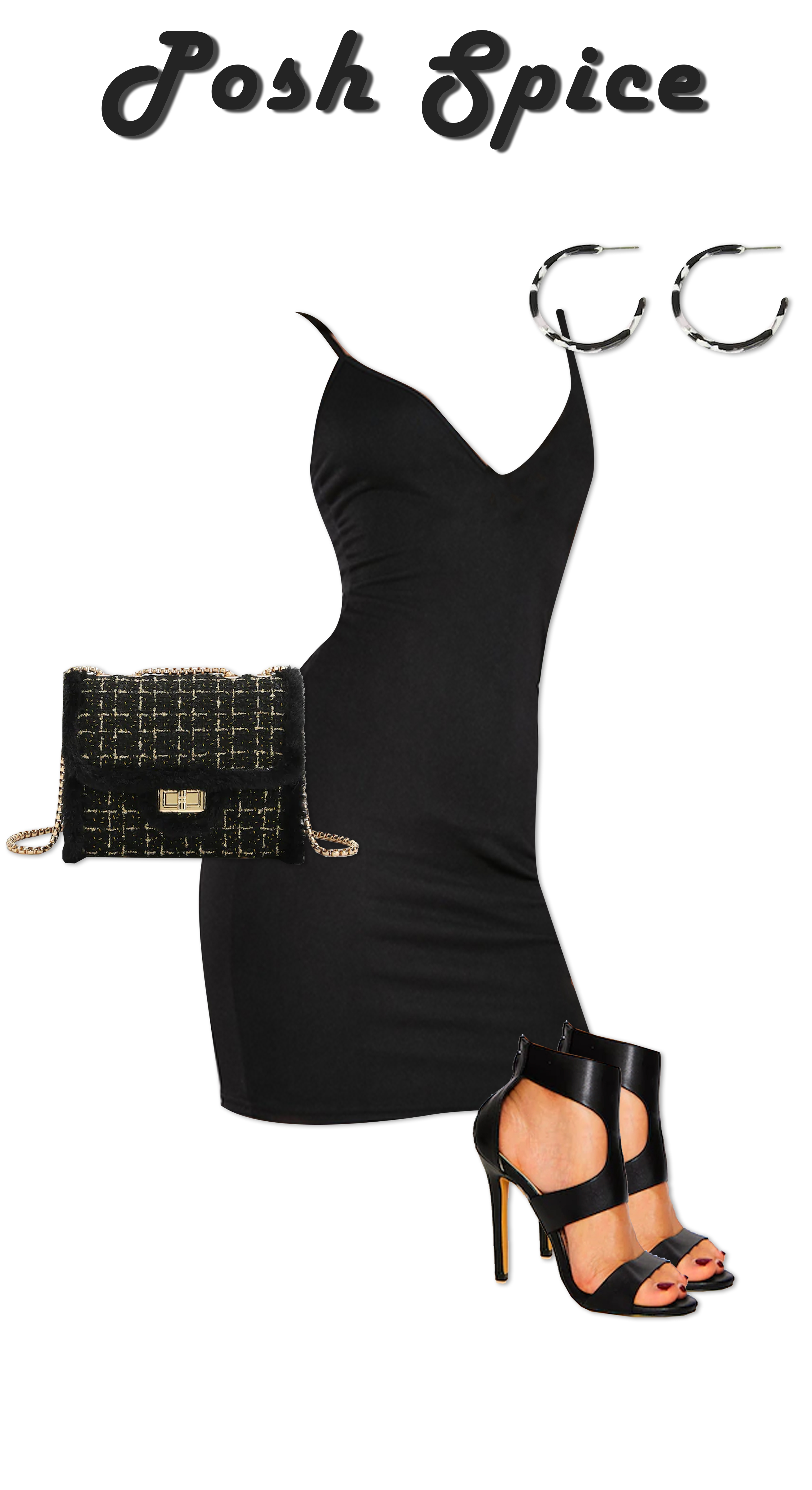 When you think Posh Spice, you just can't go past the little black dress! You don't need much else to complete the look, just some strappy black, sky high stilettos but I couldn't resist adding some hoop earrings and a faux fur cross body bag to add a little more interest.
Shop the Look
Black Cami Bodycon Mini Dress
Open Toe Zip Back Stiletto Heels
Leopard Pattern Cut Hoop Earrings
Faux Fur Decor Chain Crossbody Bag
Sporty Spice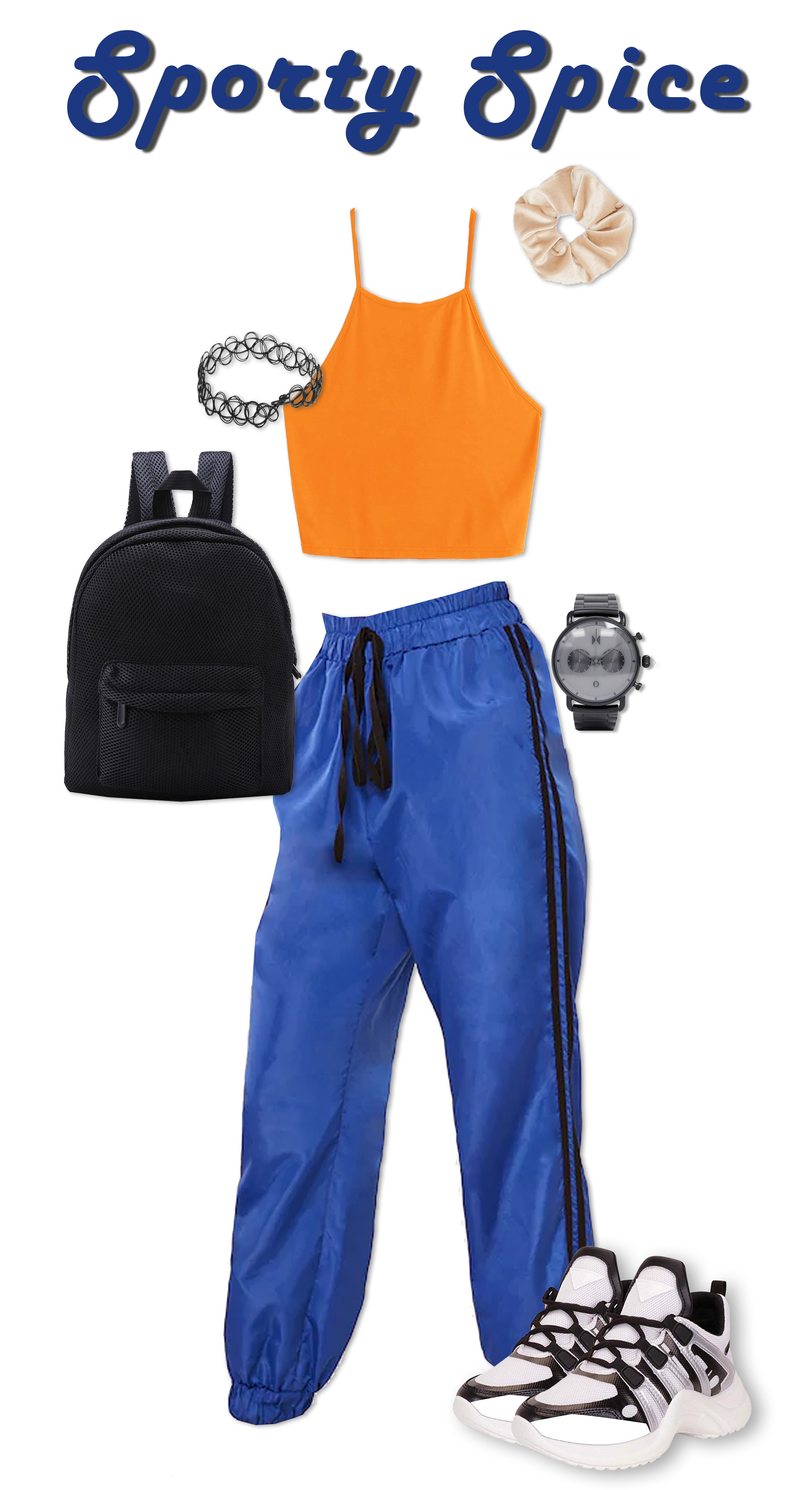 There are so many sweatpant options to choose from for Sporty Spice. I decided to go with these blue side striped ones and paired it with a bright orange crop top. This could be swapped out for a sports bra but as a day to day outfit a crop top is way more wearable. I don't know too many people who just walk around in a sports bra but each to their own. Sneakers are the obvious shoe option. Then for another 2000's throwback piece I added in this elastic stretch armband which Sporty spice can be seen wearing frequently. Sporty spice is not one for many accessories but I added in a mesh backpack and a chunky watch. Throw your hair into a high pony tail with the white scrunchie to complete the look.
Shop the Look
Side Striped Tape Drawstring Waist Sweatpants
Neon Orange Tie Back Halter Top
Cambridge Select 90s Retro Sneakers
Nylon Mesh Backpack
Elastic Stretch Armband
White Scrunchie
Watch
Scary Spice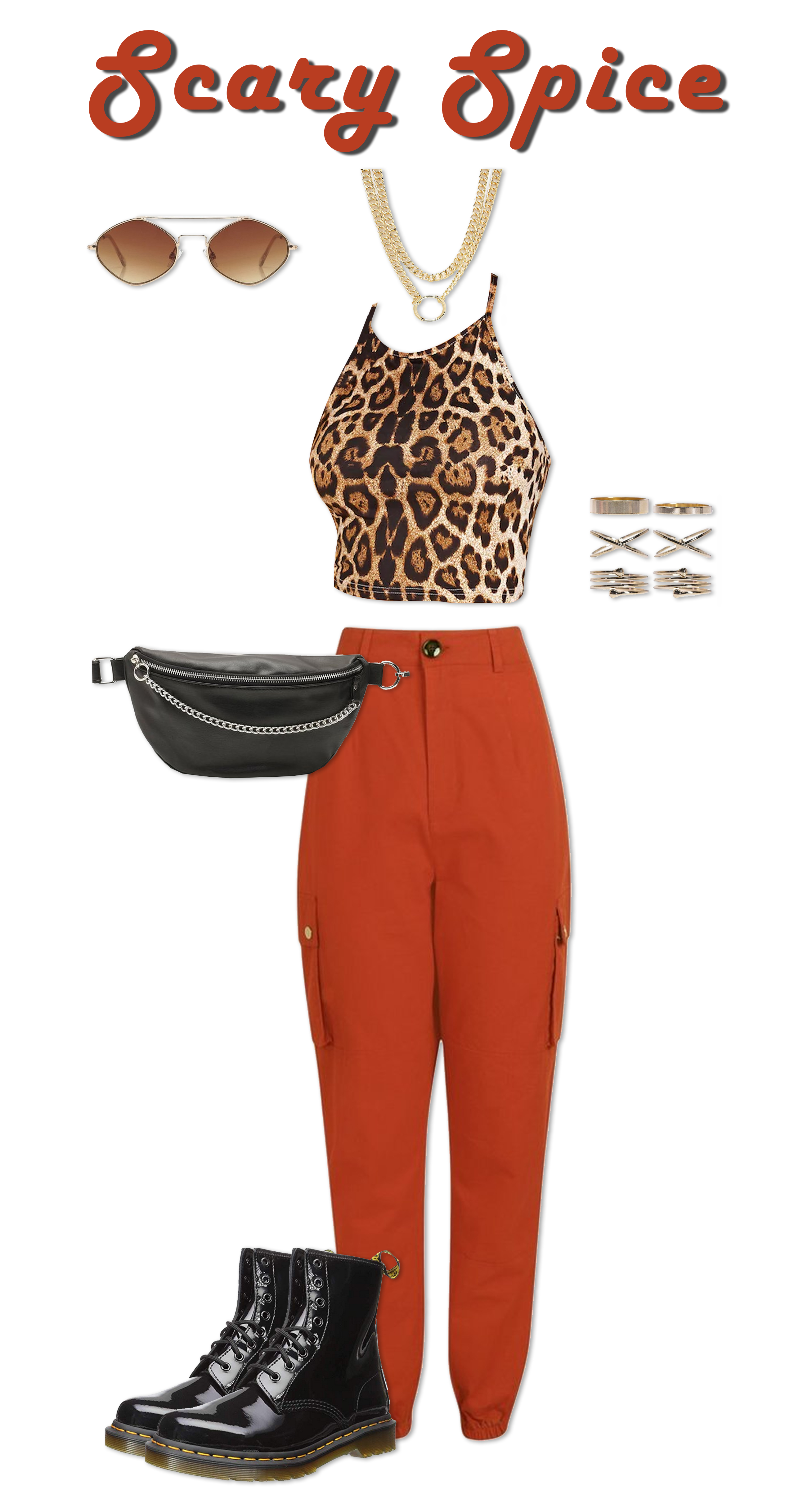 When I think Scary Spice, I think leopard print… and I'm sure I'm not the only one. But which leopard print to include! There are just so many options… including a very in character skin tight jumpsuit but I'm not sure how wearable that is in the everyday so I went with something a little more toned down… This leopard print crop top paired with burnt orange cargo pants and combat boots. To accessorize add some chunky gold jewellery, some retro sunglasses and this chain detail bum bag.
Shop the Look
Leopard Print Crop Halter Top
Camel High Waist Woven Pocket Cargo Pants
Dr. Martens Combat Boots
Plus O-Ring Detail Chain Choker
Simple Stackable Mixed Ring Set
Diamond Shape Bar Metal Frame Sunglasses
Plus Front Chain Detail Bum Bag
Ginger Spice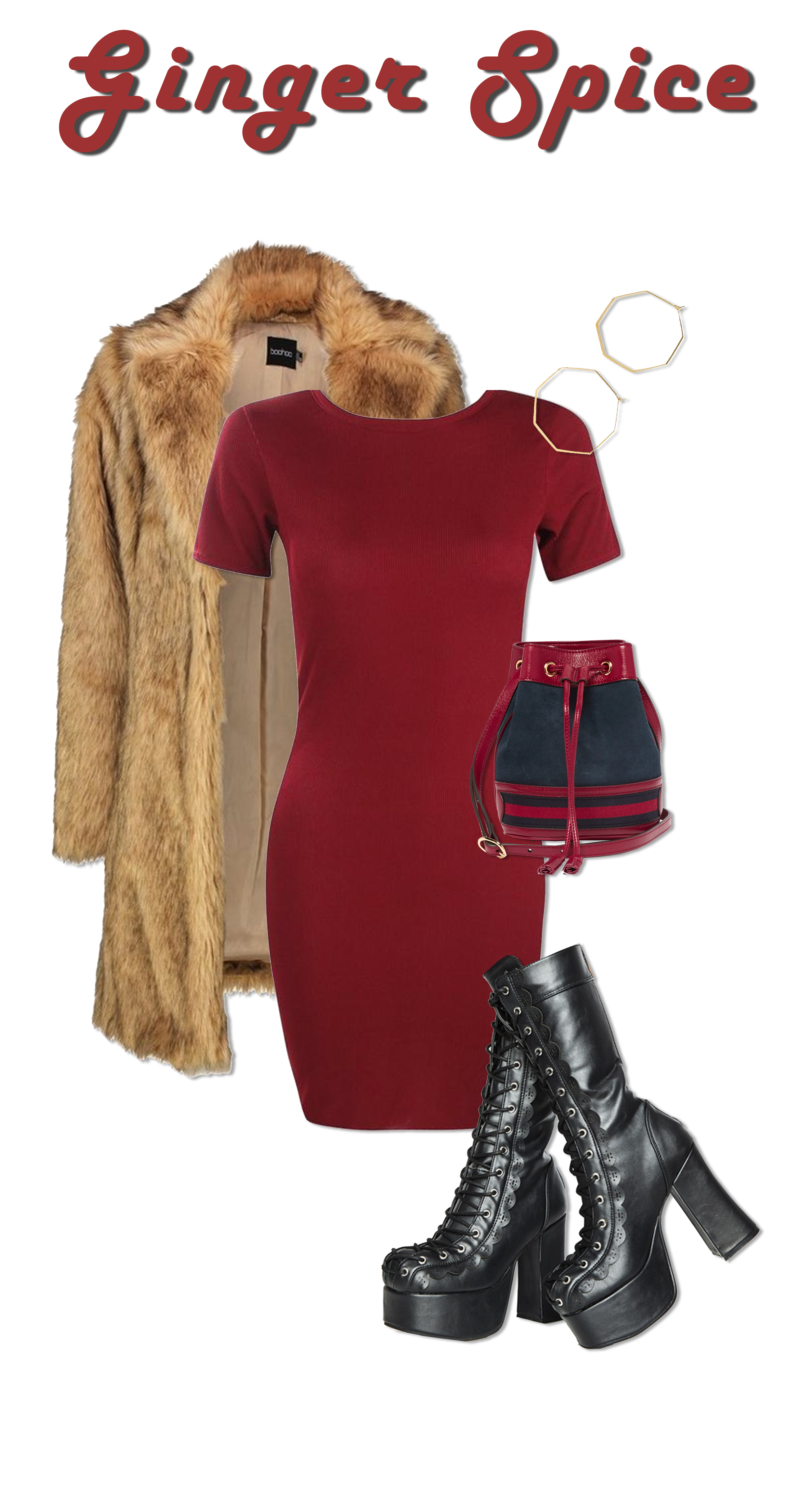 I feel like the only recognizable or iconic part of Ginger Spice's look is the Union Jack. It is incredibly hard to find a piece of clothing with the union jack on it that a) doesn't look like a costume piece or b) doesn't look extremely tacky. I'm not sure many people, especially people who don't live in the UK, would want a piece of clothing with the union jack on it either.
So I went with a little red dress as the base for the outfit instead. Not as recognizable but still very Ginger Spice and much more wearable. I wanted to emulate a picture of Geri with a red dress and a blue fur lined jacket to still get those two iconic colours in there but the blue jackets I could find were way too casual and just not right. A plain fur coat was what I went with instead, paired with some black lace up platform boots. I added in this little navy and red bucket bag from Gucci because I thought it gave a nice nod to the union jack without it being in your face but its not for the faint of heart price wise. You don't really see Geri wearing a lot of jewellery but I thought these hexagonal hoop earrings would finish off the look nicely.
Shop the Look
Faux Fur Coat
Basic Rib Crew Bodycon Dress
Devilina Platform Boots
Suede Bucket Bag
Hoop Earrings
Which Spice Girls outfit is your favourite? Does the outfit you'd mostly likely be seen wearing match up with your favourite Spice Girl? I always used to "be" baby spice growing up but I actually prefer some of the other outfits now. Will you be attending the Spice Girls concerts? Will you be dressing up? What was your favourite Spice Girls song growing up? Talk all things Spice Girls in the comments below with me!