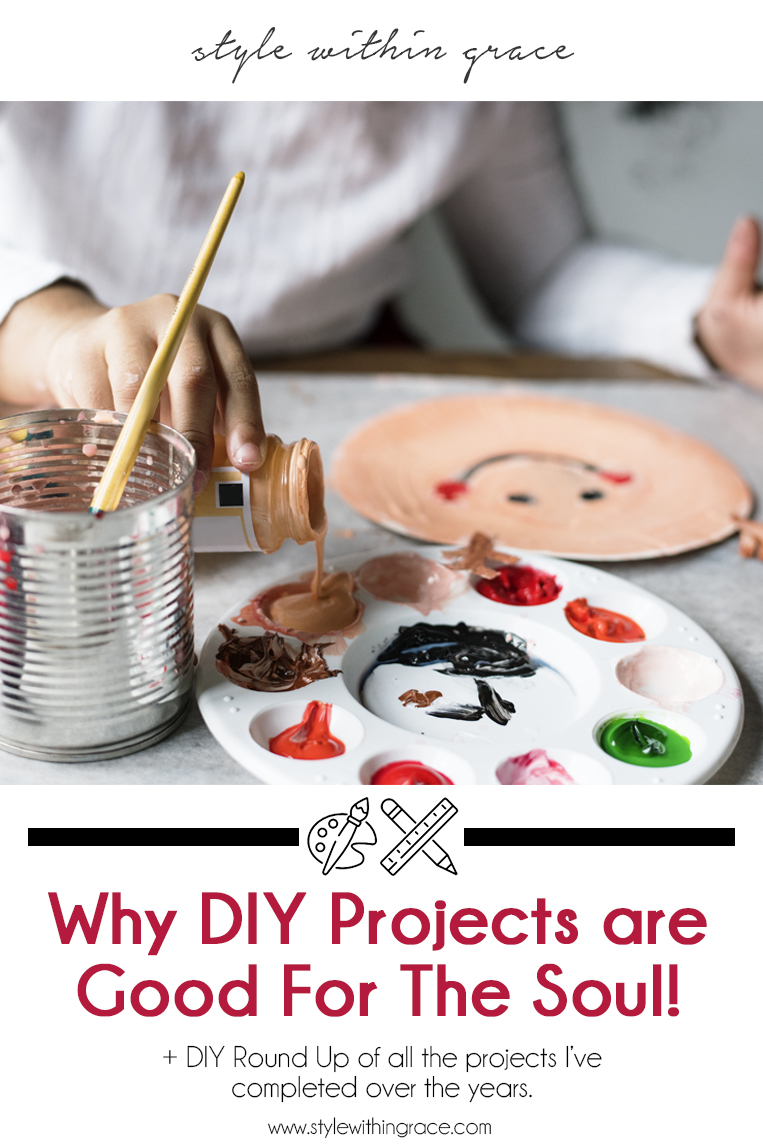 "DIY" is an acronym that most people know all about these days. The phrase is chucked around like a football and you can DIY just about anything! Have you joined in on this craze yet? I found it surprising to learn that the term "do-it-yourself" has actually been associated with consumers since at least 1912. It wasn't until the 1950's though, that it came into common usage, in reference to a trend of people undertaking home improvement and various other small craft and construction projects as both a creative-recreational and cost-saving activity. (Wikipedia, 2017) In the past, crafting and "doing it yourself" seemed to be reserved for grandmas but now young adults under the age of 35 dominate the industry. (Fromm, 2017) And that's where I fit of course!
It seems that my experience with DIY is a very common one. The main reason people DIY is knowledge, new skills and the enormous feeling of satisfaction that comes from building something yourself. (icraftopia, 2017) This is worth far more than money but the saving money doesn't hurt either. The DIY mindset is about more than just doing projects on your own, it's about making it your own. (Williams, 2013) I'm not sure about Australia but the DIY industry in the US is worth $43.7 billion in 2018 market value. (Statista, 2018)
I also found it interesting to note that nearly 50% of DIY Consumers are female which is only a recent change from a male dominated market. With the accessibility of online training materials and how-to videos, women are venturing out even more into the DIY scene. (Williams, 2013) As for the age range of DIYers in this modern time, 52% of DIYers are 24 to 44 years old. That means the majority of DIYers are from two different generations: Millennials and Gen X. Most DIYers in this age range are taking on DIY projects because of a life changing event such as buying a home, getting married or having a child.  (Williams, 2013)
My DIY Experience
I first started DIYing when we bought our first house. I finally had a space of my own that I could decorate the way I wanted so I wanted to get straight into making it feel like me. The only problem was I didn't have all that much money to spare to decorate the space, what with the mortgage and all. There wasn't really a point that I decided I was going to get into DIY as such. It just happened gradually out of necessity but also out of a need for a creative outlet for which I wasn't getting at my day job.
Pinterest was really starting to become popular at this point and after saving so many awesome inspiration pictures to my boards, I wanted to take action and actually create some of these projects. The project that seemed to be everywhere at that time was the stenciled filing cabinet and a filing cabinet was just what I needed. Now that I was an adult and had bills and bank documents and all the other adult things you need to keep on file, I needed somewhere to store all these things. So I went in search of a cheap filing cabinet that I could do this makeover on and found one for just $5. What a makeover it was! I was hooked on DIYing from that point on and there was no slowing me down. I was trawling Pinterest for my next project not long after that.
I've had to build up my tools as I've gone along. This is really the most expensive part but once you have everything you need you can DIY something so cheaply and easily it's almost addictive. Especially with the awesome feeling of satisfaction you get when you complete a project. I think to myself, " I made this!" and that is the rush that keeps me DIYing for sure. Then if it's a piece of furniture or something you keep in your home, every time you see or use it you are reminded of that same sense of accomplishment. I also find that when a space completely matches your style and energy, it is much easier to be productive in that space. I particularly noticed this in my study.
When we first moved in everything was just crammed in. There was no organisation or design. All the pieces were just a mish mash of what we had and they didn't really go together. I didn't realise how much that was affecting the work I did in there until I decided to give my little corner a makeover. I covered my cracking desk with marble contact, DIYed some drawer dividers, decorated the wall behind my computer with a triangle pattern in contact paper and hung a wire paper organiser. Immediately I felt more inspired to be productive at my computer, just because I enjoyed being in the space.
I truly believe you will be more productive in a space that you feel good in. I don't know about you but I also feel extremely satisfied knowing that I saved money. But not only are you saving money by doing projects yourself, you can also tailor things to your specific needs. You are then getting exactly what you need rather than a store bought piece which is as close to what you were after as you could find.
10 Most Necessary Tools for Your Home

Hammer
Drill
Handsaw
Screwdriver
Tape Measure
Pliers
Wrench
Voltage Tester
Clamps
Knife
DIY Project Round Up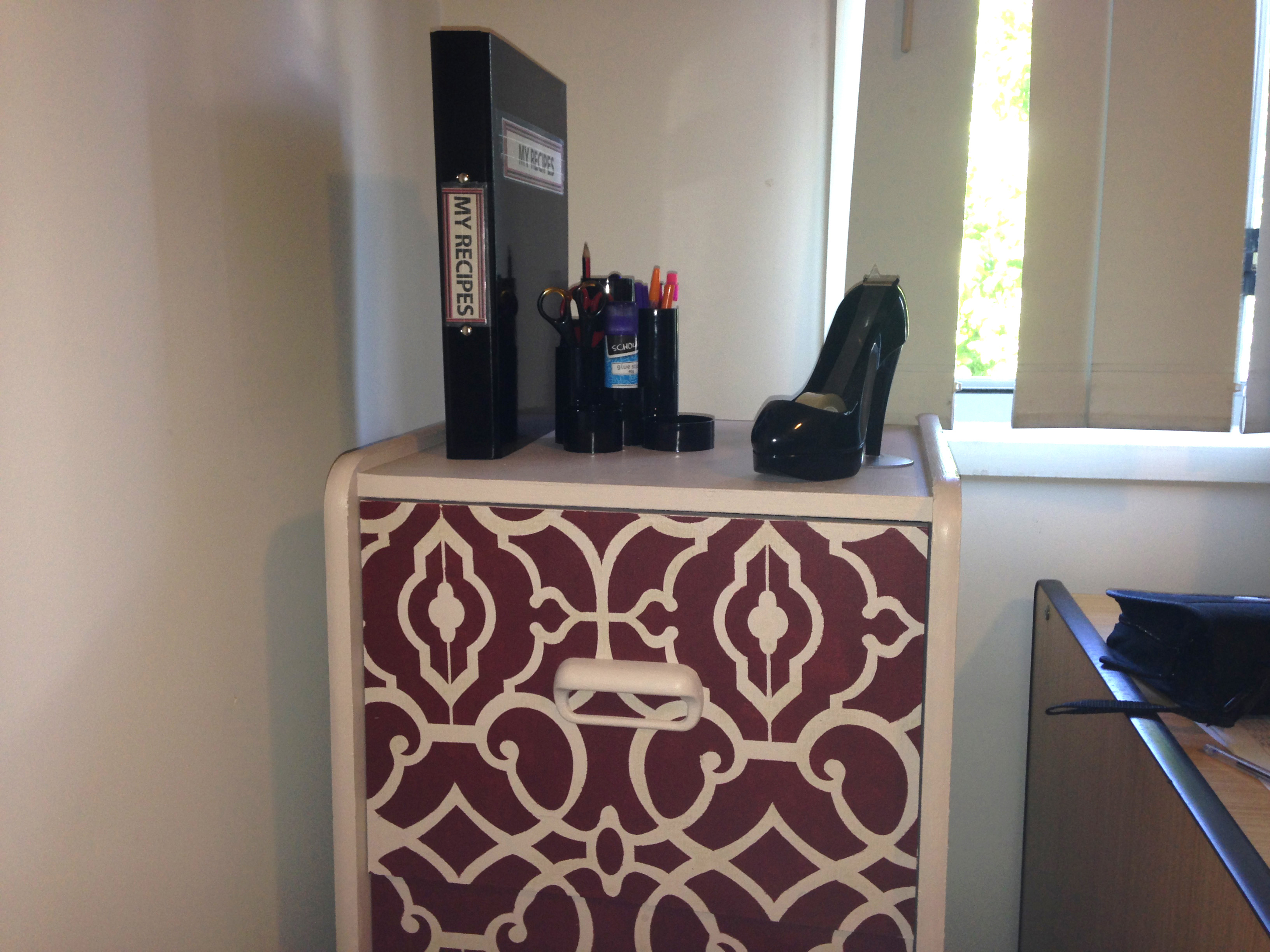 My stenciled filing cabinet was the first DIY project I took on. There was a bit of a learning curve and a buying curve too as I built up the required tools. I'm still a big fan of the stenciled look and the piece still lives in our study to remind me of where I started out. A great project to take on yourself as a beginner or a pro DIYer.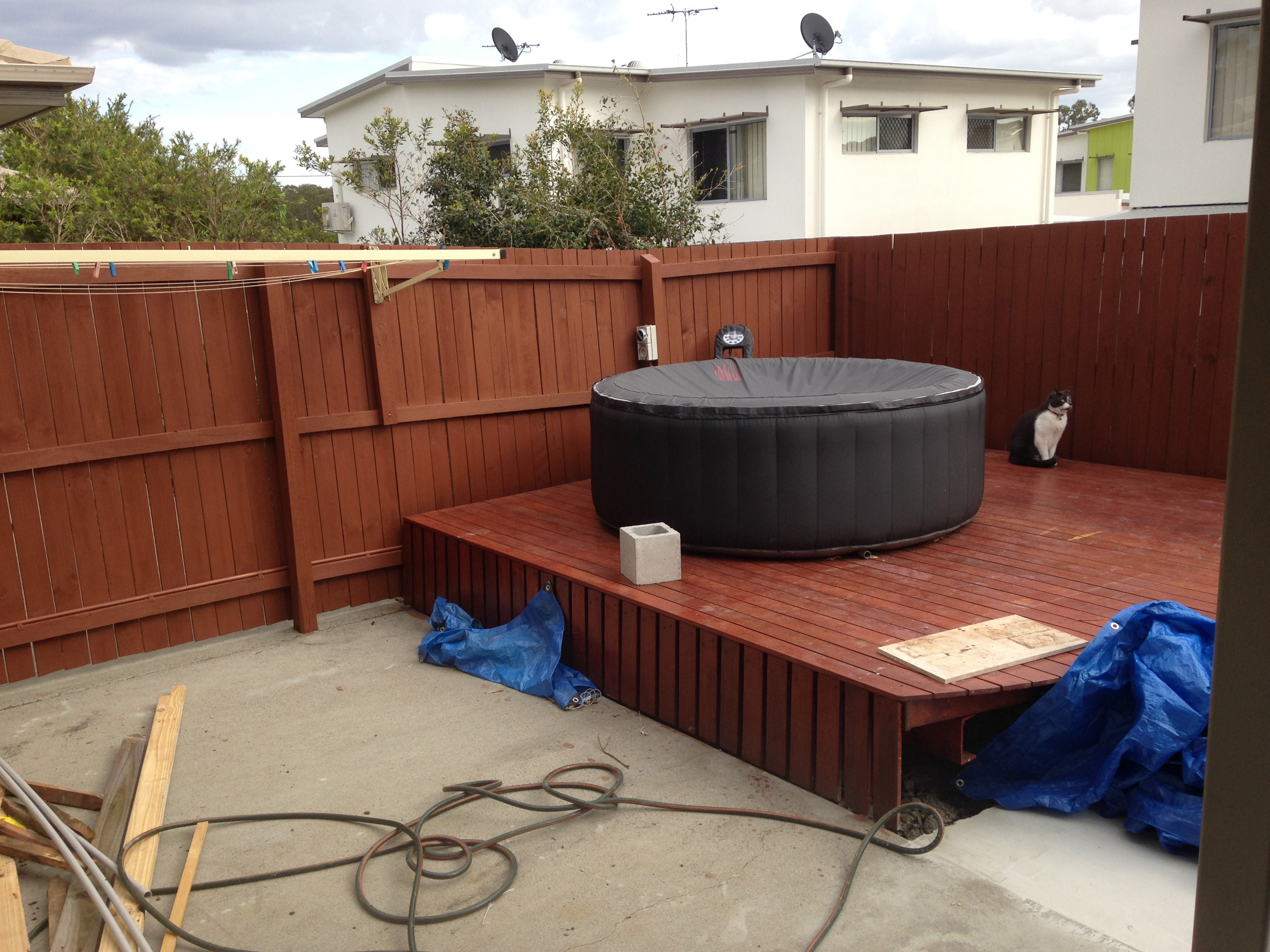 This a series of posts showing the progress and evolution of our backyard. It started off as some old cement and some overgrown plants and we finished off with a beautiful deck and a functional paved area ready for hosting social occasions. While not a complete DIY on my behalf, it was a family collaborative effort.
One of the most simple but effective DIYs I've ever done! If you are looking for a really quick fix for an old piece of furniture you own then this is the DIY for you. It opened my eyes to all the possibilities of what you can do with old pieces that just don't fit your style at all.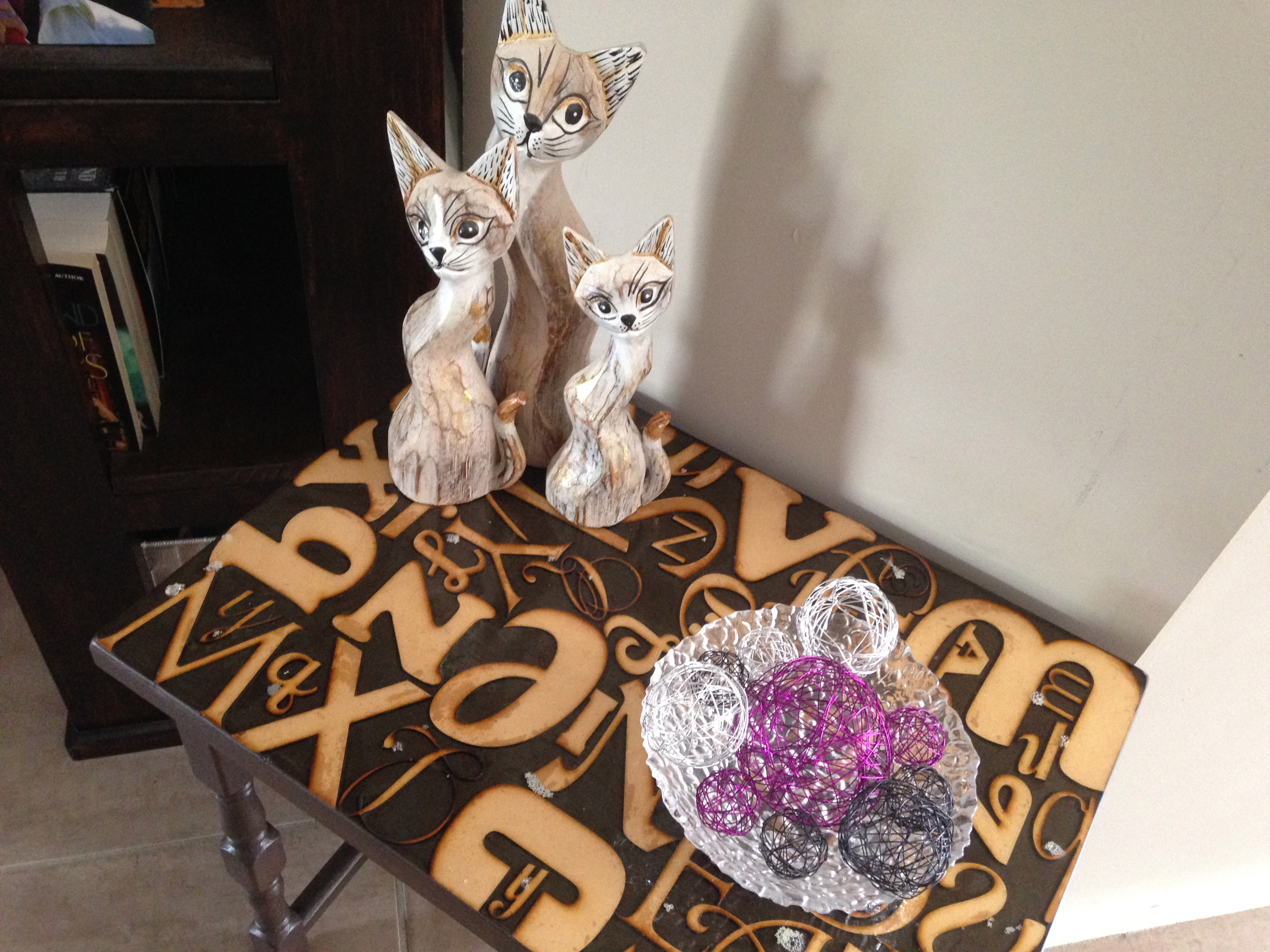 Another great example of a makeover of old family inherited pieces. I managed to turn some rather plain and worn but really useful side tables into a feature piece in my lounge room. I also delved into the land of resin which was a learning experience if nothing else.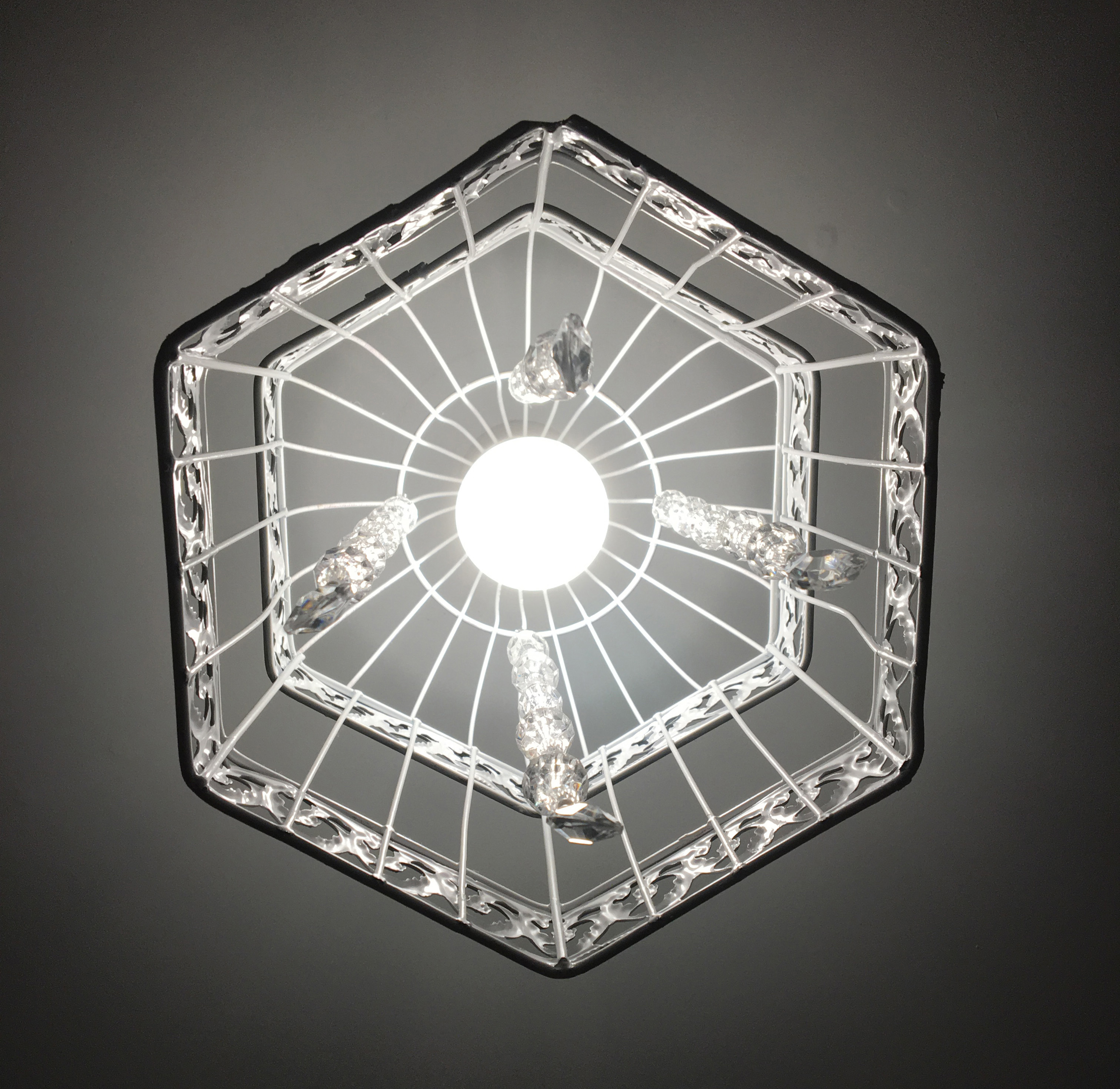 This is another favourite of mine! Again a bit of a collaborative DIY with help from my dad. This project saw me researching and delving into beading. I also had to buy some new tools necessary for jewellery making and learn how to use them. I love how this one turned out and I have gotten a lot of compliments on them in the past few years.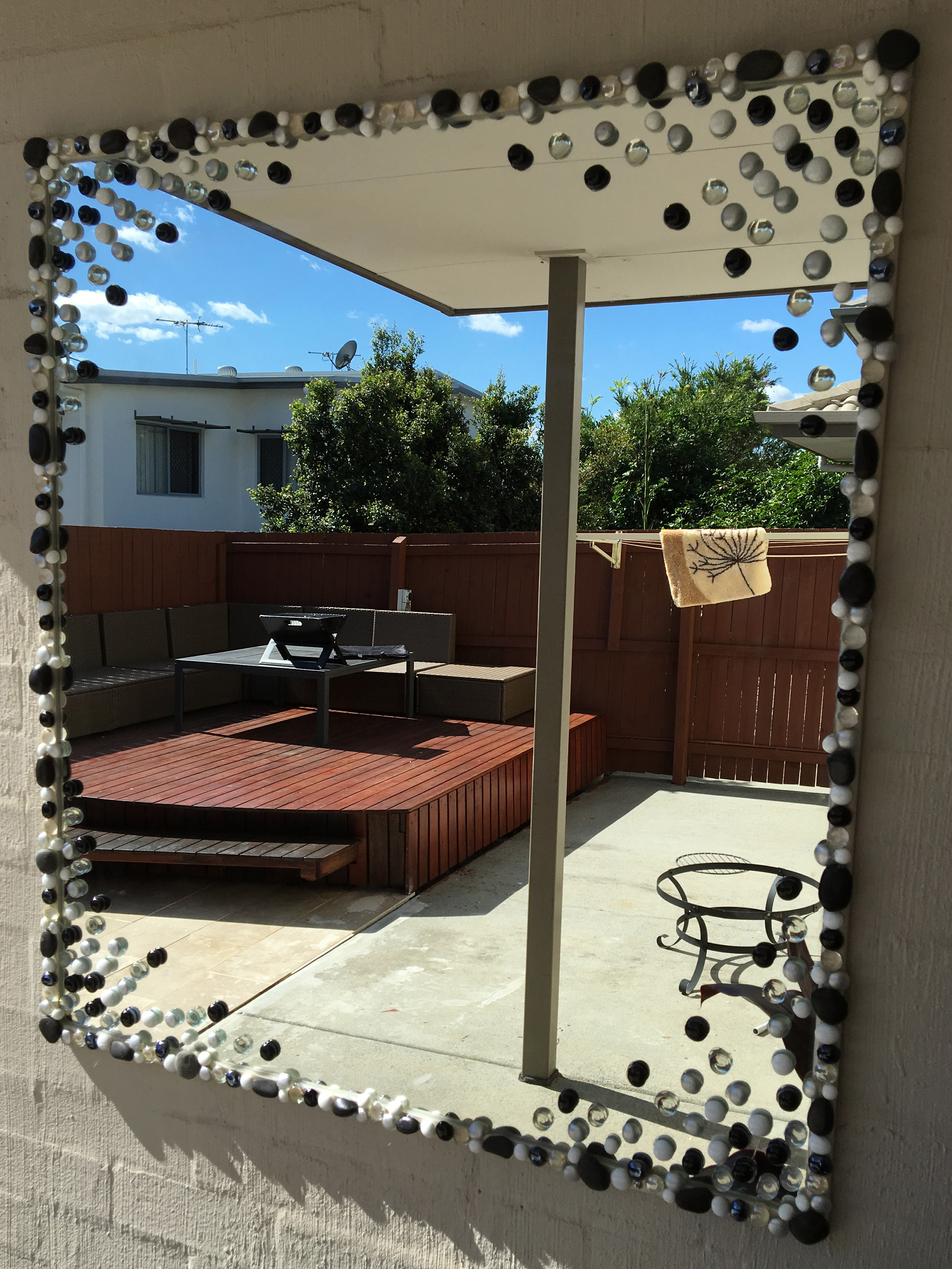 A very simple and easy DIY that creates an awesome outdoor feature piece that just makes our backyard look so chic! This is the perfect beginner DIY project. You really only need an old mirror, a glue gun and your decorative stones. Chuck on some music and glue away all afternoon and you'll be done in now time.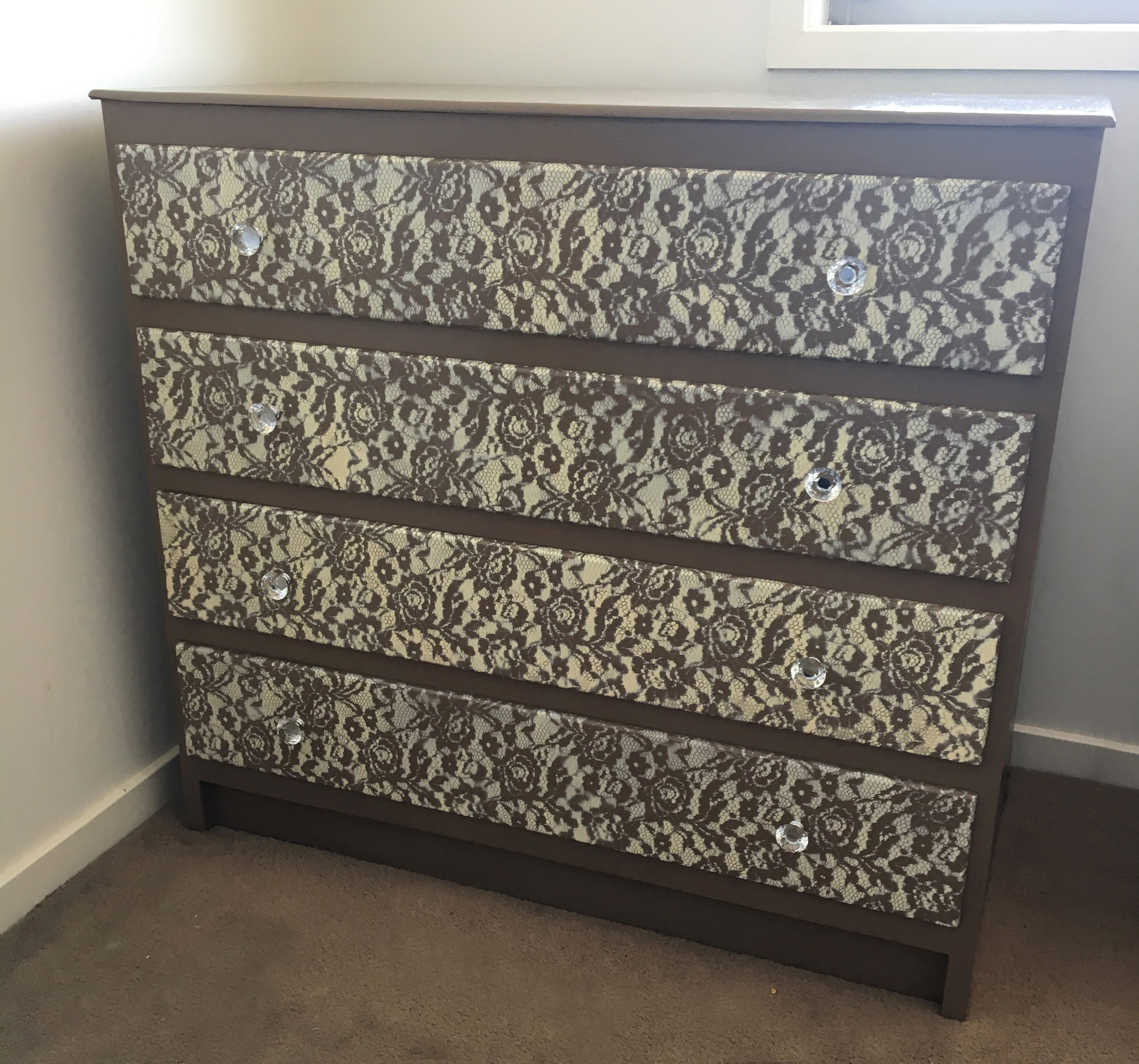 This sweet DIY project is actually on my do it again list! A lace pattern is the perfect way to do up an old set of drawers. This time I want to add some subtle grey lace patterns over a white set of drawers. Whatever colour tickles your fancy this is a surefire hit of a DIY!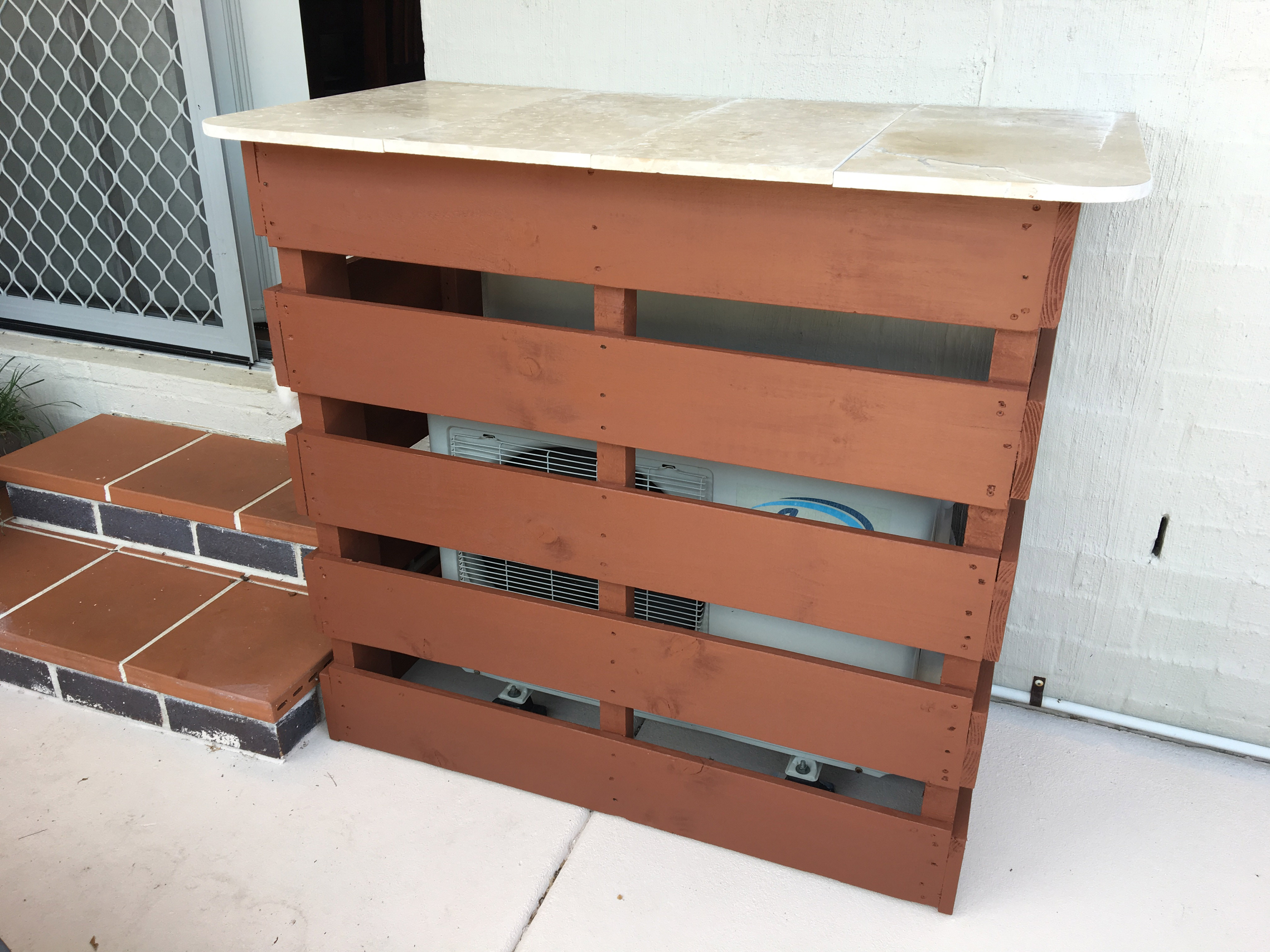 I don't know about you but I hate the look of those outdoor air conditioning units. They take up space and look ugly doing it. But you have to have them if you don't want to die in summer. Well I'm super happy with the solution I came up with for the backyard air-con unit we have! Not only does it look totally awesome but this pallet bar up-cycle is useful while still allowing the air-con unit to ventilate.