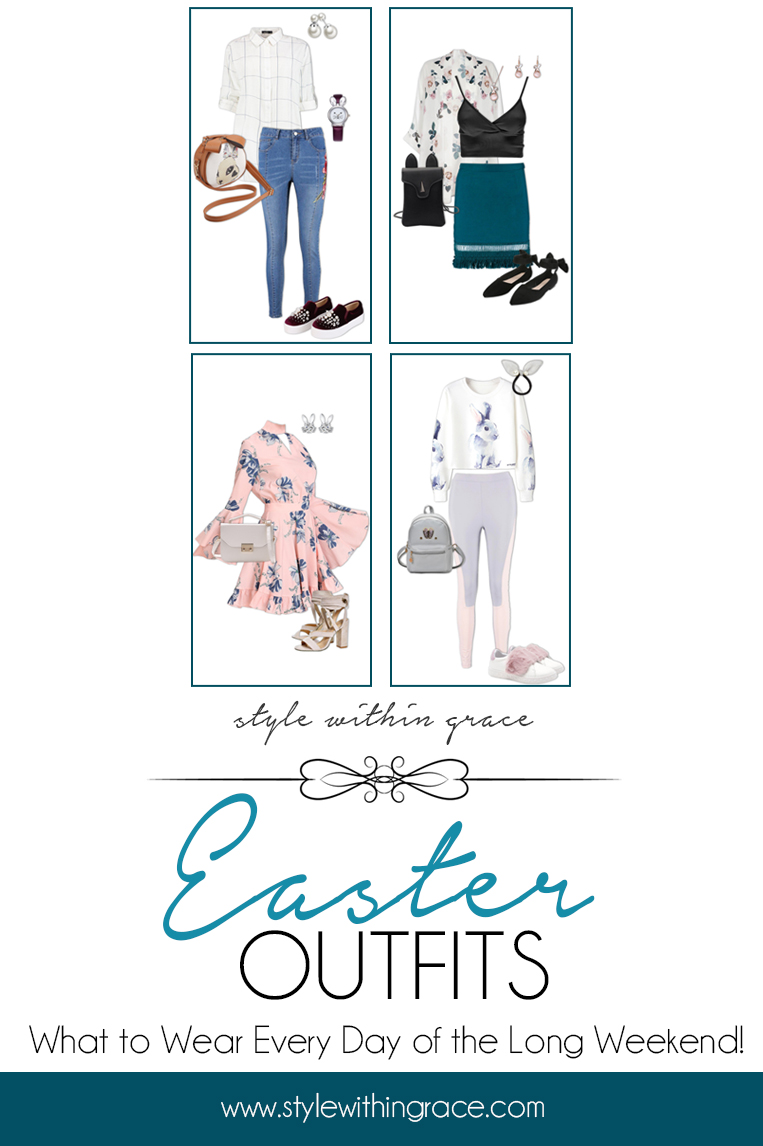 The Easter long weekend is not far off now and while I typically wouldn't really dress all that differently this weekend than any other weekend, I like to use any excuse out there to style some cute outfits. I wasn't sure I would find anything too Easter related in regards to clothing but was pleasantly surprised to not only find some rabbit jewellery but also some seriously cute bunny handbags and sweaters. I also kept to a floral and pastel colour palette for these Easter outfits because those just seemed appropriate to me. Even though it's now autumn here in Australia the Easter and spring association seemed to be ingrained in my mind. I think we can get away with it though because it's not like it's gotten too cold here yet. I've styled each day for the types of activities I can imagine undertaking on each day but feel free to switch them around if it suits you better. Tell me how do you spend the Easter Long Weekend?
Good Friday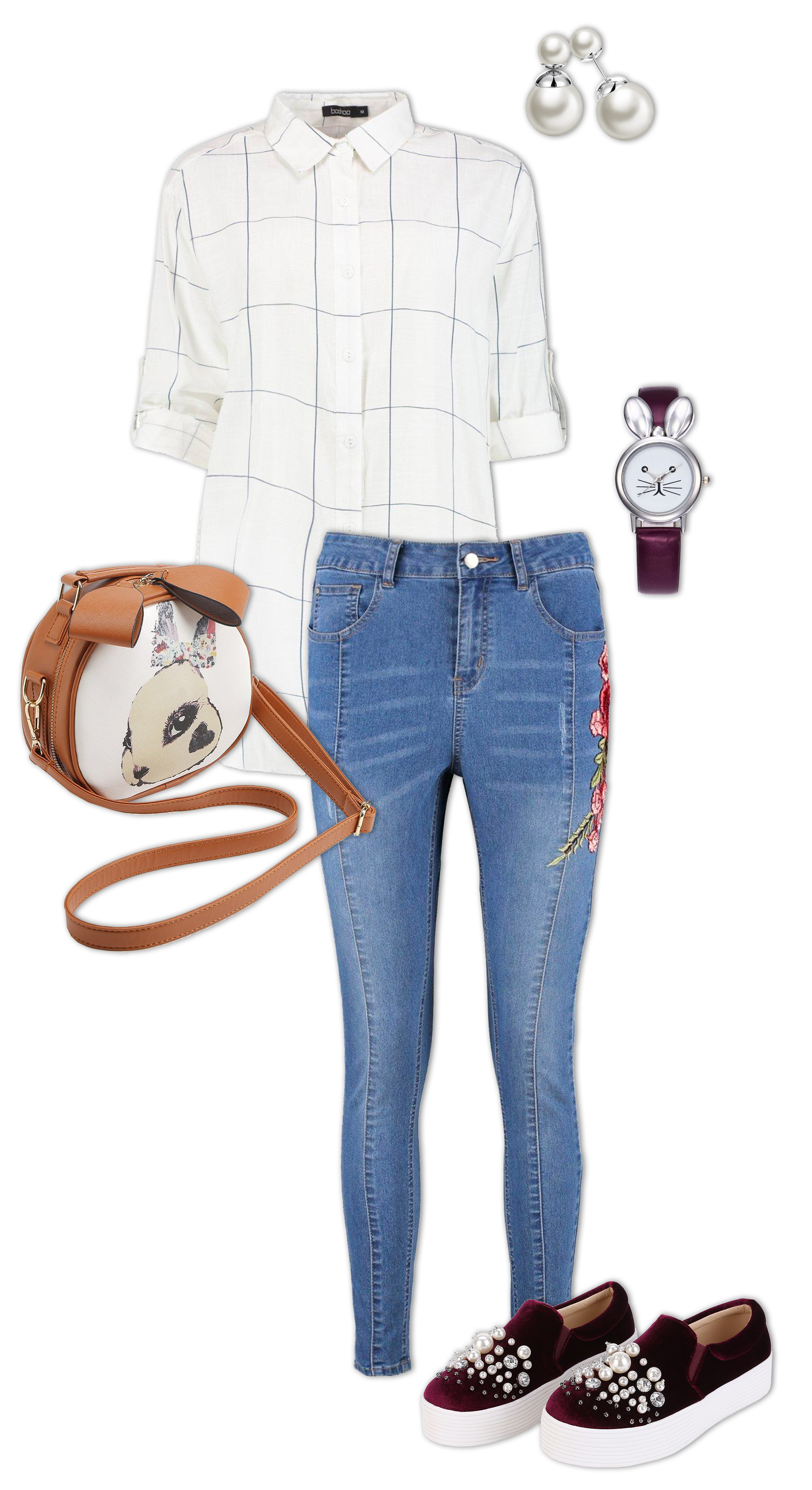 I don't ever really get up to much on Good Friday. That's why I chose this cute but casual outfit. It's very possible that I'll be working on Good Friday this year though and if these pieces were in my wardrobe, I would totally wear them into the office. My workplace is fairly relaxed most days and even more so on public holidays. I actually found these jeans originally to pair with a cropped lilac hoodie. But then I found the bunny sweater I used for Easter Monday and had my sweater and leggings outfit sorted so I chose this window pane grid patterned button up shirt instead.
I then added the rabbit accents which are just too cute right? The colour of the shoes go perfectly with the watch and even tie in with the embroidery on the jeans. Lastly I chose some pearl earrings to match the details on the shoes. This outfit is perfect for running any last minute errands, chilling at home or catching up with friends and family.
Shop the Look
Enya Large Grid Oversized Shirt
Jen Seam Front Floral Embroidered Skinny Jeans
Faux Pearl Detail Slip On Plimsolls
Rabbit Printed Leather Crossbody Bag – Brown
Faux Leather Strap Rabbit Ears Watch – Purple
Faux Pearl Design Double Stud Earrings
Easter Saturday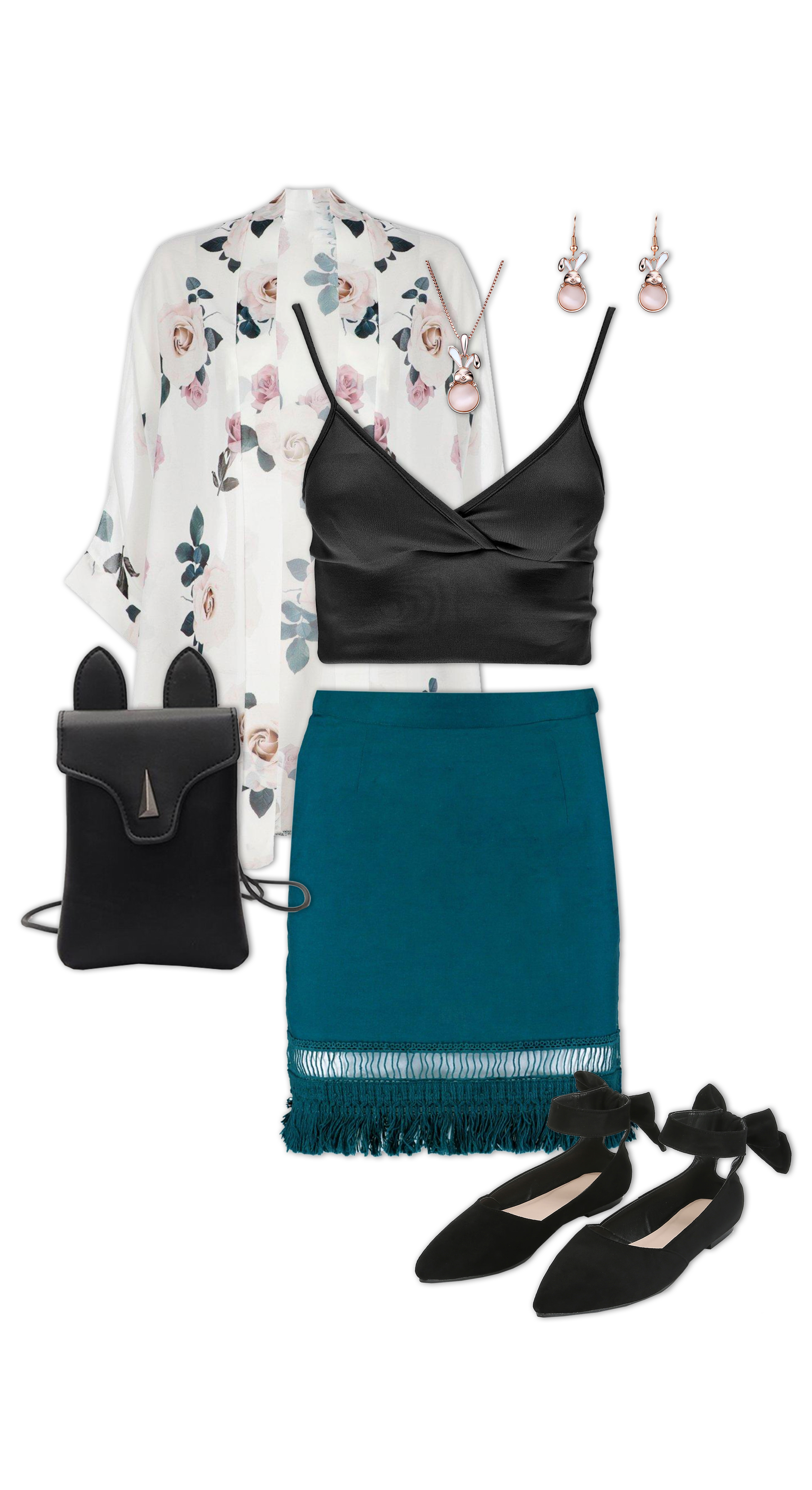 I feel like Easter Saturday you are more likely to get out and about so I chose a slightly more dressy outfit for today. This outfit would be great for going shopping or catching up with friends for coffee. I started with the beautiful floral kimono and then happened to find this beautiful teal green skirt which I though was a match made in heaven. I paired the skirt with a black crop top and black flats with bow details in the back. Some subtle rabbit jewellery was added and then the outfit was finished off with this black handbag with bunny ear details.
Shop the Look
Sophie Rose Print Chiffon Kimono
Catherine Scuba Plunge Cross Bralet
Aria Tassel Trim Woven Skater Mini Skirt
Bow Decorated Pointed Toe Flats
Soild Color Bunny Sloped Across Women's Bags – Black
Bunny Faux Gemstone Pendant Necklace with Earrings – Golden
Easter Sunday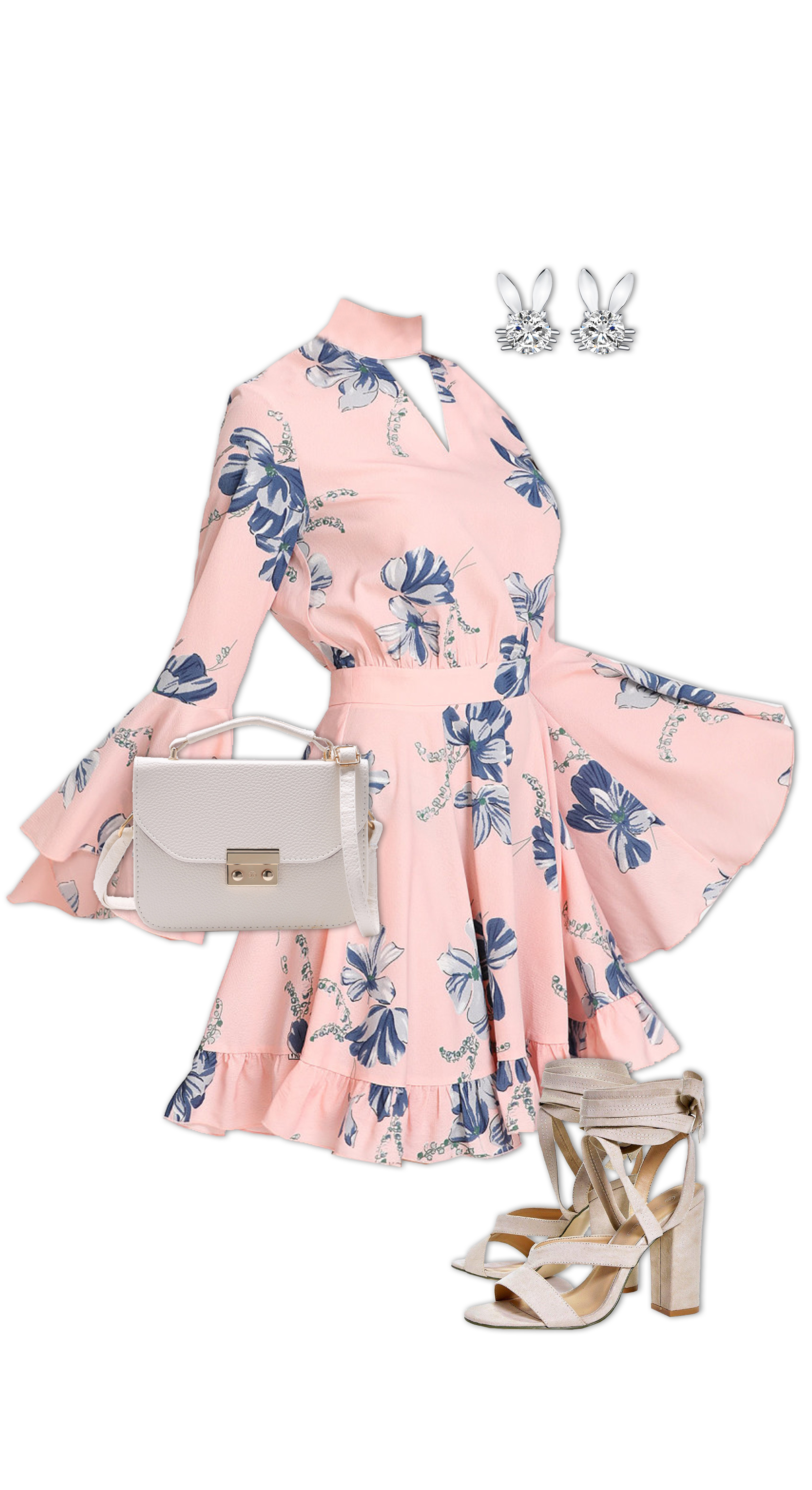 Easter Sunday always requires a beautiful flowy dress in my opinion! This one fit the bill perfectly so I added some neutral block heels that aren't too high and a handbag in a similar colour. Lastly because I couldn't help myself, I added these bunny rabbit stud earrings. The perfect way to subtley dress for the season. My Easter Sunday will start with going to church in the morning followed by a massive family lunch with the in laws.
Shop the Look
Choker Collar Flounce Sleeve Dress
Lara Block Heel Wrap Strap
White Pebbled PU Box Handbag With Strap
Rhinestone Rabbit Ear Stud Tiny Earrings – Silver
Easter Monday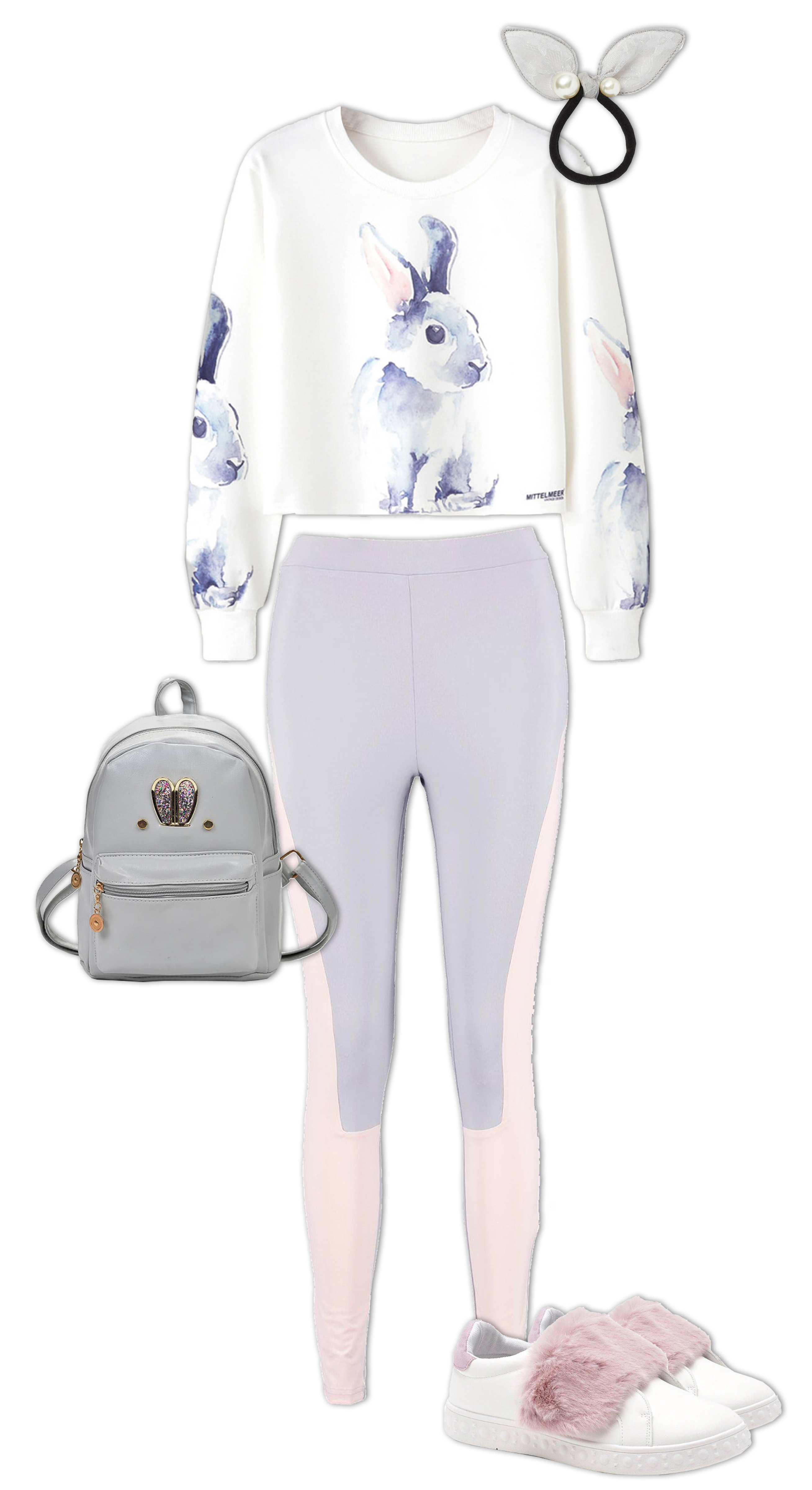 Easter Monday is another one of those lazy days in my opinion. I'd usually spend it at home in a food coma recovering from the awesome Easter Lunch the day before. What better thing to wear on days such as these than a comfortable leggings and sweater combo. Just because you are lazing around at home doesn't mean you can't look mighty cute doing it! When I found this bunny sweater I just knew I had to feature it in a look because how cute is it? I paired it with these two tone pastel leggings, some white sneakers with pink fluffy detailing, a grey backpack just in case you venture out for a walk and this bunny earred hair band because I like to keep my hair out of the way when I'm binge watching Netflix. Can anyone else relate?
Shop the Look
Rabbit Print Crop Sweatshirt
Freya Fit Contour Panel Running Legging
Kayla Faux Fur Strap Trainers
Glitter Ear Detail Zipper Front PU Backpack
Rabbit Ear Pearl Detail Hair Tie
Which of these 4 Easter long weekend outfits is your favourite? How will you be spending the weekend? I'm hoping to do am Easter Nail Art Tutorial in the next week or so but if you can't wait until then you could check out my nails from previous years, Easter Bunny Pink Glitter Nails. Have a safe, blessed and restful Easter long weekend!