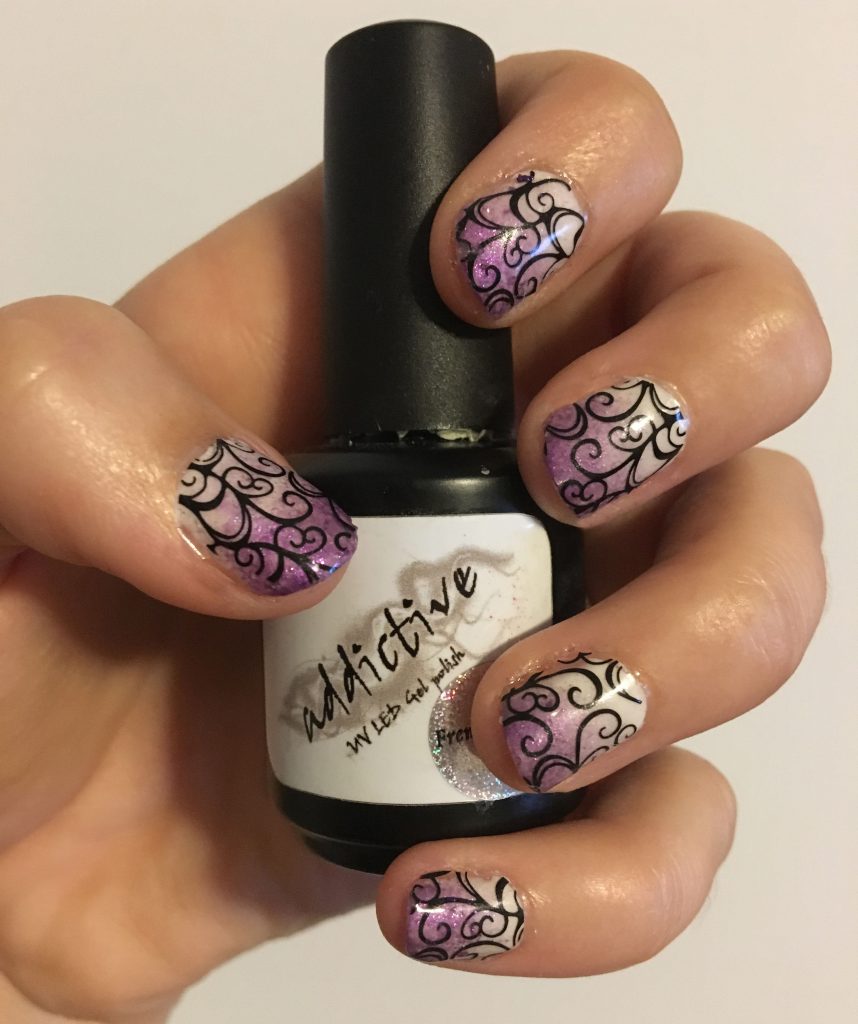 It has been absolutely ages since I last did my nails. The issue was my old nail lamp stopped working so I figured that the bulb must have died. It took me ages to get organised enough to buy some more online but when they finally arrived the lamp still didn't work. I guess the whole thing carked it. By the way, I have always used the phrase "carked it" but totally had no idea how to spell it. Doesn't it just look wrong to you? Maybe that's just me.
Back to the nail lamp, I ended up with like 3 working bulbs but no way to do my nails still. It took me another age to get organised enough to buy a new lamp and then I had to figure out which way I was going to go. Another UV lamp so I could at least make use of all the light bulbs I was now drowning in or a LED lamp which was more expensive but apparently faster at curing. As you may have surmised by now, I went with the LED lamp. So now I'm stuck with pointless bulbs that have no use! Doing my nails is now not only possible but a lot quicker, although it still takes me like 3 episodes of Grey's Anatomy.
36W LED Lamp
The 36W LED lamp I bought is from eBay and you can pick up the same one in black or pink here. This one has a timer in 10 sec, 30 sec or 60 sec increments which is so nice to have after I'm pretty sure I wasted so much time with my old one because I'd just forget what I was doing and leave my hand in there indefinitely while I got distracted with some serious plot twists happening in whatever TV show I was binging at that particular time. Now when my time is up the lamp automatically turns itself off.
If you don't want to use the timer though then you can just put your hand in there and it will sense it and turn on automatically and then off automatically when you take it out again. It's so nice to have an upgrade, I didn't realise how ordinary my old one was until now. I couldn't even put my whole hand into the old one. I did think about buying a two handed lamp as well but figured it was unnecessary because I could only do one hand at time, I'd need one hand dry to paint the other hand. Anyway I'm really happy with this lamp and would recommend to anyone looking to either get into the nail art game or looking for a replacement/upgrade.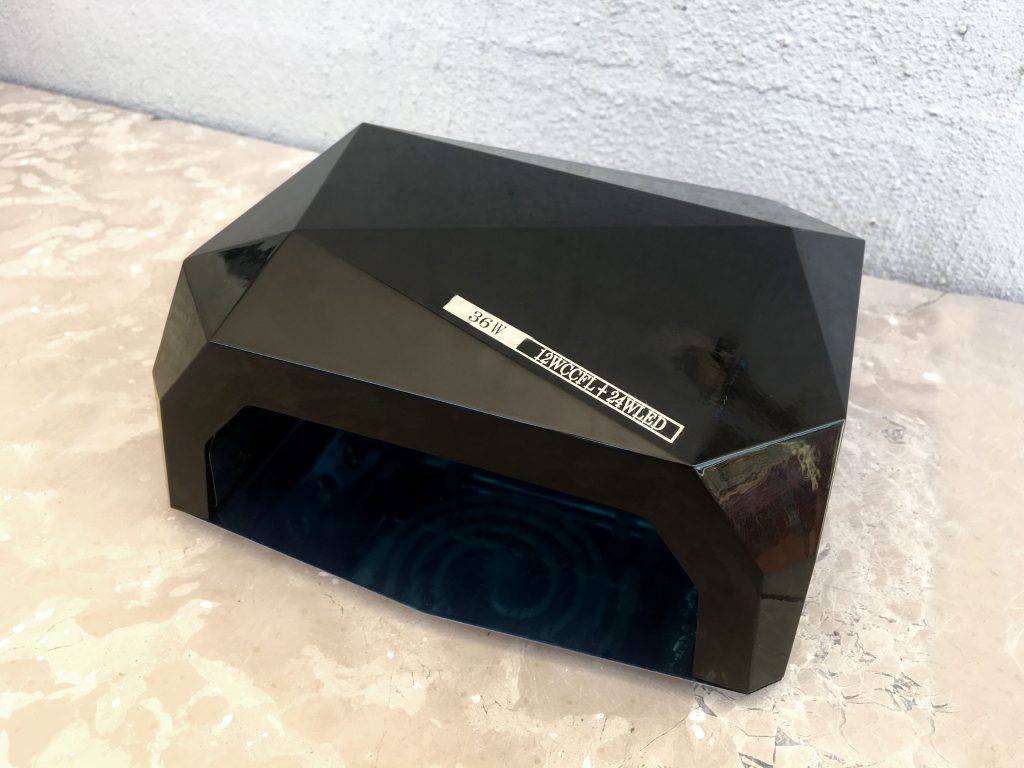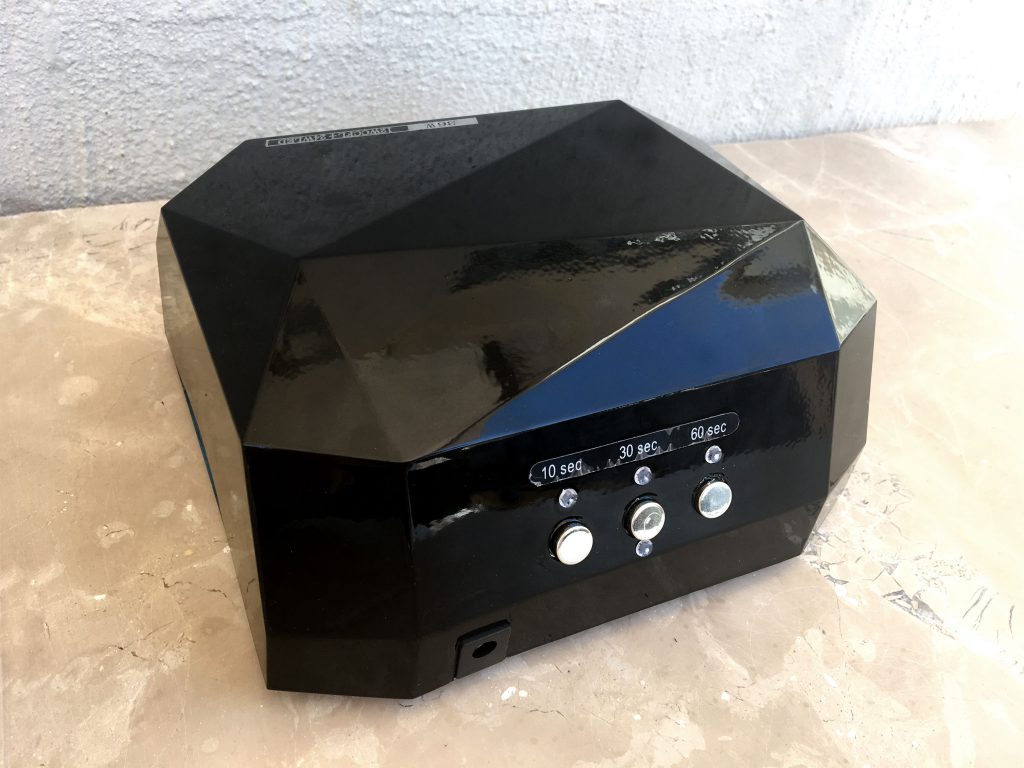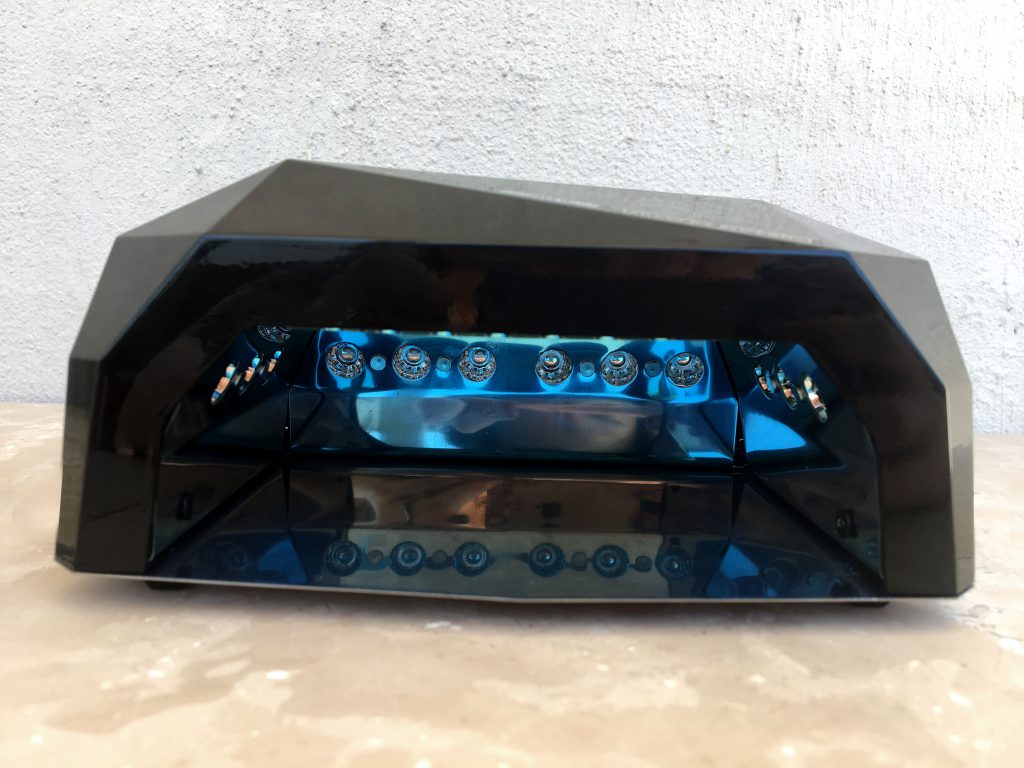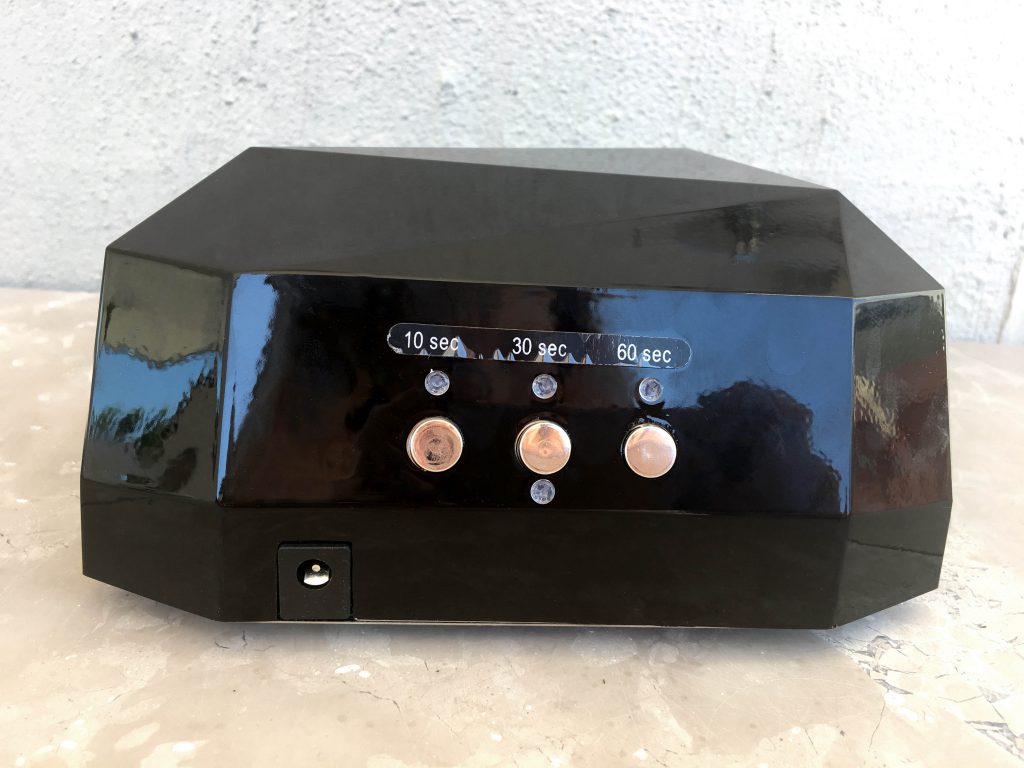 Purple Ombre Swirl Nails
It was really hard to decide what kind of nails to do after such a long stretch of naked nails. I didn't want something too difficult as I wanted to ease my way back into it. But it still had to be new and unique. I decided to experiment with some ombre nails. I've tried this before without much success because I didn't have the right tools. I had bought some sponges before my old lamp broke but I never had a chance to use them. The sponges sure made this so much easier and you can pick up a whole bag full for like $1 on eBay.
I also used some swirly nail stickers I also bought but never tried out. Can I just say I love them! I often have issues when using nail stickers. They often don't stick down enough, especially at the tips where I have to trim them to my nail length. The sticker comes up after only a few days which essentially ruins the whole manicure.  Sometimes the sticker is so thin that it tears really easily as well. These ones are nice and sturdy and maybe it's me finally perfecting the technique or it's the sticker but these ones seem to be lasting really well!
The stickers come in pages of 9 different designs in silver, black, red, white, gold, blue or pink. As usual they have enough for 12 fingers so I put the two extra big ones on my big toes. There is a picture below but it is seriously hard to take a nice photo of feet! Is it just me or are feet like seriously ugly… haha.
I started with a base coat then enough coats of the French White to create an opaque white base. I then brushed the purple onto the bottom of the sponge. Using the sponge, I dabbed the tops of my nails, working my way down the nail as the strength of the colour faded. As the purple colour was not a gel nail polish I simply waited for that to dry.  I then applied the nail stickers over the top. The ends that stuck off my nail were folded over and I used the emery board on the edge to cut off the unnecessary length. I then of course finished with a top coat making sure to stick down the tips of the stickers.
What I used this week:
– Addictive Top and Base Coat
– Addictive French White
– Avon Nailwear Pro+ Reckless Purple
– Black Swirl Nail Stickers
– KDS Cleanser Plus
– Nail Sponges
– LED 36W Nail Lamp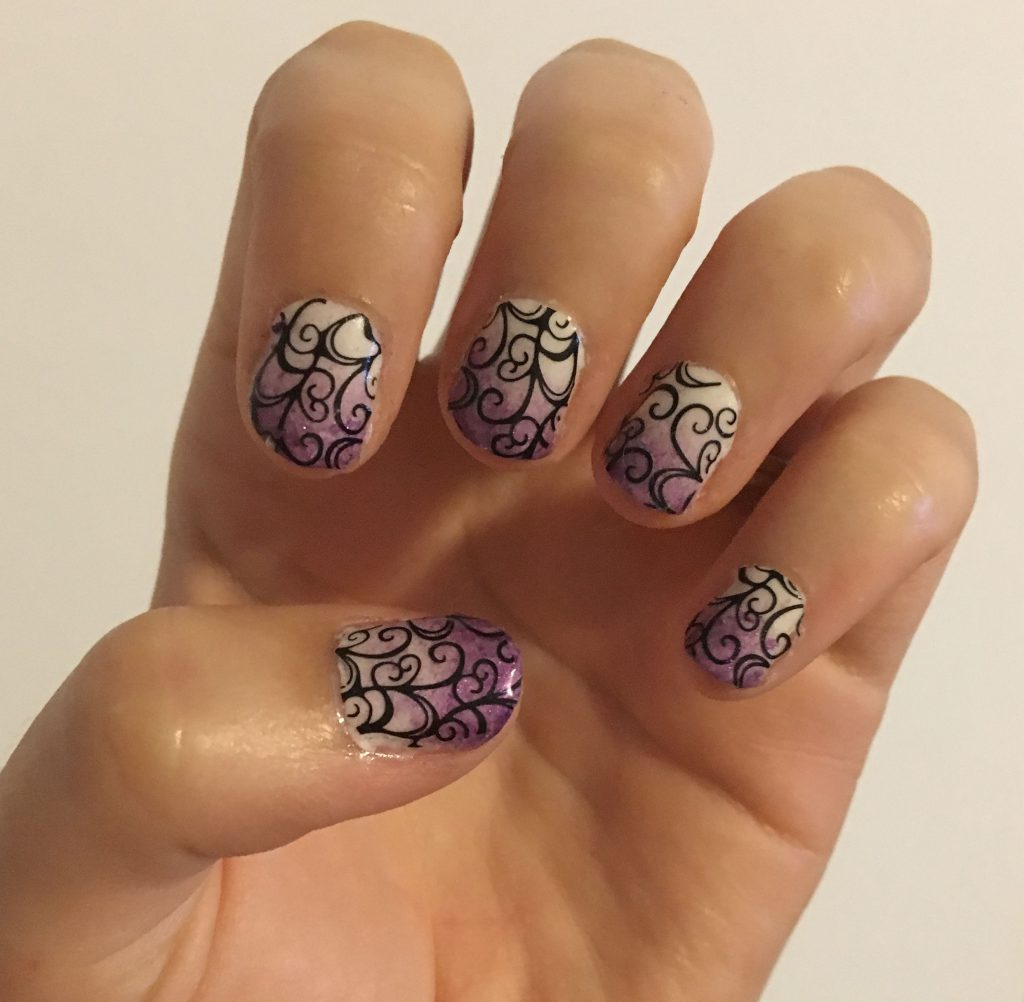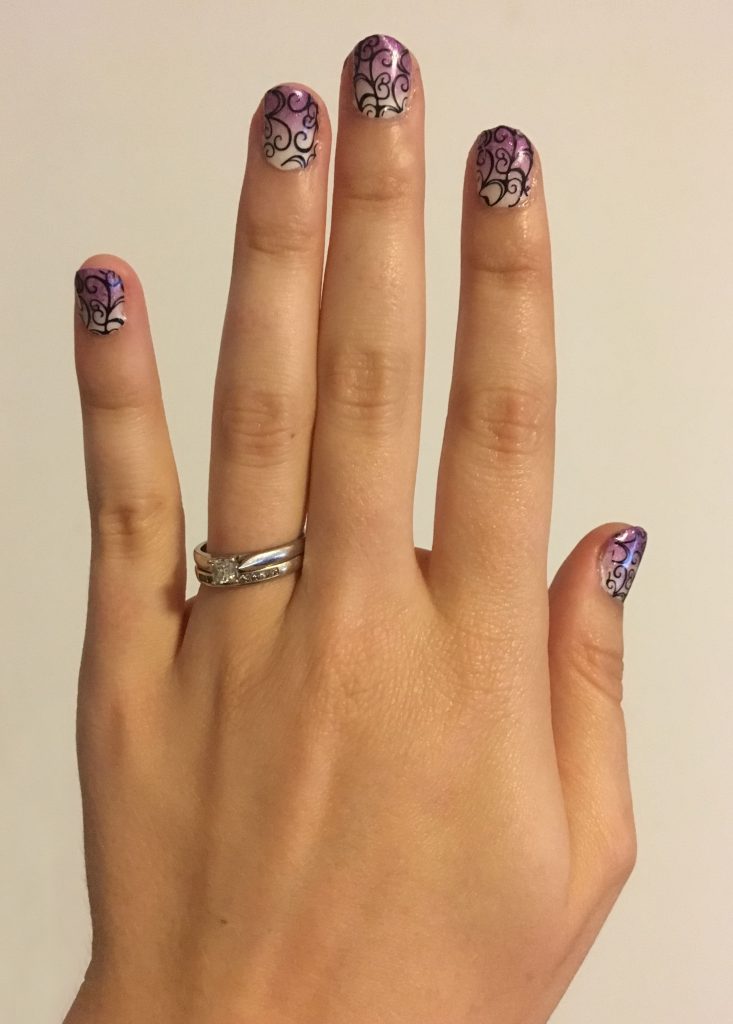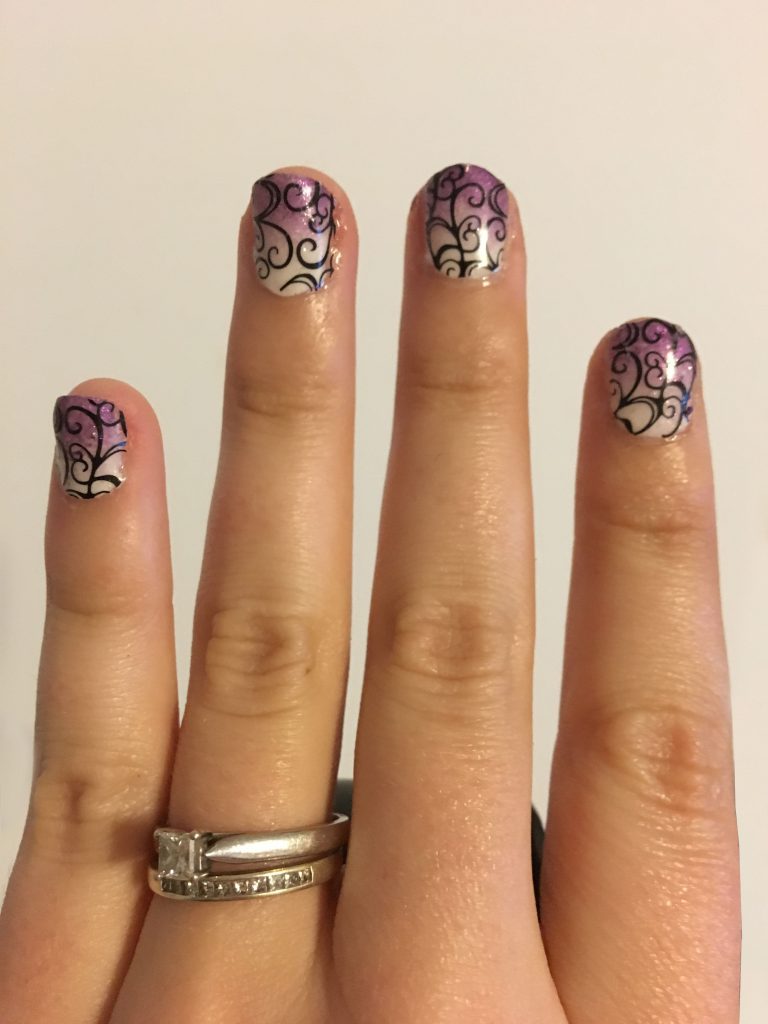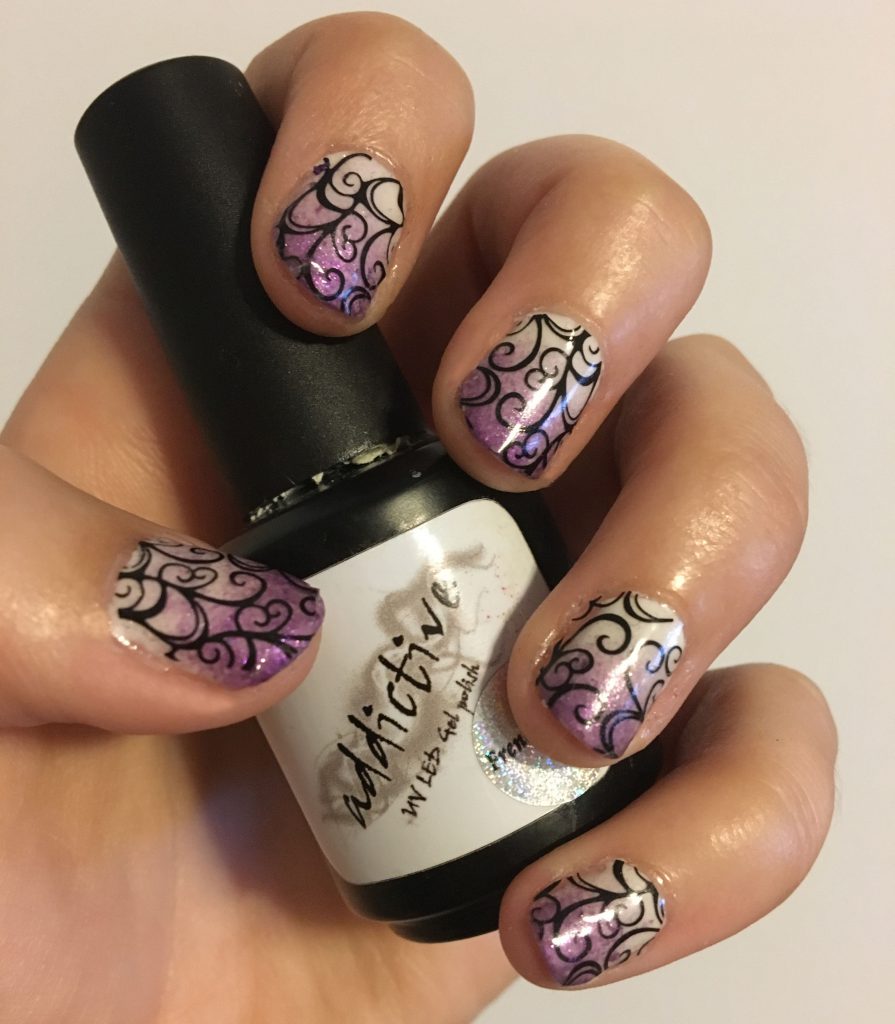 I love how these turned out! The purple goes great with my pop of colour purple handbag which is the main colour in my capsule wardrobe for this month's #NewYearNewYouStyleChallenge. And with that I'm back on the nail art band wagon! Anyone have any ideas of what they'd like to see me do next? Leave me some ideas in the comments below. I need some inspiration to help me narrow down where to start!
Peace and Nail Art out! xx