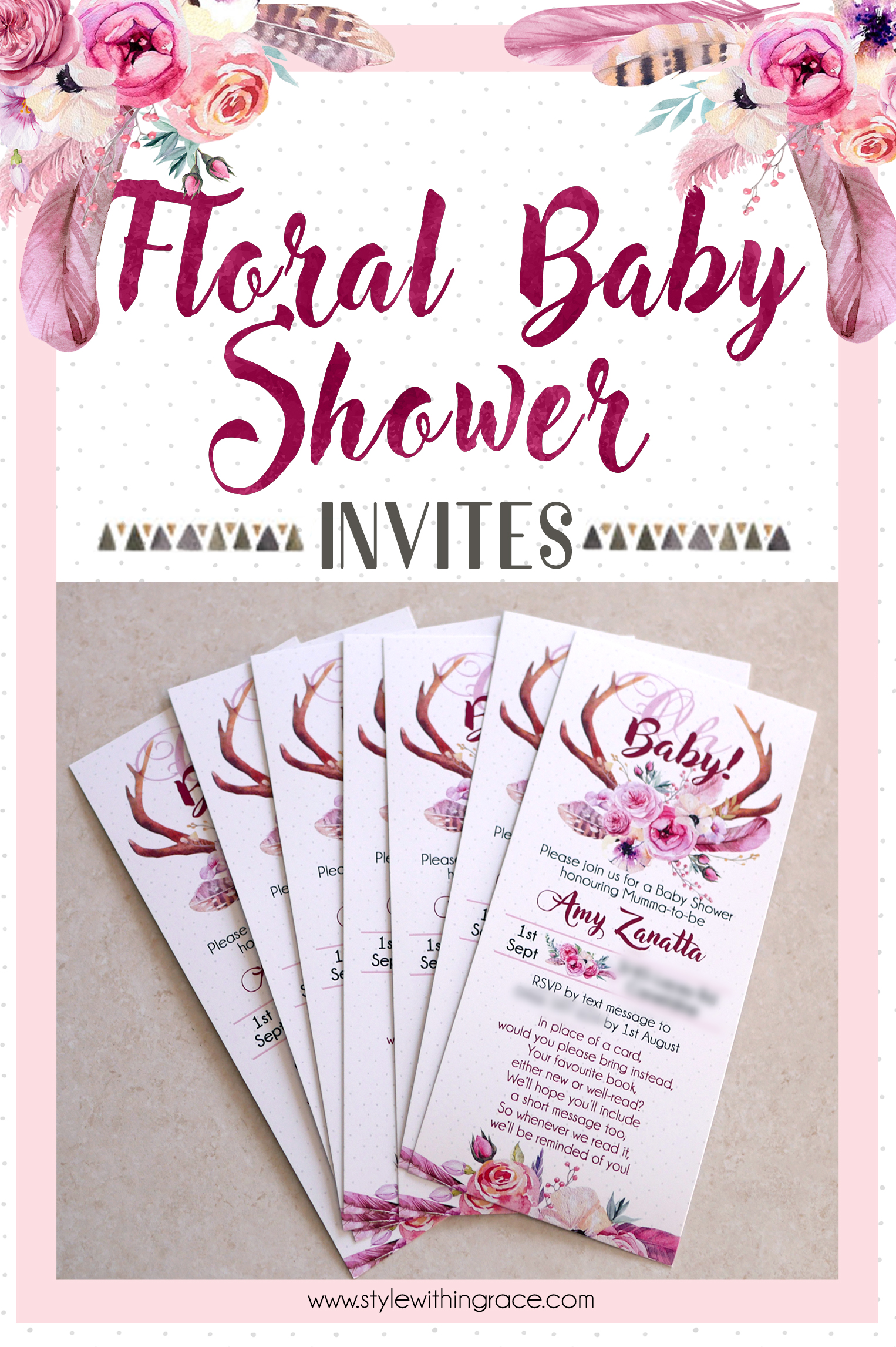 With the news of my pregnancy out and about, you must have known a beautiful baby shower wasn't too far away! I do so enjoy organising parties but I think I may have taken on a little too much this time. I was completely exhausted by the end of it but it sure was fun! These days many people throw co-ed baby showers but the hubby said he wasn't interested in any of the games and girly activities so I set out organising a spring floral ladies only baby shower.
The first thing on my to-do list was of course the floral baby shower invites! By this point I had already started putting together my nursery. I had used some pink watercolour flowers for the clothing dividers and an art piece on the wall so I decided to continue using that as the main theme of the event.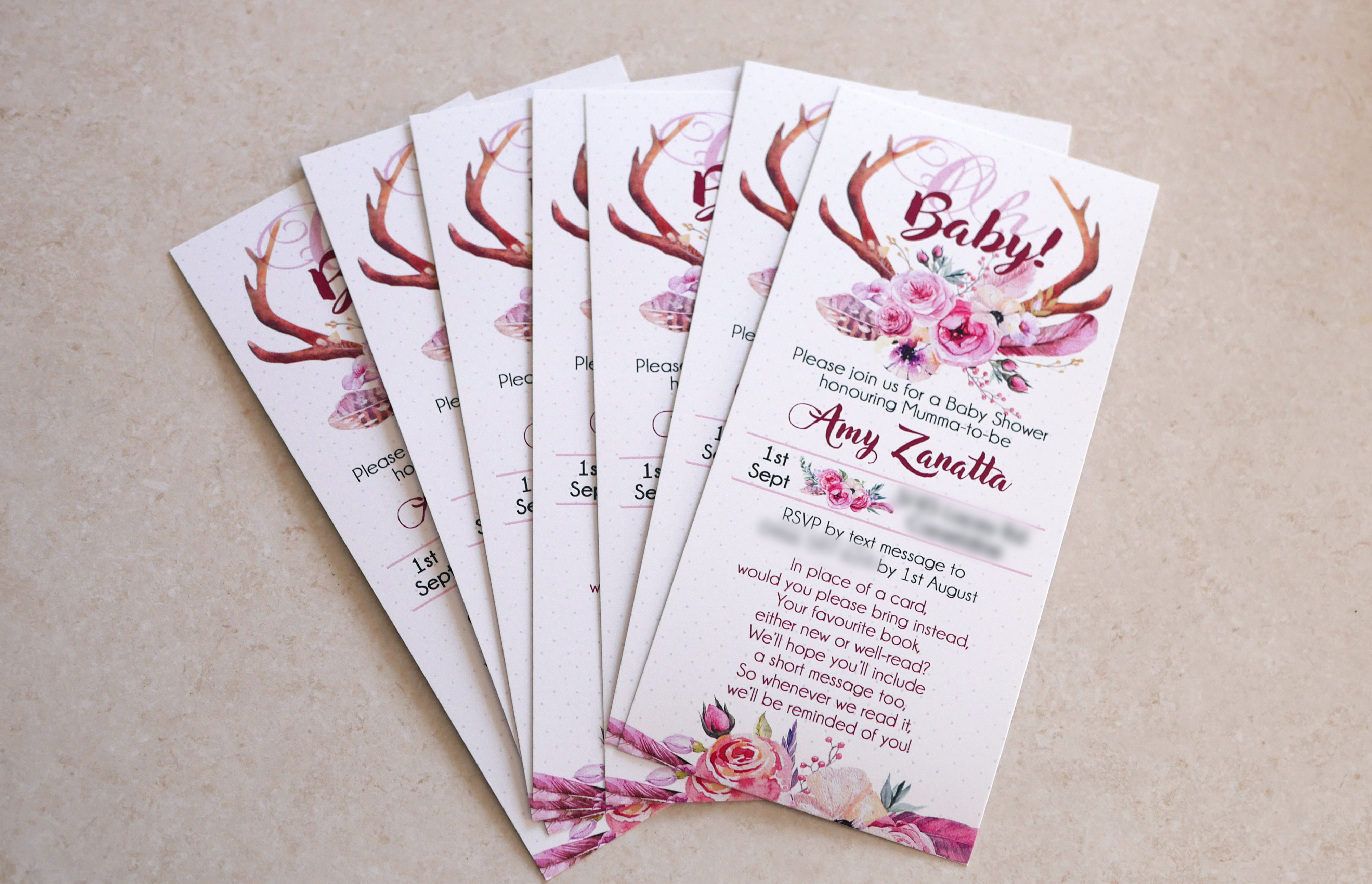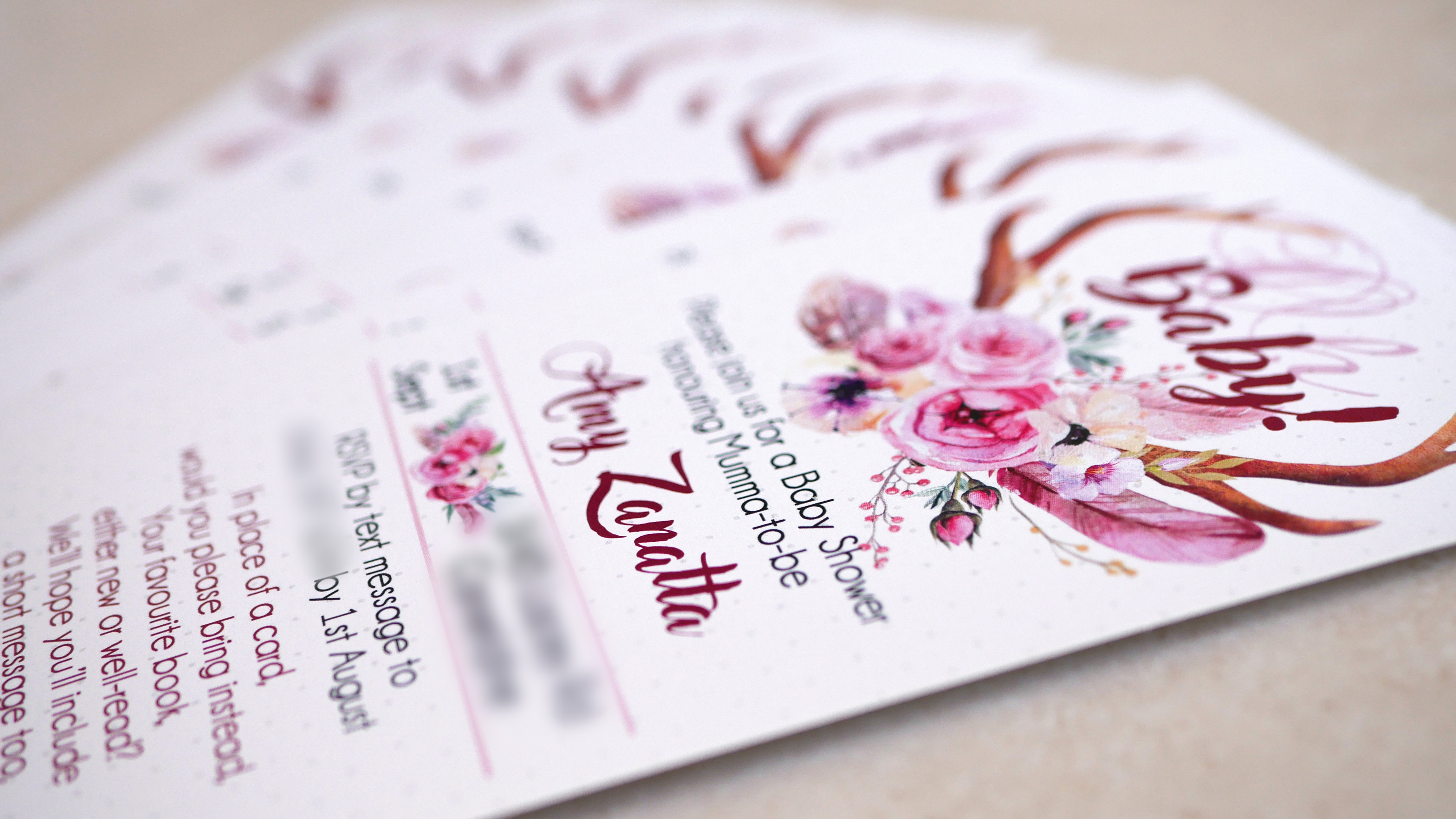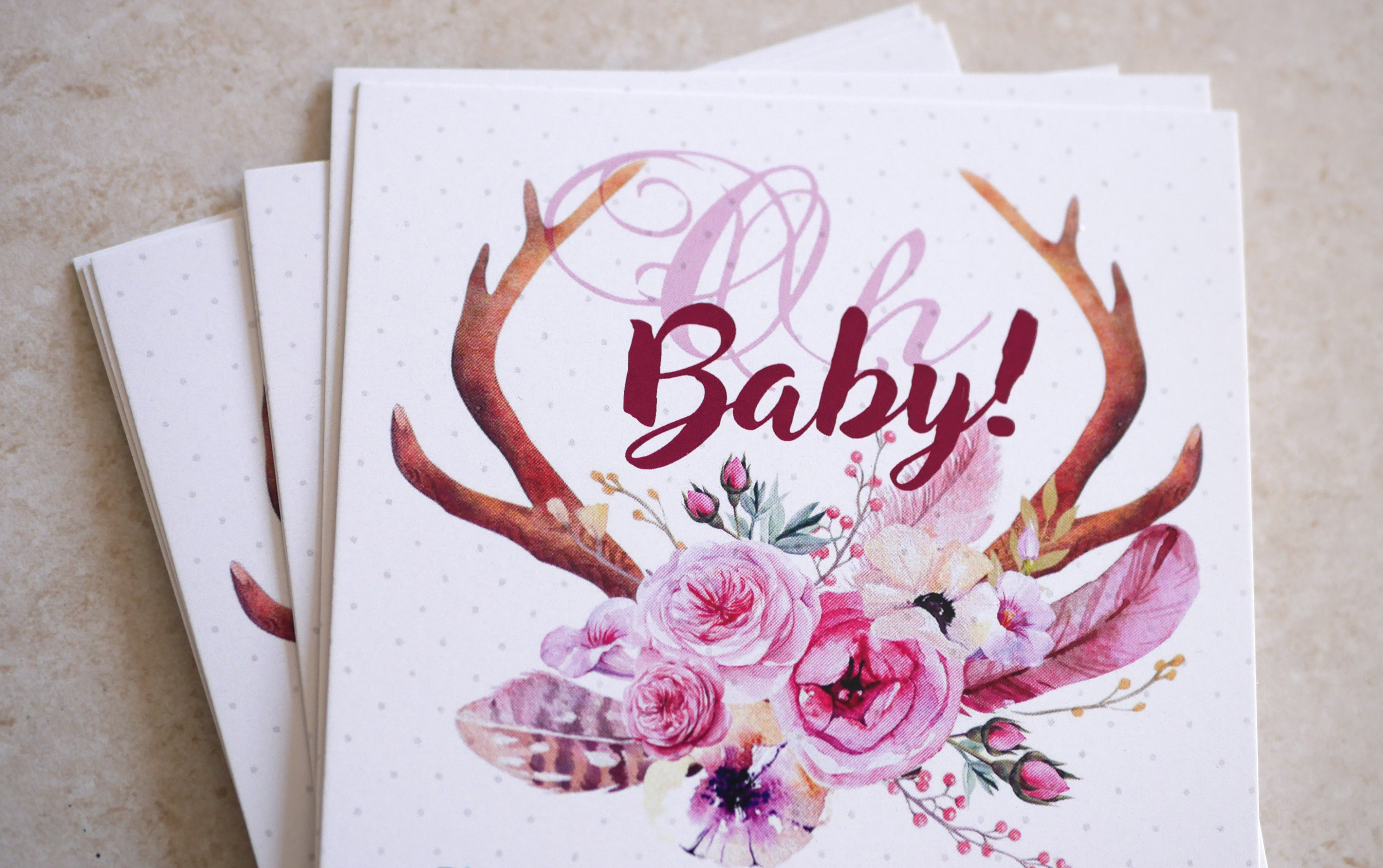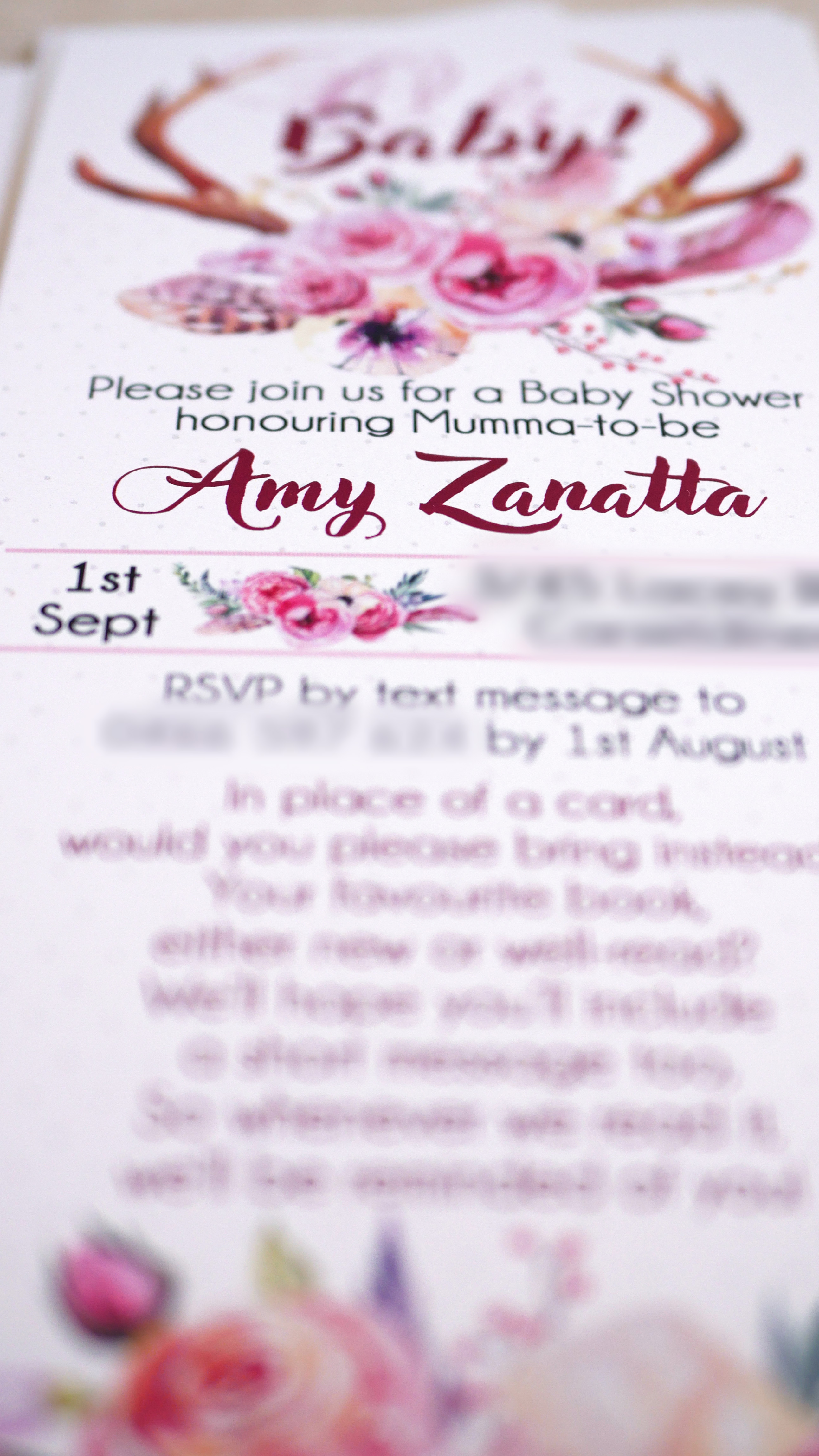 One of my friends came up with the wording of the invite for me and I then put together this simple design. I got 25 printed from Officeworks single sided on 300gsm satin DL size card-stock for $23.00 altogether. Some of my close family and friends still aren't on Facebook so I sent hard copy invites out to them. I also put up a Facebook event with a still image of the invite for everyone else. Officeworks gives you the option of ordering suitably sized white envelopes to go with each invite, included in the price, but my friend kindly offered me envelopes she already had and addressed them for me.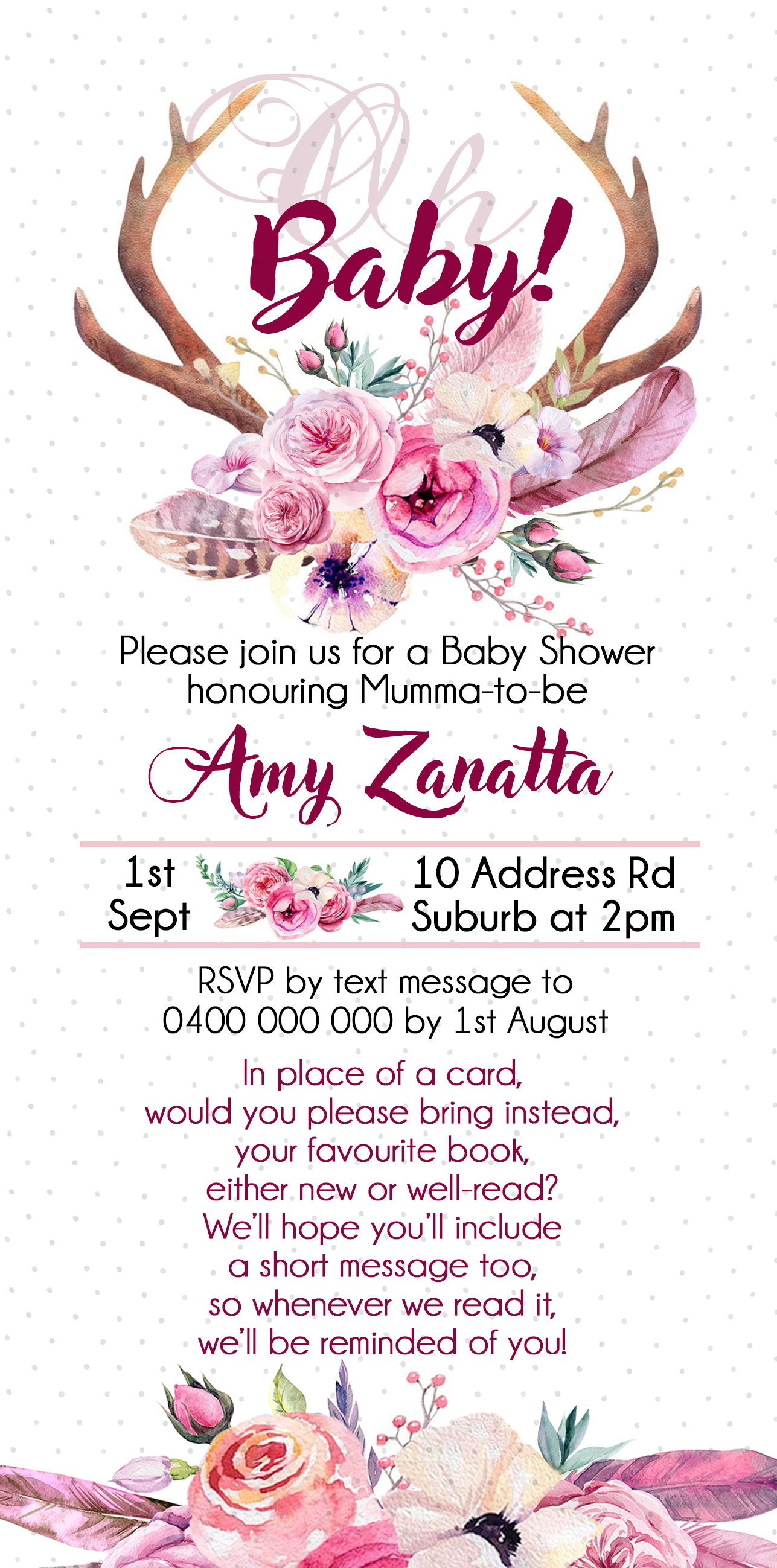 I knew I wanted to include a poem about bringing a children's book instead of a card on the invite so as to minimize card clutter that I'd have to keep. Keeping a children's book with a personalised message made a lot more sense to me. Baby books often get overlooked when stocking the nursery as well. I had a cube bookshelf next to my rocking chair ready to be filled. I thought it would be a lovely idea to get guests to bring their favourite childhood books, especially considering the differing generations. Apparently the poem I used was still a little confusing to some of my relatives though. Some brought a book as well as a card, a book instead of a present or didn't realise the book was meant to be for bub.
There are many poem choices out there. The one I used is included below as well as a few more of my favourites. There are some really gorgeous longer ones too but I didn't have room for a poem more than a stanza long. I would definitely recommend adding the words "children's" or "baby" into the "your favourite book" line just to clarify that issue.
Bring a Book instead of a card poem:
In place of a card,
would you please bring instead,
your favourite book,
either new or well read?
We'll hope you'll include
a short message too,
so whenever we read it,
we'll be reminded of you!
Other Book Poems:
Just one last request,
we hope it's not hard.
Please bring baby a book,
in place of a card.
By signing your book,
we will remember and share
your special gift
even when you're not there.
One small request that wont be too hard
Please bring a book instead of a card
Whether Cat in the Hat or Winnie the Pooh
You can sign the inside cover with a note from you
(Baby's name) will become very smart indeed
If we begin early, she'll soon love to read!
Although cards are nice with their sentiment and prayer,
They're read once or twice, then tucked away with care.
A book is a treasure with words & pictures that unite,
to read over and over night after night.
So instead of a card to Baby and mother,
Please give a book with your thoughts in the cover!
Despite the confusion for some over the book in place of a card idea, I'm still really glad I did it. Bub to be received some absolutely beautiful vintage books handed down from generation to generation. My parents brought me books from their overseas travels in different languages as well. It was also really interesting to see which books were everyone's favourites growing up. This was a great conversation starter on the day. Some of the books even came with stories. One in particular, a very old copy of "How the Colours Came". I must include it below because it brought not only me but also my mum and dad to tears reading it.
"Both your uncle and myself volunteer at the Community Centre a couple of days per week. About 6 weeks ago when your uncle was on Justice of the Peace duty, one of the other volunteers from the Op Shop came into the office. She said, "Look at this book, it has someone's name on the front page and the surname is the same as yours – do you know this person?" When your uncle opened the cover, he couldn't believe his eyes, the name, handwritten, was his mother's, your great aunt's. It was quite an emotional moment for your uncle, holding his mum's book, which he had never even seen before.
We cannot for the life of us figure out how it ended up where it did. No one at the Centre knew who dropped it off. We just cannot believe that it has arrived back into the family. The mysterious book was carefully put away in the bookcase until your invitation to your baby shower arrived and you requested much loved books, suddenly the little books journey became clear to both of us. We would love you to accept the book with our love and hope that when your little one is old enough, you can share some wonderful times reading together."
How amazing is that! Does it give you goosebumps as well or is that just me and my pregnancy hormones?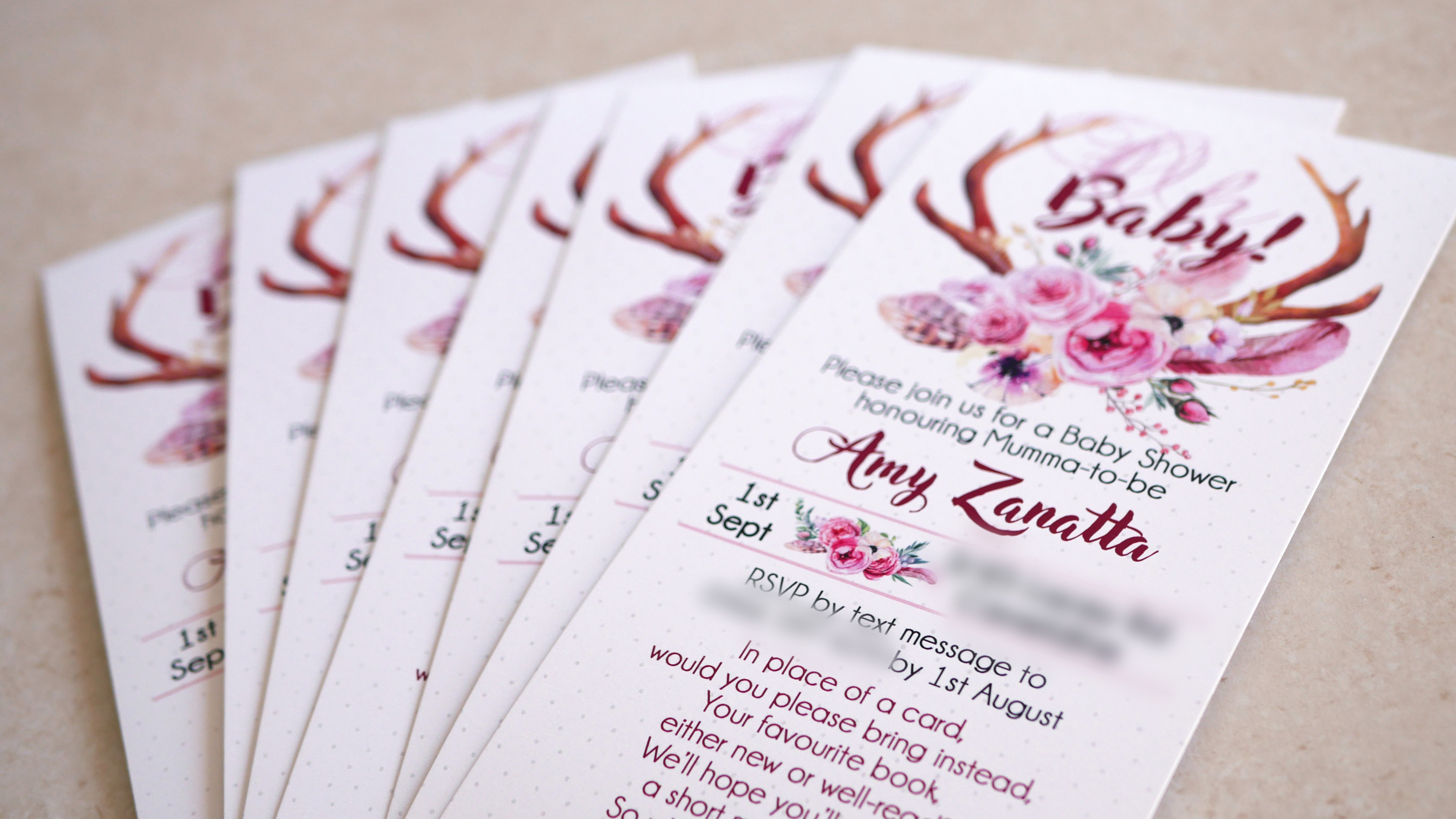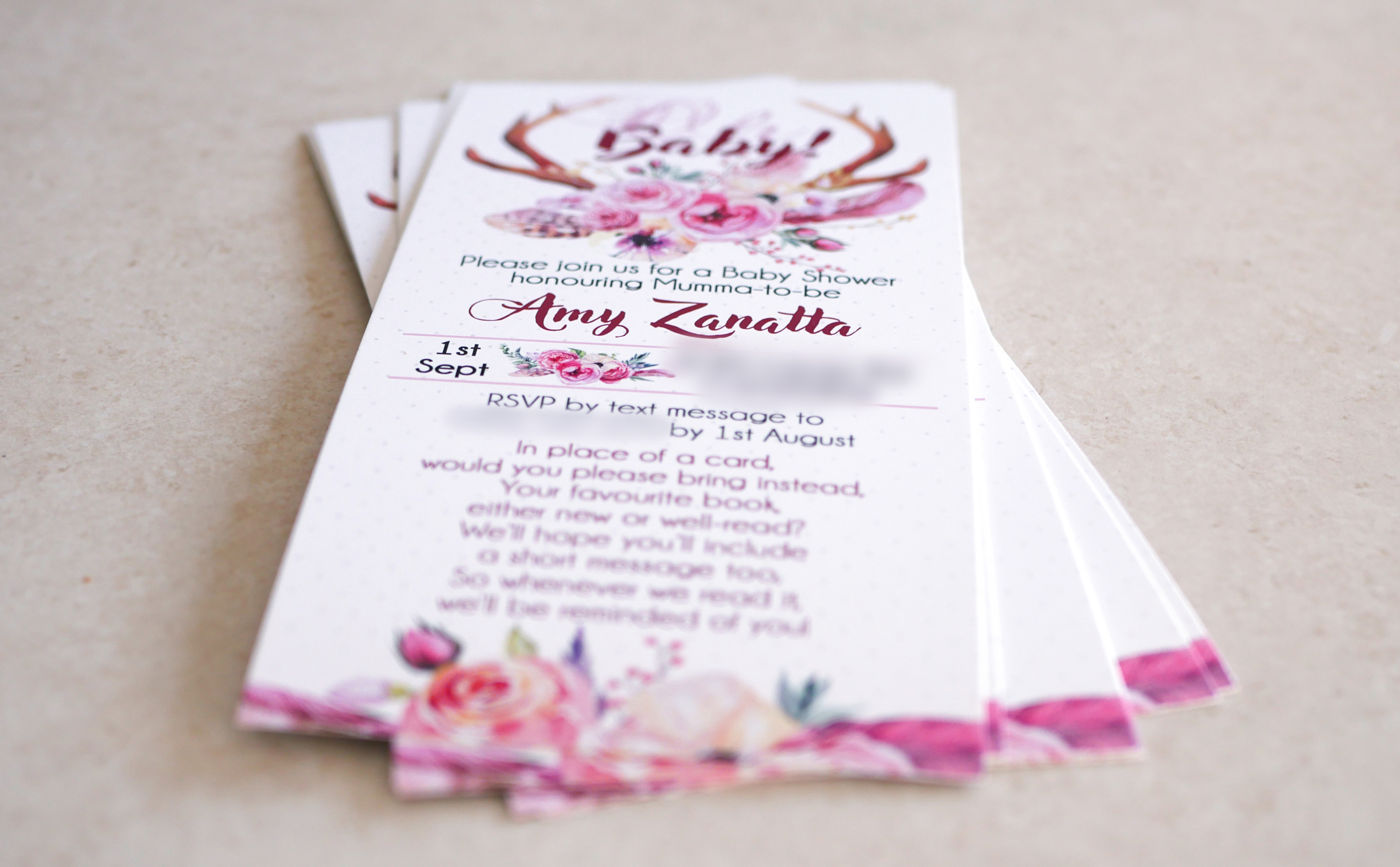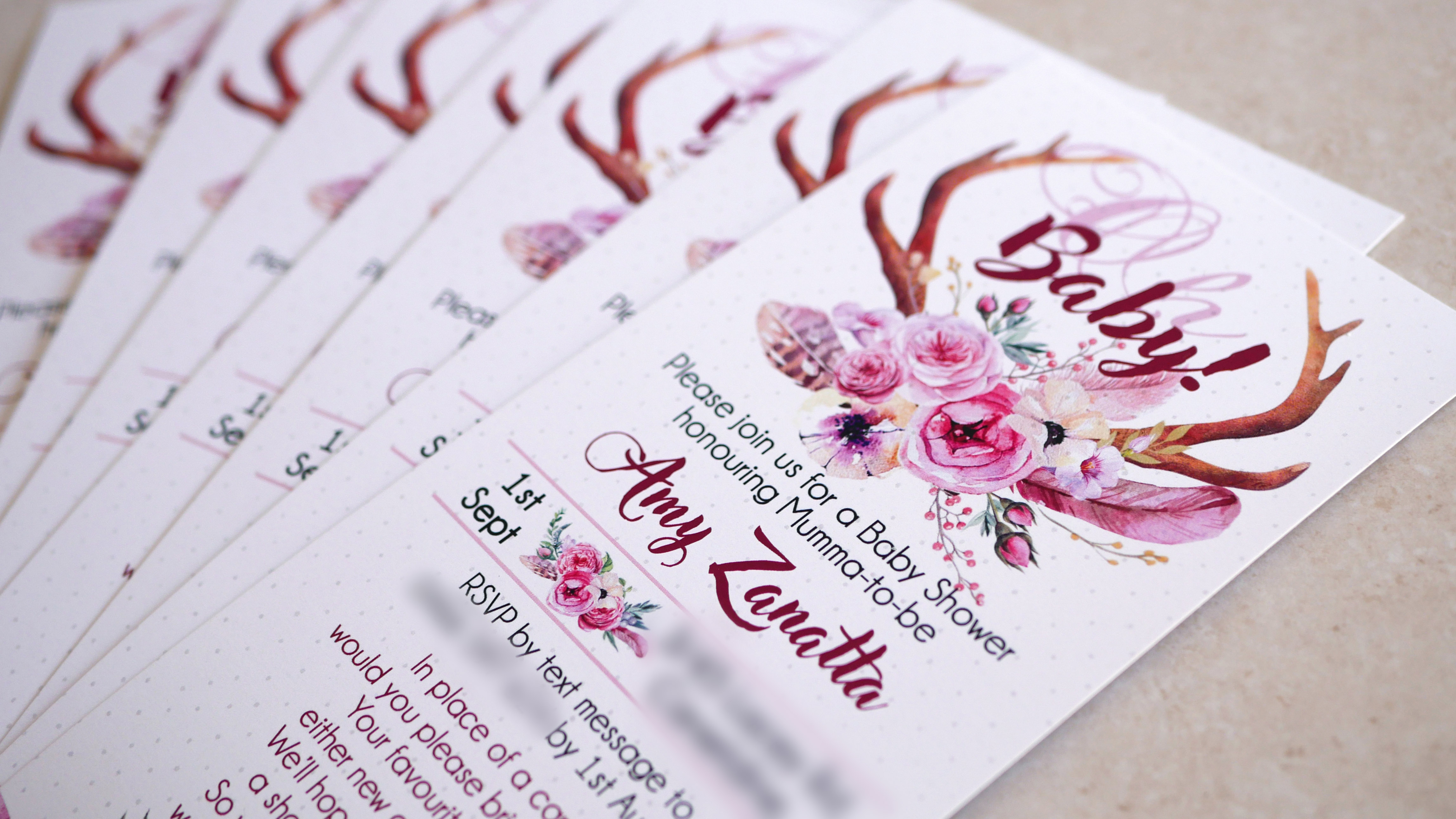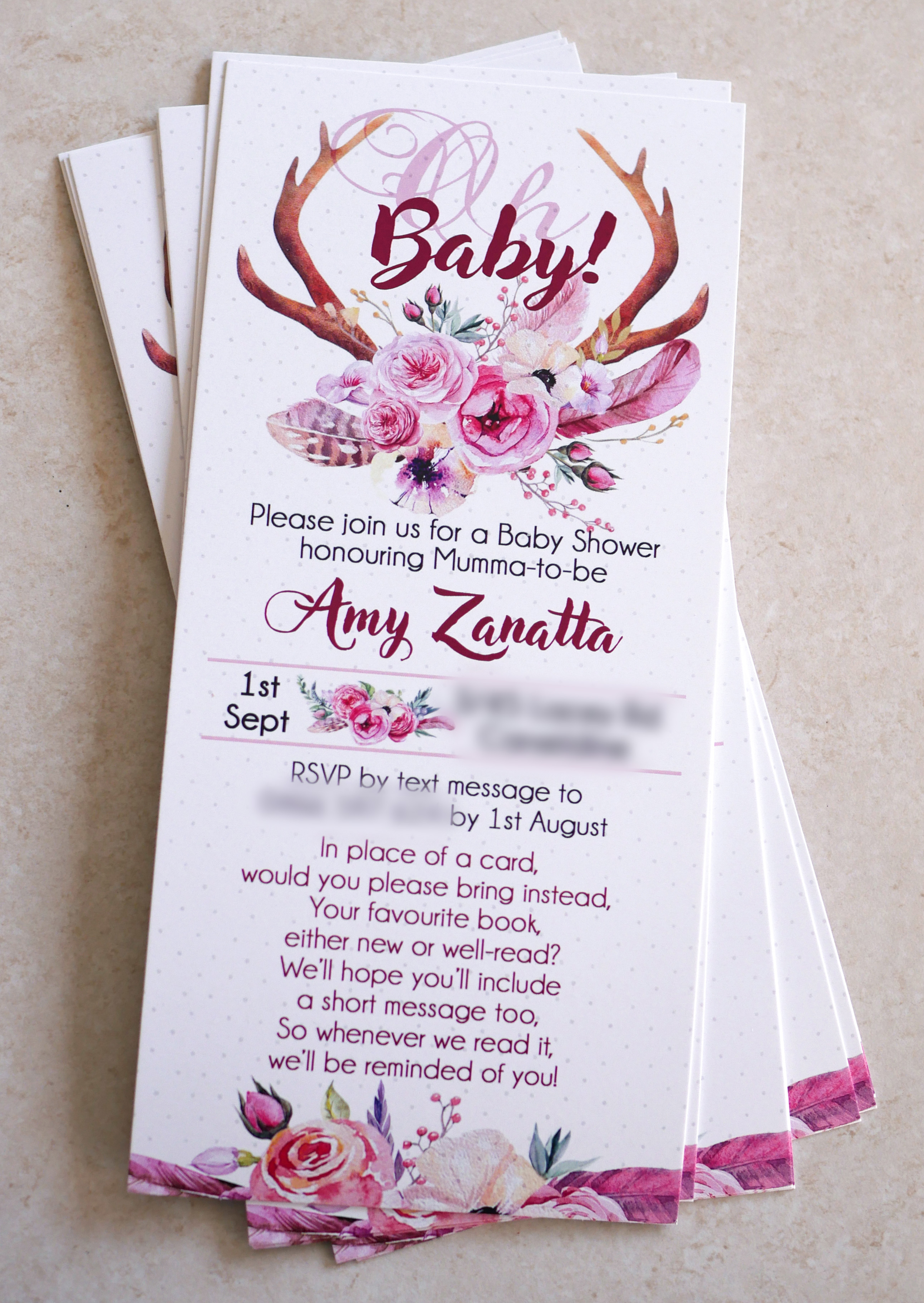 These were probably the most simple and easy invites I have put together to date but I'm really happy with how they turned out. I got a lot of lovely compliments on them from guests while they were RSVPing. If you would like the editable Photoshop file to customise these for your own baby shower, use the form below to sign up for my monthly newsletter to get access to the free resource library. If you use any of my templates, I would love it if you'd tag me in any photos you take @stylewithingrace. Hopefully by using this template it will take some of the stress away from your baby shower planning because being an expectant mum is stressful enough. Stay tuned for more details and free printables from my spring floral baby shower.
Other Posts in the Series
– Floral Baby Shower Food
– Floral Baby Shower Games
– Floral Baby Shower Crafts