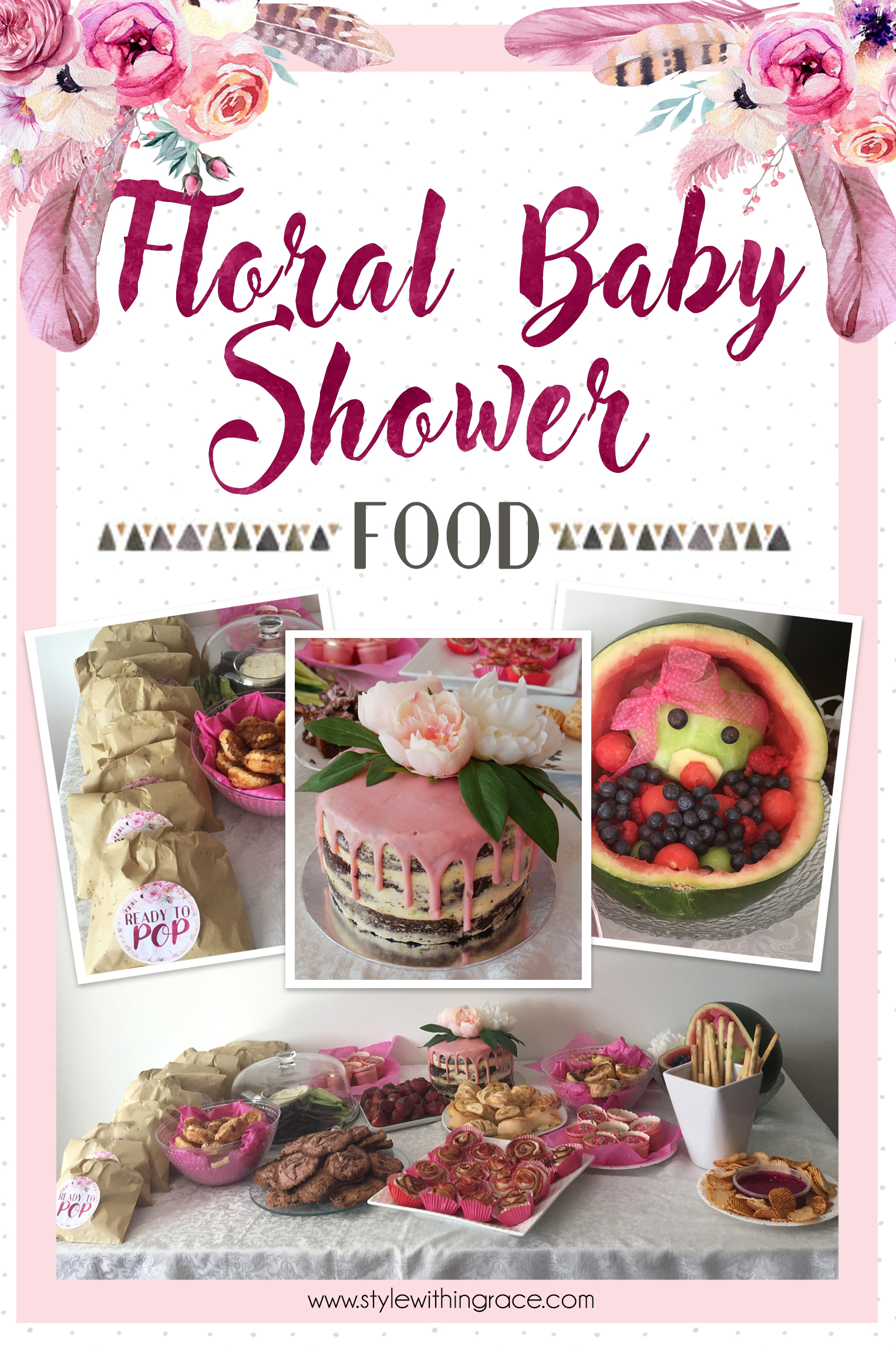 Some might say the food at a baby shower is one of the most important parts. I'm inclined to say they are right! Lucky I had a lot of help preparing all the food for mine. A few guests brought pink cupcakes, mini quiches and various sweet pastries but everything I had a hand in preparing is detailed below.  It can be hard to know where to start when planning party food so I'm here to help you with some inspiration from my spring floral baby shower food spread.
Oreo Cheesecake Cookies
Oreo Cheesecake Cookies have been a favourite in my household for a while now but I have somehow managed to lose the original recipe I used. It must have been removed from the website it was on for some reason. Luckily there are many other options out there to follow but I haven't really found one that is exactly the same. On this particular day I had run out of butter. Thus these ended up being last minute additions to the food table. This meant I didn't really monitor them in the oven very well and they came out slightly on the darker side then I would have liked. I tried to make them pink on this occasion with some food dye to match the theme of course but because they spent too long in the oven it was really hard to tell.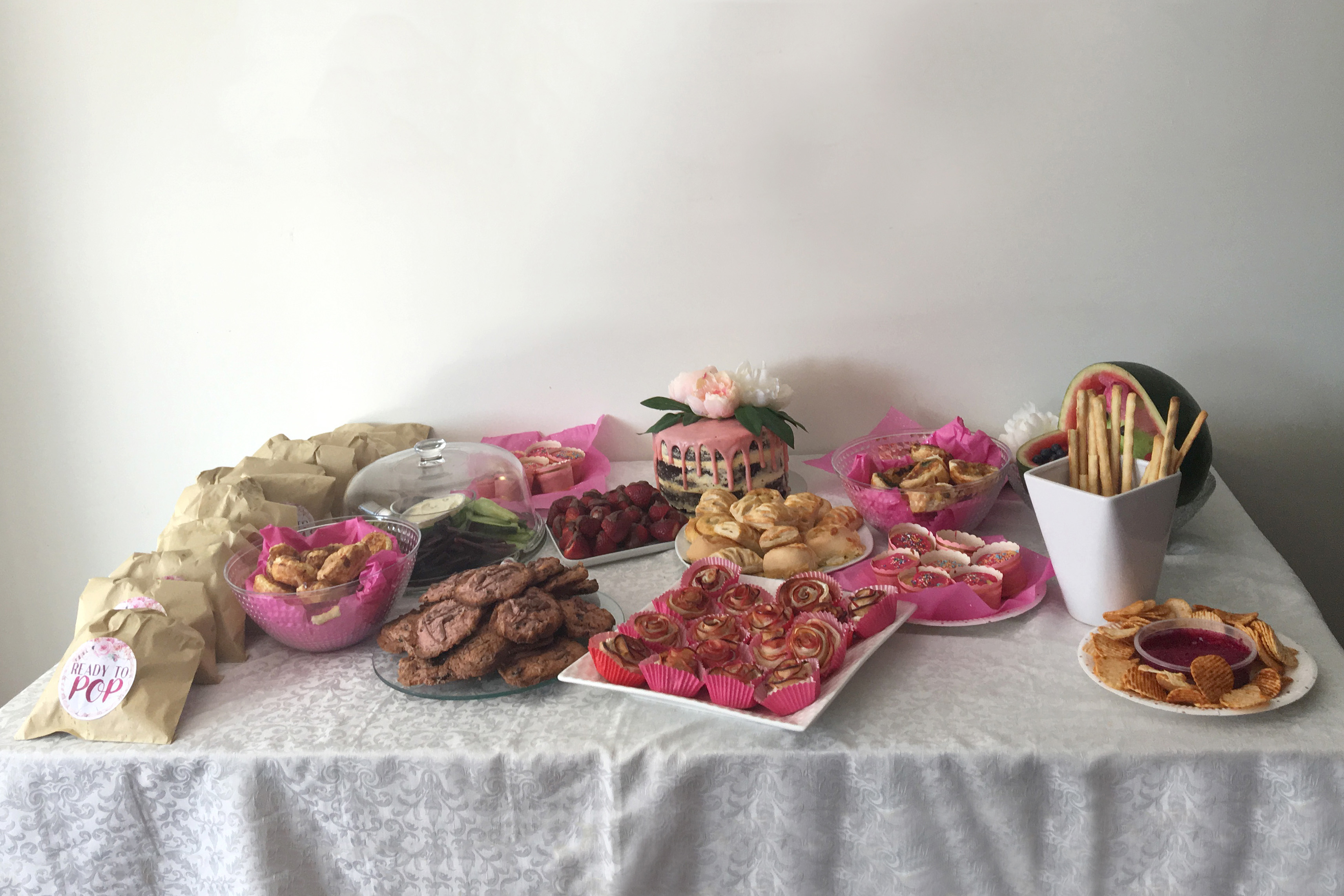 These cookies and cream cheesecake cookies are pretty close to what I use to make except that the recipe always included splattering white and dark chocolate over the tops once they had cooled. The plan again was to dye the white chocolate pink for this particular occasion. Since I had the chocolate melted and splattering already in progress, I also splattered the brownies that I baked and the strawberries. Apparently I took all these photos before the brownies were put onto the table though.
---
Chips and Dips
Chips and dips are a pretty standard party food but I decided to try and match these to my colour theme as much as possible! I bought a beetroot and a sour cream and chives dip and paired them with cheese sticks, chili rice crackers, slices of cucumber and purple carrot. Yes you read that right! There is such a thing as purple carrot. Apparently my guests had never heard of it either and were a little cautious eating this weird purple stick when they didn't know what it was! It definitely matched my colour theme better than orange though and it tastes pretty much the same as regular carrot.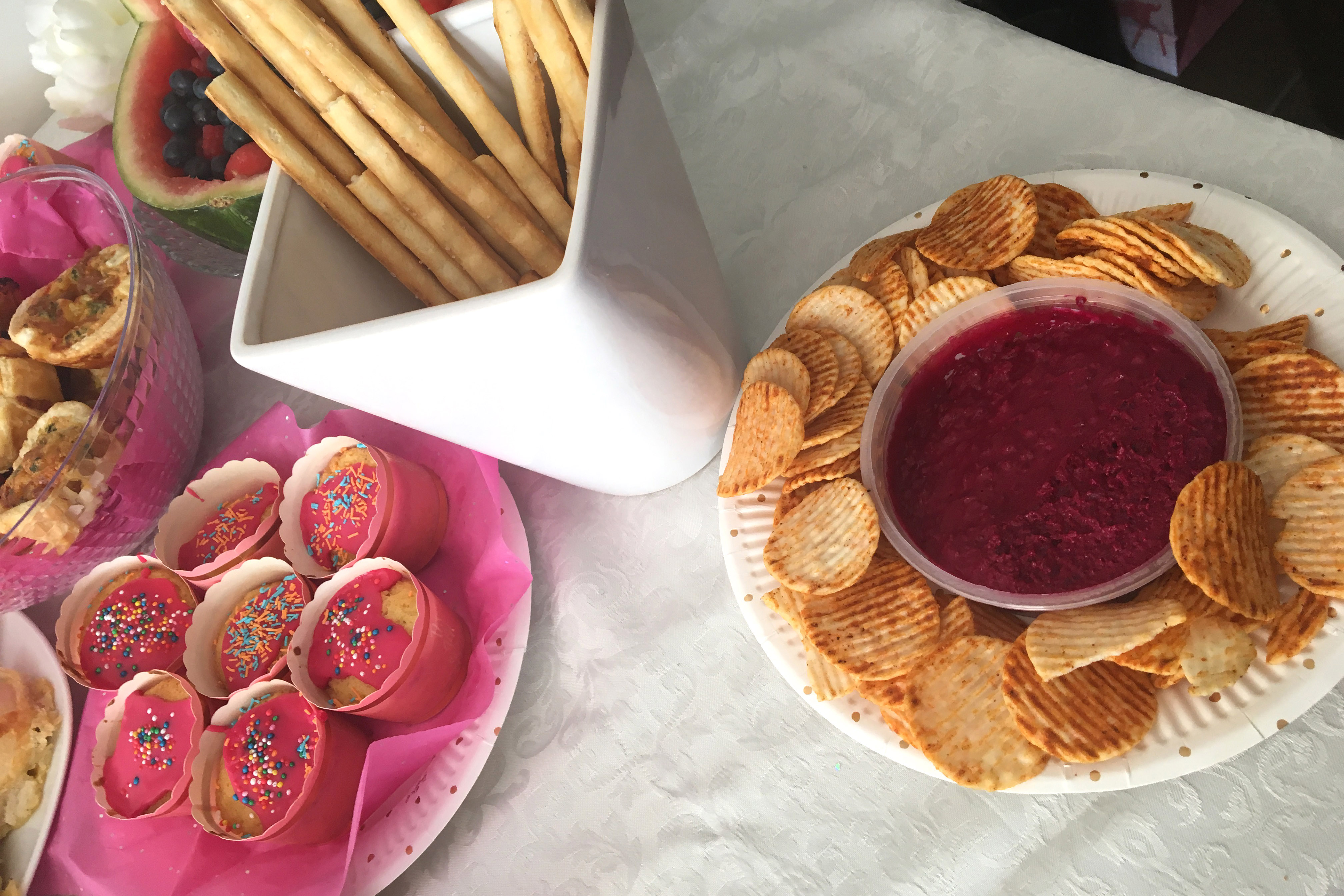 ---
Rose Apple Tarts
There are so many different recipes out there on how to make these Rose Apple Tarts. It's hard to say which recipe is the best one to follow. You can make one large tart but I find the single finger food tarts are best for parties. You don't then need a knife and plates to eat them. I knew I wanted to have them at my baby shower though. I thought they would look super cute included as part of my floral theme. Just search on Pinterest for Rose Apple Tarts and you'll find many options but here is a link to a recipe similar to the ones below and here is a recipe for tarts made with short crust pastry.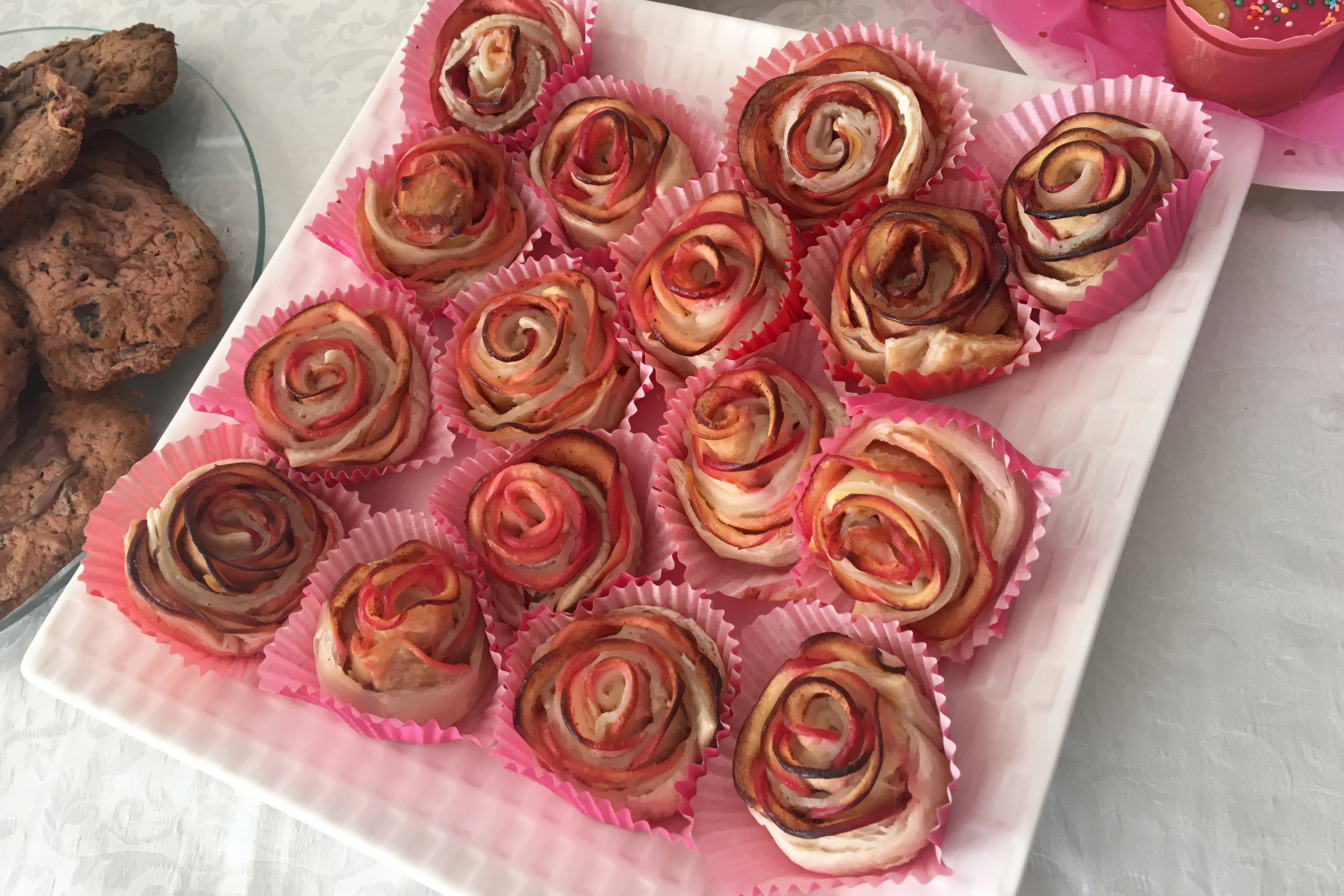 ---
Baby Carriage Watermelon Fruit Bowl
This idea has certainly been around town a lot! And I can see why because it really does look super cute while still including some healthy fruit food options for your guests to nibble on. If only I had had time to go out and buy some disposable bowls and spoons so guests actually could eat the fruit salad!
Word of warning as well, it's not really all that easy to find a whole watermelon at the stores when you are looking for it. I definitely would have preferred a bigger more oblong one. This is all both my mum and I could find! The futile search for the perfect watermelon meant I didn't start carving it until way later in the day. The whole thing ended up being delegated to my mum and my friends who came to help me set it up.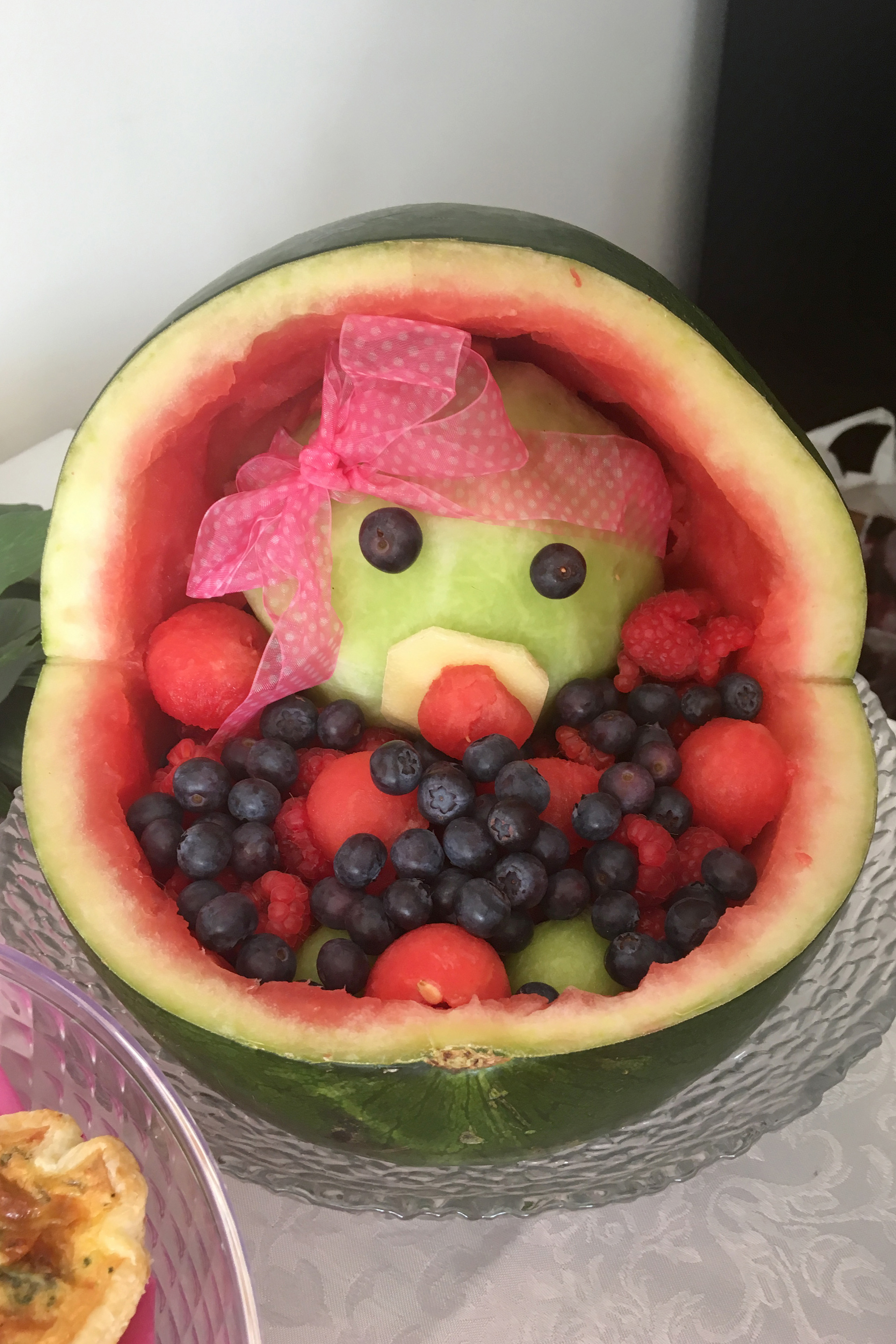 They used half a honey dew melon for the head and then scooped the rest of the honey dew and the watermelon into round balls with a special melon ball tool. Some blueberries and raspberries were also added in. The dummy is made from leftover fruits. Why go out and buy a real one just for this when I don't intend to actually use them with the baby? I had plans to use my spiral peeler to create curly hair with an apple. I had even bought a pink grapefruit to use as wheels but I was too busy rushing around doing everything else to oversee this too much. Ah well!
This is definitely something that needs to get done the day before or at least early in the morning! There are many watermelon baby carriage photos out there that do a much better job of it. All I can say is they probably had a lot more time on their hands to work on it. If you do feel the need to attempt this, here are my two best points of advice; start early and have a way for guests to actually eat it!
---
Ready to Pop Popcorn
A super easy addition to the food spread that can really help sell the whole baby shower theme! If you are short on time or short on baking skills then this is the food item for you! Grab a few bags of microwave popcorn and evenly distribute them into each bag. Viola the easiest food item you'll have on the table! My popcorn was made up from a mixture of lightly salted and buttered popcorn.
I played with the idea of creating a more sweet white chocolate and pink candy version that I found here but alas I couldn't find any pink candy to mix in with the popcorn. I also thought about making the popcorn pink but I figured it was more work. You couldn't see the popcorn through the bags anyway. There was also plenty of sweet things on the table already. If your shower happens to fall around Valentine's though, I would snatch up some pink MnMs and go at it!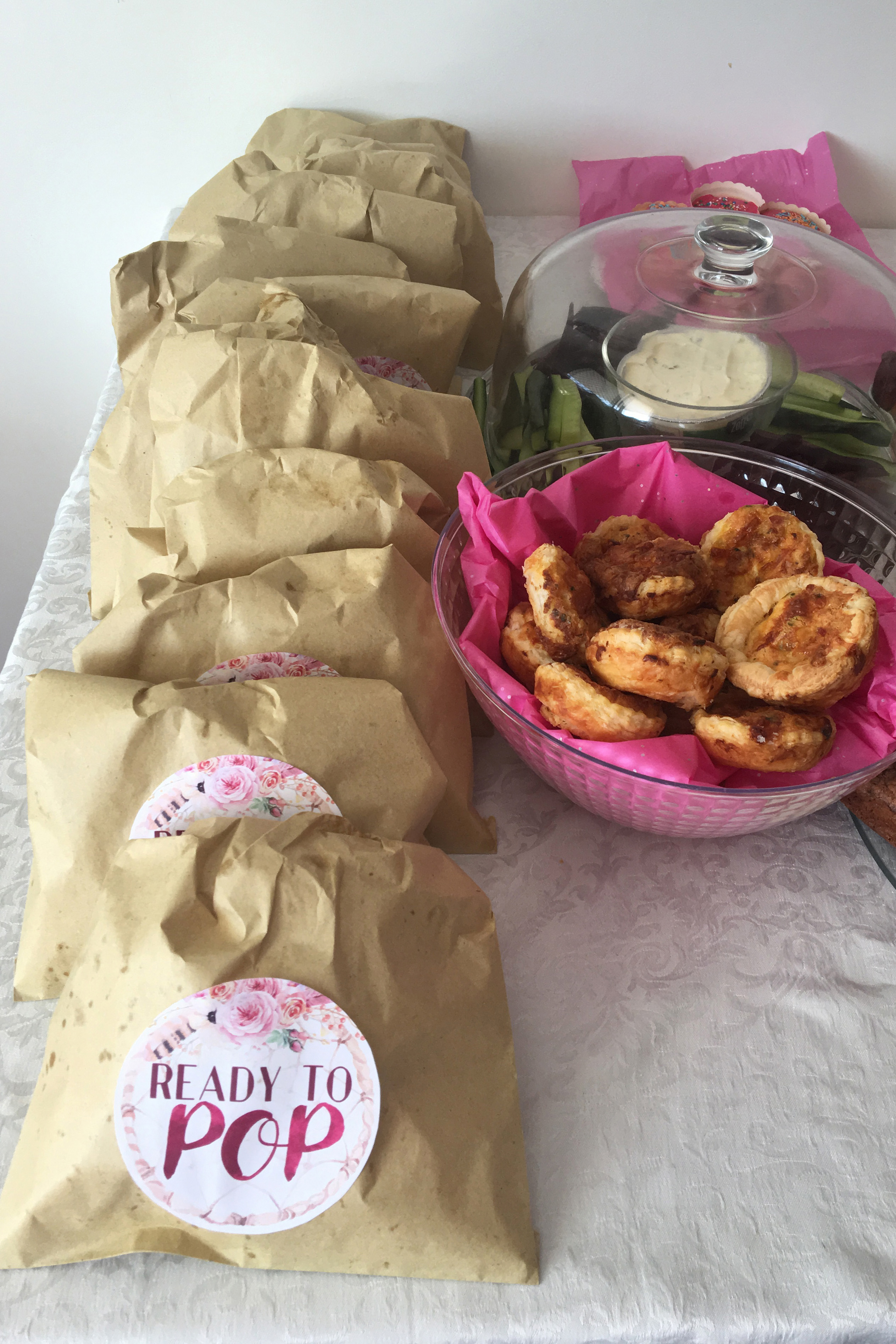 For the labels, I reused some of the graphics I'd already designed for the crafts and games. I printed them off and glued them to some plain old brown paper bags that I happened to have lying around the house already.  I've included the labels I used down below for your own baby shower use. Is this not the easiest food dish you've ever had to prepare? I've added some water bottle labels to match these in the free resource library as well. Sign up on the form below the post to access those.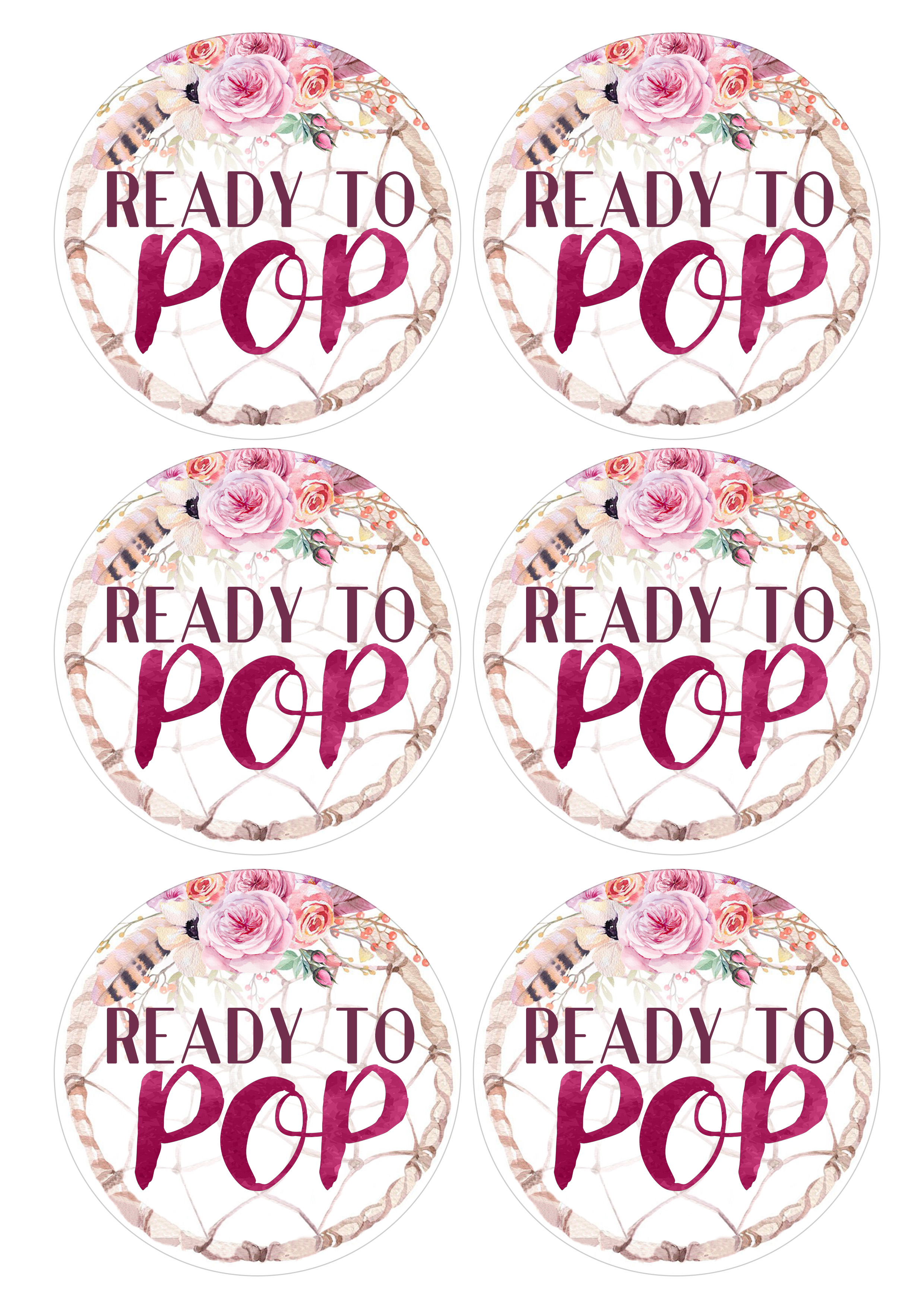 ---
Naked Floral Drip Cake
And last but certainly not least, the gorgeous cake! My lovely friend offered to make this for me so I can't share the recipe she used. Hopefully it can still stand as inspiration for those of you looking for ideas on what to do. The faux flowers are leftovers from my Floral Baby Shower Mobile DIY project. This particular bundle was from Spotlight but you could find something that would work just as well from Kmart for half the price. I did wonder how best to arrange these flowers on top of the cake. Turns out it was as simple as cutting off the stems and poking them in. I think it turned out beautifully and I couldn't be more happy!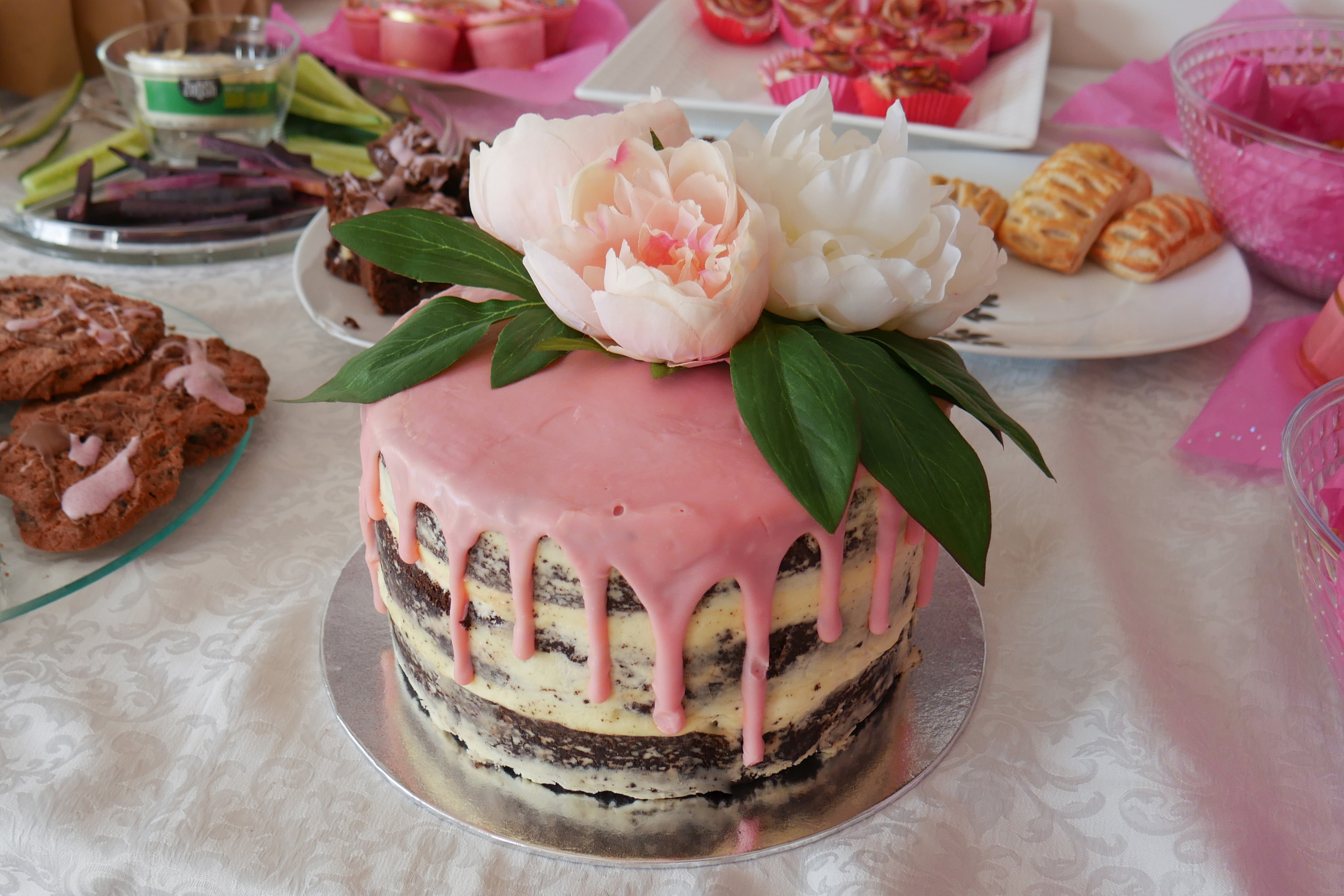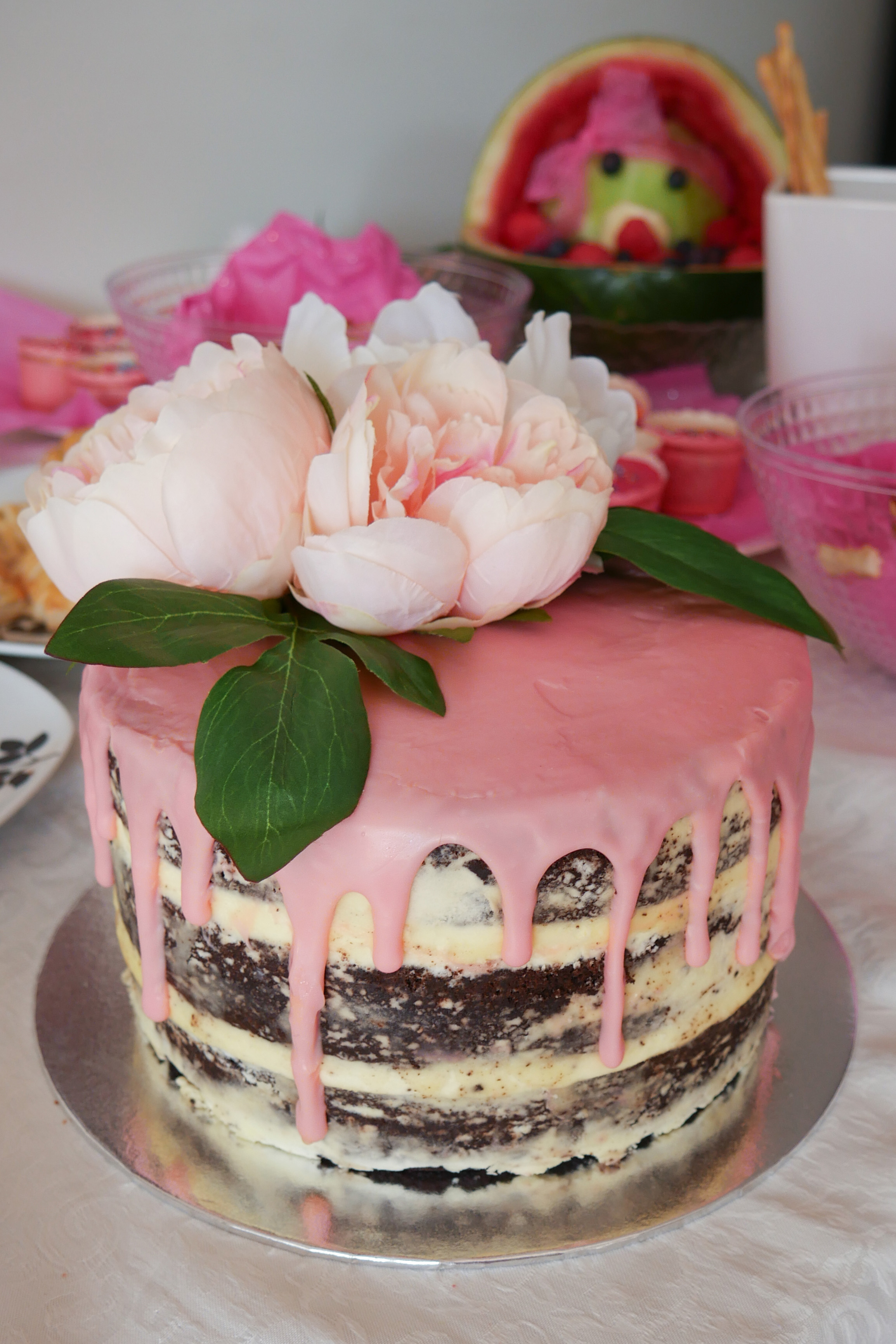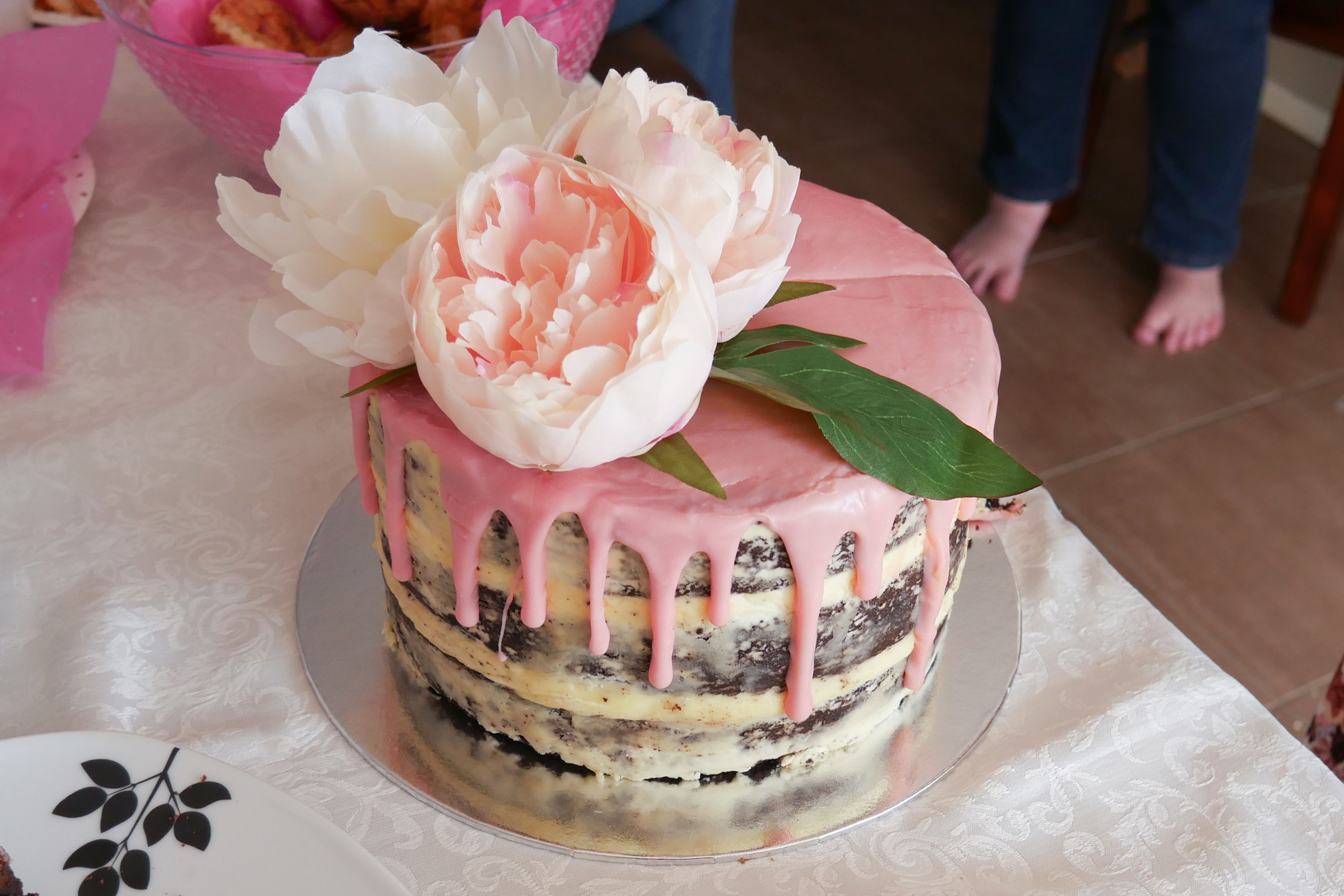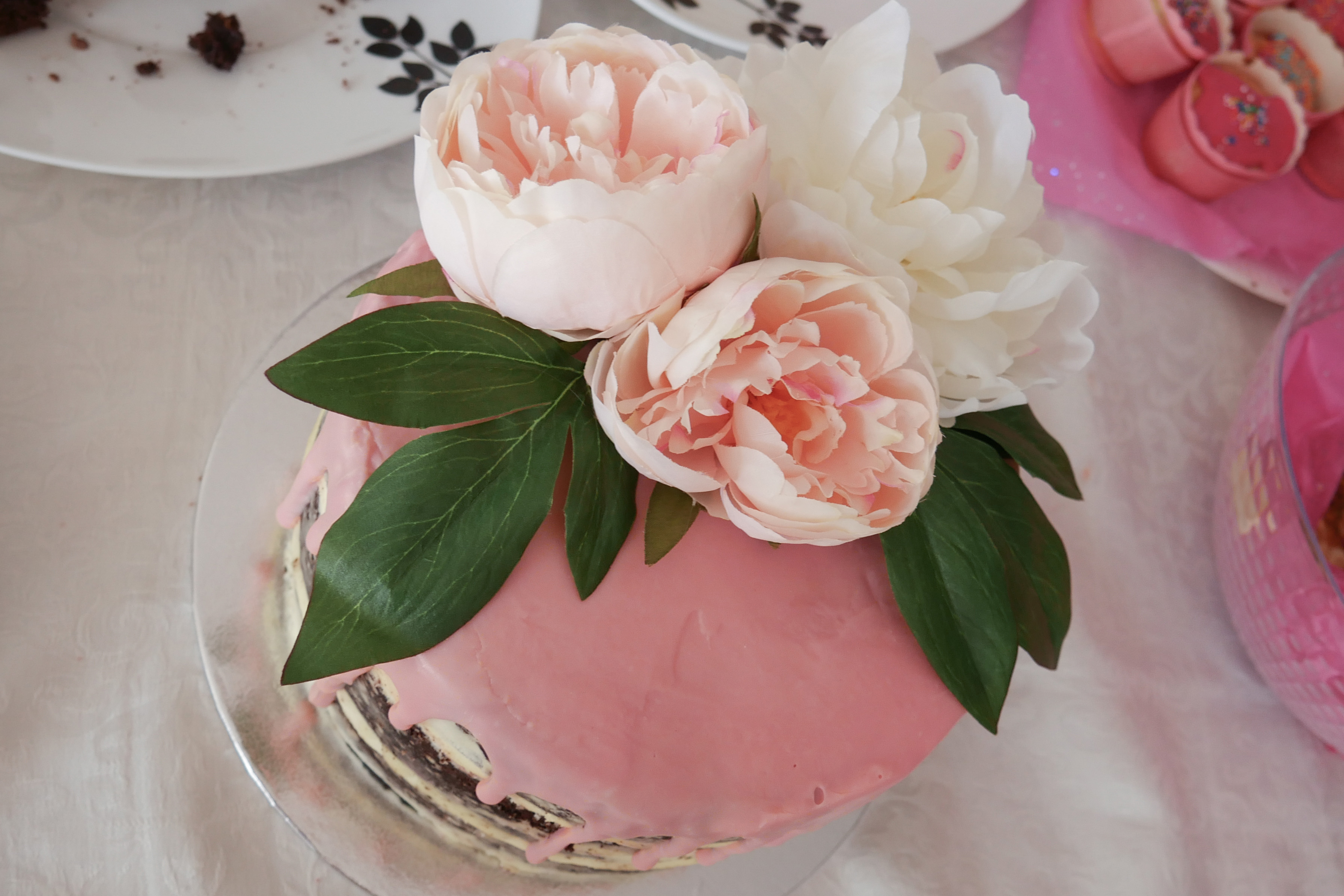 Everyone at the party was very impressed and happy with all the food choices. There was a great mixture of savory and sweet and the presentation was just so cute, don't you think? I also had a lot of leftover food. My pantry and freezer were stocked with delicious pink snacks for the whole week and a bit after. Share your delicious food spreads with me @stylewithingrace. I will drool at the yumminess from afar. Stay tuned for more floral baby shower party planning inspiration to come soon!
Other Posts in the Series
– Floral Baby Shower Invites
– Floral Baby Shower Games
– Floral Baby Shower Crafts