I had a lovely friends bridal party this weekend just past and I thought I would share with you all what I gave her as I'm pretty happy with how it turned out. Sadly I can't claim this idea as my own. It has been done many times before in many different ways. For instance this and this have done a basket that is full of a wine with a relating label for each first. Whereas this has done a piece of lingerie for each first. I have taken note of each of these ideas and made this version my own. Some of the poems I have gotten from various others version word for word, others I have combined two versions I liked or tweaked or added to them, others again I have written completely myself.
The idea is to give the happy couple a basket full of beverages to celebrate every first they experience in their first year of marriage. I just had 5 occasions but you can add more depending on your couple. For instance, my friends had already bought a house together so a "First House" wasn't really appropriate for them but may be for your couple. I also choose to leave out the "First Baby" as I wasn't sure if that would be on the cards for the first year but add at your own discretion.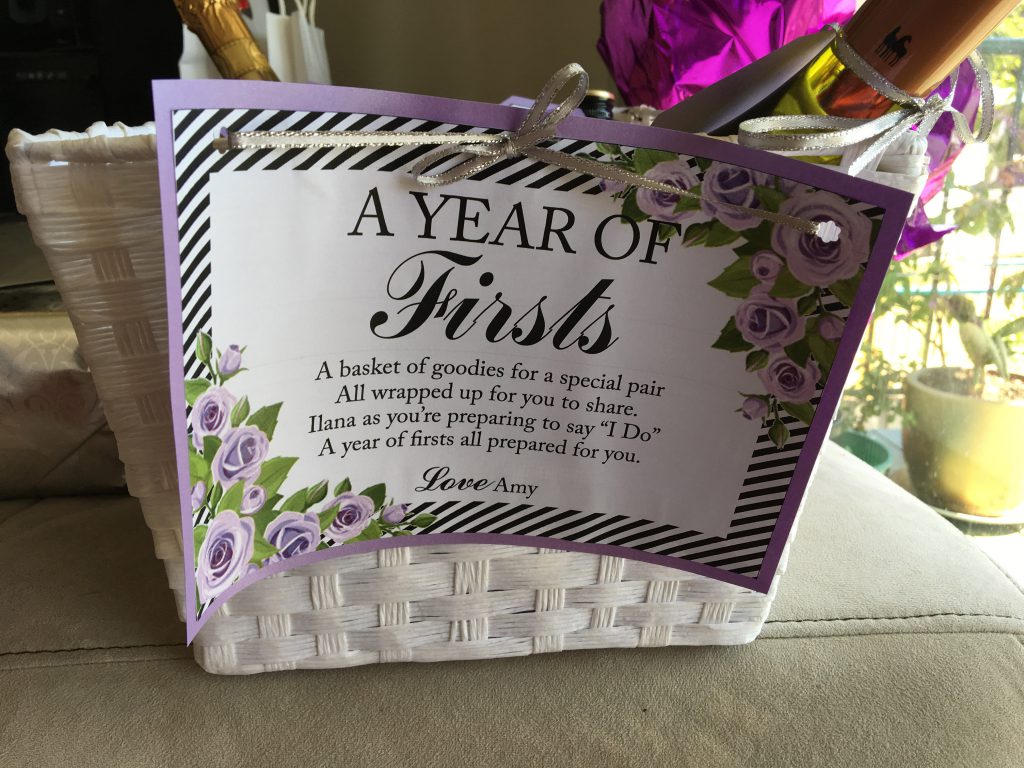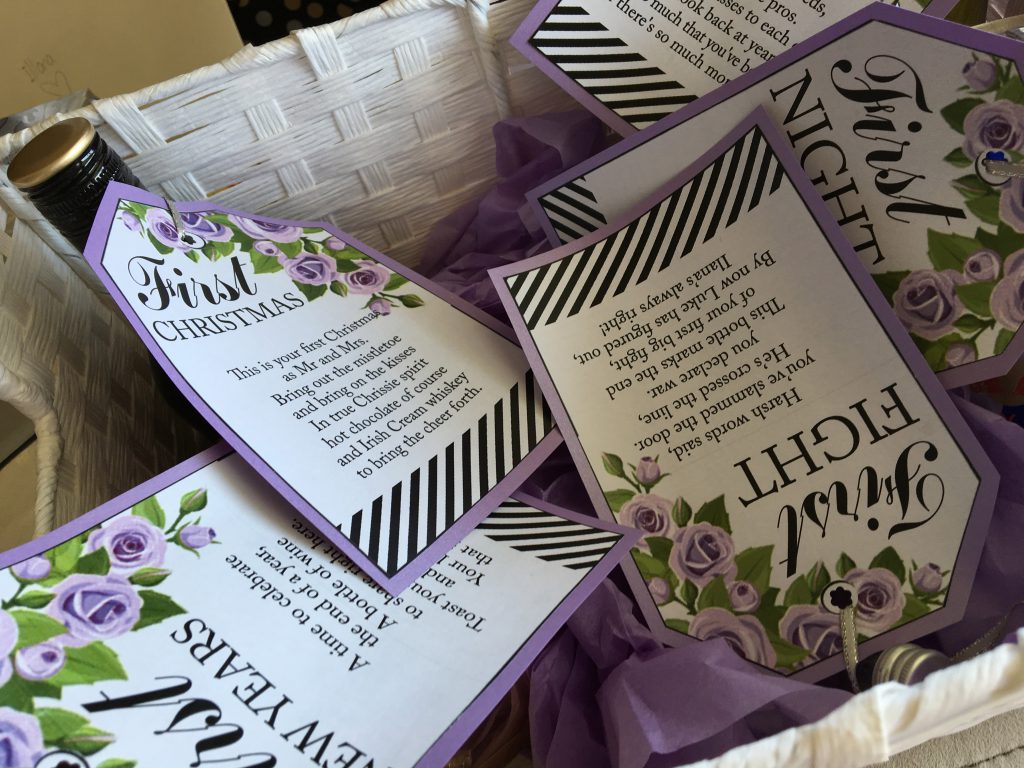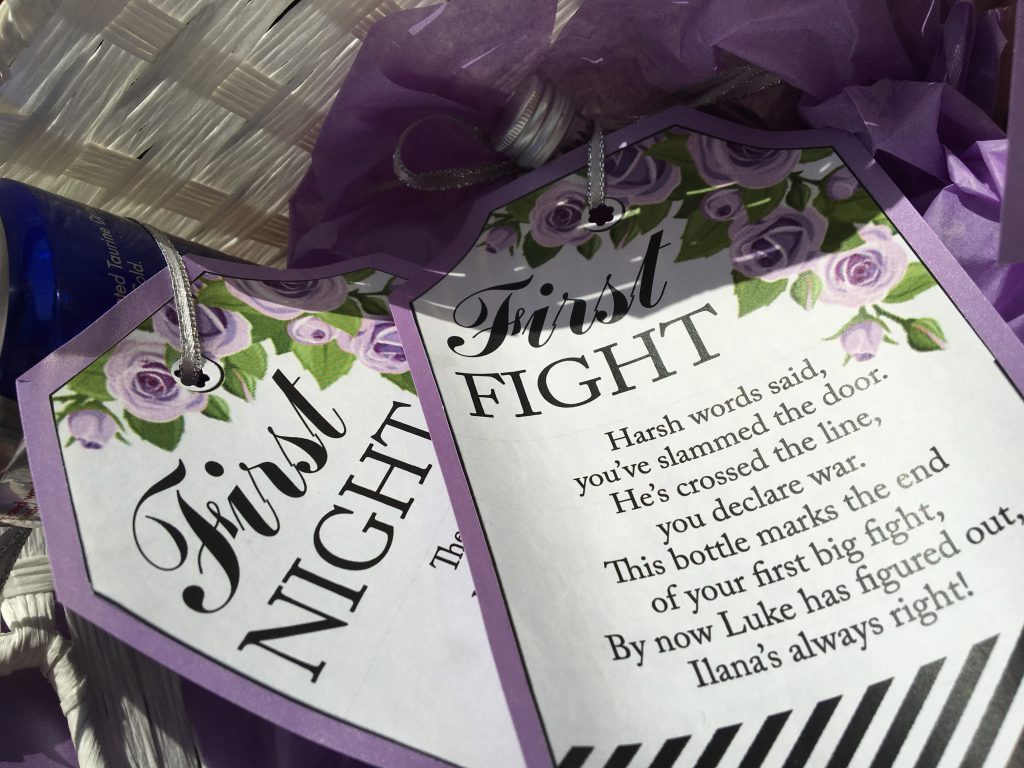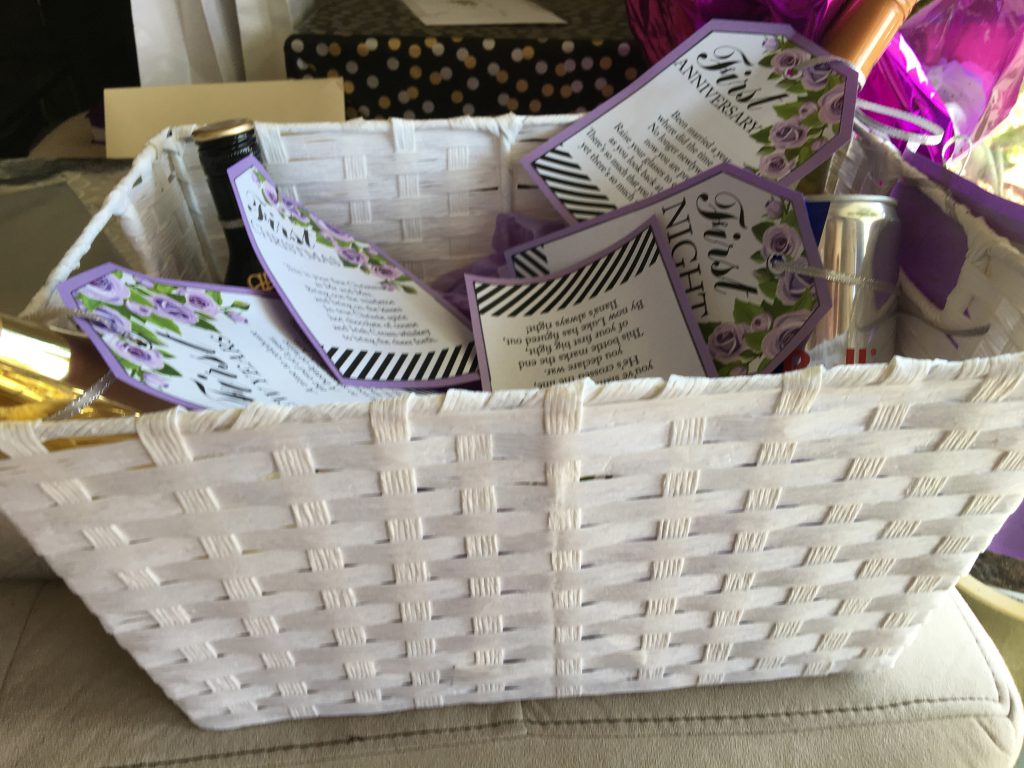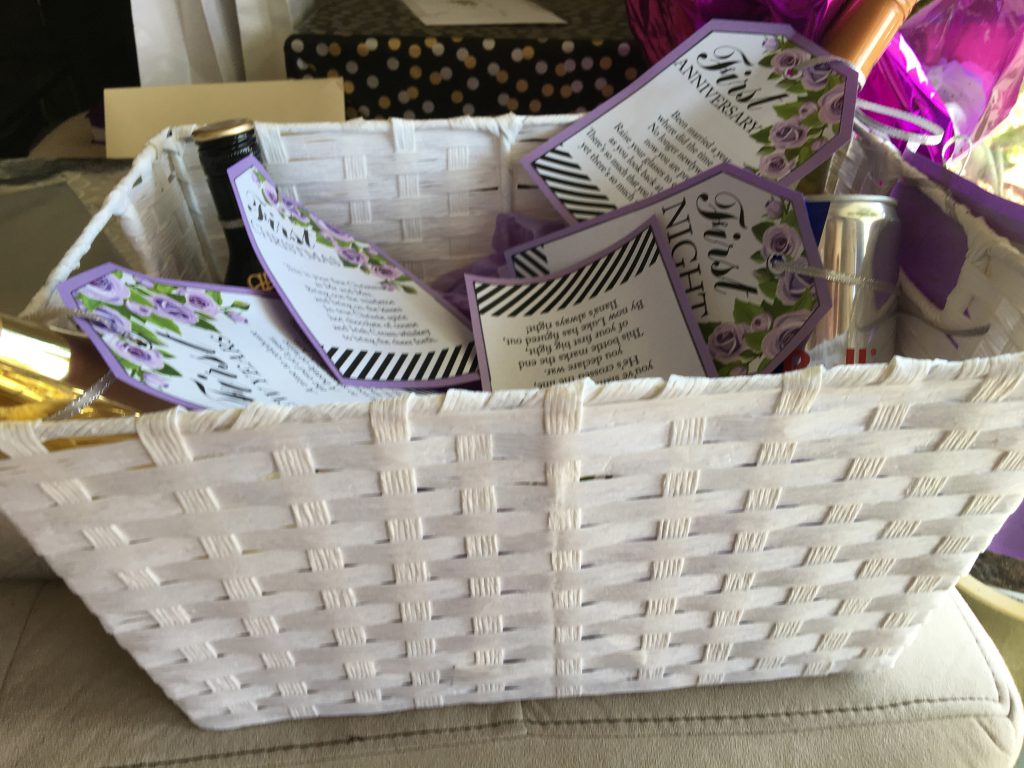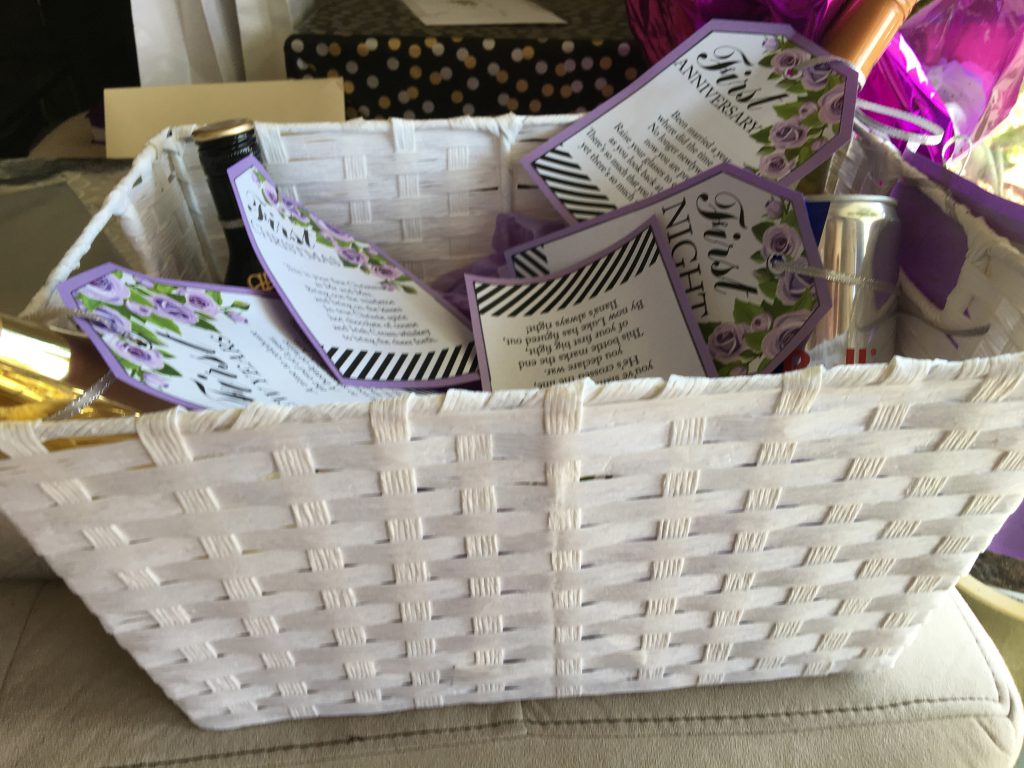 First Night:
I didn't want to have an alcoholic drink for this one because I figured they would probably have plenty of champagne to drink at the Wedding. The one thing I think they will need for the first night is some extra energy as Wedding's are exhausting so I included a Red Bull Energy drink to help them stay awake. Most of the rhymes for this one talk about drinking wine so I wrote my own ending that makes more sense.
The cake is cut
You've said "I do"
The party may go on,
But without you.
It's your wedding night
and romance awaits.
Here's a little something
To help you stay awake.
First Fight:
So after not having wine for the First Night, I thought I'd try something a bit different for each drink, partly to be unique but also because I'm not sure how much of a fan of wine the groom is. I had planned to get a small bottle of Tequila for First Fight because what else gives you a fighting spirit like Tequila but the liquor store didn't have any small bottles. I spotted a small glass skull bottle of vodka and thought that would do instead.
Harsh words said,
you've slammed the door.
He's crossed the line,
you declare war.
This bottle marks the end
of your first big fight,
By now (Groom's Name) has figured out,
(Bride's Name) always right!
First Christmas:
When I think of Christmas drinks, I think of hot chocolate so I thought I would get some they could add the hot chocolate or hot coffee to give it a little more Christmas spirit. I was thinking maybe some butterscotch schnapps but ended up settling on some Baileys Irish Cream. I made sure to check the best before date to make sure it would last until their first Christmas. This rhyme was partially written by me too so I could add in the Irish Cream.
This is your first Christmas
as Mr and Mrs.
Bring out the mistletoe
and bring on the kisses
In true Chrissie spirit
hot chocolate of course
and Irish Cream whiskey
to bring the cheer forth.
First New Years:
News Years Eve had to be Champagne! I chose the most golden flashy bottle of champers that I could find to fit with the flashy celebrations that accompany New Years. I realise after I gave the gift though that I forgot to change the poem from wine to champers.
A time to celebrate
the end of a year,
A bottle of wine (Champers)
to share right here.
Toast your future, your present,
and also your past.
Your love is something
that is meant to last!
First Anniversary:
I stuck to wine for the first anniversary and looked for one that had a romantic label or that was called something suitably relevant which was not very easy to find. Mine ended up being only vaguely connected but ah well. I really liked this poem that I found because I love the idea of looking back on the year together but also toasting to many more years to come.
Been married a year,
where did the time go?
No longer newly-weds,
now you are pros.
Raise your glasses to each other,
as you look back at year one.
There's so much that you've been through,
yet there's so much more to come!
I will include all the printables I used for my year of dates as we go. If anyone wants the editable photoshop files, contact me and I'll send them through to you, that way you can add or subtract whatever you want. I hope this is helpful to you either as a bridal shower, wedding or even engagement gift idea when you are stuck.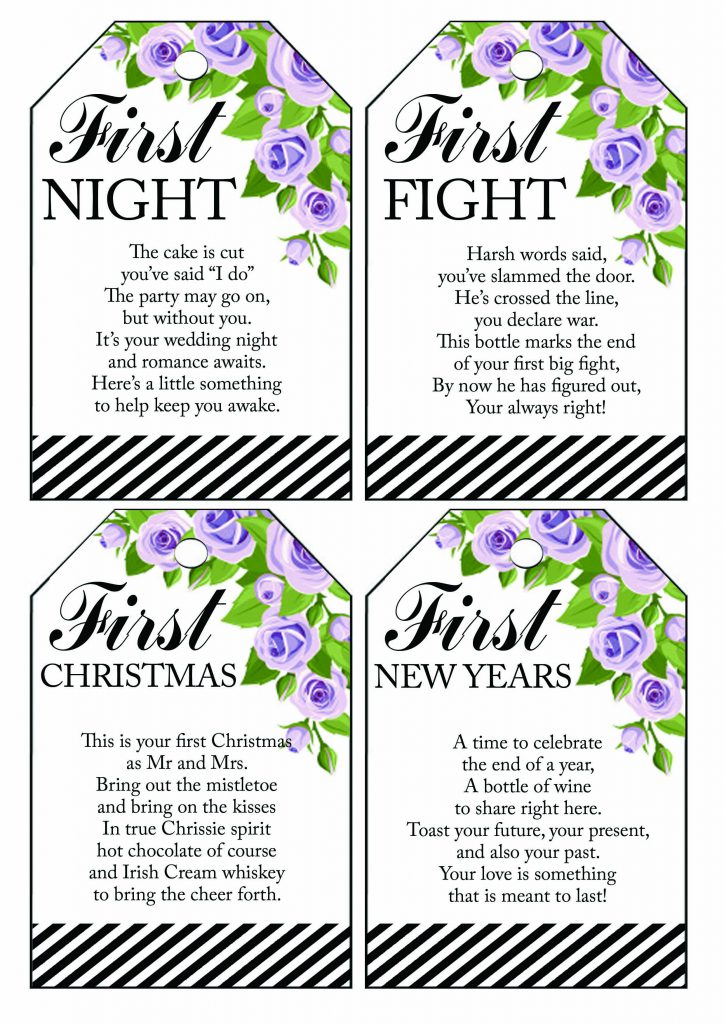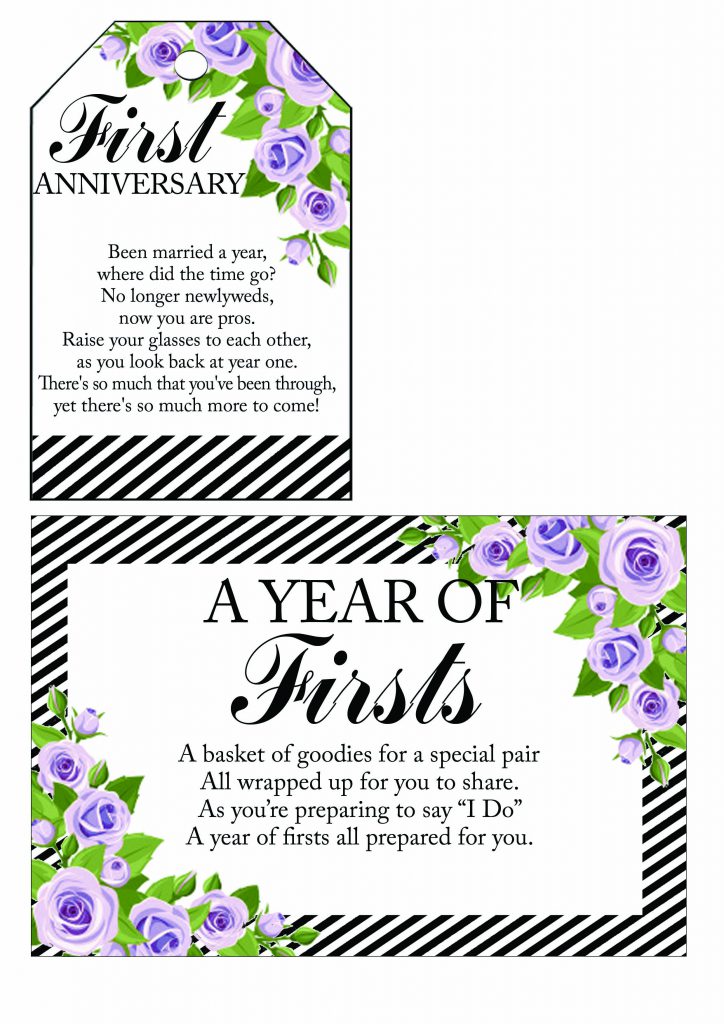 These are the websites I read and pulled ideas from while putting this gift together. I'm not really sure what I got from each one but I thought I should credit them here. They also might give you more ideas on how to personalise the gift to your friends.
Eat and Sip in the City
Momista Beginnings
Ultimate Bridesmaid
Spool and Spoon
Happy Gift Giving…