I'm pretty sure most girls will have come across a version of this DIY project on Pinterest and that is exactly where I got the inspiration too. My mum saw it and thought of me and she just so happened to have an old set of drawers that were in great need of a  DIY makeover. Thus another project began. This was my most challenging project to date because of the amount of sanding this set of drawers required.
My little DIY sander just wasn't cutting it and it took me ages, I mean AGES to sand it back enough to be able to start painting. Overtime I'd work on it, I'd get through sanding one drawer and then would be over it for another month or so. After months and months of sanding I finally got there (after my dad let me borrow his more heavy duty sander) and once the sanding was done the painting happened much more easily and quickly. My vision for this was to have it gender neutral to use in the future nursery, possibly with a change table type thing on the top. Until then though, it works just fine in the guest room too.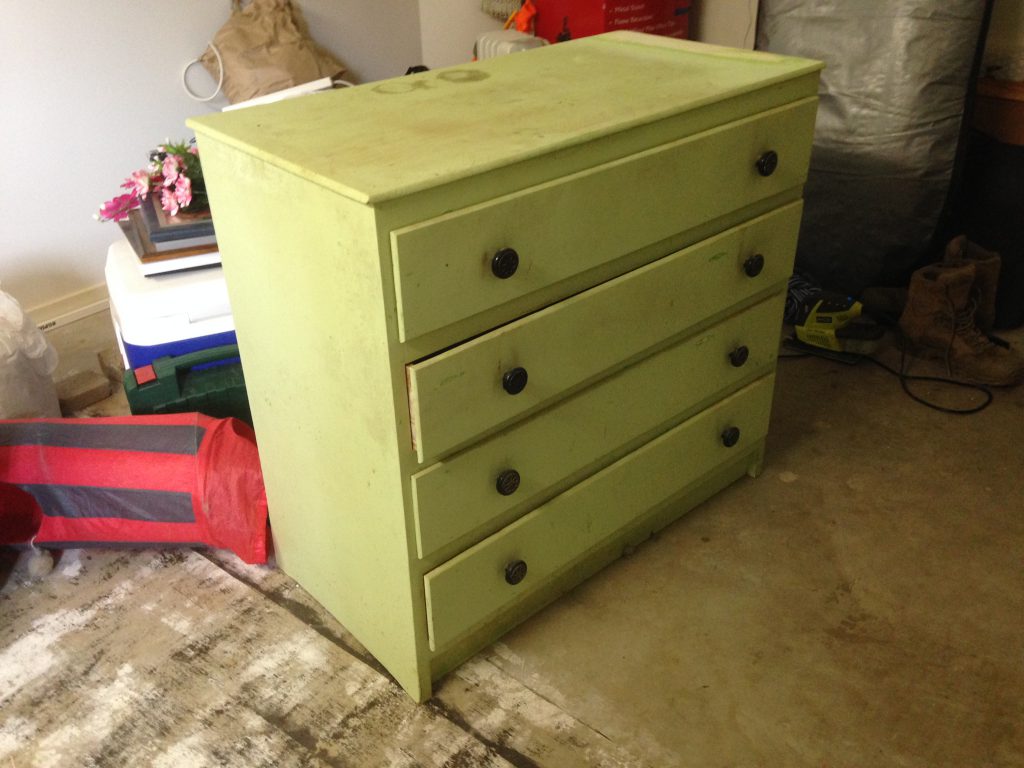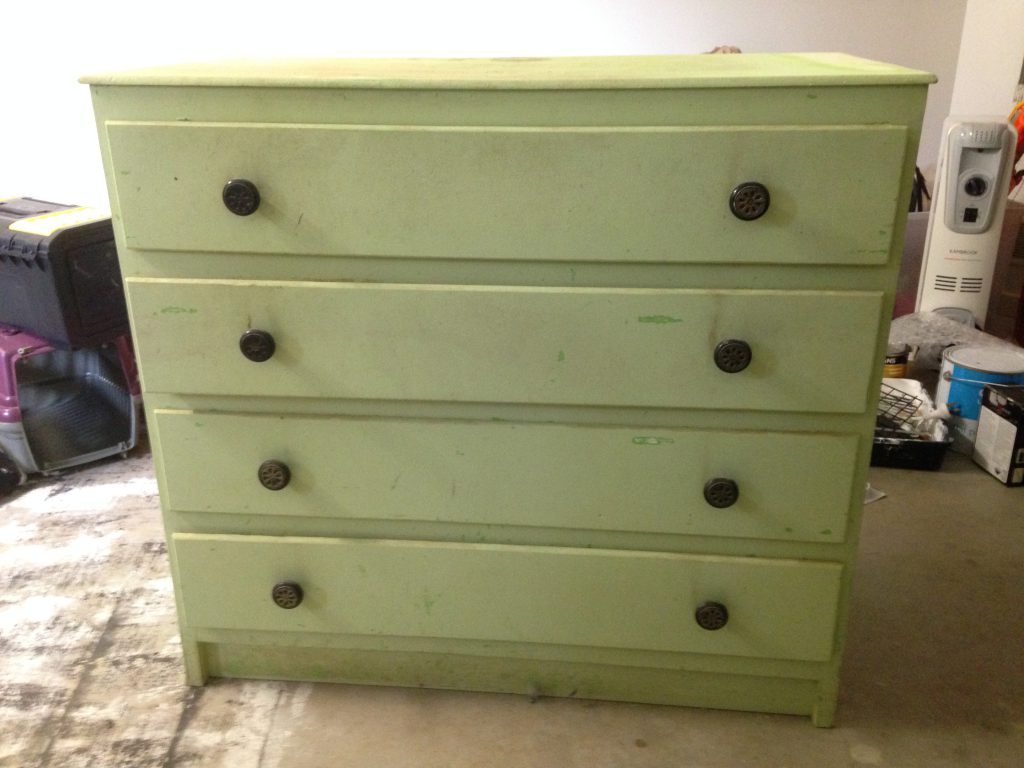 What you need:
    Old Set of Drawers
    Sander/Sand Paper
    Paint (I got a gloss finish)
    Spray Paint for the Accent Colour
    Paint Brushes or Small Paint Roller
    Lace
    Drop Sheet
    New Drawer Handles (Optional)
    Contact Paper or Drawer Liners (Optional)
Step 1:
Separate Pieces.
First things first, take the drawers out and unscrew the old drawer handles. Also do any repairing you might need to do here. I re-glued the back board down at the bottom which was coming away slightly.
Step 2:
Sand away the old paint.
The paint on these drawers wasn't in bad condition it was just a really ugly colour in my opinion so I planned to only sand away the top coat so that I wouldn't have to repaint a primer but my plans changed once I got a hold of my dads sander which didn't really just take the top coat off. The drawers were done with my little sander so they didn't need priming but the rest of the set would.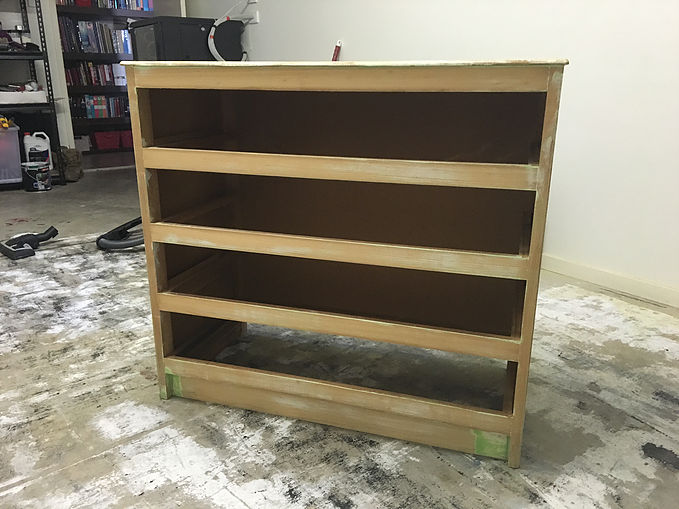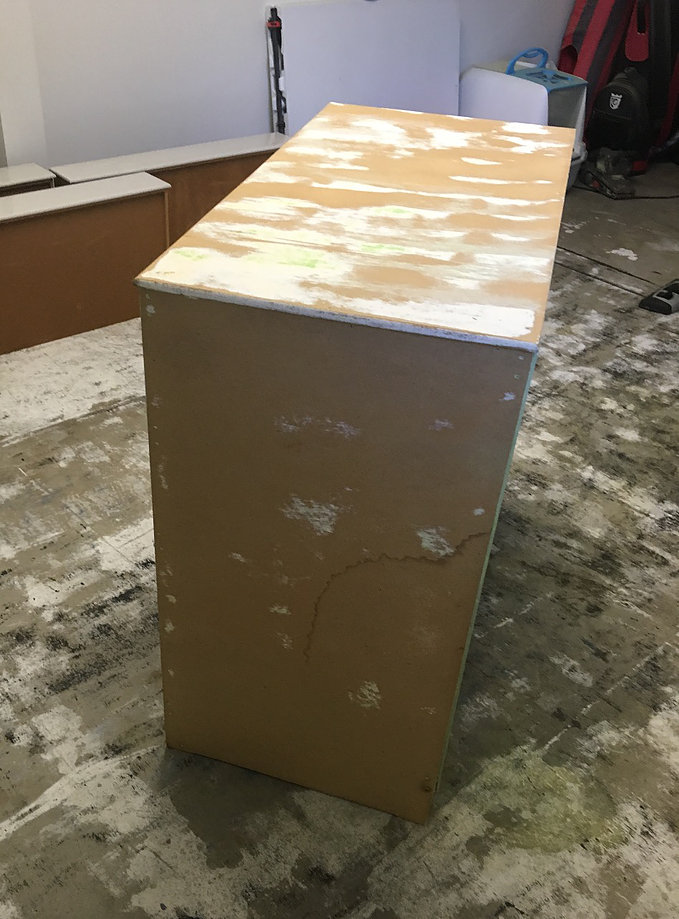 Step 3:
Wipe away any sawdust.
Wipe down drawers with a damp cloth to ensure all sawdust is gone so that it doesn't get in the paint. Also vacuum up any dust from the floor. If you are like me, you might also need to make sure there is no cat fluff hanging around.
Step 4:
Primer Coat
I planned to only sand back the drawers a little and leave the base coat on so I wouldn't have to prime it again and that worked for the drawers because I used my tiny little sander but once I started using my dad's mega sander, it was hard to stop before the set of drawers was sanded completely down. Therefore I figured I should give the drawers a quick coat of primer just to be safe.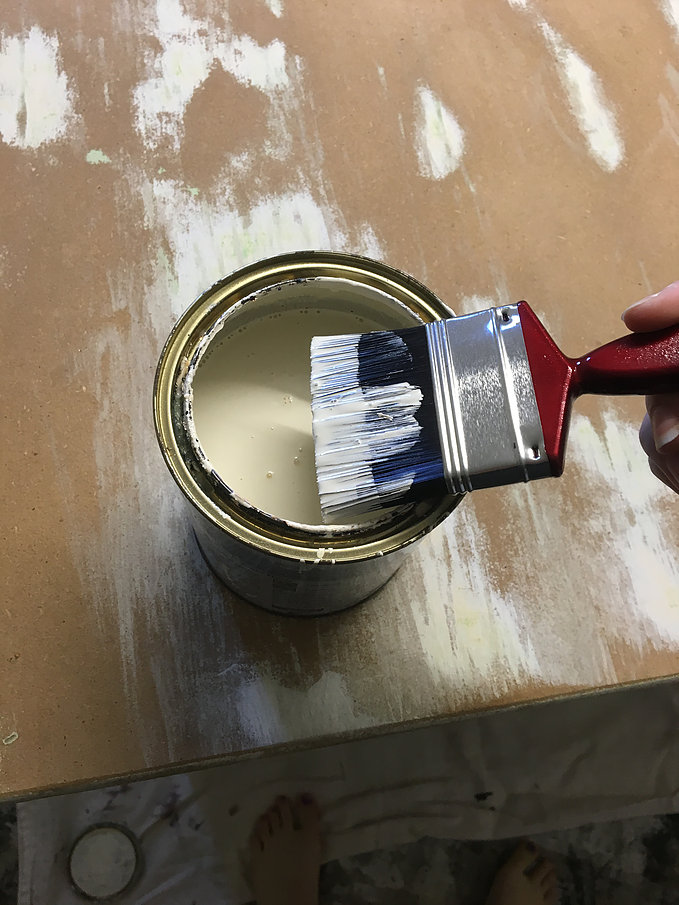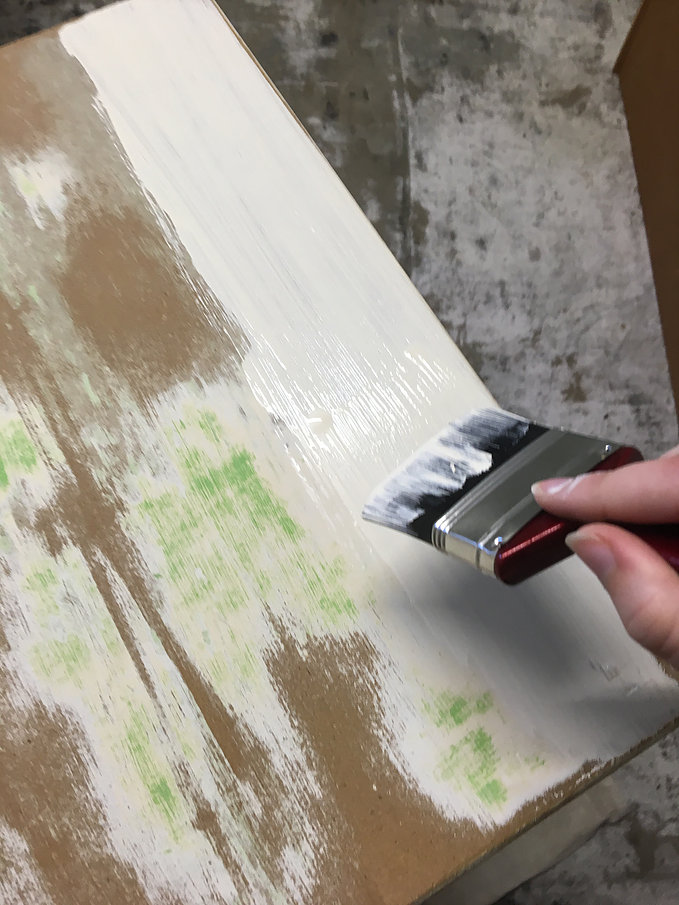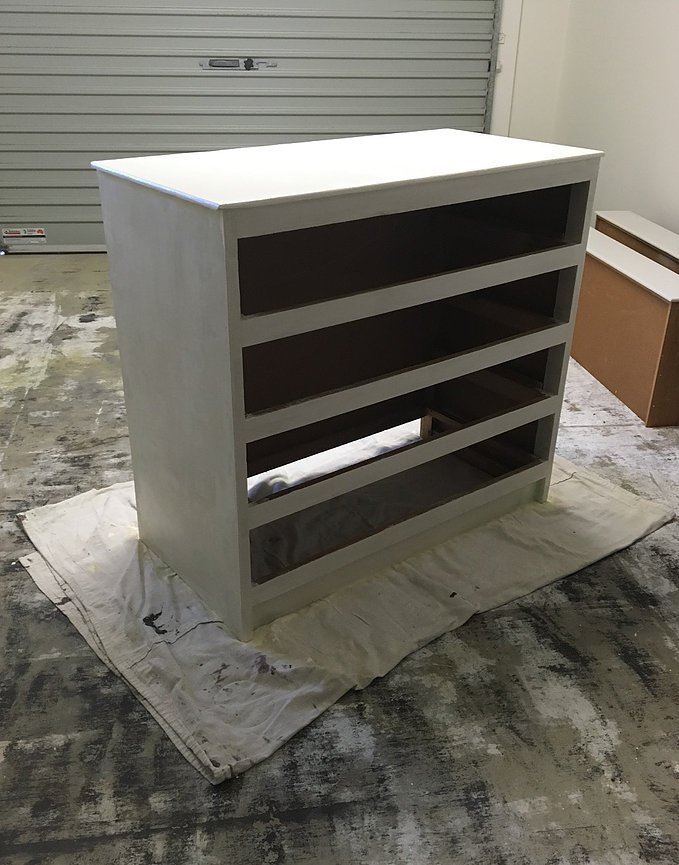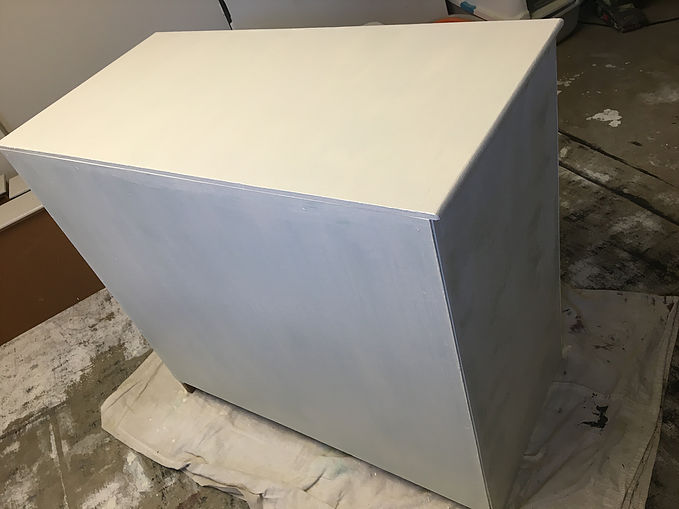 Step 5:
Base Coat
Paint the set of drawers with the base colour. A few coats is probably needed. Wait until it's completely dry. I used a paint roller to get a smooth finish on the drawers but a paint brush will do too.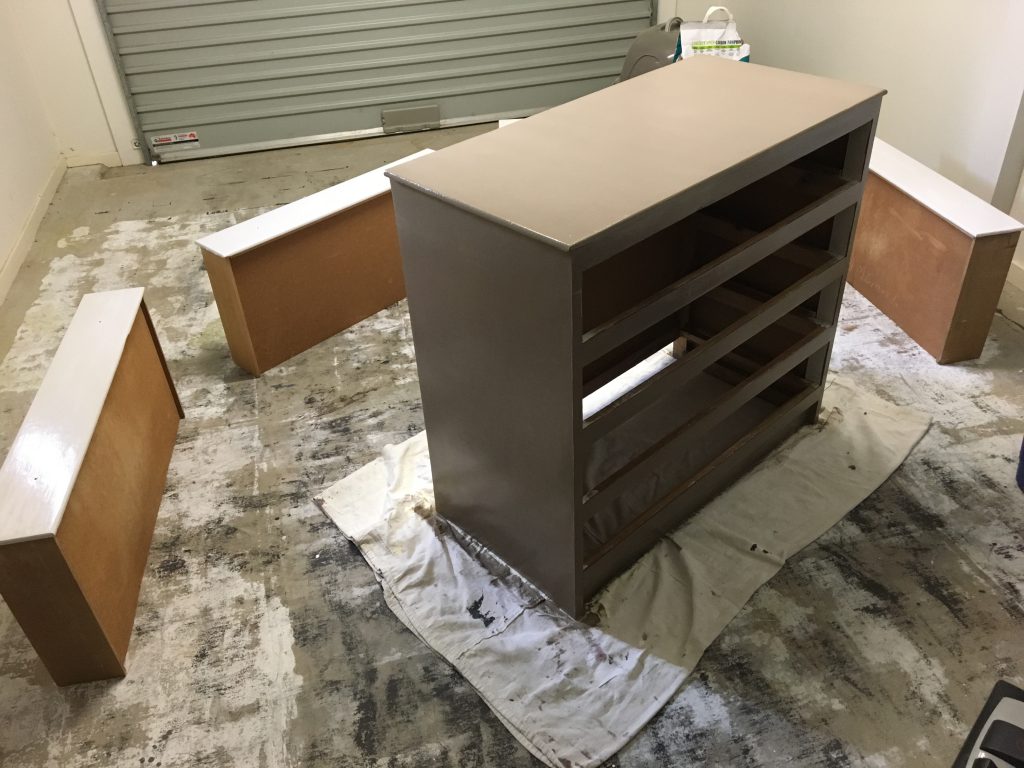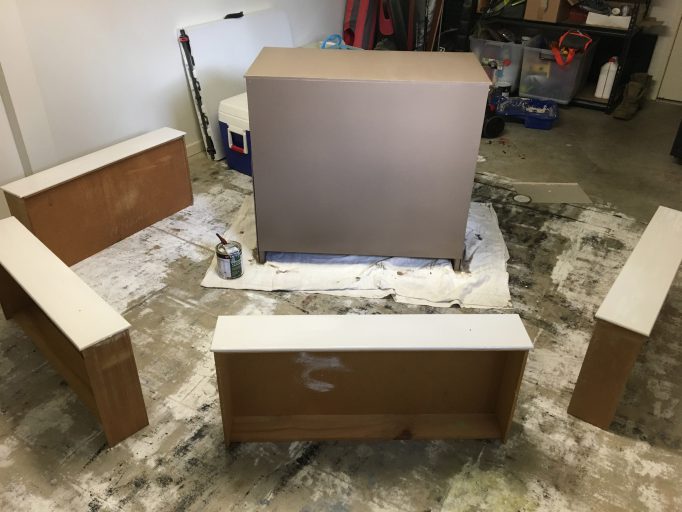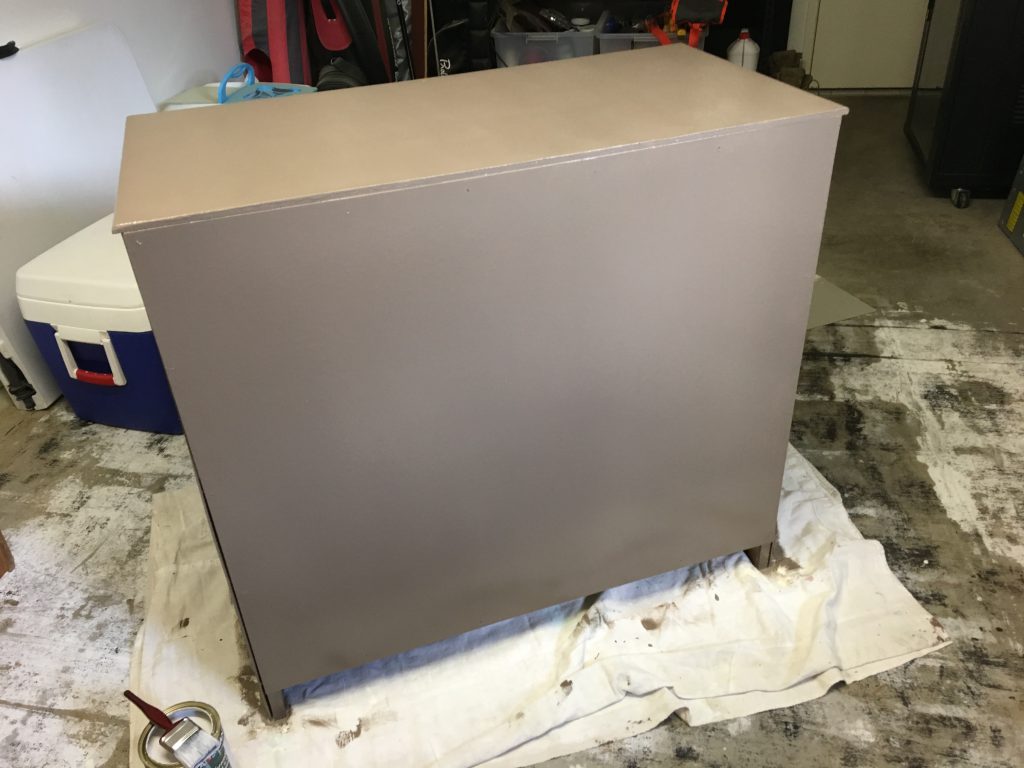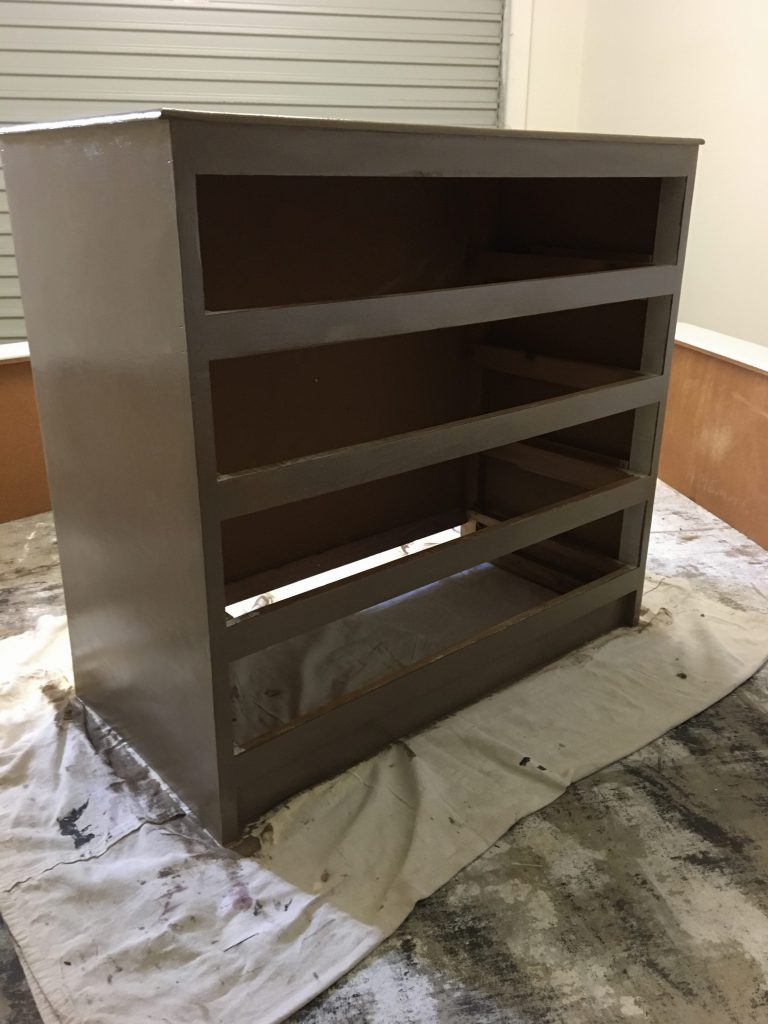 Step 6:
Lace Pattern.
Layout the lace on the drawers and attach with spray adhesive to keep it in place. As it says on the back of the adhesive can, only use one coat of spray otherwise it will stick too much and you won't be able to pull it off easily. Shake up the spray paint as it says on the back of the can. Spray paint with the accent colour over the lace. The colour I chose was called "Lace". I used the same bit of lace for all four drawers.
I read on some posts that you should use a different piece each time but by that point I had already bought my lace and only enough for one drawer. My lace pattern didn't come out as sharp as it could have but I don't think that was because I reused the lace as the first one looked the same as the last one. I let the lace overhang the bevelled edges of the drawers too so the pattern would go around the edges as well. I struggled to get an even coat but I didn't mind it too much.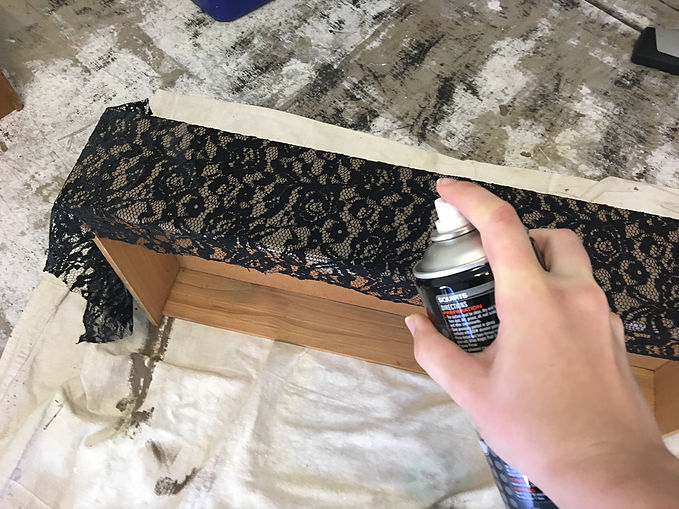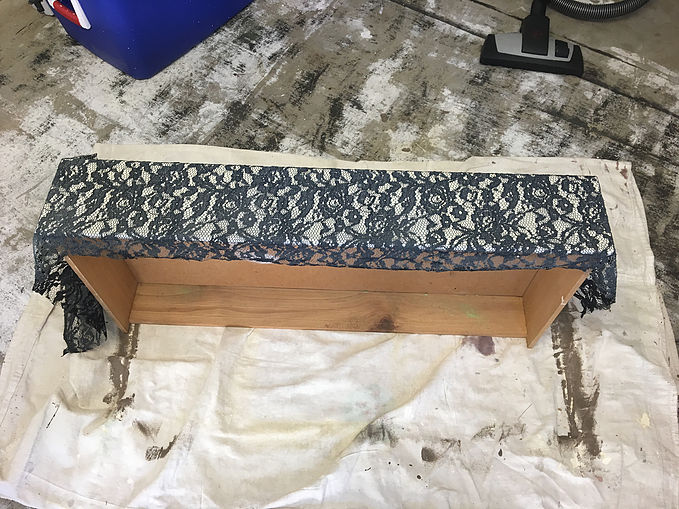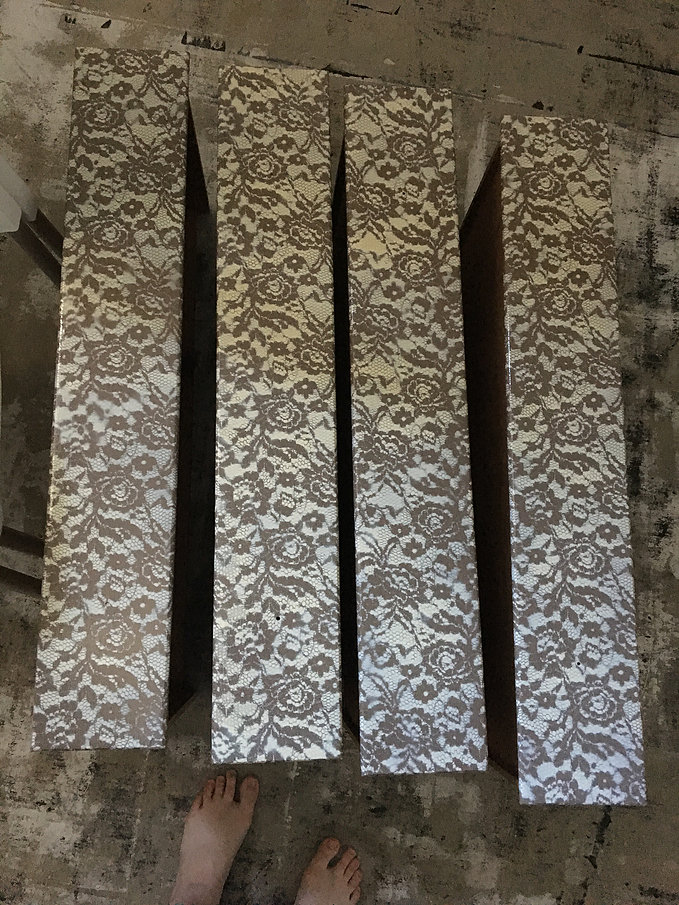 Step 7:
Contact Paper or Drawer Liners.
Measure and cut-out the contact paper to the size of your drawers. I covered every edge except the back as I didn't think you'd be able to see that very often and I didn't want to use too much contact paper. Start at one end and only take off the backing about an inch at a time and smooth out with something straight and flat. I used my cutting mat but a scraper would have worked better. The bottoms of my drawers unfortunately ended up pretty crinkled but the sides were much easier to keep flat. Make sure to measure ever single drawer piece separately as my drawers were slightly different in sizes and a bottom piece that fit one of them perfectly was too small for the other drawers. You might not have this problem but it's a good idea to check just in case.
I bought my contact paper off eBay but it doesn't appear to be available any more. Depending on what you are looking for you may still find it on Ebay. Otherwise I know that Kmart does some great contact papers in marble, light wood grain, dark wood grain and even metallic. If I was doing another project like this now, that's where I'd go.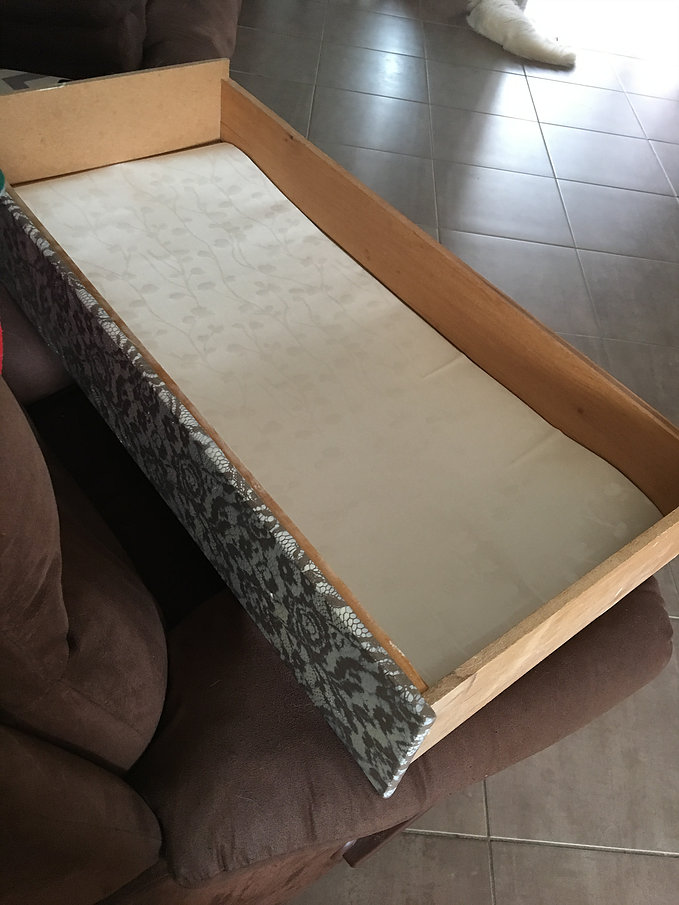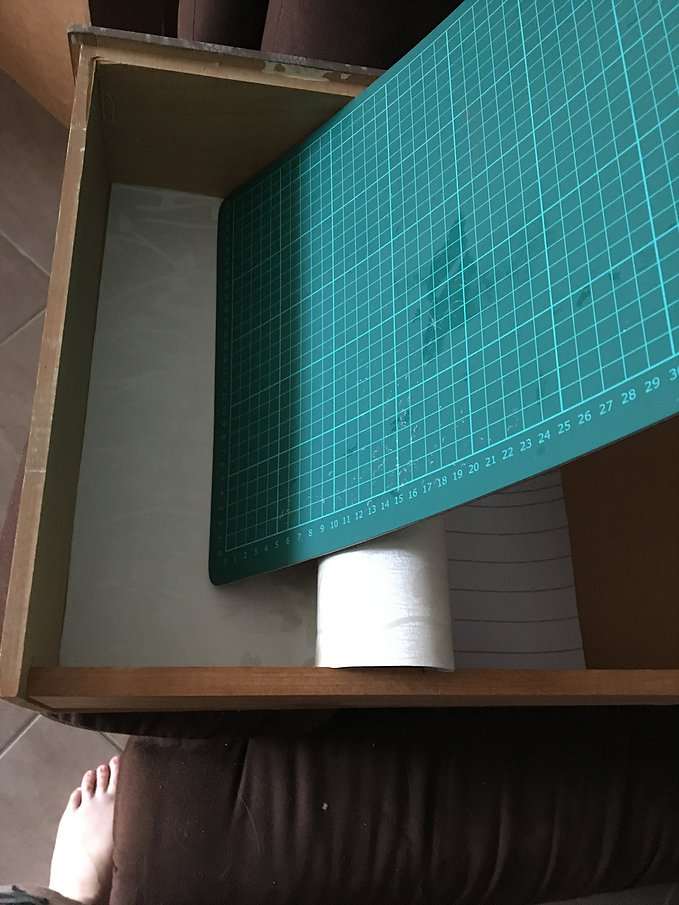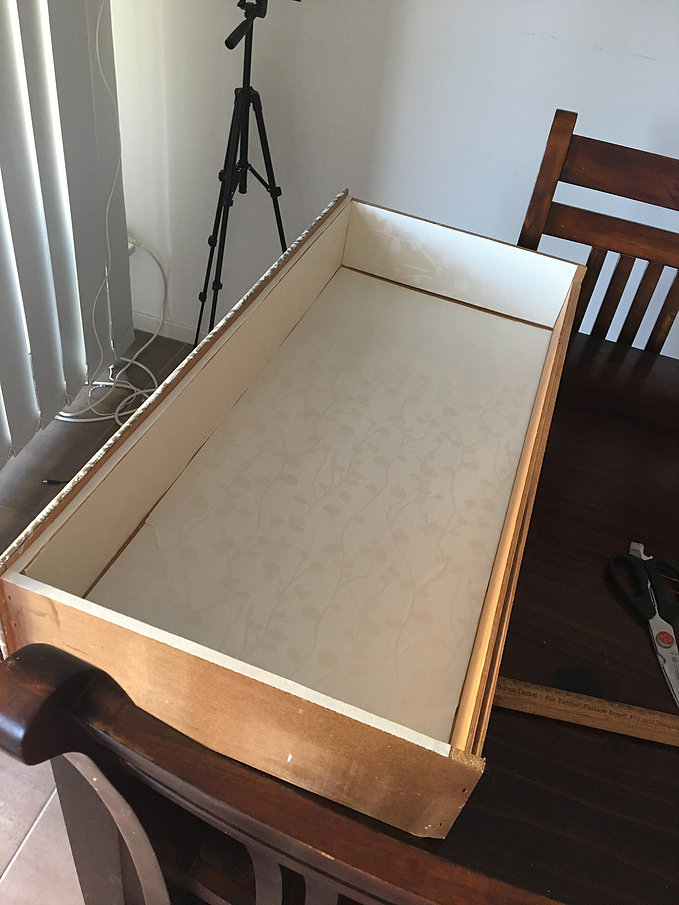 Step 8:
Attach New Drawers Handles.
If you old drawer handles are worth saving feel free to use those but I decided to go with these drawer handles I found on eBay. Screw in new drawer handles and finish the last piece of contact paper over the screws. Put the drawers back into the cabinet and you're good to start filling those drawers with clothing or what not.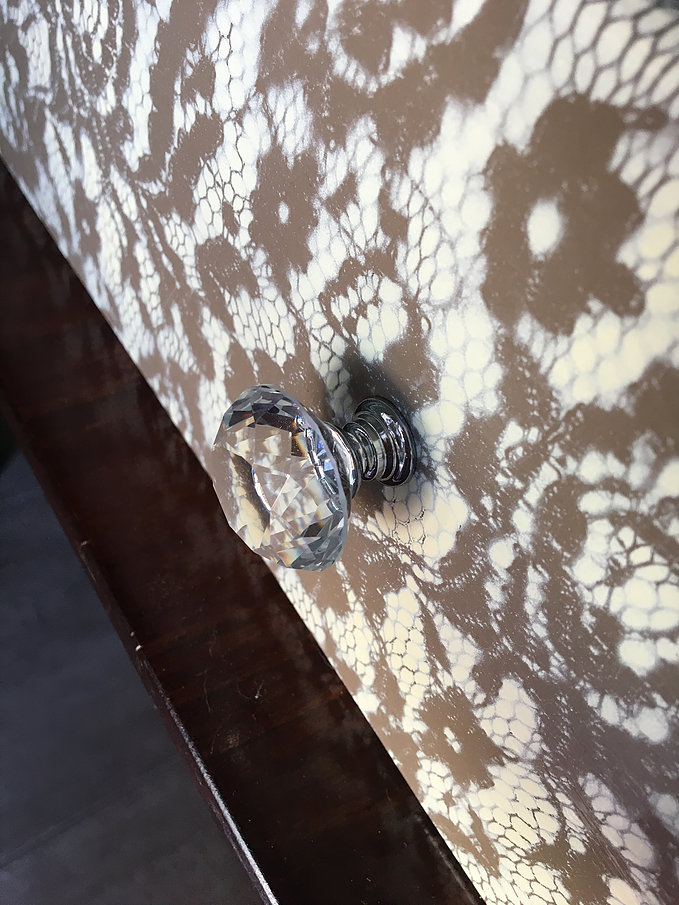 After all that hard work, I'm swearing off sanding for a very long time! I definitely think it looks way better than the lime green it started off as but for some reason it's not as satisfying as I thought it would be. I'm sure it will be handy to have and will get lots of use all the same.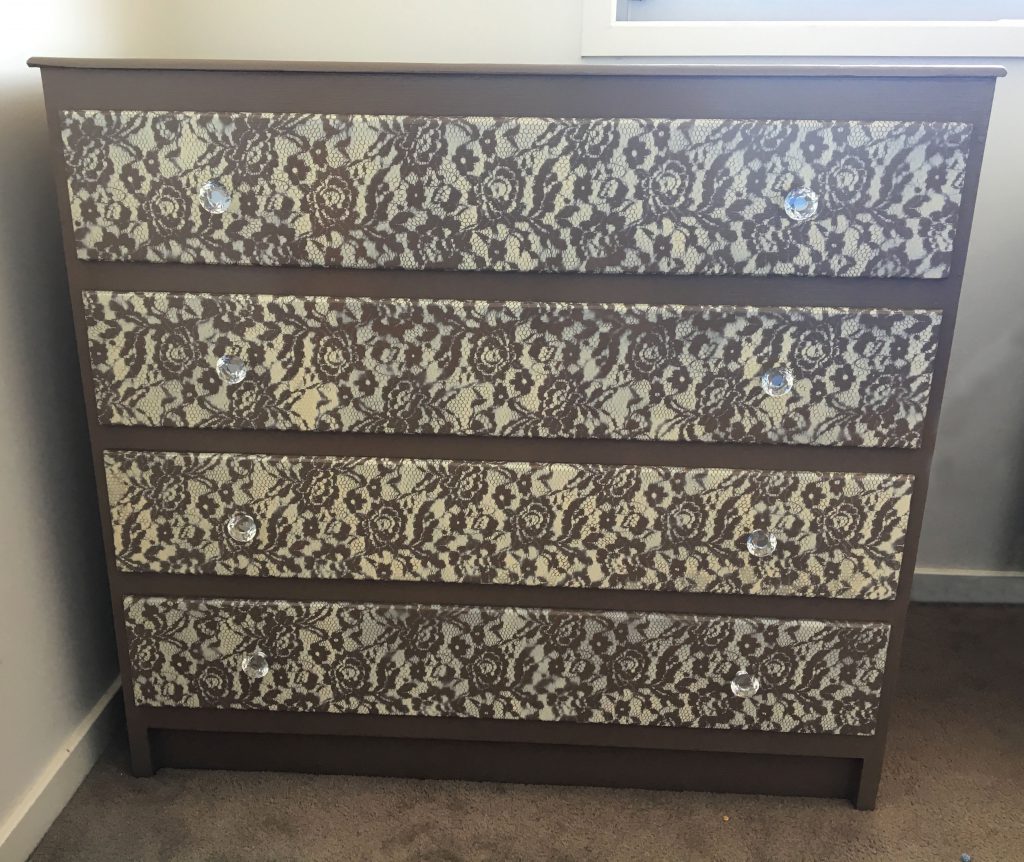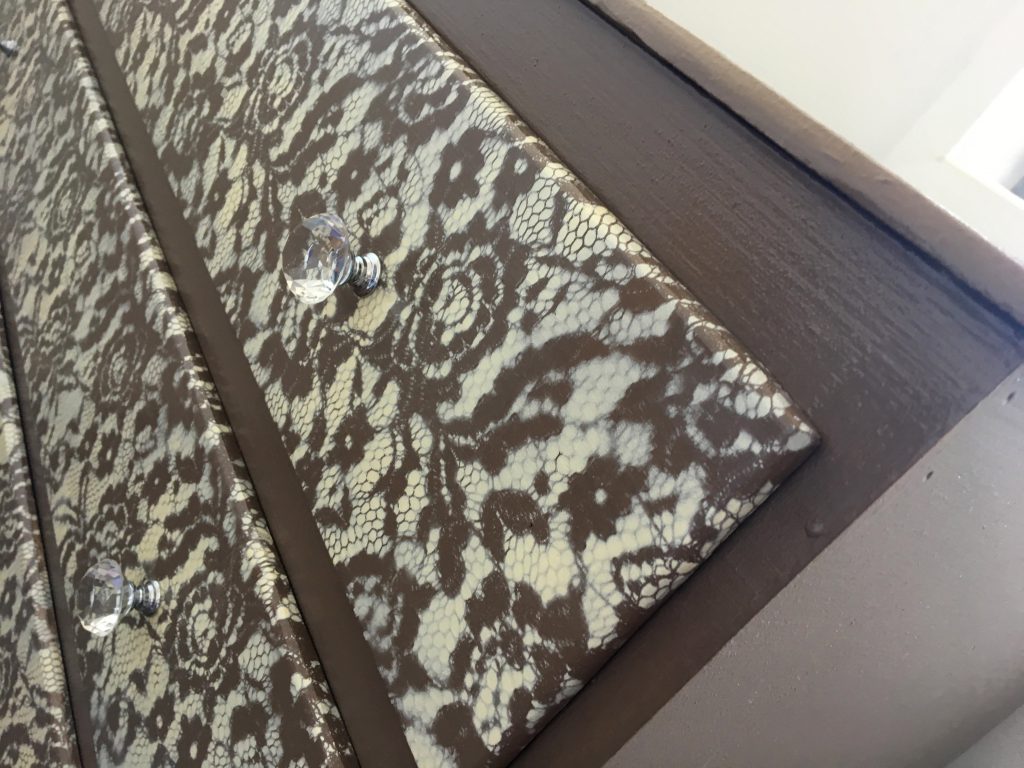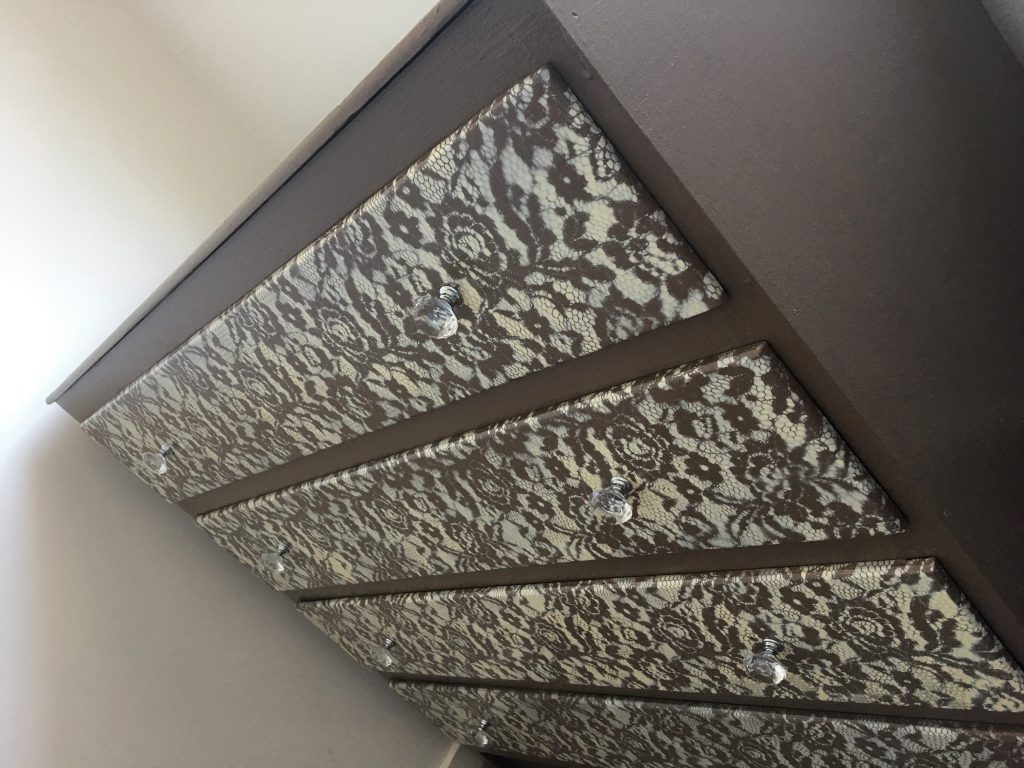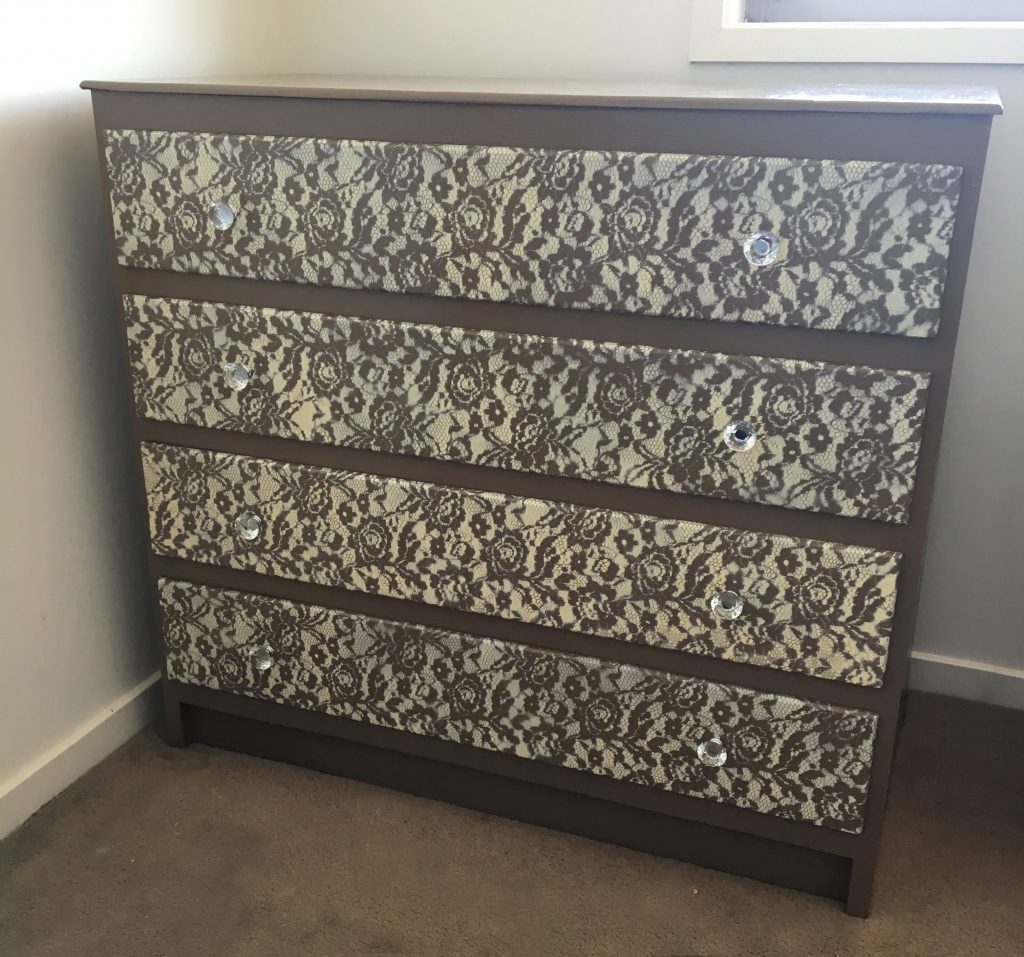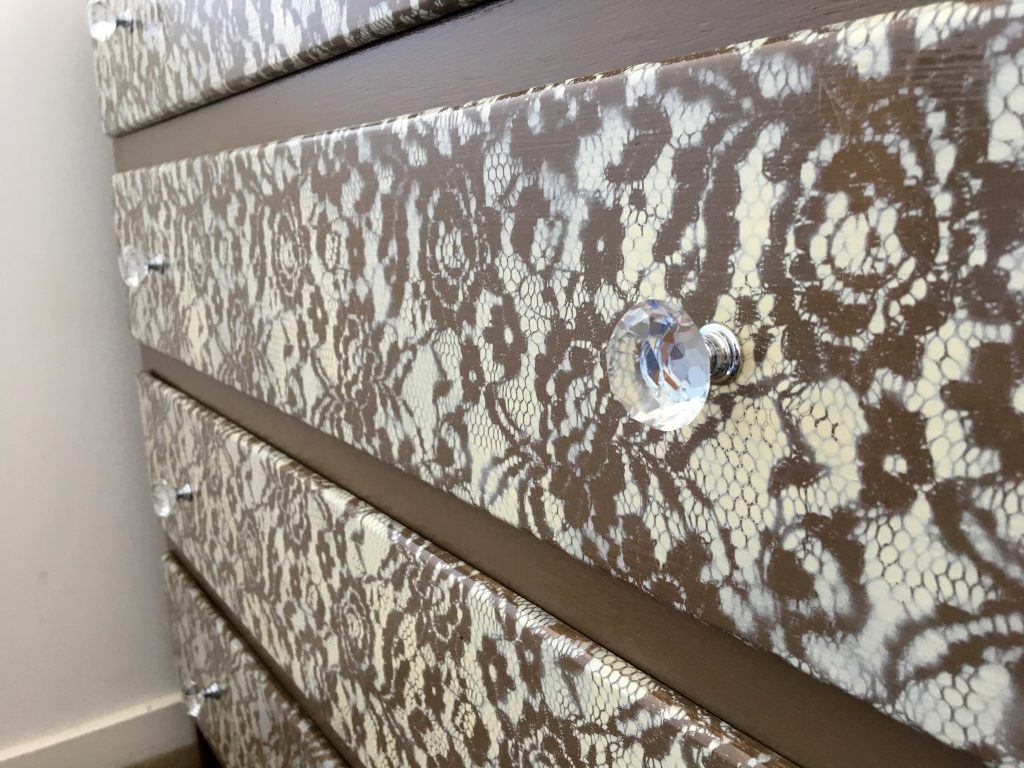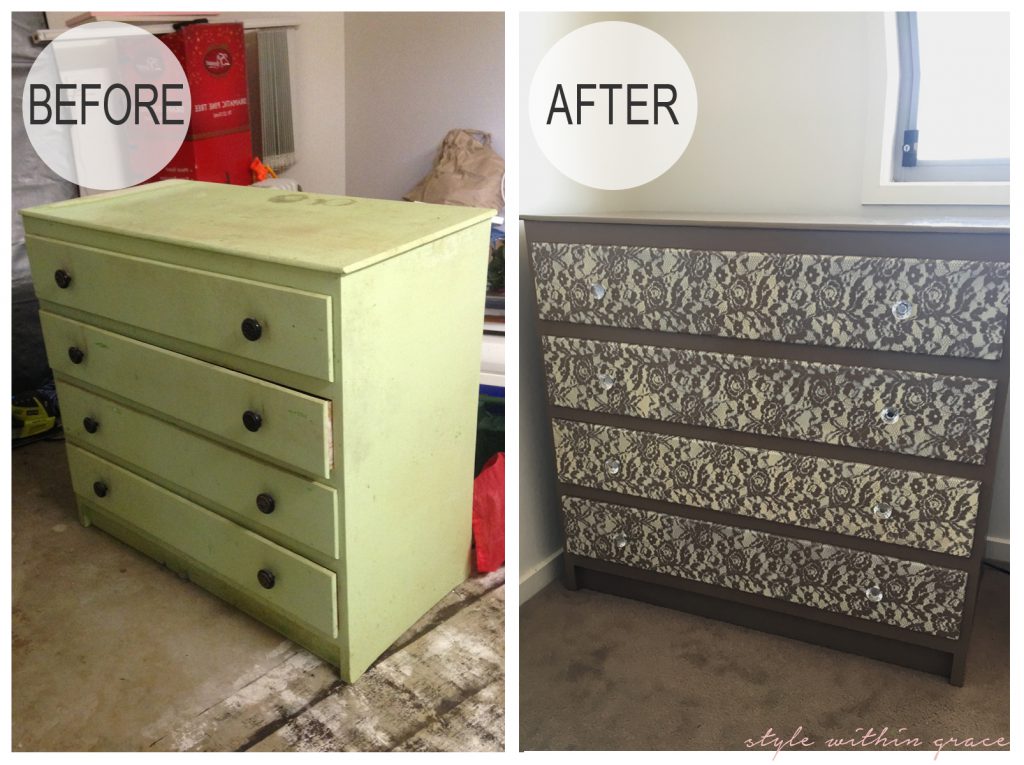 All up I paid:
Set of Drawers = Free
Sand paper = $20
Paint = $10.90
Spray Paint = $7.45
Lace (For a 1/4 of a meter) = $4.57
New Drawer Handles (8 pieces) = $8
Contact Paper (For 5 meters) = $33.60 ( I still have a lot left)
Total: $83.52 (Plus a great lot of hard work)
I'm pretty darn happy with this DIY transformation! The set of drawers looks so much better when it's not that ugly bright green don't you think? I might do another post down the track about turning the guest bedroom into a nursery when that moment finally comes. Until then any guests who come to stay will have a beautiful set of drawers to unpack their stuff into. Check out some of my other DIY posts like my filing cabinet makeover in the mean time to tide you over til next time.