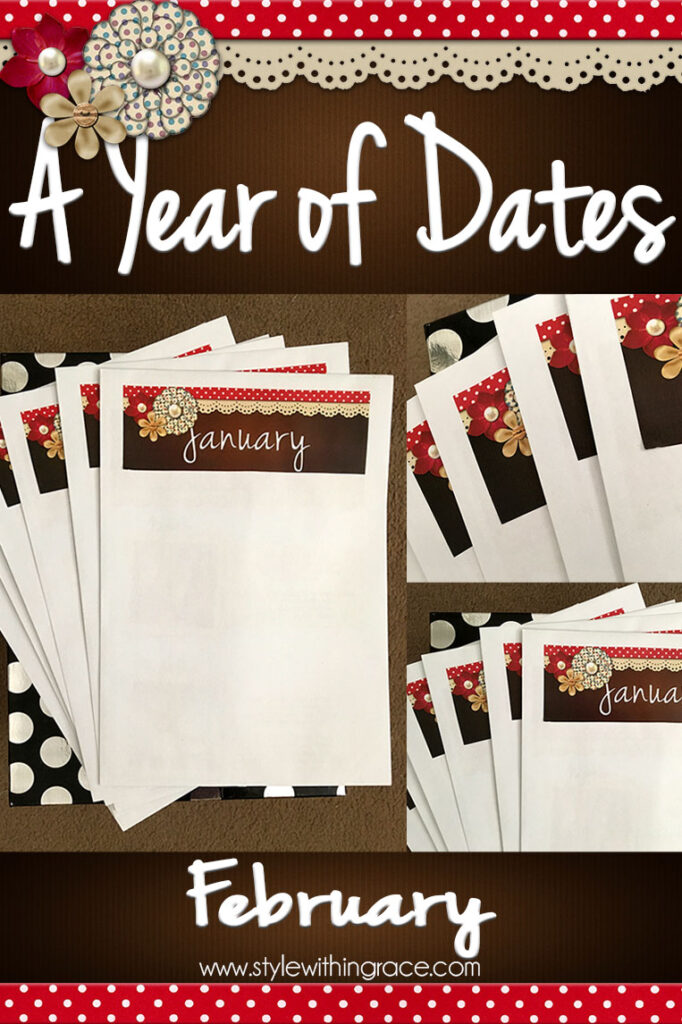 What with Valentine's Day and our dating anniversary being this month, I themed February's dates around what else but love. Another very busy month in our household as I was away for a good portion of it, which made it very hard to complete all out dates on time again. I'm really starting to think I overdid it trying to get two dates in for every month. Aah well… hindsight and all that stuff. We haven't had time to squeeze in our date night out this month so I will have to update this post when we finally get around to it. At least the night in was a great success! Don't forget you can always go back to the index page to read up on any of the date months you might have missed.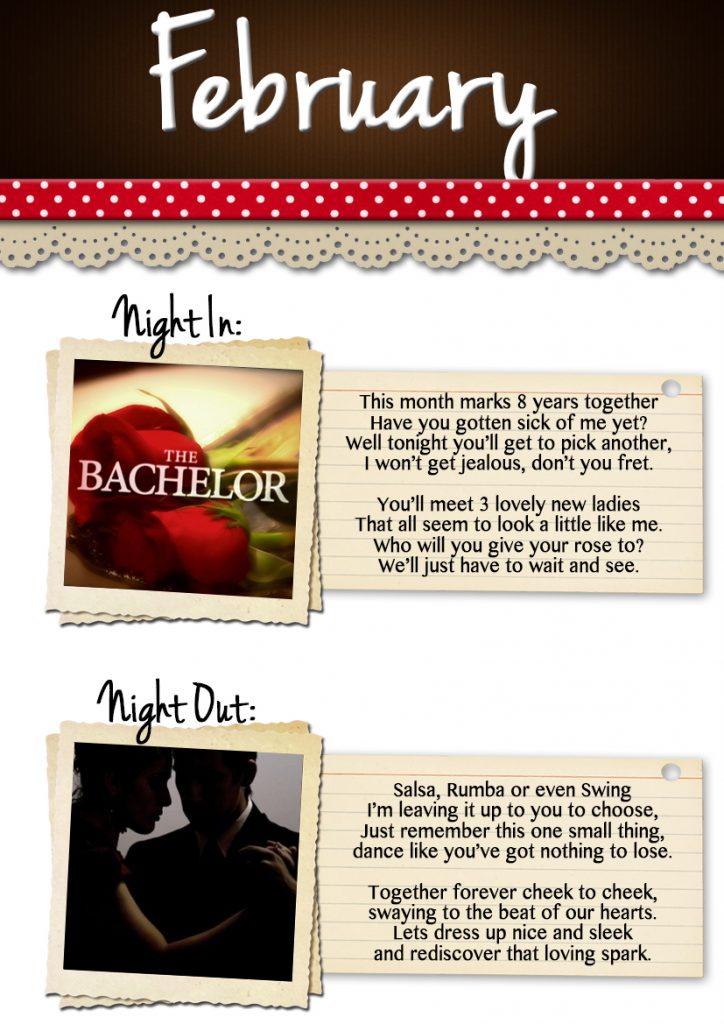 Night in:
This date is not your typical date. Taking a cue from the TV show The Bachelor and Perfect Match I created a fun, light-hearted role play date based on the idea I found on Love Actually. I included a fake rose for the hubby to open before this date (although I forgot to get him to open it… whoops), to give to the winning contestant. Questions for him to ask the three contestants were prepared and then three different answers based on three different stereotypes. I chose a country girl, materialistic Barbie girl and a hippie chic. Dinner and dating activities change depending on which contestant he picks. I included the sheet below to explain the game in more detail to him, it also had the questions for him to ask and a tally sheet so he could keep track of who he liked best.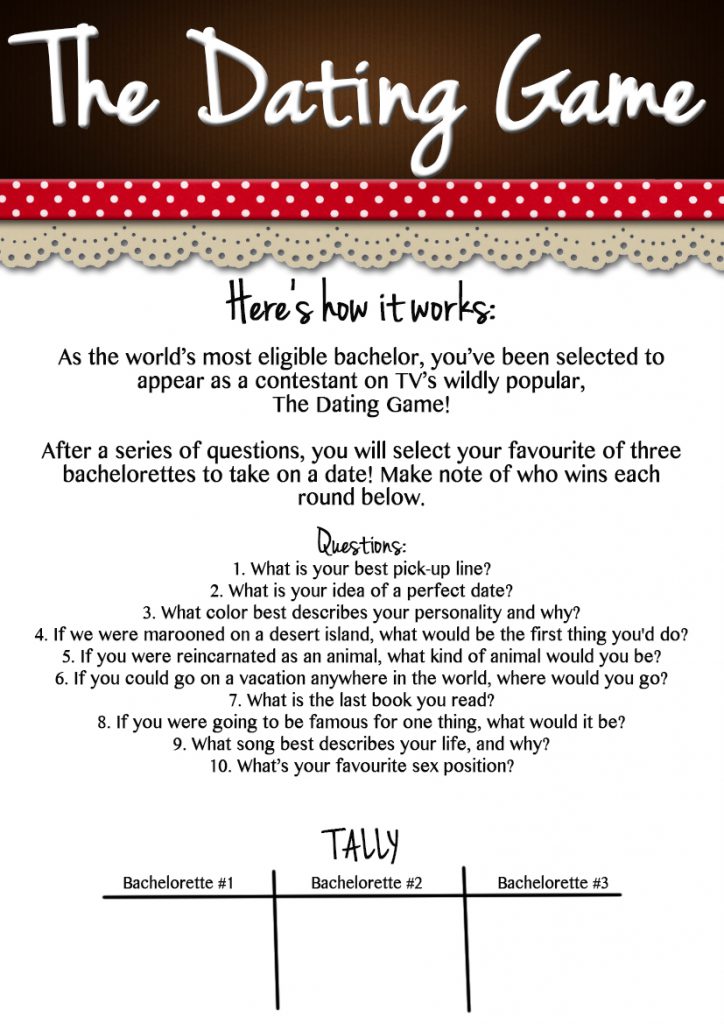 When my hubby first read about this date night in he was really excited to come up with and ask me really random questions like "If I was a squirrel how would you crack my nut?" so I also added into the rules that if there was a tie at the end of the questions I provided he could ask one of his own choosing for the tie breaker. He of course made sure there was a tie so he could ask me some nonsense which was really hard to come up with answers for, in the appropriate characters on the spot. He really loved it though.
Here was the script I used for the night. Feel free to use and amend it to suit your needs. You could chose different characters as well. I chose these three because I felt like they were the easiest to come up with stereotypical answers for and each spoke with a distinct pattern of speech which I could replicate. Just make sure that they all have at last some appealing characteristics otherwise he won't want to have a date with any of them.
The Dating Game Script
Host:
Hi and welcome to this season's first episode of The Dating Game! I'm your host Shellie Craft. It's time to meet your eligible bachelor for this evening, _________! You have 20 secs to introduce yourself to the audience. Time starts now…
Great work! Now that we know all about you, let's introduce you to your three beautiful bachelorettes. Bachelorette number #1 is a country girl at heart and enjoys horse riding. Bachelorette number #2 describes herself as carefree and genuine and bachelorette number #3 wanted to let you know she looks totally hot in a bikini. Alright then, this it how it works.
After asking a series of questions that have been provided for you to each of the contestants, you will select your favourite of the three bachelorettes to take on a unique dinner date this evening depending on who you chose! You have been provided with a tally board for you to keep score of who's answers you like best. If you should come to a tie between two of the lovely ladies, you may ask one more question of your own choosing to help you make your final decision. Well what are we waiting for let's get started. ______ you may ask your first question. I'll leave you to get to know the girls a little bit better.
What is your best pick-up line?
#1 (Cowgirl): Are you a cowboy? Because I can see you riding me.
#2 (Hippie): I may be a vegetarian but I'm not afraid to eat your meat.
#3 (Barbie): Do you know what would look good on you? Me
What is your idea of a perfect date?
#1 (Cowgirl): I'd take me and my cowboy to the rodeo. Yee-haw!
#2 (Hippie):  To a music festival. We could just dance together under the stars until all hours of the night. Music really brings out people's souls, you know.
#3 (Barbie): Umm…I'd, like, go shopping or like, get pedicures together.
What colour best describes your personality and why?
#1 (Cowgirl): Red! What better way to attract attention!
#2 (Hippie): Green, the colour of nature. It's so down to earth and real.
#3 (Barbie): Like pink for sure! It's totes cute just like me!
If we were marooned on a desert island, what would be the first thing you'd do, why?
#1 (Cowgirl): Go catch me some dinner! I hope this desert island has some kind of decent meat!
#2 (Hippie): Search for water and some plants or roots that I could eat then set up shelter.
#3 (Barbie): Lay on the beach and get a tan!
If you were reincarnated as an animal, what kind of animal would you be?
#1 (Cowgirl): A horse, running wild and free.
#2 (Hippie): A beaver, did you know they mate for life and hold hands while they sleep so they don't drift away from each other.
#3 (Barbie): Totally a ragdoll cat. So cute and fluffy!
If you could go on a vacation anywhere in the world, where would you go?
#1 (Cowgirl): Nashville baby, Country music all the way!
#2 (Hippie): Cambodia, I'd love to visit the people there and help out at an orphanage. I love to give back to the world. They also just have this great vibe where they appreciate everything they have. We could all learn a few lessons from the people there.
#3 (Barbie): Paris, It's like so glamorous and romantic and the fashion scene is to die for!
What is the last book you read?
#1 (Cowgirl): The Longest Ride by Nicholas Sparks
#2 (Hippie): Long Walk to Freedom by Nelson Mandela
#3 (Barbie): Um… Does a fashion magazine count?
If you were going to be famous for one thing, what would it be?
#1 (Cowgirl): I'd be a famous singer, get out my guitar and sing to the world.
#2 (Hippie): I'd want to be known for my good works like Mother Theresa. I'd travel the world and save endangered species and help feed orphans.
#3 (Barbie): My hot body of course! I'd be like one of those super famous models that insures her hair for like a million dollars.
What song best describes your life?
#1 (Cowgirl): Wild One by Faith Hill
#2 (Hippie): Kiss from a Rose by Seal
#3 (Barbie): Glamorous by Fergie
What's you favorite sexual position?
#1 (Cowgirl): Cowgirl! I'd love to ride you good.
#2 (Hippie): Lotus! It's a great position for the blending of souls.
#3 (Barbie): I love to be pinned against the wall while still wearing my red stiletto heels.
Extra Question:
If I were butter how would you spread me?
#1 (Cowgirl): Ah… with a knife of course!
#2 (Hippie): I am so glad you are butter and not margarine. Do you know how much chemical gunk is in Margarine? It's so not rad man. I'd spread you on my morning 9 grains toast and eat you all up.
#3 (Barbie): Ooh no I don't eat butter! I'm trying to cut down on carbs.
Host:
That is the final question_____, what does your tally board say? Who is the lovely lady for you?
Contestant #1
Country Girl
Dinner: Bangers and Mash
Date: Nerf Gun War
Outfit: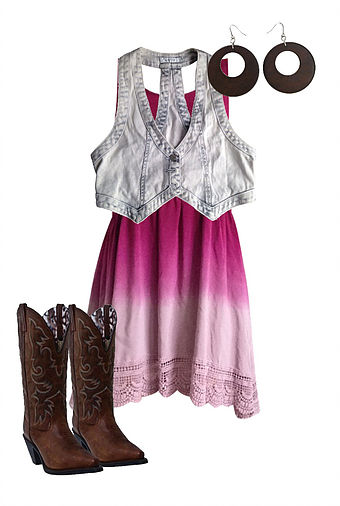 Contestant #2
Hippie Chic
Dinner: Roast Vegetable Stack
Date: Watch a documentary together
Outfit: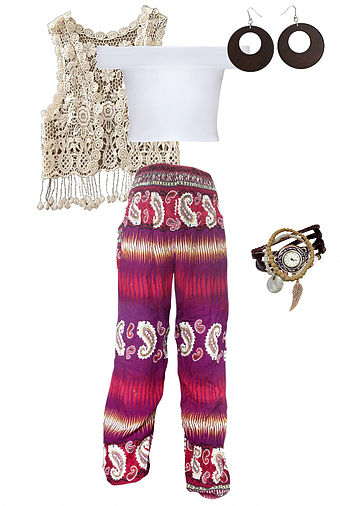 Contestant #3
Barbie Girl
Dinner: Chicken and Avocado Salad
Date: Relaxing in the Hot Tub
Outfit: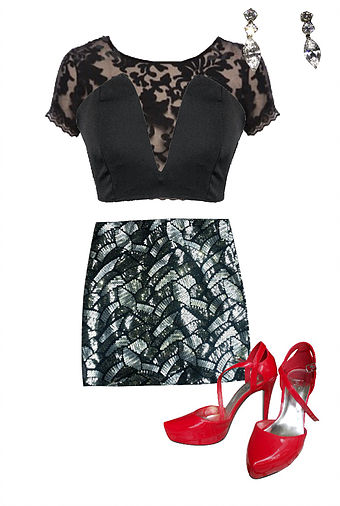 Can you guess which contestant he chose? It turns out my hubby is into the country girls. We played the game in the afternoon so that I would have time to cook the appropriate dinner and get dressed in the corresponding outfit. I even wore a wig. I thought a country girl would probably like to have dinner outside but half way through the hubby was getting eaten alive by mosquitos so we came back inside. It was really challenging to keep up the accent and the act but it was fun. After dinner I loaded up the nerf guns for a cheeky war which was a big success with the hubby. He is always trying to get me to play with him. Such a cheap and easy date night in but is really different to the norm. I recommend trying it out even just as a one off date.
Night Out:
To be updated later.
Don't forget to tune in next month.