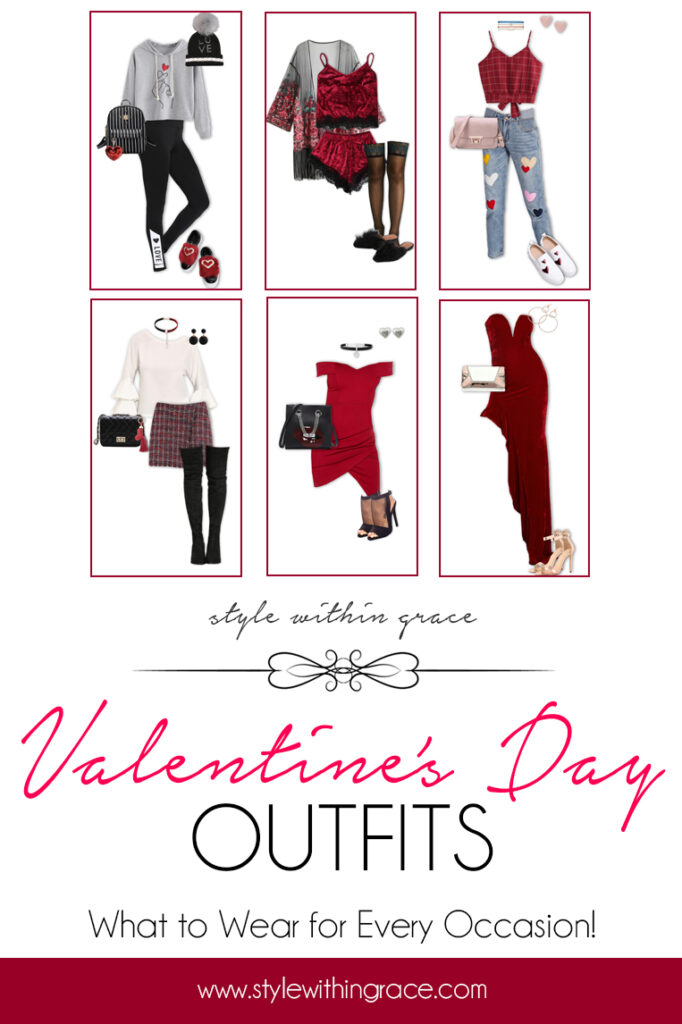 Whether you love it or hate it Valentine's Day is always a great excuse to put on a cute outfit in my opinion. And yes I agree with you that it has been too commercialized but I choose to have fun with it anyway! It's all in your attitude I say! No matter what you have planned or how you are spending the day, I have you covered. Whether you are just chilling at home away from all the loved out couples or whether you are hitting the town, I have the perfect outfit for you. Even if you hate the day you have to agree that these Valentine's Day outfits are pretty darn cute!
Single and Staying Home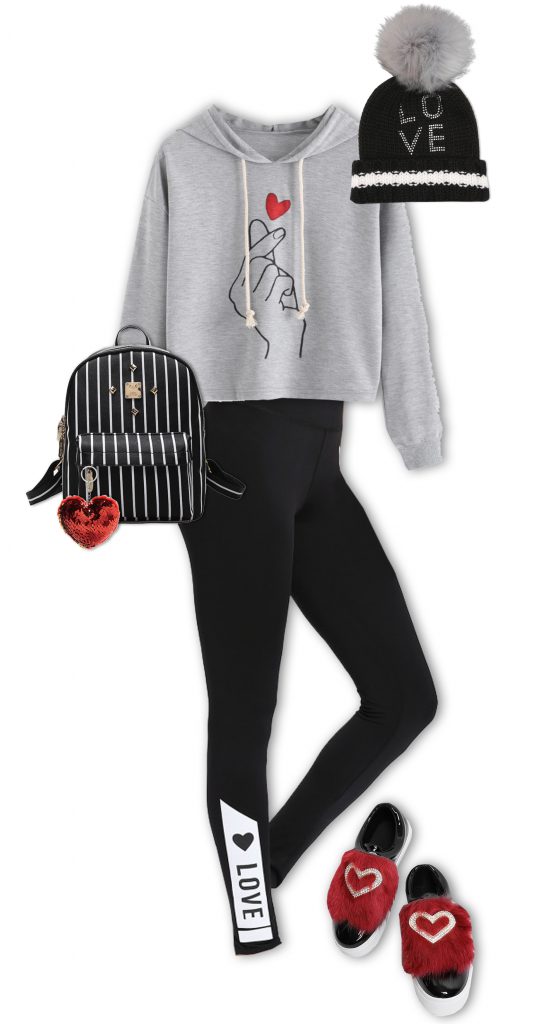 If you haven't given up on love yet but won't be venturing out to see all the PDA which is guaranteed to be all over town on this particular night of the year then staying at home is your best bet. Stay comfy in this adorable grey hoodie and these black leggings. If you are in the colder areas of the world then this beanie is another really cute addition but here in Australia you will probably want to forgo any added heat. Some red furry and black patent leather plimsolls are the perfect way to finish off the outfit with some added colour and interest. The striped mini backpack is perfect for running any quick errands, like for example a pizza and cold rock run if you haven't gotten into the whole Uber Eats thing yet. I also added in this cute little sequin heart key ring which I would style by attaching it to the backpack.
Shop the Look
Love Gesture Print Crop Marled Hoodie
LOVE Print Marled Knit Leggings
Rhinestone Heart Design PU Sneakers With Faux Fur
Studded Detail Vertical Striped PU Backpack
Sequin Decorated Heart Keychain
Ivy Diamante 'Love' Preppy Beanie
A Couple's Night In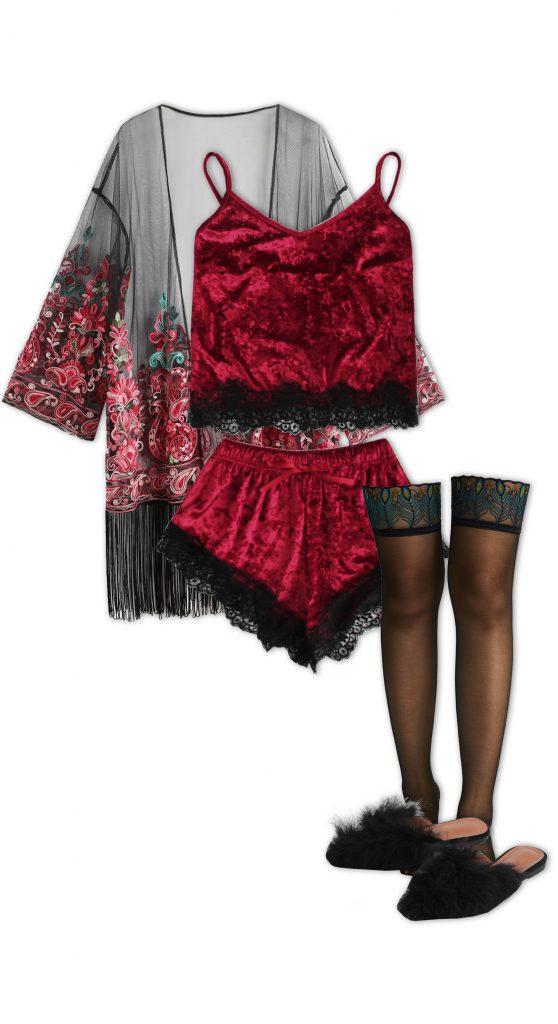 Just because you have a partner on Valentine's Day doesn't mean you have to go out with the rest of the masses. Staying home can have it's own charm. You could done your ordinary sleep wear but why not treat yourself with something new! This red velvet and black lace pj set is just so cute! For something a little fancier and more luxurious than the norm, pair it with these faux fur flats and this paisley fringe kimono. I then also pulled from the teal colours in the kimono to match these over the knee sheer socks.
Shop the Look
Contrast Eyelash Lace Crushed Velvet Cami PJ Set
Faux Fur Decorated Flats
Fringe Trim Paisley Embroidered Mesh Kimono
Lace Cuff Over The Knee Sheer Socks
Dinner and a Movie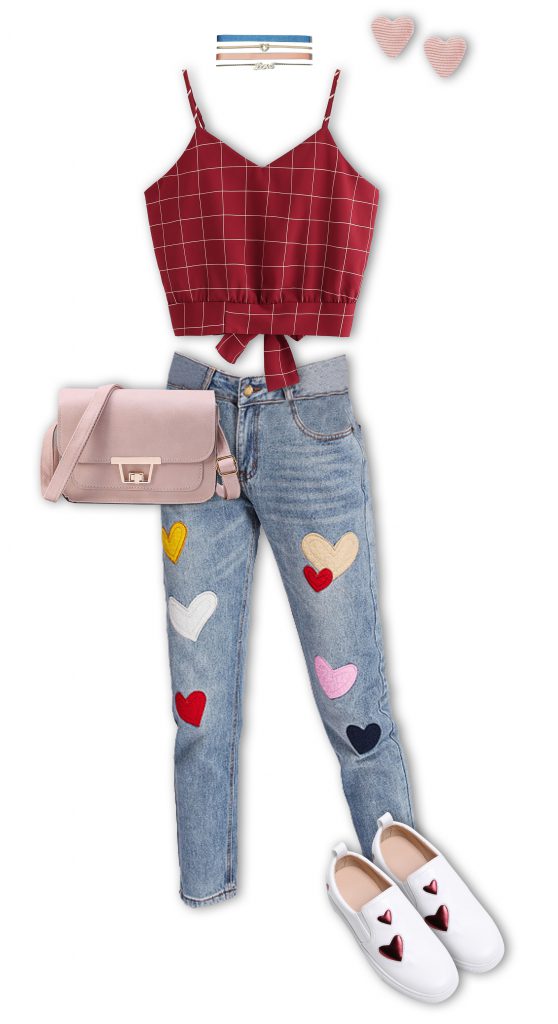 The dinner and a movie casual date is a favourite for a lot of couples but just because it's a low key date doesn't mean you can't look super cute! I may have gone a little overboard with all the hearts in this outfit but I couldn't help myself! This outfit is a great playful and fun outfit in which you will be super comfortable chilling in the cinemas. The embroidered jeans trend is really in right now so you'll get lots of use out of these cute jeans after the fact too. I paired them with a checkered red crop top and some white plimsolls with hearts details for added comfort. Those of you who have been following along for a while will know how much I love to combine pink and red together in a colour palette. These jeans make it even easier because they have already mixed the two colours for you. Taking a lead from the jeans I added in the pink heart stud earrings and the pink crossbody bag. The choker set seemed to match the jeans beautifully as well.
Shop the Look
Checked Tie Back Crop Cami Top
Heart Embroidered Patches Jeans
Heart Decorated PU Slip On Plimsolls
Twist Lock Flap Crossbody Bag
Heart Stud Earrings
Letter Love & Heart Detail Choker Set 6pcs With Box
The Comedy Club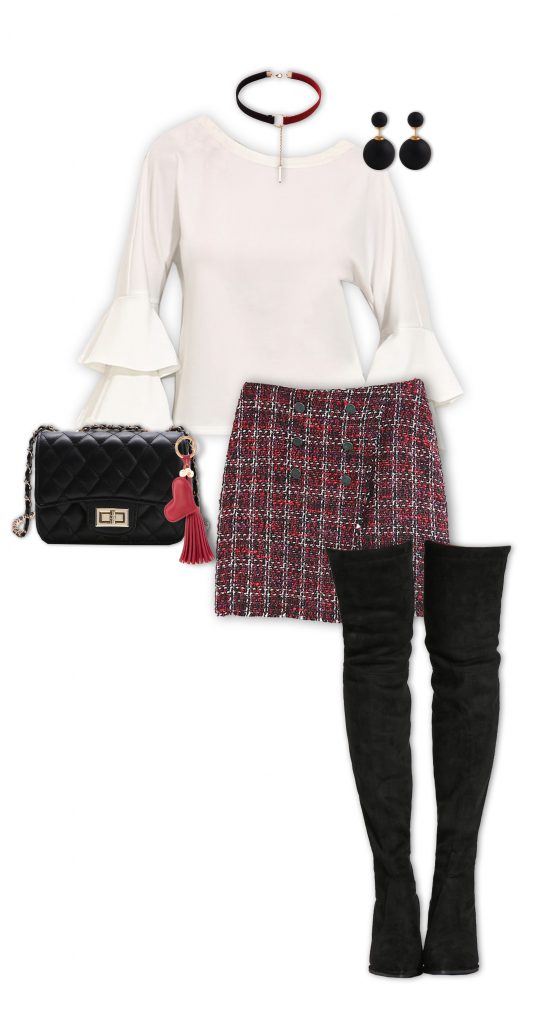 I tuned the hearts down a little for this comedy club date just so you don't draw too much attention to yourself. But if you feel like you are missing out on getting into the Valentine's spirit I've added this little heart key ring which you can style by attaching it to the black quilted cross body bag. This outfit begun with the tweed skirt because I just thought it was too cute to pass up. I styled it with this fluted sleeve top but you could go with a more plain white blouse if you aren't a fan of the statement sleeve trend. For the shoes I just love the look of OTK boots but you could swap them out for some shorter boots if it's too much heat for you in Australia. I do find that the air con can be a bit chilly in comedy clubs thought. These boots have a fairly low block heel so you should be nice and comfy and they also have a pointed toe which will elongate your legs nicely. I finished this look off with a red and black colour block choker and some black earrings.
Shop the Look
Double Breasted Plaid Tweed Skirt
Frill Tiered Fluted Sleeve Top
Pointed Toe Lace Up Thigh High Boots
Black Twist Lock Crossbody Bag
Heart Design Tassel Keychain
Black And Red Metal Ring Bar Pendant Choker Necklace
Black Bead Stud Earrings
Girls Night Out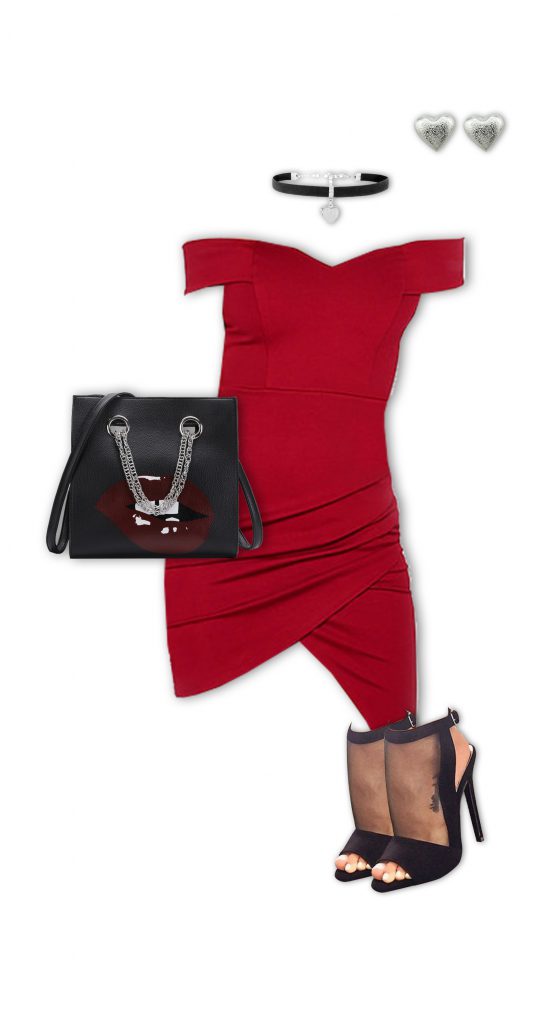 Even if you haven't got a partner this time of year you can still get all dressed up and paint the town red with a girls night out instead. This off the shoulder dress seemed perfect for painting the town red to me. I paired it with these black suede and mesh stiletto heels and this lip print handbag which I think is just the coolest! I couldn't resist adding in some love hearts with this locket choker necklace and these stud earrings which match perfectly. In this outfit you'll be turning heads left and right. Who needs a man right?
Shop the Look
Sweetheart Off Shoulder Asymmetrical Bodycon Dress
Chic Black Suede & Mesh Open Toe Stiletto Heels
Lip Print PU Shoulder Bag With Chain Handle
3PcsSet Gold And Silver Black Love Female Earrings
Heart Charm Velvet Choker
Fancy Dinner Date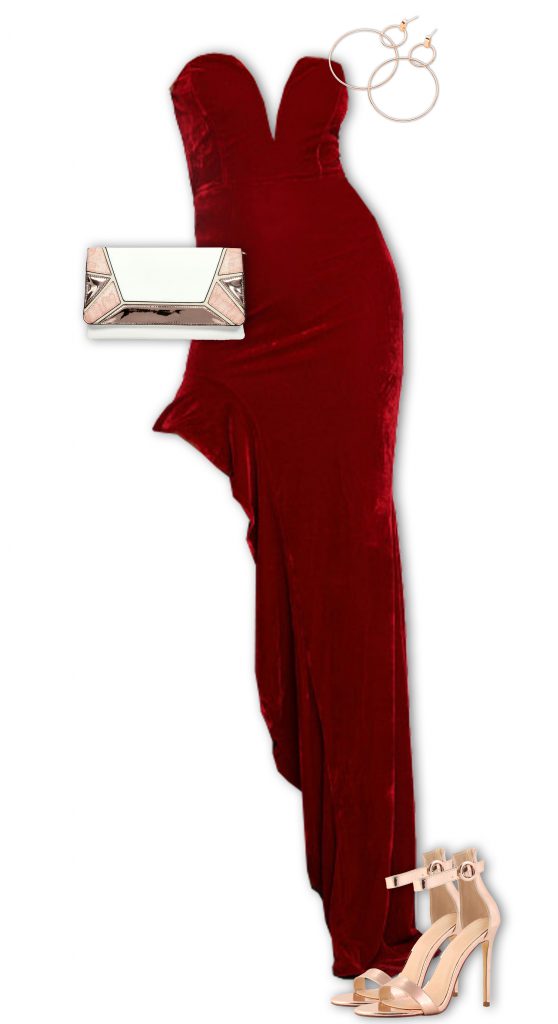 The fancy dinner date is another classic date that you really can't go wrong on. Look the part in this velvet asymmetrical hem maxi dress. Your date won't be able to take his eyes off you. Instead of pairing it with the standard black or nude accessories, I've opted for some rose gold.  Valentine's Day just seems like the perfect time to really make use of the pink and red colour palette. You can't go wrong with these classic strappy stilettos and double hoop earrings. I love this dress but I think my favourite piece is this colour block metallic clutch! It's so unique and pretty. I think I might have to be it for myself even though I'm pretty sure my Valentine's day will be too low key for this outfit.
Shop the Look
Sweetheart Ruffle Accent Asymmetric Maxi Dress
Tia Colour Block Metallic Clutch Bag
Open Toe Metallic Single Sole Heels ROSE GOLD
Gold Double Hoop Earrings
Which of the Valentine's Day outfits is your favourite? How will you be spending Valentine's Day this year? If you're looking for a homemade personal gift for your partner then I have also done up a Valentine's Day DIY Gift Guide. I'll also be doing a Valentine's Day Nail Art Tutorial in the next week or so but if you can't wait until then you could check out my nails from previous years, Valentine's Hearts and Valentine's Day Pink, Silver and White Nails. Hope you have a great day 🙂