January is almost over and it won't be long before Valentine's Day is here. I know it can be quite the struggle to find something to give to your other half or loved ones on this day, especially if you don't want to spend too much money. So what better way to tell them you love them and show that you care than by giving them a homemade present. I've collated some of my favourite ideas on the internet of Valentine's Day DIY gifts that anyone would love to receive. I'm getting in fairly early so there's no excuse! You should have plenty of time to make these!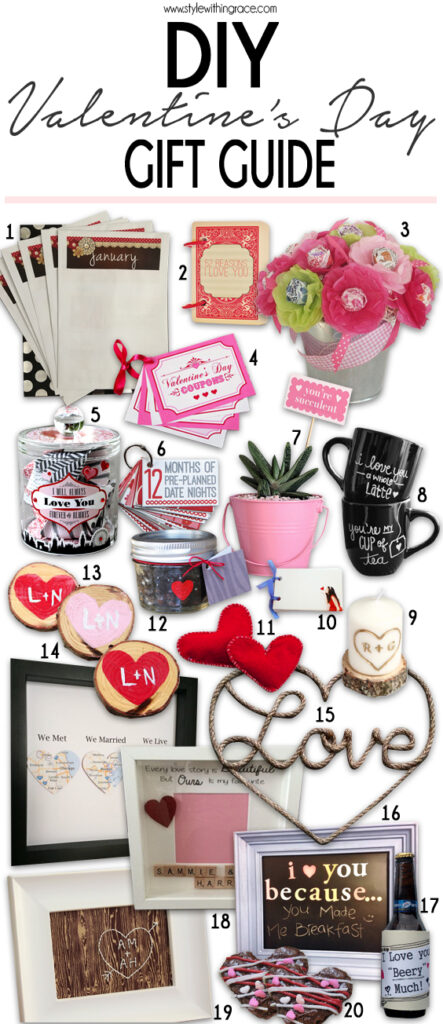 Links to The Projects
1. A Year of Dates (in a Box)
I had to add this one in because it worked a treat for us! You can find my DIY step by step instructions and free printables here. There are two dates a month with a night in and a night out all based around the monthly theme. Some months I also included gifts to go with the dates.
2.  52 Reasons Why I Love You
This one is fairly self explanatory. Get a pack of cards and come up with a reason you love your partner for each card. Clip them all together and you have an adorable heartfelt gift that your partner will be able to look at anytime they need a reminder that they are loved.
3. Flower Lollipop Bouquet
This diy requires very little craft skills and is sure to be a hit for your sweet toothed sweetie. These flowers both look cute and taste great!
4. A Book of Love Coupons
You can't go wrong with a book of coupons because who doesn't want breakfast in bed or a back massage? Get creative and think of new coupon ideas to give too! The perfect gift for even the hardest man to buy for.
5. A Jar of Reasons
I'm not sure where I found this picture but there are plenty of tutorials out there with all kinds of different jars. The premise is simple fill a decorated jar up with little messages of why you love your spouse. A lot of people do 365 messages so that he can open one every single day for a year. It's up to you how many you do. Some people do a mixture of reasons, song lyrics and memories.
6. 12 Months of Pre-Planned Dates
This idea is pretty similar to the year of dates in a box but require a little less organisation and is a quicker DIY. Come up with your 12 ideas and write them on card stock, attach them together with a clip and your ready to go.
7. DIY Valentine's Day Succulent Planters
Whip up some of these sweet little succulent planters for your favorite people! These sweet little planters will last much longer than a bouquet of flowers or a bag of chocolate hearts and the punny plant stakes will make your friends smile.
8. Sharpie Mugs
For the lover of tea or coffee a heartfelt mug is an excellent way to go. All you need are some plain mugs and some sharpies.
9. DIY Carved Initial Candle
This DIY candle carved with initials is easy to make and it makes a great personalized, handmade gift for everyone in your circle. Even more props if you make the candle from scratch too!
10. A Kiss in Your Pocket
This is another super easy DIY but it is also super cute! Create a little flip book of you blowing your partner a kiss in the perfect size for them to always carry with them.
11. DIY Heart Hand Warmers
We've found the cutest way to keep cold hands at bay. How adorable are these heart hand warmers? Tuck them into coat pockets to keep you cozy all winter long. They are the perfect Valentine's gift.
12. Seed Starter Valentine
If your valentine has a bit of a green thumb they will love this little DIY! Give your Valentine something unique this year, try giving them a seed starter that can later double as a votive holder.
13. DIY Heart Coasters
I love the rustic look of the coasters and the sweet sentiment- perfect for Valentine's day or your wedding day!
14. Map Hearts Shadow Box Frame
This is actually a link to an etsy product but you could totally make this yourself. Either find an old map and cut out the hearts around where you met, where you got married and where you live or print a map off from online. Add the titles, frame it and you have a beautiful little piece of art that will remind you where your relationship started and how far its come.
15. Rope "Love" Art
Express your love for your special someone with a sweet sentiment made from rope.
16. I Love You Because… Message Board
This idea can be done in many ways depending on your preference but either way the idea of leaving your loved one messages throughout the day just takes me back to high school! Be intentional about telling your partner you love them with this easy to make message board.
17. Custom Beer Bottles
If your partner is a fan of beer, get something you'll know he'll love and then make it more personal by adding some custom labels. You can find printables online or on Etsy or you can make your own. Come up with some beer related puns or just express your love for him! I bet the beer will taste 10 x better in this gorgeous heartfelt labels than on any other day of the year.
18. Scrabble Personalized Photo Frame
These days we take and have so many photos but very few ever actually get displayed. Make the perfect frame to display some of your favourite memories with scrabble pieces. Look through second hand stores to find an old board game you can use the pieces from and then get your creative juices flowing and decorate the frame however your heart desires. The link is to an Etsy store again but you can just use it for inspiration and create your own!
19. Embroidered Initial Photo Frame
When I saw this cute little art work, I knew I had to include it in the mix. How adorable is it? It's super easy too. If you aren't a fan of all the pink and red on this particular day this is a classy piece of art work you'll be proud to display all year long!
20. Heart Shaped Chocolate Brownies
If the way to your husband's heart is through is stomach then put your apron on and get to baking some goodies! You don't have to choose brownies, you could also go with cupcakes, cookies or even a slice. Whatever takes your fancy and whatever will set his taste buds on fire with love for you!