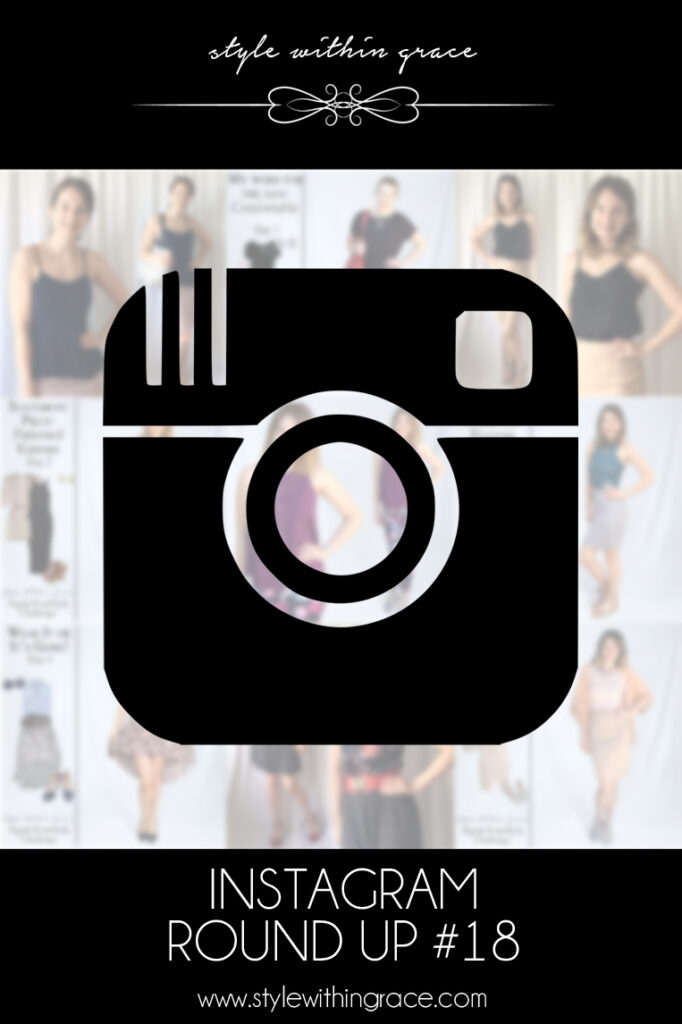 With no monthly style challenges to do this month my posting on Instagram did drop off a little. It was nice to have a little bit of a break but now that I have, I plan to do even more amazing things with my Instagram page this year. Despite having finished my #NewYearNewYouStyleChallenge at last, I still managed to complete a few small week long style challenges instead.
I couldn't help myself when I got the email from Rebecca Jacobs about her Ignite Your Style Challenge she was running for a week. I had to join in of course! Last year I had lots of fun completely her challenge and was ready to do it again. After that was done I had another week off and then decided to do a YouTube video style challenge to go along with my Style Uniform post. Head on over to my Youtube Channel in the coming weeks to see my finished video about that. As is normally the case, I haven't included all the images from my Instagram here. If you want to see more follow me on instagram @stylewithingrace. Now onto the outfits!
Ignite Your Style Challenge: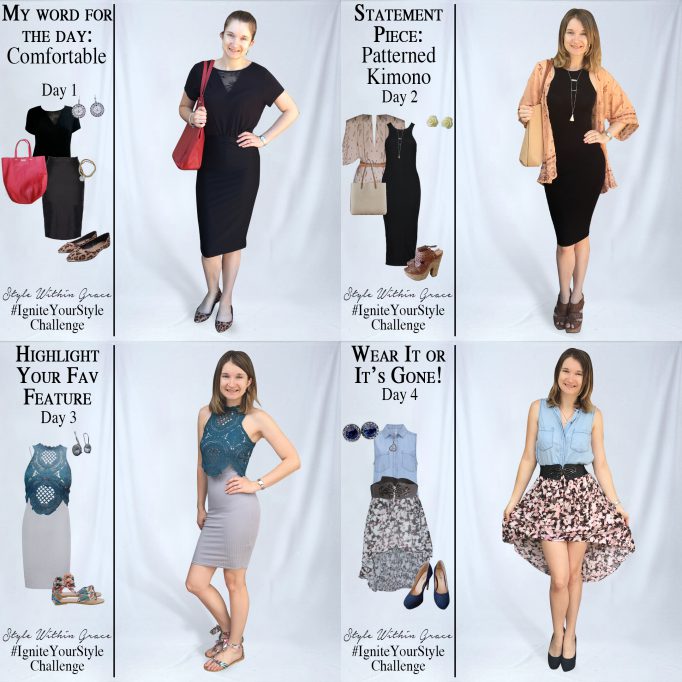 On the first day, the prompt was to pick a word describing how you wanted to feel that day and base your outfit around that. I wouldn't have normally chosen the word comfortable but this particularly day I work up feeling really tired and with the slightest of headaches coming on and I couldn't think of any other word to chose. I still had to go to work of course so I chose my most comfortable office pieces.
This black pencil skirt is made of a really light stretchy material and is almost just so easy to wear. I then paired that with this black t-shirt with a lace v neck detail because it is seriously made of the soft material ever! I'm pretty sure it's actually meant to be sleep wear but I don't think you'd be able to tell that. I had to go ballet flats of course to fit with my comfortable prompt so chose my good old leopard print shoes because I like to have a little bit of pattern in every outfit and this one was looking particularly black. Lastly I finished it off with this red handbag to add a pop of colour. Not something I would usually wear altogether but I did indeed feel comfortable all day long.
The style prompt for day 2 was to pick a statement piece and base our outfit around that. I decided to go with this pink feather print kimono because I have been getting into kimonos in a big way for summer and this was a fairly new piece. I styled it with my new black bodycon dress from Boohoo which I absolutely love! There were light brown hues in the kimono so I thought these shoes and this handbag would go perfectly. I bought this necklace on a whim because I really liked the layered necklace look. When I put it on though, it sits a little bit strangely. I've found it rather hard to find the right neckline to style it with. I think it works alright with this dress though. I think the best neckline to wear it with is a high neckline.
When the prompt email came for day 3 I couldn't help but think about that scene from mean girls. You know the one when they are all looking in the mirror listing something they don't like about the way they look. This day we were doing the exact opposite. It was a nice change to focus on the good features than the bad. To highlight my favourite features I wore another dress from my latest Boohoo haul, this grey ribbed dress. It was rather plain on it's own so I layered this cropped crochet top over it. I then added my floral print lace up sandals which shares the teal colour of the top. I love light lace and crochet tops for layering over summer outfits. They really change up the whole look without adding too much extra heat.
Wear it or it's gone sounds like a cheesy TV game show but it's a great premise to help clean out your wardrobe or just rediscover some old pieces which have made their way to the back of your closet. For day 4 we had to find something we hadn't worn for quite awhile and then wear it that day. If we didn't wear it then we had to donate it. That process was then continued until we did wear something.
I wore the first piece I thought of. I think the reason I hadn't worn this skirt for a over a year was because I got sick of only pairing black and white with it. This time round I had a wave of inspiration and decided to pair it with my sleeveless chambray shirt. Chambray goes with everything, just like denim. It then opened the outfit up to a whole new colour I'd never paired with the skirt before – blue. I then brought out my navy heels and stud earrings. I finished off the look with a wide black belt and a dainty silver chain necklace inside the collar.
Style Uniform Challenge: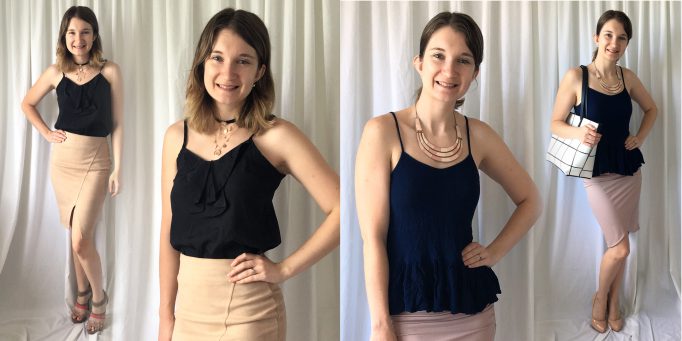 This month I also took on another self enforced style challenge. After writing my post about Style Uniforms and discovering what my style uniform was, I figured I should give it a wear. I wanted to explore the benefits that having a style uniform supposedly had and see if they rang true. Thus I set out to wear my style uniform of a pencil skirt, singlet top and heels for a week. I did swap out the heels for sneakers on the weekend though. Ain't nobody got time for heels on the weekend when all you're doing is hanging around home and doing chores. I vlogg about this challenge in much more detail on my YouTube channel so head over there to watch the I wore my style uniform for a week challenge video.
Only a couple of my style uniform outfits made it onto Instagram, Day 5 and Day 3. For day 5 I kept to a fairly neutral colour palette adding just a small pop of pink within the heels and the rose gold of the choker necklace. I wore a fair few choker necklaces this week as I'd just bought a whole ton of them during a 3 for $10 sale at Lovisa. On day 3 I wore the muted blush wrap skirt from my eBay mystery haul and paired it with this navy blue peplum top for a bit of a different silhouette. I finished this look off with nude pumps and this pink statement necklace. I couldn't resist wearing my newest bag addition with this outfit as well. This checkered pattern is just to die for don't you think?
I had fun wearing my style uniform and also taking part in the Ignite Your Style challenge this month. Next month I have more week long style challenges in store so make sure you are following along. If you had to pick a style uniform for your life what would it be? Which challenge prompt was your favourite? See you next month 🙂