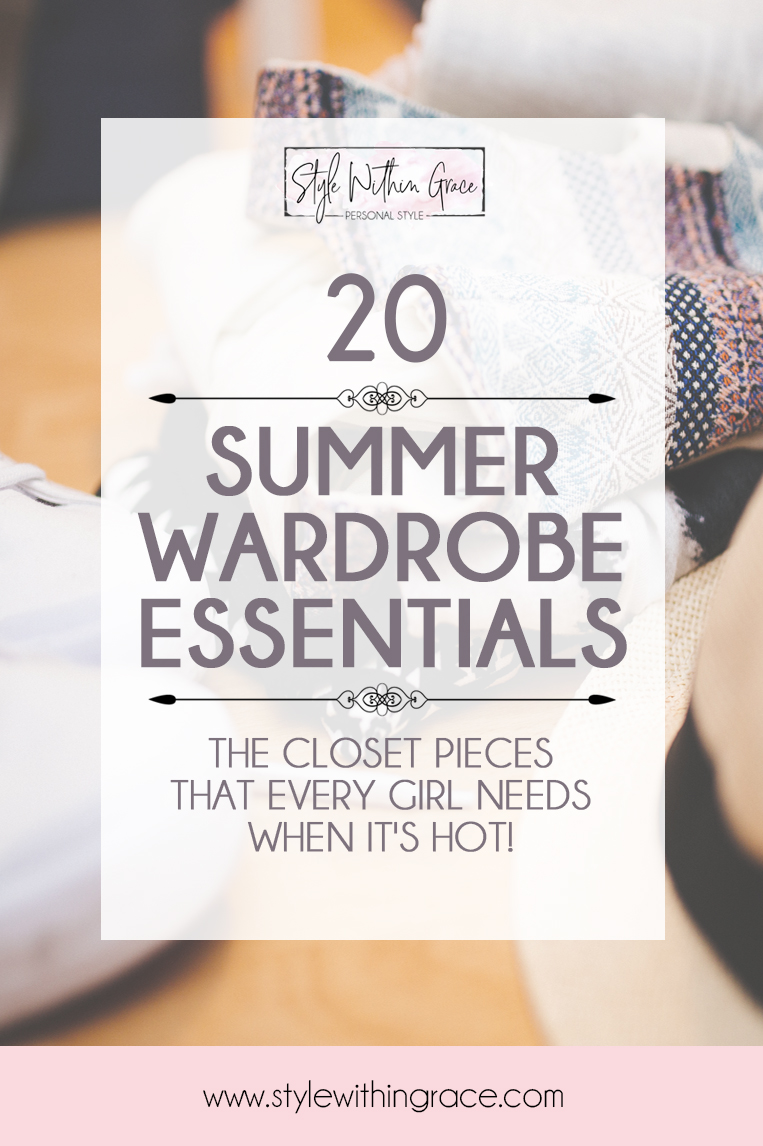 Summer sure is in full swing now, don't you agree? I've really been feeling it lately because my car has decided this is the perfect time for my air conditioning to die. I'm sure you are all familiar with the palm steering method when the steering wheel is just too darn hot to touch! Yea that's me lately. Summer in Australia is particularly brutal! Staying cool is usually the priority and the looking cute part can fall by the wayside. The summer style fatigue can set it. I have put together a list of my summer wardrobe essentials to help you stay cool and look cute at the same time to help you have your most chic season yet.
Trends are all well and good but you can't have the frosting without the cake or at least you shouldn't. Your essentials are the items you turn to in order to create almost every outfit. They are what keeps your wardrobe cohesive, re-mixable and usable throughout many seasons. Everyone's essentials are going to be different depending on style, job, budget and age among other things so this list is more of a suggestion than hard and fast rules. Take into consideration your own circumstances and adjust accordingly.
My 20 Summer Wardrobe Essentials:
1. White T-Shirt

ONE | TWO | THREE | FOUR | FIVE
This is at the top of almost everyone's summer essentials list. Possibly the most versatile piece in my wardrobe, the white t-shirt goes with just about everything and never goes out of style. While not the most exciting piece on it's own, pair it with shorts, skirts, maxi dresses and jeans alike and you'll never go wrong. I also love my grey t-shirt as well. It is just as versatile and re-mixable as my white t-shirt but is slightly less difficult to get dirty. Anyone else have issues wearing white?
Most t-shirts look pretty much the same but there are a few elements that can make a big difference. The first thing to take into consideration when buying a white t-shirt is the neckline. The three main options are scoop neck, crew neck or v-neck. The v-neck is universally flattering and is what I currently have in my wardrobe. Fit is another very important element. The slouchy fit is definitely what's in at the moment but a more form fitting t-shirt has a completely different and more polished look to it. It all depends on personal preference. Length, pocket details and material are also things to think about when buying a white tee. Shorter shirts are good for pairing with high waisted shorts and skirts while the extra coverage of a longer shirt works well with jeans.
Cotton is the most popular fabric for T-shirts possibly because it is very affordable and is ideal for everyday wear. It is is soft, sturdy, and breathable but does wrinkle a little. Another great fabric choice for summer is linen which is lightweight, breathable, and also moisture-wicking. It gets softer the more you wash it but is even more prone to wrinkles than cotton and often requires ironing. Polyester is a strong and sturdy choice. It is quick drying, does not mould and is very easy to wash and dry, retaining its shape wash after wash.
Other fabrics include lycra, a very stretchy material, and rayon, silky, breathable fabric, both often found in sports wear. Most t-shirts come in blends of the above though. A popular choice is a cotton and polyester blend as you get the best qualities from both. Shirts made from this blend remain cool and light, yet also have the strength and wrinkle-resistance of polyester.
2. Denim Shorts

ONE | TWO | THREE | FOUR | FIVE
I have been on the hunt for the perfect denim short for quite some time now. A few weeks ago on a trip to my local Westfield shopping centre I think I tried on about 20 pairs and that is not exaggerating much. Alas I have still not found my denim short soul mate but I will keep trying. The problem is I know exactly what I want and none of the pairs I've found meet all my criteria. The type of denim short you decide to go for is completely up to you.
Choose between black, white, dark, light, medium or even acid wash, high waisted or low rise, frayed or rolled hems, and of course the length. There are also denim shorts with lace detail, embroidery, studs and more! For me my perfect denim shorts are high waisted, sightly distressed with a frayed hem, with plenty of coverage on the backside and absolutely no pockets hanging out the bottom! What are your perfect shorts like?
3. Tank Tops or Singlets

ONE | TWO | THREE | FOUR | FIVE
I have so many of these in just about every colour, black, white, striped, pink, purple, green and mint. I have probably overdone it a bit but these are so good for layering anything low cut or see through over to create some light and airy summer layers. They can of course just be worn as is as well with any bottoms under the sun.
4. White Sneakers

ONE | TWO | THREE | FOUR
Sneakers in a nice, crisp, clean, white are perfect for busy summer days or lazy weekends. They have a cool, casual vibe that is so fun to wear this time of year. They're perfect paired with jeans, shorts, skirts and casual dresses. You can go the converse route or there are also plimsoll, slip-ons, athletic kicks, and high top basketball sneakers.
5. Swimsuit

ONE | TWO | THREE | FOUR | FIVE
If you are like me and adore the beach or the poolside, a swimsuit of some kind is absolutely essential. I have quite a few different pairs and alternate which ones I wear. There are just so many cute ones out there I couldn't settle for just one. One pieces are a good all round option if you are just wanting one swimsuit and if you like a bit more coverage but a lot of people can't go past a cute bikini. One pieces can actually also be worn as a top, like a body suit so keep that in mind when shopping for them.
Other things to think about are underwires, padding and how well they are going to stay in place in the waves or while getting active in the water. If you just use a bathing suit for sunbathing then also think about strap tan lines. A good bathing suit cover up is another great item to have. This could just be your denim shorts and a tee or you could get a kimono or light summer dress. Flip flops are also a good thing to have handy and don't forget a cute beach bag.
6. Sunnies

ONE | TWO | THREE
FOUR | FIVE | SIX
While I'm on the beach side wave length, a good pair of sunglasses are another must for me during the hotter months. There are so many cool designs out there at the moment but I recommend making sure you get ones with UV protection. Other than that work out which style works best with your face shape and rock them with pride whether they are aviators, round or cat eye designs.
7. Straw Hat

ONE | TWO | THREE | FOUR
Perfect to protect you pretty face from the harmful sun rays this season and it doesn't hurt they it also looks super cute! No matter what style, fedora, panama, boater, trilby, cowboy or floppy, the straw hat is an excellent wardrobe staple for the summer time.
8. Comfy Sandals

ONE | TWO | THREE | FOUR
Sandals are my go to shoes for the summertime, both heeled and flat. Buying sandals in neutral colours is a great way to make sure you get the most out of them and wear them often but if you are a shoe addict like me you can also find some really unique colourful ones. I personally prefer tan or cream as my summertime neutral as it's just a little less harsh than black and jives better with the season in my mind.
9. Colourful Crossbody Bag

ONE | TWO | THREE | FOUR
FIVE | SIX | SEVEN
I definitely think summer is the time for bright and fun colours and a crossbody bag is a great way to add a pop of colour to your outfit without going overboard. Crossbody bags are also much lighter and cooler to carry around with you than your typical handbag.
10. Chambray Shirt

ONE | TWO | THREE | FOUR | FIVE
Chambray shirts just have a very beach-side feel about them and work as great cover ups or lightweight layers if it does get a little windy. You can also get a sleeveless version. Just like the plain white tee, these go with everything and are super versatile. Visit my How to Wear a Chambray Shirt post if you are looking for ideas on how to style these.
11. Ballet Flats

ONE | TWO | THREE | FOUR
Ballet flats are a great footwear style for summer. They can be worn just as easily with jeans or pants as it can with a dress or skirt. You can never go wrong with a standard black style but I love my floral print and leopard print ones. I like to go for a pointed toe ballet flat as it elongates the leg and looks more professional and polished.
12. Kimono

ONE | TWO | THREE | FOUR | FIVE
The kimono is not everyone's cup of tea. In fact, I wasn't always a fan. I used to think they were pointless. Being a cold body, I thought the purpose of outerwear was to help warm you up and thus wanted full sleeves on all my outerwear. I didn't see the point of putting on outerwear that didn't serve that purpose but as I've become a layering addict, I've realised that lighter outer pieces are essential for being able to layer in summer.
Layering these kinds of pieces over your other basic summer staples can really change up the whole outfit! It adds a layer of interest without as much warmth. I am a particular fan of the floral kimono but I also have ones with a paisley and feather print. Just makes sure to choose a breathable fabric because you are not going to want to layer something over the top of your outfit if it is adding too much extra heat.
13. Summer Dresses

ONE | TWO | THREE | FOUR | FIVE | SIX | SEVEN | EIGHT
By summer dresses I mean anything that is easy to slip on and cool to wear. Long, billowy, and breezy maxi dresses are a good choice but so are slip dresses and t-shirt dresses. It's all about the material here too to make sure you stay nice and cool in it all day long.
14. White Button Up Shirt

ONE | TWO | THREE | FOUR | FIVE
For this time of year, I stay away from the more structured white button up shirts and go for one with a relaxed fit in a nice, thin, breathable material. This can be worn in the office but also taken out on the weekends. Pair it with jeans, shorts, skirts, and under dresses.
15. Crop Tops

ONE | TWO | THREE | FOUR | FIVE
Crop tops has made it to the list because wearing as little clothing as possible is usually preferable when the mercury rises. Staying decent though I would tend to only pair these with high waisted items so you only show just a slither of you mid section.
16. Culottes, Palazzo or Wide Leg Pants

ONE | TWO | THREE | FOUR | FIVE | SIX
Just as long as you buy these in the right materials even though they are fairly long pants they can be nice and cool still. The billowy design of both these pants means that your legs stay ventilated. Visit my How to Wear Culottes post if you looking for ideas on how to style these.
17. Dress Shorts

ONE | TWO | THREE | FOUR
Maybe not an essential for everyone but I love having shorts that look a little more dressy than my good ole denim ones.They can be dressed up or down with heels or flats and can be bought in solid colours or fun patterns. I have a fair few floral print ones as well as some stripes.
18. Skater Skirt

ONE | TWO | THREE | FOUR | FIVE
Skirts are definitely summer wardrobe essentials in my book. I particularly like the skater style because it's loose and not too hot while still looking extremely cute. A basic black one is incredibly versatile but branch out into some other colours to add some more interest to your closet.
19. Lightweight Cardigan or Denim Jacket

ONE | TWO | THREE | FOUR | FIVE
You don't need a lot of outerwear in the summer but it is always essential to have something! A lightweight cardigan or denim jacket is so very important just in case the evening breeze is a little too much or the air con is too cold. You'll be prepared and warm if the temperature ever decides to drop. A white blazer is another great option if you work in an office environment.
20. Statement Earrings

ONE | TWO | THREE | FOUR | FIVE
When it comes to summer accessories, I tend to take the less is more route simply because the less things I have touching my skin the less I'll sweat, meaning the more comfortable I'll feel. Statement earrings are great because they don't touch your skin at all! All the added style without the irritation from metals and sweat mixing on your skin.
Items That Didn't Quite Make the Cut
I did contemplate adding in playsuits to this list. They are a great piece to keep you cool and don't require much to put together as a look but I have yet to find one that sufficiently fits me. Apparently my torso is rather long and whenever I try on these bad boys, I end up with a less than flattering permanent wedgie look. I will keep searching for the ever elusive perfect play-suit but until then these just don't make it to the list. Jeans were another item I thought about adding to the summer wardrobe essentials list. I know they are an essential all year round for some but mostly I find them too hot to handle in the summer. I'm quite happy to pack them away until autumn.
Other than that did I miss anything out that you would count as an essential? Let me know in the comments. May your air con always work and your water always be chilled. Have a safe and happy summer!