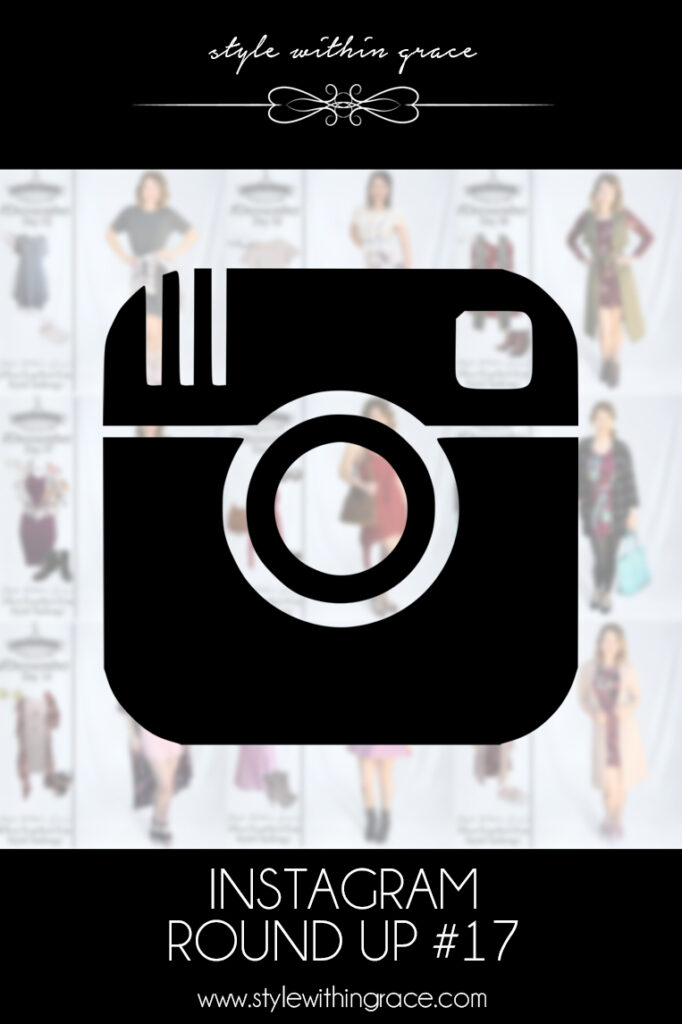 I did not expect Dressember to be as difficult as it was! I went into it hoping to wear as many of my dresses as I could and I did get through a lot of them but also realised that half of my dress collection are winter dresses and then half of the remaining dresses are evening gowns and cocktail dresses so that really didn't leave me with all that much. After wearing some of my dresses as well I decided to give some away for being just too short. Now I have even fewer summer dresses! I think I'll have to add that to my "to buy" list. Did anyone else decide to take part and wear only dresses? Tell me how you went in the comments below.
As for the fundraising element of Dressember, that was hard too but that wasn't so much of a surprise. I've always struggled with fundraising. As a kid, I used to take part in the read-a-thon and the 40 hour famine pretty much every year. I was more than happy to do the challenge but I hated asking people to sponsor me. Seems like nothing has changed. Dressember is such a good cause. I hope at the very least I have raised some awareness about sex trafficking and world slavery. If you haven't donated to my page yet, I think it is open for a little while longer. Even just a fiver would be amazeballs!
All the funds donated go to rescuing victims who have been forced into the commercial sex trade, serving justice against traffickers, pimps, and criminals, and ensuring that all victims are well represented in court, as well as providing treatment to those affected to help restore their lives. The people at the Dressember foundation do such great work! To sweeten the deal to anyone who donates last minute, if you donate $50 or more I'll give you a free 30 minute styling session with me. Just make sure you leave me a way to get in contact with you/ send me an email if you want to take me up on this offer. Now onto the outfits!
Week 1: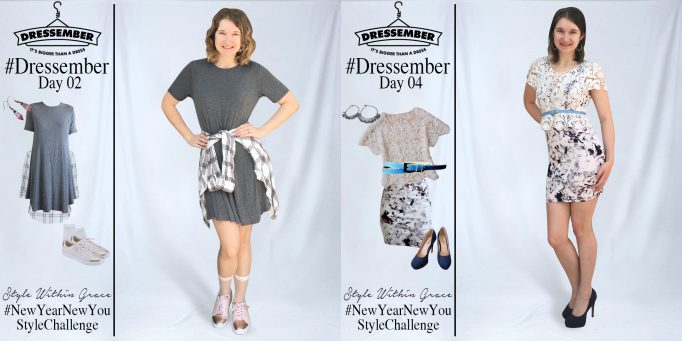 Week one was of course the easiest week because I had just started out. I didn't feel sick of all my dresses at this stage. I played around with layering a bit with day 2, adding a plaid shirt tied around my waist and some fishnet socks under my awesome rose gold toed sneakers. Kmart don't have the exact same sneakers any more but these are similar. As for my fishnet socks, I of course scored them very cheaply off eBay. For Day 4 I pulled out my very versatile crochet top and chucked that over the top of a too low cut dress and made it work appropriate. Unfortunately this one seems to have sold out on eBay now. This is the most similar one I could find. I really liked the addition of the thin blue belt as well for a pop of colour.
Week 2:

What a massive mix of different dresses for week 2! I started the week off by dressing down this red dress which I always thought was just for special occasions. It was the dress I wore for my engagement party but I think it works in a more casual outfit as well with this fringe bag and my leopard print flats (similar). My outfit for Day 12 looks almost winter like. While it was a little colder that morning, I didn't keep the coat on for long. I love all these elements together though! The mint handbag matches with the dress perfectly and the print mix with the black grid pattern coat is so chic!
Lastly the thin silver belt just adds more to the cool factor with a little bit of shine. Finally my day 14 outfit is nice and flowy and girly! I've gone for a pink and red colour mix again and I'm seriously becoming obsessed with this colour palette. The dress was a thrift store find but the you can score the floral kimono at Shein. It's one of my favourite new purchases this summer.
Week 3: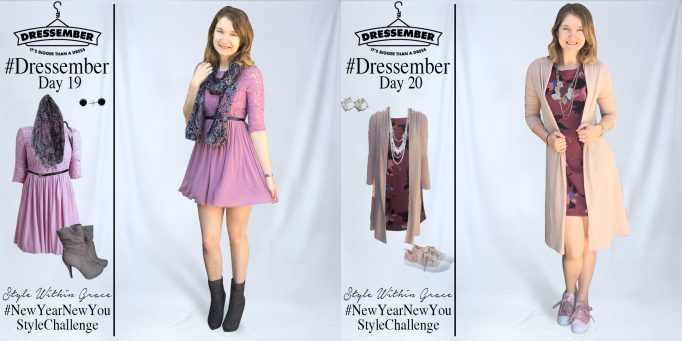 It's amazing the difference a scarf can make to an outfit! Without it day 19's outfit looked a little boring but now I love it! It just looks so cute. This scarf is a fairly old purchase now but I'm loving some of the scarves in stock at the moment! This one, this one, this one and this one are my favourites!
I love the cardigan with this dress on Day 20 but it didn't stay on for long again. Summer really is the enemy of layering. I never thought I'd say this but I do somewhat miss winter for it's layering capabilities. I think you can tell I'm a little stuck in the cooler weather mindset from my outfits. Even these cute pink velvet converse type sneakers are more wintery than summery but I love them anyway. They also come in grey by the way. If you were looking to add some velvet to your wardrobe I'd totally recommend them.
Week 4: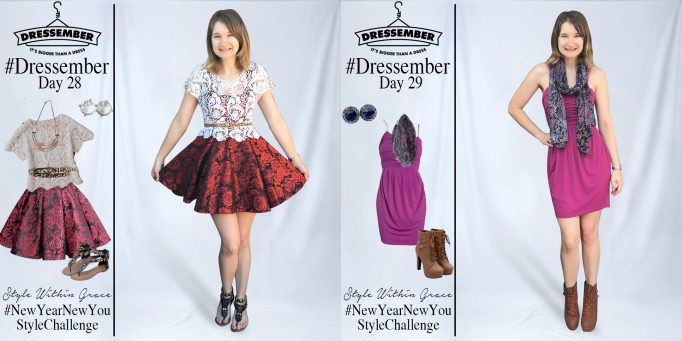 Ah the last week of December! The time which seems to exist outside of the universe and the time just slips away until you have no idea what day it is. Except that I still had to go to work. 🙁 It wasn't very busy though so it was ok. It seems I saved all my creative juices up til the last minute because I love some of the combos I came up with this week. I often find styling dresses in the summer can be a bit boring because shoes and jewellery only change an outfit up so much. The dress still looks the same.
Enter my amaze-balls crochet lace top which apparently looks good layered on top of just about anything! Not only does it dress down this rose print evening dress, it also mixes it up a little more and of course looks super cute. I included some pattern mixing to the outfit too with my leopard print belt. Just to make the outfit even more unique, I played with a pink and red colour palette again but adding in this pink statement necklace. I also kept it nice and casual with these black sandals which are super comfortable and perfect for the summer.
Instead of a lace top, I layered a paisley patterned scarf over my dress for Day 29. When the air con got a little chilly at work that day I was very thankful to have it. I turned it into a kimono to keep my shoulders warm by folding it in half and tying two corners together as arm holes. This dress is a old one! I've had it for ages. I think I originally bought it off eBay for really cheap but it was actually really good quality and I have gotten a lot of wear out it. Lastly to make this outfit complete I wore these tan brown lace up ankle boots which are some of my favourite boots. Mine are starting to look a little worse for wear after about 5 years. I might need to get myself another pair because I don't think I could ever part with them!
See You Next Year!
And that not only ends my month of wearing dresses but it also sees the completion of my year long #NewYearNewYouStyleChallenge. It's quite amazing all the outfits I came up with this year and all the challenges I completed. Take a look back at all of it on the #NewYearNewYouStyleChallenge page. If you missed any of the challenges you are more than welcome to start over next year and do the challenges then. I'll be taking a bit of a break from the style challenges for a while and might instead complete a few week long ones for YouTube. The new year will show the beginning of my YouTube channel. I'll be uploading my first video in the first week of January so keep an eye out for it. I will of course let you know when that goes live. For now, I guess I'll see you next year!