My first attempt at nail art that is slightly more complicated then adding a nail sticker. My nail art brushes arrived in the mail last week and I figured it was time to give them a try. It was so hard to decide on a Christmas design with all the options out there but I figured this time I would go with presents, as it would work for my uncles 70th birthday party I was going to on Saturday as well. My first few nails on my left hand worked out really well but then my white nail polish got really watery and I couldn't get the brush to do a solid stroke. I think I need to update some of my polishes with more Addictive colours.
These are my new nail art brushes. I got these off eBay and I am really happy with the quality.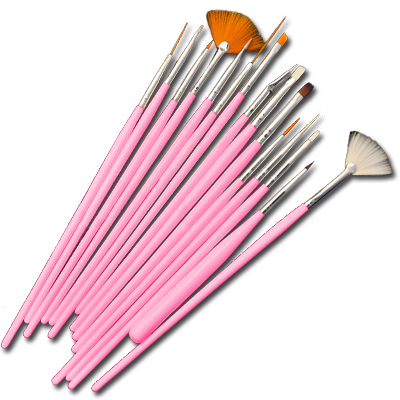 I have recently gotten into Addictive UV Gel Nail polish as they are such good quality and last a lot longer than most other nail polishes. I'm still building up my collection. I bought the Ruby colour thinking it was a glittery red colour but kind of turns out more pinky when it's on your nails. Check out my Poison Ivy Nails which while it was designed to go with my Poison Ivy Costume it could also be used festively as well.
What I used this week:
– Addictive Top and Base Coat
– Addictive Ruby
– Addictive Silver
– White Kand Nail Polish
– Nail Art Brushes
– Diamantes
– KDS Cleanser Plus
– 9W Nail Art Lamp