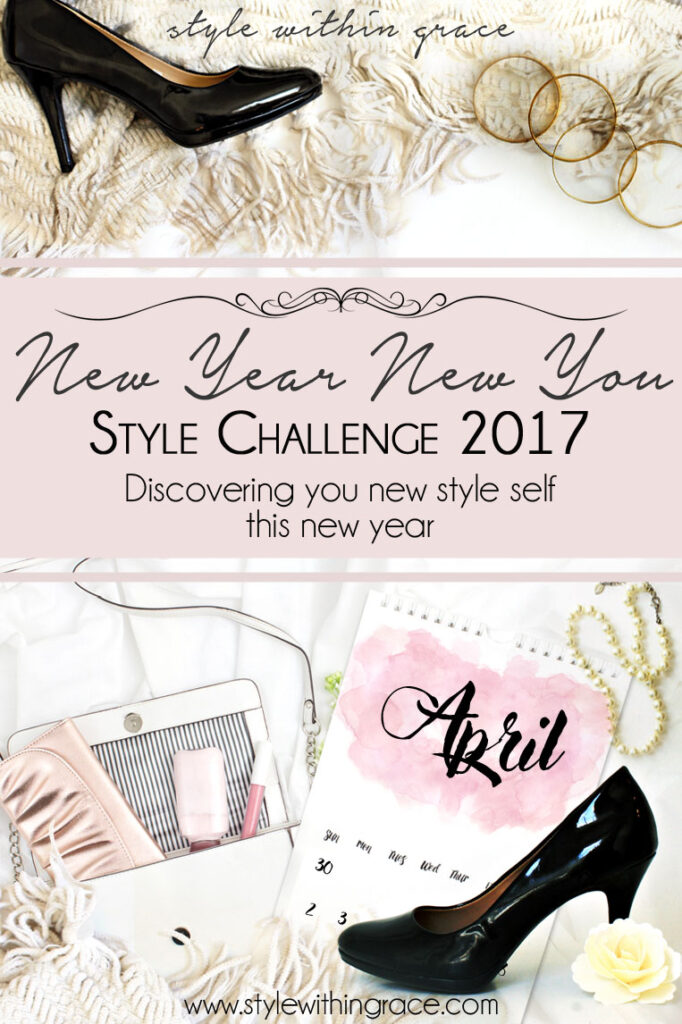 New Year New You Style Challenge
We are continuing on with our #NewYearNewYouStyleChallenge this month. Go back and check that out if you are only just joining us. It's never to late to join in.  After getting a little overwhelmed with all the outfit possibilities during last month's challenge, I wanted to take it back a notch this month and focus more on simplicity. I thought taking a minimalist approach to style and getting dressed in the morning would be freeing and less complicated. But I think I struggled even more this month because the minimalist style is out of my comfort zone. I didn't have the pieces in my wardrobe to create enough interesting and diverse outfits for the entire month.
I quickly came to realise that I really don't have that many neutral pieces.  Also as it turns out, the pieces I did have were kind of boring on their own. Minimalism is all about using simple, clean lines. Instead of using colour and patterns to create interest, focus more on mixing textures and creating flattering silhouettes. I'm not really sure I achieved that very often. I think my biggest problem was that it was still so hot here. I need the extra layering pieces to create more dimension and more interesting silhouettes. But I couldn't stand to wear them without sweating my butt off.
I took it really easy with the instagram challenges throughout March because I didn't want to mess with my monthly challenge and the whole idea was to keep things simple. A lot of the daily prompts were against my rules I had created for the challenge. Head over to my Instagram Round Up this month to see how I went with #MinimalistMarch. Here are a few examples of outfits I came up with this month.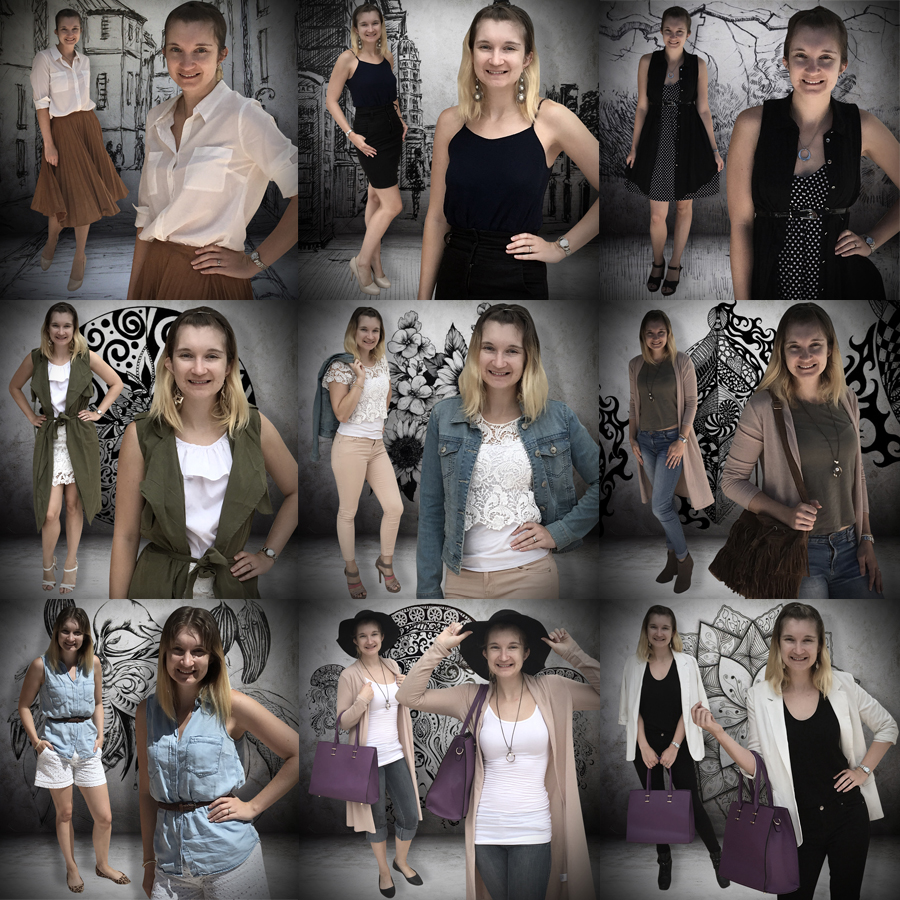 Thirty in Thirty April
Remember last month when I talked about how minimalism could also be taken as having less but making sure that everything you do have fits your aesthetic taste and lifestyle perfectly? You guessed it, that's what I'm going to be exploring for this month's challenge. Essentially, I'm going to be doing a capsule wardrobe for the month. I have explored capsule wardrobes before in a post from two years ago, Exploring the Capsule Wardrobe World. But I didn't really stick to it for any period of time. I wouldn't say that I have fully committed to the capsule and haven't been fully challenged by it yet. I'm keen to actually see how I go remixing 30 items for 30 days.
I said that Minimalist March was sort of like a capsule wardrobe. But I then had a count of how many clothes I actually had to choose from in the appropriate colours and patterns. Lets just say it was a lot more than 30. It may have felt somewhat like a capsule but in reality it wasn't nearly as strict as a capsule wardrobe would be. It's amazing that capsule wardrobes have been around for so long now but are still very much on trend. I guess the idea of filling your closet with clothes you actually love rather than just tolerate and taking out some of the decisions in your life really does resonate with most people. Capsule wardrobes have been taken a little out of context though as I have found out through Kelly Dougher's article called "You're Doing the 'Capsule Wardrobe' Wrong".
"A capsule wardrobe was defined as a compact wardrobe made up of staple pieces in coordinating colours–usually in the realm of 30 items or fewer, including shoes and sometimes even accessories. It was even suggested fewer than a dozen items was an ideal capsule wardrobe. One might update the wardrobe with a couple of new trendy or seasonal items two or three times a year, but that was it. The goal was to have a streamlined wardrobe of high-quality pieces that could be worn often and interchangeably, thereby saving money, closet space, and time." (Bougher, 2015)
Capsule wardrobes were meant to last the entire year and now the 30 items (often more) is only lasting for a season. The term seems to have been skewed and tacked onto just about anything. Instead of being about simplicity and saving money it's almost become about creating the perfect re-mixable wardrobe. It seems to encourage buying more clothing in the process instead of focusing on buying less. "The whole point of a capsule wardrobe is for people who are on a budget or dealing with minimal closet space to be able to stop making multiple purchases every two to three months and still have a serviceable wardrobe." (Bougher, 2015)
Keeping this in mind I'm not really sure I can call what I'm doing a capsule wardrobe. Thus why it's just #ThirtyinThirtyApril. By only doing this for a month and not a year, I'm not completely getting behind the tenets of the concept. This is just a taster and who knows, one year I might commit to it the whole way. But I'm not ready to do that yet. This is still incredibly paired down to what I'm used to. I'm sure this will be a challenge for me in itself.
Just because the minimal trend is popular right now doesn't mean it will work for everyone's lifestyle or tastes, and that's fine. I do agree that it's important to be mindful of how you go about doing a capsule wardrobe for yourself though. "Lest you fall into the trap of using your capsule wardrobe as an excuse to buy more things that you 'need' to make your wardrobe "perfect." Nobody's wardrobe is perfect, whether it's minimal and streamlined or chock-full with trends." (Bougher, 2015)
My self determined rules for #ThirtyinThirtyApril:
– Only wear 30 predetermined items for the next thirty days
– Doesn't include sleepwear, socks, underwear or active wear
– Doesn't include jewellery
– Does include accessories like shoes, handbags, scarves and belts
There it is. It's that simple.
Or at least it sounds simple.
We shall see just how simple
it is I guess.
There are a few different ways to decide on which pieces you will use in a capsule wardrobe. The last time I wrote about it I went through all the pieces in my wardrobe and put all the pieces I absolutely loved into a pile. I chose from those pieces to make up my capsule wardrobe. I then went back and chose basic pieces that would complement and mix well with those LOVED pieces.
This time I actually used the packing section in my Stylebook app to plan which items I was going to include. I started by figuring out a loose colour palette for Autumn; grey, black and beige/cream for my neutrals, burgundy and eggplant purple for my main colours and navy blue and white as my complimentary colours. The less colours you chose the easier it is to pick items that go together cohesively and are completely re-mixable.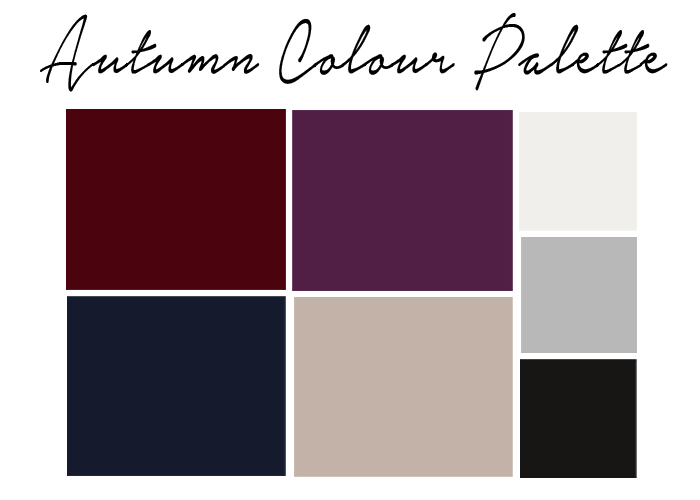 After choosing my colour palette I made a basic plan of how many tops, bottoms, shoes, outerwear and accessories I thought I would need which as it turns out I didn't really stick to. I went through my Stylebook app and chose pieces that were seasonally and life style appropriate (aka could be dressed up for the office) in colours in my palette. I didn't worry too much about sticking to 30 pieces at this stage. After I'd gone though each category and chosen my favourite pieces I went back and edited out pieces which either didn't work with majority of the other pieces or just didn't work as well as another similar piece that was already there. I kept editing out items until I ended up with 30 pieces.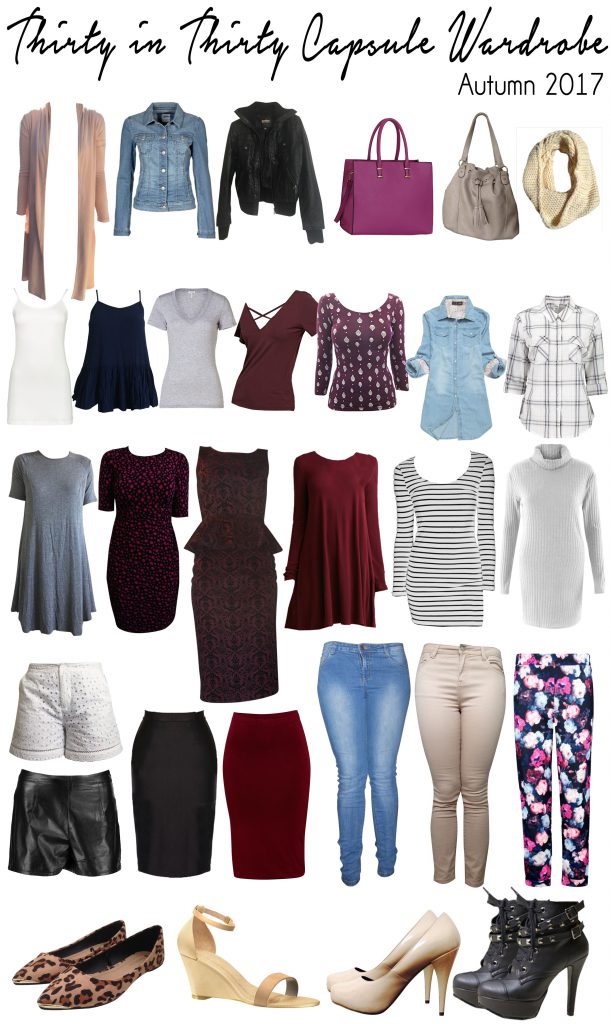 In the end, I decided to go with; 3 pieces of outerwear, 4 pairs of shoes, 6 dresses, 2 skirts, 2 shorts, 3 pants, 7 tops, 1 scarf and 2 handbags to make up my 30 piece wardrobe. I'm feeling confidant that with these pieces I'll be able to come up with a lot of great outfit combos. A few of the dresses I'll be able to use as tops. While others will work great for layering shirts over the top of to make them look like skirts. I should have a lot of options. Button-up shirts are great too. They can be worn as stand alone tops or left undone and layered over the top of other pieces like outwear.
It's funny that even though I have permission to wear bright colours and wild patterns again I've gone for a fairly subdued mix of clothing. There is really only one piece that has out there colours and patterns. Maybe #MinimalistMarch rubbed off on me more than I thought it would.

I'd love to see what you come up with!
I'll try and post the outfits I come up with to instagram everyday.  I've made a re-mixable capsule wardrobe chart to show all the outfit combinations these clothes can make. This isn't even all the combinations possible but I got very sick of making this chart as it was. There are seriously so many combinations… I think I came up with 60 outfits above. I hope some of you out there will join me in challenging yourself to a capsule wardrobe for a month. If you don't like it you can always go back to your many clothing options when the month is over. You may just find that you feel liberated. Perhaps you were able to focus the decision making power you would have spent trying to decide what to wear in the mornings, on other things.
You don't have to post everyday but you can if you want to. I would love it if you did post. If you post on Instagram you can use #ThirtyinThirtyApril and please tag me in your photos @stylewithingrace or you can post to the Style Within Grace Facebook page as well. I really get a thrill out of seeing how other people remix their clothing. I hope you will share it with me
Good luck and may the re-mixing odds be ever in your favour!