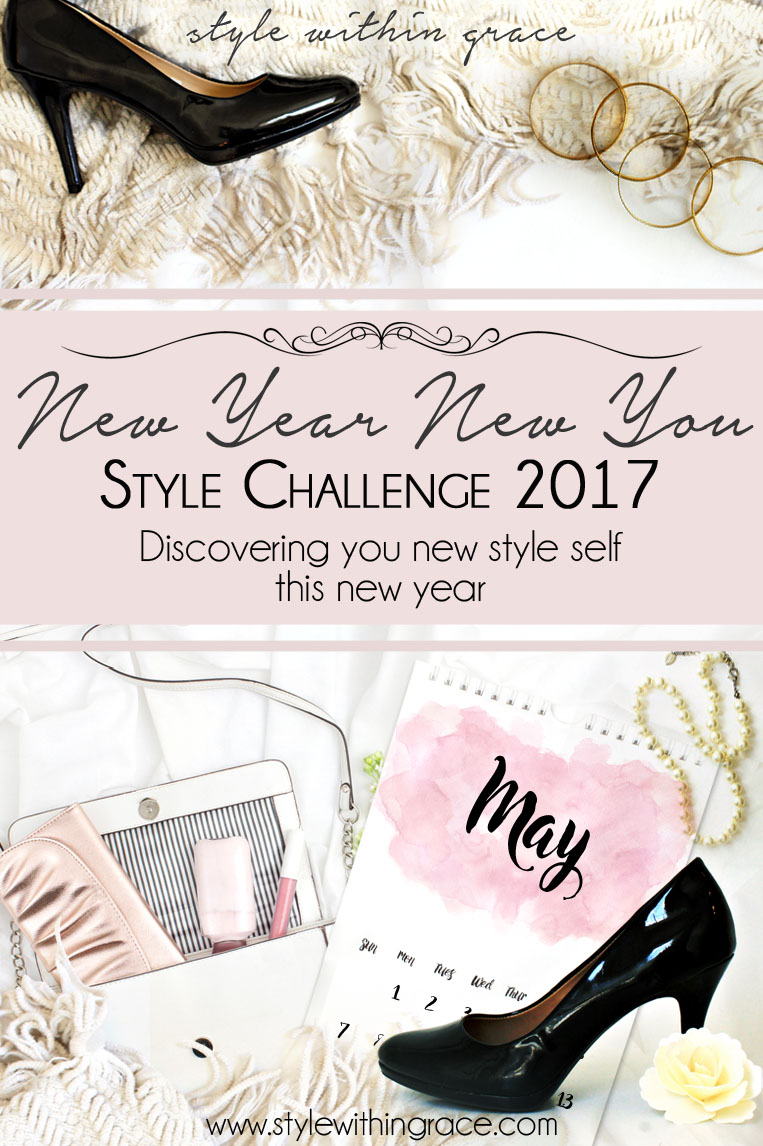 New Year New You Style Challenge
Right off the bat, if you are just here for the competition scroll to the bottom. All the details to win a beautiful mint handbag are there but read on if you want the whole journey. Another month has almost passed in my #NewYearNewYouStyleChallenge but it's never to late to join in. If you want to get in the know and check out how far I've come read all about it here.  #ThirtyinthirtyApril this month was actually a lot of fun. I came up with so many outfits with just 30 items that I could probably go another month. But I'm not going to. I am totally sick of these pieces and so looking forward to wearing the other clothing in my wardrobe.
There is no way I could do this for 3 months let alone a year. I must say though that getting dressed in the morning was remarkable easy and much quicker than usual. With so little choice all I had to do was decide on one piece, usually led by the Instagram challenges. Choosing the other pieces was then simple. Here are a few of the outfits I came up with this month. Be sure to check out my latest Instagram Round-Up for a complete remix sheet of all the possible outfits with #ThirtyinThirtyApril's capsule wardrobe.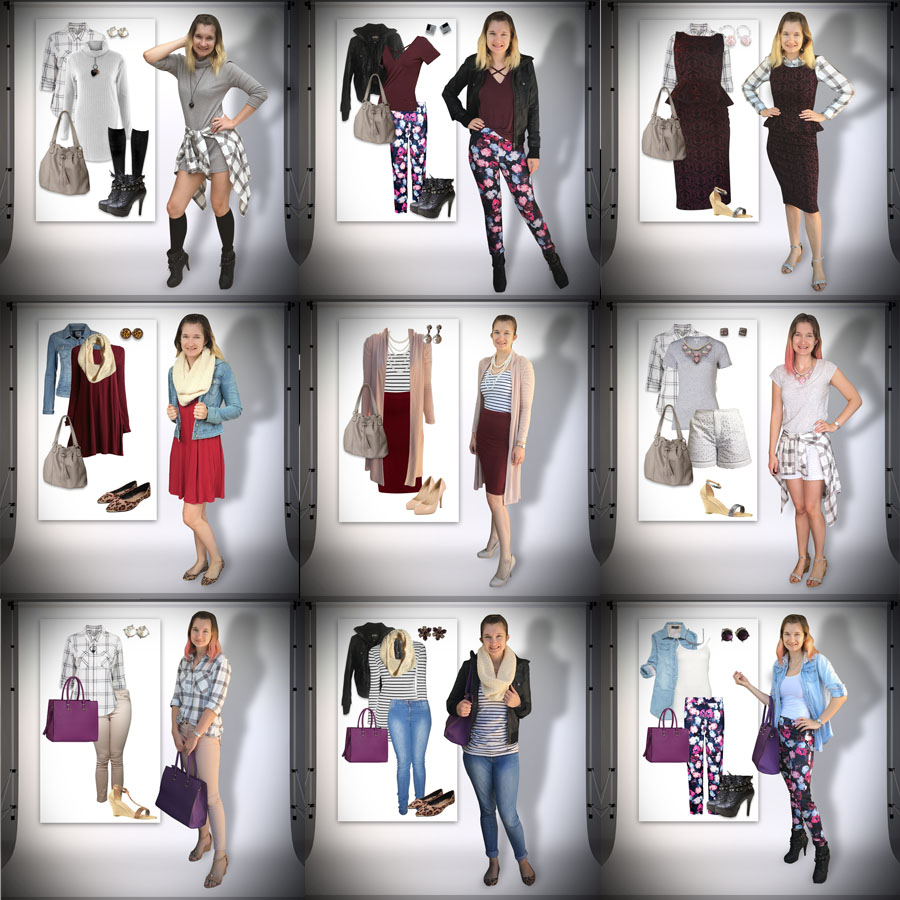 Mix It Up May
I don't particularly have a theme this month. Instead I'm filling May up with a bunch of these random challenges that didn't really fit anywhere else, thus the name #MixItUpMay. Some of these have been done before, some I've come up with on my own. Some will be weekly challenges and others just day by day. Feel free to refer back to this page as you get dressed each morning to remind you what the challenge is. I know I will be. I will also create weekly reminder prompts on Instagram which you can also refer to.
Week 1: (1st May – 7th May)
Wear the same item of clothing everyday for a week.
Just to take it up one more notch this week the challenge is to wear one piece of predetermined clothing, every single day of the week. You can of course mix it with any other clothing items and accessories in your wardrobe to create different looks with it. Either a dress, top or bottom are my suggestions.
I got this idea from The Uniform Project where Sheena wore the same dress every day for a year. I was so inspired by the many different outfits she came up. I'm not up for going that extreme but I thought this challenge would follow along well after the capsule wardrobe challenge. What item would you choose? I have decided to follow in the same vain as The Uniform Project and choose a black button up dress. Button up dresses are very remixable because you can wear them as is, as a top, as a bottom or unbuttoned as a vest. You can layer over the top or underneath for colder weather too.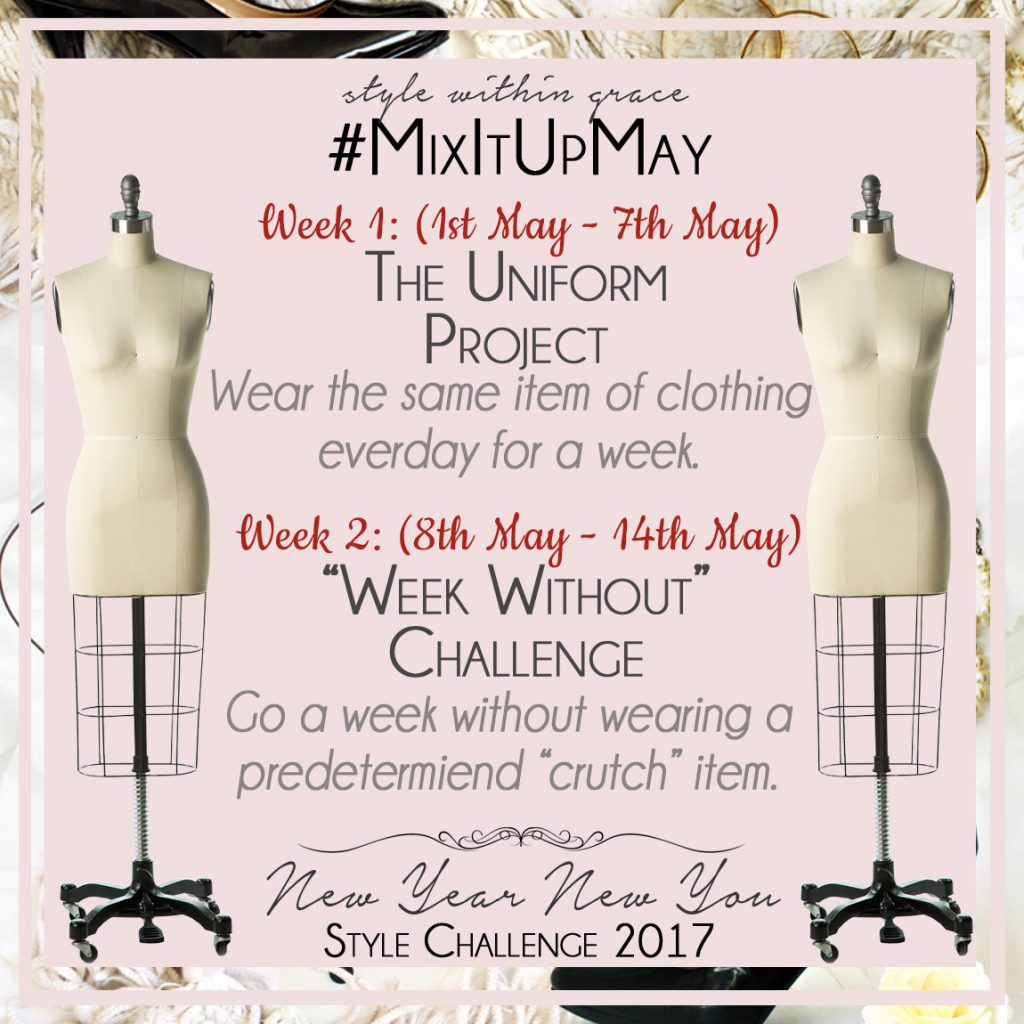 Week 2: (8th May – 14th May)
"Week Without" Challenge
I'm turning it around on it's head this week. Instead of having to wear the same item of clothing all week long this time you are not allowed to wear a predetermined item all week long. Do you have a fashion crutch that you use all the time? Maybe you're obsessed with black, or you can't go a day without your trusty ballet flats. Choose one thing you wear far too often and remove it from the table. Once you've done that, think outside the box to create new outfits. A few examples could include a week without neutrals, a week without sneakers, a week without dresses etc. The possibilities are only restrained by your imagination. Make this challenge personal and choose something you feel like you can't live without and then prove yourself wrong.
I'm really not sure what to choose this month. The only items I consistently wear everyday is my silver watch and my wedding rings. I don't really feel like going a week without them is much of a challenge though. I've already done a week without colour within the minimalist challenge so don't really feel the need to do that again. Those are the main things I would say I couldn't live without.
Ahah! I've just had an idea while writing this! I am going to go a week without wearing any heels. To some this might seem totally easy but I love my heels and I wear them at least 4 times a week. I own a lot more heels than I do flats. I think I'll feel like a completely different person if I go a week without wearing any. Have you come up with your week without challenge? Share it with me below in the comments.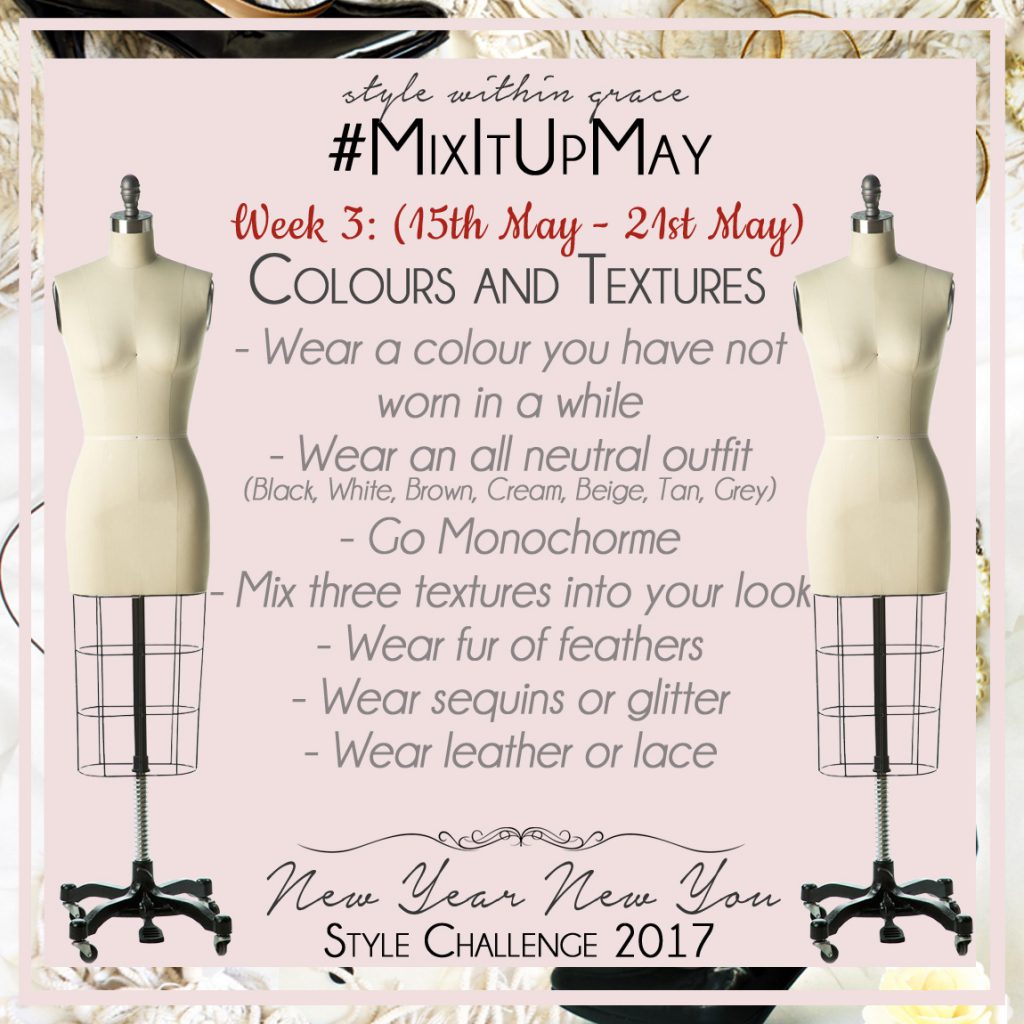 Week 3: (15th May – 21st May)
Colours and Textures
– Wear a colour you have not worn in a while
– Wear an all neutral outfit – Black, White, Brown, Cream, Beige, Tan, Grey
– Go monochrome
– Mix three textures into your look
– Wear Leather and Lace
– Wear Fur or Feathers
– Wear Sequins or Glitter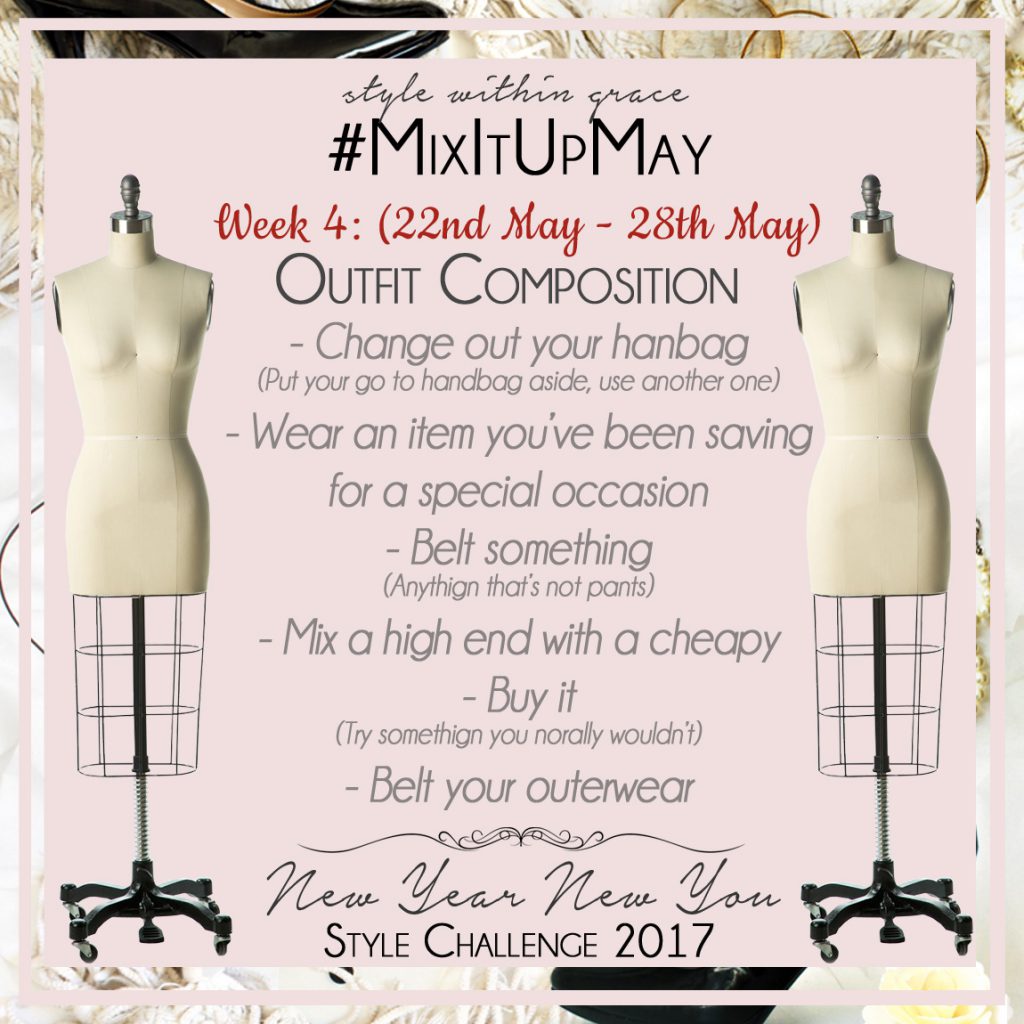 Week 4: (22nd May – 28th May)
Outfit Composition
– Change out your handbag. – Put your go to handbag aside today and use something different.
– Wear the item you've been ''saving'' for a special occasion
–  Wear something you haven't worn in 6+months
– Belt something, anything that's not pants
– Buy it – Try something you normally wouldn't
– Belt your outerwear
–  Mix a high end item with a cheapy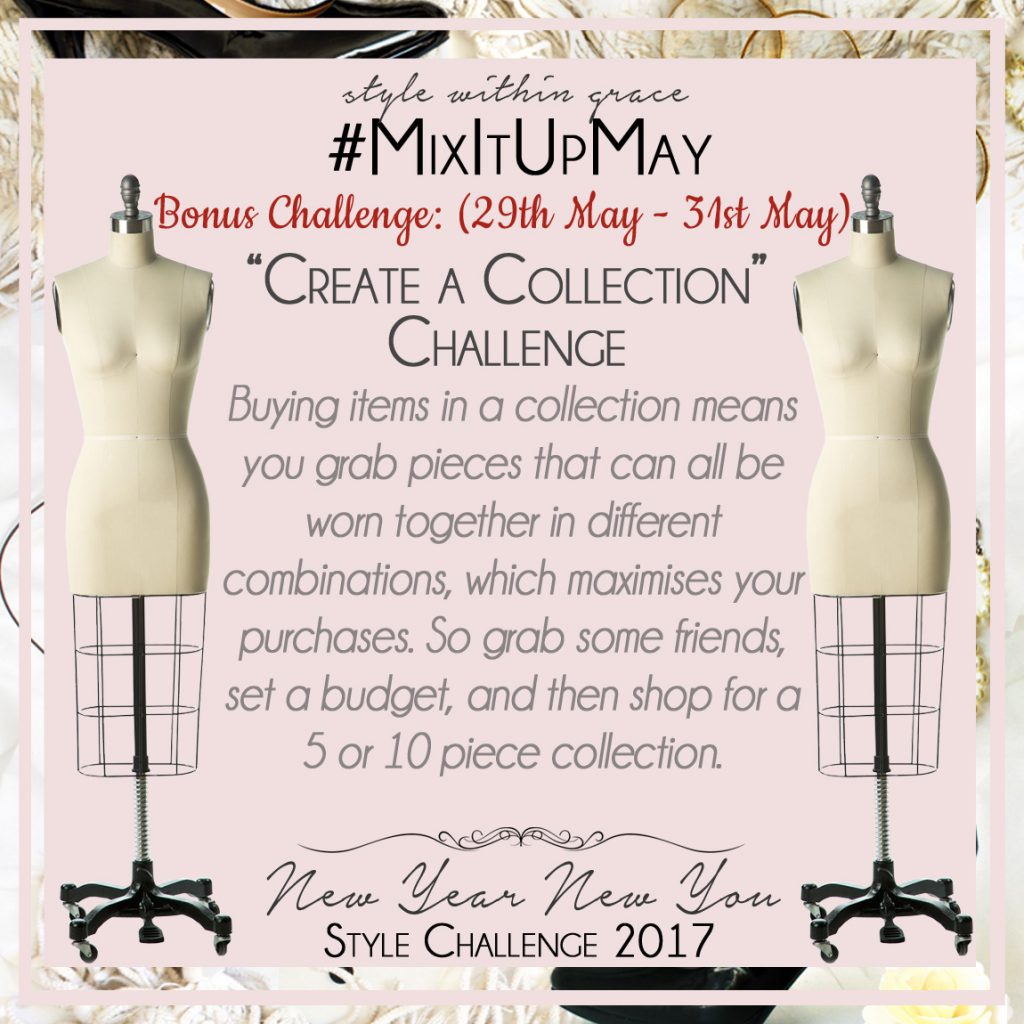 Bonus Challenge (29th May – 31st May)
"Create a Collection" Challenge
Buying items in a collection means you grab pieces that can all be worn together in different combinations, which maximises your purchases. So grab some friends, set a budget, and then shop for a 5- or 10-piece collection. I really don't need any more clothing so I won't be participating in this challenge but I hope you'll tell me how it goes if you do.
Who wants to win a prize?

I'm excited for this month. I'm kind of glad to be able to wear some of the items in my closet that I haven't be able to wear what with all the minimalism. I've also bought a couple of new pieces in this time and I've been dying to wear them! I'll do my best to post at least once for all the different elements of these challenges which is pretty much everyday. You don't have to post everyday but you can if you want to and I would love it if you did post.
In fact this month I thought I might include a prize at the end of the month to be drawn out of all the people who participate in the challenge. Enter daily to win by posting your outfit pics according to your interpretation of the daily or weekly challenges. Every time you use #MixItUpMay on instagram or every time you post your outfits to the Style Within Grace Facebook page will count as one entry. Join in at any time! Receive an additional entry by sharing the weekly prompt images.  Anyone can enter but in order to be eligible to win you must either be following my instagram account @stylewithingrace or be following/have liked the Style Within Grace Facebook page. Oh and your Instagram account must be public so we can all see your mixing it up skills.
COMPETITION TERMS
All the best mixing it up this month!
I will draw one winner randomly on the first of next month and they will win their very own pop of colour handbag (just like mine but smaller and in mint). The winner will be contacted over private message on either Facebook or Instagram depending on which platform they used to enter.
They then will have a week to get back in contact with me as to where to send their prize via regular post otherwise a new winner will be drawn. This promotion isn't sponsored, endorsed or administered by, or associated with Instagram or any other social media. I love seeing how other people get out of their comfort zones and try something different so get on board, tell me all about it and get those entries in!