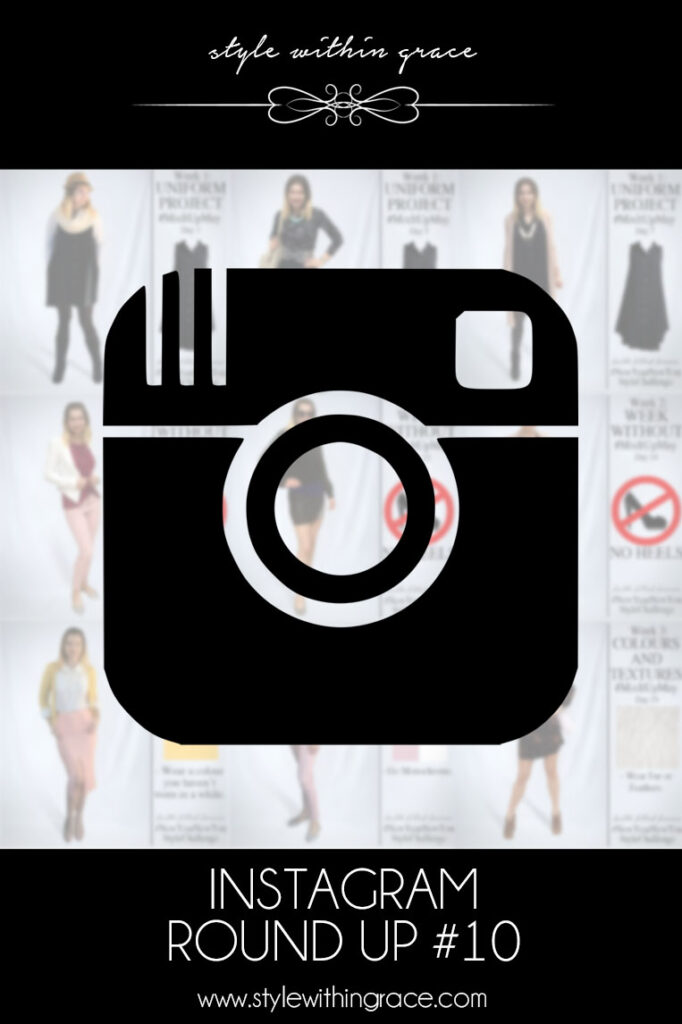 Welcome back to another month's instagram round up! You may have noticed that I have updated my title image and it strangely has https://www.stylewithingrace.com at the bottom of it. You may be confused as to why some random website is there instead of faith filled femme. Well that is because I am taking my website to a self hosted platform and while in the process of moving everything across I did some re-branding and decided that faith filled femme wasn't particularly relevant to all the things I post about on my blog so I will be changing the name to Style Within Grace.
I'm still in the process of designing the new website and I didn't want you to miss out on all of this months posts so I'll be continuing to post here until the new website is up and running but don't be surprised if Style Within Grace pops up everywhere instead of faith filled femme. I plan to change over my social media accounts soon too. You shouldn't need to re-follow or anything, I'll just come up with a different name when you see my posts. Don't freak out it's still me!
So #MixItUpMay was a lot of fun this month and I'm so grateful to all those who got involved in the challenge. You all did amazing and came up with some awesome outfits! I hope it helped you to get more out of your wardrobe. If you missed out this time I'll be posting about next month's challenge very shortly and I invite you to join me for another month of style awesomeness. Check out the whole years worth of challenges within #NewYearNewYouStyleChallenge for some more inspiration and follow me @stylewithingrace.
Week 1: The Uniform Project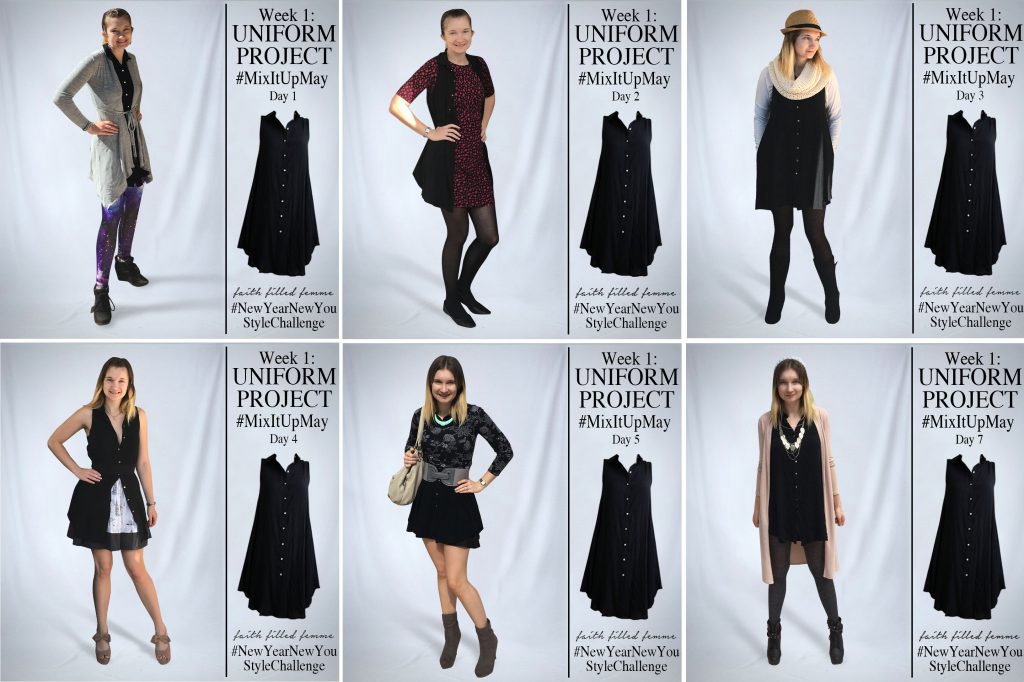 For the first week of #MixItUpMay the challenge was to wear the same item of clothing every single day of the week taking inspiration from Sheena and her year long Uniform Project. A week is a lot more manageable than a year and I came up with so many outfit combinations for the little black button up dress I chose as my "uniform" for the week. I probably could have gone a lot longer than a week but by the end I was well and truly over this dress. I might need to pack it away for a while.
My choice was a particularly versatile one because I managed to wear it as a dress, a top, a skirt and a vest. I wore it over leggings, under shirts, over skirts, under cardigans, over tops and over dresses. There were so many options and I loved putting my creative thinking cap on every morning to come up with a new way to wear this dress.
After first discovering The Uniform Project I have been on the look out for a dress that could be as versatile as the one Sheena wore. I still really want the exact dress she has but this button up dress does the trick. I found it at SES Fashions in the Myer Centre Brisbane Central. They have a website at the moment so I can't link you do it sadly. If anyone does come across the uniform project dress though please let me know!!! What item of clothing would you choose as your style uniform? Share it in the comments.
Week 2: The Week Without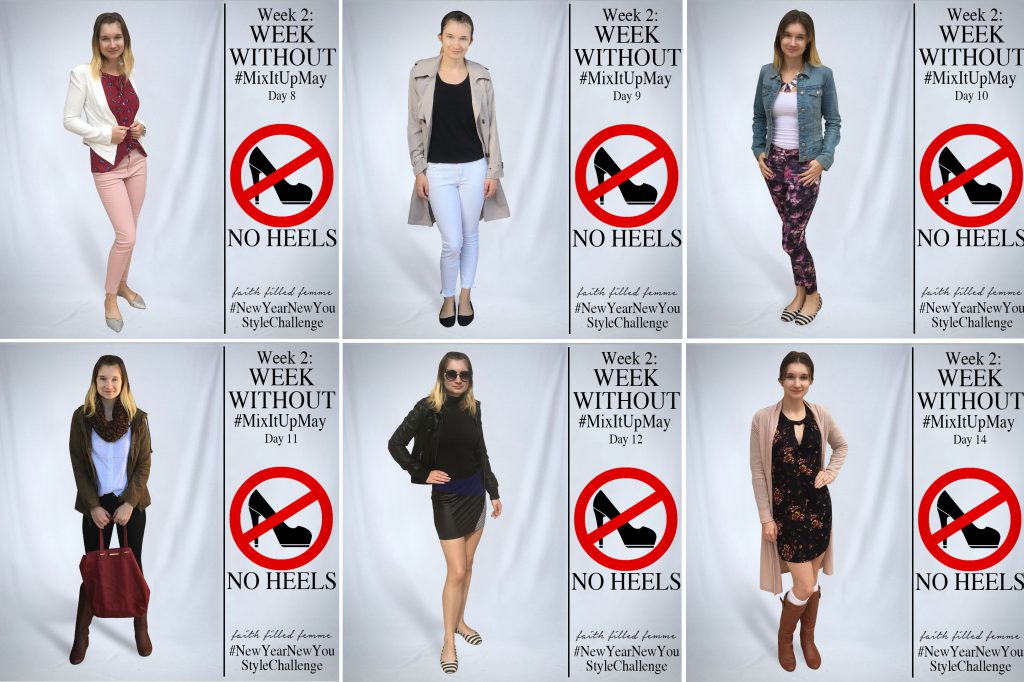 The idea behind the "week without' was to decide on an item of clothing that you can't live without. Figure out what your style crutch is and then go a week without wearing it. A few of the examples people shared with me were trusty jeans, pants in general and a favourite handbag. I really struggled to come up with an item which I could define as my style crutch. I change out my handbags regularly depending on what I'm wearing, I wear an even mix of pants, dresses and skirts, I don't have a favourite snugly hoodie and I wear a broad range of colours.
At last I decided the only thing that could slightly be considered my style crutch were… heels. I generally wear them at least 4 out of 7 days during the week. I do love them oh so much, I have more pairs then I probably should. Thus my week without heels began. I didn't struggle too much. I have a huge collection of shoes in general so there were plenty of flats to see me through the week. How did everyone else find going a week without your style crutch? Tell me in the comments?
Week 3: Colours and Textures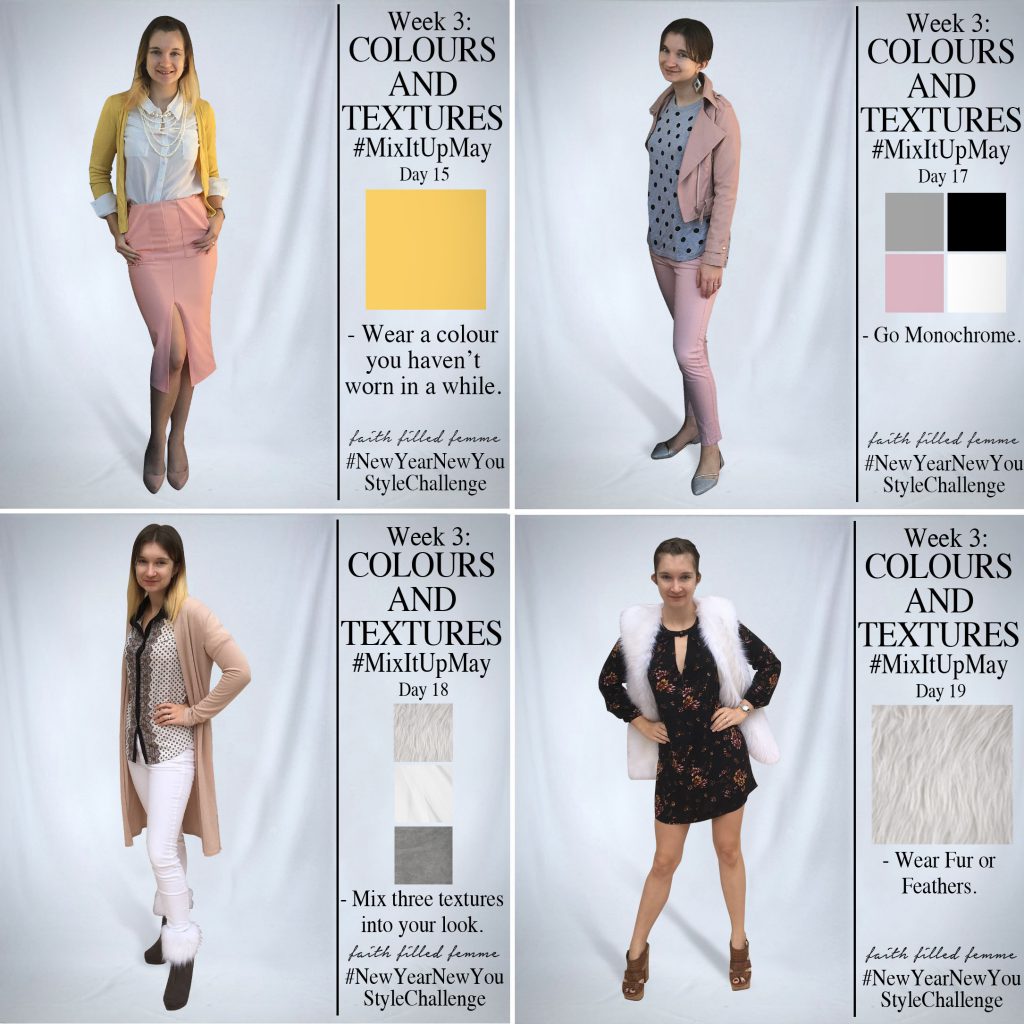 This weeks challenges ended up being centred around colours and textures. We played with some different colour combinations and experimented with mixing textures. For Day 1 prompt of wear a colour you haven't worn for ages, I brought out my mustard yellow cardigan. I paired it with my pink pencil skirt for a unique combination. Day 2 took me back to the days of #MinimalistMarch putting together an outfit just with neutrals.
On Wednesday I went monochrome with an all pink look. It sort of carried onto Thursday's look even though it was all about mixing textures which basically continued through the weekend. I got to bring out my self made white faux fur vest and boot cuffs for a couple of the outfits which I promise I will write a post about as soon as I get the re-branding and site move over finished. I just love how they turned out and I want to share with you how I did it. Faux fur is just perfect for the winter. It's one of my favourite textures. There is just something about it that makes you feel all warm and snugly while still looking effortless chic! What is your favourite texture to wear? Let me know below.
Week 4: Outfit Composition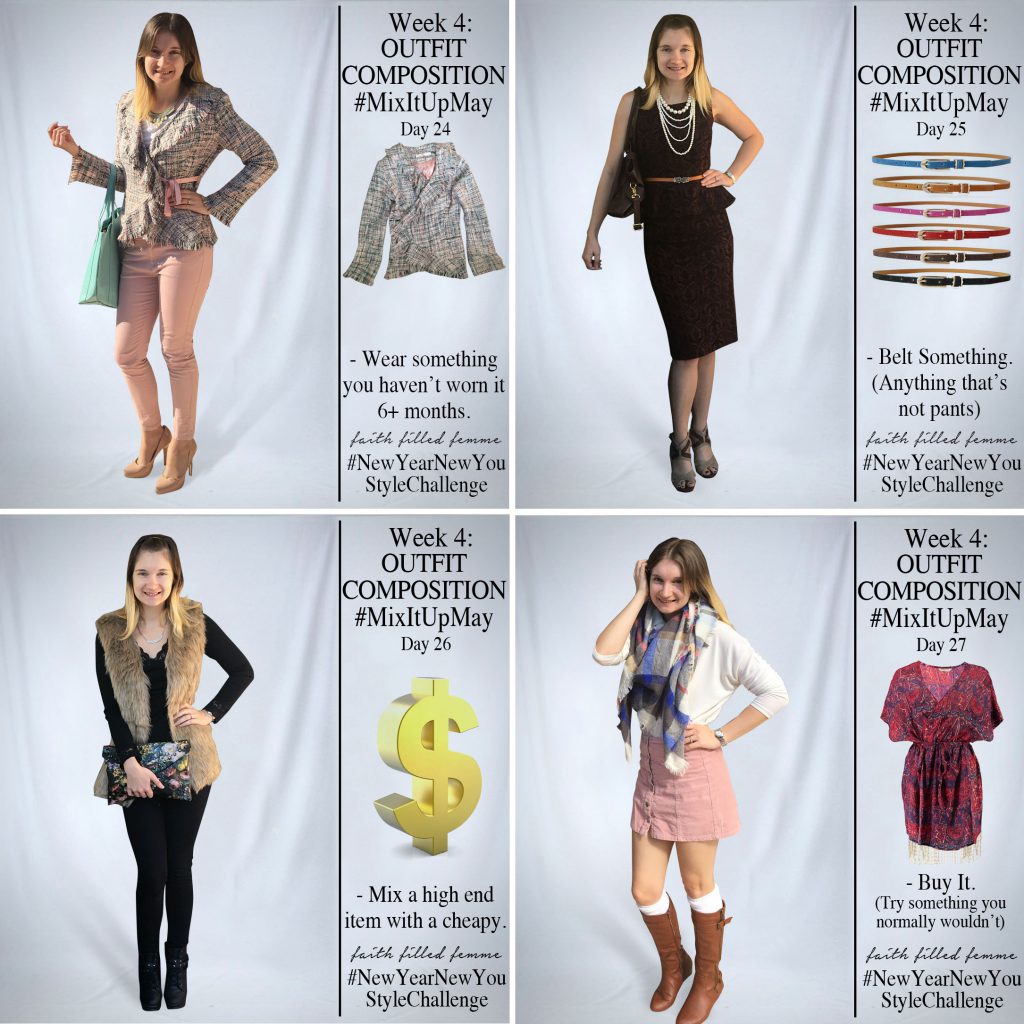 For the last full week of the #MixItUpMay the daily prompts were all based around outfit composition. I missed the first few daily prompts this week because I was up in Cairns visiting family. I joined in on Wednesday where the challenge was to wear something I haven't worn in 6+ months which considering we are just going into winter there were quite a lot of jackets and outerwear pieces that hadn't been worn since last winter to chose from.
This woven blazer was what I ended up going with. I paired it with a new item, a crocodile skin texture mint handbag. I loved the colour of the mint handbag I was giving away with the #MixItUpMay competition so much I had to buy one for myself. Now I can give you outfit inspiration for whoever ends up winning it. It's such a great pop of colour to so many outfits! Stay tuned to see more of it in the near future.
Thursday was all about the belts! I belted a maroon peplum midi dress to add a little more interest to the look. I had you all guessing on Friday which was the cheapy and which was the high end item. It was really interesting to see that most of you had no idea just by looking at the outfit which were which. That goes to show that you definitely don't have to spend a lot of money on your clothing to look put together and stylish.
For those of you who still haven't figured it out the cheapest item in the look was the fur vest bought on ebay for only $15 and the exxy item was the Kitten D'amour black cowl top. There were a lot of comments about the floral clutch I told my story about. It's currently out of stock but might come back in if you wanted to favourite it for later.
Saturday's prompt was "Buy It". I know right, as if you needed more encouragement to go shopping. The idea was not to just go shopping though but to buy something that you wouldn't normally buy. Something that's a little outside your comfort zone or that you've never tried before. Actually finding an item though, that fits that criteria but also that you do actually like enough that you are going to get wear out it, is seriously hard. I did my shopping online at Boohoo today and eventually decided upon this paisley kimono.
I didn't really get the point of kimonos when I first noticed their existence. They weren't bulky enough to give any actual warmth when added to an outfit and the cold body that I am always thinks in terms of warmth for outerwear. Since then I've seen a few kimonos styled on Pinterest and really like how they look. I have come to the conclusion that layering in summer is basically impossible unless you get items like kimonos that don't add extra warmth. Thus I have decided to give it a go and see how much wear I get out of it.
To round out the month I added a bonus challenge to anyone who was up to it for the last few days. The bonus challenge was to "Create a Collection". Buying items in a collection means you purchase pieces that can all be worn together in different combos. All the pieces have a similar look or feel so that it feels cohesive. Just like when designers create a collection for the runway. Did anyone feel up to this challenge? I have way too many clothes already and gracefully bowed out of this one. But if you bought yourself a 5-10 piece collection I would really love to see what you got and how you've mixed them together. Please share with me in the comments or contact me directly. I'll even give you some styling inspiration if you so desire.
There goes another month of outfit awesomeness. Where does the time go? Don't forget to join in for another month of style challenges for June.