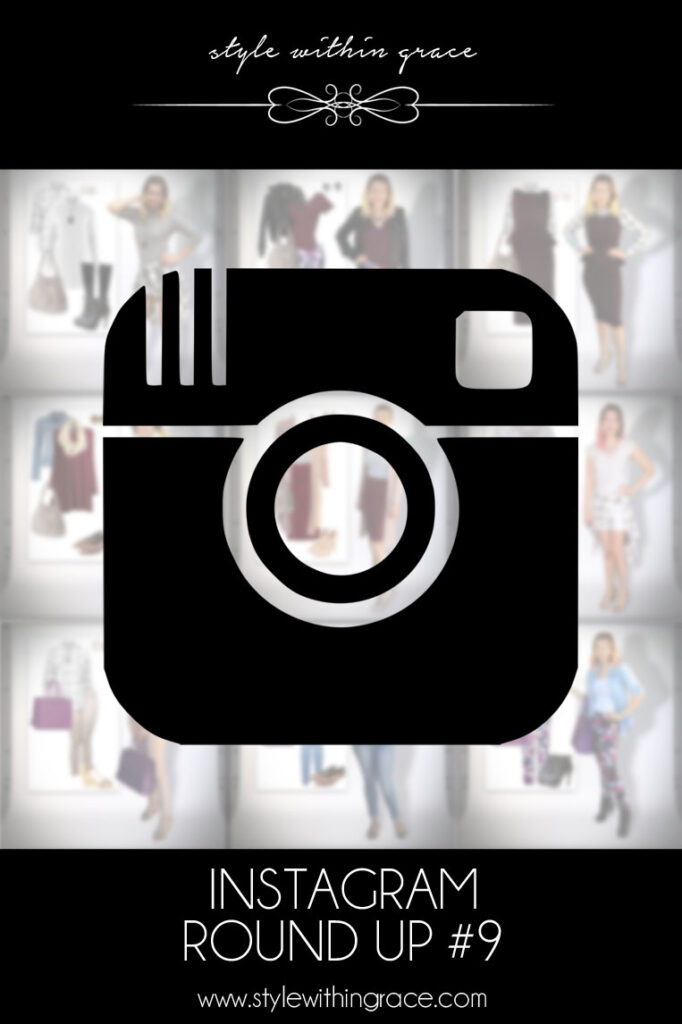 So I've decided to update the #ThirtyinThirtyApril challenge page and add the remixable sheet of all the outfits that are possible with my capsule wardrobe there instead of including it in the instagram round up. So head back over there to check that out. You can also head over to my instagram page @stylewithingrace if you want to see more of what I came up with for #ThirtyinThirtyApril and for the rest of my #NewYearNewYouStyleChallenge and don't forget to read up about the social media contest I'm running alongside #MixitUpMay for your chance to win a beautiful mint handbag that's very similar to my purple pop of colour handbag that I used in my capsule wardrobe this month.
I got quite a few comments asking how I did my instagram style photos this month, especially how I out the clothing in the background of the shot. I answered on instagram but I'll answer here as well for anyone else that is interested. Every morning I take a few photos in my backyard where there is good light and select a favourite one to cut out in photoshop. I then just drag it into my backdrop which I already have set up.
A fake shadow is added and then I pull in all the clothing items in my outfit that day and arrange them nicely behind me. I already have all my clothing photographed and cut out for the wardrobe organising app I use on my phone. If you want to know more about that read up on my post about Stylebook. And that's how it's done. It is quite a bit of work. That's the reason I don't post some days, either because it's rainy outside and I can't take the photo or I'm just to lazy! Haha the fight not to be lazy is real! But anyway on to the days where I got my butt in gear and wasn't lazy.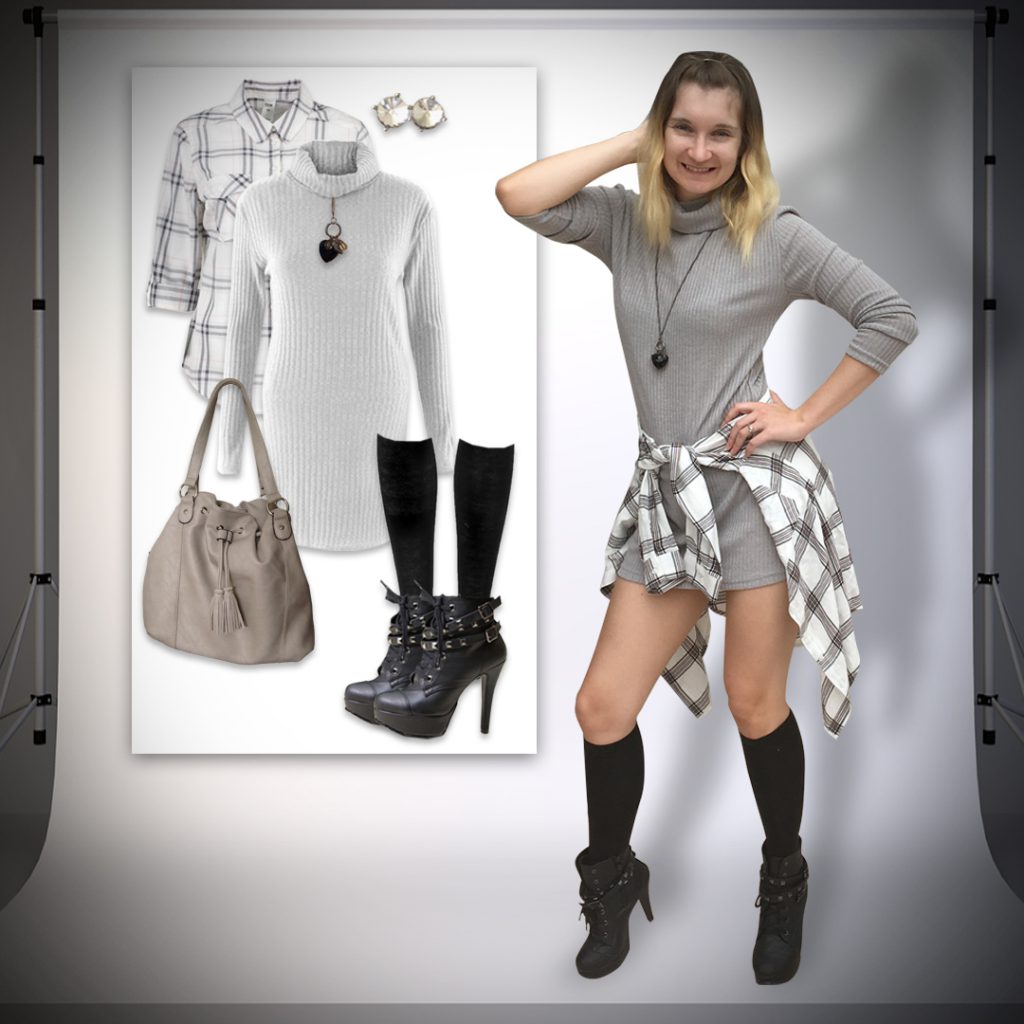 Day 2:
I bought this dress (which comes in a few different colours) on eBay during #MinimalistMarch but didn't get to wear it because it was still too hot for me to stand a turtleneck sweater dress. I bought a size large and as you can see it's not as loose on me as it is on the models so if you were going for the look in the pictures you might want to size up. So of course wanting to wear the dress as soon as possible and now that the weather is cooling down here I added it into my capsule wardrobe.
I love this pairing! I decided to tie this white plaid shirt around my waist to cinch it in as I didn't have any belts in my capsule wardrobe. It also adds some extra length to the back so I don't have to worry as much about bending over. I then wore my black lace up mid calf boots with some knee high socks to make them look like longer boots and keep my legs warm too. If you were looking to get some knee high socks eBay is great for them as well. Funnily enough this outfit could have fit perfectly into #MinimalistMarch. Seems I do quite like the all neutral look as long as I can chose it and am not limited by it and only occasionally.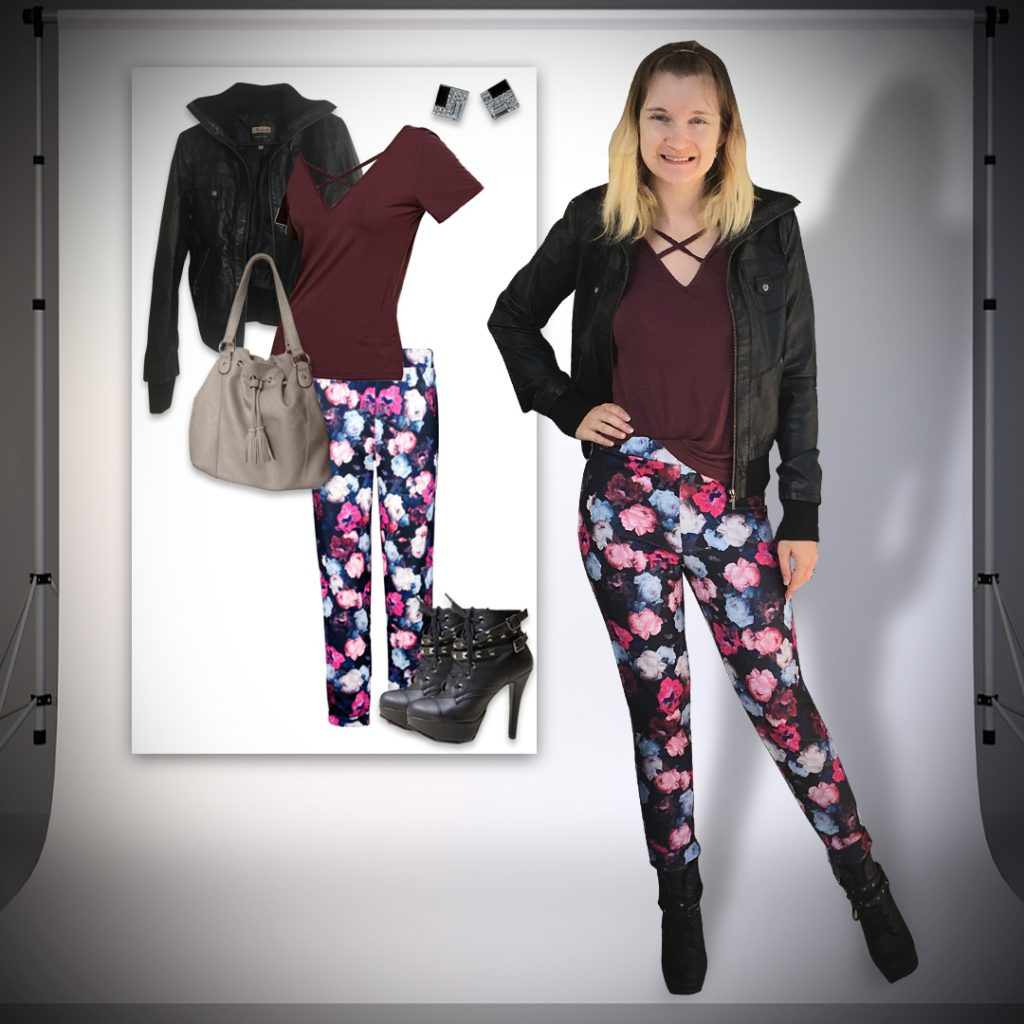 Day 3:
Aha! My first truly bright and loud outfit since #MinimalistMarch. Yay for some beautiful deep colours and florals. Oh how I missed you! Dressed with my black mid calf boots and my leather jacket, I've given the pants a more edgy rocker chic feel. I played down the colours by choosing a muted maroon colour from the pattern and used that for my top pairing. This is only the second time I've worn these floral pants I got from Boohoo. They advertised as trousers but are actually a lot more like leggings just with a slightly heavier material and a cuff on the bottom which I'm a little disappointed with. I wanted full on floral pants… but I love the colours and pattern so much that I can overlook the legging like features. They are unavailable now on Boohoo but they might come back in stock.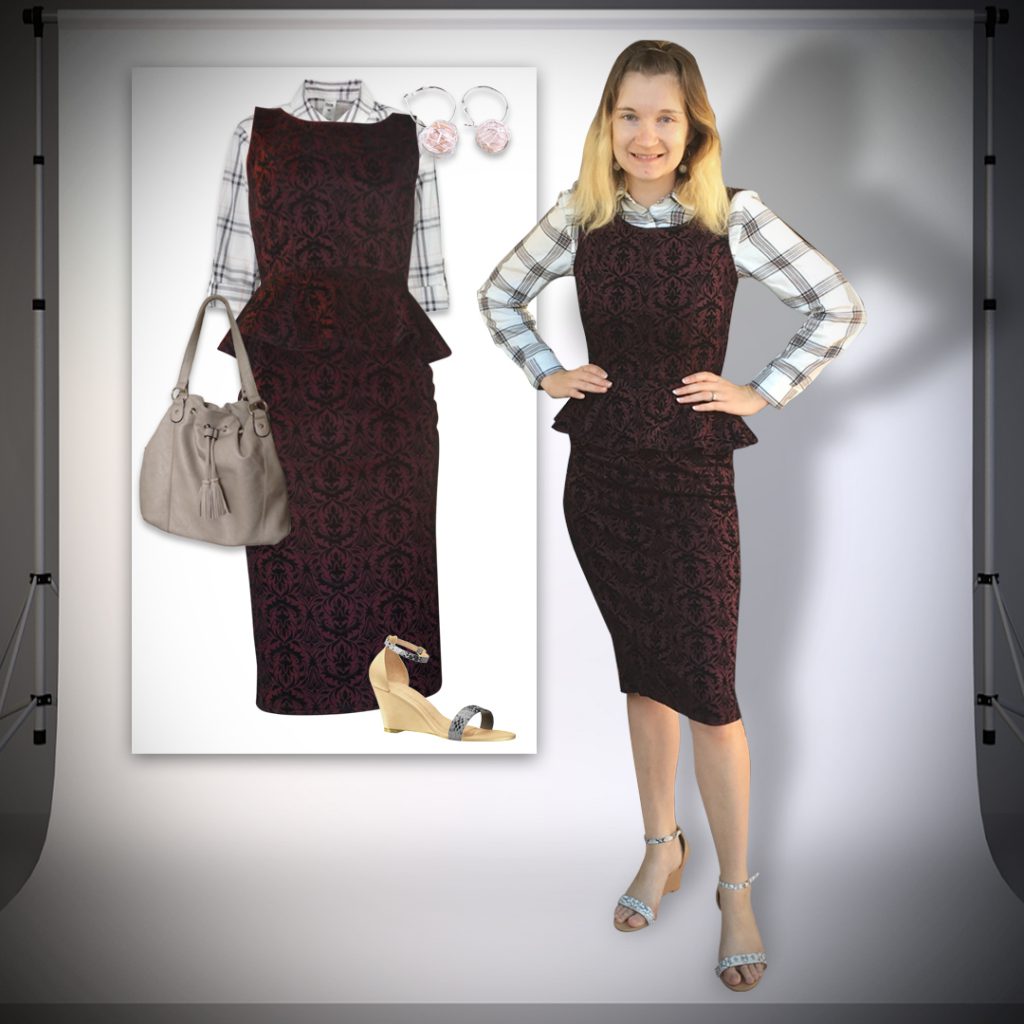 Day 5:
I combined three different patterns in this outfit by layering my white checkered shirt underneath my peplum dress. It kept me nice and toasty warm but unfortunately I forgot that it was flu shot day at work this day and I had issues rolling my sleeves up far enough for the nurse to give me my jab. I may have slightly cut off circulation for a little while but I managed. I finished the look off with my Conf3ss mid wedge shoes with the pale snake skin straps.
The colours tied in nicely with the checkered shirt. The patterns work well together because they all have different sizes and none clash or compete with each other. Have you heard about Conf3ss shoes yet? I talked about them in my last instagram round up but I have since acquired a few more colours of straps so they have become even more versatile. They are nude and black heels, wedges and flats with detachable and swappable straps. So they can be full customised to whatever outfit you are wearing. You will see them pop up many more times in my capsule wardrobe.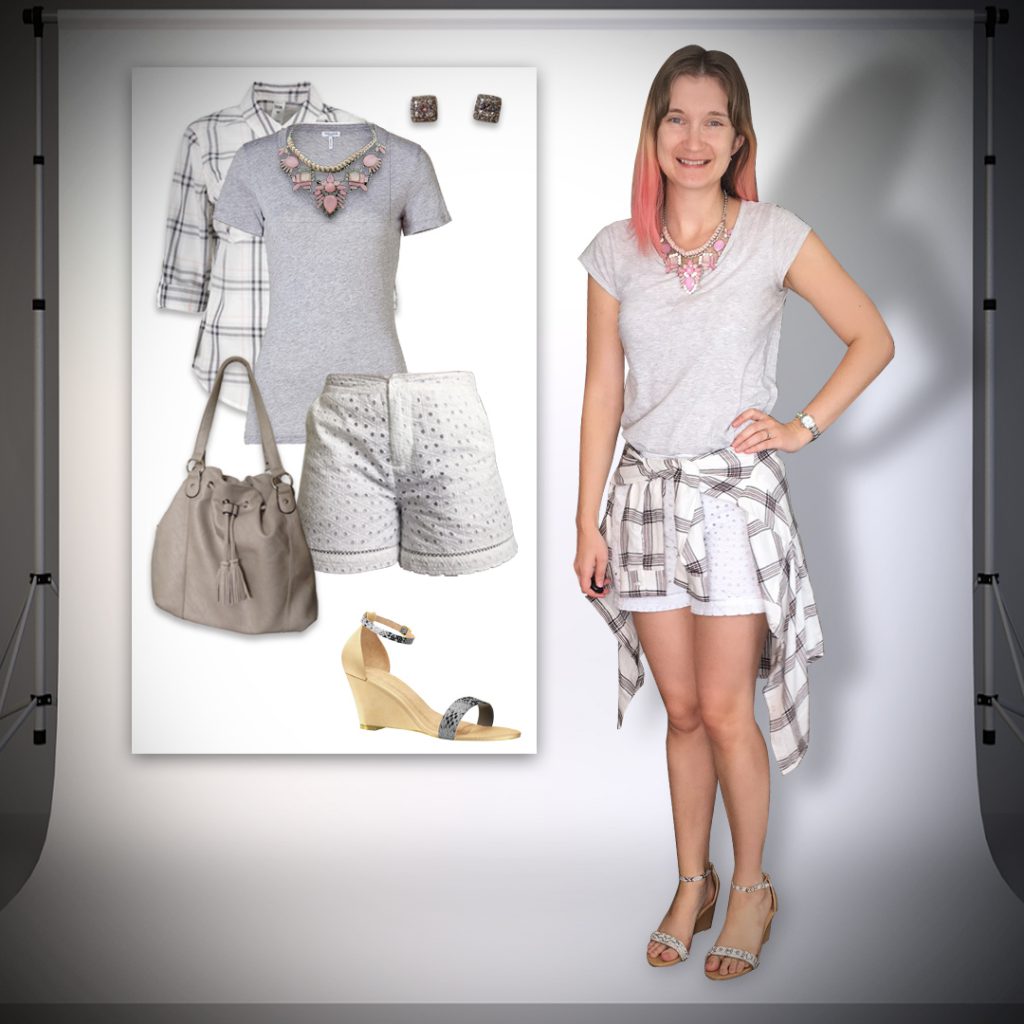 Day 9:
As you can see I dyed my tips pastel pink again! I was so excited. This was the very first day and it was still looking very bright but it faded very quickly. So naturally I matched my outfit around my hair! Mostly grey and white neutrals with a pop of colour statement necklace from Sammydress. And viola you have a perfect casual weekend outfit for running errands and what not. I thought it might get cold enough to actually wear the button up shirt but it stayed on my waist all day. I really liked how it went with the polka dot lace shorts though so didn't want to take it off completely.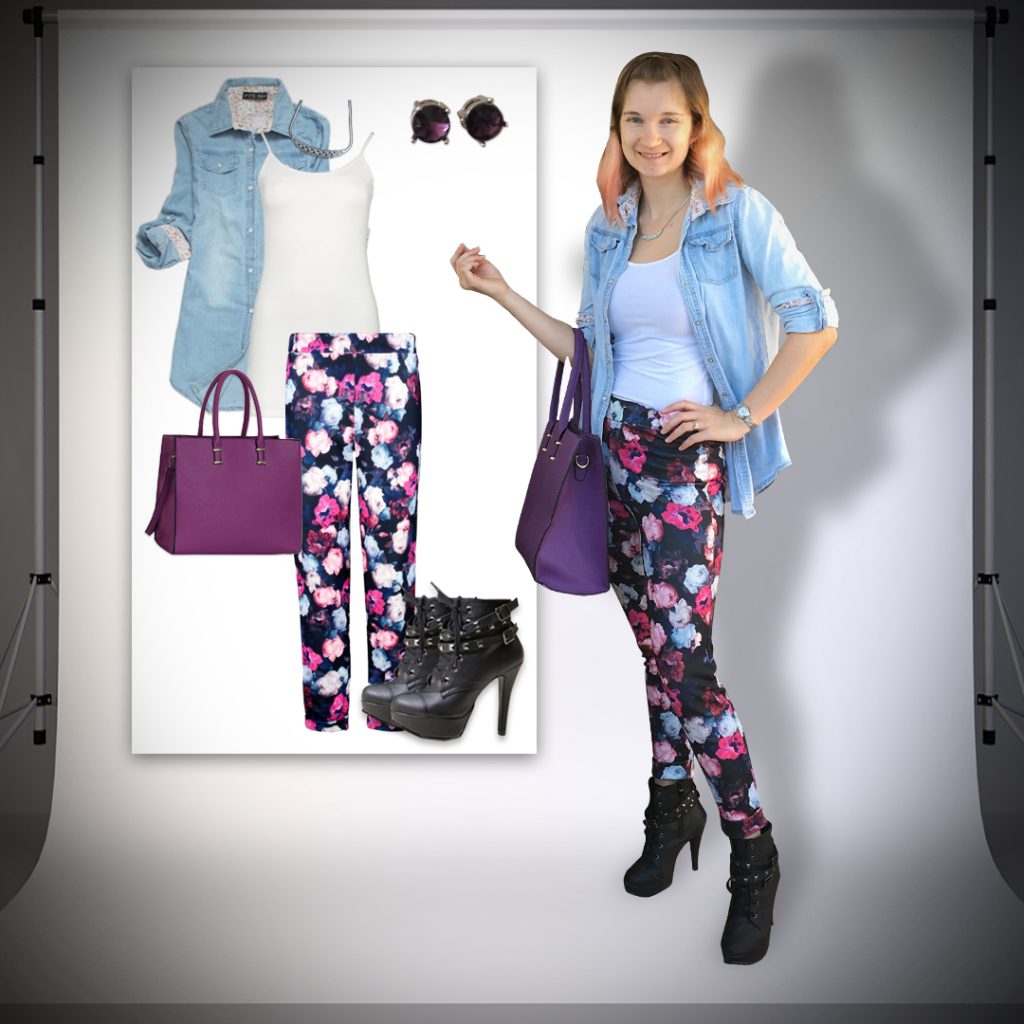 Day 12:
The great thing about button up shirts is they can really be worn all kinds of ways. You can wear them buttoned up as a top, layered under a dress or as in previous outfits tied around the waist. You can also leave them unbuttoned over a singlet and wear them as outerwear. This creates a more relaxed and casual look. They are just so versatile and I'm very glad I chose two to be part of my capsule wardrobe. Although the floral pants don't have the exact purple of my handbag I can get away with pairing them together because they have the same tones.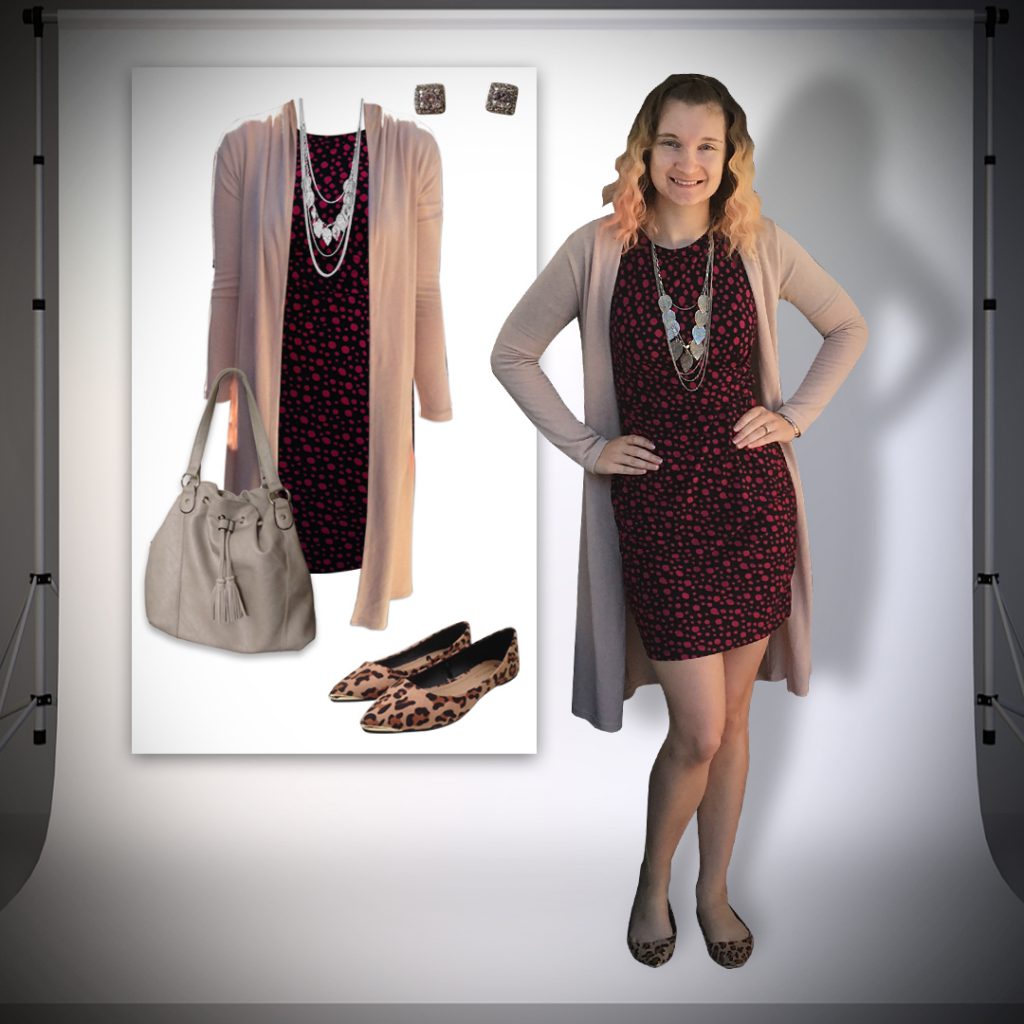 Day 16:
I got this dress from Golden Tote a while back as one of my surprises. Go back and read my review post all about that if you missed it. Even though I didn't chose it for myself I have gotten so much use out of it. I think it's turned into my favourite dress from that tote. It's such a great length, so comfy and fitted in a really flattering way. I paired with leopard print flats and my muted pinky beige cardigan for relaxed yet still professional look. Leopard print is a great pattern to add when pattern mixing. It works almost like a neutral and goes with just about everything.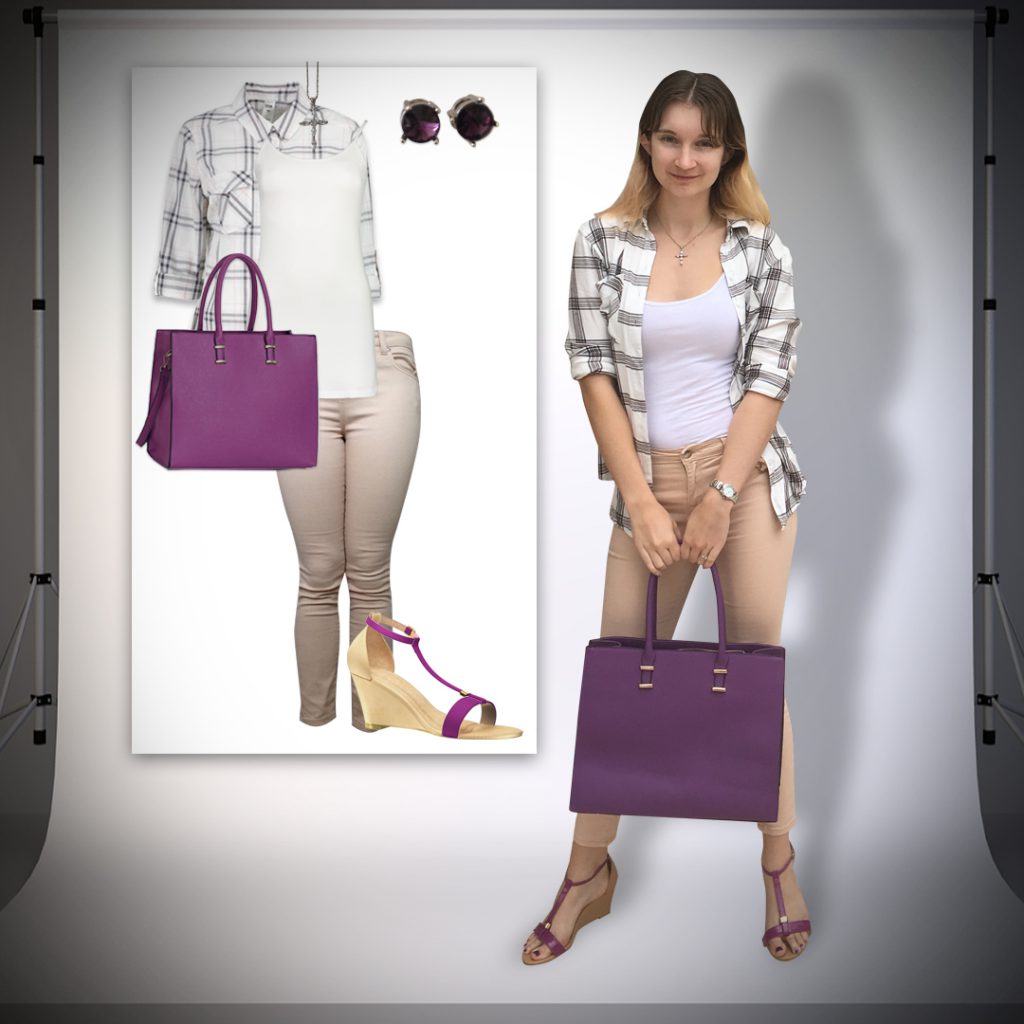 Day 21:
I have figured out that I love all neutral outfits as long as they have a pop of colour somewhere. My purple handbag is so good for adding that pop of colour. I wore a similar outfit to this a few days before. Conf3ss saw it on instagram and sent me these bright purple straps to match my bag for free! They are such an awesome brand! I would totally recommend you buy yourself a pair. I really want to get some black heels and the nude flats as well.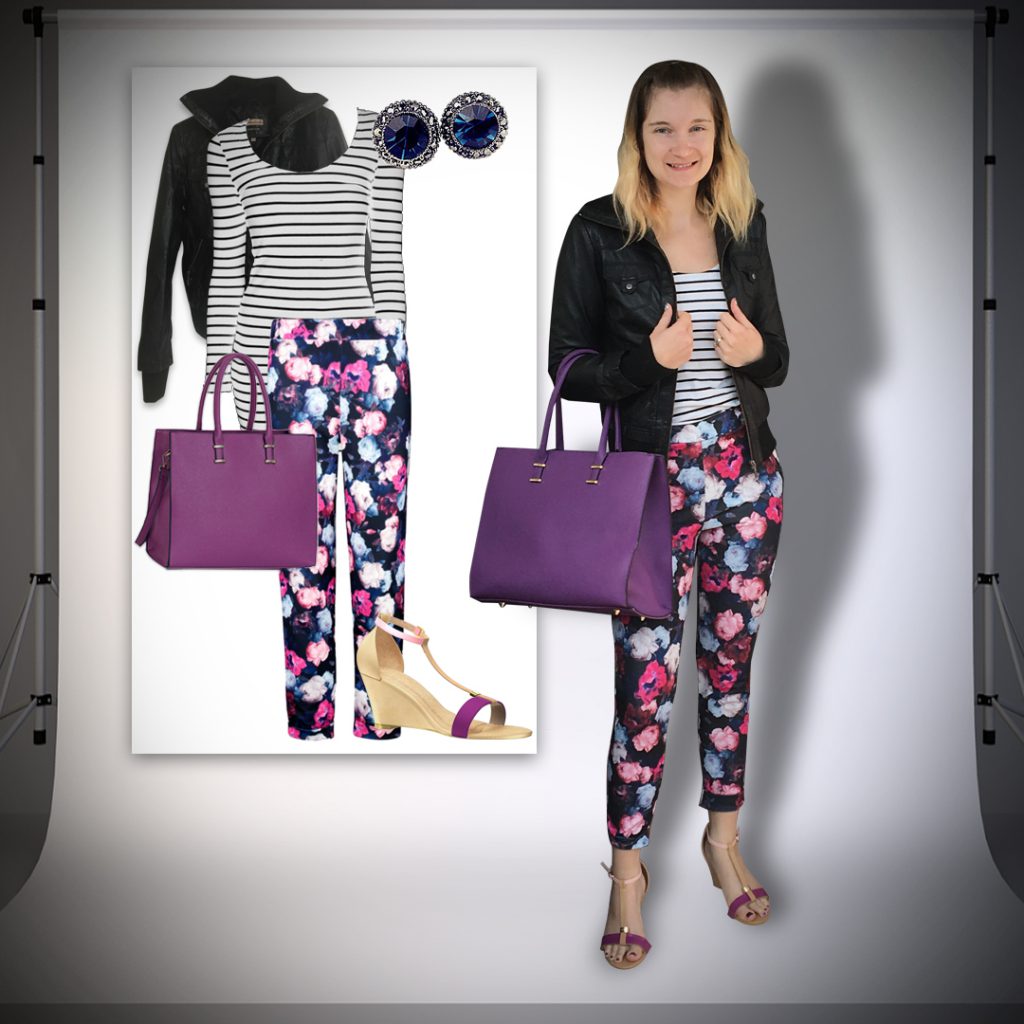 Day 25:
My striped dress has been used as a top way more times than I've used it as a dress. It's been getting colder and colder here and the short length was a little too cool for me. I decided to mix up the straps on my Conf3ss shoes this time around. I used the oh baby pink ankle strap with the nude t-bar and the bright purple toe strap. All I need now is some navy blue straps and I'll have all the colours in my floral pants. I'm definitely going to need the strap organiser by the time I'm finished.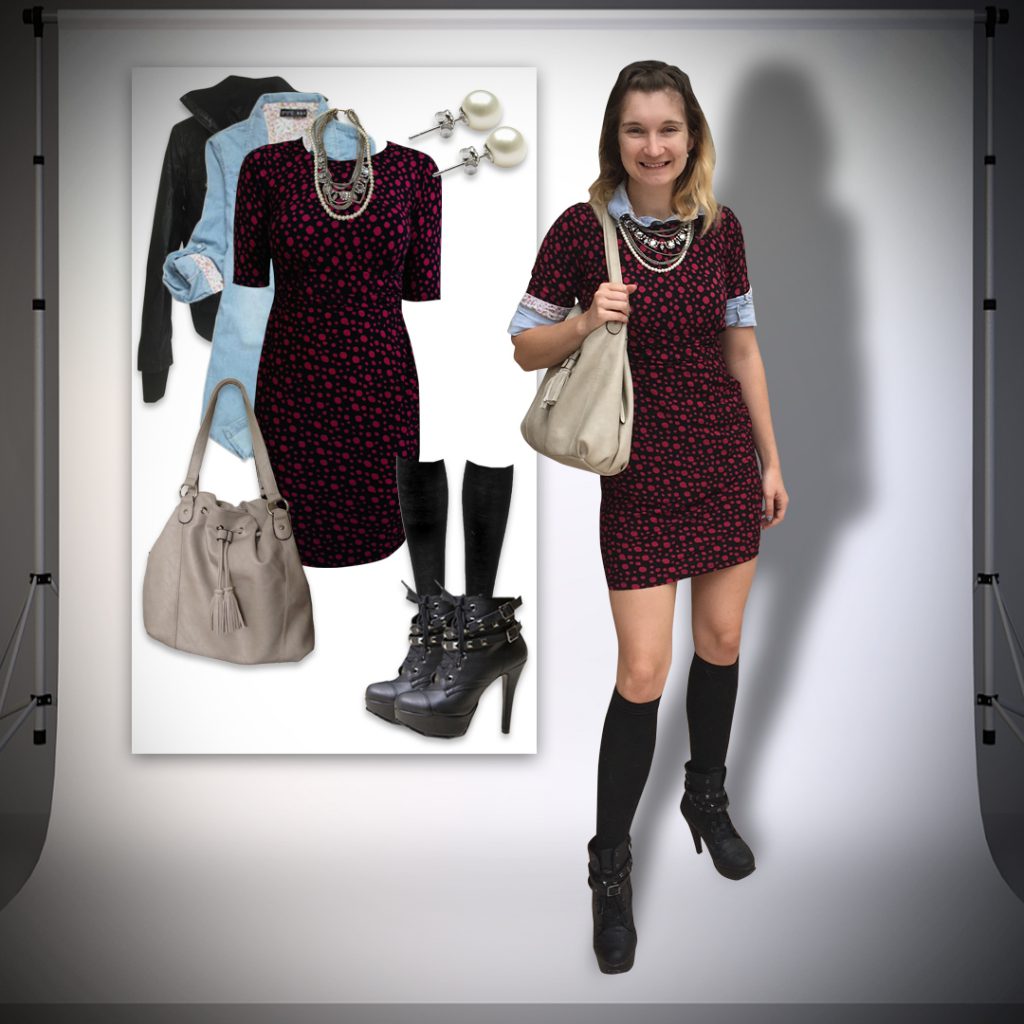 Day 26:
I really do love layering a button up shirt under dresses. The sleeves on this dress are the perfect length for rolling up the button up shirt's sleeves. Some accidental pattern mixing happened here. The inside of the chambray shirt's sleeves have a little pink floral pattern which I had forgotten when putting the outfit together. I think it worked out all right though. I also paired a statement necklace under the collar and wore the mid-calf black boots with my knee high socks. Socks are great for adding warmth when wearing dresses, especially shorter dresses.
Don't forget to check out next month's challenge details because it involves a social media competition to win a pop of colour mint bag that's very similar to my purple bag and stay on the edges of your seat for next month's instagram round up. See you in May.