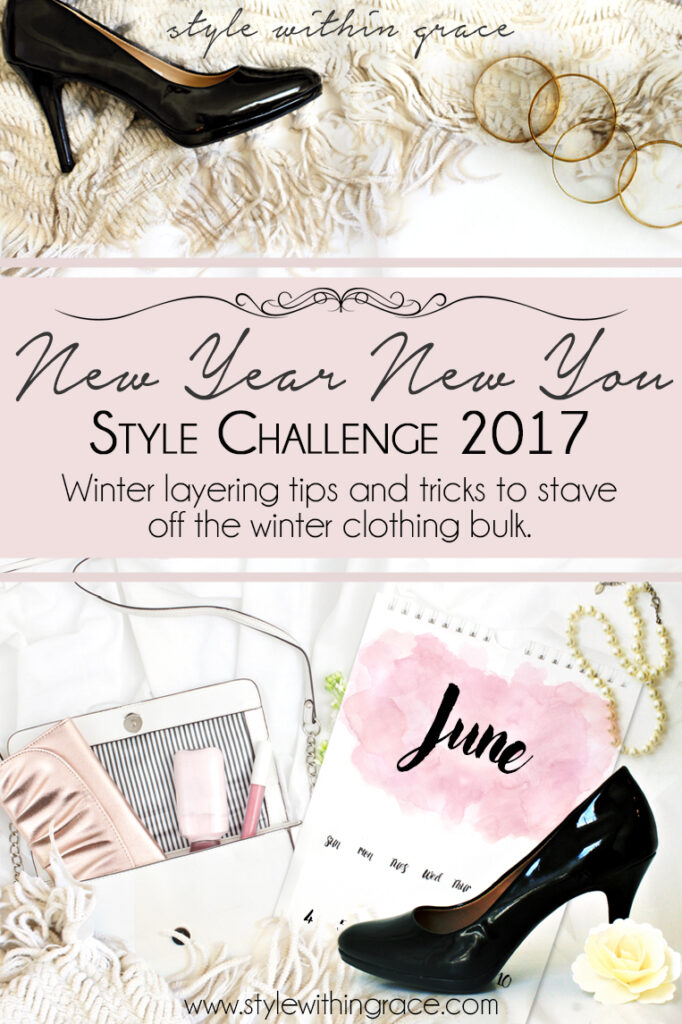 New Year New You Style Challenge
I'm so proud of and grateful to everyone who participated in this month's  #NewYearNewYouStyleChallenge for #MixItUpMay. I'm excited to announce the winner for the beautiful and vibrant mint handbag is… @fashionablytaut. Congratulations! Please contact me with your address details so that I can send you your prize. Everyone who participated came up with some killer combinations and you should all be proud of yourself for mixing it up. I've included a few choice outfits below. Check out my instagram round up to see how I fared throughout the challenge. Now I hope you'll continue on the journey with me and join me for some June winter layering.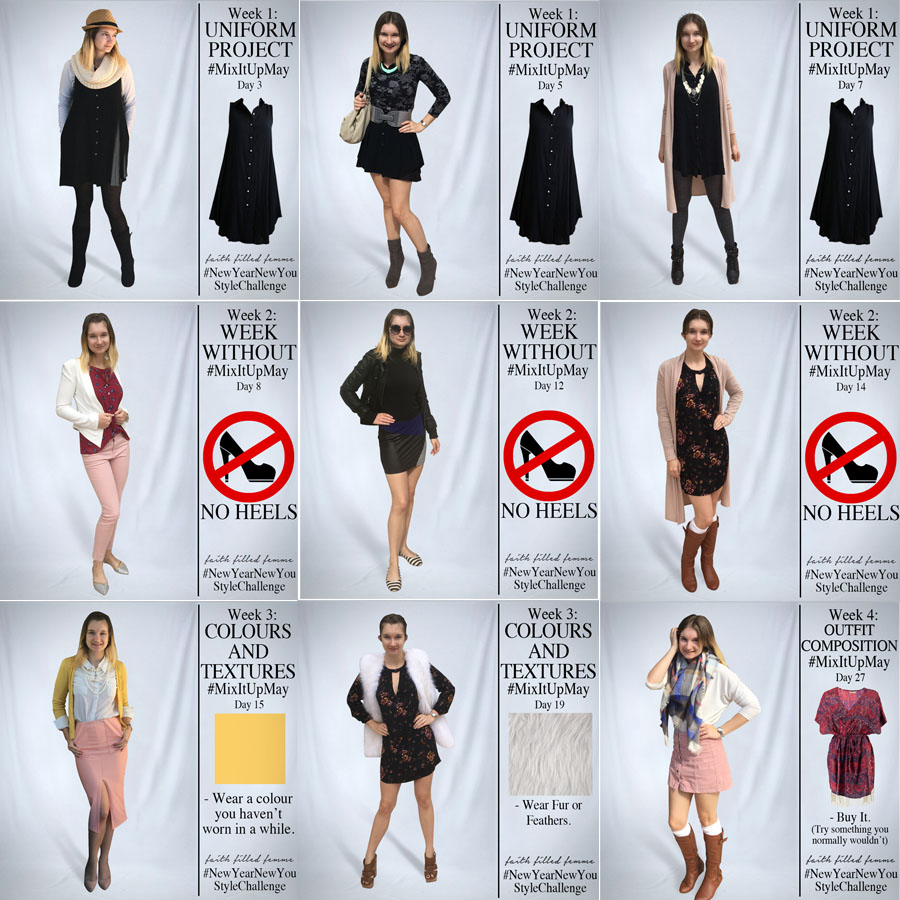 June Winter Layering
When I came up with the idea to do a year long style challenge, I mapped out general ideas for each month to make sure that I could come up with enough varied challenges to last the entire year. I then wrote the details all out in a word document. Every month I've gone back to the document to help me write out each month's post. This month though the details were extremely sparse. All I had written down was "Create an outfit with at least 3 levels of layering" and that was it for the entire month. Not exactly a lot to go with so I went to google to give me some inspiration on where to go with this month's challenge. I amazingly managed to bulk that one sentence out quite a lot in fact now I'm drowning in challenge ideas.
This month is all about everything to do with layering from winter essentials to patterning mixing while layering to style tips and tricks to stave off the winter clothing bulk. Winter is the official season of trying to wear every item of clothing you own at once but that doesn't mean you have to look like a Michelin man. I used to absolutely hate winter and I think part of the reason was because I didn't have the right items in my closet. I didn't know how best to dress for winter. Now that I've figured out the layering game, I only sort of dislike winter now. For any overseas readers though, this is Australian winter I'm talking about. Don't shoot me if these outfits are not warm enough for below zero degrees. You should be able to apply at least some of the principles for your crazy cold winters or just look at this as fall outfit ideas.
Week 1: (4th June – 10th June)
Winter Layering Essentials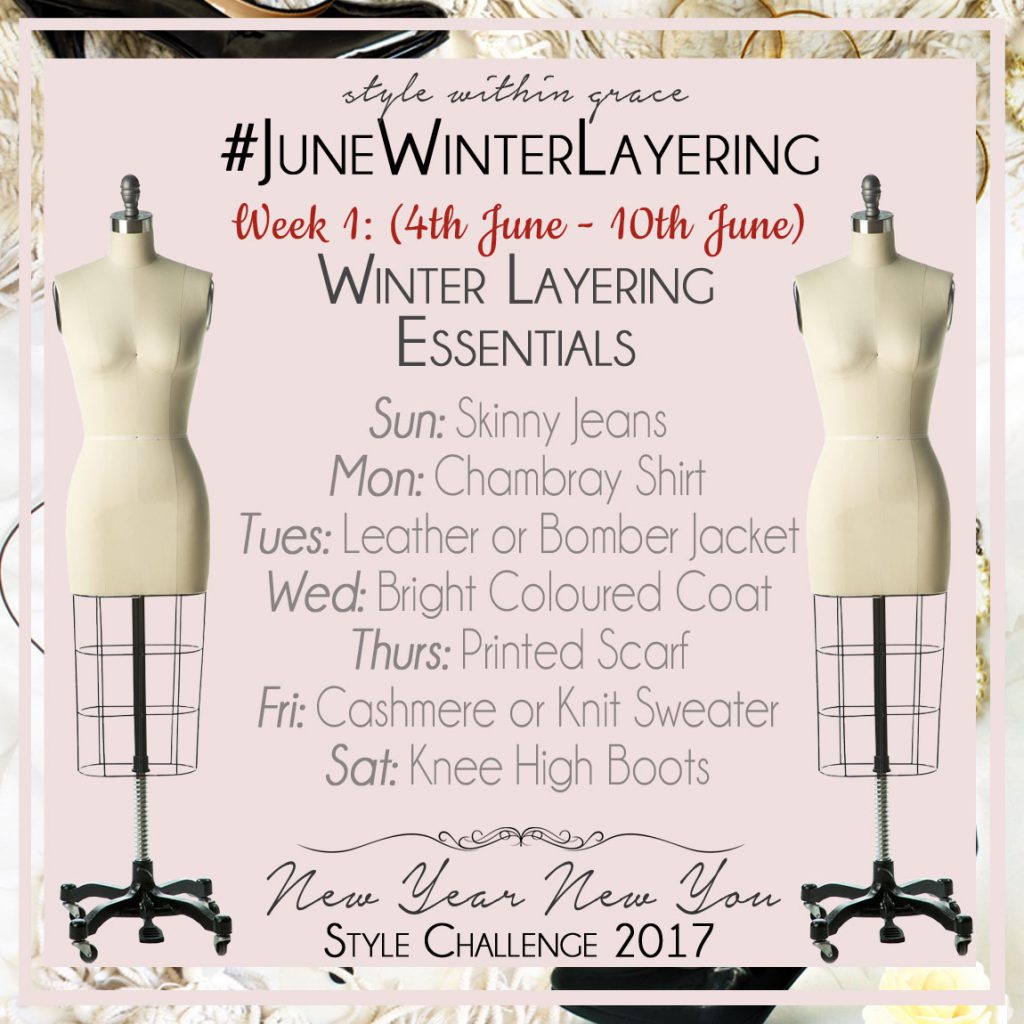 ONE | TWO | THREE | FOUR | FIVE | SIX
Sun – Skinny Jeans
Choose a pair of skinny jeans in a goes-with-anything colour like black, white or the standard denim and you'll have an incredibly versatile piece in your closet. Running errands? Pair with a clean white sneaker. Lunch with the girls? Ballet flats and a cute cardigan. Casual Friday at the Office? You can't go wrong with a boyfriend blazer. Even if you are headed out for a night on the town, pointy toe heels and a leather jacket will work a treat.

ONE | TWO | THREE | FOUR
Mon – Chambray Button Down Shirt
A chambray button down shirt is the casual sister to the white oxford shirt and can be worn much the same way. Under a cardigan, open over a tee, over a dress tied, over a dress open, under a vest or under a sweater just to name a few. For a more casual look stick to a lighter wash denim but grab a dark wash to create a more refine look. Check out my How to Wear a Chambray Shirt post for styling inspiration.

ONE | TWO | THREE | FOUR
Tues – Leather Jacket or Bomber Jacket
Leather jackets are great for keeping the cold winds out but I find can be a bit restricting in the shoulders. Bomber jackets are a more comfy option in my opinion but there is something endlessly cool about leather. Can't decide which? Get a leather bomber jacket.

ONE | TWO | THREE | FOUR | FIVE
Wed – Bright Coloured Coat
From June to August, your outerwear is the first thing that anyone sees, so why not make a statement? A bright coat can add a pop of colour to an otherwise neutral-hue outfit. I think it also does wonders in keeping the winter blues at bay.

ONE | TWO | THREE | FOUR | FIVE
Thurs – Printed Scarf
Whether you choose a floral pattern or a classic leopard print, a printed scarf is sure to be your windy-day BFF. It's a great way to added a little extra interest to a plain winter outfit. Up the warm factor by making it a plaid blanket scarf.

ONE | TWO | THREE | FOUR
Fri – Cashmere Sweater
This wardrobe mainstay goes with everything from skirts and printed trousers to leather pants and shorts. I especially like the look of a button up shirt peaking out from underneath it. You don't have to go all out with cashmere a cable knit sweater can be just as cute.

ONE | TWO | THREE | FOUR | FIVE
Sat – Knee High Boots
When the weather drops, it's time to get out your boots! Wear with anything from dresses to skinny jeans. I especially love to add some knee high socks underneath as well or some boot cuffs. There are so many styles out there, the specifics are up to you.
Week 2: (11th June – 17th June)
Winter Layering Essentials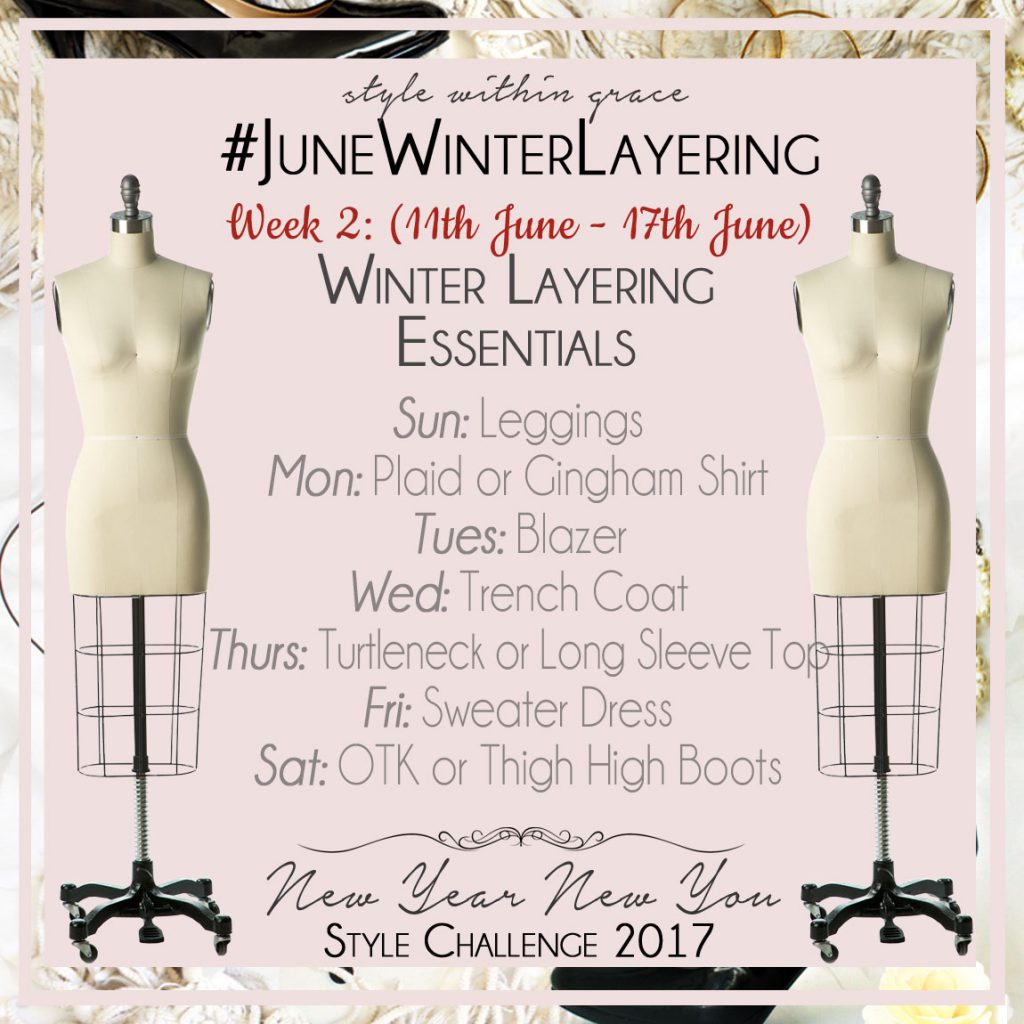 ONE | TWO | THREE | FOUR | FIVE
Sun – Leggings
A lot less constricting and a lot more comfortable than skinny jeans but still serves to cover your legs in those cold temps. Perfect for layering under dresses, skirts and shorts to take them from summer to winter. If you are a cold body like me you can even layer them under your jeans for added warmth. If you are looking for inspiration on how to style this check out my how to wear leggings post part 1 and part 2.
ONE | TWO | THREE | FOUR | FIVE
Mon – Plaid or Gingham Shirt
Add a crisp collar to amp up a neutral crew-neck sweater or provide an unexpected backdrop to a simple shift dress. Or go nuts and mix prints with a graphic sweatshirt, sweater, or cardigan. Prints are the new black!

ONE | TWO | THREE | FOUR | FIVE
Tues – Blazer
Wear the piece over a sparkly top (and velvet jeans if you're feeling extra bold) or opt for a polished power woman look with tailored black pants or even a pantsuit. It's an easy layer to elegantly compliment a printed frock too. Dress it down with jeans and a tee to take the look into the weekend.

ONE | TWO | THREE | FOUR | FIVE | SIX
Wed – Trench Coat
This classic piece is still around for a reason, because it goes with just about anything and instantly elevates your outfit from plain to chic. Pair it with a dress and otk boots or stick to skinny jeans a basic tee. No matter the occasion, there is a trench coat outfit for it.

ONE | TWO | THREE | FOUR | FIVE
Thurs – Turtleneck or Thin Long Sleeve Top
This shirt is not only the ideal layering piece, it also works almost any time of year. Wear it on its own with wide-leg pants or as the temperature drops, you can wear it as a base under a chunky sweater or underneath a short sleeved dress.

ONE | TWO | THREE | FOUR | FIVE | SIX
Fri – Sweater Dress
For those days when you simply cannot imagine pulling on another pair of pants, go for a sweater dress. Choose a form-fitting one, or rock a more relaxed version with some knee high boots and belt it for some definition.

ONE | TWO | THREE | FOUR | FIVE | SIX
Sat – OTK or Thigh High Boots
OTK or thigh high boots are a great way to winterize a summery dress. Just pair it with a coat and you are ready to go. If you are not a dress fan wear them over skinny jeans for a casual chic look and some added warmth. Go for stilettos if you are a high heel addict or play it safe with flat versions.
Week 3: (18th June – 24th June)
Pattern Mixing Layering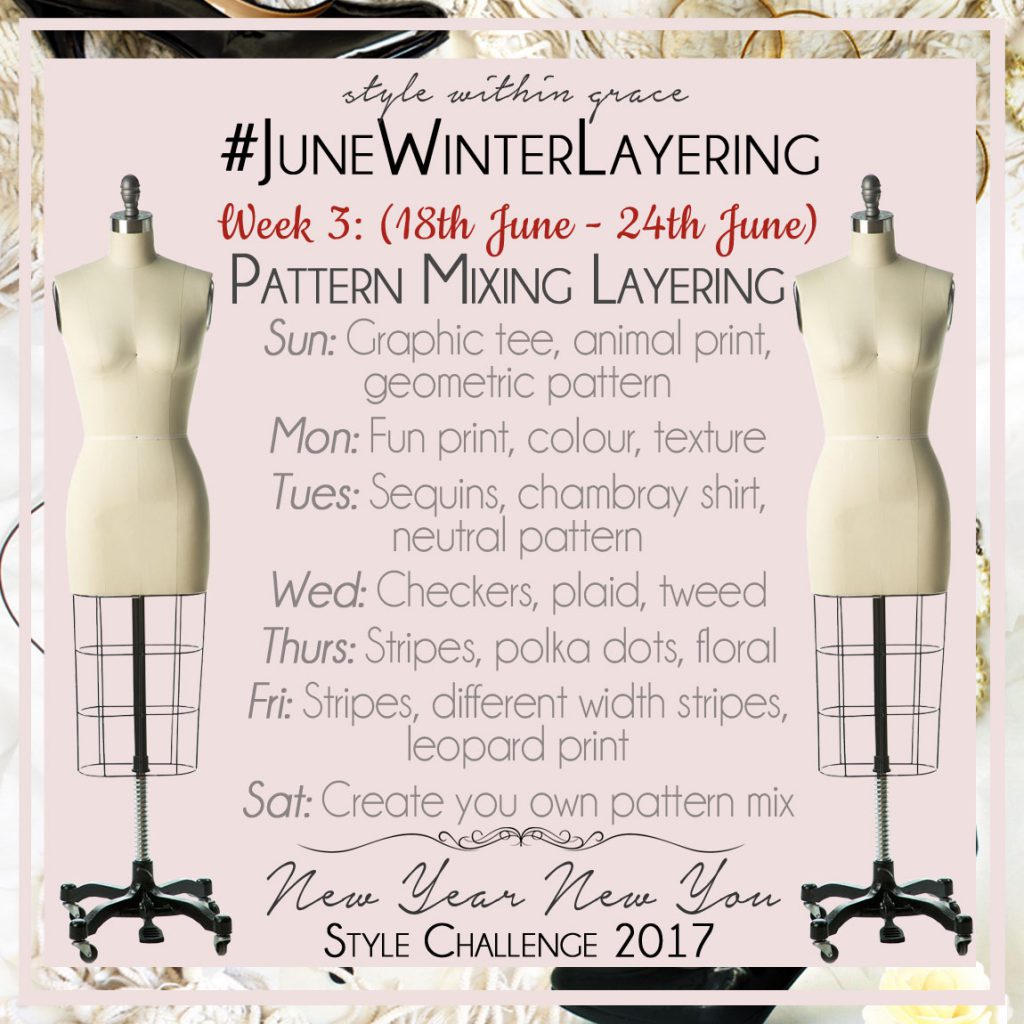 Sun – Start with a graphic tee, add an animal print and then finish with a geometric pattern.
Mon – Start with a fun print, add a bright pop of colour and then add an interesting texture.
Tues – Start with sequins, add a chambray shirt,and then add a neutral pattern.
Wed – Start with checkers, add plaid and then tie it in with a tweed or woven jacket.
Thurs – Start with stripes, add polka dots and then complete with some winter floral.
Fri – Start with stripes, add a different width of stripes and then complete with any kind of leopard print.
Sat – Create your own layered pattern mix combo.
Pattern mixing and layering can be a very frightening combo for some but not to worry I've got you. Follow these daily prompts for some foolproof ways to pattern mix like a pro. If you don't have something in your wardrobe that I've mentioned just improvise with what you do have. I tried to chose patterns that everyone should have in their wardrobes or kept it vague so that it would fit with what you do have. Go wild and create your own layered pattern mix combo on Saturday with some of the patterns I didn't mention above. Think paisley, chevron, ikat, gingham, tartan and Argyle. Your options are limitless!
Week 4: (25th June – 30th June)
Layering Combinations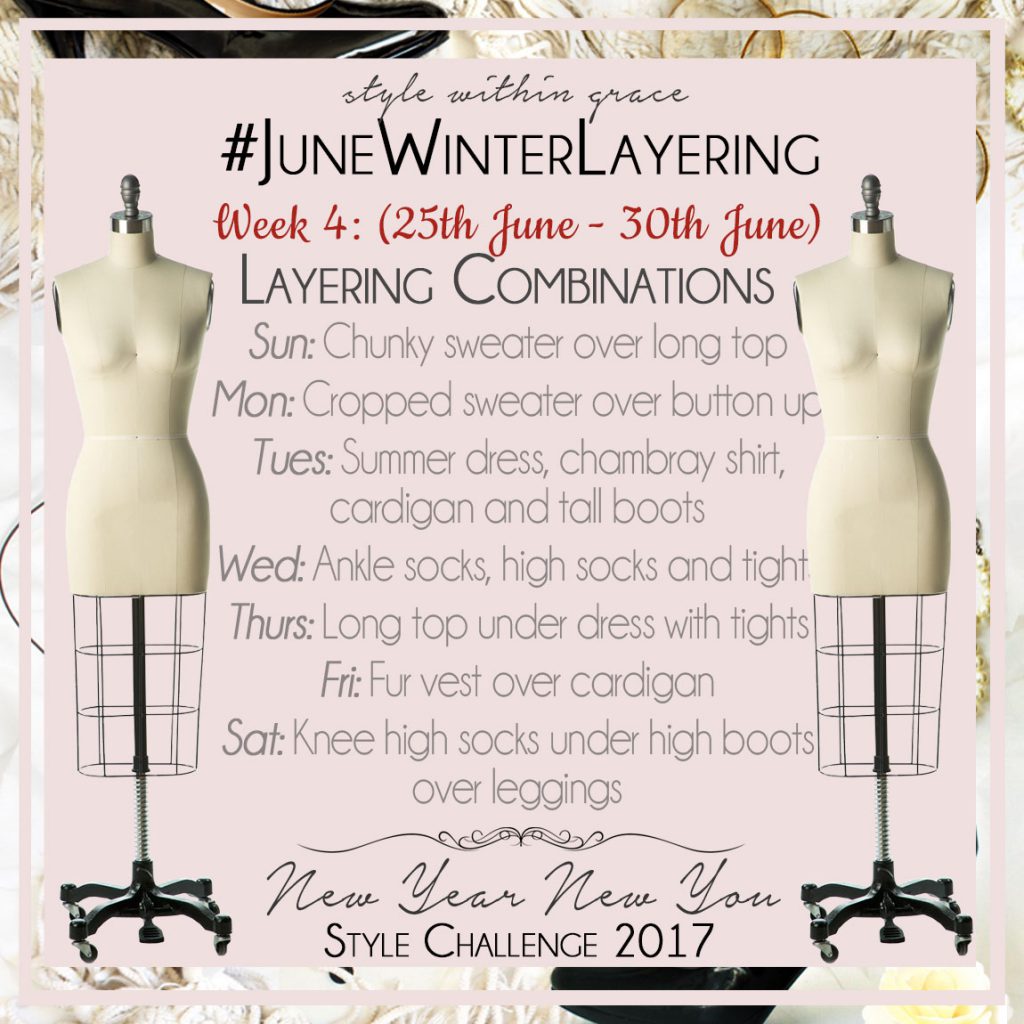 Sun – Layer a chunky sweater over a loose or more form fitting long sleeved top.
Mon – Make a cropped sweater warmer by wearing it over a button-up.
Tues – A summer dress can work for winter when you add a chambray shirt, cosy cardigan and tall boots.
Wed – Don't just layer your tops. Wear high socks over tights, and ankle socks over your high socks.
Thurs – Layer a long-sleeved top underneath your summer dress and add tights.
Fri – Wear a fur vest over a cardigan, and wear that over a t-shirt or tank top.
Sat – Wear knee high socks under high boots and over leggings.
There are seriously too many options to chose from when layering but I've given you a few ideas above. Again if you don't have any of the items mentioned above improvise! Don't have a fur vest? Any vest will do? Don't have high boots? Mid calf or ankle boots will work as well. Open your mind to all the wonderful layering possibilities and your outfit potential will increase significantly. Outfit domination! Go at it my layering minions! Muhaha!
Stay warm this month!
There it is! I actually could have done more layering prompts but we'll stick to those for now. Layering is so great for the added interest it can give to an outfit but it's definitely necessary in the winter.
I feel like after the last few years I have become a layering expert! After this month with all the tips and advice provided you should be a layering expert too.
Here's to becoming layering experts!