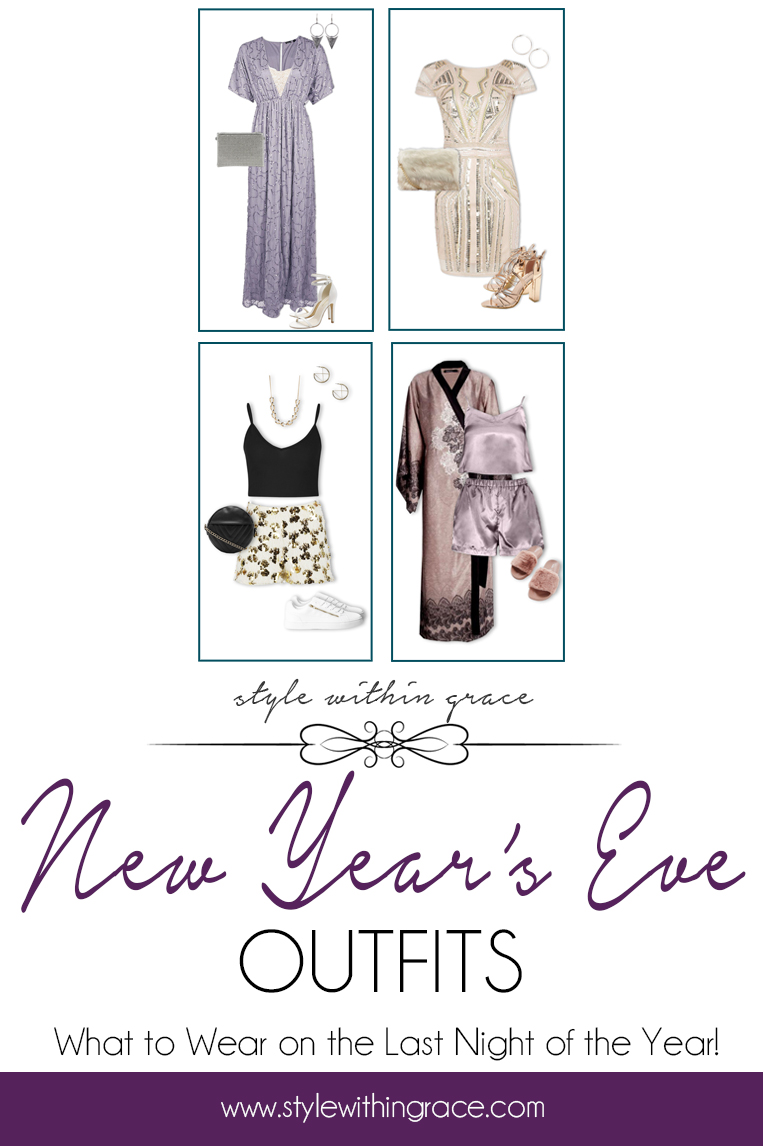 If you're looking for another excuse to buy a new outfit, New Year's Eve sure is a great one! No matter what your plans are, I have an outfit for you. From a New Year's Eve Ball to a night out dancing or a casual get together with your friends to a night in at home, I have some great New Year's Eve outfits below.
New Year's Eve Ball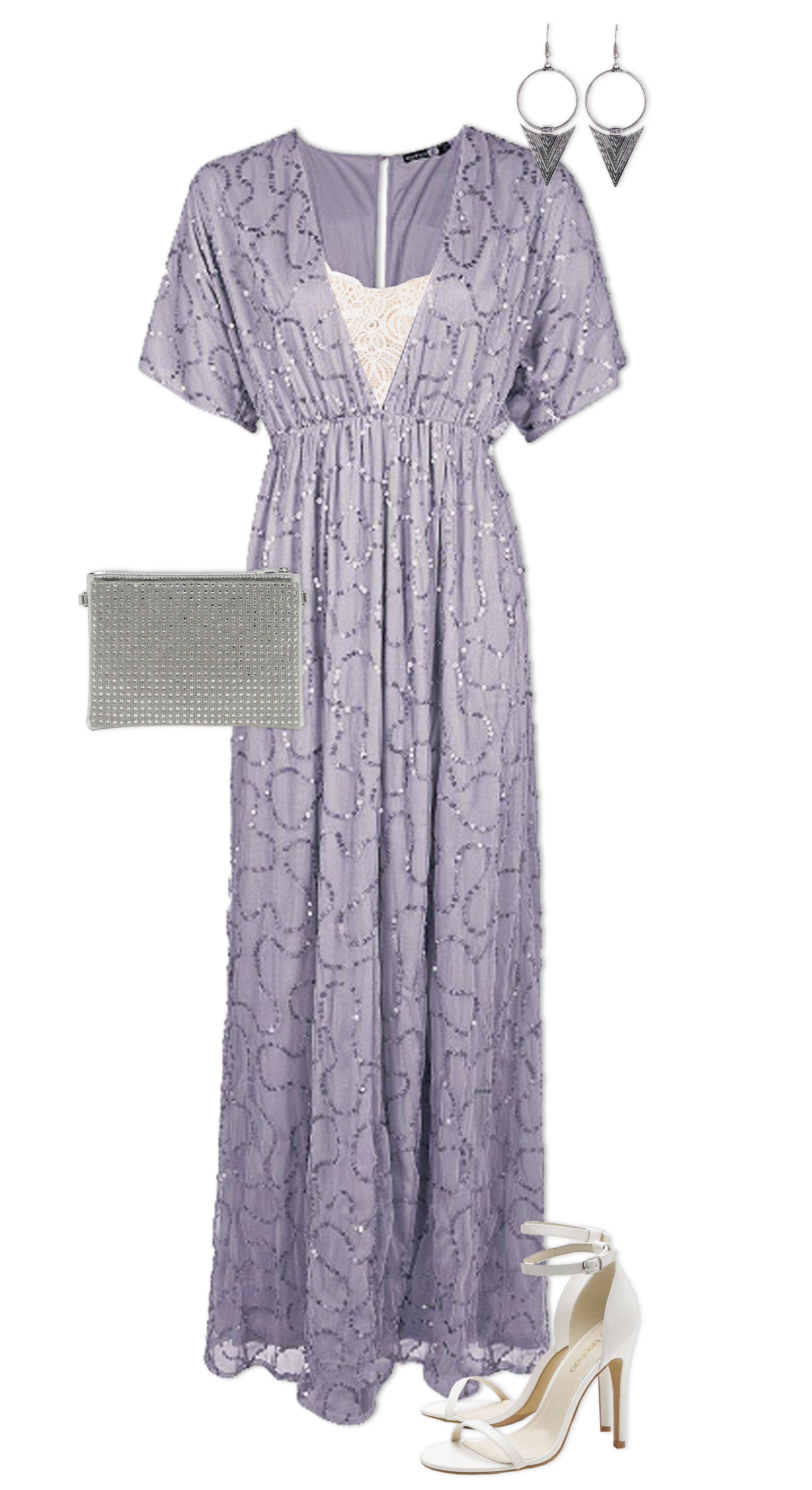 Nothing says New Year's Eve to me like sequins. This dress keeps sequins classy and elegant enough to wear them to a New Year's Eve Ball. It is fairly low cut though so I've paired it with a white lace bandeau top for those of you who like a little more coverage. Some classic white strappy heels tie in perfectly with the white bandeau. I've added some slightly boho inspired triangle hoop earrings because I didn't want to add too much sparkle to the one outfit especially since I finished the look off with a diamante clutch.
Shop the Look
Boutique All Sequin Tie Back Maxi Dress
White 2 Part Heels
Premium Lace Bandeau
Boho Triangle Hoop Earrings
All Over Diamante Zip Top Clutch with Chain
Dance the Last Night of the Year Away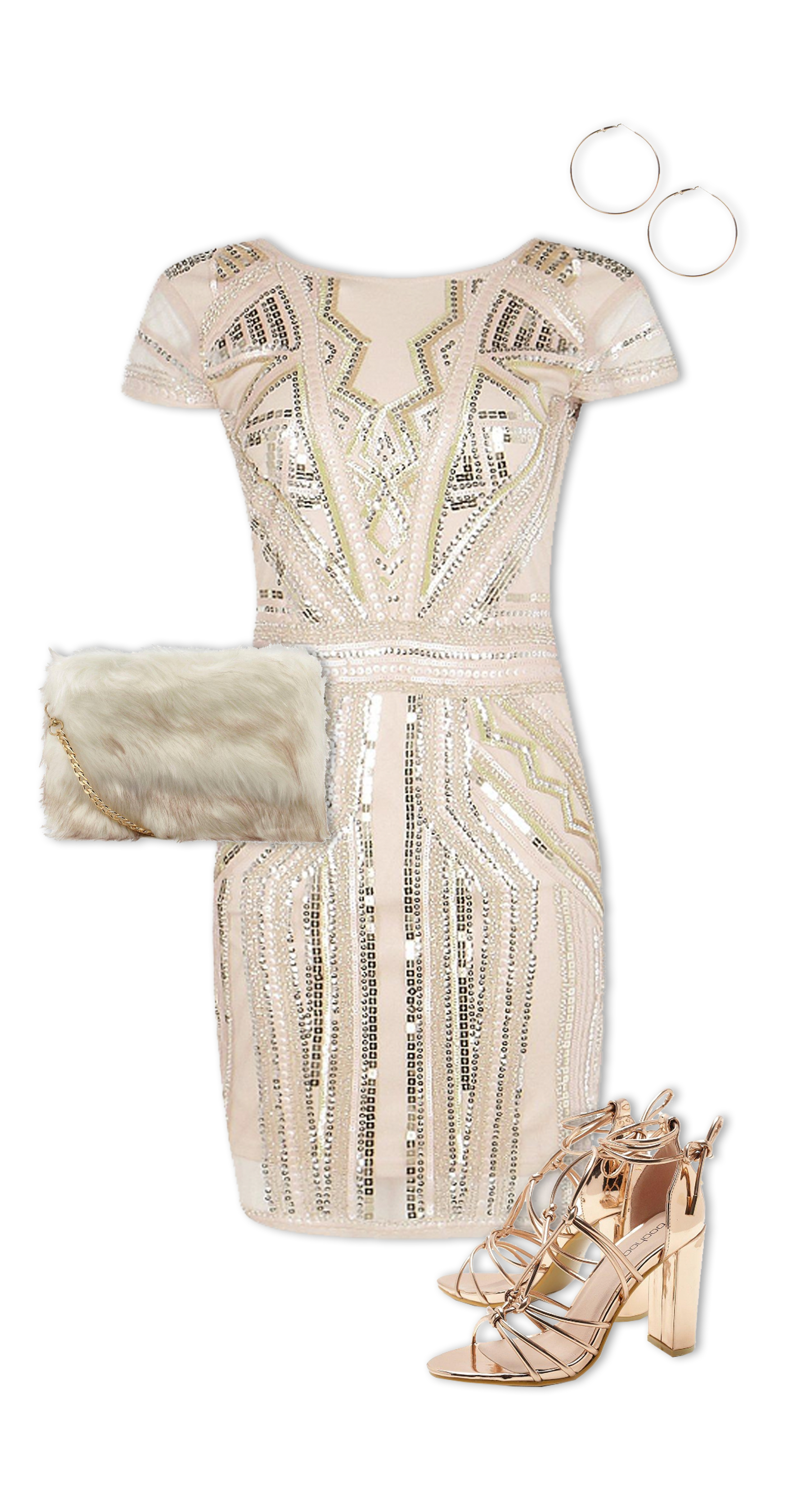 More sequins galore! This is the one night of the year when it's a must! On New Year's Eve you should go all out! This white faux fur cross body bag is another statement piece that enhances the sequins in the dress with the contrasting textures. Continuing with the mixed metal theme of the dress, I've finished the look with these rose gold shoes and some gold hoop earrings.
Shop the Look
Boutique Sequin Cap Sleeve Shift Dress
Block Heel Multi Strap Sandals
Faux Fur Cross Body Bag
Plain 6.5cm Hoop Earrings
Casual Get Together with Friends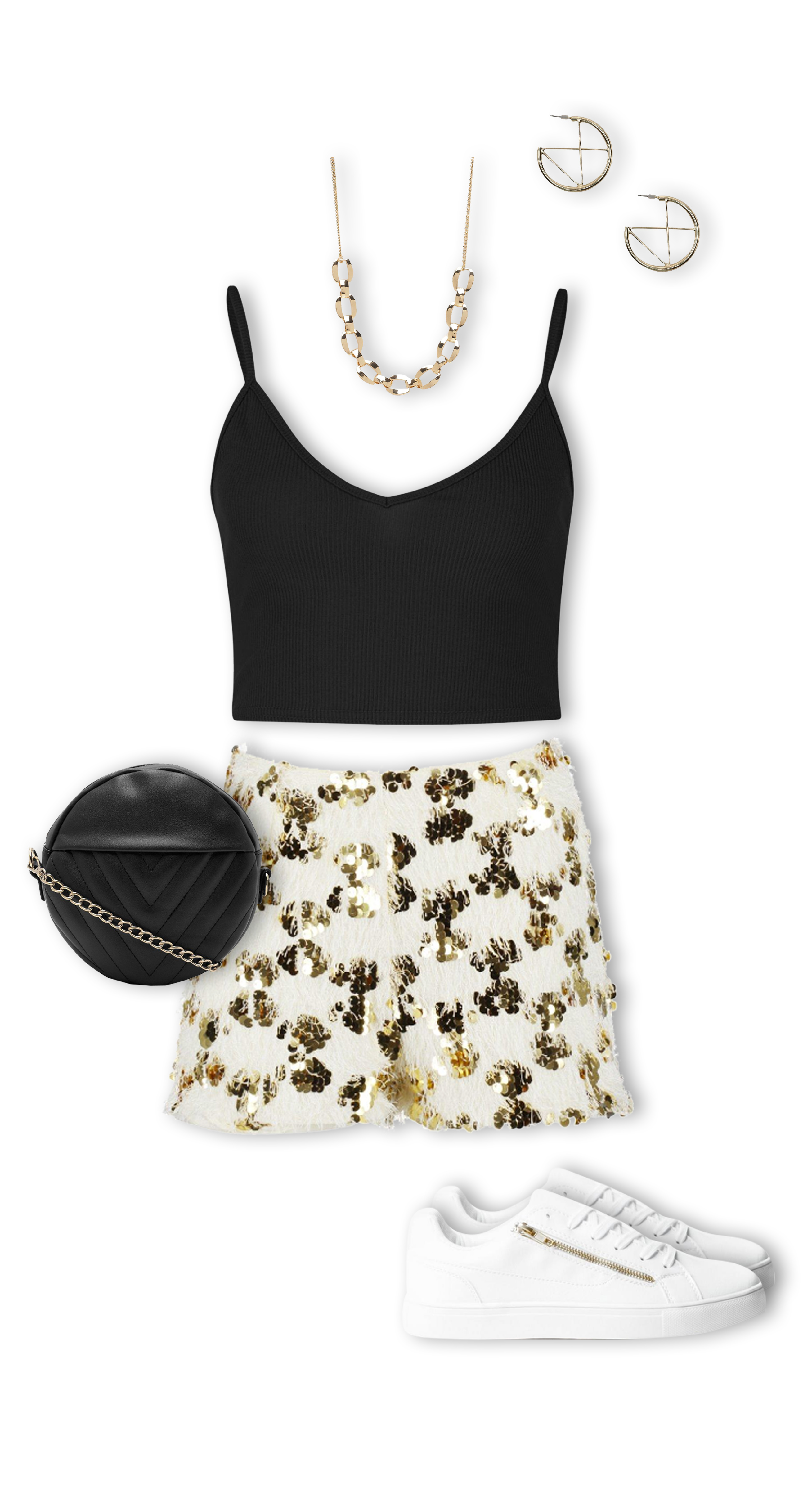 I can't help it! I know these shorts aren't the most casual item of clothing out there but you gotta wear something sparkly on New Year's Eve, even if it's just for a BBQ at a friend's place. I've dressed them down with a plain black crop top and some white sneakers with gold zipper detailing that pair beautifully with the colour scheme of the shorts. The round cross body bag works in well too by mirroring the shape of the discs on the shorts. This edgy linked gold choker and these geometric hoop earrings finish off the outfit and makes it one of my favourites this year.
Shop the Look
Tassel Disc Sequin Shorts
Basic Ribbed Bralet
Zip Detail Running Trainer
Statement Linked Choker
Geometric Hoop Earring
Chevron Quilted Structured Round Bag
Welcoming the New Year at Home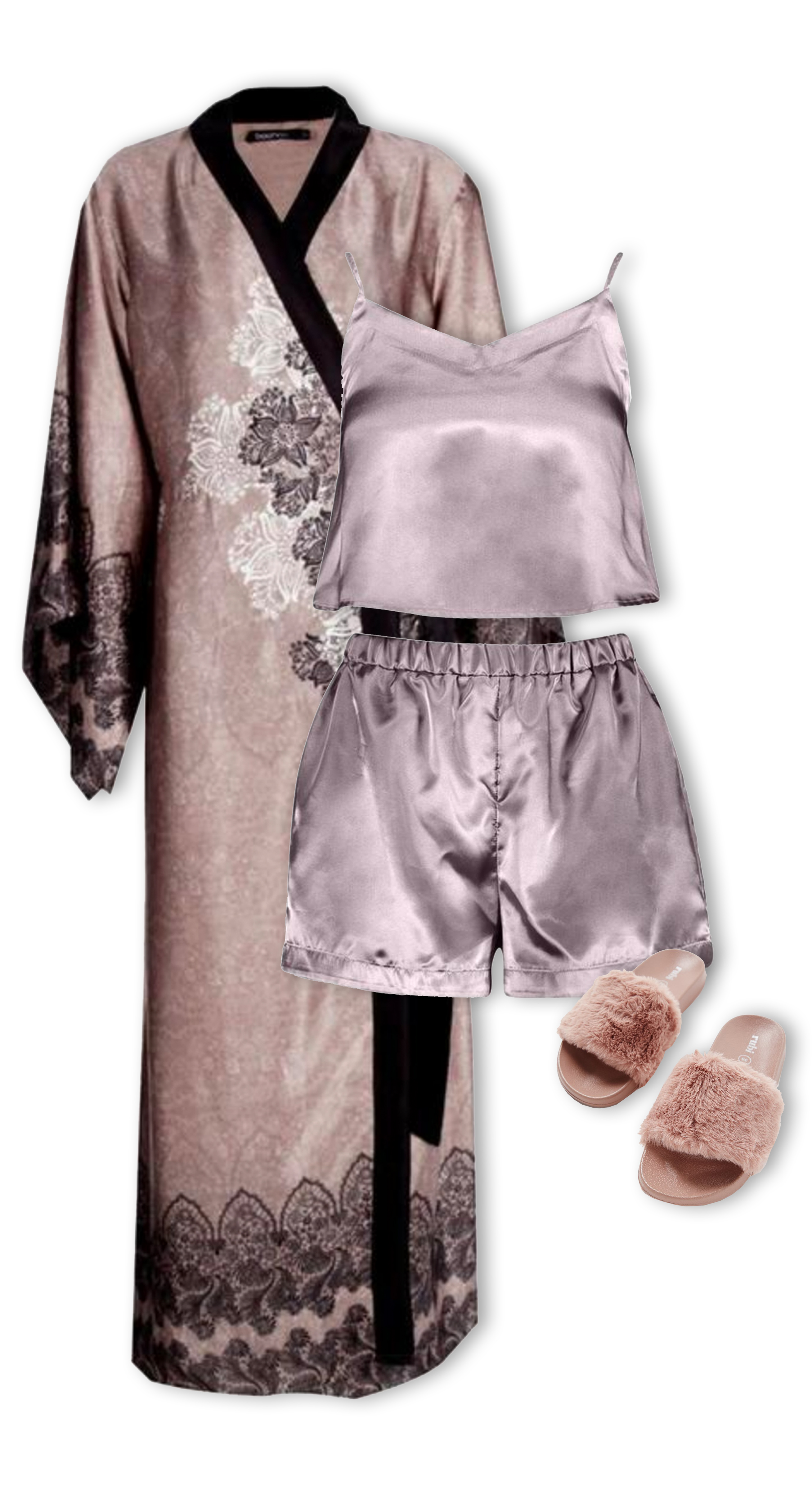 Just because you are staying at home this New Year's and will probably be in bed before the fireworks start doesn't mean you can't look fabulous, even if no one will see it but you. Sequins aren't really sleep friendly so I chose this shiny silver satin pj set instead. There is just something about this paisley print kimono that looks oh so luxurious, don't you think? Finally some faux fur slides finish of this glam but oh so comfy look.
Shop the Look
Satin Crop Vest and Short Set
Paisley Satin Maxi Kimono Night Robe
Pink Wild Slide
Which of these New Year's Eve outfits is your favourite? How will you be spending the last night of the year? Tell me about your plans in the comments below so that I can vicariously live through you because I don't think our plans will be very exciting this year. With Naomi only 2 months old, I'll be lucky to make it to 9:30pm let alone midnight. Now to do the ever groan-worthy cliche goodbye… See you next year!
Check out last year's post on Valentine's Day Outfits for some date and outfit ideas because February will be here before you know it!