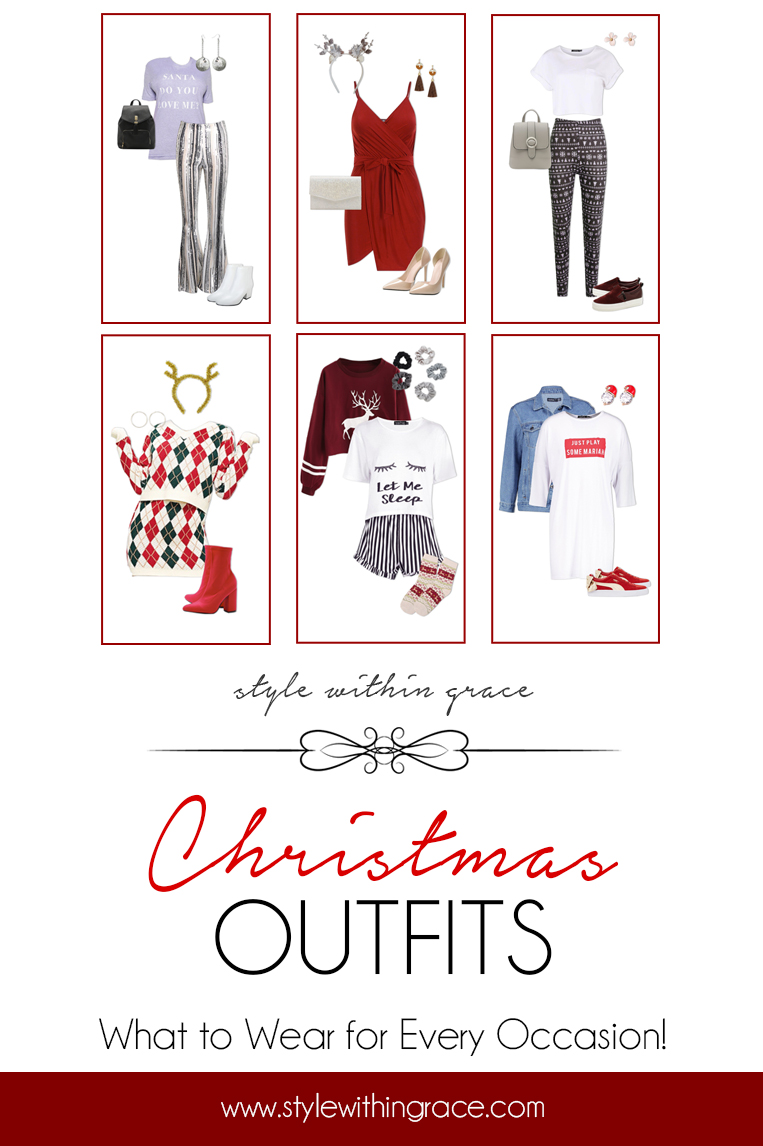 It won't be long now! Tomorrow it will be December and I will finally have permission from my husband to get my Christmas Spirit on! The tree will go up, the lights will be strung, the carols will start getting blasted and I can start wearing the oh so adorable Christmas attire. Even if you aren't big on the Christmas spirit, everyone loves a new outfit and a good excuse to get dressed up. So below I have decided to put together 3 different Christmas outfits for each silly season event to match your level of Christmas spirit.
If you are absolutely obsessed with this time of year, I have red and green outfits with tinsel, cute slogans and glitter galore! If you would rather give the cliched only wear once a year clothing items a miss than I have some classy understated Christmas outfits for you that don't necessarily have to stay just for Christmas. Whatever your level of spirit and whatever you have planned, I have the perfect outfit for you.
Christmas Parties
Typically the first occasion that rolls around this time of year is all the Christmas parties! Whether it's work parties, family dinners or friendly catch ups it's always fun to get dressed up. Below are some perfect Christmas outfits for all the parties to come.
A Little Christmas Spirit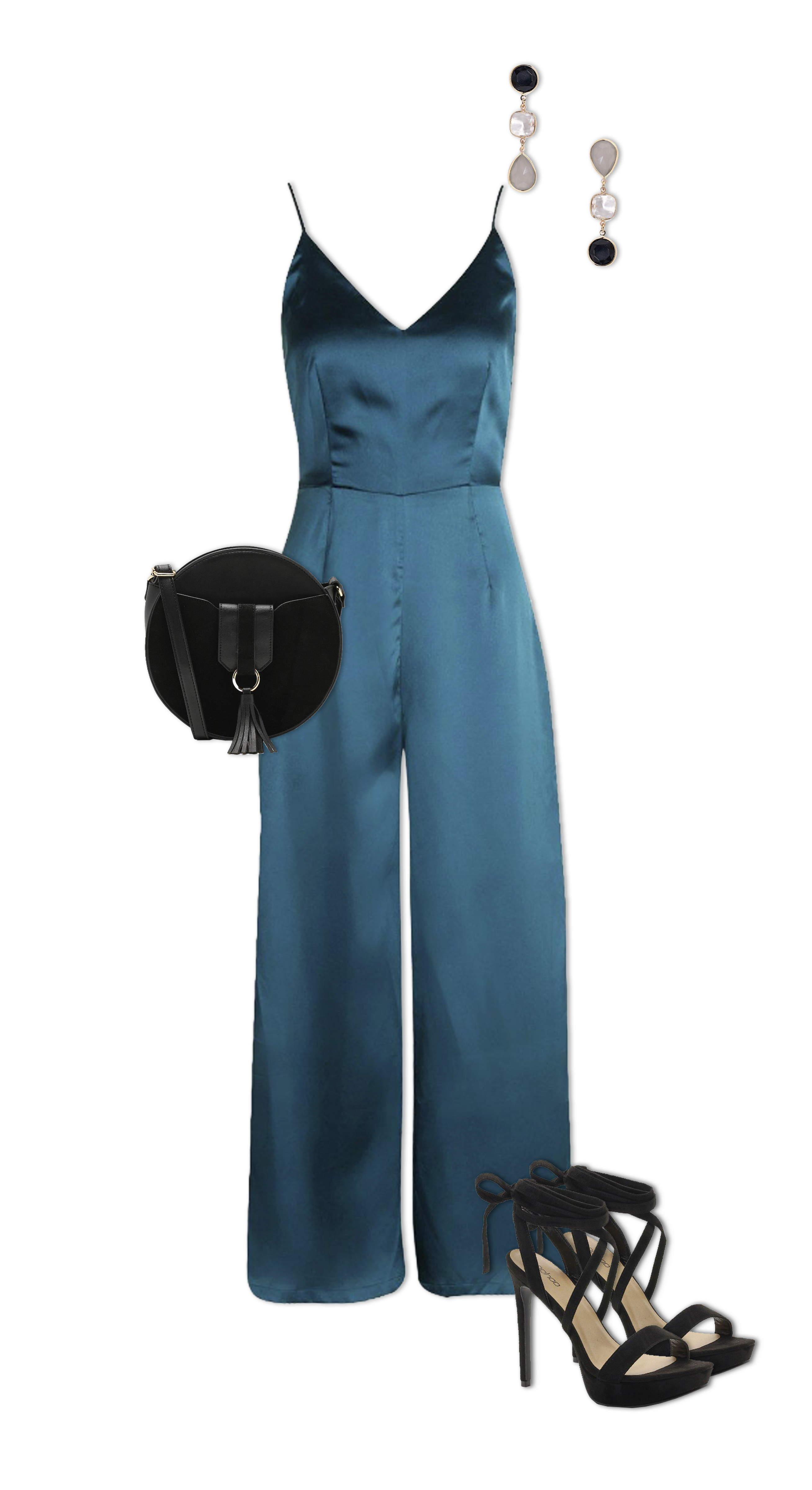 A beautifully classy jumpsuit in a slightly festive green for those of you who would forgo the cheesy Christmas clothing. I've paired this with some wrap around black stilettos, a black fringe crossbody bag so you have your hands free for dancing or eating or both and these stunning black and grey drop earrings. Add a silver belt around the waist if you want to glam it up a little more or swap out the black handbag for a silver clutch. This outfit is classy enough to wear to work gatherings but fun enough to wear out with friends.
Shop the Look
Satin Cowl Back Culotte Jumpsuit
Multi Stone Drop Earrings
Kelly Ring & Tassel Round Crossbody
Wrap Platform Two Part Heels
Some Christmas Spirit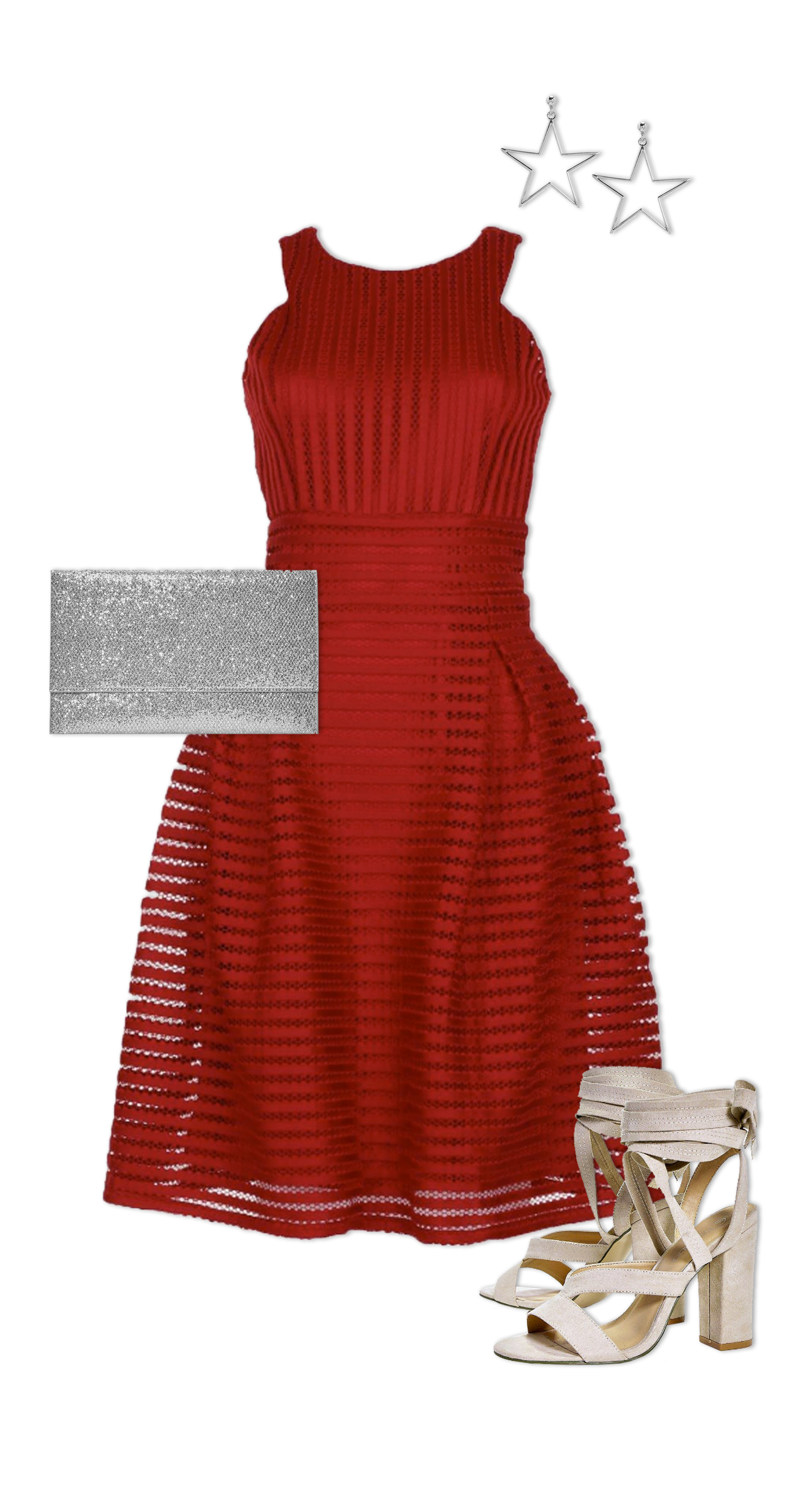 You can't go past a red dress for Christmas! Or at least I can't… I've added a silver glitter clutch and star earrings to hint at some Christmas spirit but not throw it in your face. All these items can totally be re-worn all year round. I'm loving these off white block wrap strap heels as well. They dress up the outfit nicely but look like they would still be very comfy if you are likely to be on your feet all night. This outfit is a great mix of textures with the paneled texture of the dress mixed with glitter and suede. It really makes for a more interesting combination. The dress is a great length for work events as well.
Shop the Look
Boutique Panelled Full Skirt Skater Dress
Block Heels Wrap Strap
Star Metal Ball Stud Earrings
Fold Over Glitter Clutch
A Lot of Christmas Spirit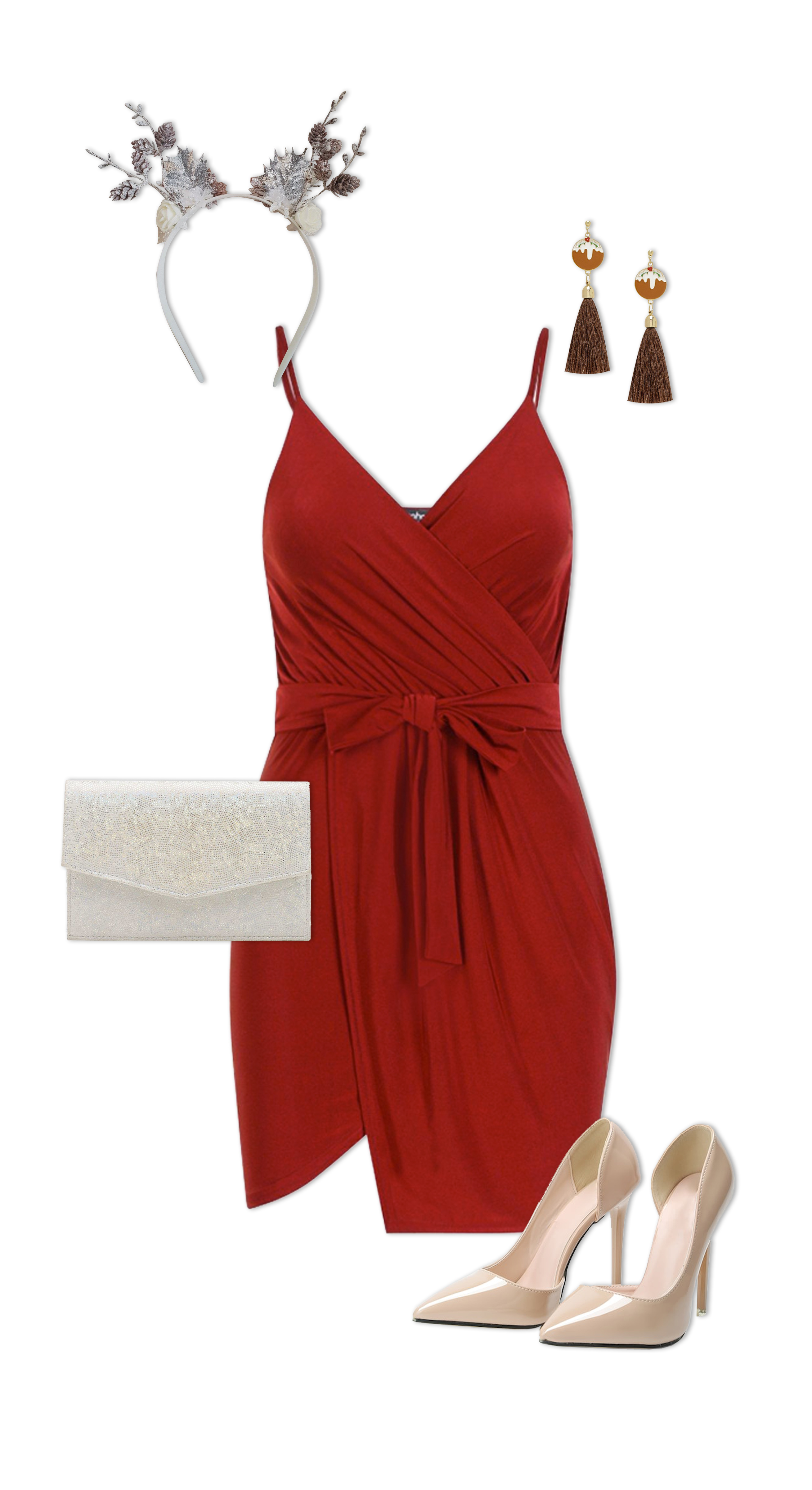 I'm bringing out all the Christmas bling for this outfit. This dress is a little shorter than the last but I've stuck to the classic Christmas red. The clutch is similar to the last one but is actually a white holographic clutch rather than glitter. Still equally festive as glitter but a more sleek modern look. I've then paired those with some nude patent leather pumps. You could stop there if you wanted to but if you LOVE Christmas why not go all out! I've included some Christmas pudding fringe earrings and some sparkling reindeer antlers. You'll be the best dressed at your Christmas party with this look.
Shop the Look
Disco Slinky Wrap Drape Dress
Holographic Texture Envelope Clutch
Pointed Toe PU Pumps
Christmas Pudding Tassel Earrings
Sparkling Christmas Reindeer Antlers
Christmas Eve
After all the Christmas parties have started to wind down before you know it, it's Christmas eve! Now my vision of Christmas eve is hanging out at home in your pj's and going to bed early because everyone is always impatient for Santa to come. If however you are on your way out for the evening once more than you might have another chance to wear one the Christmas party outfits.
A Little Christmas Spirit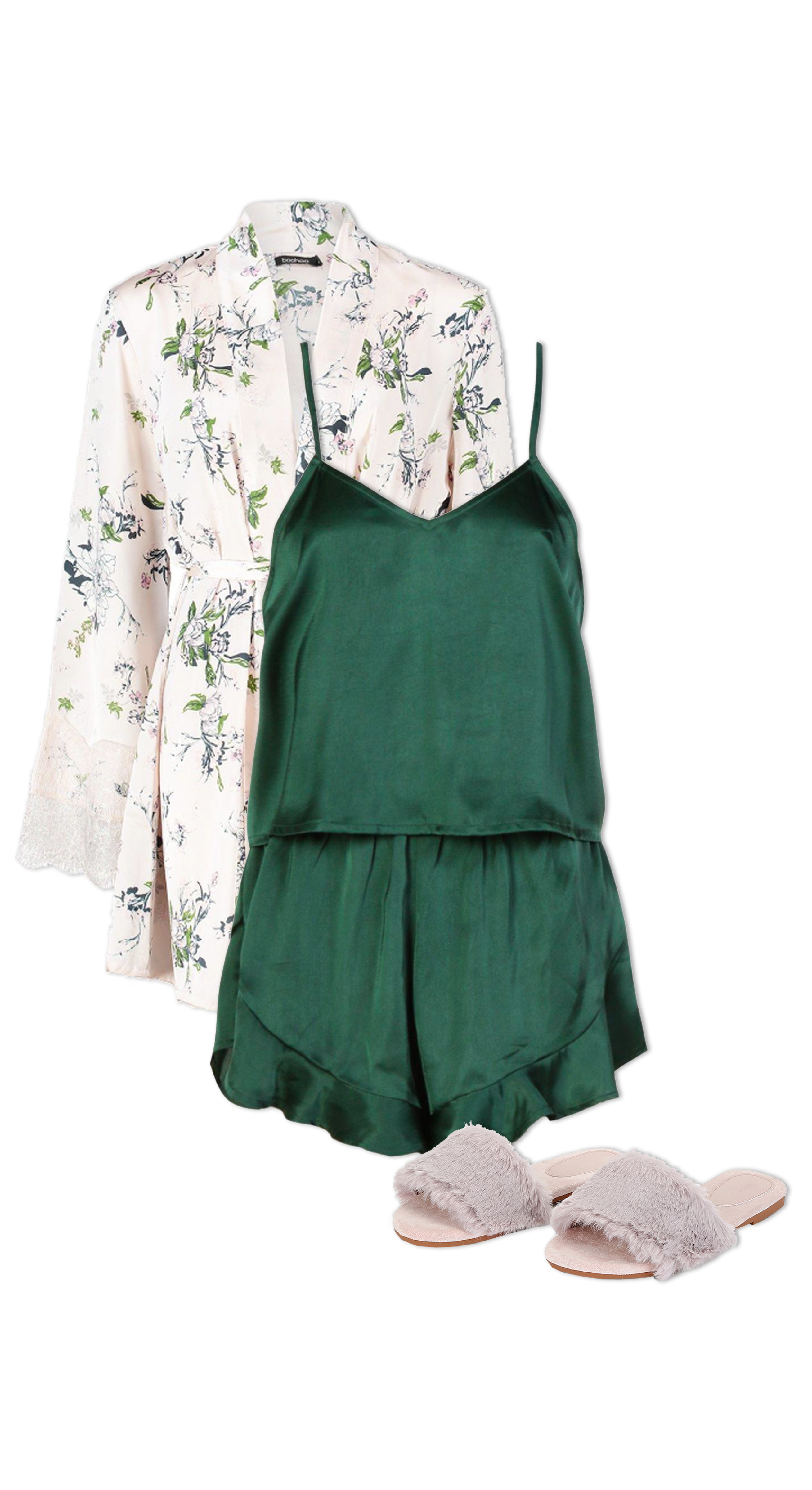 How cute is this little emerald green satin vest and short set! Just slightly festive in colour but definitely suitable for year round. Paired with this adorable floral print lace dressing gown and faux fur slides you'll be looking ever so cute as you wait for Santa to arrive.
Shop the Look
Floral Print Lace & Satin Gown
Satin Vest & Short Set
Faux Fur Slides
Some Christmas Spirit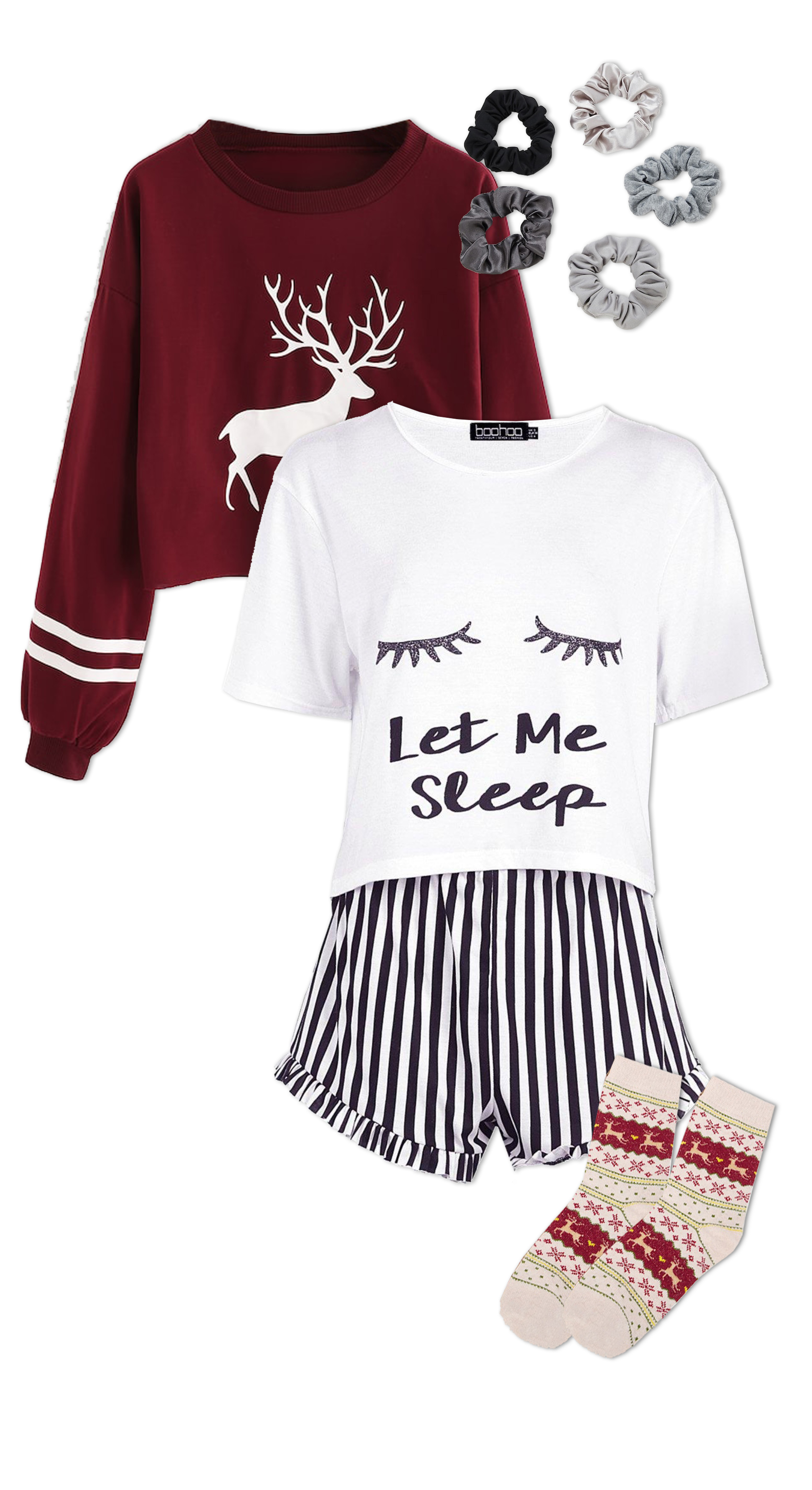 As a new mum of a 2 month old this PJ set really resonates with me and I imagine any mums out there will feel the same on Christmas morning. If your kids are up super early keen to open presents than this is the Christmas eve outfit for you. There is some stylish pattern mixing going on with the addition of the Cute reindeer Christmas socks which pair perfectly with this cropped reindeer sweater. You might not need this is you are in Australia like me but if it's a little cooler it's perfect. Lastly a scrunchie in your hair to keep it off you back in the Christmas heat (again for those of you in Australia).
Shop the Look
Christmas Print Crop Sweatshirt
Hair Scrunchies
Let Me Sleep Ruffle PJ Short Set
Christmas Deer Pattern Socks
A Lot of Christmas Spirit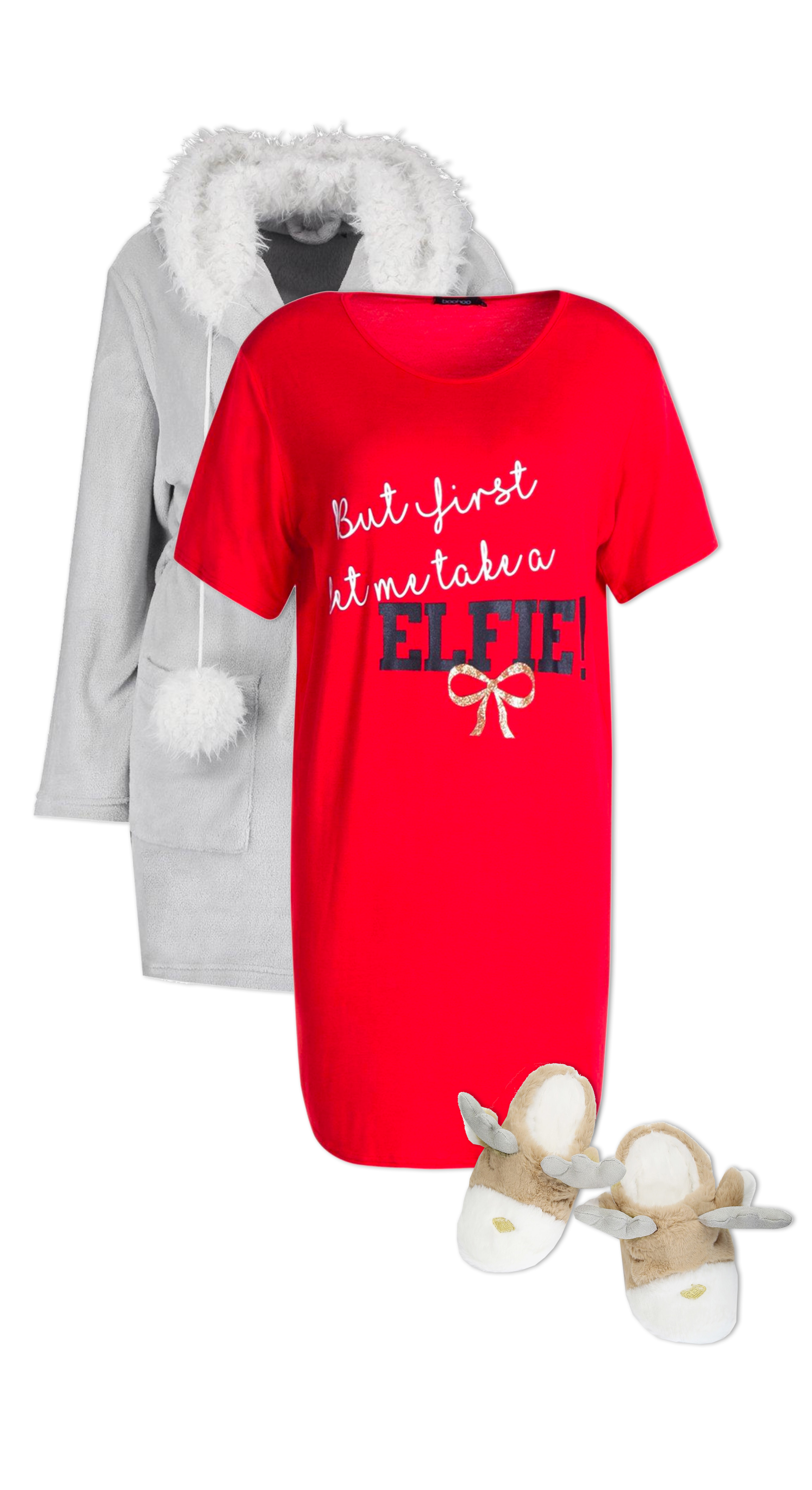 And the Christmas spirit filled outfit you've all been waiting for… This Christmas sleep tee is just the cutest. The gold glitter bow matches the nose on these lovely fluffy reindeer slippers. To finish this outfit off, a grey fluffy pom pom dressing gown which ties in with the antlers of the reindeer slippers. This outfit is definitely on the warmer side. Not for those of us who are sweltering in the Christmas heat.
Shop the Look
Pom Pom Bear Dressing Gown
Take an Elfie Christmas Sleep Tee
Cartoon Design Two Tone Flat Slippers
Christmas Day
The big awaited day arrives! In Australia I think the most common thing to do on Christmas day is get together for a big potluck family lunch. That's what I do at least. Usually it's pretty casual and it's very hot but I couldn't help myself and add some layers to some of these outfits. This might work well for anyone in colder areas of the country but just loose the outerwear if you see fit.
A Little Christmas Spirit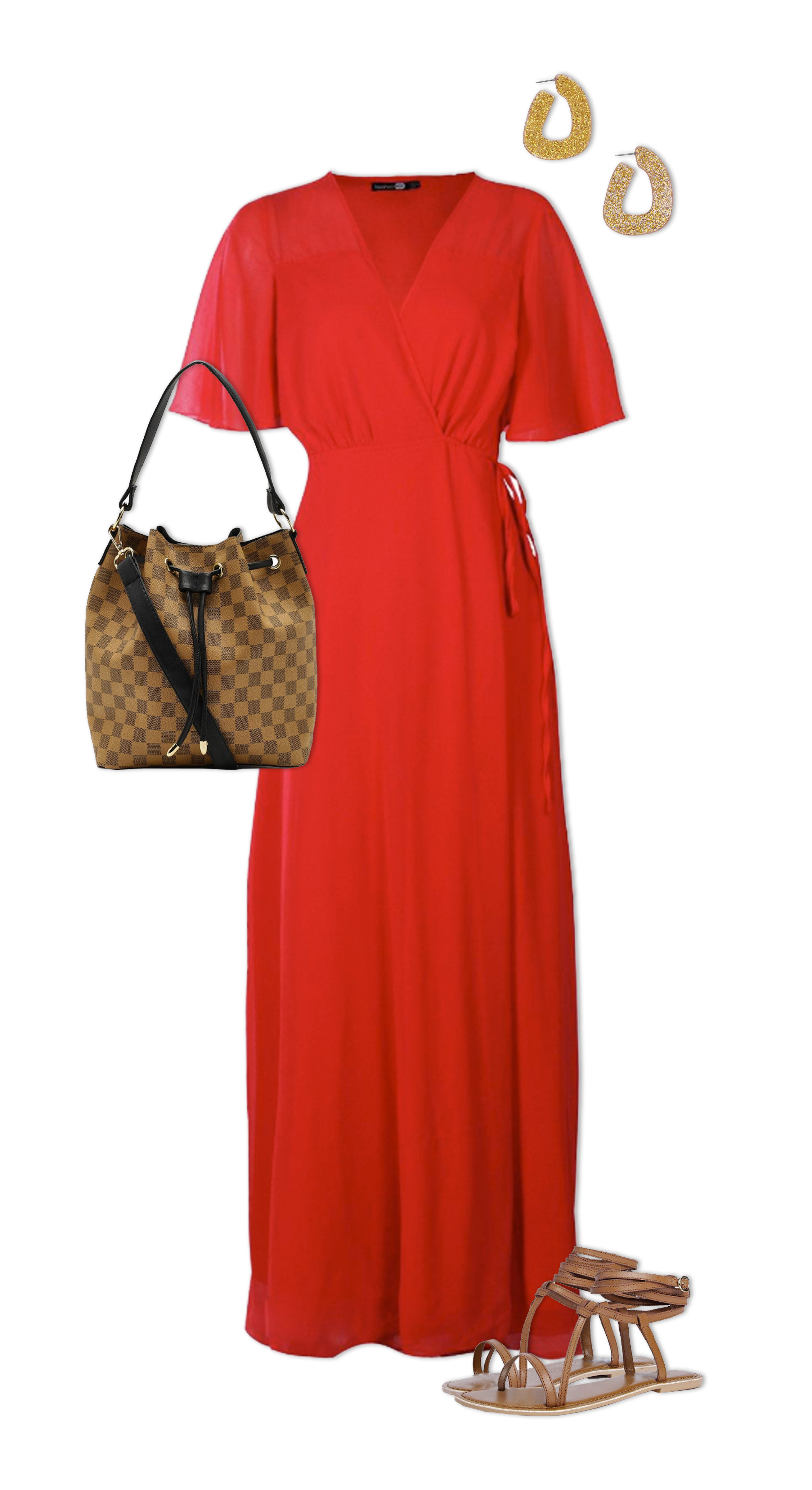 Again I can't go past a red dress for Christmas! But it's not too Christmasy paired with this check duffle bag and these wrap strap leather sandals. They look super comfortable for a casual family BBQ or potluck lunch. Then I've added in these gold glitter earrings for a little more festivity.
Shop the Look
Chiffon Angel Sleeve Maxi Dress
Boutique Wrap Strap Leather Ghillie Sandals
Check Duffie Day Bag
Glitter Resin Abstract Hoop Earrings
Some Christmas Spirit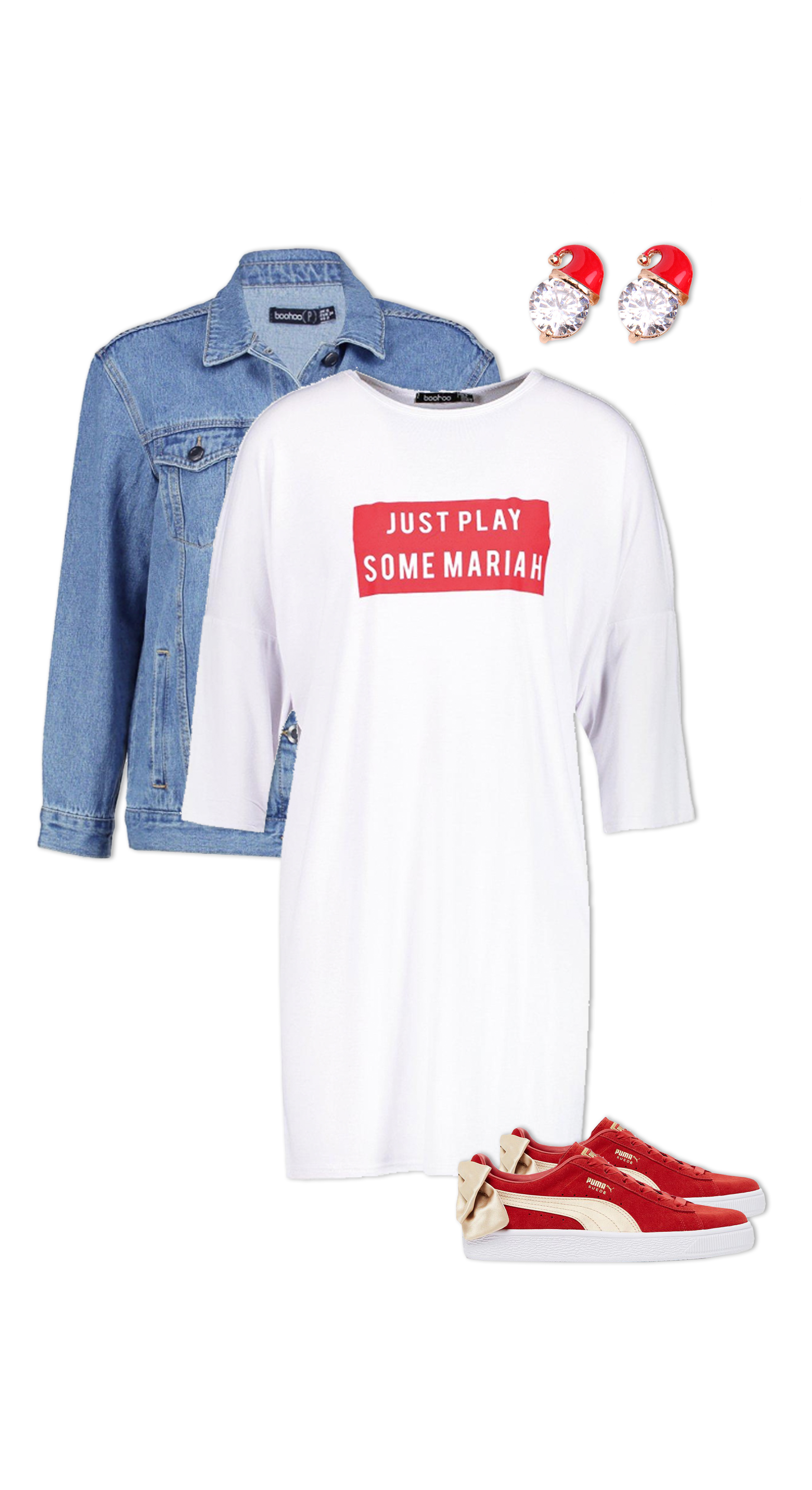 If you want to go even more casual for your Christmas day look this is the outfit for you. You can't get much more comfy than this white slogan sweater dress! Sneakers are another comfortable choice but these just take the outfit to the next level with gold satin bows on the back. An oversized denim jacket is the perfect outerwear piece to throw over the top if you need more warmth. You could also add some leggings underneath. Add a tiny bit of bling with these Santa hat crystal earrings to finish off the look.
Shop the Look
Christmas Just Play 3/4 Sleeve T-Shirt Dress
Suede Bow Varsity Puma Sneakers
Boyfriend Fit Denim Jacket
Crystal Santa Hat Christmas Earrings
A Lot of Christmas Spirit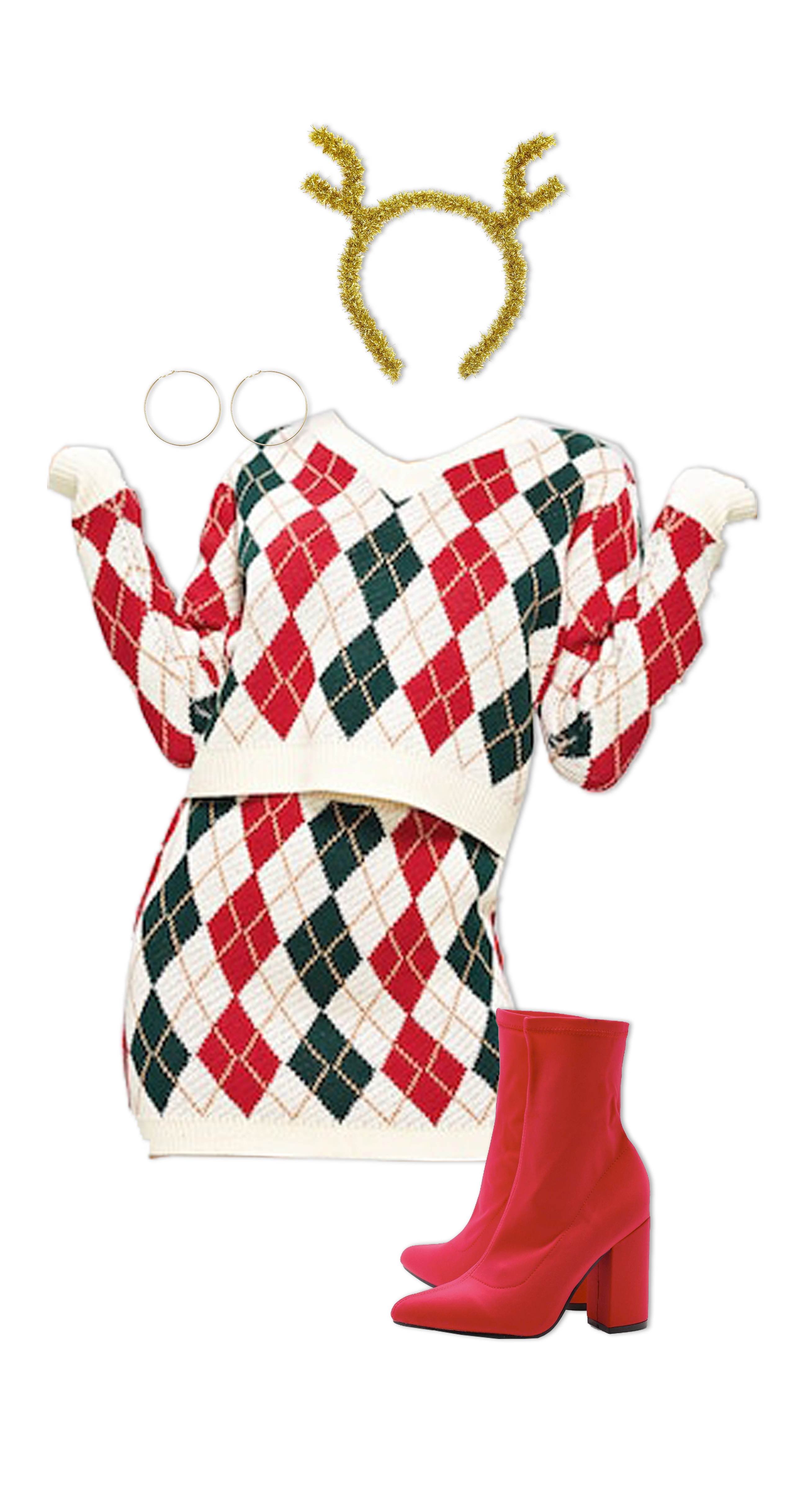 Yes… I know. I've really outdone myself with this Christmas outfit. Definitely not for the faint hearted! When I found this green and red argyle sweater and skirt combo I knew I had to include it in this post. Add some red sock boots, silver hoop earrings and this gold tinsel antler headband and you couldn't be more ready for Christmas.
Shop the Look
Christmas V-Neck Argyle Sweater & Body Con Sweater Skirt Set
Stretch Pointed Toe Sock Boots
Tinsel Antlers Headband
Plain 9cm Hoop Earrings
Boxing Day
There is so much hype leading up to Christmas and then suddenly it's all over! But you can't be too sad when you have boxing day to follow. I don't know about you but I personally stay away from the shopping centres and all the big crowds. Even if you are someone who braves the masses then these outfits will still work for you. I feel like my Christmas spirit drops dramatically as soon as the day itself is over. I can relate to the "Nope" Santa shirt below. Can you?
A Little Christmas Spirit

The perfect outfit for lazing around in a Christmas food coma the next day! The shirt says it all. It pairs perfectly with some distressed boyfriend jeans and some comfy black skater sneakers. The snake texture and zip detailing make them all the more interesting. If you're going out shopping than I've added this quilt belt bag so you can have your hands free for all you shopping bags. These edgy black triangle earrings are the cherry on top of a edgy casual boxing day outfit.
Shop the Look
Christmas and Letter Print Tee
All Over Ripped 7/8th Boyfriend Jeans
Snake Effect Side Zip Skaters
Quilted Belt Bag
Black Minimalist Triangle Ear Studs
Some Christmas Spirit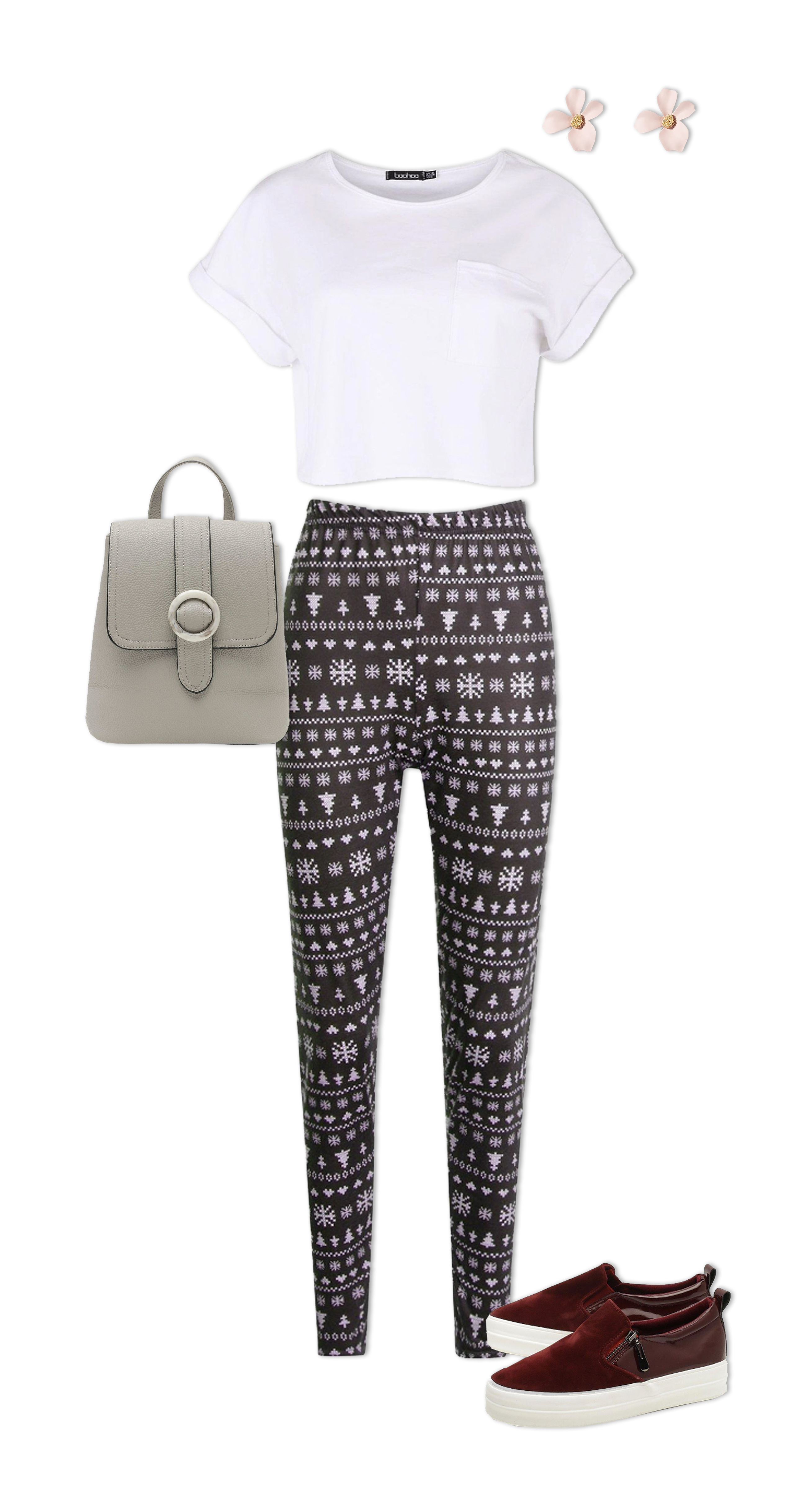 I love Christmas print leggings but I don't usually get much of a chance to wear them here but maybe you could get away with them in the air-con at the shopping centres. These black and white ones pair perfectly with a white crop top and these velvet and patent leather burgundy skater sneakers. A backpack is another great shopping day option to keep you hands free for shopping bags! How cute are these little flower stud earrings to finish off the look.
Shop the Look
Christmas Fairisle Print Leggings
Pocket Detail Crop T-Shirt
Immy Skaters with Zip
Grey Resin Buckle Rucksack
Flower Shaped Stud Earrings
A Lot of Christmas Spirit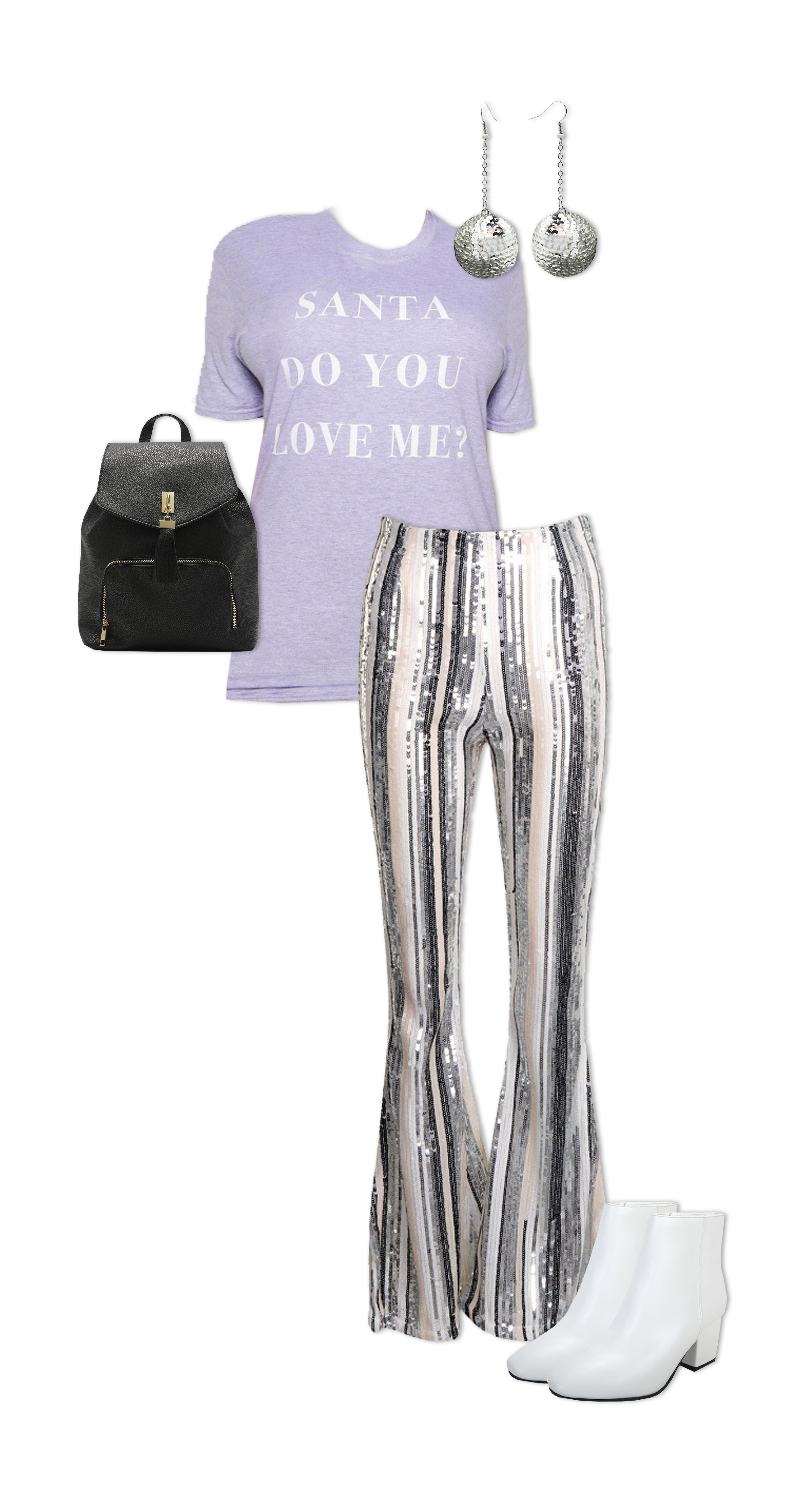 I've outdone myself again with the Christmas spirit goodness! These pants are just wow! I've dressed them done a little with Christmas slogan tee and backpack. These white boots seemed like the perfect shoe for the outfit. Lastly a silver glitter Christmas bauble earring to tie in with the pants. There's no staying at home in this outfit. You have to go out and flaunt it!
Shop the Look
Christmas Santa Do You Love Me Slogan T-Shirt
Stripe Sequin Flares
Fringe Tassel Rucksack
Christmas Sequin Drop Earrings
Pointed Toe Side Zip Block Heel Booties
Did you find an outfit that would work for you? Are you someone who has a ton of Christmas spirit or would you rather forget the time of year? What events do you usually need to dress for this time of year? Did I miss anything? I didn't create a Christmas shopping category above because I feel like boxing day sales can double for Christmas shopping. I would wear pretty much the same things. Let me know which outfit was your favourite in the comments below! Oh and Merry Christmas everyone! Stay tuned for a New Year's Eve outfits guide in the days to come as well.