With Black Friday just a few days away, I wanted to share with you some Christmas gift ideas to help you get some of that shopping out of the way early. (Or if you want to get something for yourself, there's no judgement here! I just picked up a few discounted items for myself yesterday.) A lot of these items are heavily discounted for Black Friday. If you spy something that would be purrfect for a certain someone you know then jump on it quick to make sure you get them for much cheaper than usual. And yes I will be using every cat themed pun under the sun throughout this post because… well because why not!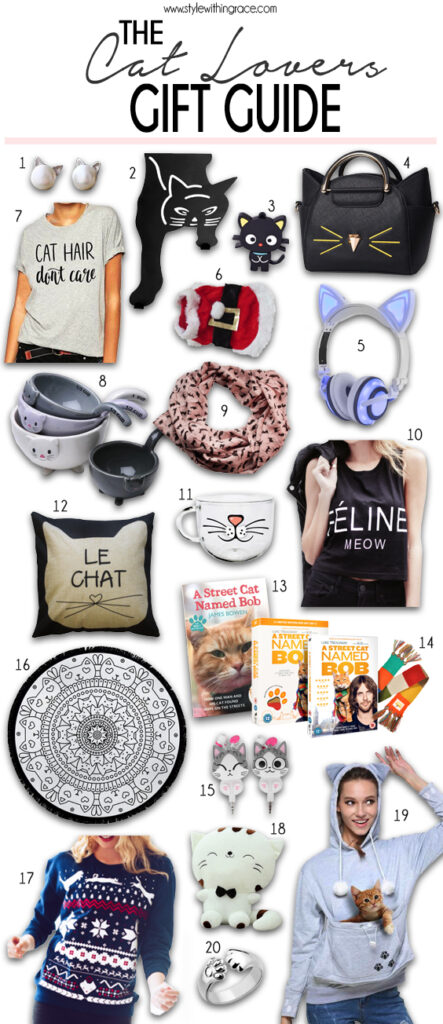 Links to Shop
1. Cat Pearl Stud Earrings
Silver Plated Cat Ears on Faux Pearl Studs. Totally affordable and cute! Just as long as your cat loving friend has her ears pierced, she will love these earrings.
2. Black Cat Door Hanger
I have one these on our laundry door. It looks totally cute and the hooks are super useful to have. A great gift for any cat lover! Holds up to 9.1kg in weight. Fits door widths measuring up to 3.8cm. It is a little wider than our door but it still stays in place just fine. Made out of sturdy iron that is encased with a rust-free black coating.
3. Black Cat USB
USBs are always useful to have on hand so why not make it a cute cat one! Comes in 4G to 64G depending on your size needs.  USB2.0 that works on all operating systems.
4. Classy Cat Purrse
Isn't this just the cutest handbag? This purse is a true diamond in the fluff: a classic black purse with a bit of feline flair. Dress it up or dress it down, this handbag is the ideal accessory for any purrfessional cat lady. This versatile bag can be carried as a handbag using the two gold-accented handles or worn over the shoulder with the attachable, adjustable shoulder strap. The classy cat handbag is the purrfect size to fit all your daily necessities without weighing a ton. Oh and the best features is it's made from 100% vegan leather. This purse won't get covered in cat fur no matter how tenaciously your cat sheds. Plus, it's a worry-free way to wear leather without sacrificing style.
5. Over Ear Foldable Cat Ear Headphones
These light up LED headphones come in several different colours and purrfect for cat girl music lovers. Easily portable because they fold up and comfortable as well with cushioned ear muffs that also help cancel out noise. They have a 3.5mm connector.
6. Christmas Cat Costume
If your friend is one of those crazy cat ladies who love dressing their cats up then she'll love a Christmas costume for her cat. And yes I am one of those crazy cat ladies who love to dress their cats up so no judgement here. This one is a cute Santa inspired costume but any Christmas costume would work too.
7. Cat Hair Don't Care Tee
Anyone who owns a cat just accepts the fact that anything they wear WILL be covered in cat fluff. It's just a fact of life. Help your friends celebrate the cat fluff by making light of the situation with this t-shirt because hey, cat hair is the new black!
8. Cat Tail Measuring Cups
These Cat Tail Measuring Cups are the purr-fect companions for a cat-lover and baker! From their tiny paws and little pink noses to their cute tails (which also function as handles), this adorable cat kitchenware is guaranteed to please cat-loving cooks and guests alike. Whether you're a sous chef or a new chef, these cute kitty chefs will lend you a paw no matter the recipe. These kitty cat baking bowls come in a variety of four modern colors from slate grey to powdery blue to purrfectly fit in with any décor. When not in use, stack them up in an adorable tower of kitty smiles to brighten up your counter top!
9. Clowder Cat Scarf
The Clowder Cat Scarf is made up of a 100% chiffon that is both light and airy to hang around your neck in the summer, but long enough to wrap when in need of warmth. This fashionable and feminine print features the silhouette of several cats in their different feline positions. This soft, airy, and feminine accessory will have you purring like a cat every time you grab it! Plus, it comes from 3 different colors to choose from: Classic Beige, Sweet Pink or Sexy Black.
10. Feline Meow Black Crop Top
Every girl needs that claw-some and versatile black crop top to throw on with any pair of shorts, jeans, and skirt to make your outfit pawsitively purrfect. This top is a spin on the Celine Paris tank that even Ariana Grande couldn't resist wearing! Despite the main picture on the listing being a body hugging turtleneck crop, the actual top you get is the looser singlet version.
11. Cat Face Mug
You've all seen those Instagram photos of the gloriously glamorous insta-famous people drinking their coffee out of these cute little mugs. For all your friends who would secretly or not so secretly prefer to be cats than humans, this mug will give them a taste of the feline life by making it appear as though they are in fact cats, at least for the duration of the morning beverage.
12. Le Chat Toss Pillow Case
Does your cat loving friend have a couch? Then she obviously needs this cute little toss pillow! Just be aware it doesn't include the pillow insert so perhaps better pick one of those up too. The canvas Le Chat Toss Pillow Case that fits pillows 16″ by 16″ and 17″ by 17″.
13. A Street Cat Named Bob Book
If your cat loving friend is also a book worm she will love this book! It's such a beautiful and inspirational story about a street musician and an injured cat who change each others lives for the better.
14. A Street Cat Named Bob DVD Set
Or if your friend is more into movies the book has recently been made into a film. I haven't read the book but I've seen the movie and I'd definitely recommend it to all, even if you aren't a cat lover, you'd love this movie! This little box set comes with a cute knit scarf for your cat to wear, just like the one Bob wears in the movie.
15. Retractable Cat Ear Phones
These in ear 3.5 mm cartoon cat earphones with retractable tangle free cord are pawfect for easy storage. A nice, simple, small gift for the cat lovers you may not know so well or if you are on a budget.
16. Circle Cat Mandala Beach Towel
Made from 100% cotton to withstand all that sun and sand, this unique beach towel is decorated with a fantastical cat mandala design that will get lots of use as we come into the full heat of summer. It's nice and large so it's perfect for sunbathing beside the water, just in case your friend is not so found of the actual water just like a cat.
17. Christmas Cat Sweater
Unfortunately Christmas sweaters aren't so purrfect for us here in Australia what with Christmas being so darn hot but for those of you in colder climates, how cute is this? I hate the cold weather but I kind of want Christmas to be cold just so I could wear this! I don't think it's overly Christmasy though so you could wear it year round. This one-size-fits-all Christmas cat sweater is made of 100% French Terry Fabric, which makes it a comfy fit for most and a great sweater to cozy up in front of the fire with. But best of all, you can even extend its wear into the spring, given its versatile fabric.
18. Cat Plush Toy
This totally adorable little kitty is the perfect addition to your cat loving friends home who may not be allowed to actually have a cat. It comes in white and yellow and is approximately 42cm tall.
19. Cat Eared Hoodie Pouch Sweatshirt
I bought this for a couple of my friends this Christmas. It is super soft and comfy and totally cute as well. If only I could get my cat to sit in it's pouch. The extra long puffball drawstrings serve as a toy to keep your cat entertained. The fur lined pouch can also be unzipped and removed for easy washing.
20. Cat Ring
Cat rings are another great accessory for your feline favored friend! There are so many different ones out there but I like this one because of it's cute design of course but also because it's adjustable to any finger size.
Is there anything on this list that you'd want to give to someone or want to receive this year?  
There you have it! All my best picks for the cat lady (crazy or otherwise) in your circle of friends or family. I hope you'll find something to help you in your Christmas shopping in the list above. As a self professed crazy cat lady, I can say that I would personally love to receive any of the items on this list. So I am fairly confident your cat loving friend would too. I plan to do more Christmas Gift guides soon. If you have anyone in particular you'd like ideas for then let me know in the comments below. Happy Christmas Shopping!