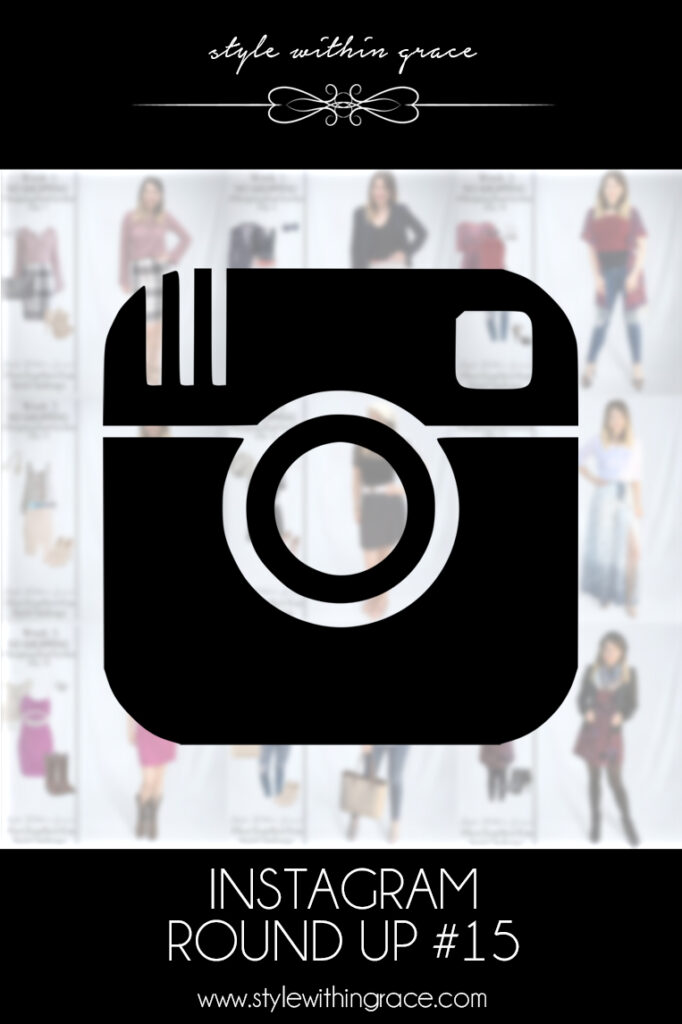 Did you all survive? Did you make it the whole way through the #ShoppingBanOctober month without buying anything closet related? I'm proud to say that I did, although weirdly enough I dreamed that I bought something. Wonder what that dream means? I told you in the challenge to write down whenever you were tempted to buy something, how much you saved by not buying it. That was the plan but I stayed so thoroughly away from all temptation that I didn't almost buy anything so I can't say how much I saved exactly.
I did have a look at the new chosens within this month's Golden Tote and was a little tempted to buy it so at the very least I saved myself $174 USD by resisting that. I'm putting all my savings towards a personal stylist course I have been saving up for all year. I can finally enroll for the next session in February. What are you putting your saved funds towards?
Instead of shopping, this month was all about shopping your closet. There were no daily prompts to follow this month so instead each day I tried to make use of items I owned that hadn't gotten a lot of worn yet. I also tried to come up with some new combinations. I've included below some of my favourites but to see all of them make sure to connect with me over on Instagram.
Week 1: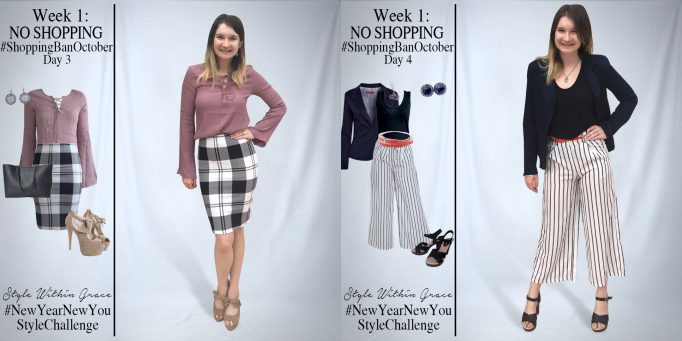 This first week was not much of a challenge because I still had items I had bought last month that I hadn't worn yet. Like this faded purple bell sleeve lace up top I got in last month's Golden Tote, this thin red belt and these striped culottes. My main aim for this week was to wear all the pieces in my wardrobe that I hadn't had a chance to wear yet. I went with a bit of a nautical theme on Day 4 with a mix of stripes, red, white and blue and my anchor necklace thrown in there too. So far so good with the no shopping!
Week 2: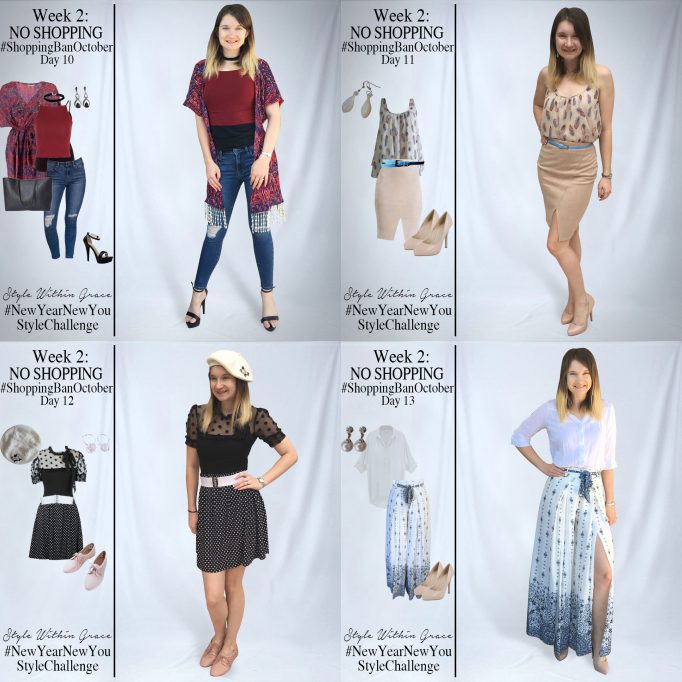 This thin blue belt is also from the same eBay shop as the red belt above and the silver belt below. They come in all colours and I'm building up quite the collection. They are a great really inexpensive way of adding interest and a pop of colour to any outfit! I greatly believe in the power of defining your waist in pretty anything I wear as well.
The weather has mostly been warming up but we had a few cooler days and stormy weather. So I layered some of my spring pieces since my winter clothing has all been packed away. Who would have thought I could wear a drop top to work! All in needed was a full length cami singlet underneath and my paisley kimono and it's appropriate.
I decorated this cute white beret at a friends Bridal Shower a few weeks ago and wanted to give it a wear. How good an idea is this for bridal shower activity? I paired it with my Kitten D'Amour rosette top and this polka dot skirt that used to be a dress. It's amazing how easy it is to refashion a dress into a skirt. I'll get so much more use out of it now! I might even turn the top half of the dress into a crop top so that it's a matching set. We'll see how I go and I'll keep you posted.
Week 3: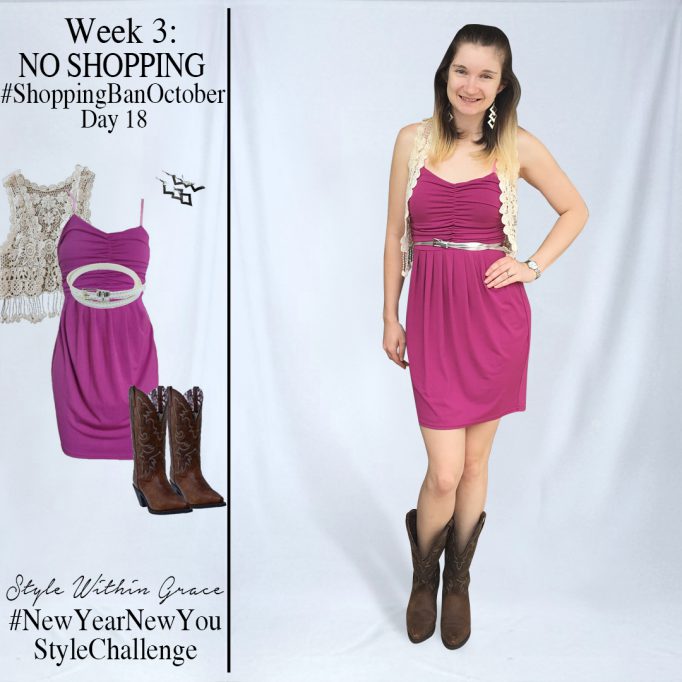 I was pretty slack in outfit photos this week because I was sick. On at least two days, I didn't even get dressed all day long. This particular it was very rainy and wet but also extremely humid. I wanted something cool but also somewhat water proof. There's nothing I hate more than walking into work and my shoes are just soaked through with water. I then sit in the air con all day and get seriously cold feet! I love my cowboy boots! They kept my feet nice and dry and bring an awesome country flare to any outfit I pair them with.
The crochet vest compliments them nicely as well I think. To. dress up this mostly down to earth look I added some bling and shine with the thin silver belt and my triangle earrings. The only issues was their wasn't enough holes in the belt to wear it at my waist but I bought a leather hole punch to add some more of my own. Easy fix!
Week 4:

I never thought I would ever get into the denim on denim trend that's been in for a while now. But I am actually really in love with my double denim combo for Day 24! Not only does it have double denim it also mixes red and pink. Two colours that a lot of people might say shouldn't be worn together. I must be getting in the mood for next month's #NewYearNewYouStyleChallenge. It's going to be all about breaking the so called fashion rules just like not mixing pink and red. Check out 30 fashion rules you should break for #No[Rules}vember right now.
I went all edgy and dark giving my floral shift dress a different look with mostly black accessories and my faux fur snood. Then today I went all light and airy fairy because it was seriously hot! Being a cat lover I had to celebrate international cat day by wearing this cute cat knit headband. It didn't stay on for long though for fear of heat exhaustion! The pink in the ears of the cat headband matched purrrfectly (see what I did there) with my velvet pink sneakers which were great for grocery shopping in. I was planning to wear my distressed medium wash skinnies with this outfit but couldn't stomach any more clothing than necessary. Since my white singlet is very long I wore it like a dress instead. I quite like the effect!
Yay for finding more unique ways to pair my clothing! I hope you did the same while shopping your closet this month! On to the next challenge!