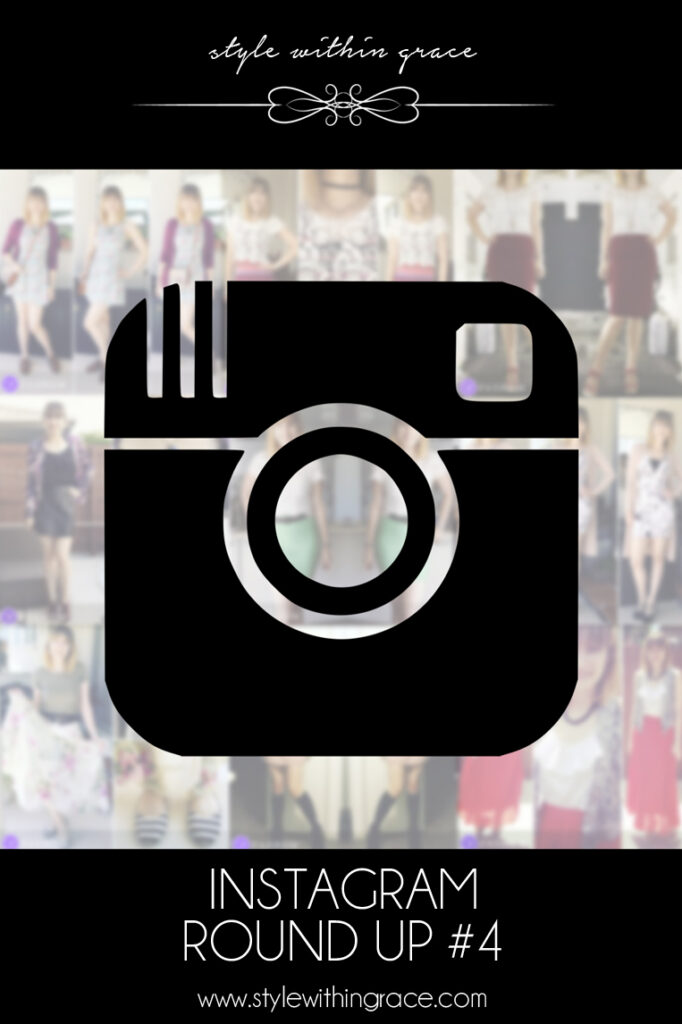 Wow did this month go fast or what? Maybe it's just me because I had about a bazillion things to do this month. I guess that's why blogging suffered a little. My apologies! I'll post about my November dates soon I promise and I've also finished another DIY project that will be headed your way very soon as well. Anyway back to Instagram, if you want more follow me @stylewithingrace. Now to the outfits 🙂
This dress always kind of felt like it was missing something on it's own. It turns out it was just waiting for me to get this vest. Olive goes with everything and it's such a great completer piece for when it's too hot outside to add a blazer, jacket or cardigan. The fabric is really nice and soft too. I love that it adds more colour to this would be monochromatic outfit. I think I'm steering away from outfits with just one colour lately. If you love the look of this vest too, you can find it here.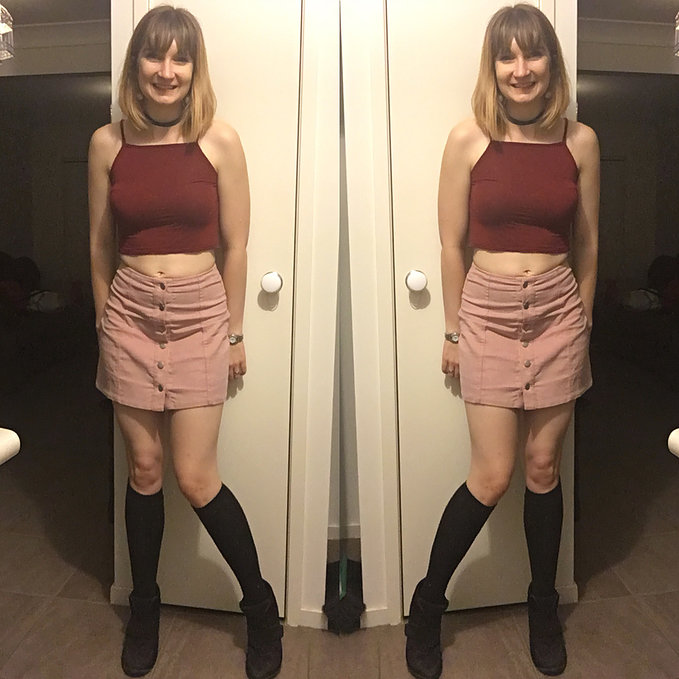 I was lucky enough this month to go to the Vengaboys concert on the 4th of November. It was a really great night out and I got very nostalgic if not a little frustrated about the number of songs the Vengaboys did that weren't their own. I'm still annoyed they didn't sing all of "Sha la la". Anyway, I naturally had to go 90's inspired for my outfit.
It's lucky that a lot of trends from the 90s are very much back in style at the moment. Crop tops, button front skirts and chokers are huge right now. I bought a cheap choker off eBay especially for the event and was disappointed when it didn't arrive it time so what you see me wearing above is actually just a piece of Kitten D'amour black ribbon pinned together at the back. Universal store have a great selection of button front skirts and helped me choose mine the day of the concert. Find the skirt here.
I found this outfit online ages ago and have been pining over it ever since. The pattern of the skirt is just so super cute! I found my mint skirt on eBay and while it's not exactly the same it was pretty close. I don't usually get this close to recreating an outfit that I've found. If you love it too you can find the skirt here ( it comes in many different colours) and the lace top here. Check out #FollowSuitFebruary for my more outfit picture inspiration recreations.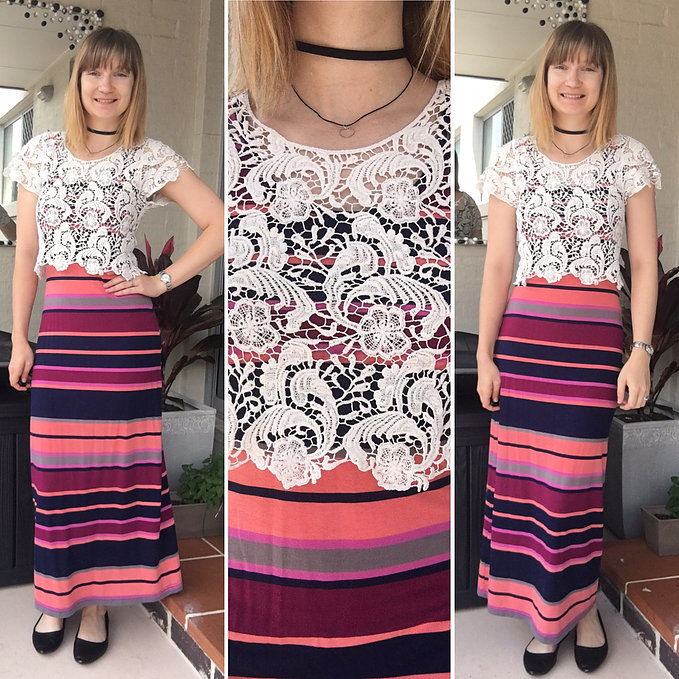 I started a challenge with the Greater Than Rubies blog called the Piece Of Cake Closet challenge. (By the way you should totally check out Caitlin's blog, I love it) The first week or so we were given guidelines to choose our outfit each day. Day 1 was to pick one of our favourite go-to outfits but then style it intentionally. Change it a little. This dress above is my lazy day dress. Something I chuck on when I can't be bothered to figure out what to wear because it's a full outfit in itself and it's comfortable and appropriate for most things I could do in any one day. Instead of wearing it as is with my plain black flats I put a little more thought into it this time.
The challenge suggested a completer piece but seeing as it's so warm here right now I couldn't bare to put on a cardigan or blazer so I thought I'd delve into my draw of vests. When I opened the drawer though this little crochet lace top was right there and I thought to myself "Hmm that might look cute actually". I tried a bunch of necklaces with it but settled on this choker I had bought for the Vengaboys concert as it seemed to fit best with the neckline. Viola! A whole new feel to my "Lazy" dress that no longer feels so lazy. I encourage everyone out there to challenge yourself to do this do. Find a new way of styling your go-to outfit and if you feel so inclined please share it with me.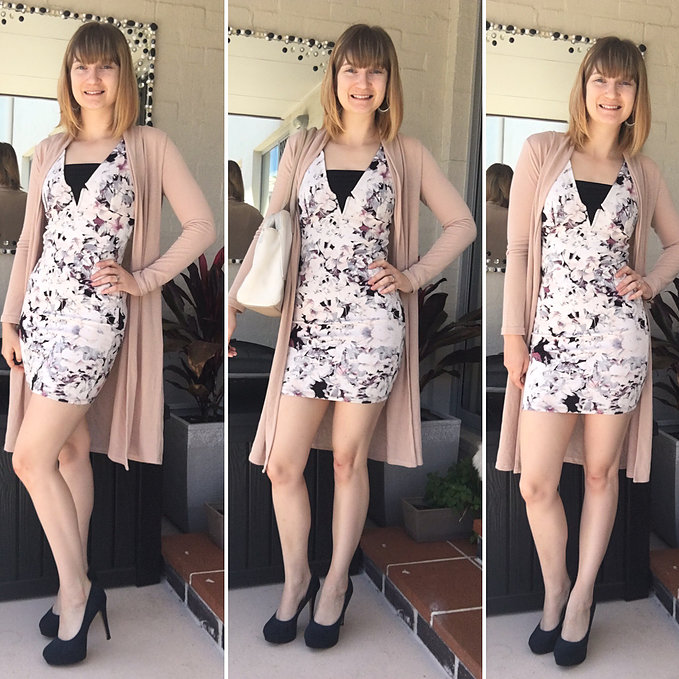 The challenge for this outfit was to put together an outfit with something you LOVE but are saving for a special occasion. I totally love the muted colours and pattern of this dress but as it's a going out dress, I don't get many occasions to wear it but I pulled it out today and got creative with it. I wore a cami underneath to make the cleavage more everyday appropriate and added the long draped cardigan to take emphasis away from the tight silhouette. It also made the dress longer in the back. Lastly I added my navy blue pumps. Another great new outfit combo I wouldn't have thought of without the Greater than Rubies challenge. Are you checking out my awesome glass stone mirror behind me? Check out how I made it here.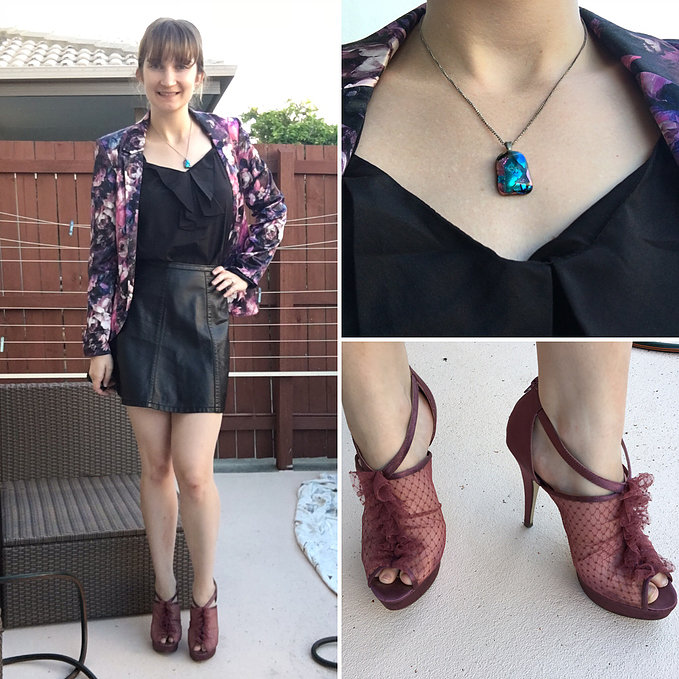 The structured completer piece became our best friend for today's challenge. I'm not going to go into too much detail about each challenge because I don't want to take away from Caitlins blog. (Go read it) I brought out my floral blazer once again and paired it with my recently altered black leather skirt. I love how the shoes and necklace coordinate so well with the colours in the blazer but don't match too much that the whole outfit begins to look matchy matchy. I'm a big fan of the unexpected combos.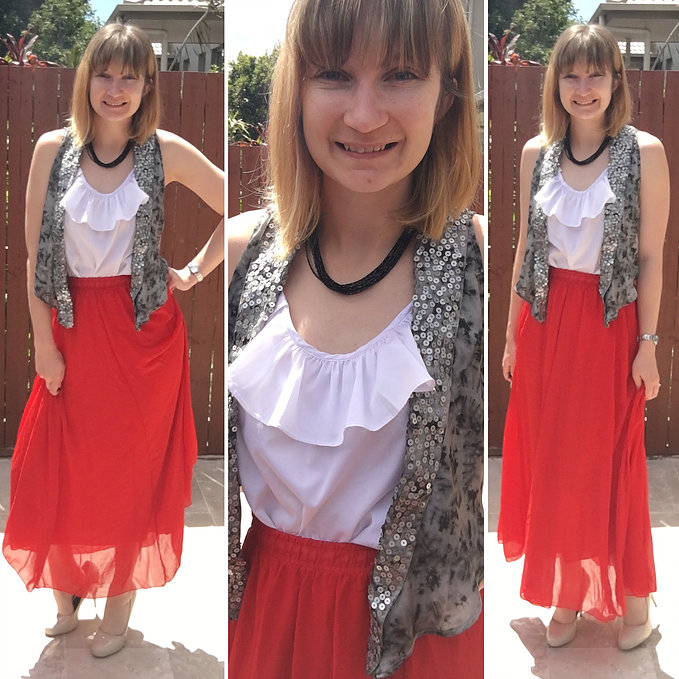 Can anyone guess where I got my inspiration for this outfit? A certain Gossip Girl… One of things I love most about Serena is how her pairings are so unexpected and yet just work perfectly together. Each piece has something interesting and unique about it and when paired together it just seems so creative to me. If you couldn't tell she is my style icon.
Before doing the Piece of Cake Closet challenge, I couldn't put a finger on how I would describe my style. I was a lot of things but mostly only some of the time. This is how I described my style at the end of the challenge. I've noticed I love playing with silhouettes, unexpected pairings with unique/interesting pieces, usually patterns. I'm not sure if that's a style yet or what I would call that but that's definitely me. I think I'll write a post in the future about finding my style and what has worked for me. I'll keep you posted.
I'll leave it there today I still have so many other posts I need to catch up on. You'll be hearing from me soon I promise. Ta ta.