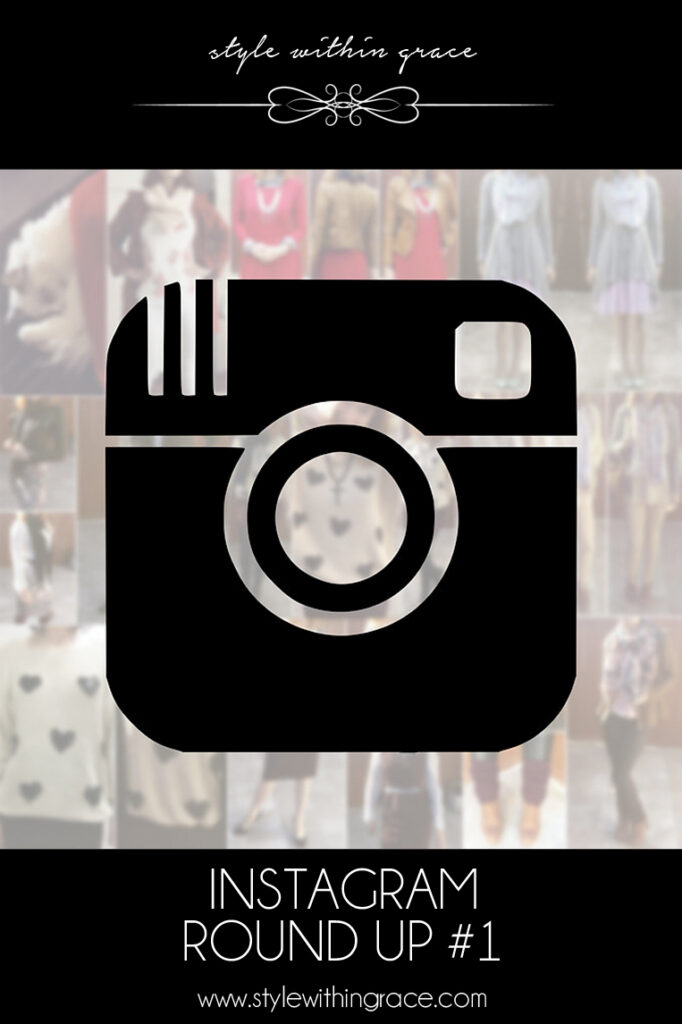 I've recently succumbed to the appeal of Instagram and for the last month I've been just about posting my outfit ideas everyday. It's taken up all my posting juice, it would seem, as I have yet again become slack and not posted a blog for the entire month. So to update all those who are yet to follow me or to join Instagram here is what I have been up to. I haven't included every single post as that would make this very long so if you want more follow me @stylewithingrace.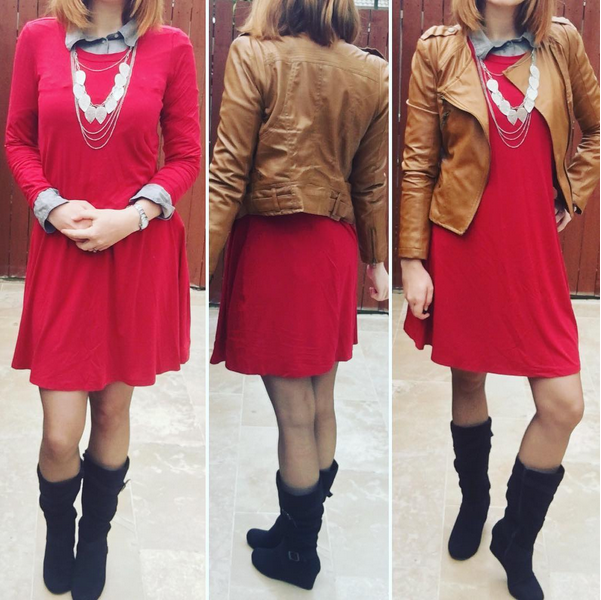 This was one of the first outfit posts I added. I was really proud of my pairing of the grey button up chambray shirt under my red swing sweater dress. Only problem was I actually got a little too warm at work that day and well it's not really that easy to strip down the layers when the layer is under the dress. I'm still really keen on this look though and plan to experiment with it, with my other swing dresses and button up shirts.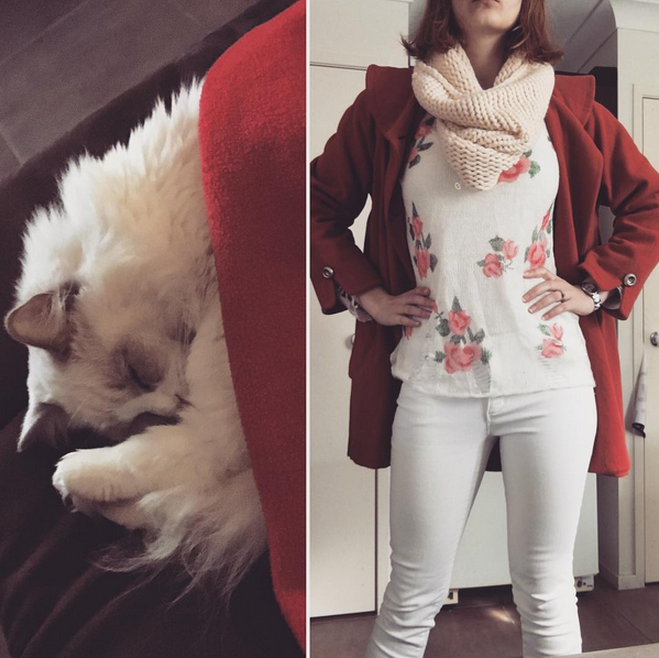 I was so thrilled that I was wearing a matching outfit with my cat Cleocatra this day. And yes if you like cute cat photos there may be a smattering of those on my Instagram feed as well. This outfit was created/suggested to me by the wardrobe app Cluise. If you missed my post about it read it here.  I think it did an excellent job of piecing these clothes together. I wouldn't have thought to put these together on my own. Mainly the floral sweater and the red coat because I wouldn't have thought to pair pink and red. Cluise is a great app for finding unexpected combos.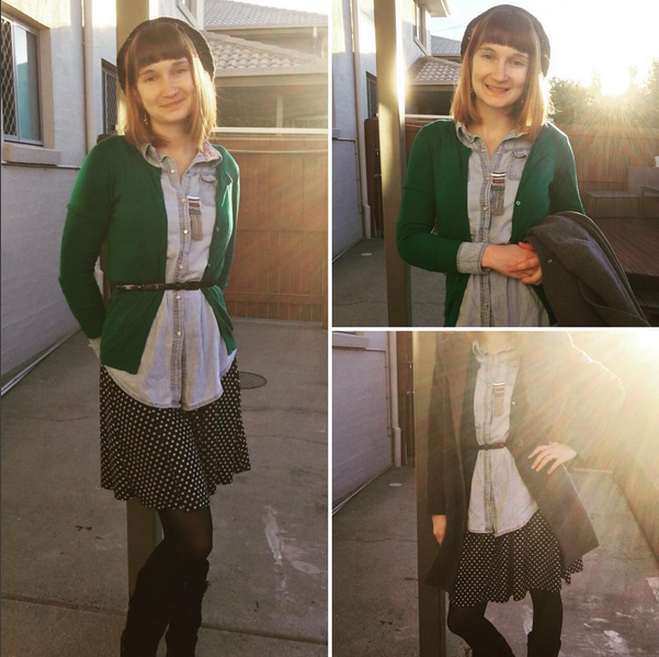 I wore this outfit on a date night with the hubby when we went to the Escape Room Challenge. It was really fun and I would recommend it to everyone! It's all about problem solving and finding clues to escape the room. I was sort of channelling my inner Sherlock Holmes. The polka dot skirt above is actually a dress which I layered my chambray shirt and teal cardigan above before belting it to keep my waist line. It's so easy to lose your shape in winter while trying to keep warm. But it is possible to stay warm and stylish at the same time.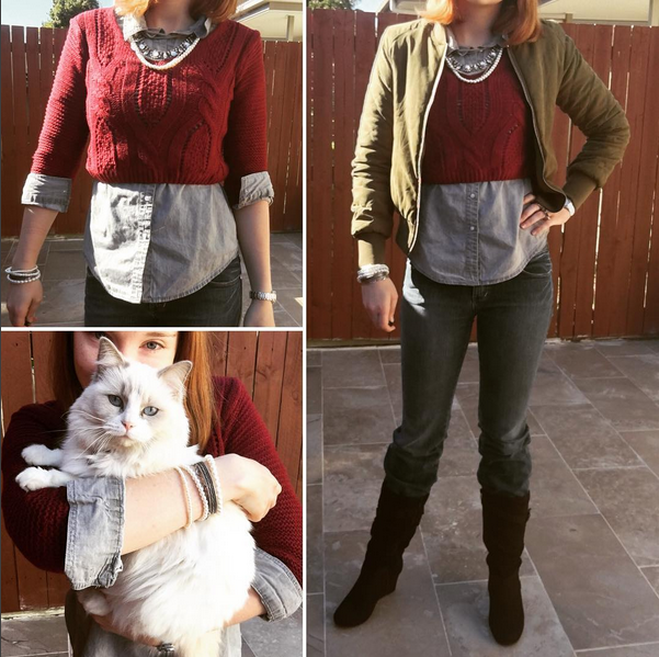 Another cute cat photo and another unique way to layer in the winter!  I got this cute cropped cardigan from SammyDress and while it's totally unique it's not the warmest sweater but paired with my grey chambray button up underneath it keeps in the warmth just fine. I also started to play layering bracelets. If you can peel your eyes away from the cute cat, take a gander at my attempt at arm candy. I'm keen to play with this more so I've ordered a ton of cheap different coloured bracelets from eBay. I may do a post on it down the track.
While I buy most of my wardrobe online these days, I occasionally frequent thrift stores and on such an occasion I scored this adorable heart sweater. As you can see on the right photo of the before and after it had these weird randomly placed flowers on only two of the hearts. This was one of the easiest quick fixes I have ever done, I simply unpicked and removed the flowers. Viola cute comfy outfit with adorable heart sweater.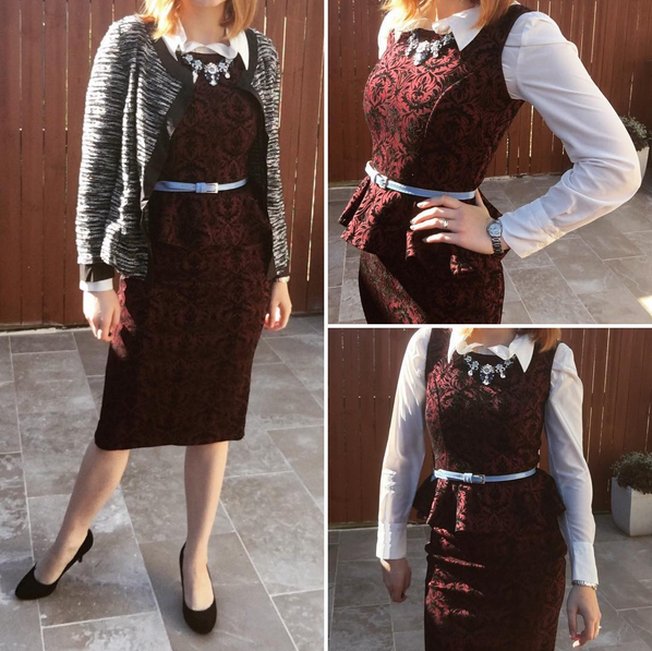 Once again I layered a button up shirt under a dress for a unique spin on winter layering. I was really stuck in a rut when it came to this dress. I really liked the flattering yet professional silhouette and it is made out of this really nice thick winter material but I couldn't figure out how to wear it with anything but black accessories. Since starting this blog I've been trying really hard to be more creative with my outfit pairings and so I came up with this.
Along with the white button up I added the blue crystal statement necklace and the blue belt for a pop of colour. To top it off I added this knit cardigan I recently bought from SammyDress because of the white and black knit texture it's not as harsh as an all black cardigan would be and the texture adds more interest to the look.
I've had these leg warmers for years and years now, since I was ballet dancing as a child. But since I stopped ballet I haven't had much of a reason to wear them. I was unsure whether I should keep them. It just so happened that recently I came across a winter outfit on Pinterest that included leg warmers. Naturally, I recreated it myself. On the right is the inspiration I found on Pinterest. I substituted my leather look leggings in place of the plain ones to mix up the textures. I had all the pieces I needed with my mid calf tan lace up boots, military jacket and floral pink and blue scarf.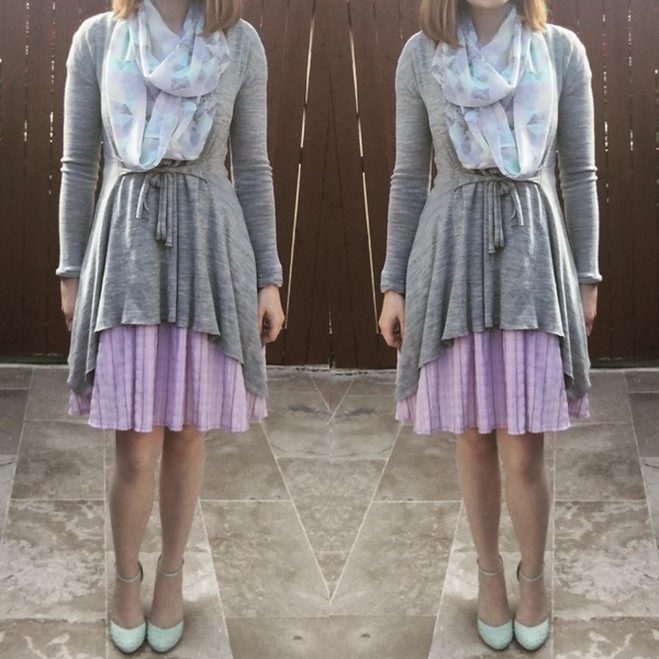 This cute Kitten D'Amour Minuet Collar dress was another case of stuck in a rut for me. Except this time I could only pair it with white accessories. Finding this beautiful pastel chiffon snood scarf was the motivation to come up with this outfit. It gave me the idea to add my mint studded heels and my grey drapey cardigan. I love coming up with new ideas on how to put together outfits!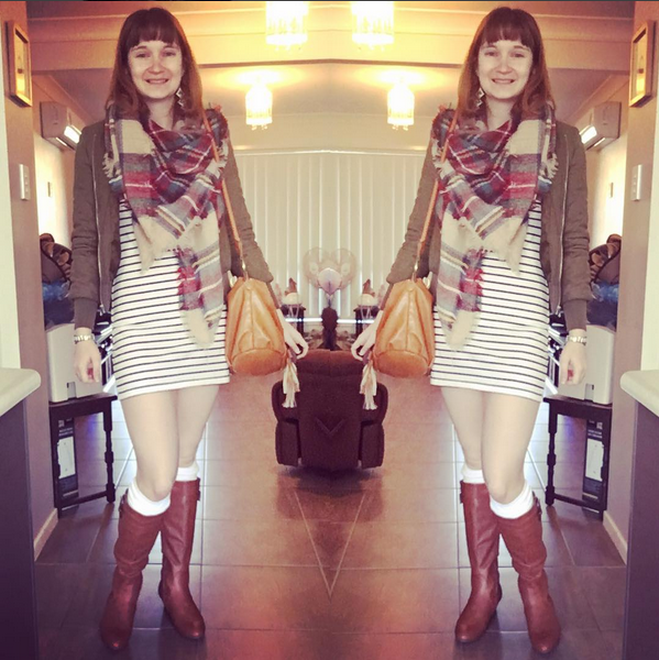 I've been dying to get my hands on a pair of cognac riding boots for ages now. But I couldn't find the right pair and also I already had way too many pairs of shoes. This week saw me fare welling a couple pairs of heels that I've had for ages that had seen their day. With the farewell of old shoes comes the excitement of new shoes!  I went on a search for the perfect pair of boots which in Australia is pretty much none existent. I guess the shoe shops all assume that because our winters aren't as harsh as overseas we don't need as many choices in winter boots.
Well I don't care what they think! I wanted my cognac boots and I was going to get them one way or another! After searching on many online stores, I ended up going with these ones I found on eBay from an American seller. I don't think they have these exact boots in this size any more. But they have a lot of great cognac and brown boots in their eBay store. Check it out here if you are on the look out for some too. The blanket scarf really makes this outfit too. You can buy one just like it here or my olive bomber jacket here.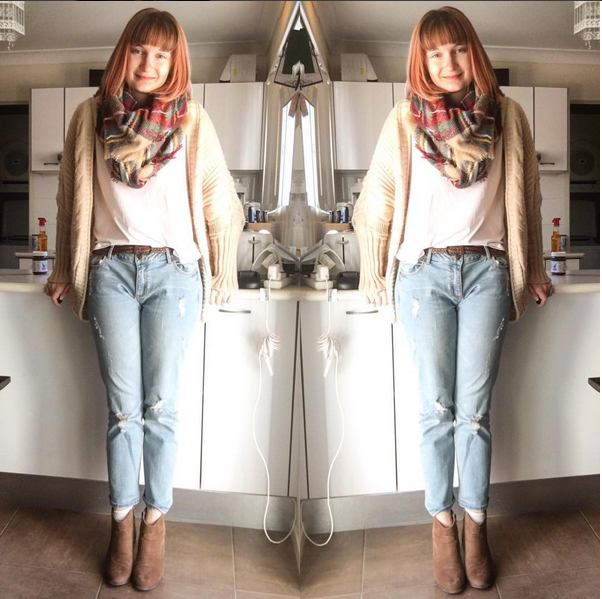 Ok last one I promise! It was really hard to choose just a few to show you. This post is only part about the outfit and part about my new hair which is finally getting lighter. My last trip to the hairdresser, they used a pink toner after bleaching my hair lighter. I'm getting closer to the pastel pink balayage that I have been aiming for. Outfit wise I copycatted another outfit I found on Pinterest and made it my own. It's a really easy formula that most people would have at home; Ankle booties, boyfriend jeans, plain white tee, blanket scarf and oversized beige cardigan. If you create your own version of this outfit I'd love for you to share it with me.
That's it for now. See you on Instagram or next months round up.