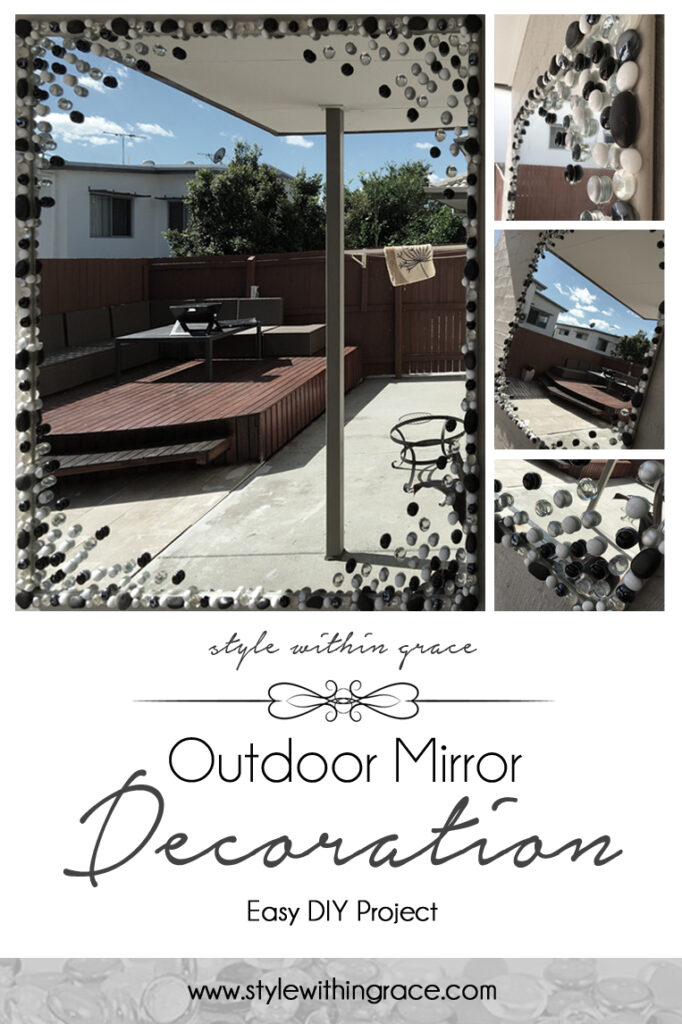 After we built the deck outside and paved the patio, our little backyard was starting to look really good. They only thing was the fence looked really ugly and brought the whole thing down! Unfortunately, living in a town house complex, we couldn't really change it. Brainstorming solutions to hide it instead, I decided that a big outdoor mirror would be a great idea. It would also make the space look a lot bigger.
I found myself a $5 mirror off Gumtree and started the creative process. After I'd bought the mirror though, I decided to paint the fence as well. After seeing it painted, it looked a ton better and it no longer really needed to be hidden which is lucky. It has started to warp a little and hanging anything heavy on it is probably a bad idea. Just in case it should bring the whole fence down. Having already bought the mirror though, I decided to continue decorating it and hang it on the cement wall. I think it is still a really great idea to decorate a small backyard or you could hang it in your bathroom as well.
What you need:
    Old Mirror
    Various Sizes and Colours of Glass Stones
    Hot Glue Gun and Glue
I bought some from Dusk, some on eBay and then some from The Reject Shop. The Reject shop is definitely the cheapest place to get bulk glass stones but their colour selection is severely lacking. I got a bag of clear from there but other than that they only had a mix bag of green and blue colours which wasn't the colours that I was going for. If your not picky on colours though I would recommend buying majority of your stones from there.
Dusk was great for really big plastic bottles full but you probably get more than you need. They have a small range of colours there as well. I got the silver and white ones from there. eBay has the widest selection of colours but often only come in packets of 20 which doesn't go very far which I soon found out. On eBay you can get iridescent stones which are particularly pretty for the outdoors as they reflect the sunlight even more.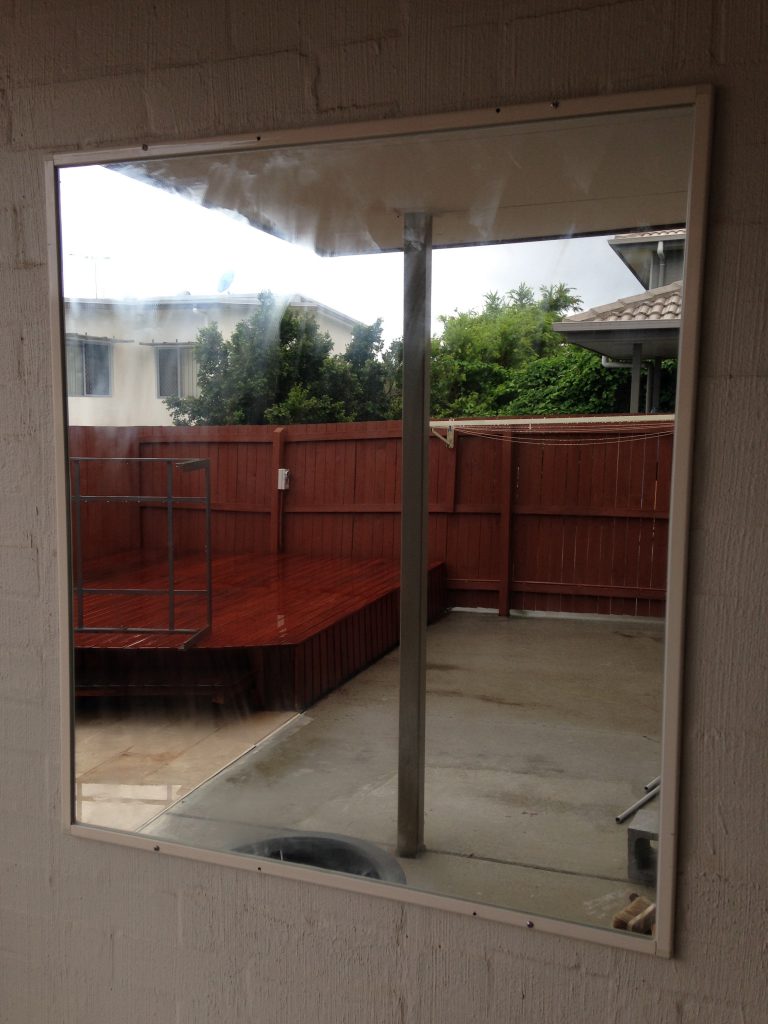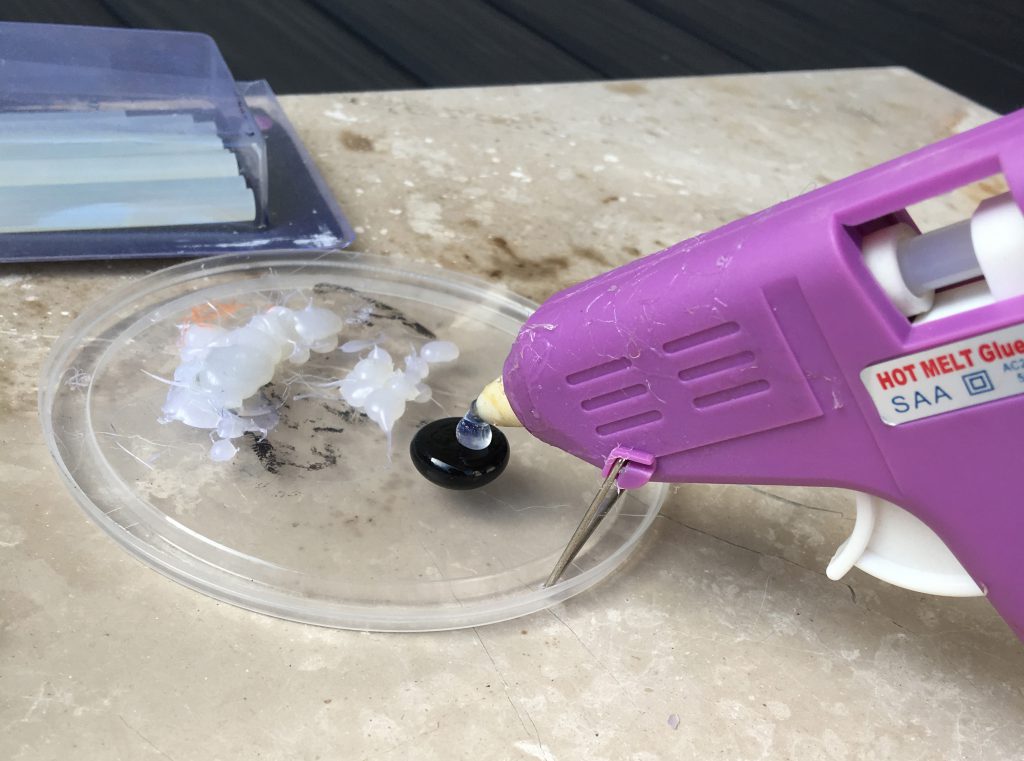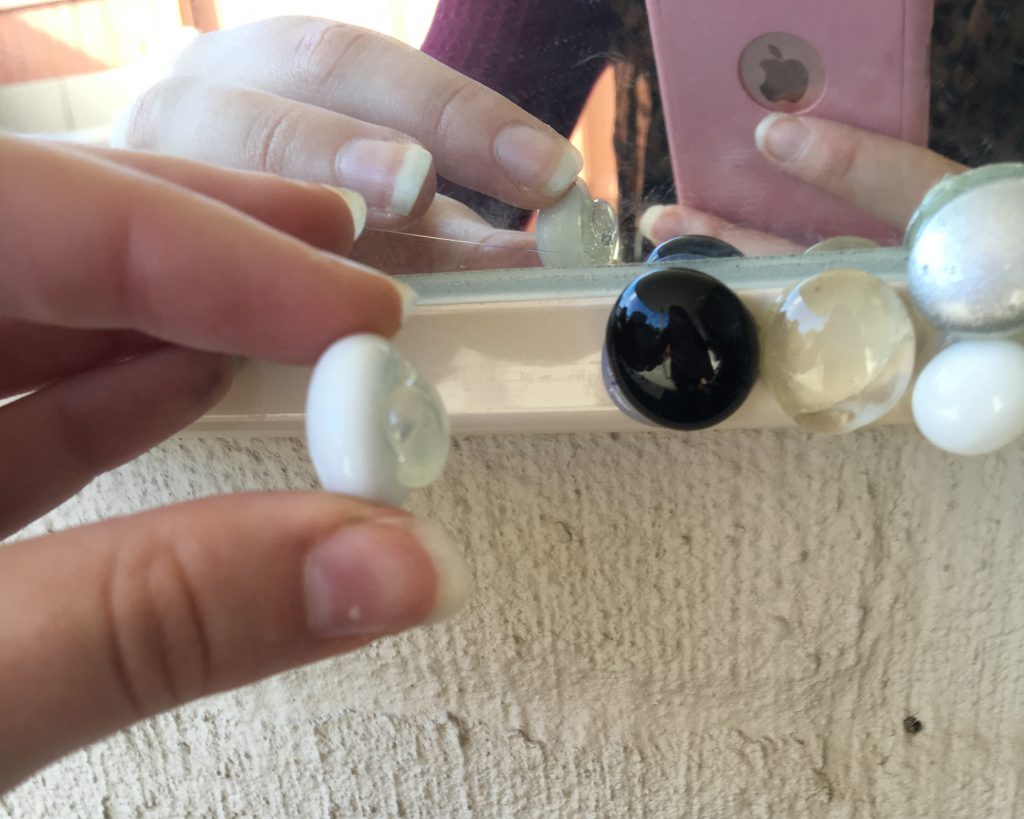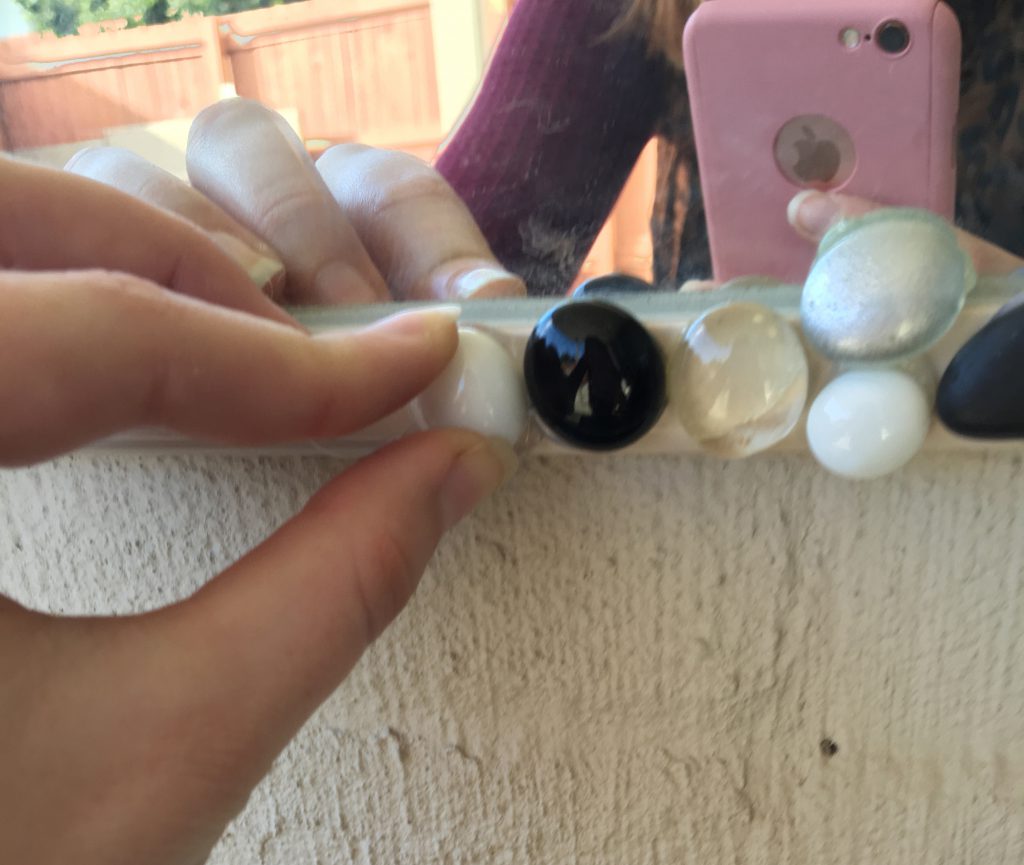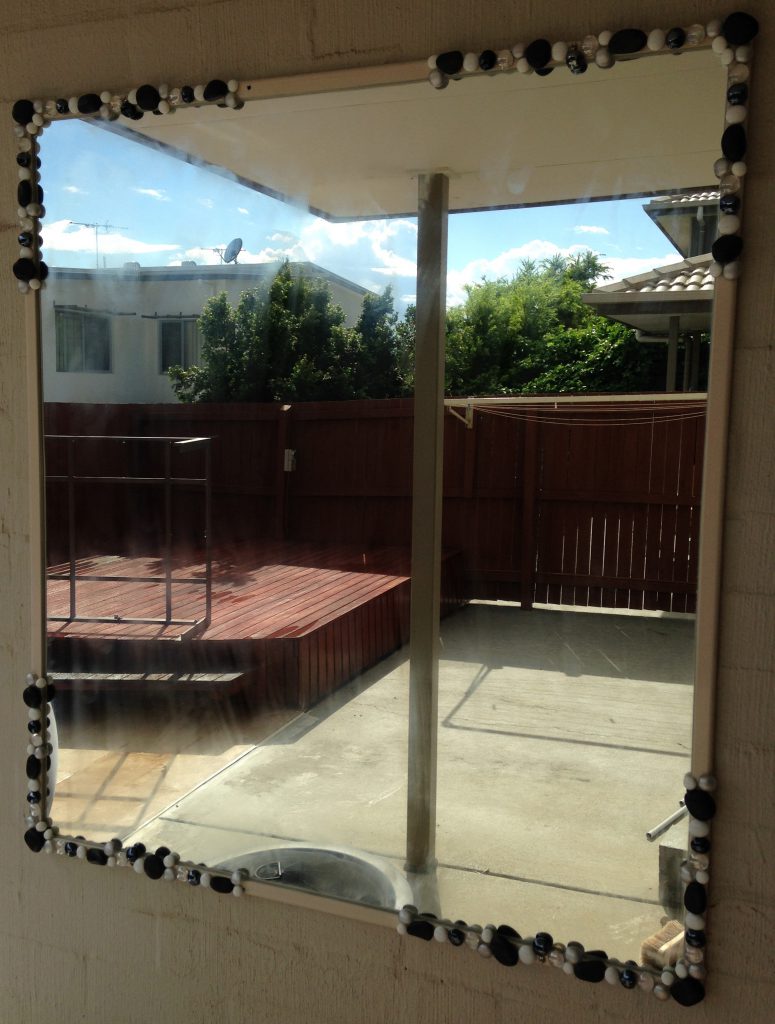 There wasn't really any steps involved in this. Just start gluing the stones around the border of the mirror in a pattern that you like depending on the different stones you have. Just be prepared to burn your fingers many times over, or is that just me? I didn't do mine all at once as I started a pattern and then I ran out of a couple of the different coloured stones so I had to stop and wait until I could buy more of them to continue the pattern I had started. My dad had already hung the mirror on the wall for me as well so I glued mine on while it was on the wall but I would recommend gluing them with the mirror lying flat. Some of mine fell off while drying. If the mirror was flat I wouldn't have had that problem.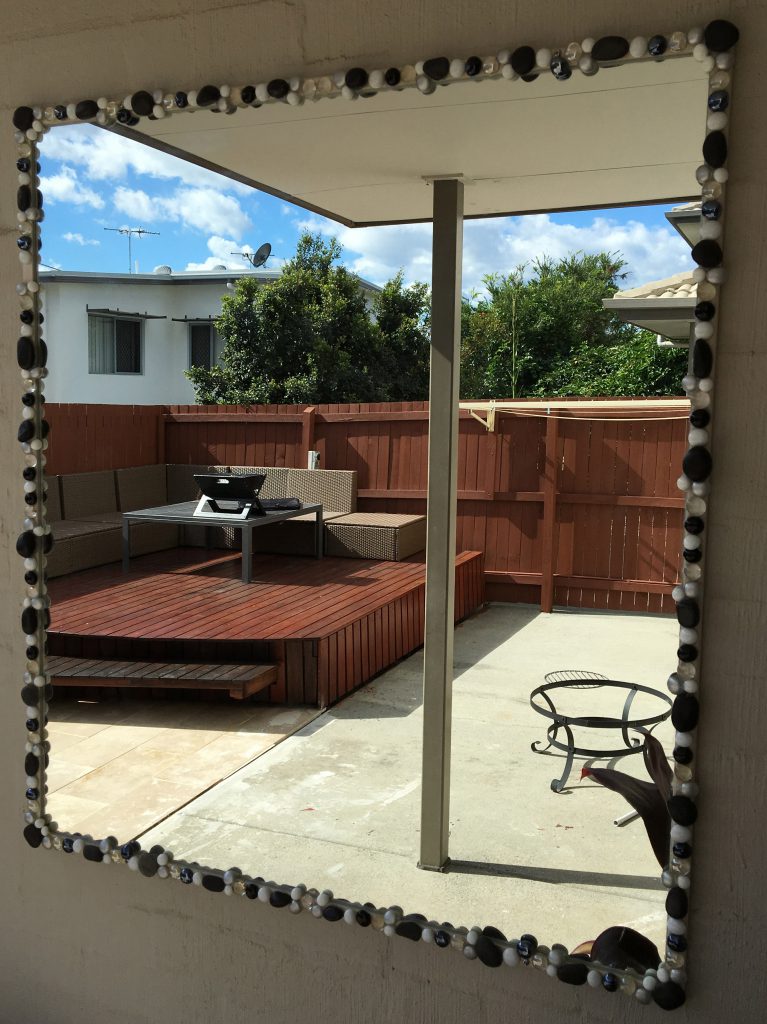 Once I had finished gluing stones all around the border, I decided that I wanted to create a spattering of stones coming from each corner as well. I figured I might as well try and use up as many of the stones as possible. I wasn't really sure how to create this spattered look though. On a flat surface under the mirror, I laid out the stones to try and get an idea of how it would look. I kept adding spattering stones until I ran out of the black stones. Then I gave the mirror a good wipe down with surface spray to get rid of all my fingerprints and smudges.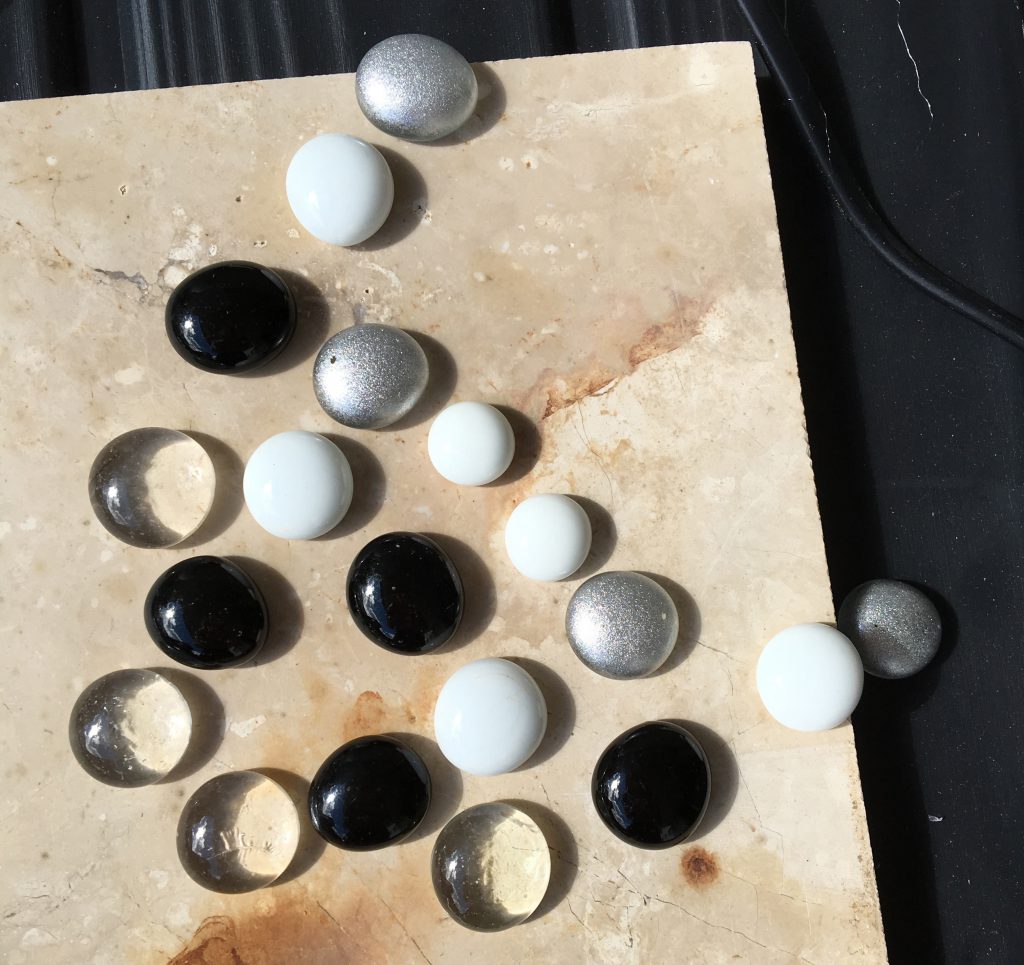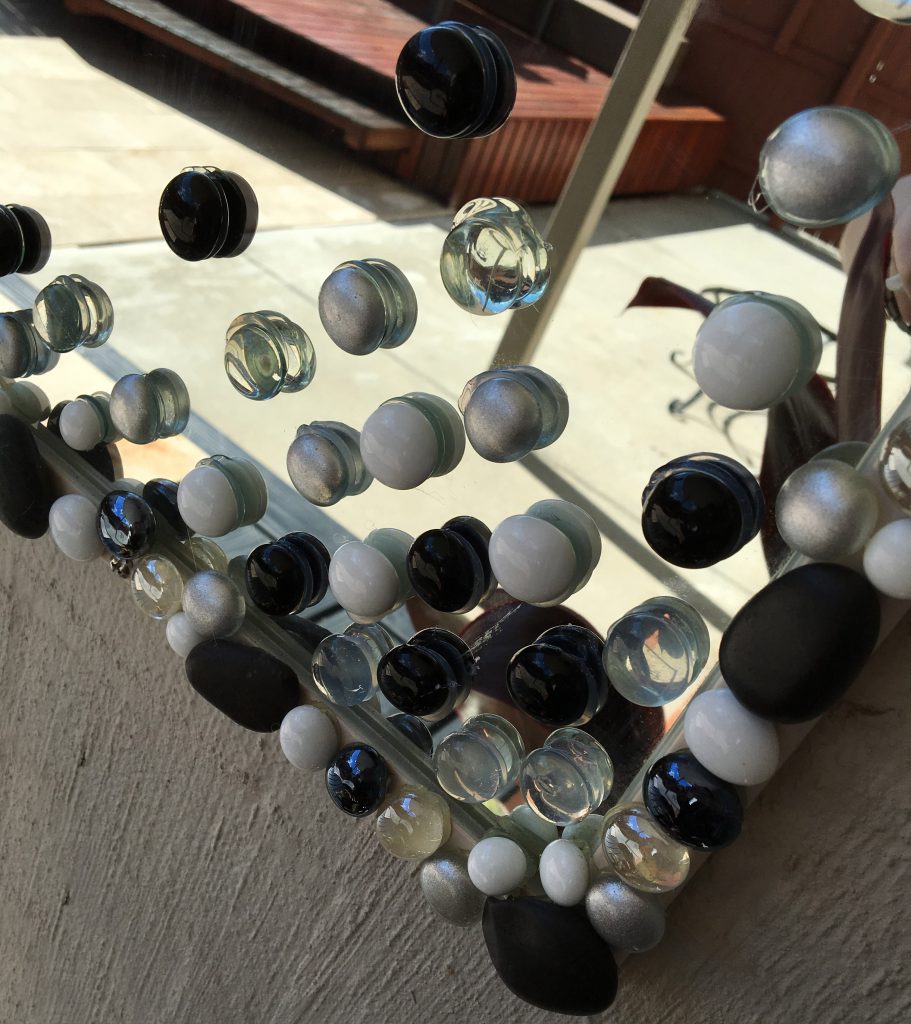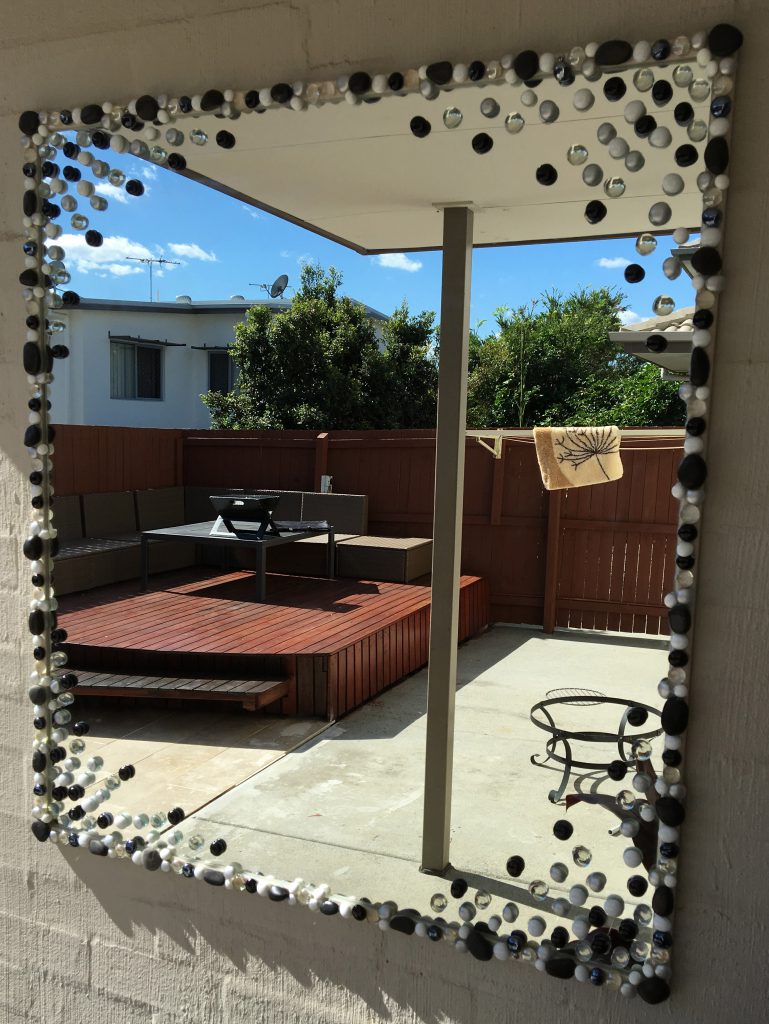 All up I paid:
Old Mirror = $5.00
Hot Glue Gun =  Already Owned
Glass Stones (I had heaps left over of various colours) = $77.50
Total: $82.50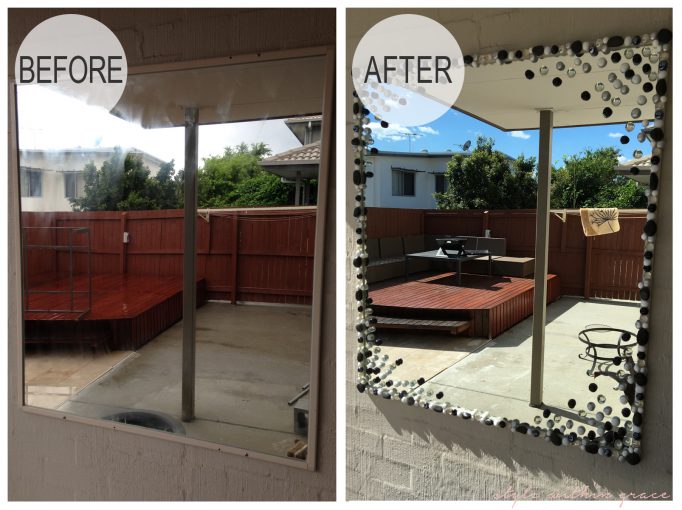 It always amazes me how I'll start a project thinking it won't cost me that much because I'll do it all myself. Then it just balloons out and when I add it all up I surprise myself. Yes, I like how the mirror turned out. I love that it's unique and nobody else will have anything like it. But if I started off having to pay 80 bucks up front, I wouldn't have wanted to spend that much. Hopefully you'll learn from my journey and do it better your turn around
Good luck in your DIY endeavours…