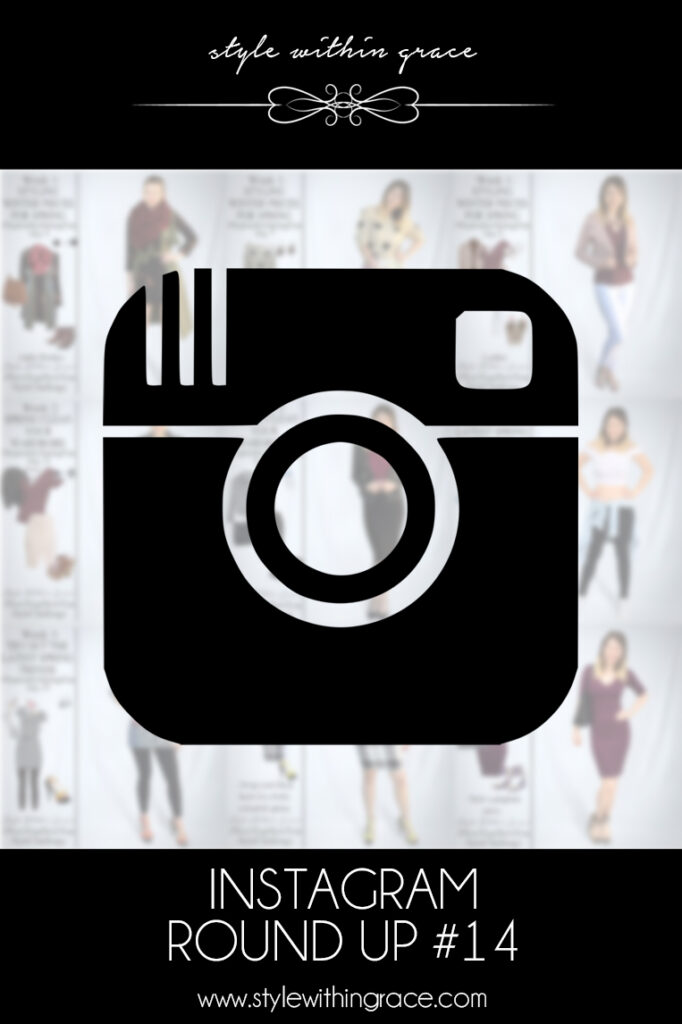 I hope you all had a great first month of Spring. Only one month in and it already feels brutally hot here in Brisbane. I've started pumping the air-con and just today I packed away all my winter clothes. Don't need them any more.  A few different suburbs of Brisbane even broke the weather records yesterday. It's insane how hot it gets so quickly! In essence, September is really the only month of Spring in Australia. I really enjoyed this month of challenges though. Along with my own wardrobe challenges, I also took part in Rebecca Jacob's #IgniteYourStyleChallenge in week 2. She is one of the fashion blogs I love to follow and she definitely has some wisdom to impart on this topic. I'd totally recommend you check out her page. Now onto each week of challenges in more detail.
Week 1: Styling Winter Pieces for Spring
The month started with mixing in some winter related pieces and materials into more spring appropriate outfits. This was great for the first week of Spring when it was still a little bit chilly. I've packed away most of these winter items now so it was nice to get some final wears out of them before they hibernate til next year. Flannels (Exact, Similar, Similar) are definitely a decidedly winter piece but wear it during the spring by using it as an outer-piece instead of a top. Leave it unbuttoned over a t-shirt or singlet with shorts or a skirt. Ankle booties (Similar, Similar, Similar) are also another item which tend to surface more in the colder weather. Style it for spring with a floral dress and show some leg for the first time in a few months.
Velvet is a very thick material so it can be unbearable to wear once the sun comes out but a velvet choker (Exact, Similar, Similar) adds the chic stylish characteristics of velvet without the warmth. Lastly a cute sweater can be mixed with summer items to create an adorable spring look. I wore this heart patterned sweater (Similar, Similar, Similar) which I picked up for a few dollars from a thrift store. There are tons of options out there for you. You could go with a floral or polka dot print, or a lace up or even a cropped sweater. Anything that speaks to you. More light weight sweaters work better for spring though.
Week 2: Spring Clean Your Wardrobe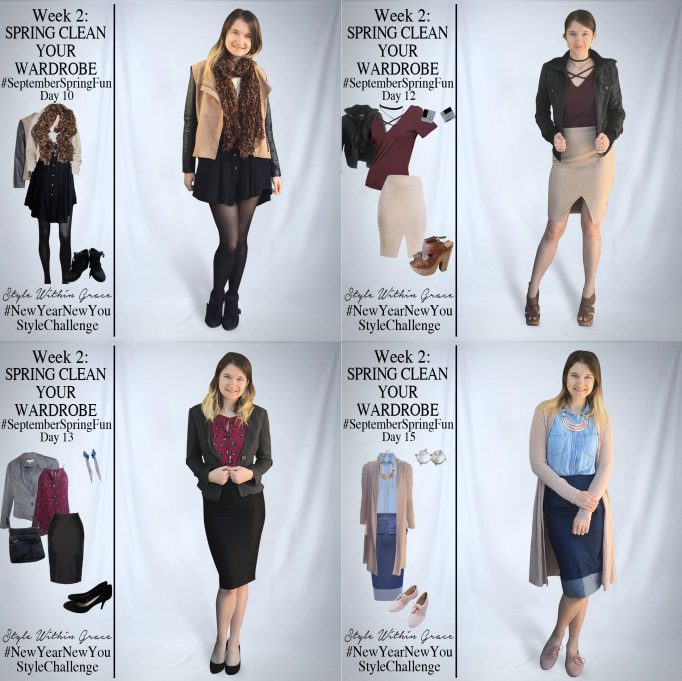 For the second week the challenge was to do a big spring clean of all the clothing in our wardrobe. During that week I packed up 3 bags of clothing to donate but then when I packed away my winter clothes today I added another 2 bags. I think everyone hates cleaning out your closet but it's such an important thing to do. Not only does it de-clutter and clear out space for new spring items but it's also important when going on a shopping ban too. I explain all about that in #ShoppingBanOctober's post. Did you find the little spring clean cheat sheet I included helpful? Do you have a different system in place for cleaning out your closet? Tell me all about it in the comments below.
So since this week didn't really include any daily prompts per se I decided to jump in on the #IgniteYourStyleChallenge as well. It had a lot of great prompts for daily dressing as well that helped to define your own personal style. Day 12 I got dressed aiming for a certain feeling rather than a certain look. I wanted to feel effortlessly cool and this is the outfit I came up with. Day 13 was all about dressing boldly! We were suppose to mix prints or bright colours but this particularly day I had to keep it very professional so I couldn't go all out with the boldness. I still managed to add some statement earrings with a colourfully patterned top though.
The prompt for Day 13 was to add a "Third Piece" which I'm going to say was my statement necklace. I had been wanting to wear it ever since I picked it up at a thrift store for $3. There were other prompts for the Ignite Your Style Challenge but you'll have to head over to my instagram to check them out. Perhaps give me a follow while you're there.
Week 3: Try Out The Latest Spring Trends

I'm not usually big into keeping up with the trends. I'll only buy an item if I like it and it fits with my personal style regardless of whether they are hot or not. I prefer pieces that are timeless and will never go out of style but trends can be good for adding some interest into your wardrobe. They can also be good for getting you out of your comfort zone and trying things you wouldn't necessarily have tried otherwise, even if it is just for a season. I don't tend to spend a lot of money on trend pieces though as they do tend to come and go.
So this week I tried out 7 of the latest spring trends. I chose off-the-shoulder, olive, neon, iridescent, lace-up, rainbow stripes and pastel nautical stripes. Can you tell I like stripes? I also managed to throw some florals and pendant necklaces in there as well which were also on the list. What are you favourite spring trends?
If you are wanting to get on the neon train but are a little nervous on how to go about it, I'd totally recommend Conf3ss shoes. They have a great value pack which includes whichever shoes you'd like high heel or high wedge in nude or black with the 3 neon strapsets. for only $29.95. It's such a great bargain. I of course snapped it up and that's where I got my neon orange heels from. Speaking of shoes if you love my iridescent pair as well you can pick up a pair for yourself as well here or here. Gwen Stefanie also have these heels which also fit with the iridescent trend. Other pieces of mine you might want to pick up are the white off-the-shoulder crop top and the floral maxi skirt. I do warn you with the skirt though that mine came with a very uneven hem and it is rather see through. So buy at your own risk.
Week 4: Spring Has Sprung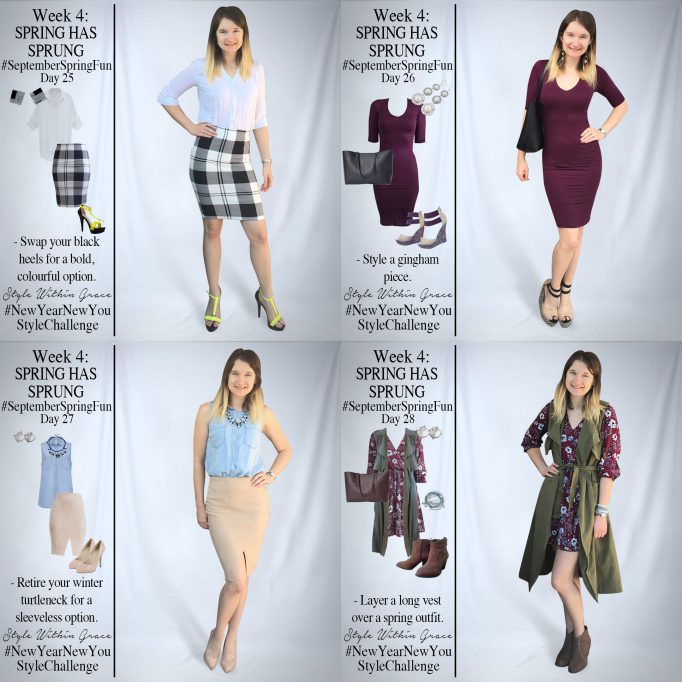 The final week of my #SeptemberSpringFun challenge was about just really embracing the spring with a few random daily prompts. As you can see above, I brought out my neon confess heels again. The trick to making bold colourful shoes work in your outfit is to keep the rest of your outfit neutrals. That's not to say that you can't go colourful from your head to your toes though. Go right ahead if you feel comfortable. I do on occasion. I realised this week that a lot of the prompts I had come up with I couldn't actually complete as I didn't have the required items in my wardrobe.
It's interesting… I love the look of gingham but don't have a single gingham piece. Perhaps that's something to add in the future (not next month though lol). Instead I wore a new dress I had received from Golden Tote. I'm going to do a review post on my latest tote from them soon but you can check out the last tote I bought from them to find out who they are and what they do. This fitted eggplant purple dress was one of the surprises that I received and I absolutely love it! The floral dress I'm wearing on day 28 is also another surprise.
The other prompt I couldn't fulfil was the sleeveless turtle-neck option so I flipped it and fulfilled it in another way. Wearing a sleeveless version of any of your favourite winter tops is a great way to transition into the spring. Chambray shirts are so versatile so I retired my long sleeve chambray shirt for a sleeveless option. You can do the same with a oxford shirt or a gingham shirt. Don't forget to check out the latest #NewYearNewYouStyleChallenge post for October. Next month is less about daily or even weekly challenges and is just one overriding challenge for the whole month. It might also help you save some money. Will you be joining me?