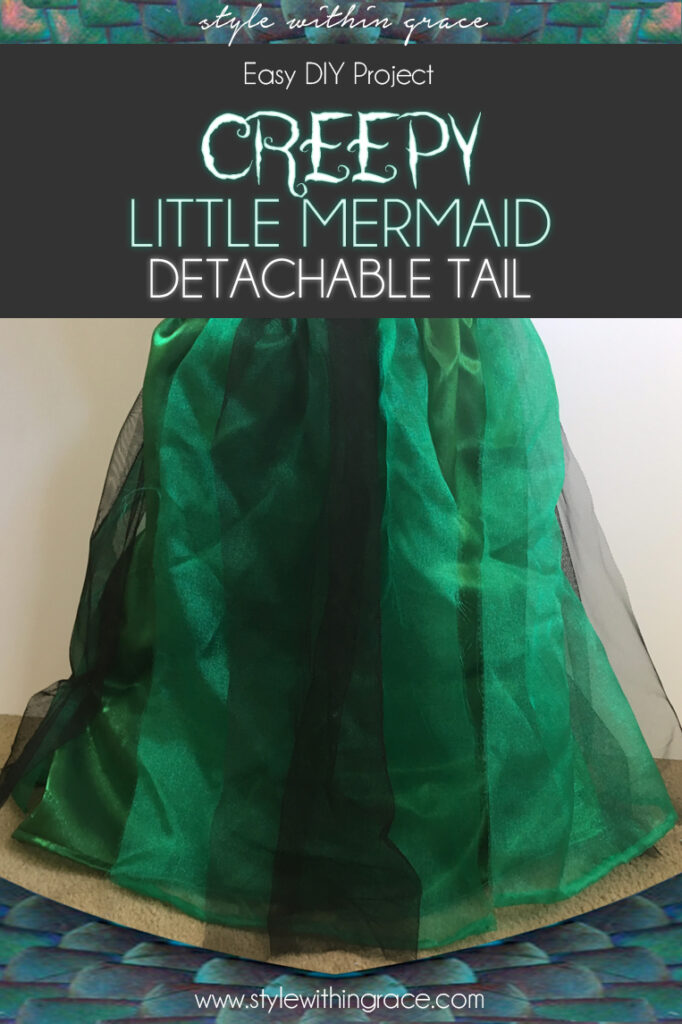 So many costume related posts in one month! And I am well behind the eight ball in getting them out to you in time. They will just have to sit here waiting for you to come back to them next year when you are looking for Halloween ideas again. Save them now and your future self will thank you. This is the last in the Creepy Little Mermaid Costume series. Head back to that post to get the basics of the costume and the premise behind it. In this post I'll be showing you how I made the removable mermaid tail.
I just want to say right off the bat, I am not all that skilled in sewing. I don't really know the best or correct ways to do things. All I know is what worked for me and that's what I did. It got the desired effect and that's all I care about. If you know what you're doing with a sewing machine I'm sure you could figure this out yourself and I'm not sure why you are reading this. On the other hand if you are like me, with just some degree of sewing skill then hopefully this is helpful. Every step I did I would do a happy dance that this worked, that I hadn't completely stuffed it up and that I wouldn't have to start again. If you are looking to make a similar costume item I hope that this makes your job easier.
What You Need:

– Dark green fabric (Nylon Twinkle Satin $6.00 per metre, I bought .5m)
– Light Green Fabric (Twinkle Crepon $6.99 per metre, I bought .5m)
– Black Netting (Poly Stretch Tulle $5.99 per metre, I bought .5m)
– Green and Black Thread ($4.00)
– Thick Elastic ($5 for 4m, I only used about 40cms)
– Velcro ($3.00 from Kmart)
– Pinking Sheers
– Quilting Clips
– Pins
– Needle
– Sewing Machine
Total: $21.50
Step 1:
Measure around your legs where you want the tail to sit and cut the elastic to desired length remembering that it will stretch and you want it to sit firmly and also that you want some overlap for the Velcro. You can also cut your Velcro pieces to the size you want them. The more Velcro you have the more secure it will be but also the more overlap you will have.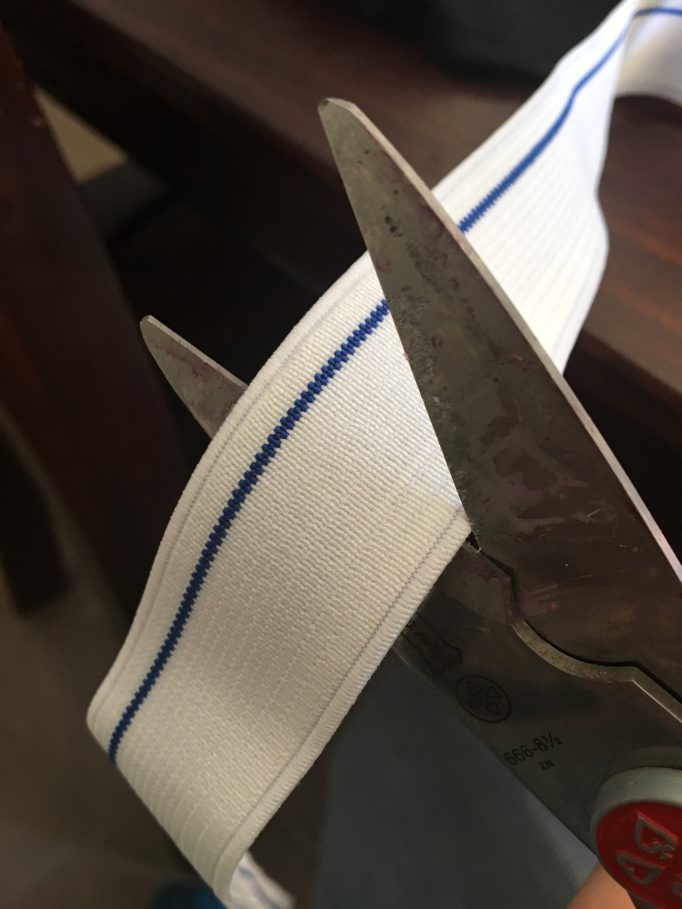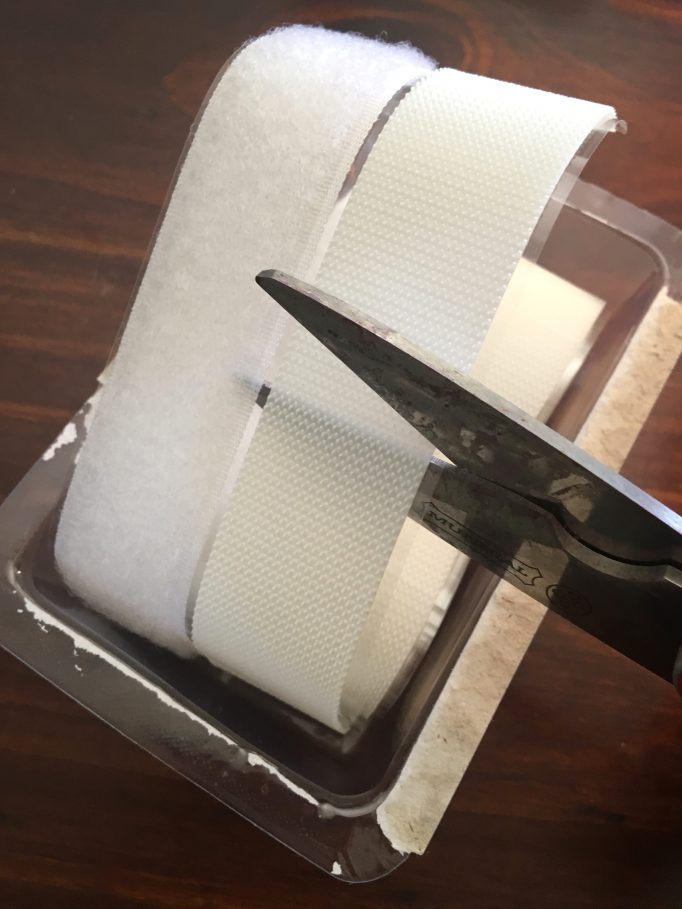 Step 2:
Fold over and pin the hem of the bottom and the sides of the dark green material which will be your base. I prefer to use the quilting clips because I can't accidentally stick myself with them and they are a lot harder to lose then pins but whatever you like and you have. Sew down the hem with the green thread. You'll have to thread your machine with the green tread and then wind some of the green thread to the bobbin.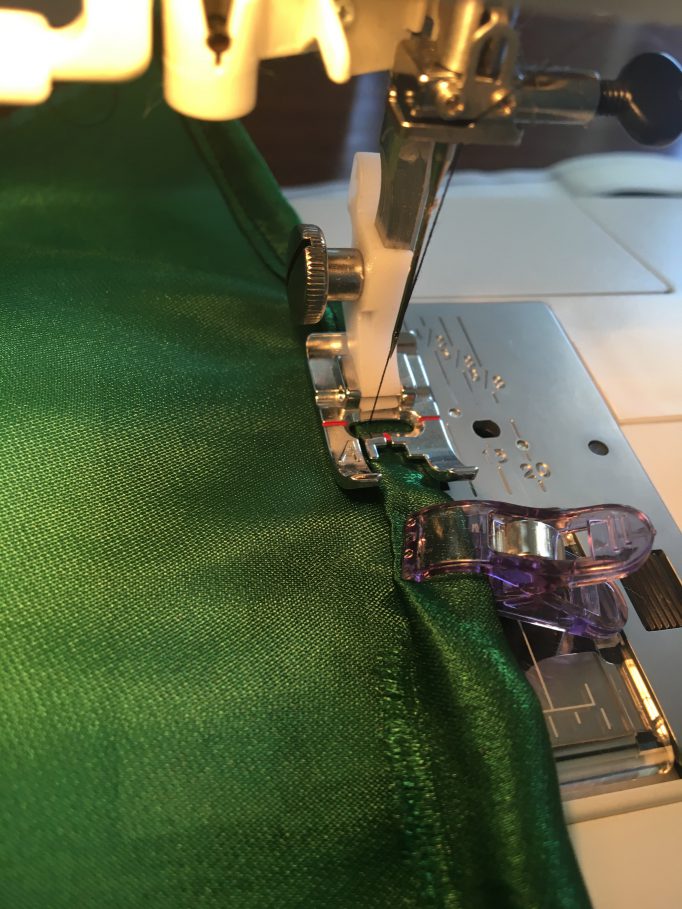 Step 3:
Sew a basting stitch (really lose and larger in out stitch) along the top of the dark green fabric. Then gather the fabric so that it's the same width as your piece of elastic. Pin the green fabric to the elastic. Start by pinning it at each end, then one in the middle and a couple more in the middle of those. Sew to the elastic with a zigzag stretchy stitch. You can then remove the basting stitch if you like. It's also a good idea to trim the unhemmed edge of the green fabric with the pinking sheers to prevent too much fraying. You won't be able to see this edge but it's good to keep it tidy.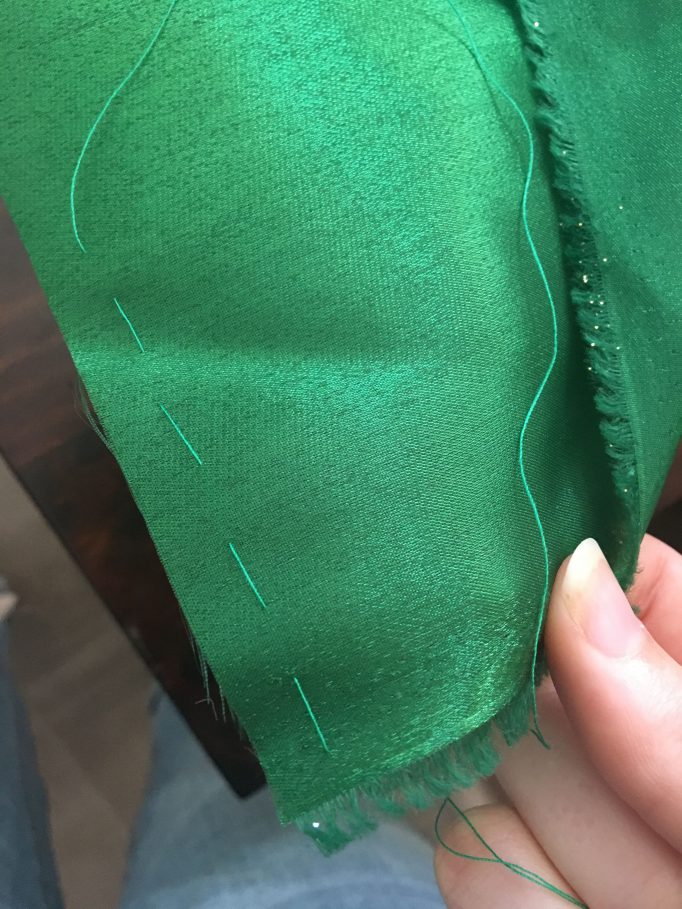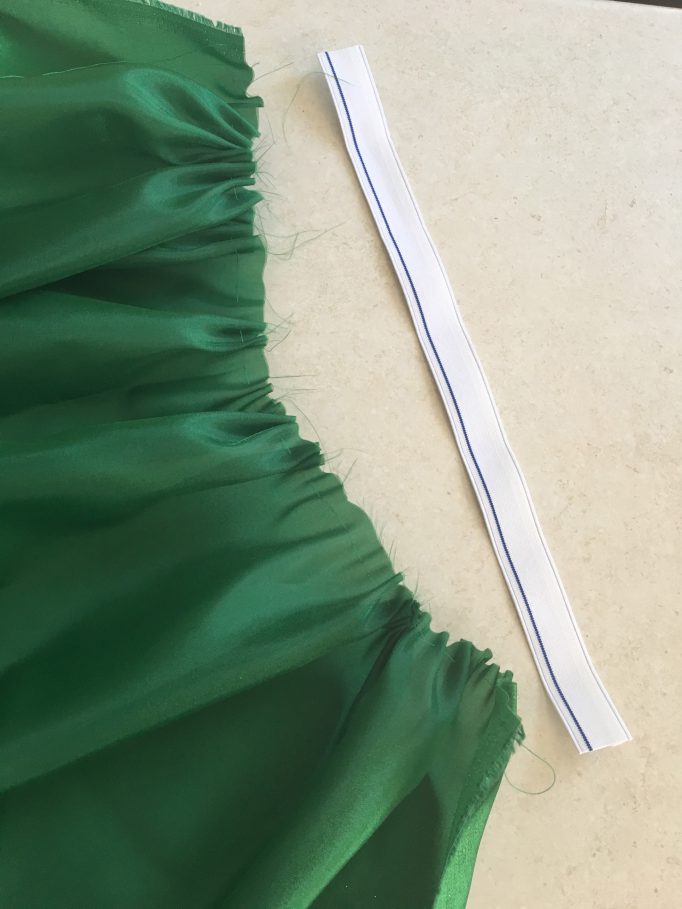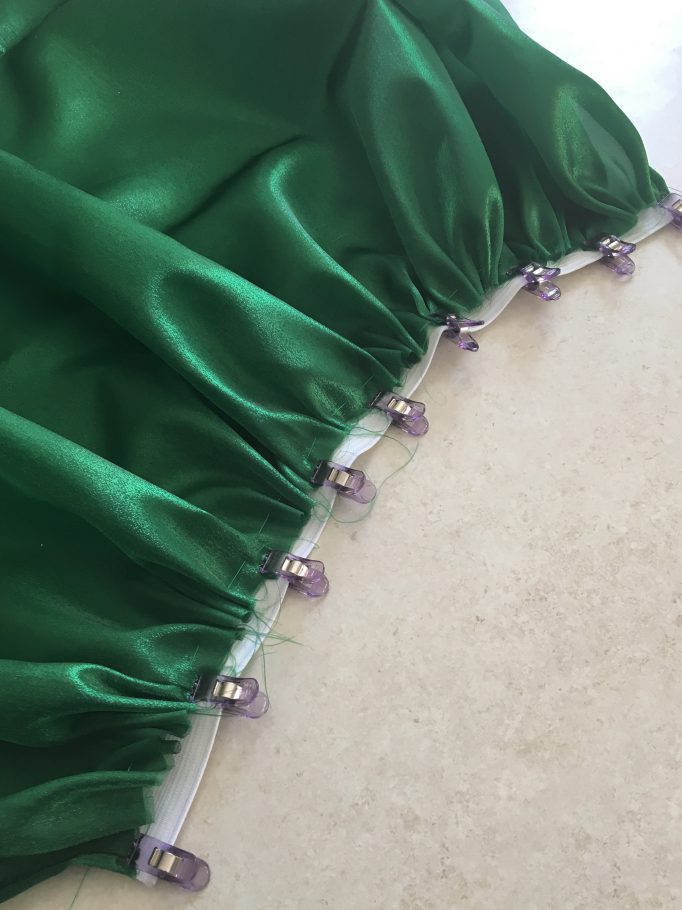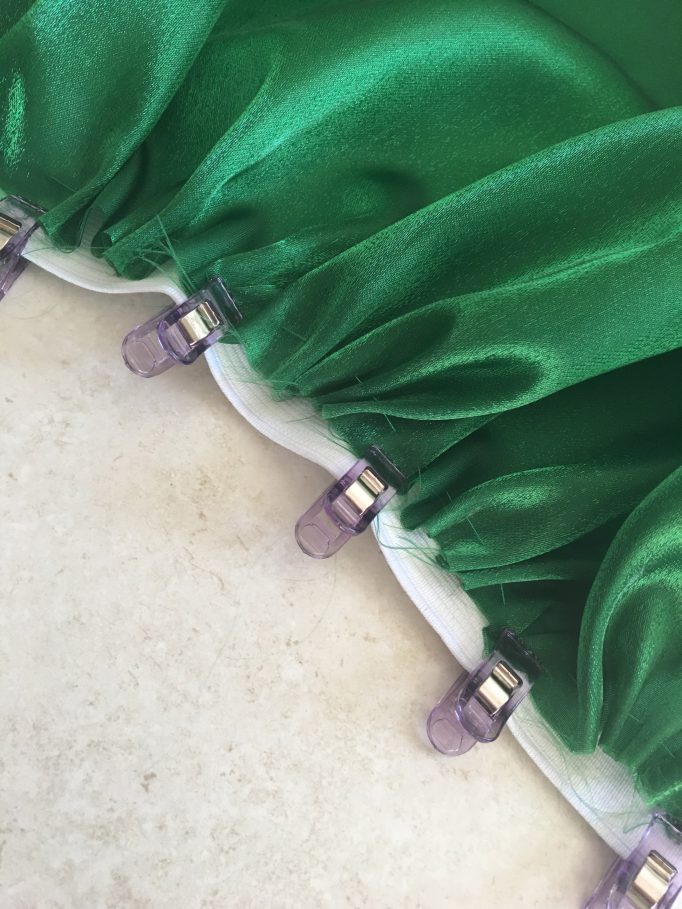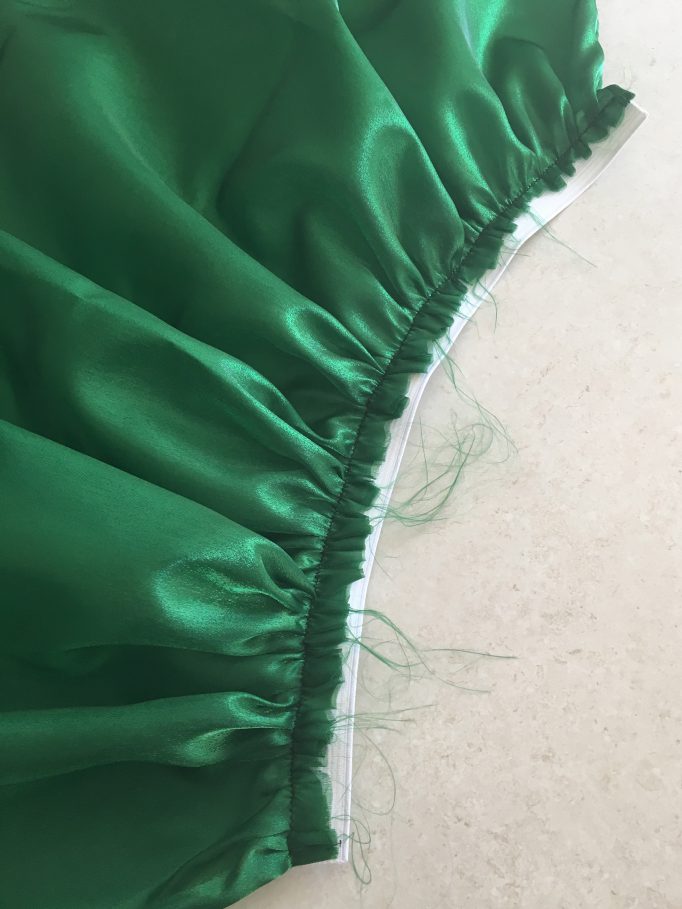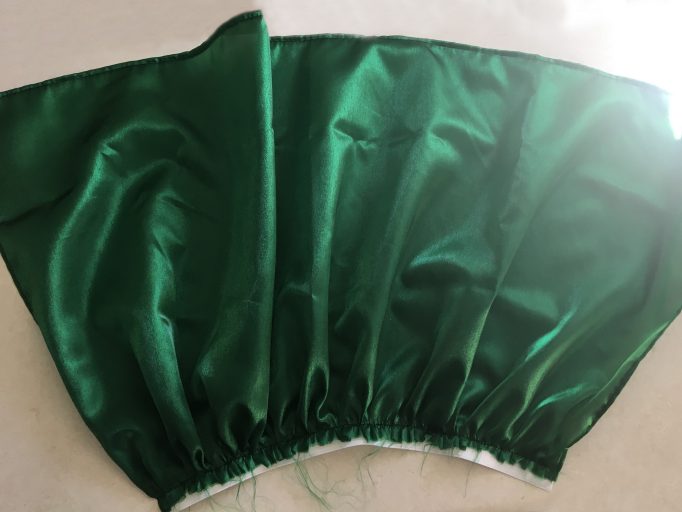 Step 4:
Cut the light green fabric into four equal pieces with the pinking sheers. I ended up hemming the bottoms of these too to match the dark green piece but left the sides unhemmed because I thought they would be too stiff if hemmed. Use the same basting stitch on all four pieces. Gather them and then pin them evenly along the elastic. Sew them down with the same zig zag stretch stitch. Again feel free to pull out the basting stitch when you are done.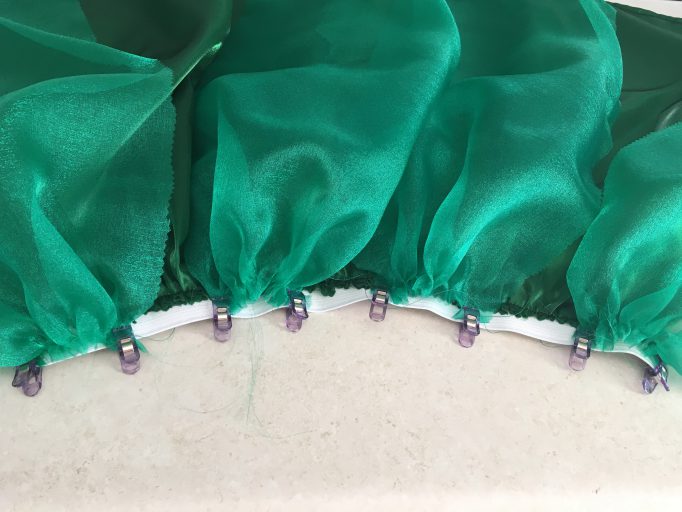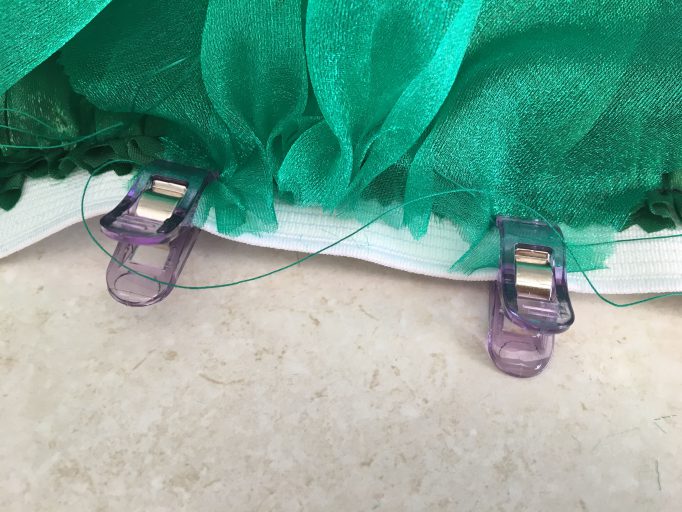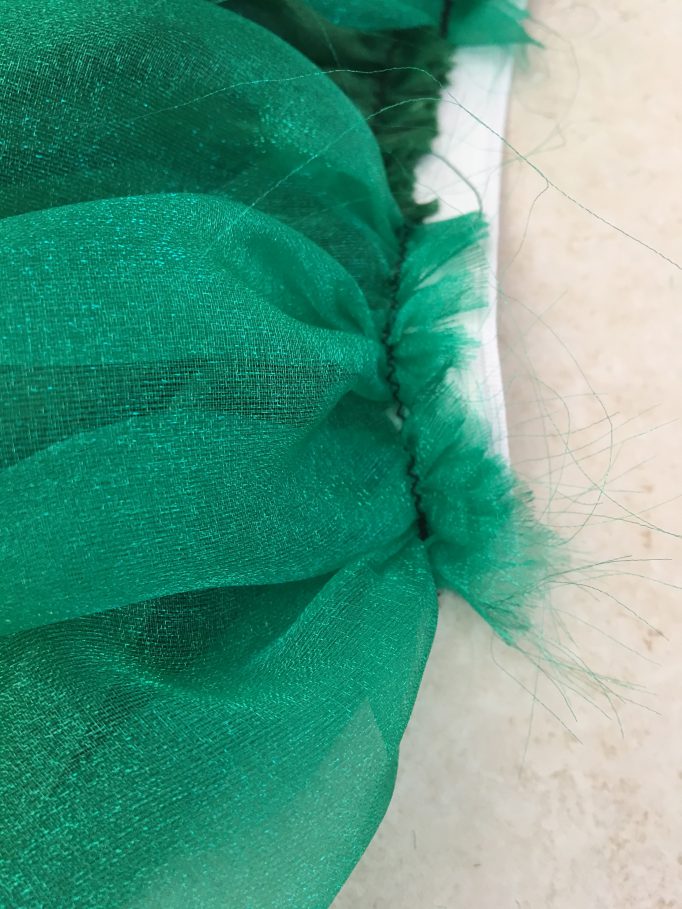 Step 5:
Cut the black netting into 4 strips. You don't need to use the pinking sheers and you don't need to hem it because it won't fray. Repeat the same steps with the light green fabric. Sew a basting stitch, gather and pin the top to the elastic. I gathered mine so that it was smaller than the light green material and pin it on top so that the light green would still be peaking out. Now you can see all three colours. Pull the basting stitch out once sewn.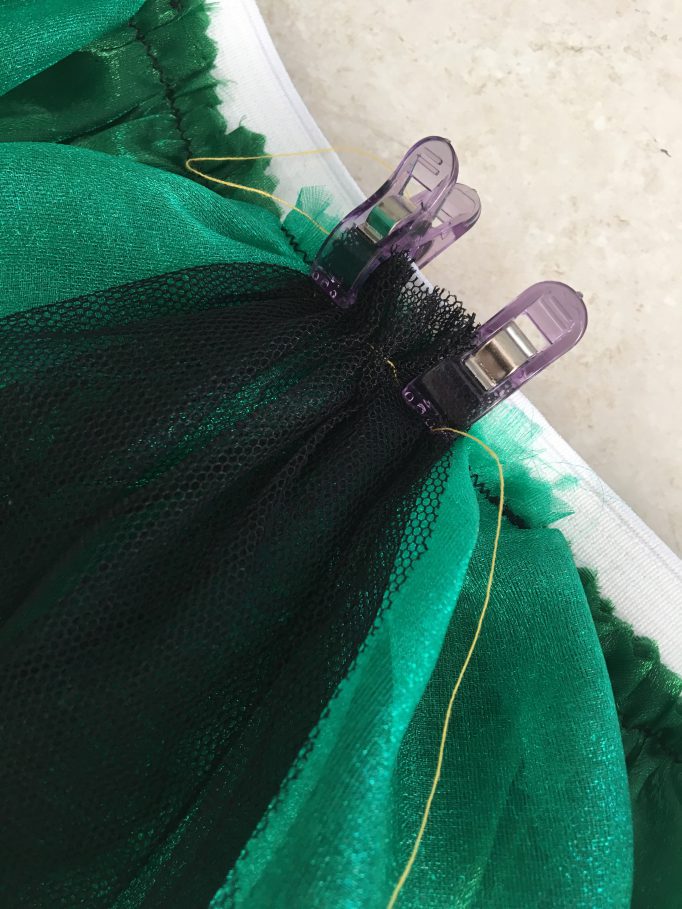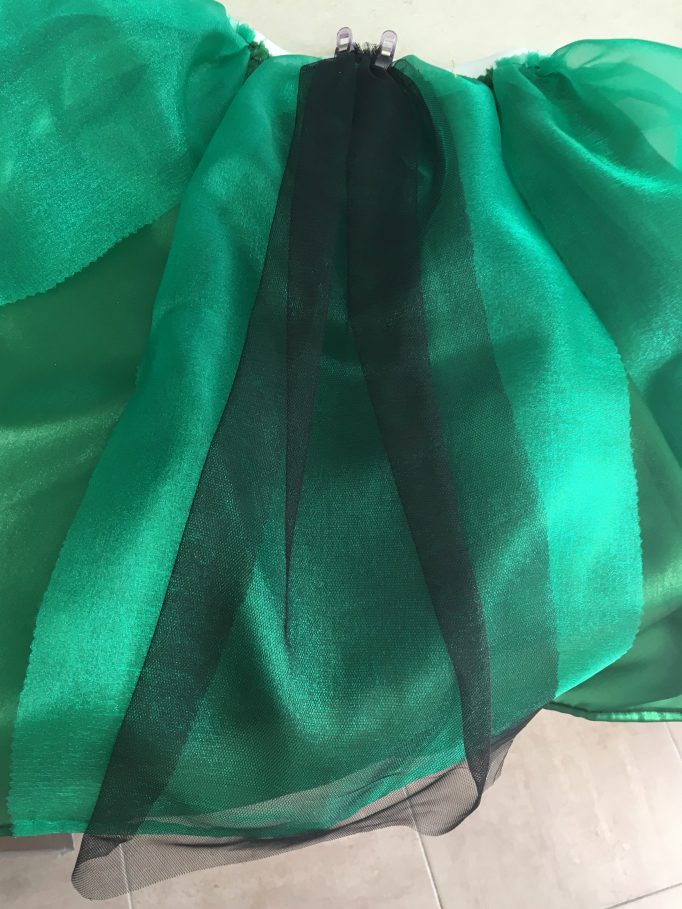 Step 6:
Finally take the sticky backing off of one of the pieces of Velcro and stick to one end of the elastic. There is so much material underneath it that I also sewed it down with a stick all the way around the outside. I didn't bother to do the stitch in an x through the middle though. I was lazy and just did it in black but if you do it in white would won't be able to notice it as much.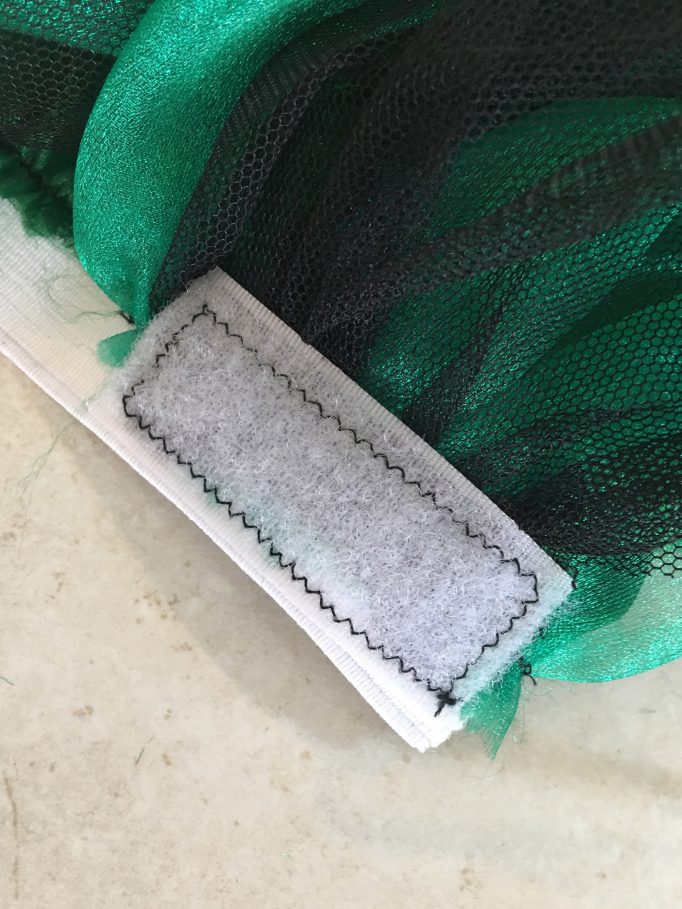 For the other end make sure the top of the Velcro is on the other side of the elastic so that when you put it on the tale is turned over once and all the unfinished ends are underneath where they can't be seen. This is what it looks like from the back. This section will go against your legs. Stick it on and sew around the outside in a box to finish it off.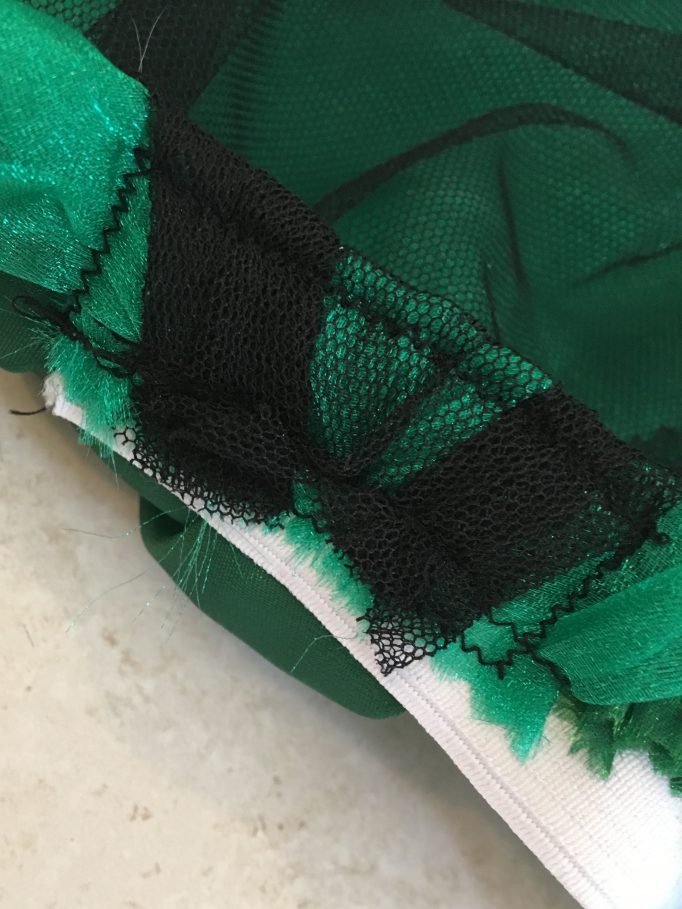 When I went to actually test this out on the pole, it looked amazing but it got caught in between my feet more than I expected. I had to make sure that the join was on the side I wanted to climb the pole on and then I had to pin back some of the layers to make sure it didn't get in the way. On the night of the performance I accidentally stood on the bottom of it and it came off too early. Not the issue I was expecting to have but annoying nonetheless. If you are making this for a dance costume definitely make sure to get as much practice in it as you can.
If you made it this far and are thinking how are you going to be able to walk in this as you are just making it as a dress up party costume or for Halloween then I have a few suggestions for you. You could either make two smaller ones for each leg or you could make it a lot longer and have it sit above your knees. It will still be a little difficult to walk in, much like a mermaid tail dress but a lot easier than it is currently. Let me know how you did it if you so this. I love to see.