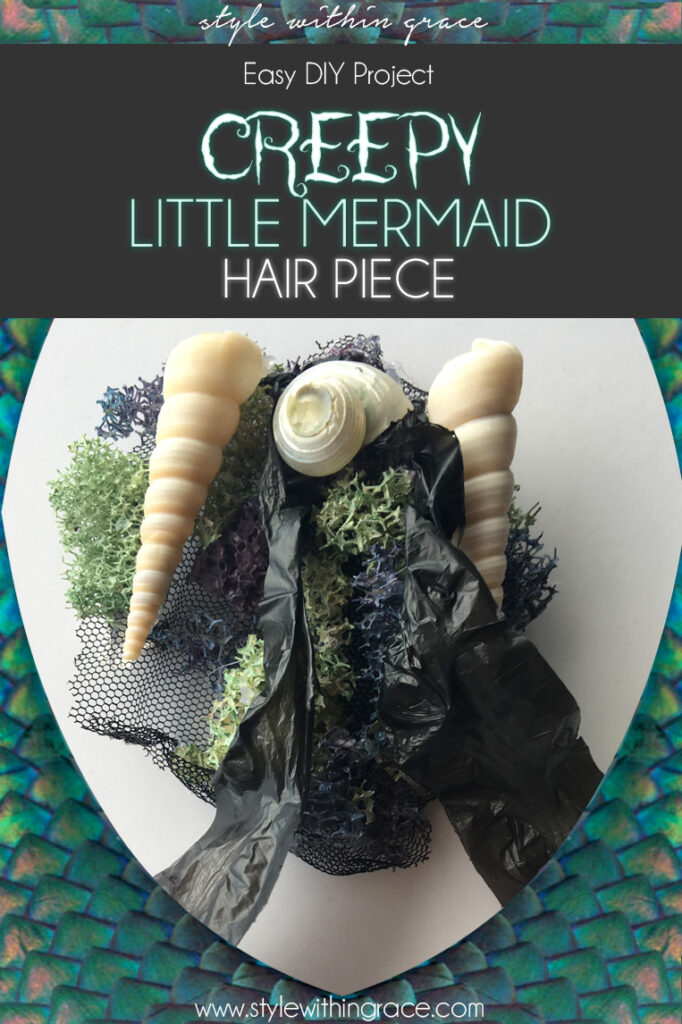 To go with my Creepy Little Mermaid Costume I made a moss, seashell and dead seaweed hair piece. It was a perfect and really easy addition that I whipped up in under 30 minutes. All the steps are below to create your very own under the sea inspired accessory whether you are dressing up as a mermaid or perhaps a sea monster I've got you covered.
What You Need:

– Shamrock Bow Clips ($3.99 for 8 but only need 2)
– Black Netting (Used leftovers from Ariel Costume)
– Hot Glue Gun and Glue (Already owned)
– Artificial Moss ($7.99 for more than enough)
– Black Garbage Bag ($0.95 for 4, only used a tiny strip off the top of one)
– Seashells ($2.50 each. Bought from Bargain City but had to get two different packs so I could have different shaped shells. I have so many shells leftover!)
Total Paid: $17.93
Step 1:
Cut out a somewhat half circle shape from the back netting and glue to your two hair clips facing down. I scrunched my fabric up so it overlapped a bit and made more of a teardrop shape.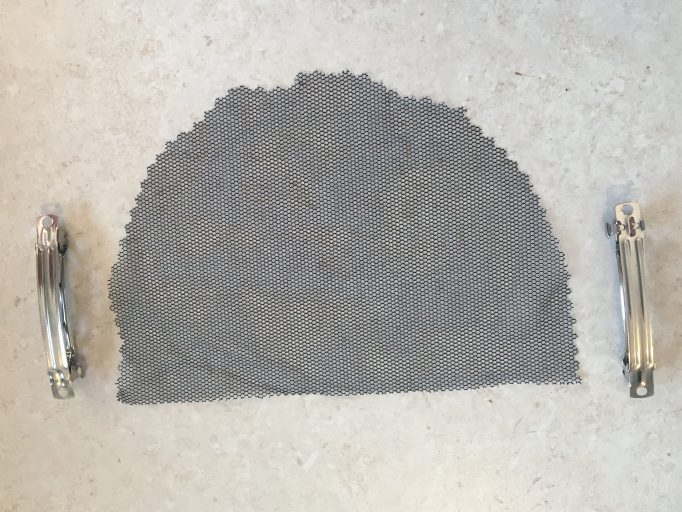 Step 2:
Cut a strip of your black garbage bag and gently pull both sides outward all the way along the strip to get a seaweed-like effect. You can paint yours green if you like but I was happy to stick with black. This is what it should look like. I got this idea and image from a Halloween forum.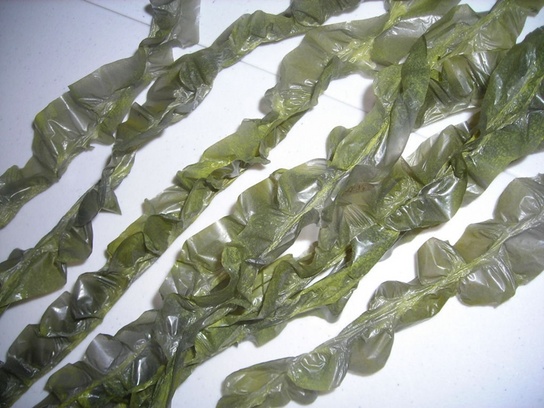 Step 3:
Glue pieces of the artificial moss to the black netting on the opposite side as the hair clips. Be careful not to burn your fingers as the hot glue does go through the netting and straight to your fingertips. Mix in the different colours and layer up the moss so it has a cascading effect down the netting. Cut a small strip of your best seaweed and stick that to the top of your hair piece. The hot glue does sort of melt the plastic garbage bag when it's first applied so don't suddenly pull it away as it will distort your seaweed and possibly even tear it.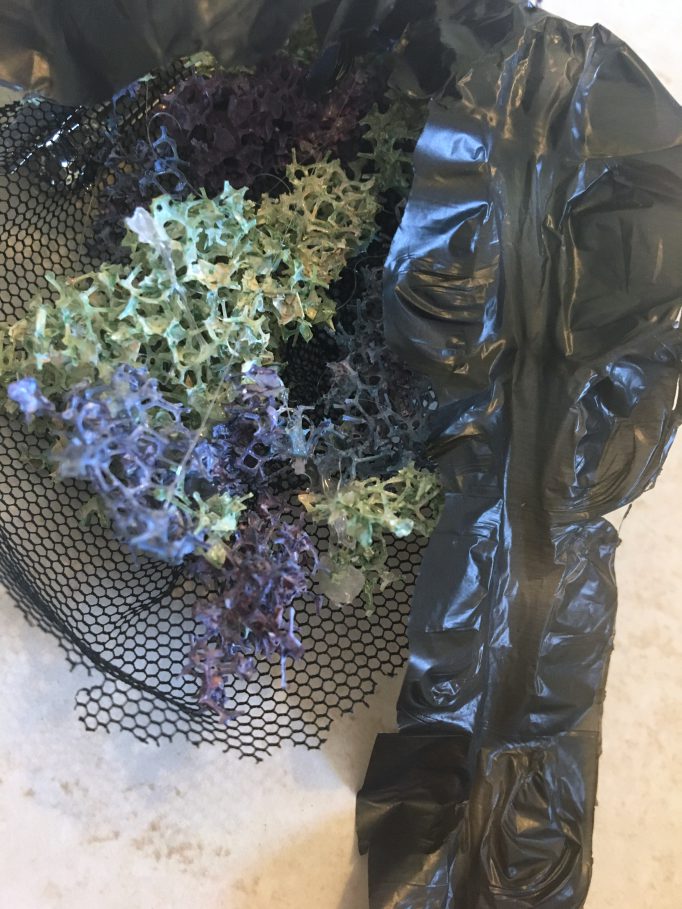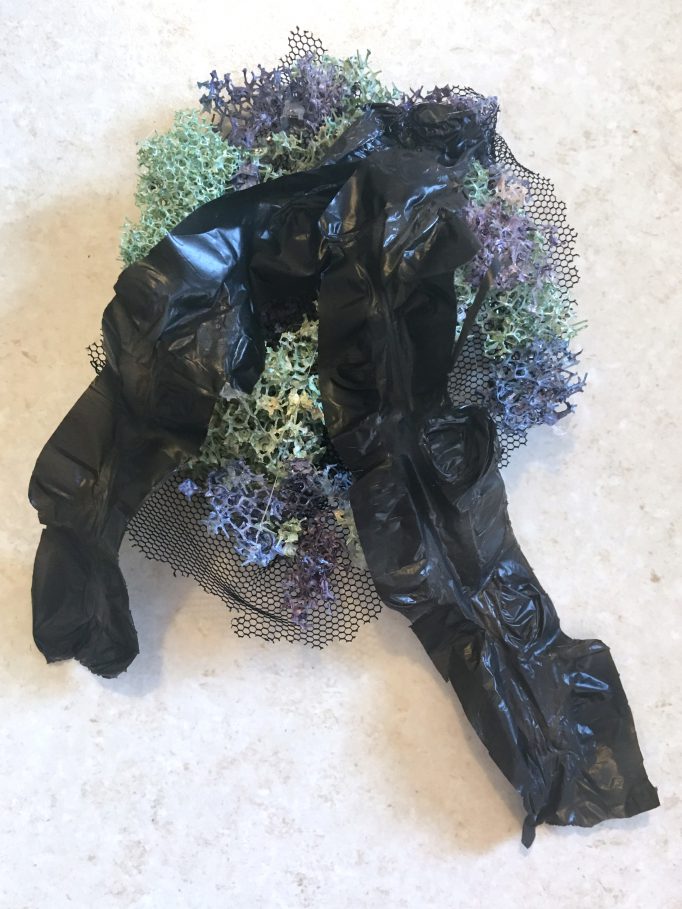 Step 4:
Lastly organize your seashells in a pattern that you like on your hair piece then glue them down. Depending on the shapes of shells you were able to find, you might want to use more shells in a different pattern. I only had these two shapes so this is what I went with. That's all there is to it! It will clip to you hair really easily and securely and makes an excellent little added touch to your creepy Ariel Little Mermaid costume.