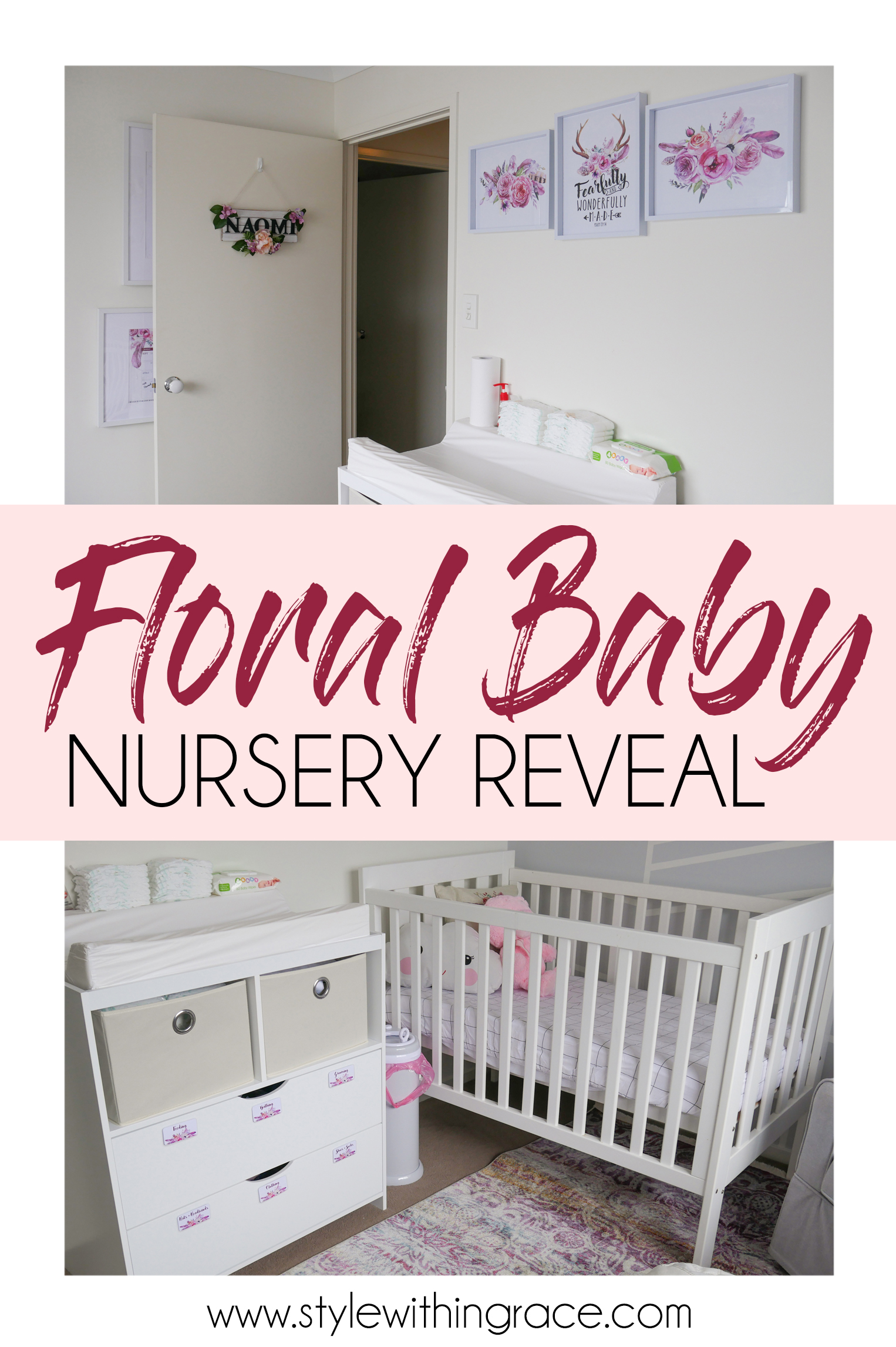 I've always had a love for interior design so naturally as soon as I found out I was pregnant I was dreaming up all that I could achieve in the nursery. I started pinning images and making plans long before I knew for sure she was going to be a girl so I started off with a very neutral palette. My plans were to add pops of colour and to choose a theme once I discovered what the gender ending up being. Right from the get go I was drawn to all white furniture and geometric patterns.
Now that it's finally at a stage that I call done, I am so thrilled to share it with you all! It's become my favourite room of the house. I just love leaving the door open and gazing into the serene space with joy and anticipation. It's such a beautiful, light and fresh room that I believe will suit bub to be just perfectly!
Feature Wall
Before I could do anything else, painting a feature wall was the top of my to do list! I had started accumulating some furniture but it had to stay in it's flat pack form until the painting had been done. Finding the time to actually work on this was quite the challenge though. I knew it would be a lot of work but I just loved the idea of the pattern in a nice subtle grey to compliment the other white walls. Turns out it was even more work then I thought it would be because there was quite a lot of seepage around the painters tape that I had to tidy up by hand.
I worked on it over two weekends between other commitments as well some touch ups in the mornings before work. Just the taping of the pattern took longer than I thought it would. Despite it being more work than anticipated, I am so absolutely thrilled with how it turned out! The perfect base and starting point for my little bub to be's room!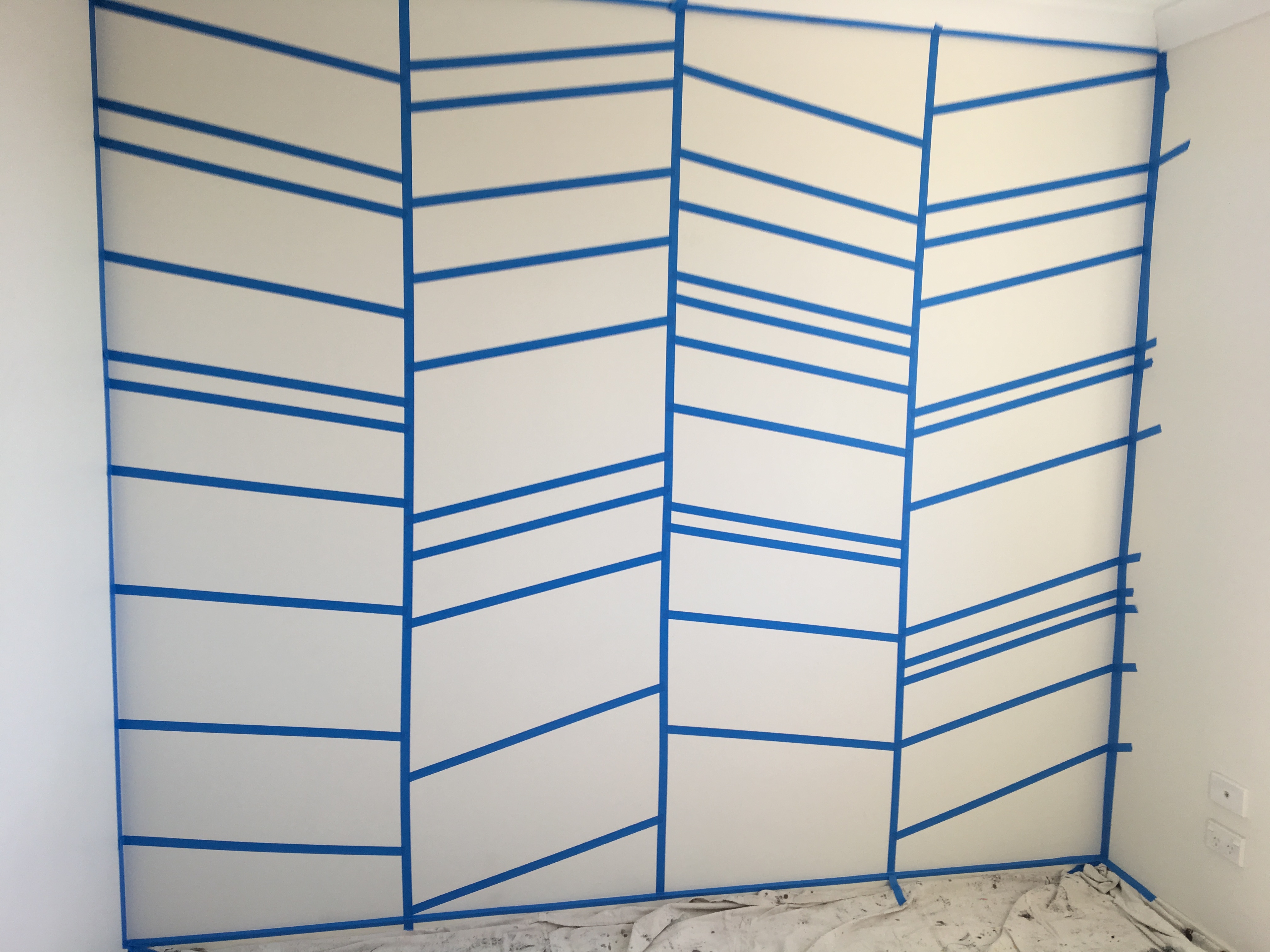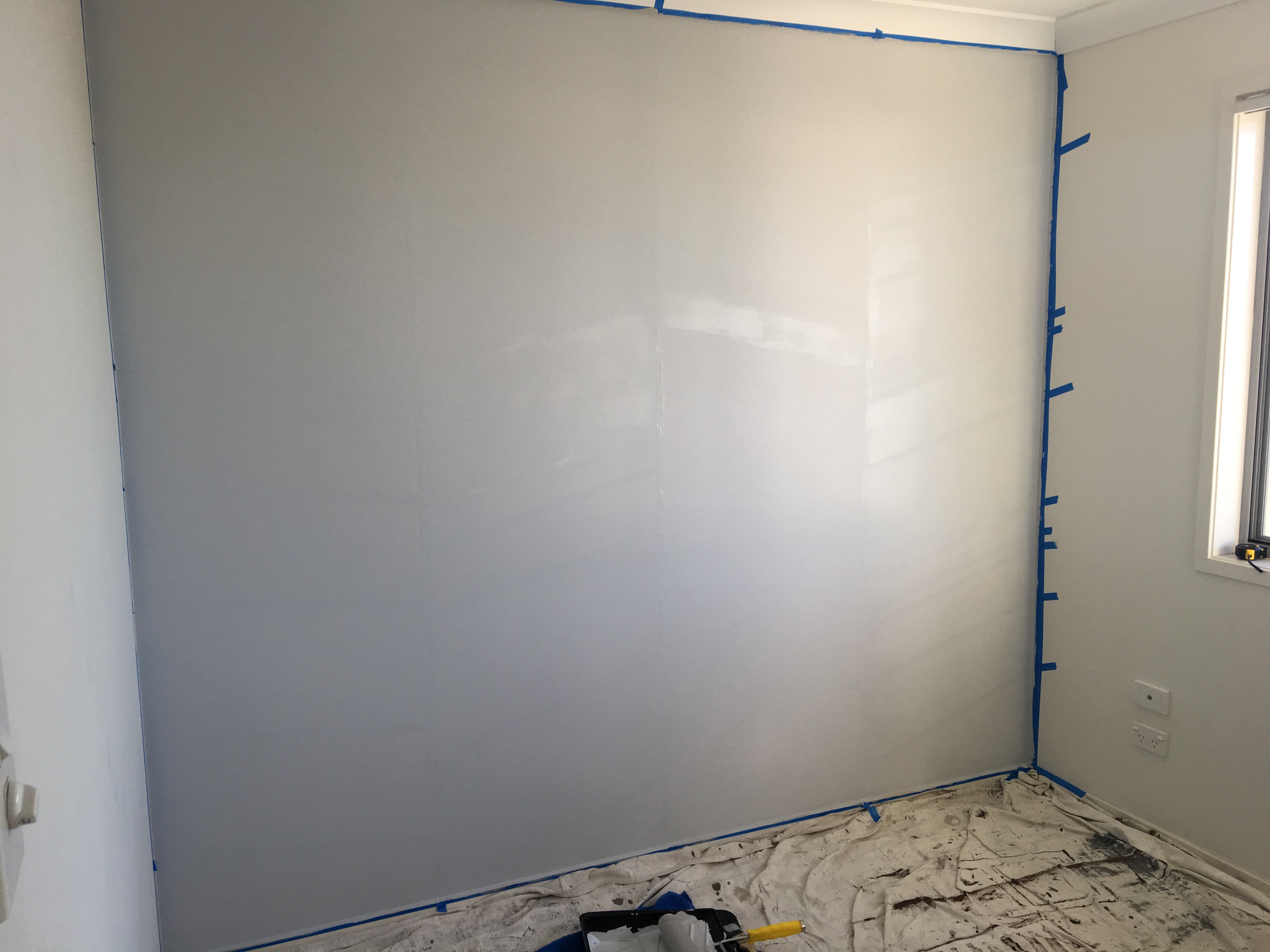 I'm not going to go into full detail on the process of painting the wall as I am no professional. I will just give you some tips that I would have found helpful. The first coat you do over the painters tape will seep underneath the edges of the tape. No matter how hard you try to seal the tape to the wall. Save yourself the trouble later on and paint the first coat the same colour as the original wall (in my case white). The tape will then be sufficiently sealed and you can continue on with the next coats in your feature wall colour.
Secondly roll the tape slowly and as close to the wall as possible when removing it after you've completed your final coat to prevent chipping or pealing any paint with it. Make sure you have some of the original wall colour paint on hand because touch ups are pretty much inevitable.
---
Furniture
The Crib
The first piece of furniture I bought was the crib but I can't remember what brand it is. It doesn't have any brand markings that I can find on it. I managed to find a convertible bassinet to crib to toddler bed in great condition secondhand for just $200. That also included a near new mattress, mattress protector and a teething bar.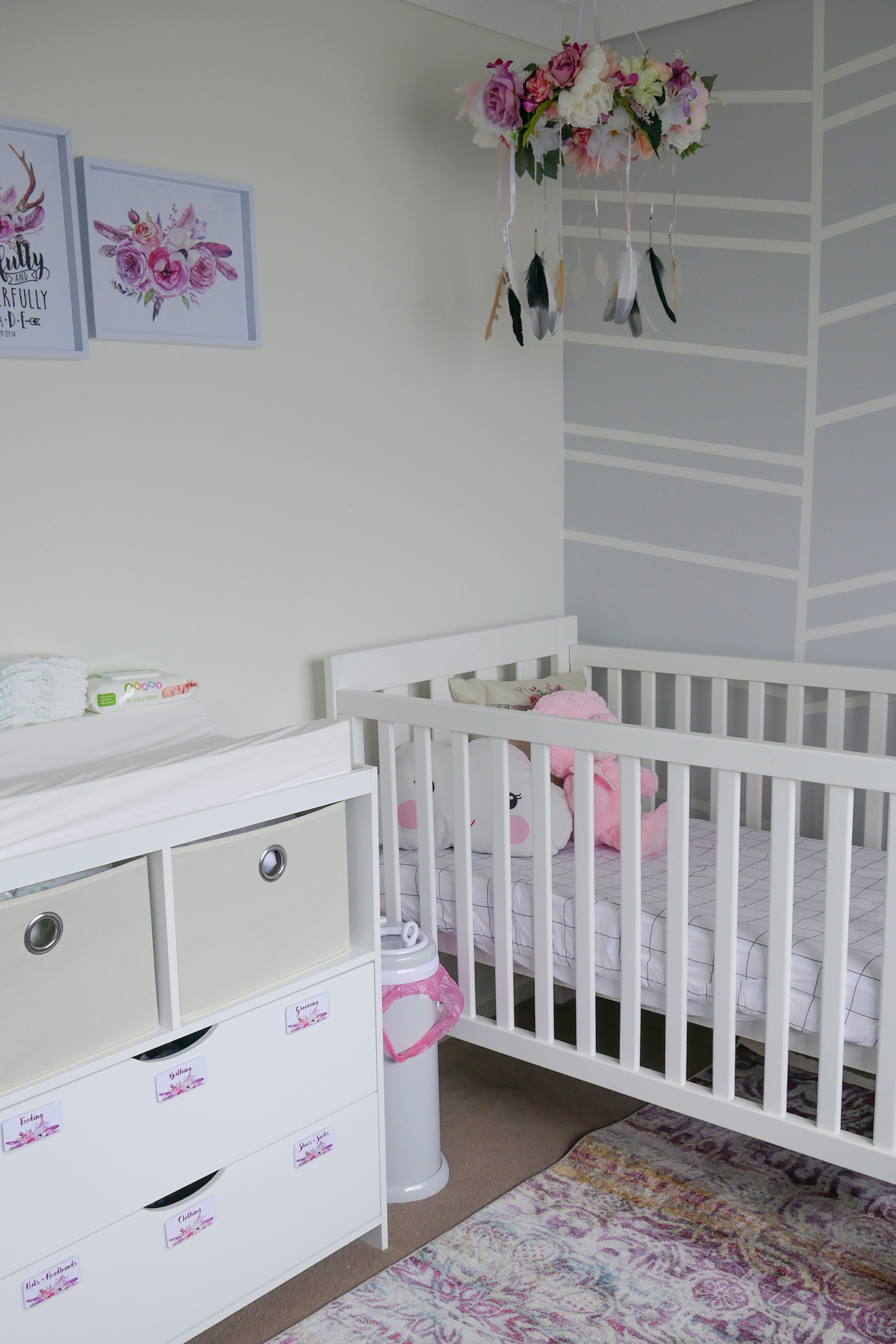 Some crib bumpers were also thrown in but I haven't used them as they are not recommended because of the risk of suffocation and SIDS. As soon as the feature wall was finished the hubby and I put the crib together. I think as long as you make sure that the crib satisfies the safety standards it is one of those pieces that is smart to get secondhand and can save you a lot of money.
---
The Change Table and Bookshelf
Following the crib, the change table drawers and cube bookshelf were assembled. I bought both of these from Mocka. The nursery is really a rather small room so I wanted to make the best possible use of the space. There wasn't enough room for both a set of drawers and a change table. I looked all over for the perfect set of drawers to put a changing pad on top of until I finally settled on this one.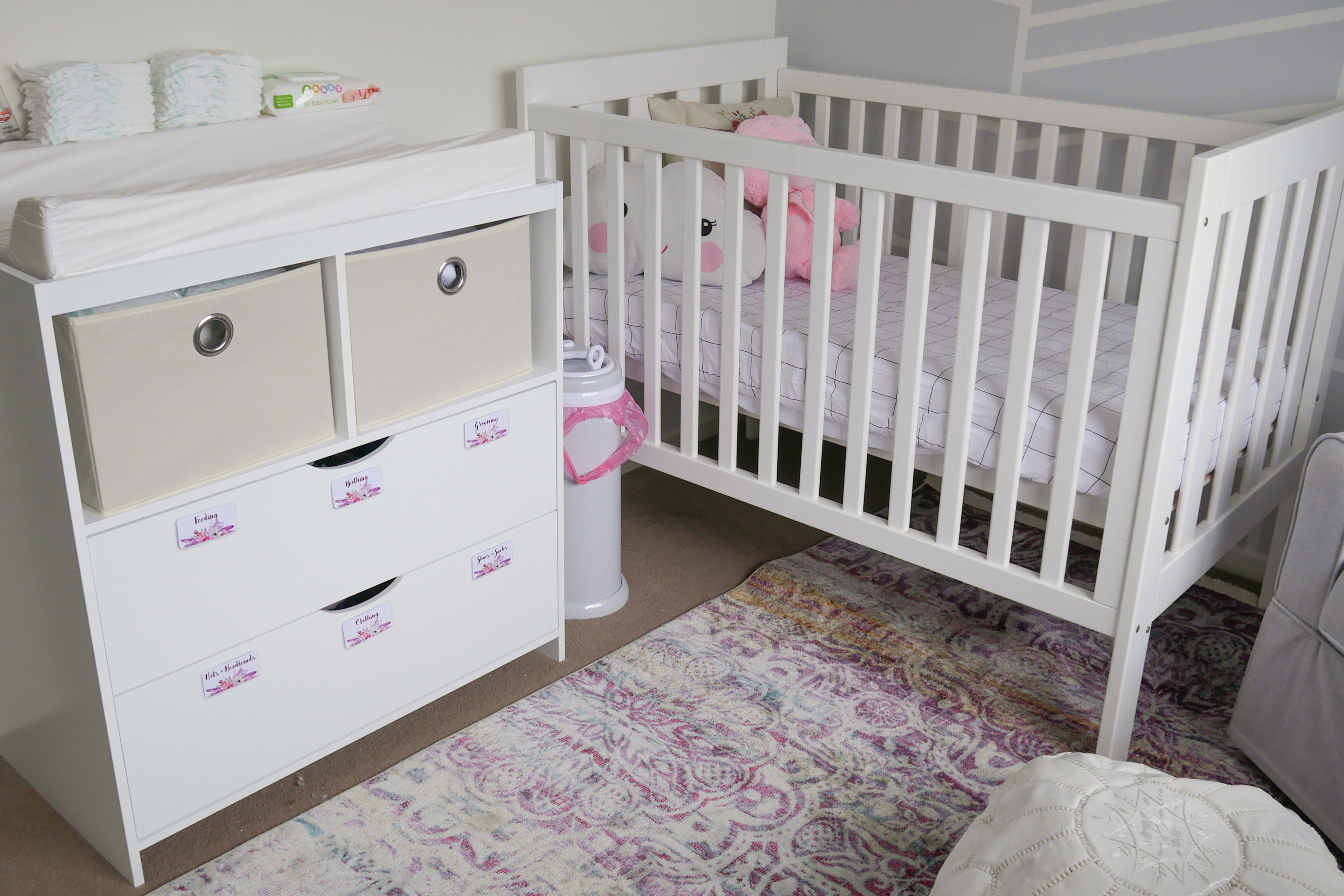 I loved how the Brooklyn Change Table had the lip to keep the changing pad in place but would also just look like a set of drawers once the changing pad was no longer needed. The price was really good too! I purchased the change table without the supplied changing pad. I was sure I could find one for a better deal than an extra $40. Turns out I was right! I scored a barely used secondhand one for $5.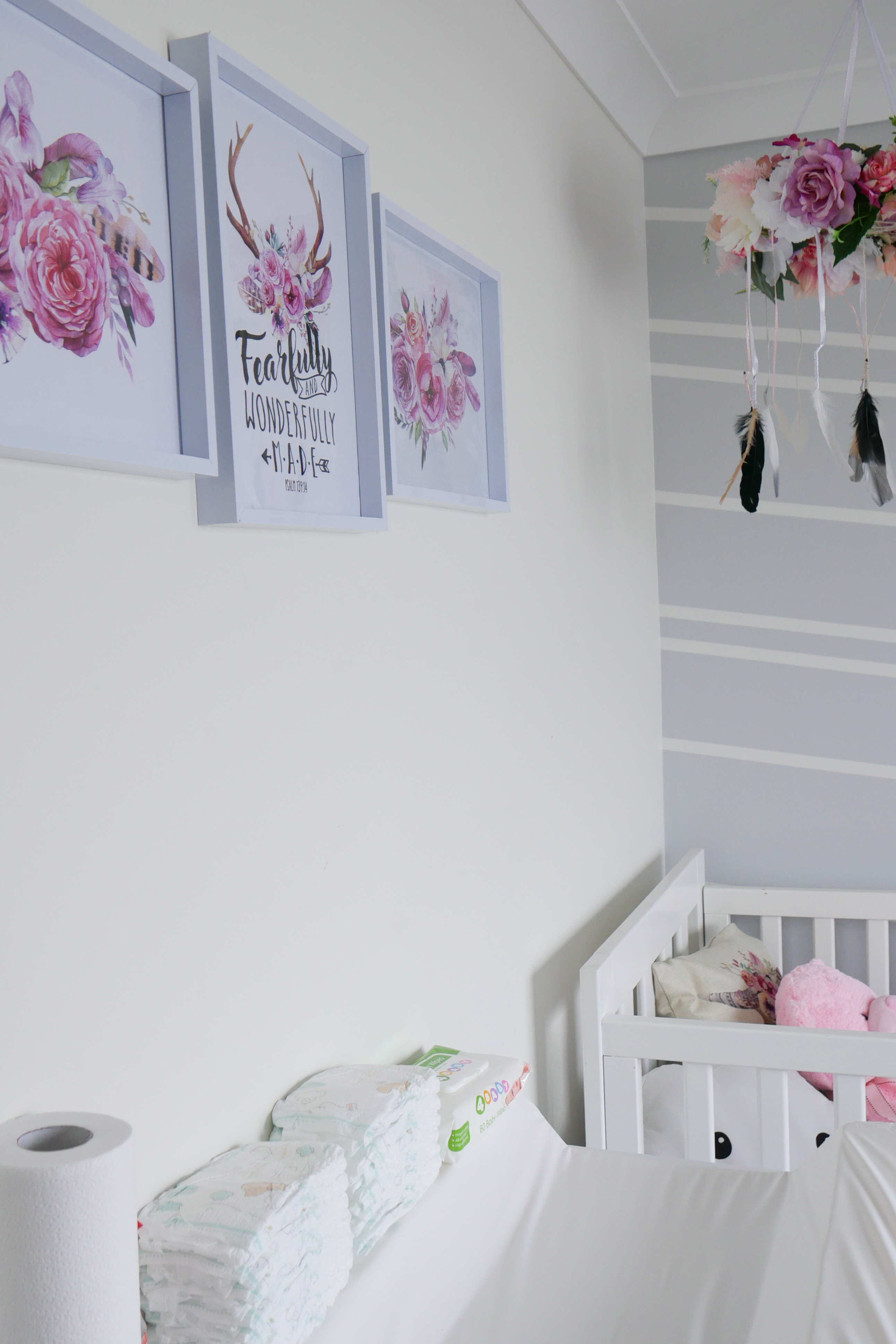 The change table drawers by themselves didn't qualify for free shipping so I bought the Luna 8 Cube Storage Mocka had on offer to make up the difference. I already had plans to get a cube bookshelf for beside the nursing chair anyway. When I purchased the bookshelf there was a special deal going that if you purchased the bookshelf you could also get 6 Black Deco Fabric Boxes that fit within the shelves, thrown in free.
As you can see I only used 3 but it was only free if you ordered all 6. Perhaps they will come in handy in the future. The black deco was the only colour that was free. But that worked out quite well though as I love how they look. The cube bookshelf is another one of those pieces that will get good use even as baby grows out of her nursery.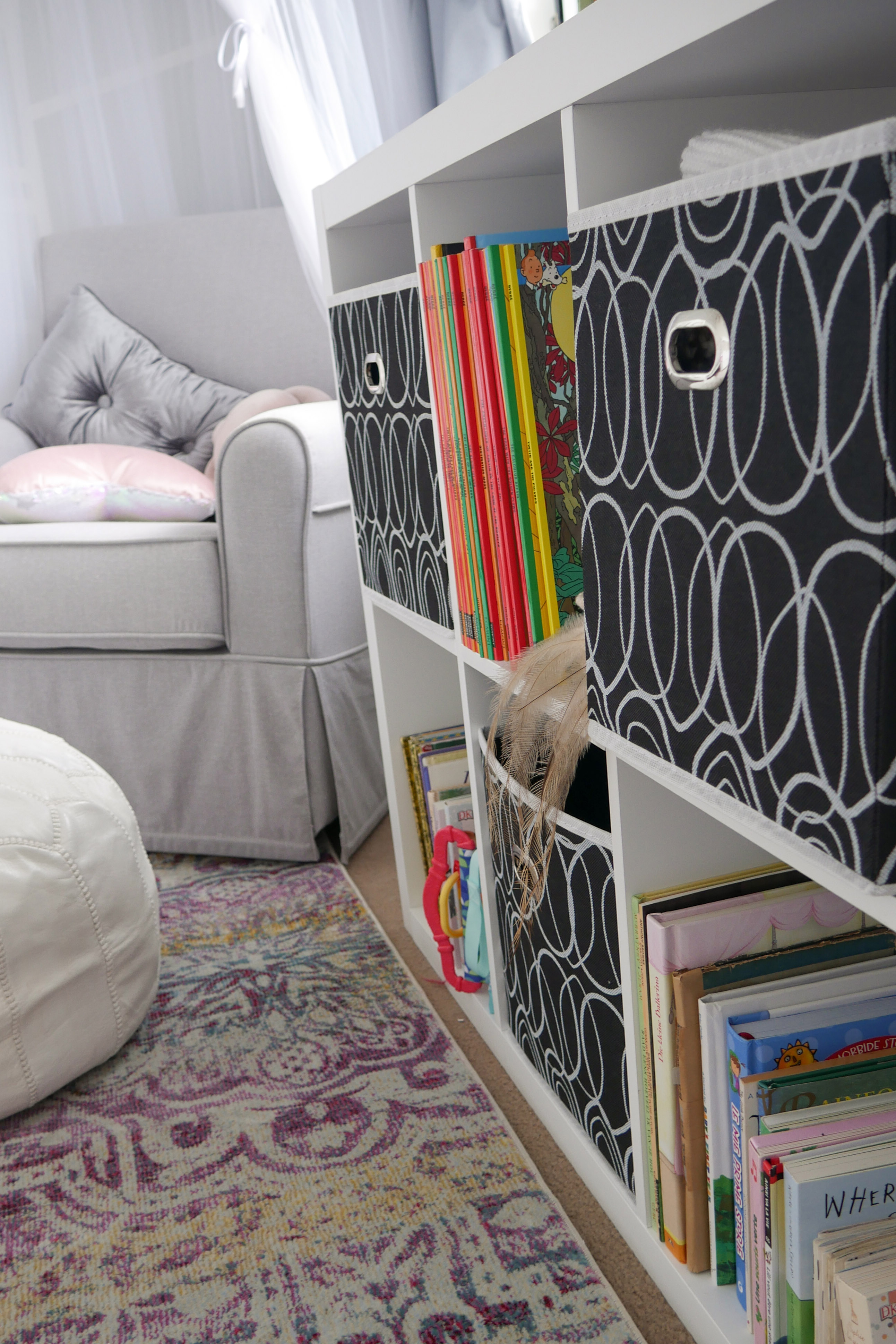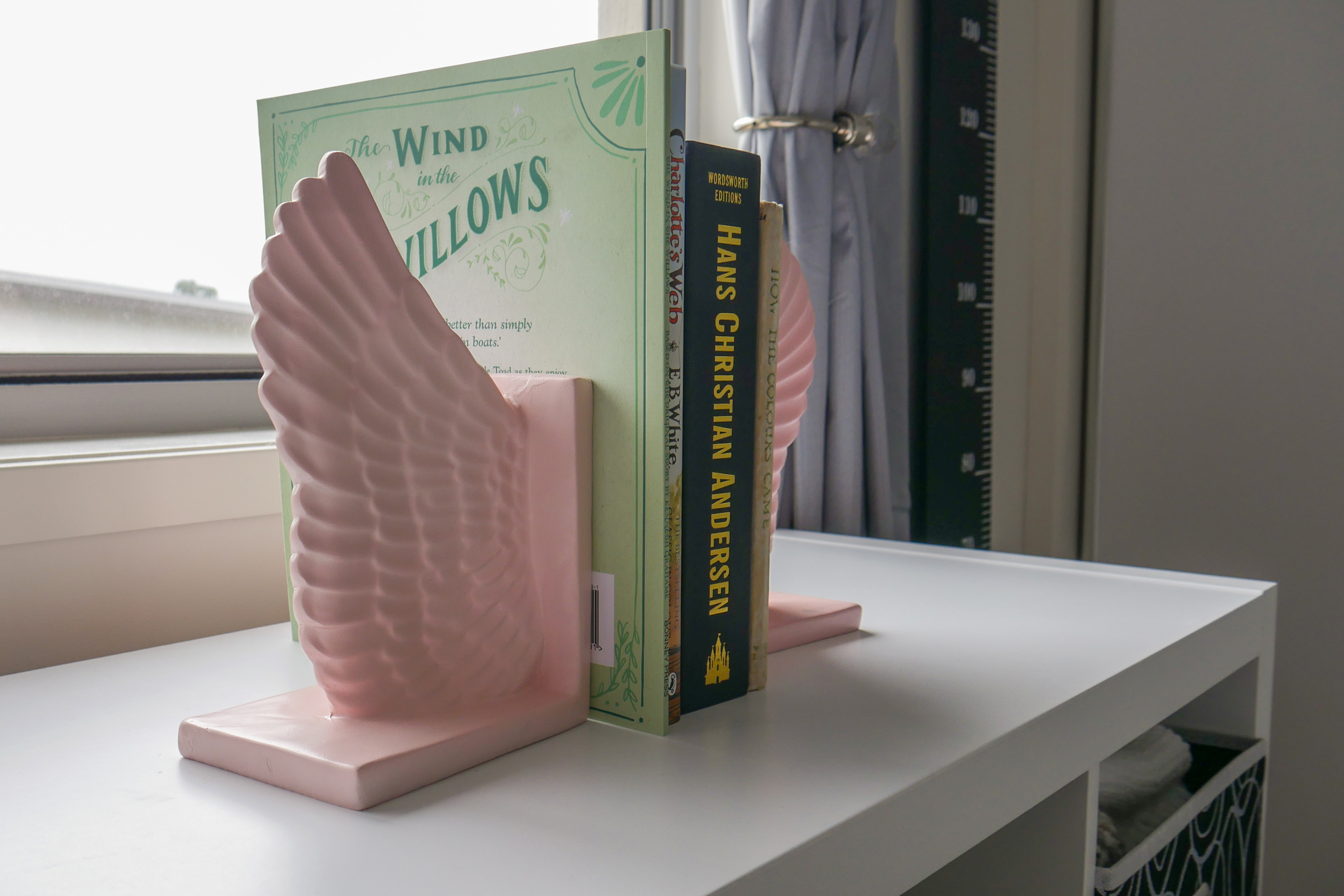 ---
The Nursing Chair
The hardest piece of furniture to get my hands on was my nursing chair. I had seen these beautiful grey wingback rocking chairs with the wooden legs and couldn't get past how gorgeous they would look in the nursery but I just wasn't willing to pay $700+ for them. For a while there I had plans to buy the Strandmon Wing chair from Ikea and have it converted into a rocking chair with a conversion kit from Etsy. Even with all that extra work, it still was costing about $500 altogether with shipping.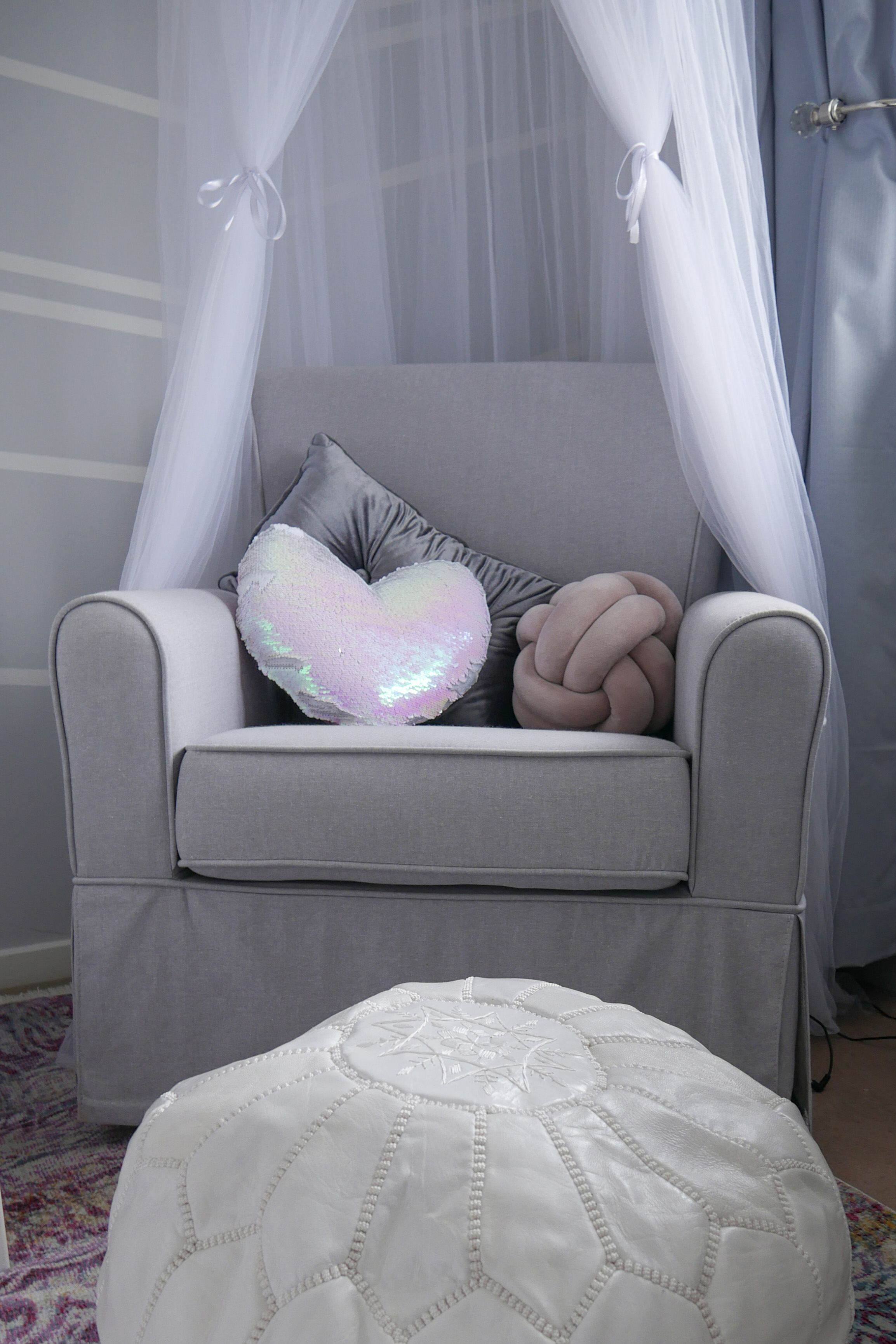 Finally one morning I went to check out the closing down sale of a Babies'R'Us store near me. It was there I found the one I ended up buying. The exact one I bought is therefore no longer available for me to link to. Let me just tell you it is super comfy! It might not look like it but it rocks and swivels and was down to $350 from $600 I believe. It has a bit more of an understated look than the wingback chairs but I think this one is way more comfortable and I'm more likely to use it after bub has grown up.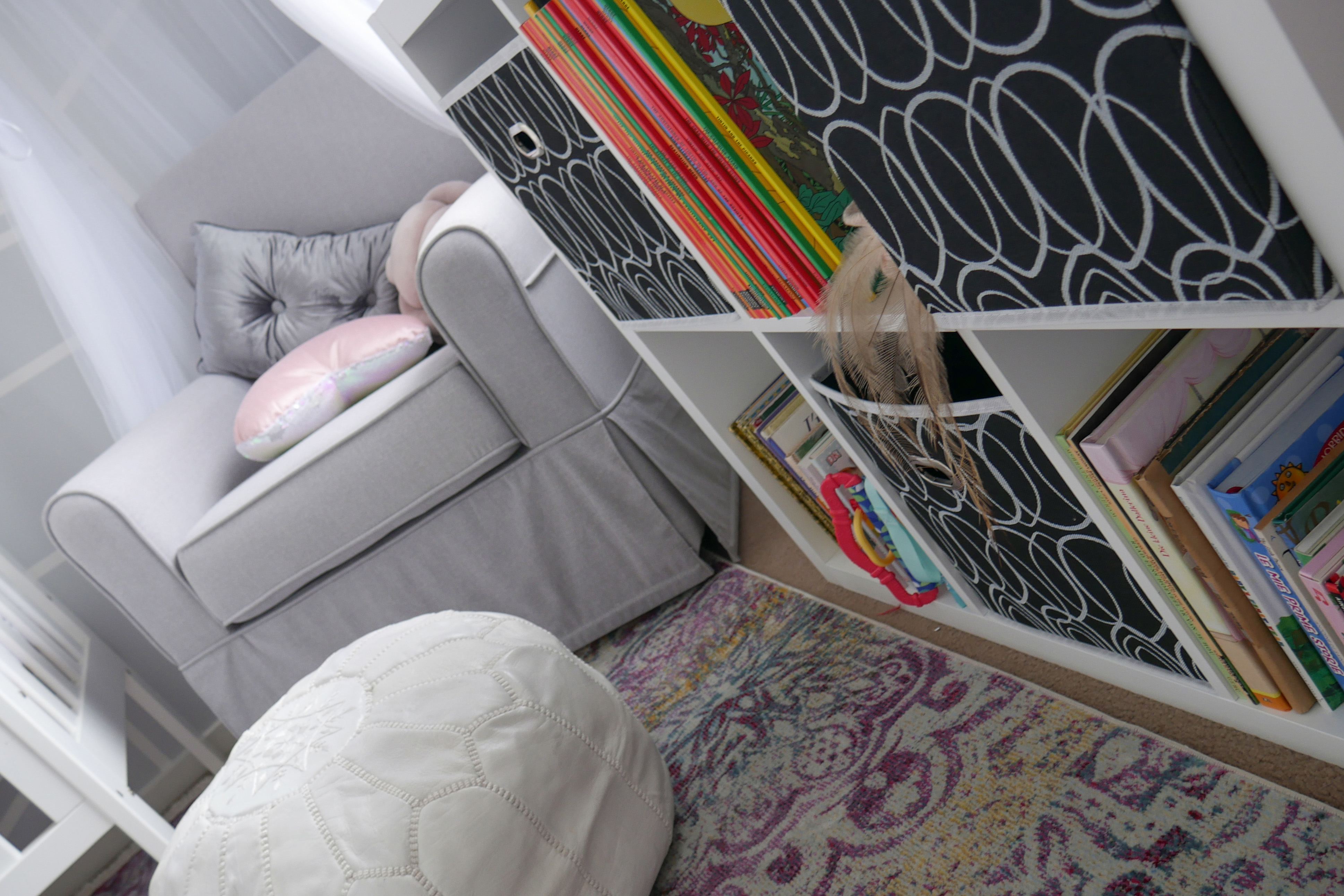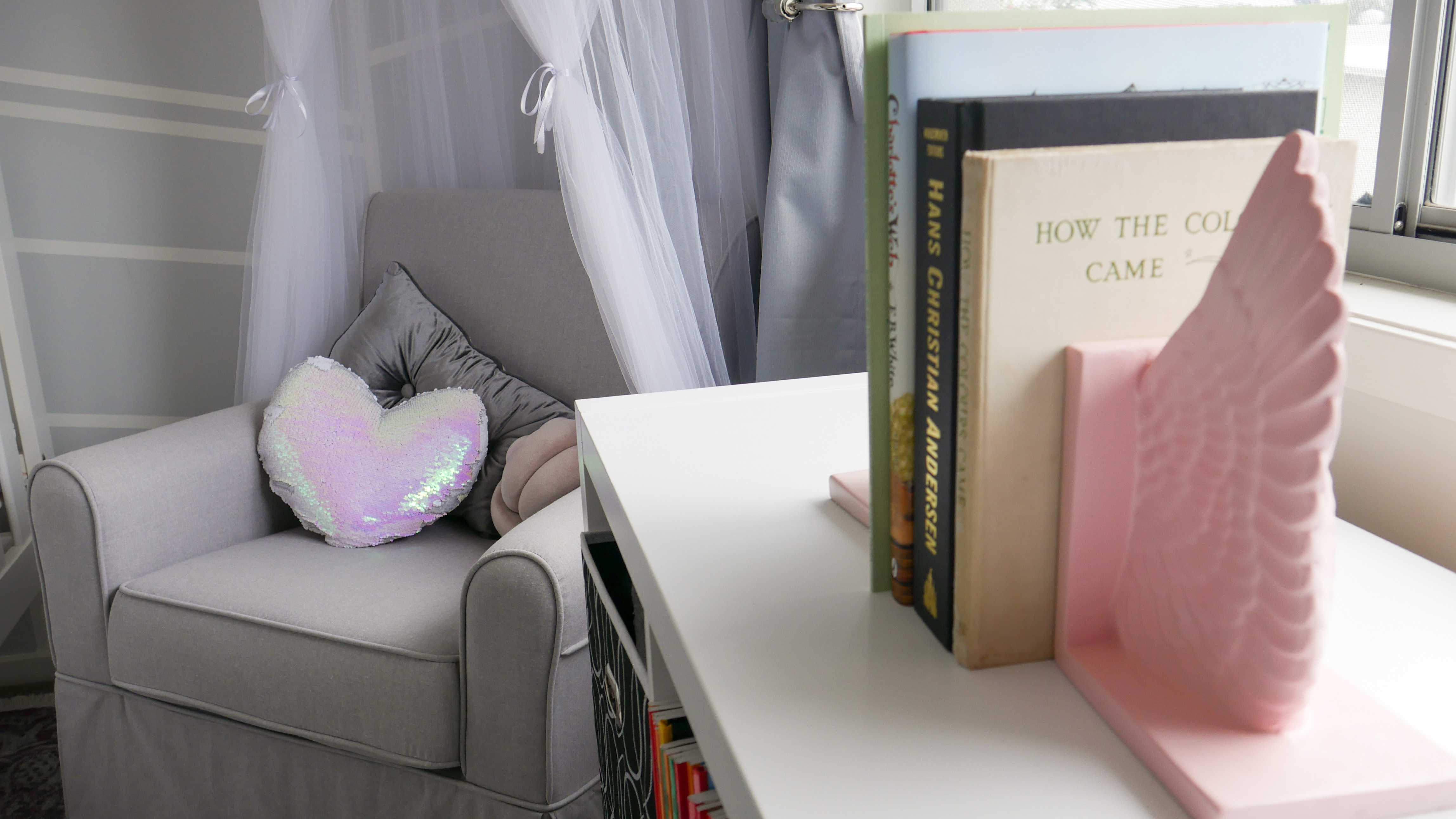 ---
The Moroccan Pouffe
To pair with the grey rocking chair glider, I knew I wanted a White Moroccan Pouffe so I could put my feet up while feeding. I searched around to try and get the best price and the best I could do was about $90 from the Moroccan Bazaar eBay shop. It was a little disappointing when it arrived as it had blue pen marks all over it. I contacted the seller and they advised me of ways I could try and clean it off but it wasn't coming off without the actual white coming off as well. They then offered to send me another one which I took them up on. I was headed overseas at that point and I asked if they could arrange to have it arrive after I got back. Otherwise it would just get sent back to them. They assured me they could arrange that.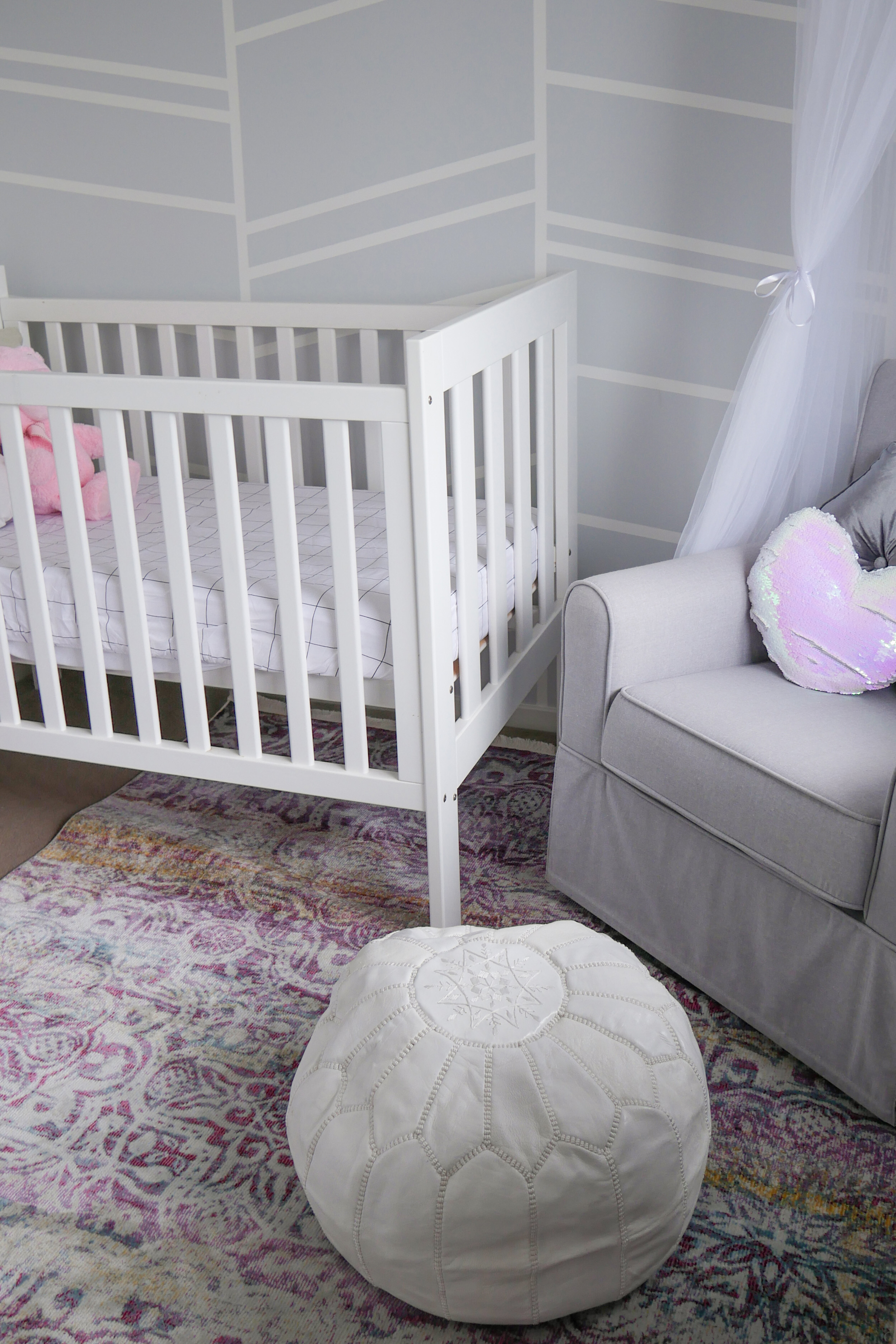 I wasn't really surprised to find it never came. By that time it was past the point when you could raise a complaint with eBay and so I just used the pouf I had. The pen marks are ignorable and I guess it will probably only get marks on it anyway. I don't think anyone else would notice it, if I hadn't pointed it out. I filled it with our sleeping bags and various other bedding we wouldn't be needing for a while.
---
Decor
The Rug
With all the big pieces of furniture accounted for, all that was left was to put in the finishing touches. I hummed and harred over which rug to get for quite some time! I couldn't choose between a white and grey diamond pattern or a statement floral one. When I eventually got it down to 10 different choices, I brought in my parents to help me decide. The Havana Rug 165cm x 245cm from AU Rugs for $169 was what we all decided on. I was worried having bought it online that it wouldn't look as I thought it would in the space. I am so relieved to say that I love it! AU rugs have so many great designs in any size you could possibly need. I would completely recommend them to anyone! The quality is great for the amazing price as well!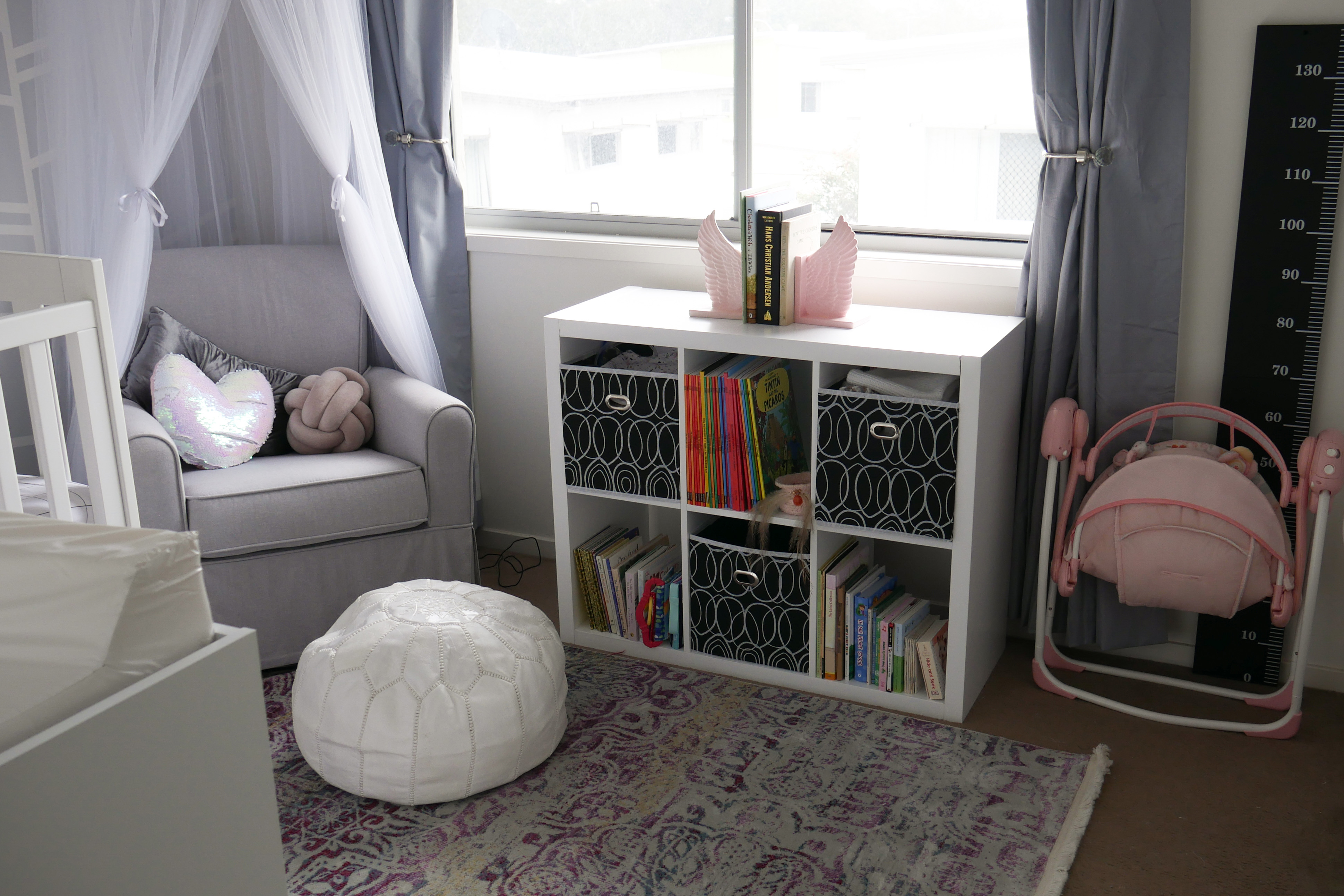 ---
The Curtains
The one window in the room had ugly grey blinds that Cleo (our cat) had all but wrecked, just like every other window in the house. I knew they definitely needed replacing. The room gets a lot of sunlight too. I thought block out curtains would be a good idea to encourage sleep even in the middle of the day. I bought the extendable curtain rod set 175cm – 305cm along with the Paris Double Width Eyelet Curtain in Silver from Kmart. They did the job just fine! I also bought a set of 40mm Silver Crystal Curtain Hold Backs from eBay. These weren't really necessary but add another gorgeous detail.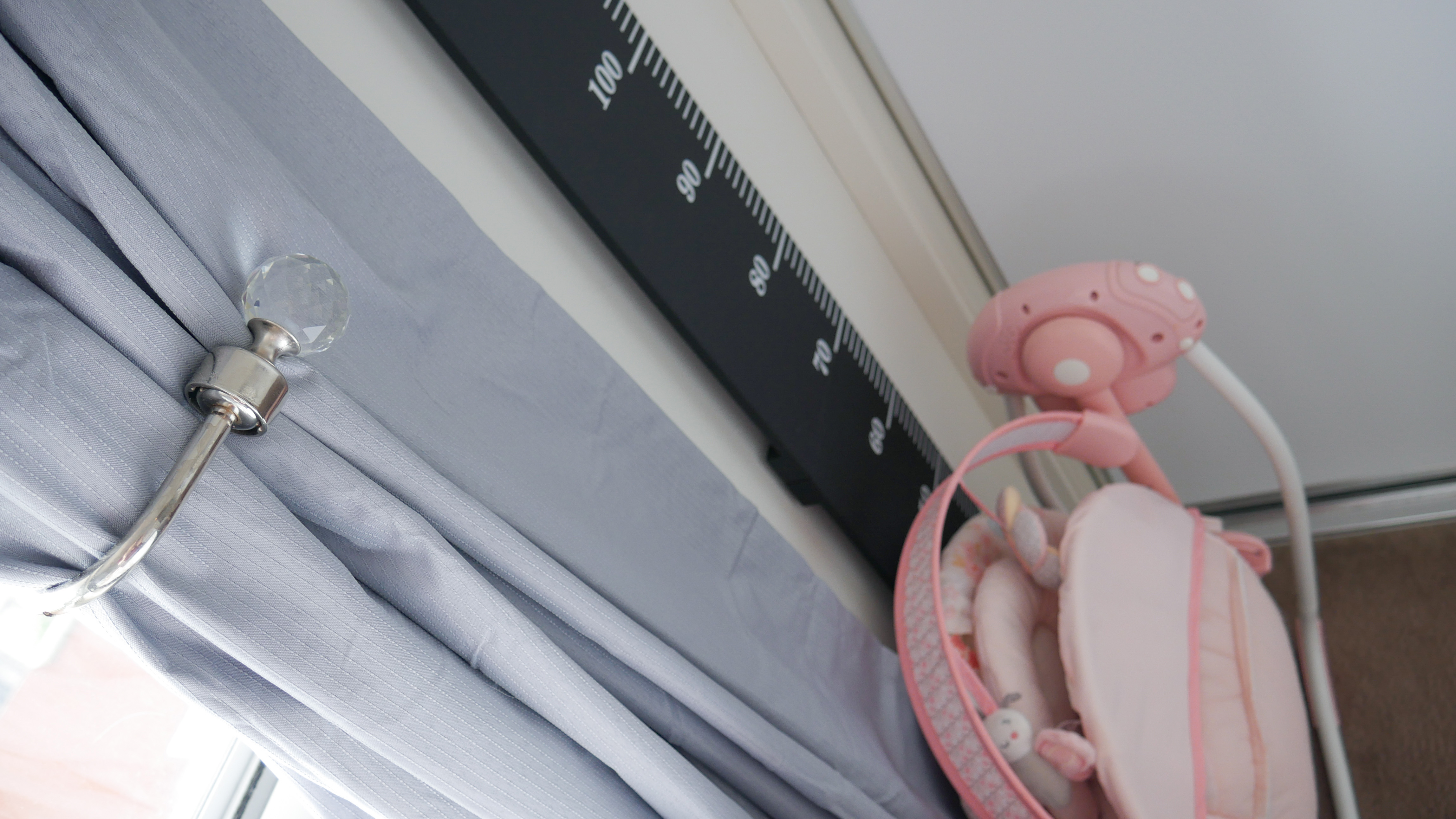 ---
The Diaper Pail
I'm going to be using a combination of cloth diapers and disposable nappies so I needed a diaper pail that could work for both. After much research I settled on Ubbi Diaper Pail. You can just use a plastic bag in it for disposables or you can put in a washable fabric bag to store the cloth diapers in. I got one in grey off eBay while it was on sale for $80. It also happens to be thin enough to fit beside the changing table without taking up too much room. It's quite a cute looking diaper pail that comes in many different colours and patterns. I have read good review about them sealing in any bad odours as well.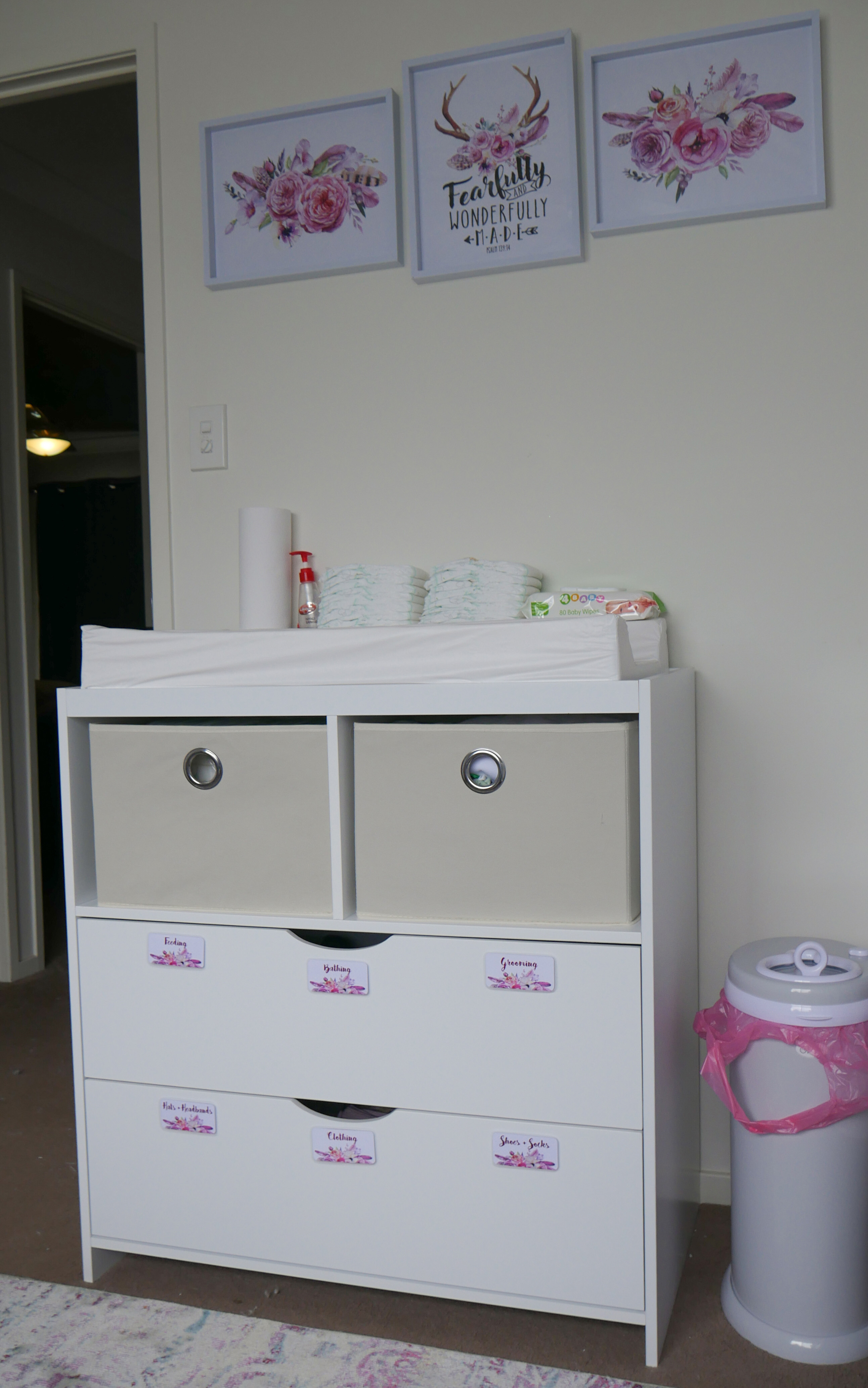 ---
The Baby Canopy, Mobile and Cushions
All my favourite nursery pictures on Pinterest had baby canopies in them and while they aren't recommended to be put over the cot, I just couldn't forgo one altogether. My solution… to place it over the nursing chair. I think it still achieves the effect I wanted while keeping with the safety standards. It also freed up the roof above the cot for me to hang my DIY floral baby mobile. I posted about how I crafted that a while back. Head on over to read that post if you missed it.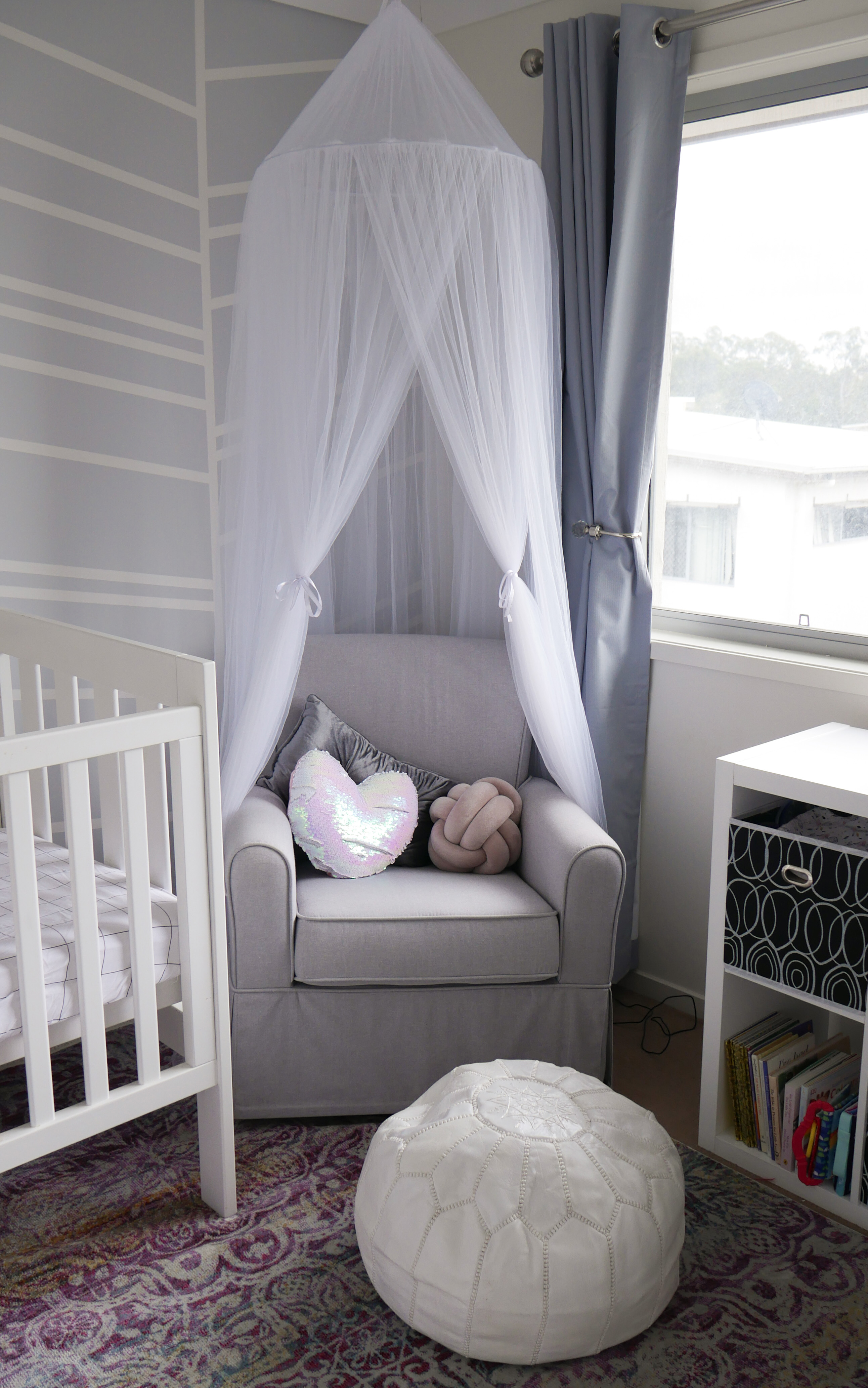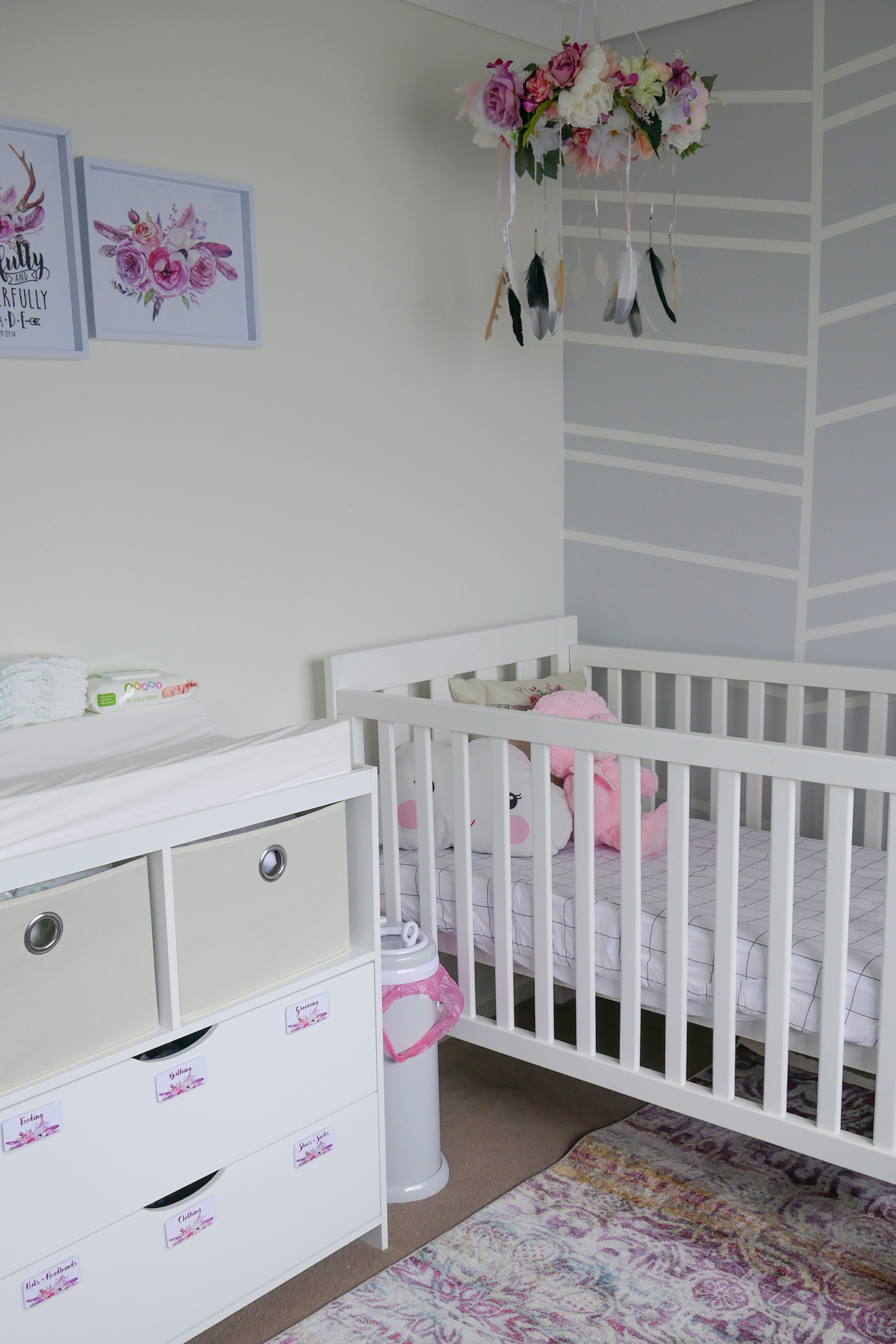 You can't decorate a room without some cute throw pillows! I bought most of my selection from Kmart including the sequin pink heart cushion, the pink knotted pillow and the grey velvet breakfast button cushion. The floral bulls head pillow was the exception which happened to perfectly match the all artwork I had created. I couldn't pass up that when I saw it at Bargain City.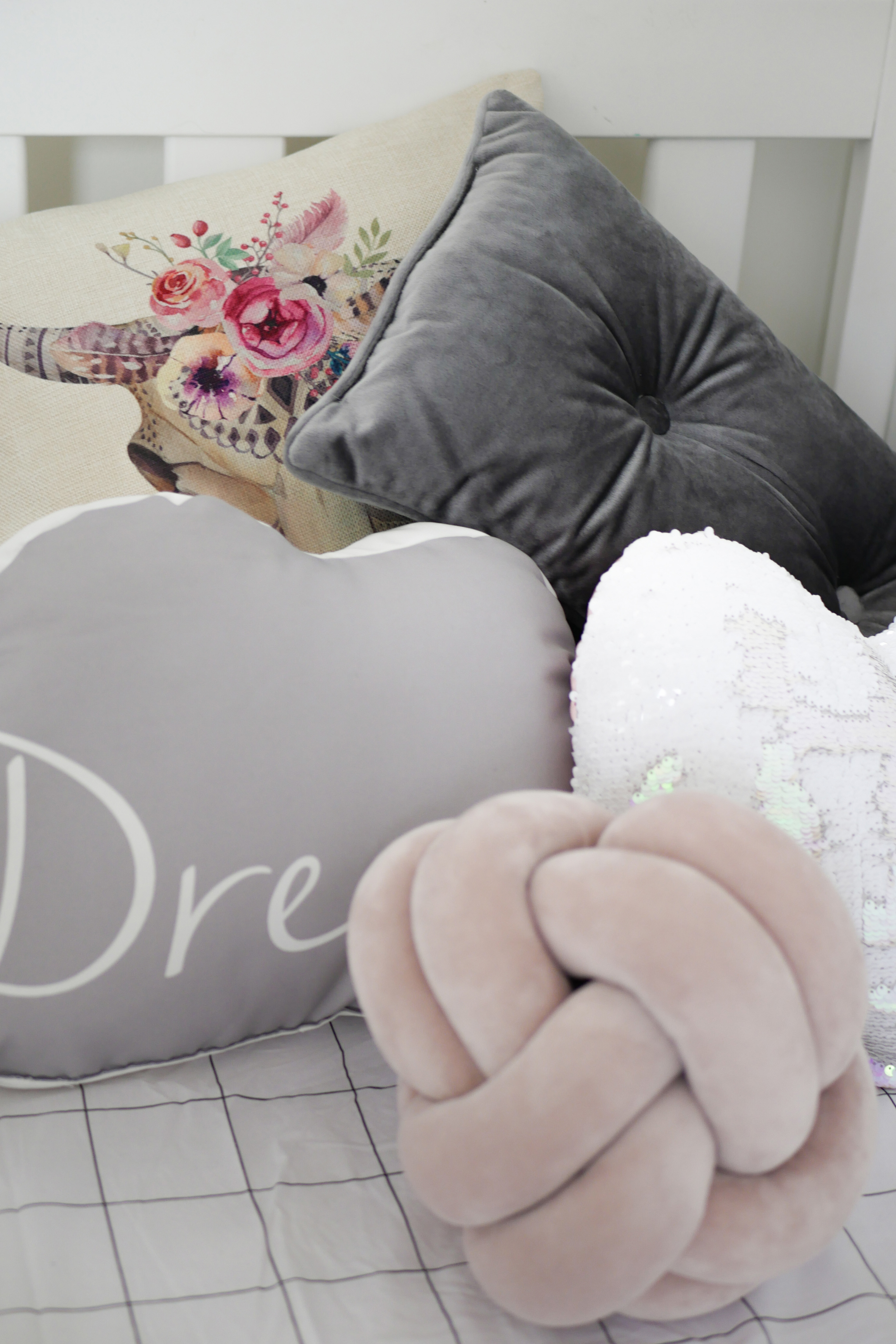 ---
The Artwork
The artwork for over the changing table, I put together myself using watercolour elements I bought off Creative Market. I added a favourite quote and then framed them in plain white frames from Kmart. These floral watercolour elements I continued to use throughout the nursery and for my baby shower invites, crafts and games. They were also used below within my nursery organisation for the clothing dividers and drawer labels.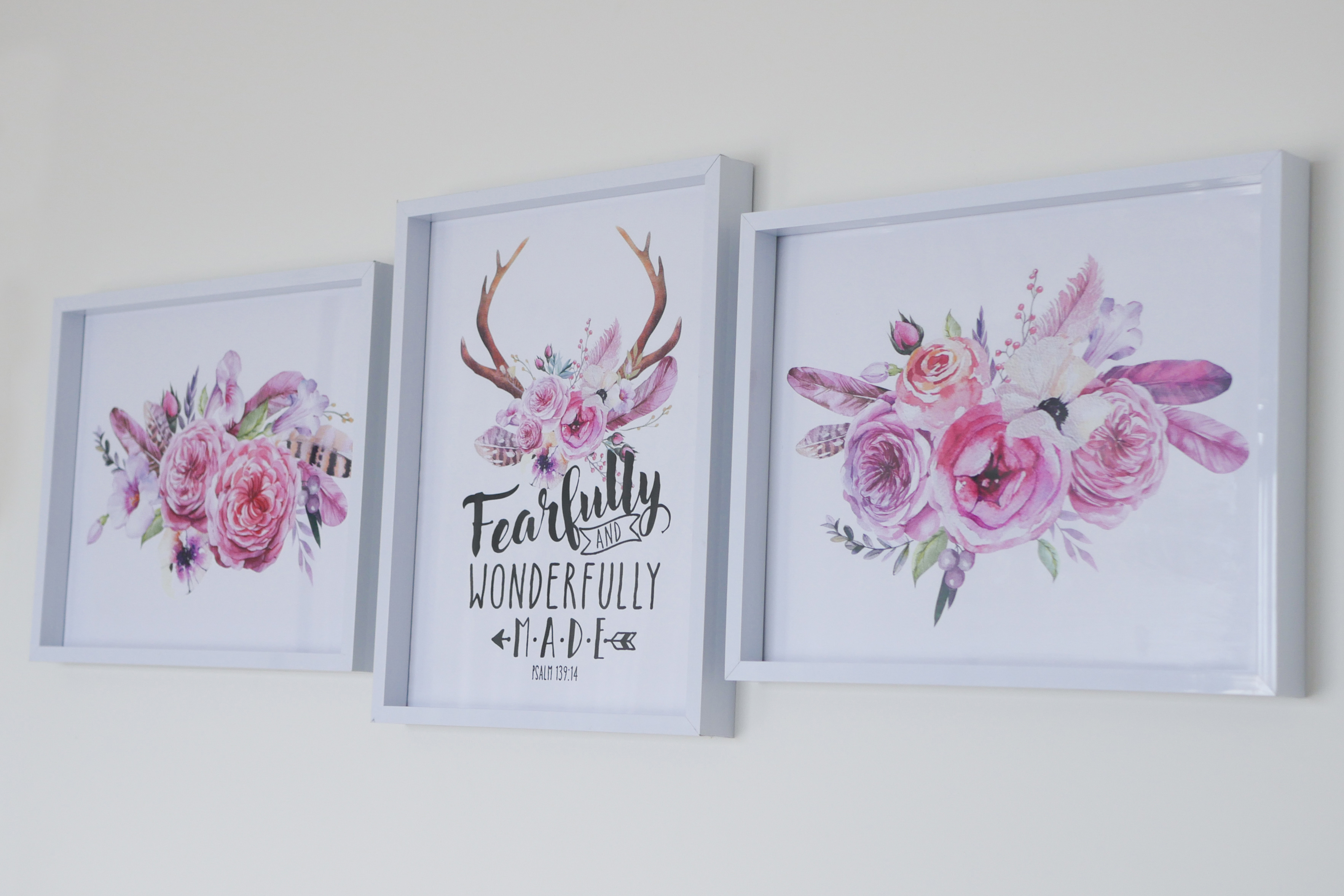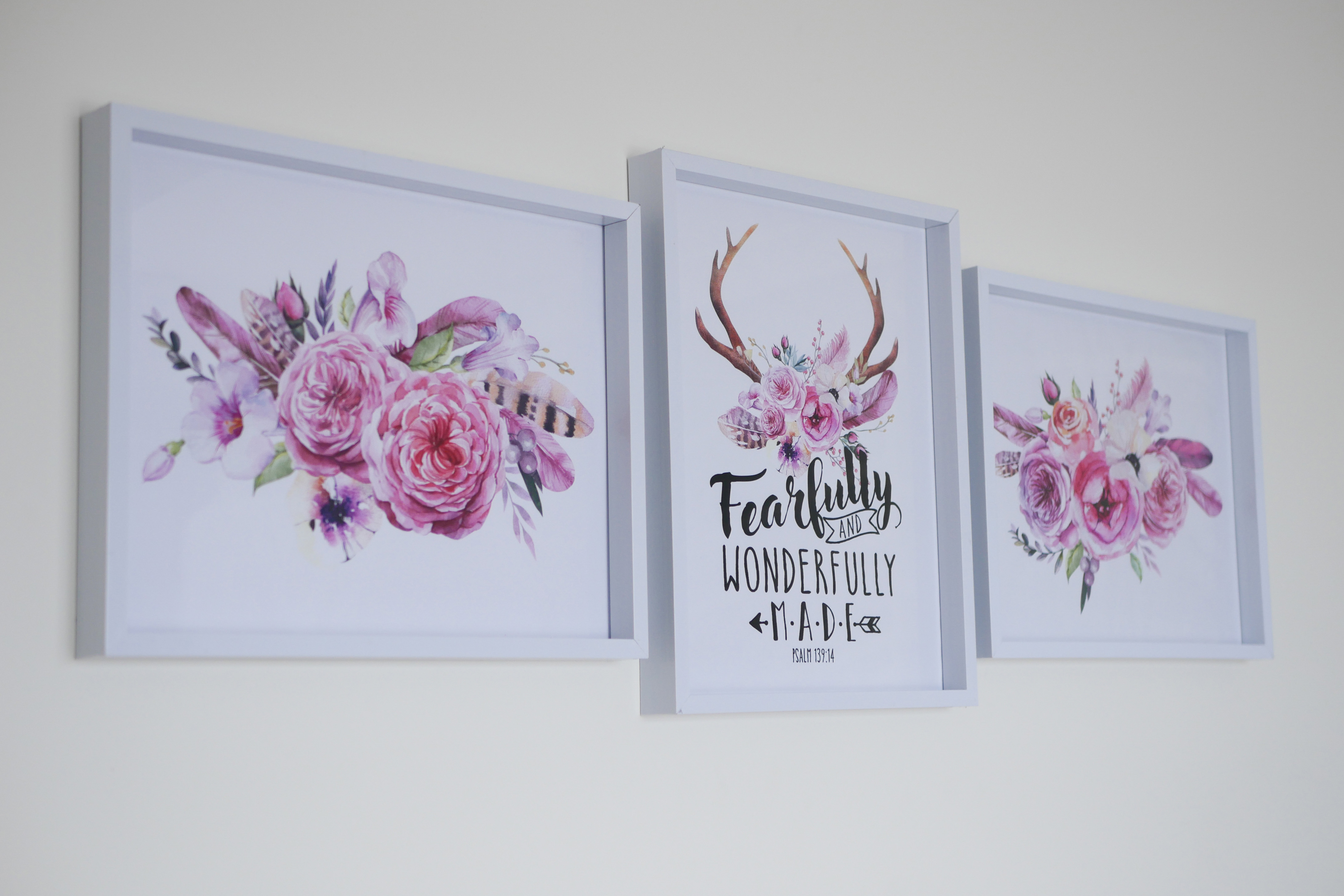 Other random pieces in the room include the height chart from Kmart. I also have hung up the birthday prediction calendar and the dream catcher fingerprint guest book from my baby shower crafts.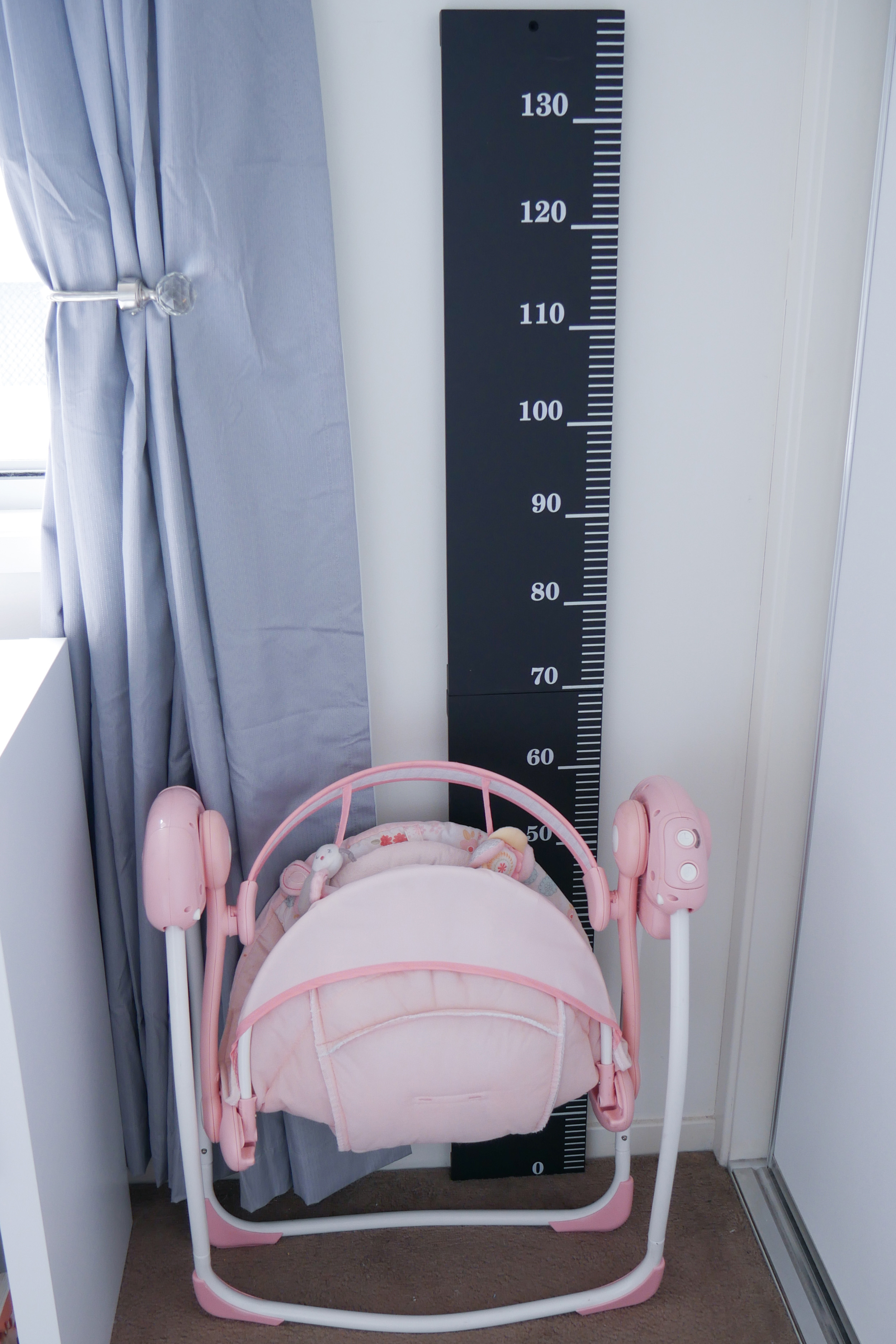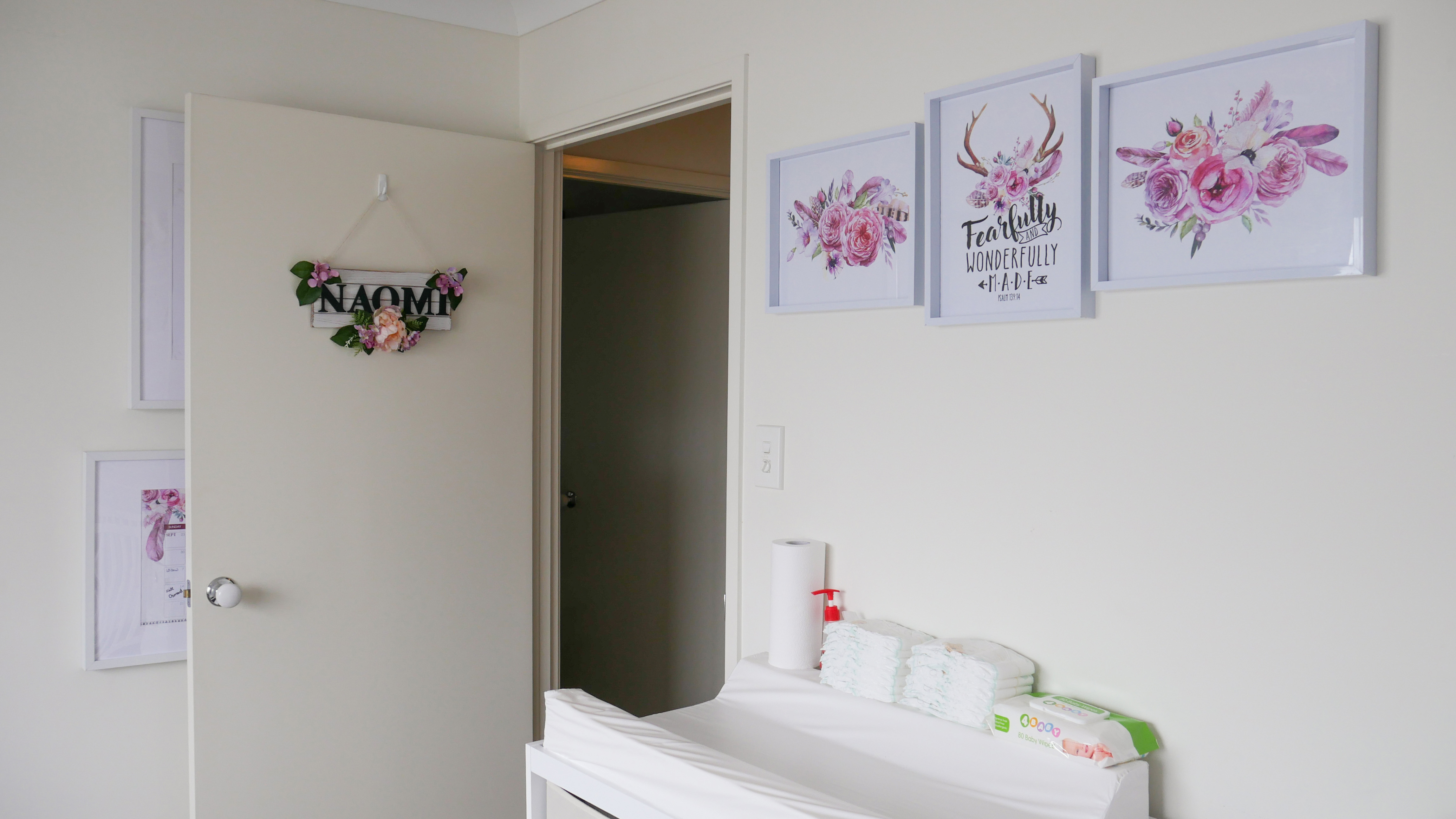 ---
The Door Plaque
My last DIY before the nursery was complete was a door sign with little baby to be's name on it. I have had to keep this closely guarded as we have been keeping the name a secret until birth. There were almost too many options out there on what I could do. I almost didn't make anything at all. In the end I bought a white timber look plaque from Spotlight as my base for $5.59. I then bought the required 6cm MDF wooden letters and painted them black with the chalk paint from Kmart before securing them to the plaque for $1.29 each.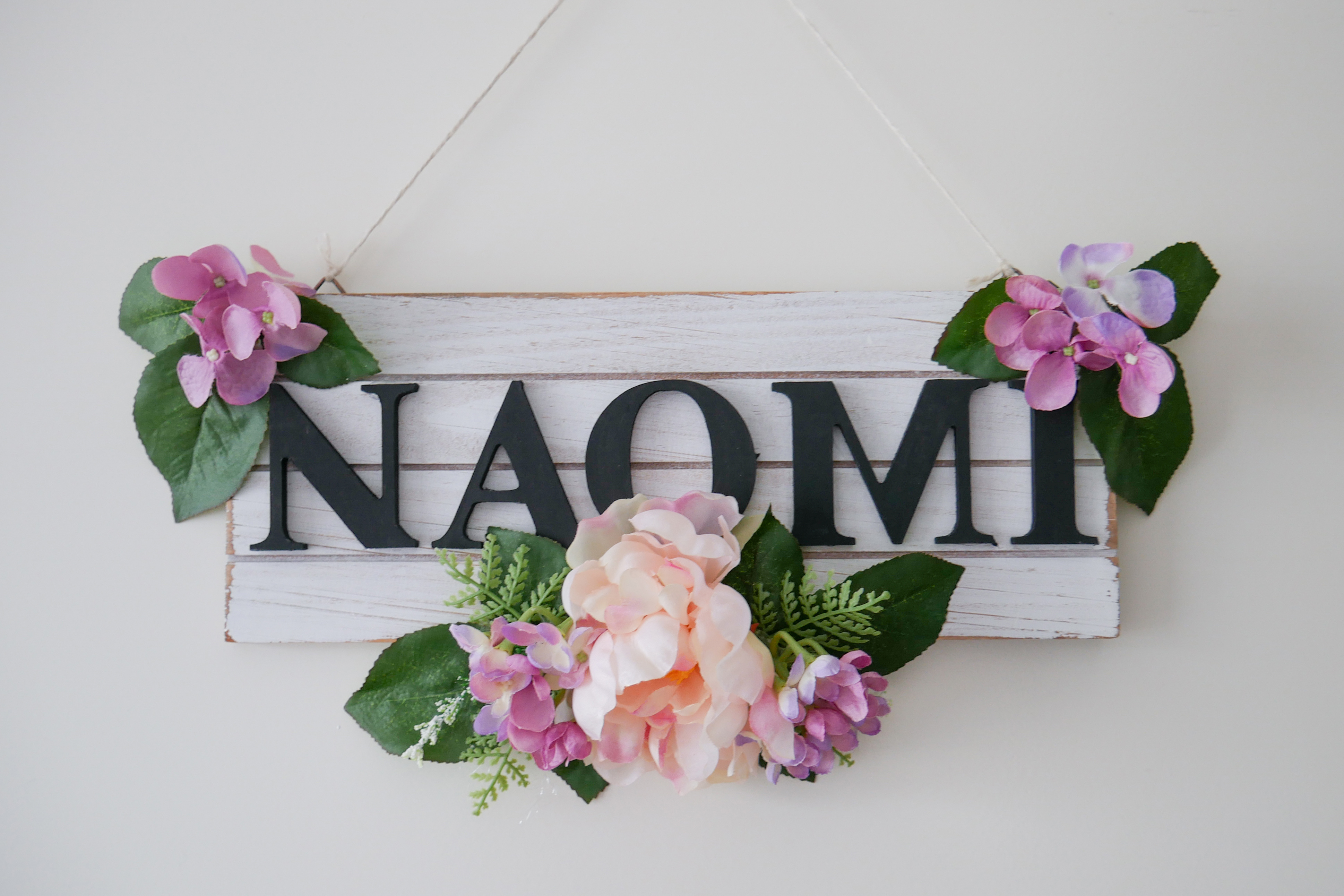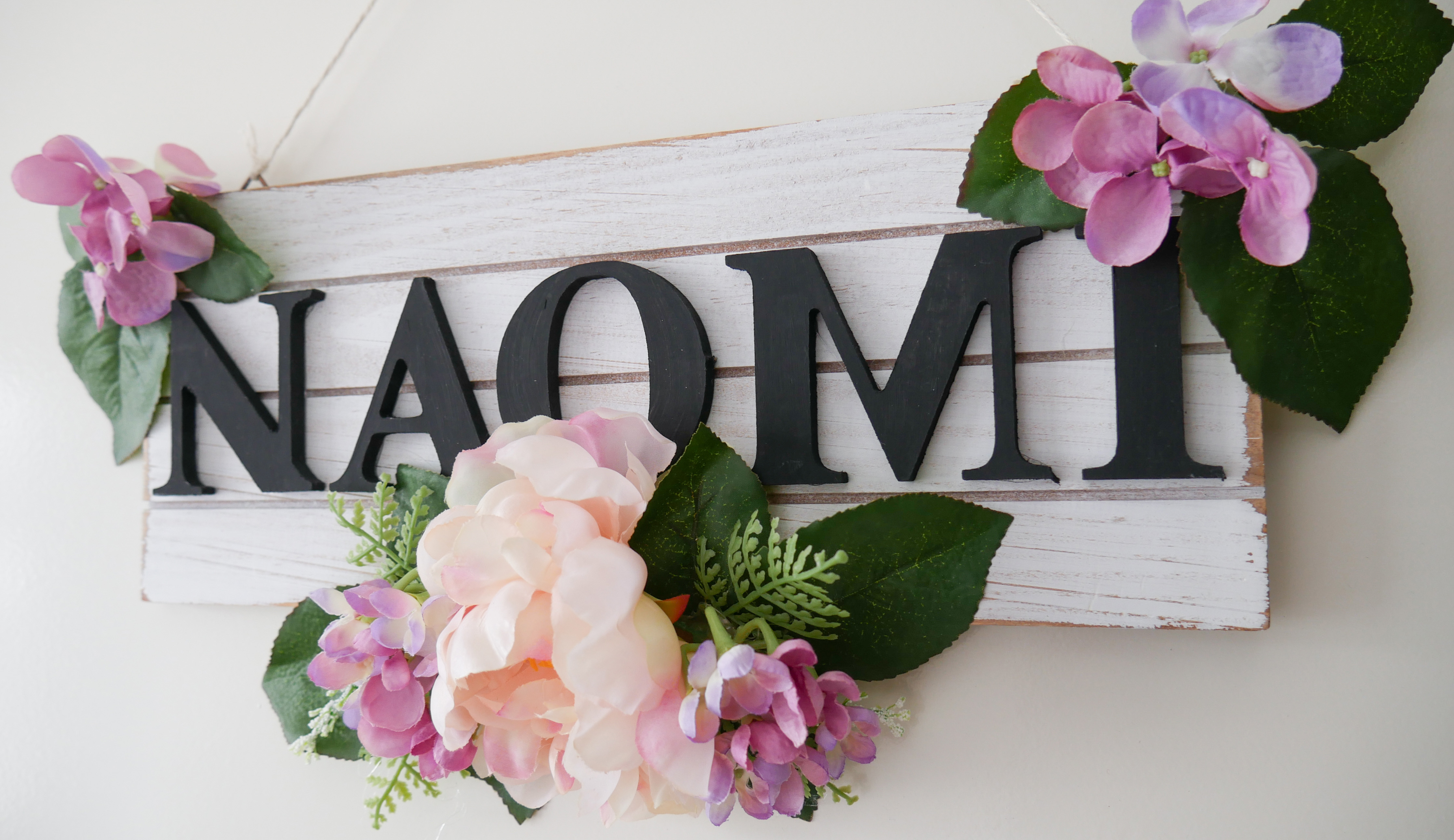 Lastly I used leftover flowers from my floral baby mobile DIY and stuck them around the border of the plaque. All up the DIY cost me $12. The size of the flowers might be a little overwhelming for the name but it's what I had on hand. I still think it looks very cute!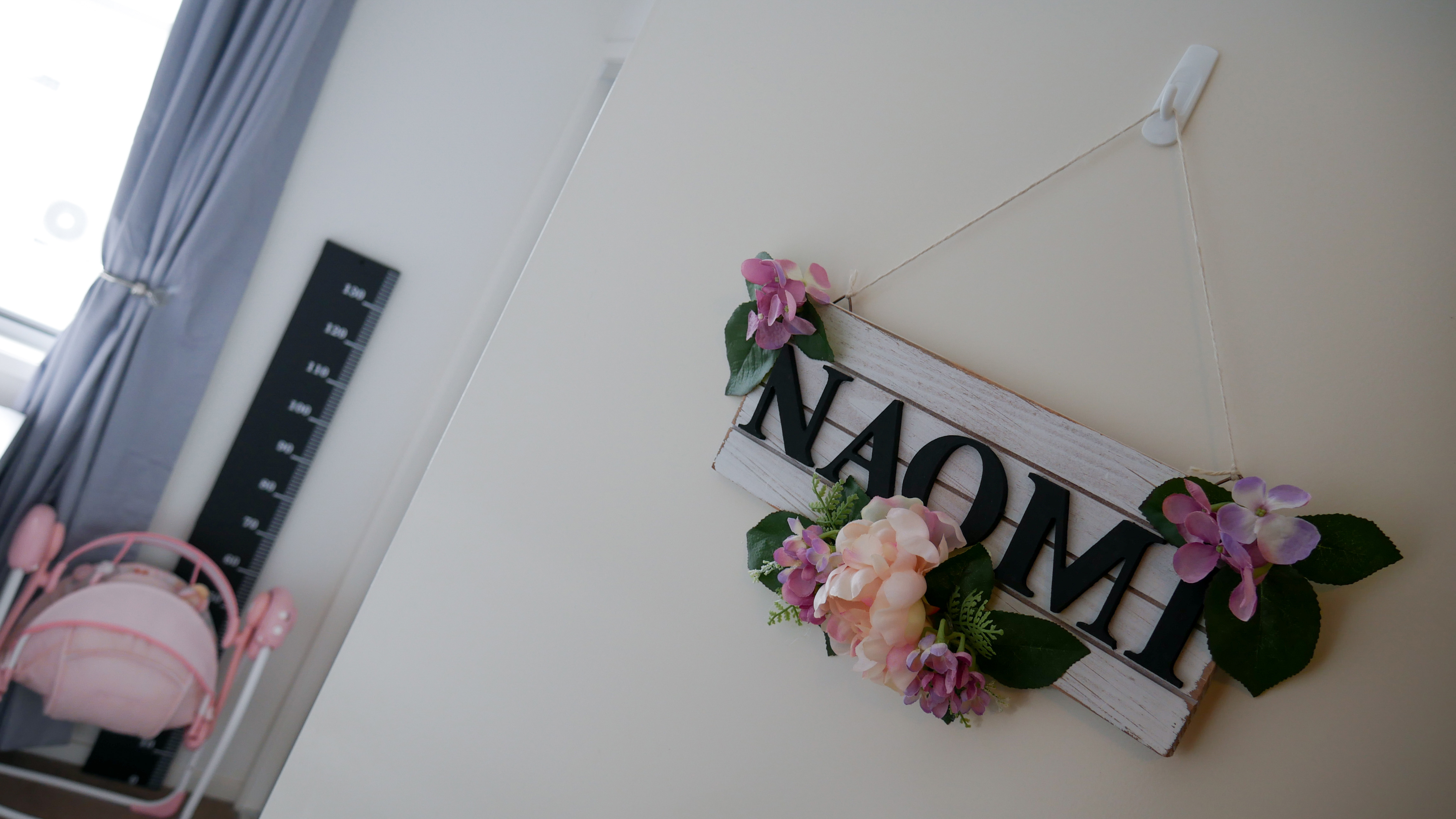 ---
Storage
As mentioned above, I DIYed some floral clothing dividers and drawer labels to match the watercolour artwork I hung over the change table. If you want the free printables for these, sign up for the newsletter below the post for access to the free resources library. I had the dividers and labels printed on 250gsm card stock at Officeworks before also getting them laminated. I printed out two copies of the clothing dividers so I could stick them together and have them double sided. This cost me about $10.50 all up. I attached the drawer labels to the drawers with Velcro spots. This means I can change them if I decide there is a better way to organise everything once baby comes.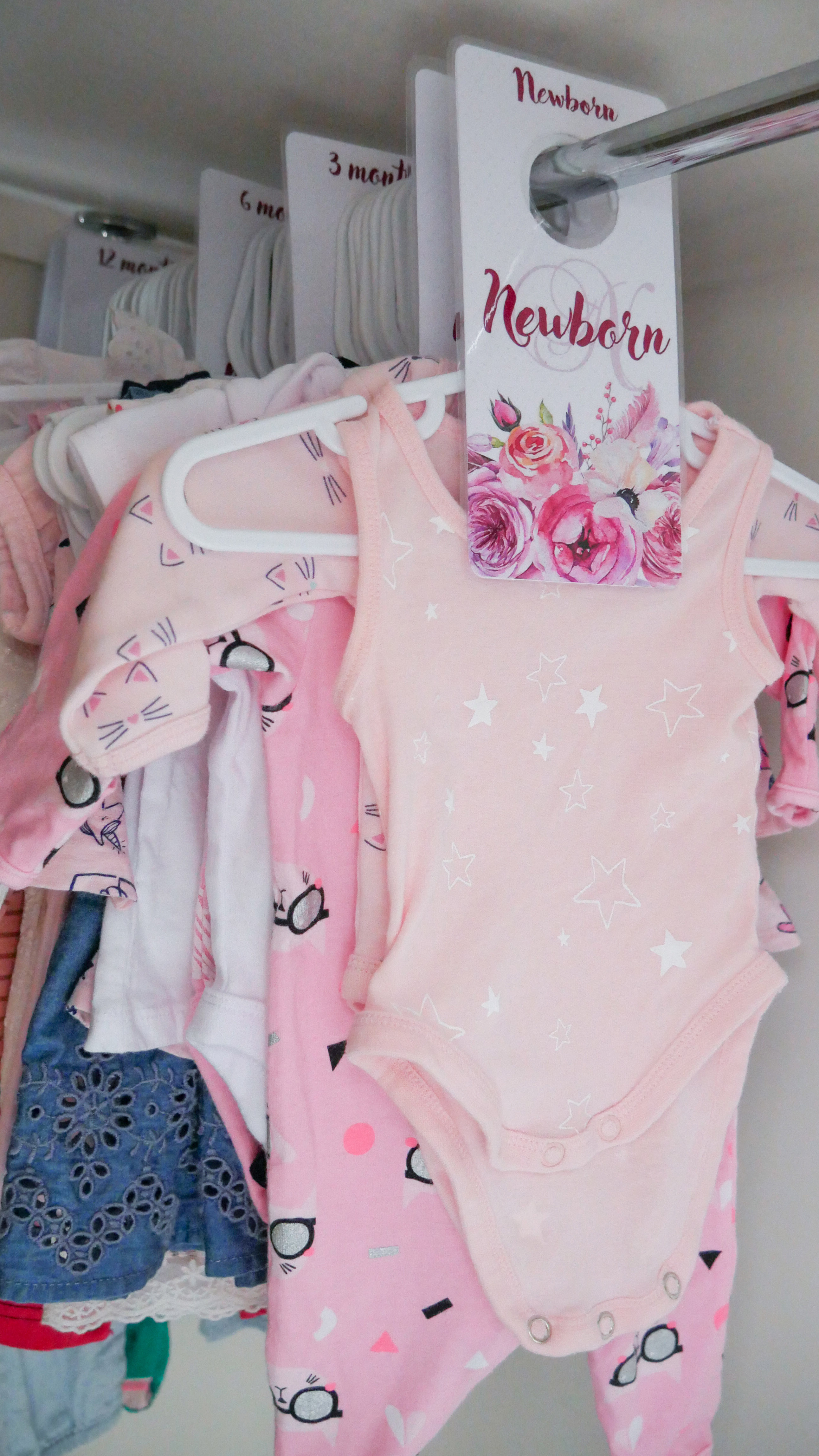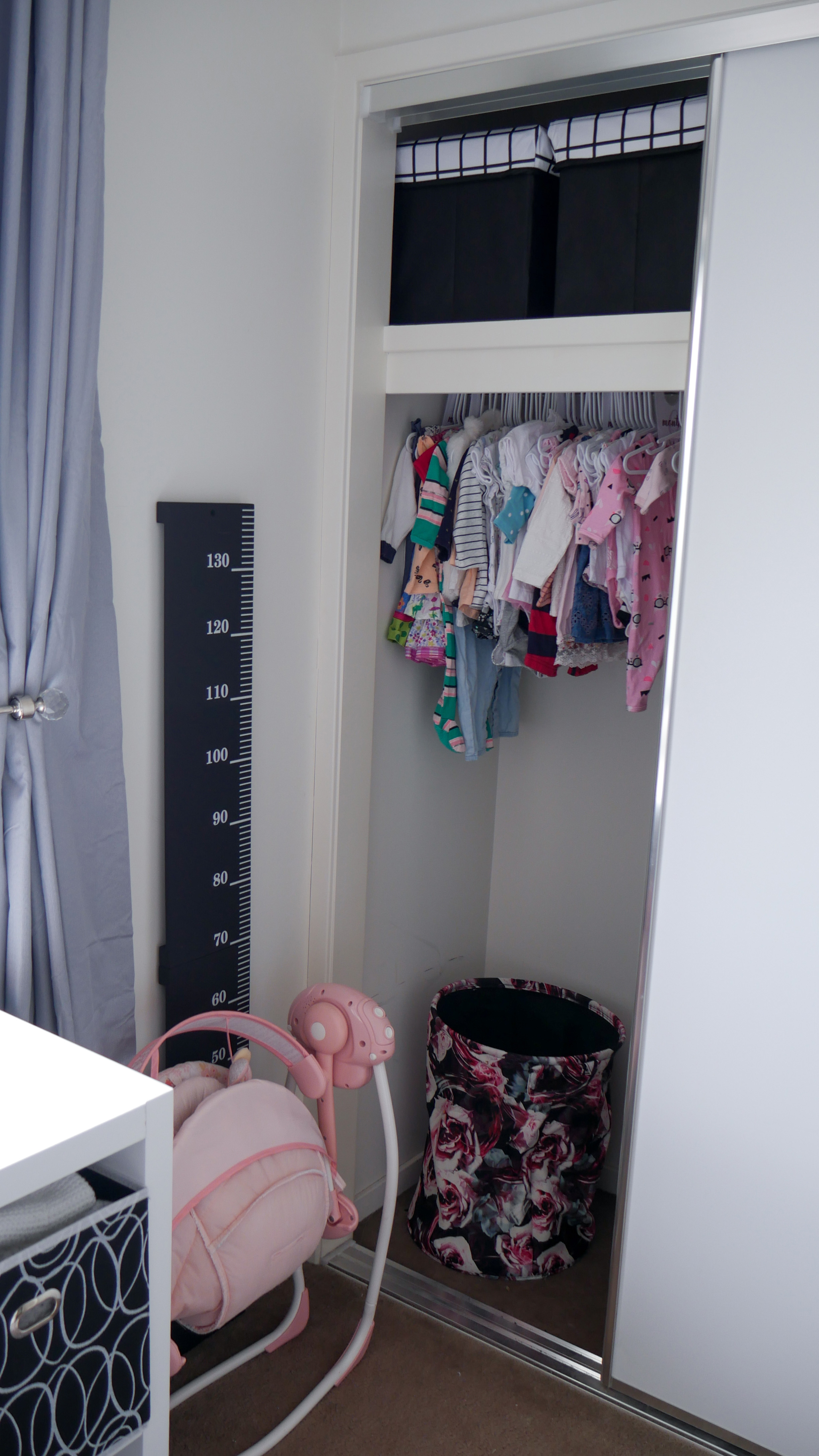 Among the floral clothing dividers I used the Baby Clothes Hangers from Kmart which comes in packs of 10. I think I used about 7 packs. Eep! I wanted to hang the majority of the clothing up as I didn't have a lot of drawer space. The drawer space I did have, I organised with the Kmart Tapered Baskets.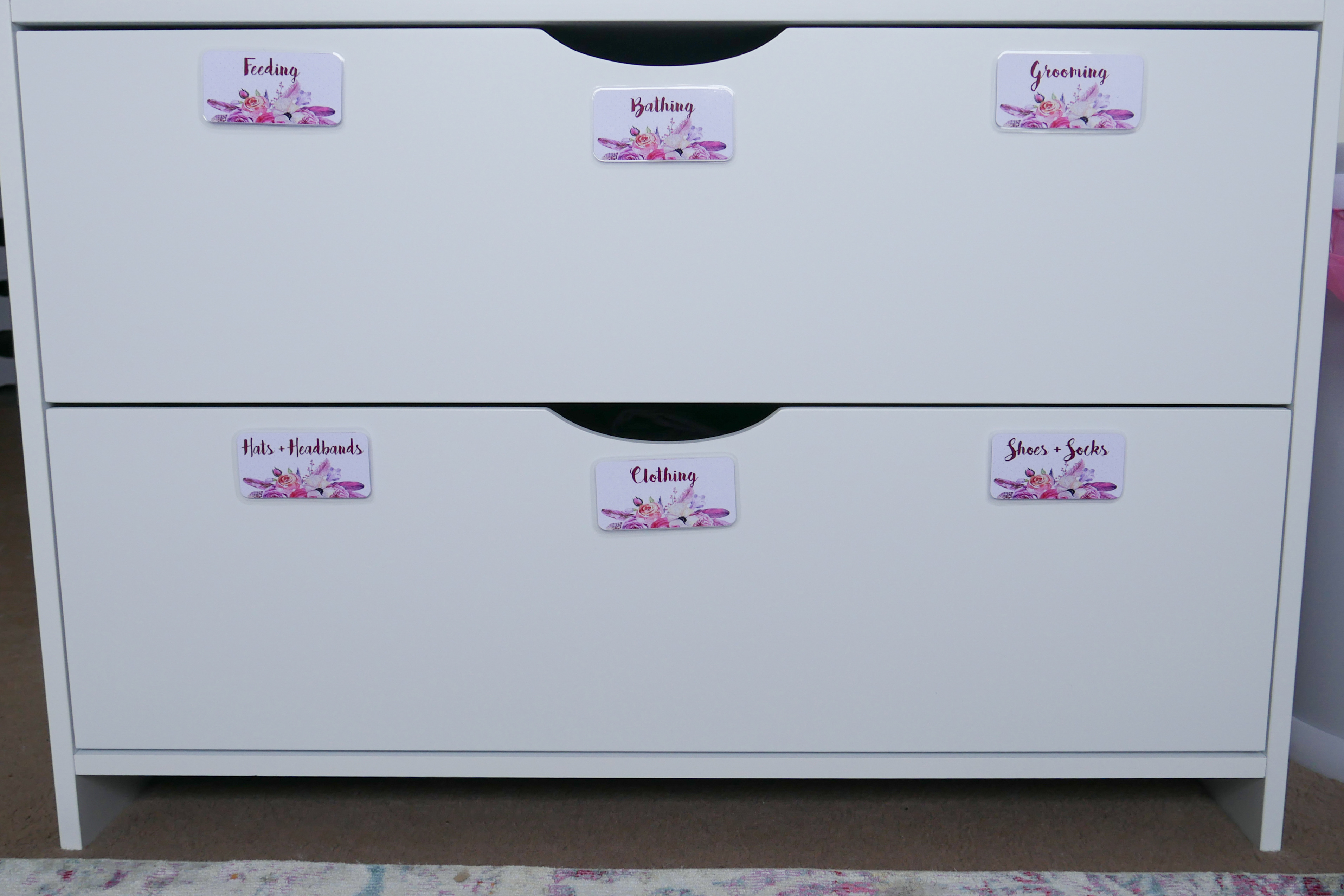 To make the most of the shelves I had in the closet, I DIYed my own storage boxes to perfectly fit the space. There is a separate post all about them here for you to read all about them. I also used four of the Collapsible Storage Boxes in the black and white grid pattern from Kmart for the top of the wardrobe which are currently empty. Lastly I found these two cream coloured storage boxes for the shelves in the change table. They don't go as deep as the change table does but I hide extra baby wipes and diapers behind them.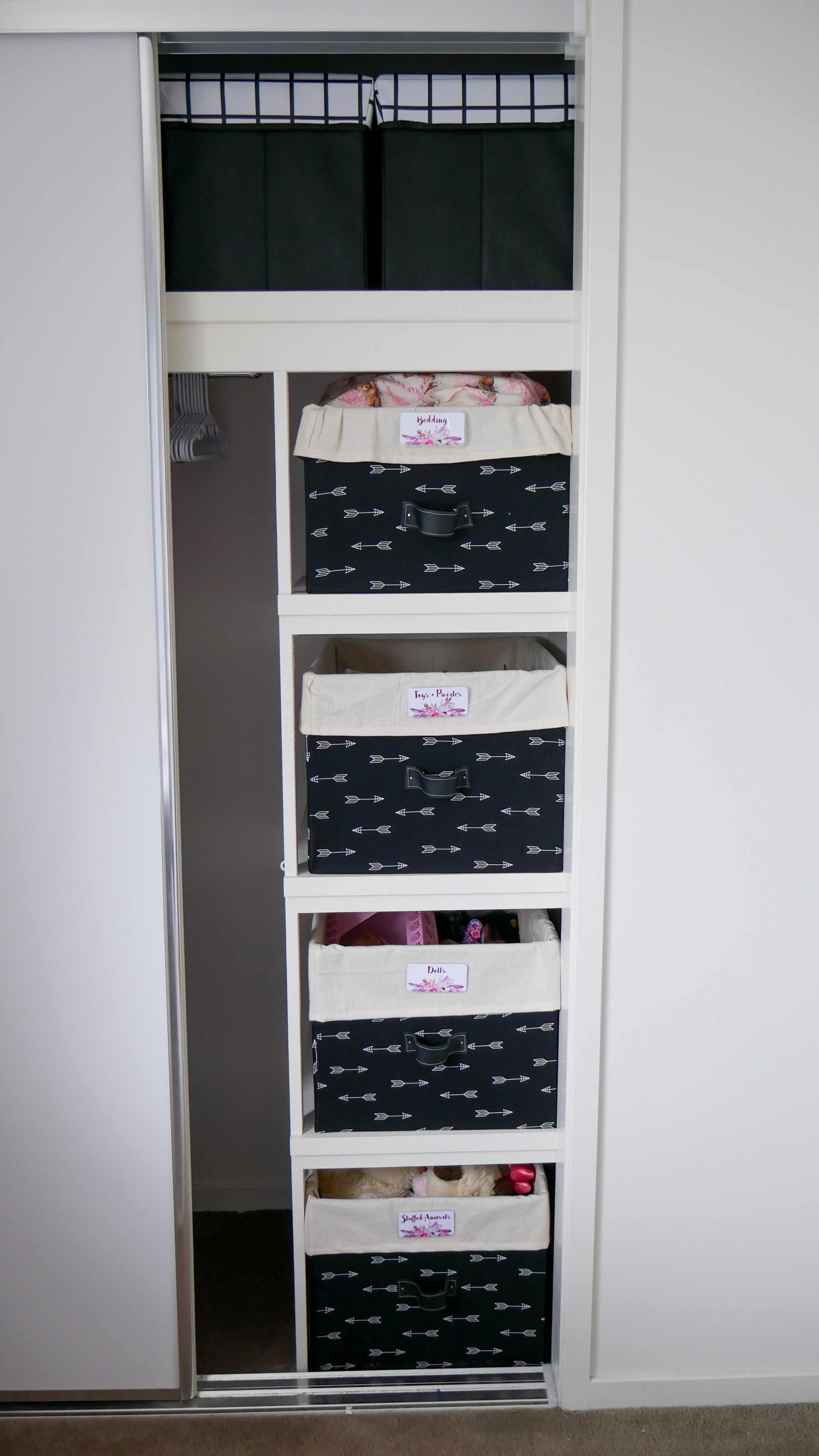 Organisation
We will see if I change my organisation once baby arrives. For now I have the disposable diapers in the left basket under the change table and the cloth diapers in the right. In the first drawer I have a basket for feeding supplies like bibs and burp cloths on the left. Then in the middle, a section for bathing supplies like hooded towels, wash cloths, a bath support and even a bath thermometer. To the right is a section for grooming which includes a baby thermometer, a grooming kit, a nasal filter aspirator, soaps, shampoos, lotions and nail clippers. The bottom drawer has a basket for hats and headbands on the left, another basket for socks and shoes on the right and in the middle is all the clothing that couldn't be hung up like leggings, shorts and singlets.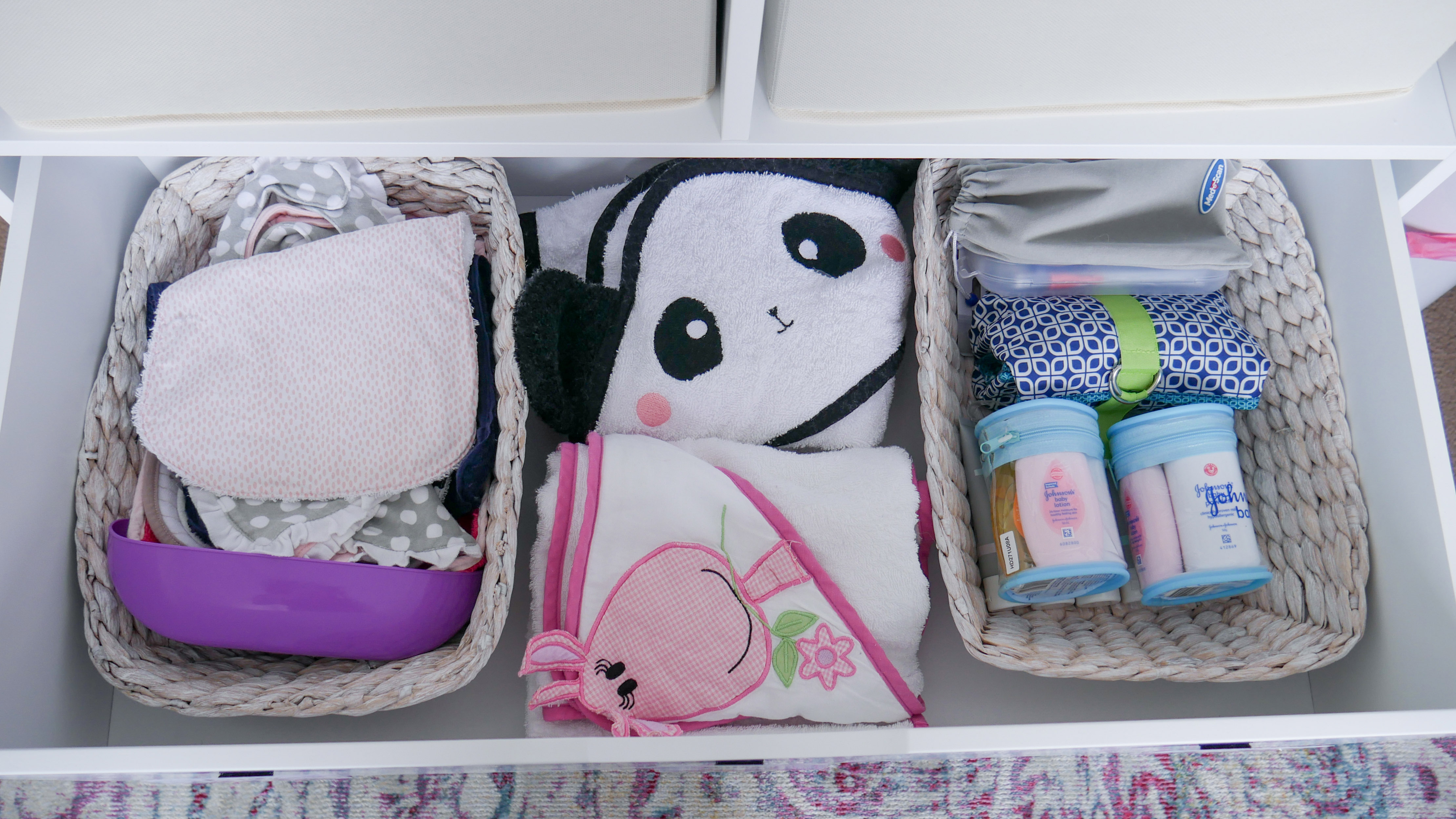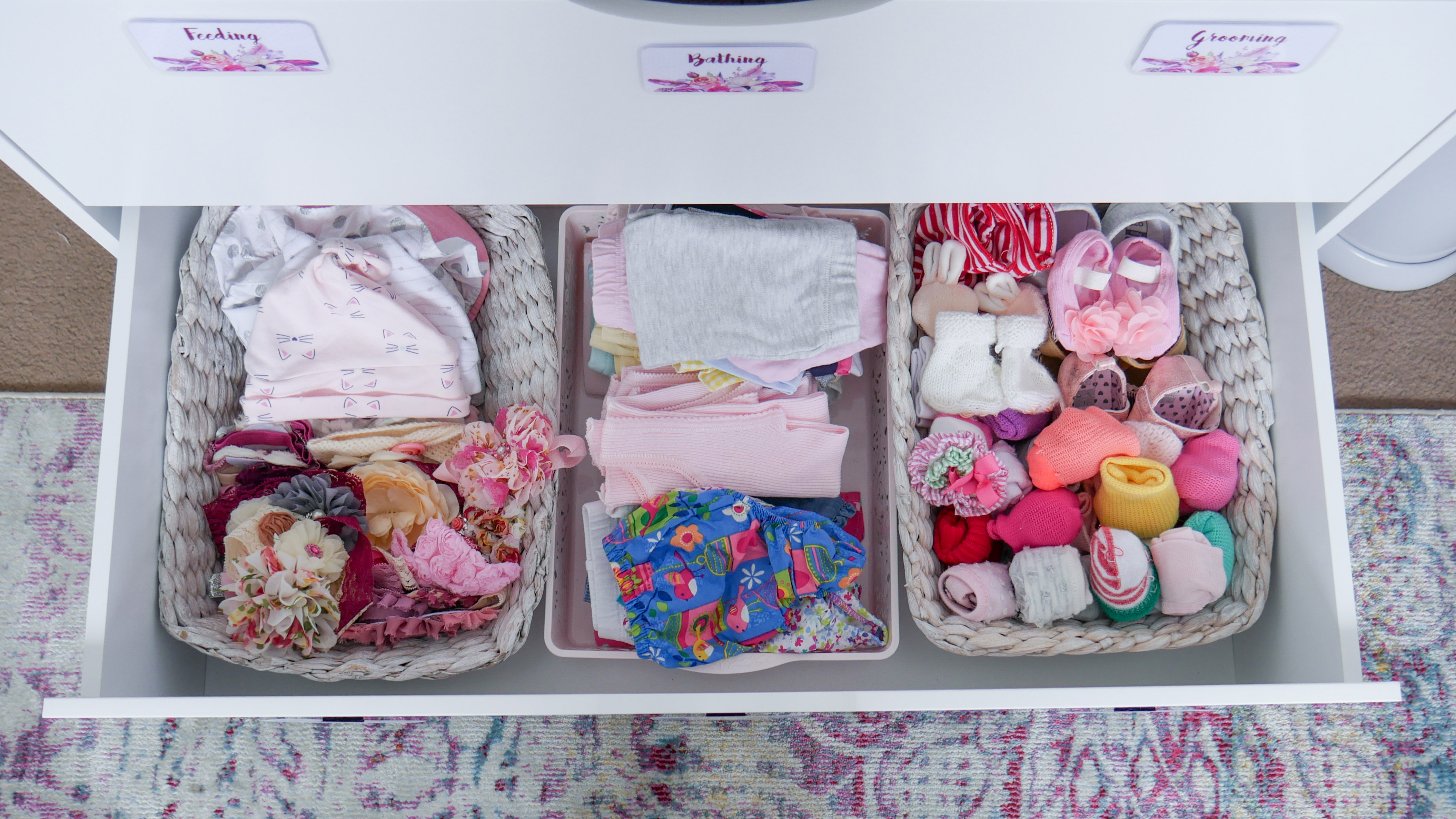 In the closet storage baskets I have bedding like swaddlers, spare sheet sets for the crib, blankets and those sleeping bag type pouches in the first basket. The second basket has toys and puzzles. It's a pretty big mish mash of random stuff at the moment. I had my mother bring up all my old dolls and stuffed toys. They fill up the last two baskets. Underneath the hung clothing I have a hamper for bubs dirty clothing. The baby swing is currently hanging out there as well until it gets used.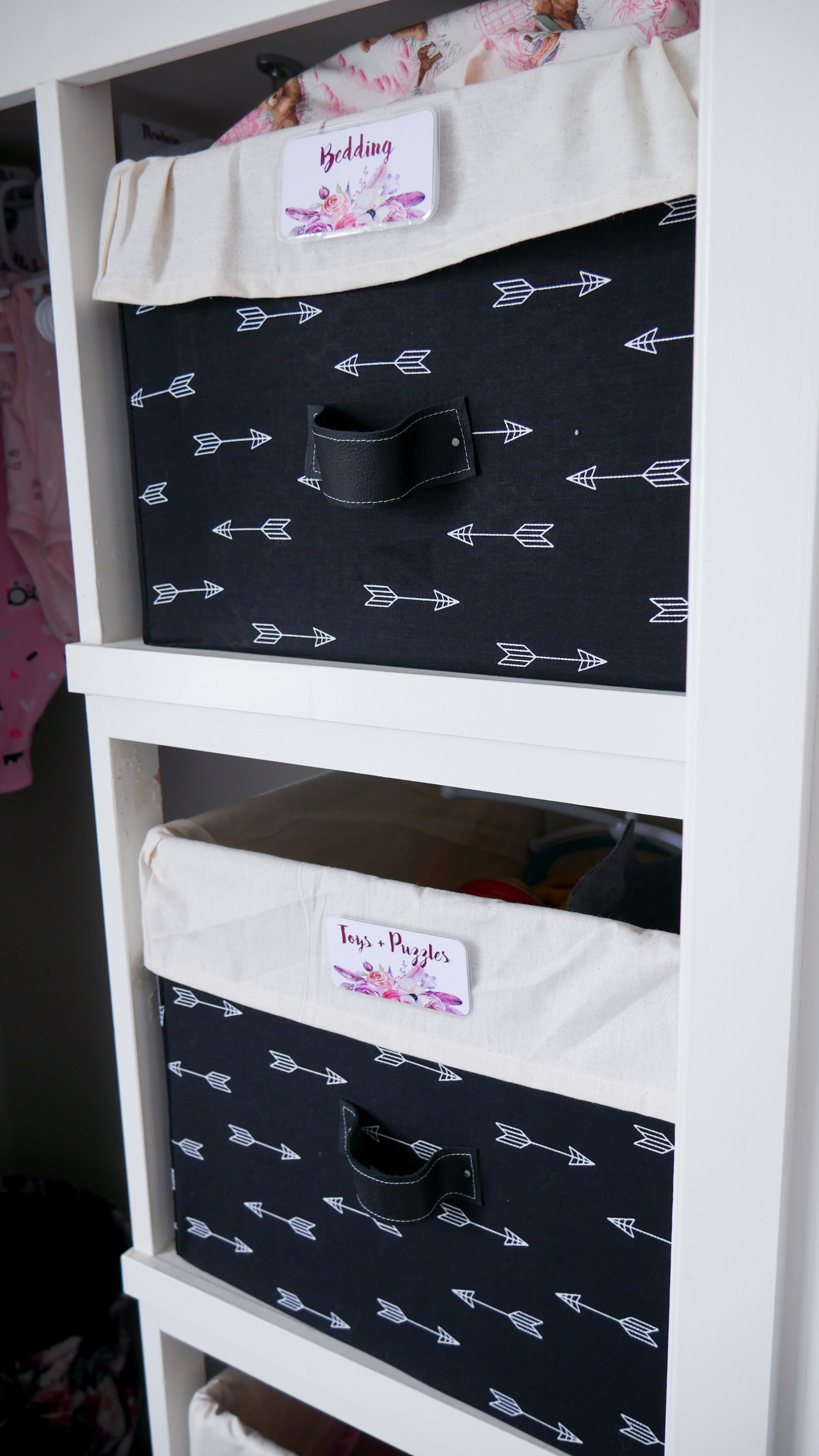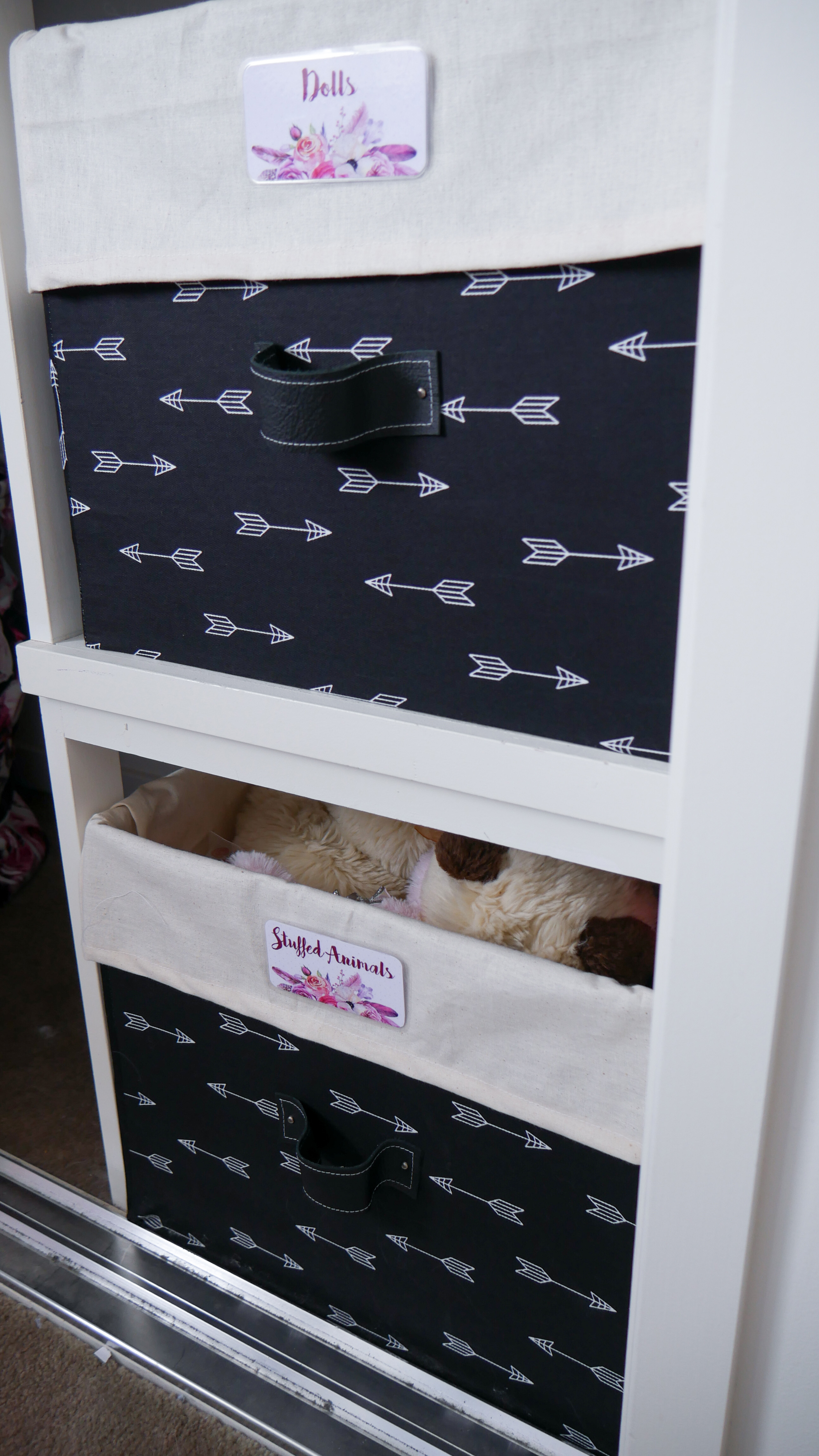 In the cube bookshelf, along with all the books, I have a basket for breastfeeding closest to the nursing chair, including breast pads and my Spectra breast pump. The middle basket has swimwear and portable changing pads as I wasn't sure where else to put them. The end basket has all the hand knitted cardigans and clothing sets my mother has made for me. They didn't fit with the rest of the clothing. I have floral drawer labels I could put on these baskets but I'm waiting to see if I change my mind about what to keep in these.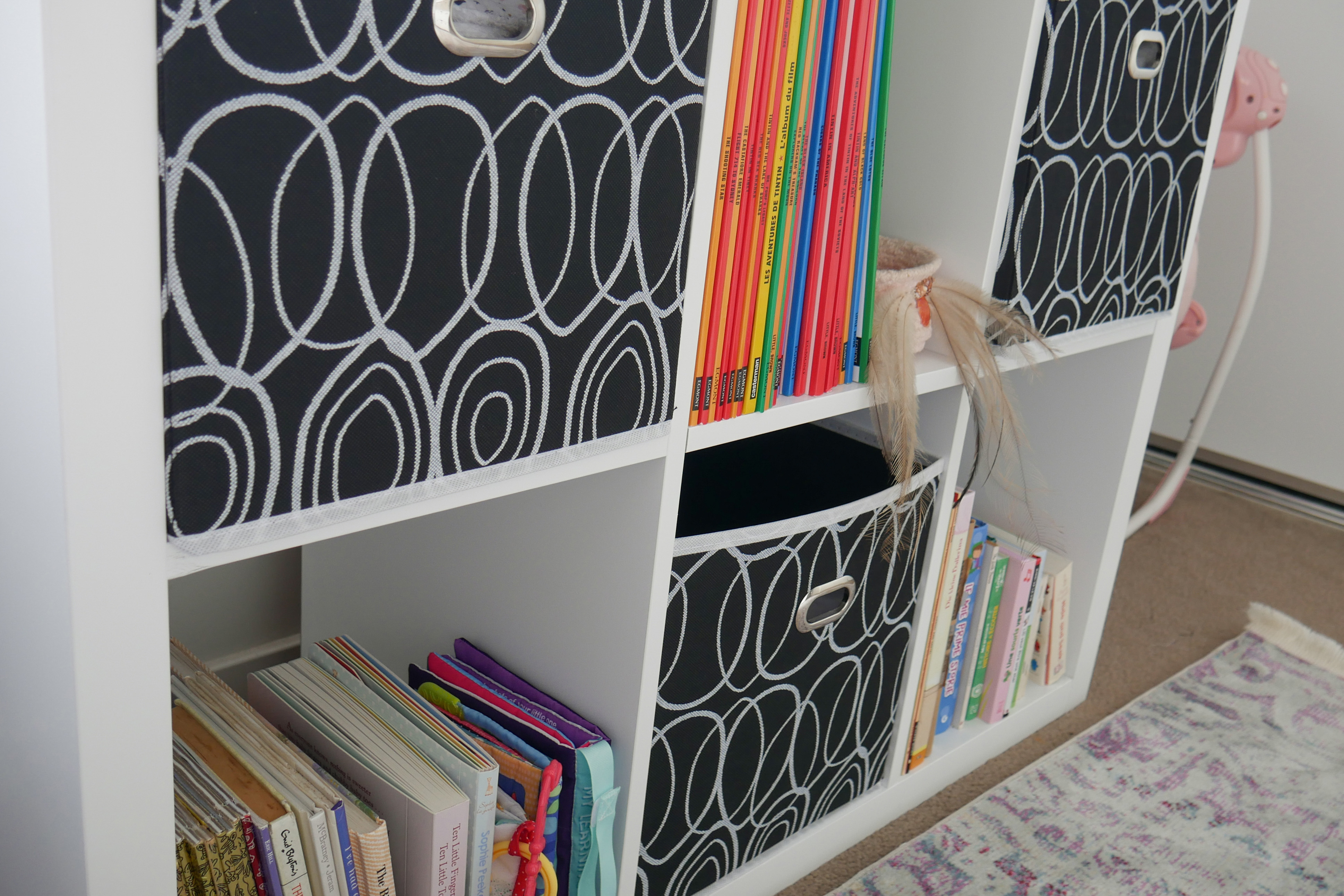 And that's that! My nursery is completely organised and everything has it's place! There is something about everything having a designated home that makes me feel more prepared for whats to come. Have I gone overboard? Would you store things differently? Let me know what you think in the comments below!