This post follows along in the Breakfast at Tiffany's Hens Day series. If you missed the first post you can find it here.
So it wouldn't be a Bridal Shower without a few games. I searched the web and found the best of the best classy (some of these you can de-classy-fy but I was under instruction to keep everything refined) games. Of course I then proceeded to put my own spin on them and suitably theme them up to fit with our Breakfast at Tiffany's day.
What's In Your Phone?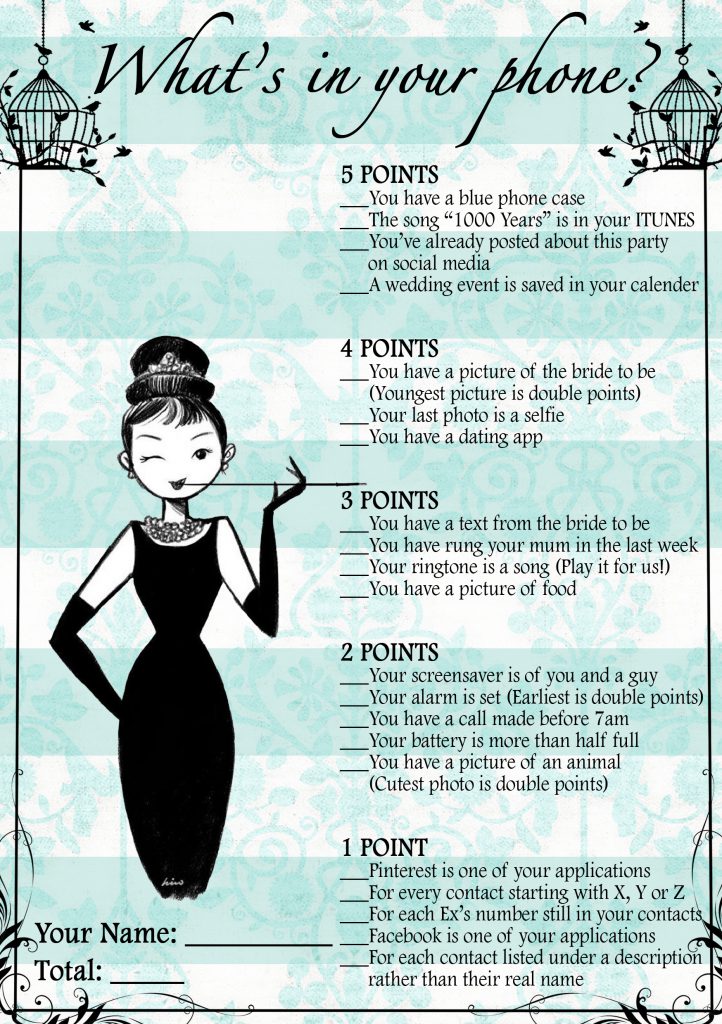 This is a modernised version of What's in your Purse? Game. I don't claim to be the one to modernise it but I do like this better than the purse game. This is fairly self explanatory. Everyone gets a card and then they give themselves points depending on whether they have the items in their phone. Add up a total and whoever has the most points wins a prize. You can edit the items to fit your party goers and bride better. I chose the song "1000 Years" by Christina Perri to have in ITunes because it is the Bride's chosen walking down the aisle song and the blue phone case fits with Tiffany Blue.
Instead of just passing out the sheets and letting people fill in their scores, have the host read each question aloud. Guests can use their sheet to record their score, but make sure everyone stays involved and social. Share the photos you have to hunt down and make them play the song they have as a ring-tone etc. Perhaps even vote on who has the best ring-tone, yummiest looking food photo, cutest pet and the sweetest couple photo.
Who knows the Bride Best?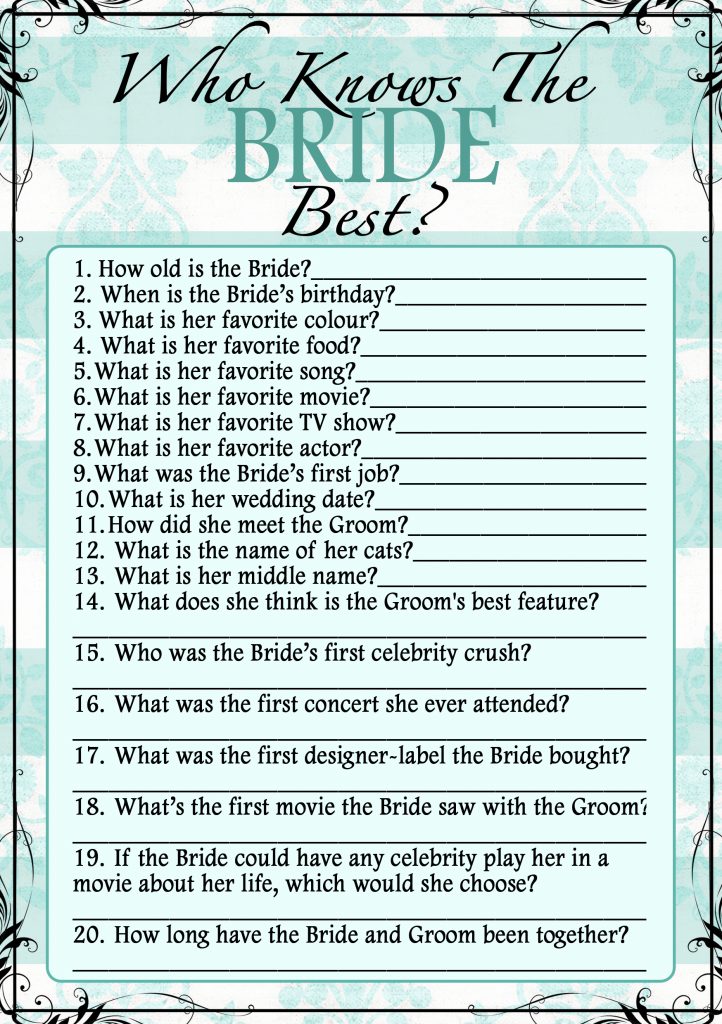 This is pretty much a classic at hens parties now but the questions can be changed around to be harder, easier, classy or naughty and sometimes a little random. Either way it's a great game to start with to break the ice and it's really easy to prepare. These are some of questions I thought up that I liked best and fitted with the Bride to be best but the options are just about endless. We only had 10 lovely ladies so we competed individually but you can divide into pairs or teams depending on your number. I would find this very hard to figure out fairly though, you wouldn't want the mother of the bride paired with a bridesmaid as they would pretty much have all bases covered.
This game gives everyone a chance to show how well they know the bride to be! The bride fills in a card of her own and once everyone has filled out the quiz, the bride reveals her answers. The highest score wins!
He Said She Said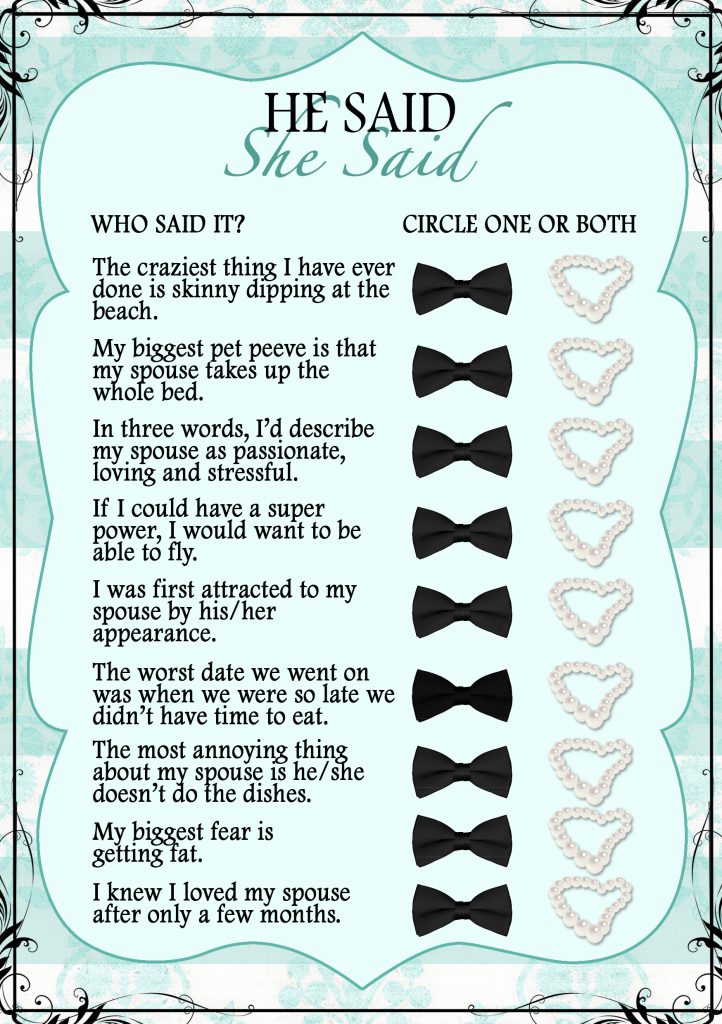 Compile a list of questions beforehand and get both the bride and groom to be, to answer them ahead of time. Then pick the best, most interesting and tricky answers and phrase them as sentences with all indication of gender removed. The guests have to guess who said what and circle either the bow tie for the Groom to be or the pearls for the Bride to be. You don't have to have a bow tie and pearls but that seemed to fit Breakfast at Tiffany's most to me. Instead you can use male and female silhouettes, heels and loafers or a moustache and a lipstick kiss.
The questions I asked the Bride and Groom to be were:
If you could have any super power what would it be?
What is the craziest thing you have ever done?
What was the worst date you and your spouse went on?
If you could describe your spouse in three words what would they be?
What was the first thing you noticed about your spouse?
What is your pet peeve about your spouse?
If you could live anywhere in the world where would you live?
What is one thing your future spouse has taught you?
What was your first impression of your future spouse?
When did you know you loved you future spouse?
What are you most afraid of?
These are just a few of the many questions you can ask them so be creative!
Movie Love Quotes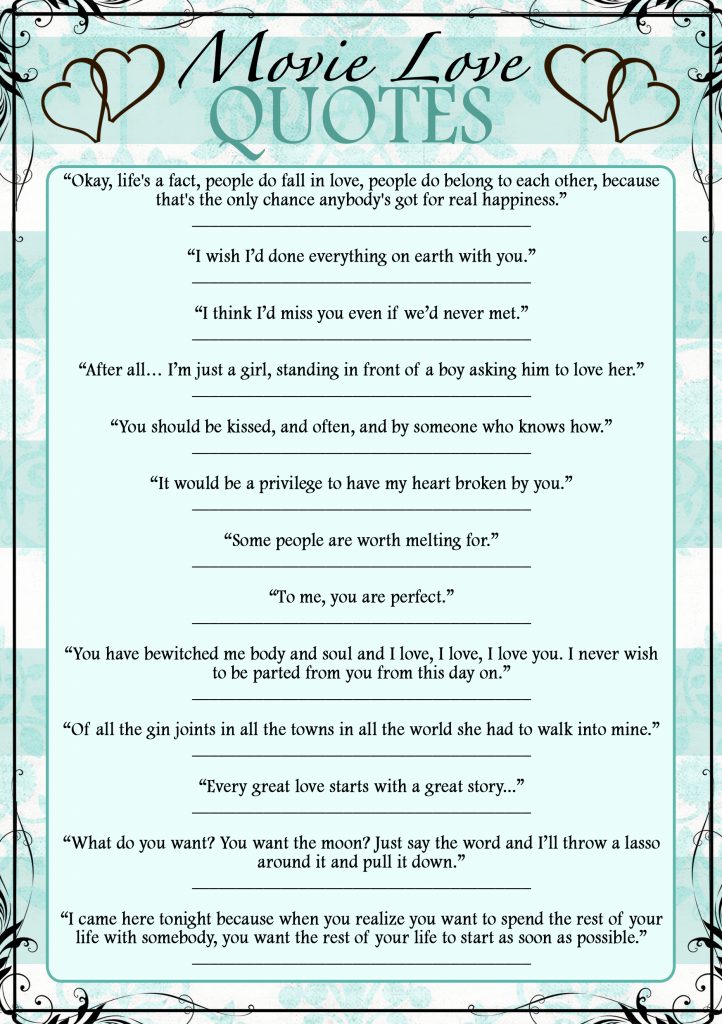 This is another easy and simple game to organise and play at a Bridal Shower. Compile a list of romantic movie quotes (or just use mine) and guests have to figure out which movie the quote is from. Including a mix of old and new movies is a good idea, especially if you have a range of ages. Putting in some really well known quotes is a good idea too so everyone can get at least a few right. It is also a really nice idea to include a quote that one of the couple has said to the other if you can find out one (I couldn't). It's then kind of a trick question but makes the game more personalised and really sweet.
The Answers:
Breakfast at Tiffany's (had to include this one of course)
The Great Gatsy
The Wedding Date
Notting Hill
Gone With The Wind
The Fault in Our Stars
Frozen
Love, Actually
Pride and Prejudice
Casablanca
The Notebook
It's a Wonderful Life
When Harry Met Sally
Everyone who wins a game can either get a prize or you can shout them a drink. Prizes can be anything but I had a lovely smelling candle, a small bottle of perfume, a fake pearl necklace and a big pair of sunglasses to keep within the Breakfast at Tiffany's experience.
I've included the printables to create these game cards in JPG form but if you want an editable version (PSD) contact me and I'll send them to you. Some you can get away without editing but the He Said She Said needs to be personalised. I hope these help you plan an amazingly fun Bridal Shower.
Happing Henning x