The Capsule Wardrobe is everywhere nowadays and I just had to try it out for myself! It's meant to be all about simplicity, filling your closet with clothes you actually love rather than just tolerate and taking out some of the decisions in your life. It all sounds good but I really like it for the re-mixable factor of the clothes. I think that if I threw out all the clothes that weren't in my capsule I would get incredibly bored after a while. I think capsules work for some but not necessarily for all. To me they are just a way to rethink and get really creative with outfit combinations, learn to select (and buy) clothes that are re-mixable and increase the wearable potential in my wardrobe.
Every piece you choose for your capsule wardrobe is suppose to go with every single other piece. I am very much into patterns though, so a couple of mine do not go. Therefore I have slightly less combinations than if you stick with plain items. I did increase those combinations though, when I choose a dress that could also be worn as a top. My wardrobe needs to be mostly work outfits with a few slightly more casual combinations for the weekends but if you need a different overall style feel free to change it up.
I choose white and beige as my neutral colours. I thought they felt more summery than black and accented them with light pink and navy blue pieces. Although now looking back I think I should probably have diversified my colours a little more. I used a lot of new pieces I have recently bought from Romwe. It is my favourite new website. I was psyched to see how many combinations I could come up with, with the floral blazer. It may not have been the wisest decision to include it. It definitely only goes with certain things but I love it so much. I couldn't resist.
I started my capsule wardrobe mission by reading this blog from Inside Out Style Blog, which has an excellent print out which you can fill in to help you figure out which pieces to include in your capsule wardrobe. This was so helpful to me as I had no idea where to start. This blog is a great source for all things fashion and style. I thoroughly recommend you give it a good squizz. I have spent many an hour reading through everything it has to offer.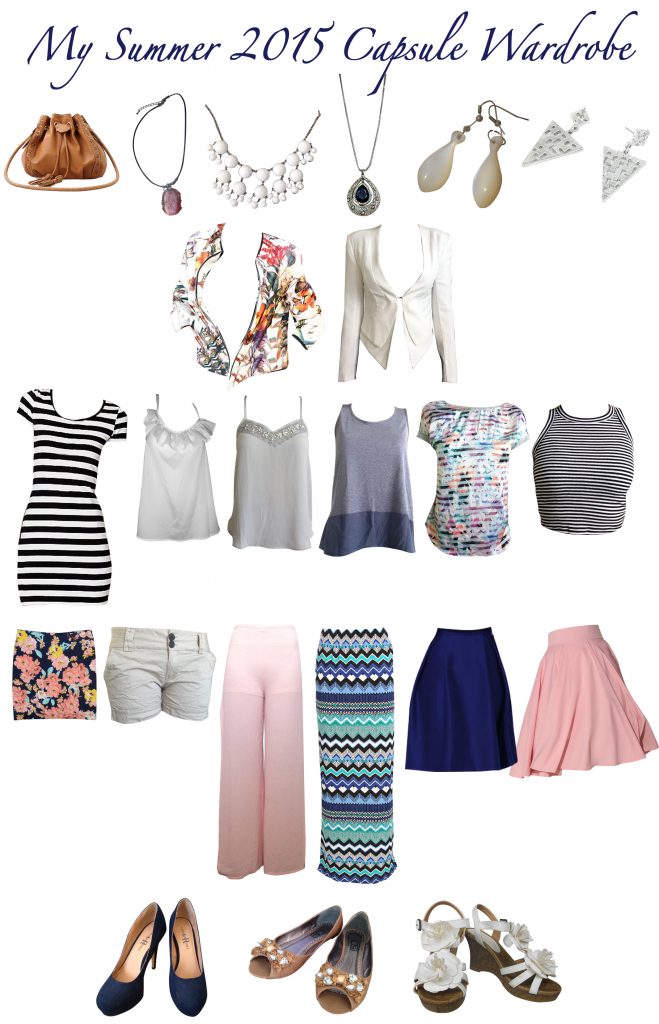 My Summer Capsule Wardrobe
Tan Handbag | Pink Necklace | White Necklace | Navy Sweater Chain | Shell Earrings | Silver Triangle Earrings
Floral Jacket | White Blazer
Striped T-Shirt Dress | White Ruffled Singlet | Silver Beaded Singlet | Blue Singlet | Floral Striped Shirt | Striped Crop Top
Floral Navy Pencil Skirt | Beige Shorts | Pink Pants | Blue Patterned Maxi Skirt | Navy Midi Skirt | Pink Midi Skirt
Navy Heels | Beige Ballet Flats | White Floral Wedges
I went really extreme for my first capsule with only 23 pieces. I ended up with 1 pair of shorts, 1 pair of pants, 4 skirts, 1 dress, 5 tops, 2 outerwears, 3 shoes, 1 handbag, 2 pairs of earrings and 3 necklaces. With only 23 pieces I came up with over 36 outfits.
Outfit Combos
You could probably get even more combinations than this with changes of shoes or jewellery but I wanted to have outfits with a certain degree of differentiality. I have only included ones with noticeable differences. I can't wait to wear some of these outfits. As I go along, I will try and share with you all how they look on.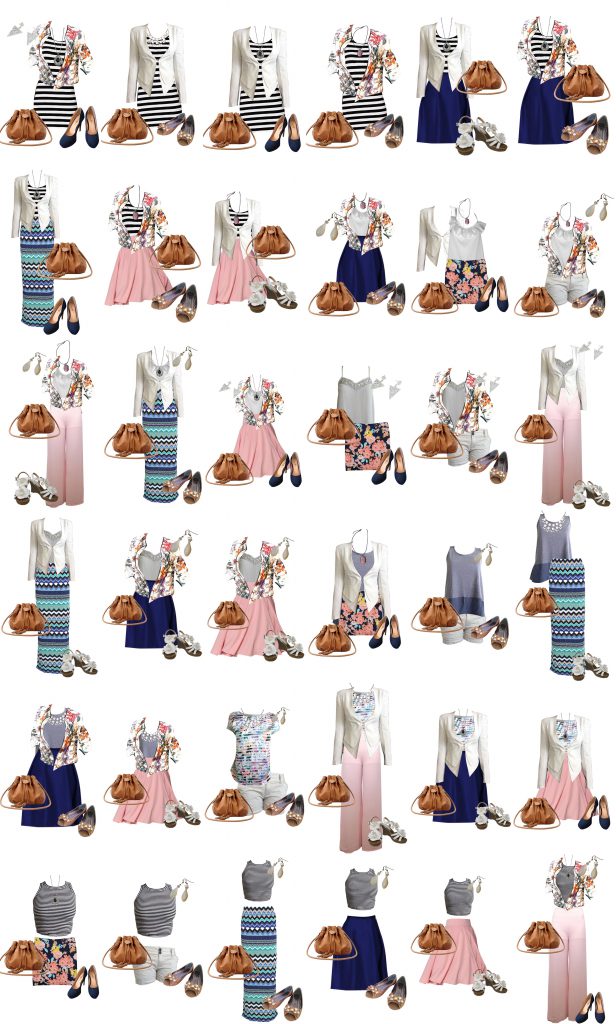 Hope you had a Merry Christmas and are inspired by my journey into the world of Capsule Wardrobes. Till next time God Bless 🙂
I have recently taken part in a thirty in thirty wardrobe challenge where I take another look at Capsule Wardrobes and actually wear only 30 pieces for 30 days. Check the post out here if you are interested.