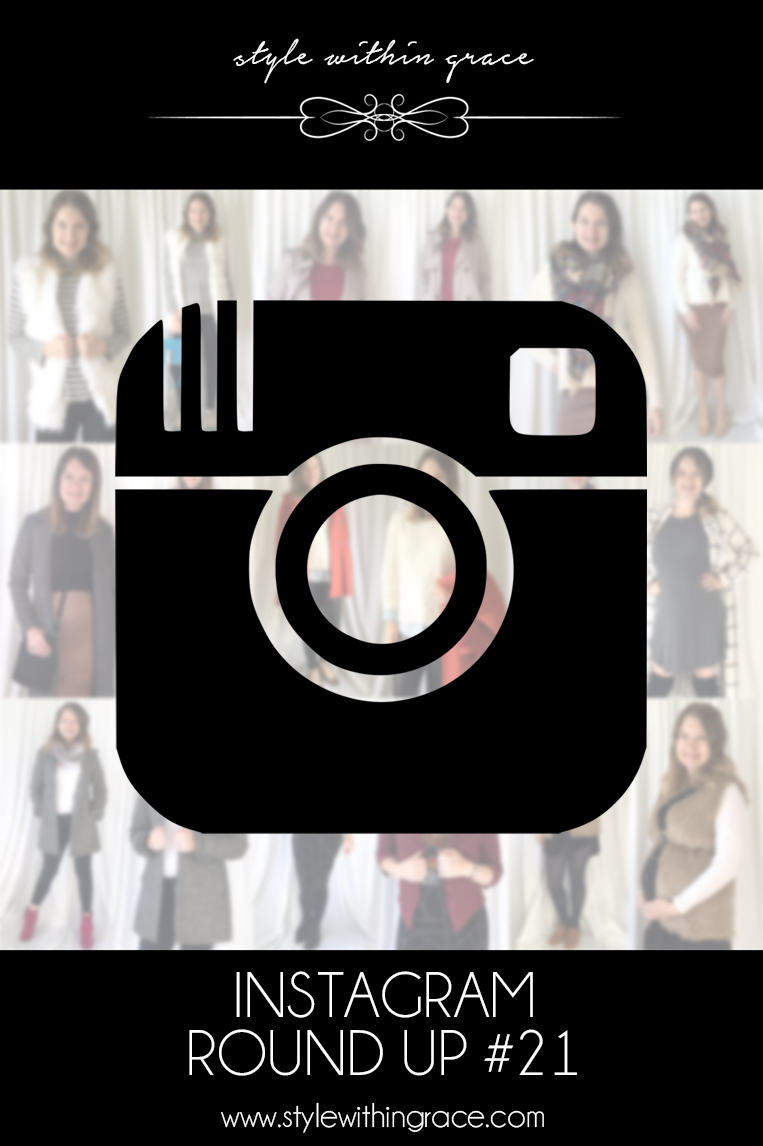 I know, I know! It's been awhile. After coming back from my amazing Eurotrip I found it hard to get back into sync with posting again. If you missed my 3 Weeks in Spring Europe Packing List you might want to head back and give that a look. It was amazing by the way. I haven't even had a chance to tell you all about it yet! Well here it comes!
Venice: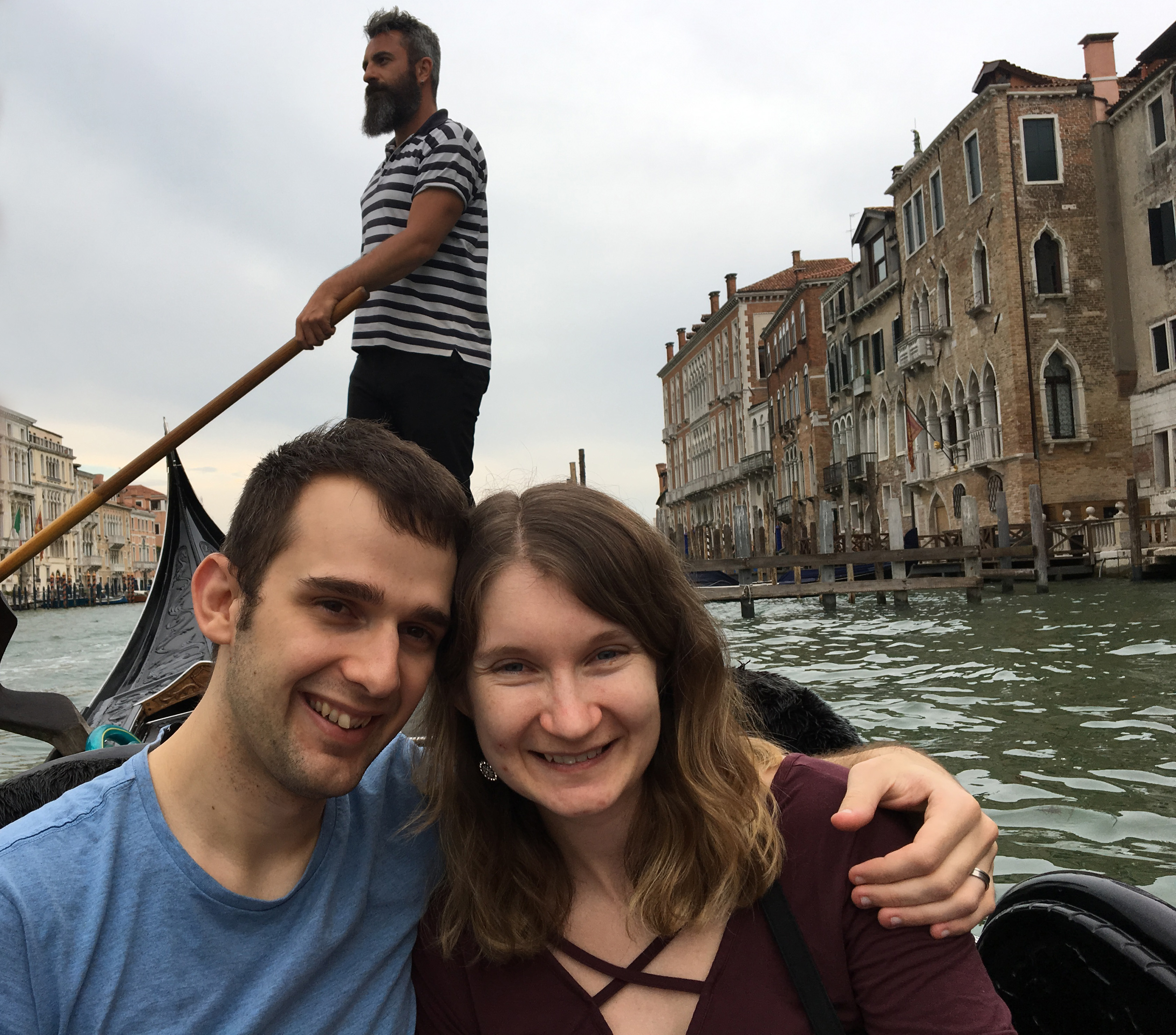 So we started by flying into Venice but before we even got there I managed to pull a muscle or something in the arch of my left foot. This left walking a very difficult activity. Yea, that bit wasn't so amazing but I soldiered on even though you can't really go anywhere in Venice without walking through the overcrowded cobblestone streets. Just my luck! So Venice wasn't exactly my favourite city… but the food there was amazing! No matter where we ate, it was delicious. It was my favourite food of the entire trip! We did the whole tourist gondola ride with serenade which was lovely.  While we were there we also did day trips to Treviso, where my husband's family are from and also up to the Dolimiti mountains. They were beautiful and it was on that trip that we tasted the best gelato ever!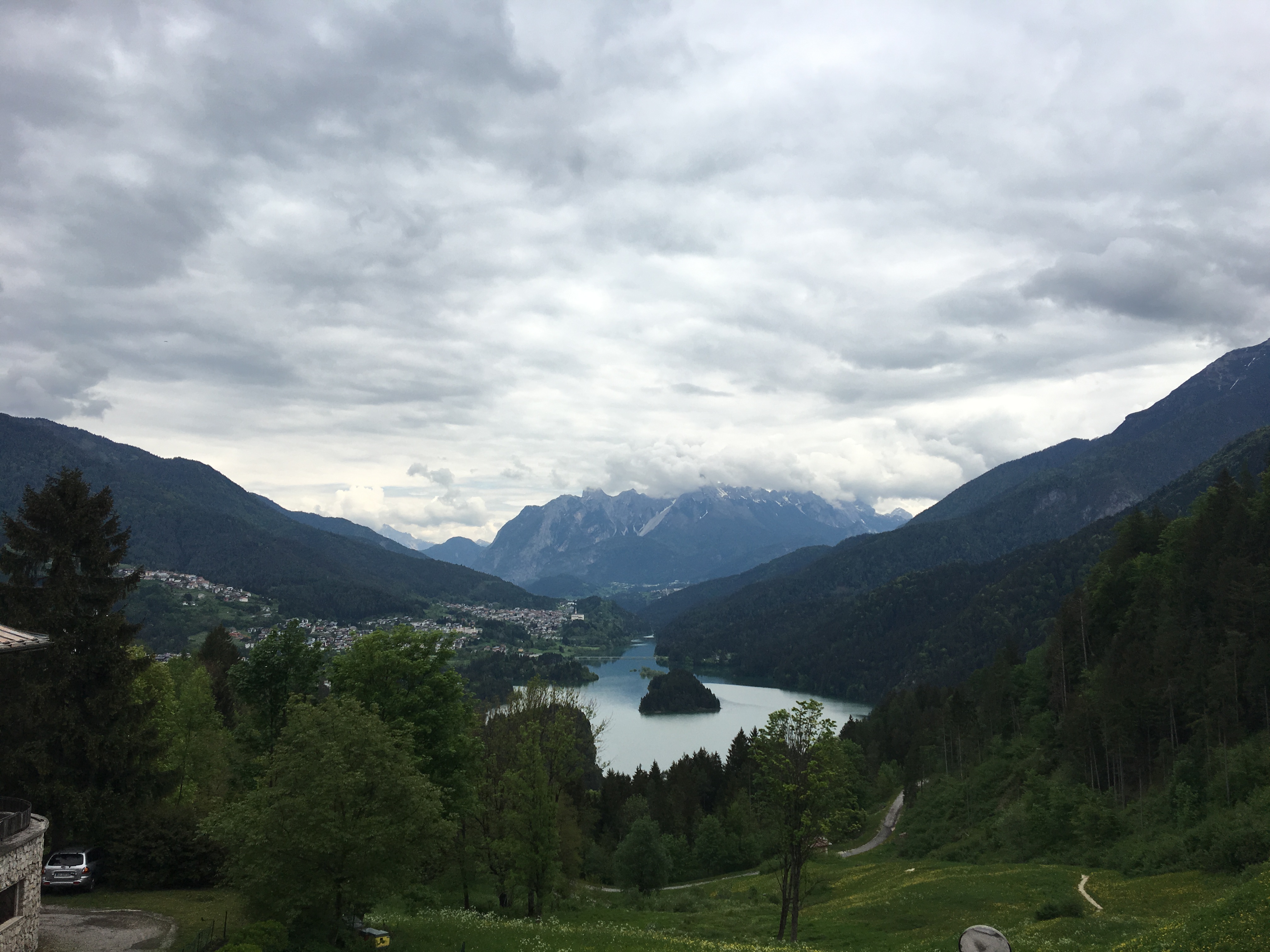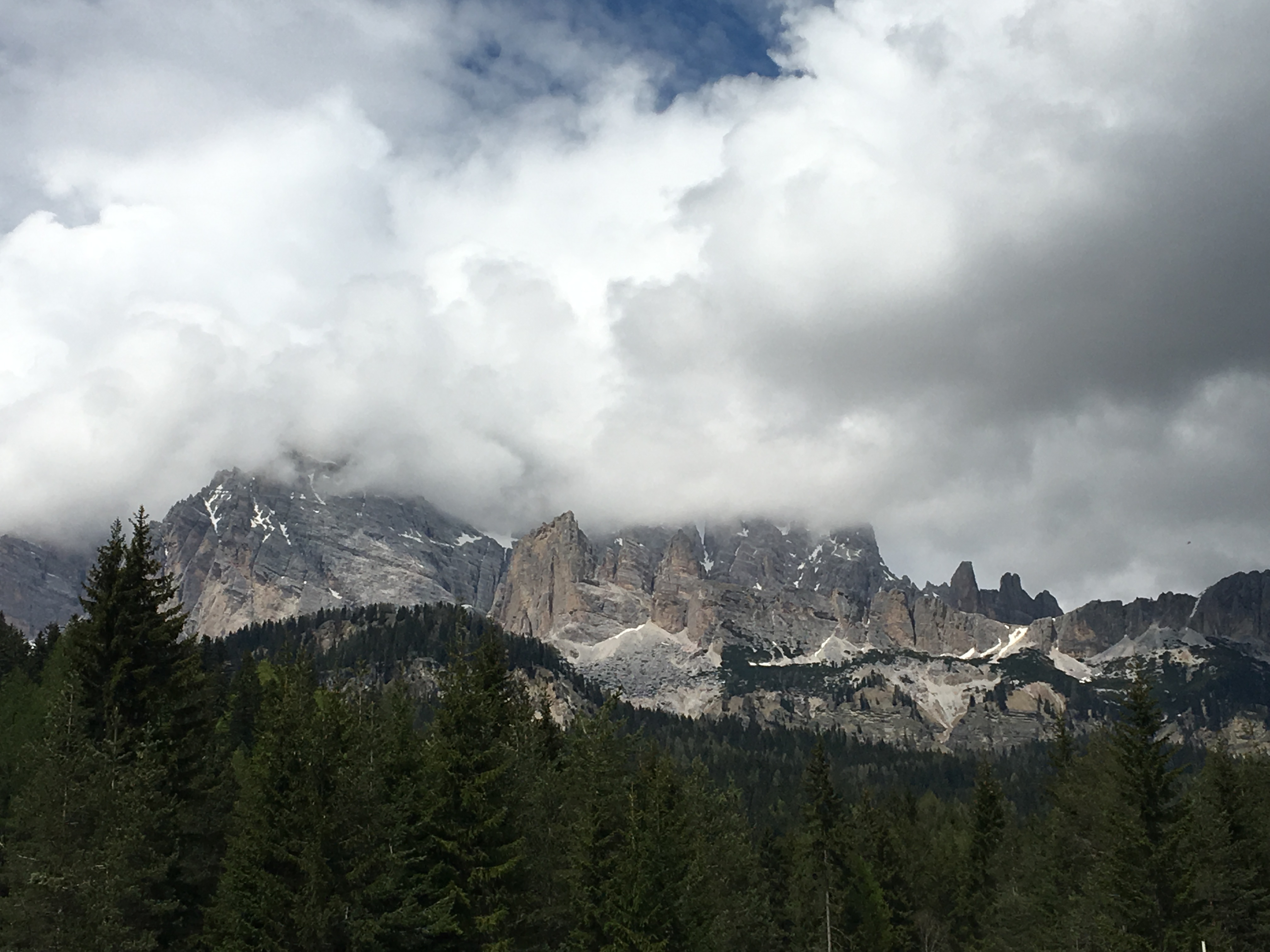 Milan:
After Venice we went by train to Milan, which was my favourite city in Italy. We visited Duomo and climbed to the top of the cathedral for some beautiful views. It had just stopped raining by the time we came out of the church so there was no one in line for the roof. All the architecture was beautiful! We looked at all the fancy shops in Piazza Duomo too but I wasn't really tempted to buy anything.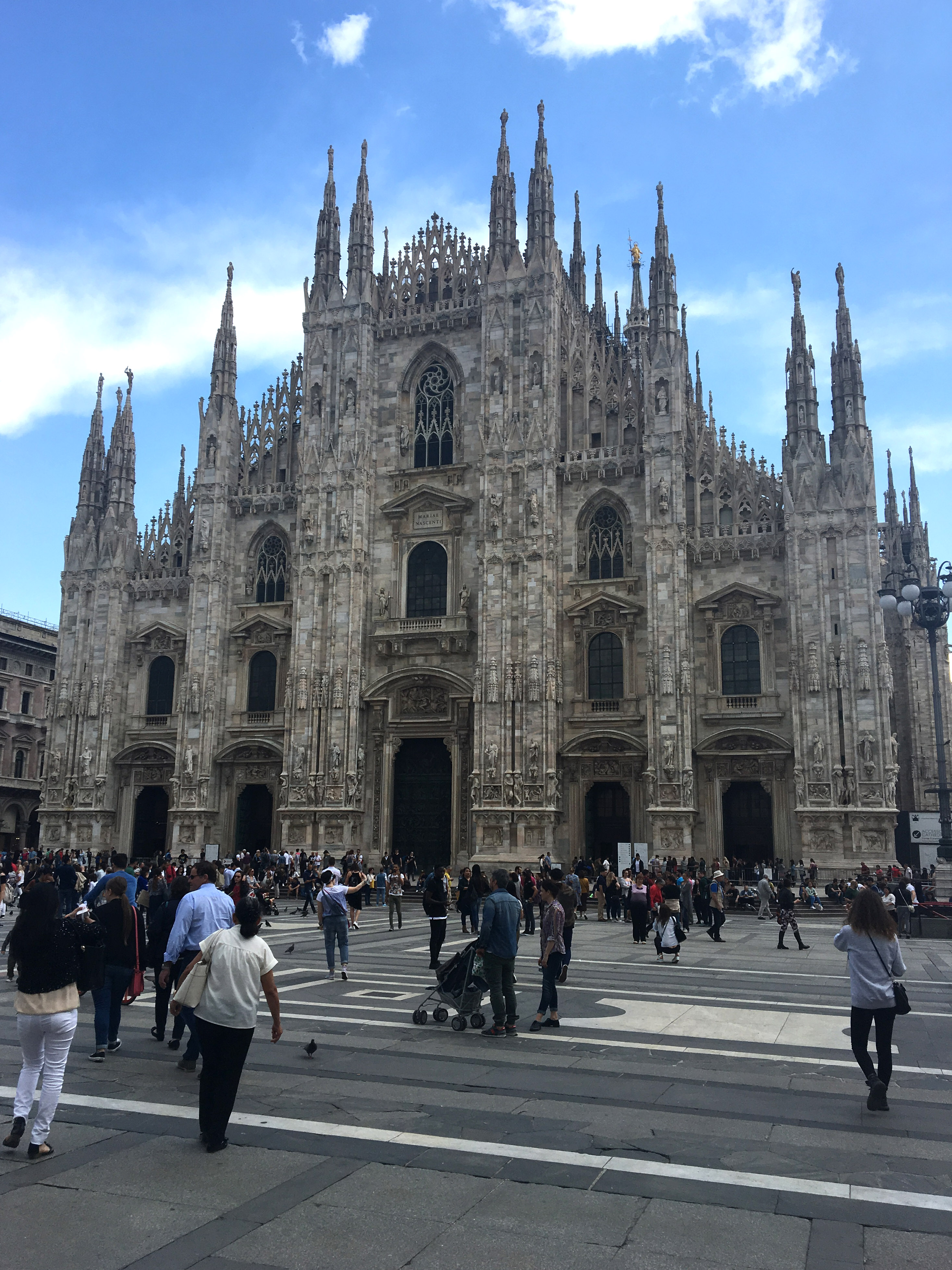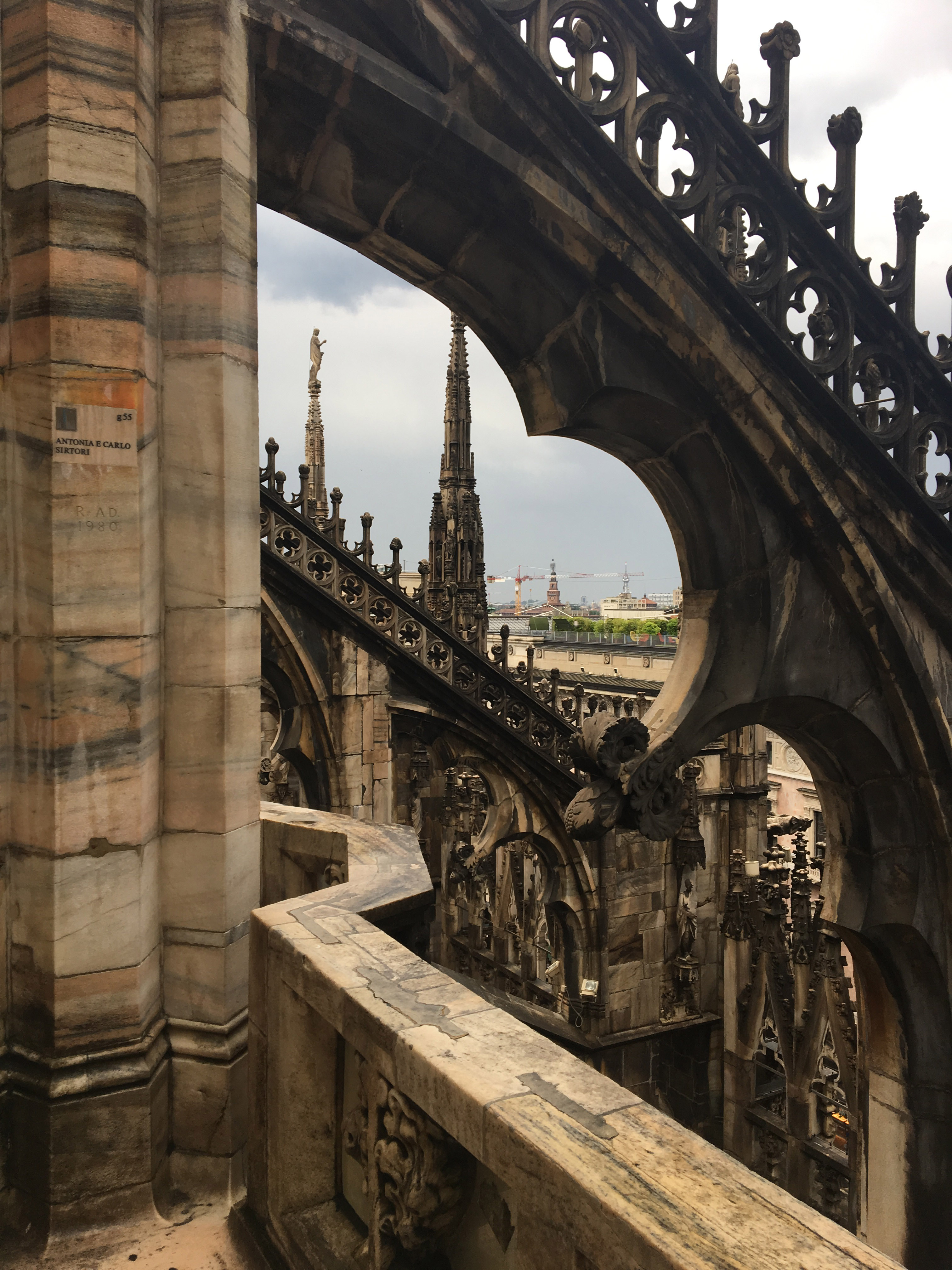 We also happened to stumble upon a gelato festival. The deal was we had to try all 16 flavours so that we could vote for our favourite to go to the world championships. There were some really unusual ones like purple corn and pineapple and one that had pasta in it. And there were so many amazing flavours to chose from like one that was made entirely out of fruit, no milk, cream, sugar or anything else added. But my favourite was actually the lavender and honey. After trying all that gelato, we discovered there really was such a thing as too much! My husband was off gelato for the rest of the trip, me I was just off it for the rest of the day. I'm resilient like that! Haha.
Genoa:
Our last stop in Italy was Genoa, just for one night. We were sadly booked into a hotel that was in a rather dodgy bit of town. Everything within walking distant wasn't really too impressive. This was also the stage of the trip that my foot acted up the most, with some serious cramping going on up my calf. Ah what fun! Suffice to say Genoa was not really a favourite but thankfully we were off again the next morning on a train to Nice. And Nice was certainly very nice! Yea cliqued I know but it was true.
Nice:
We managed to find a medical clinic for me to go to for my foot with a lovely doctor who could speak enough English that I could get the issue across. Unfortunately he basically said there was nothing serious wrong and I just had to wait until it got better and that would likely be after I got home from the trip. Bummer right! I didn't let it stop me too much though.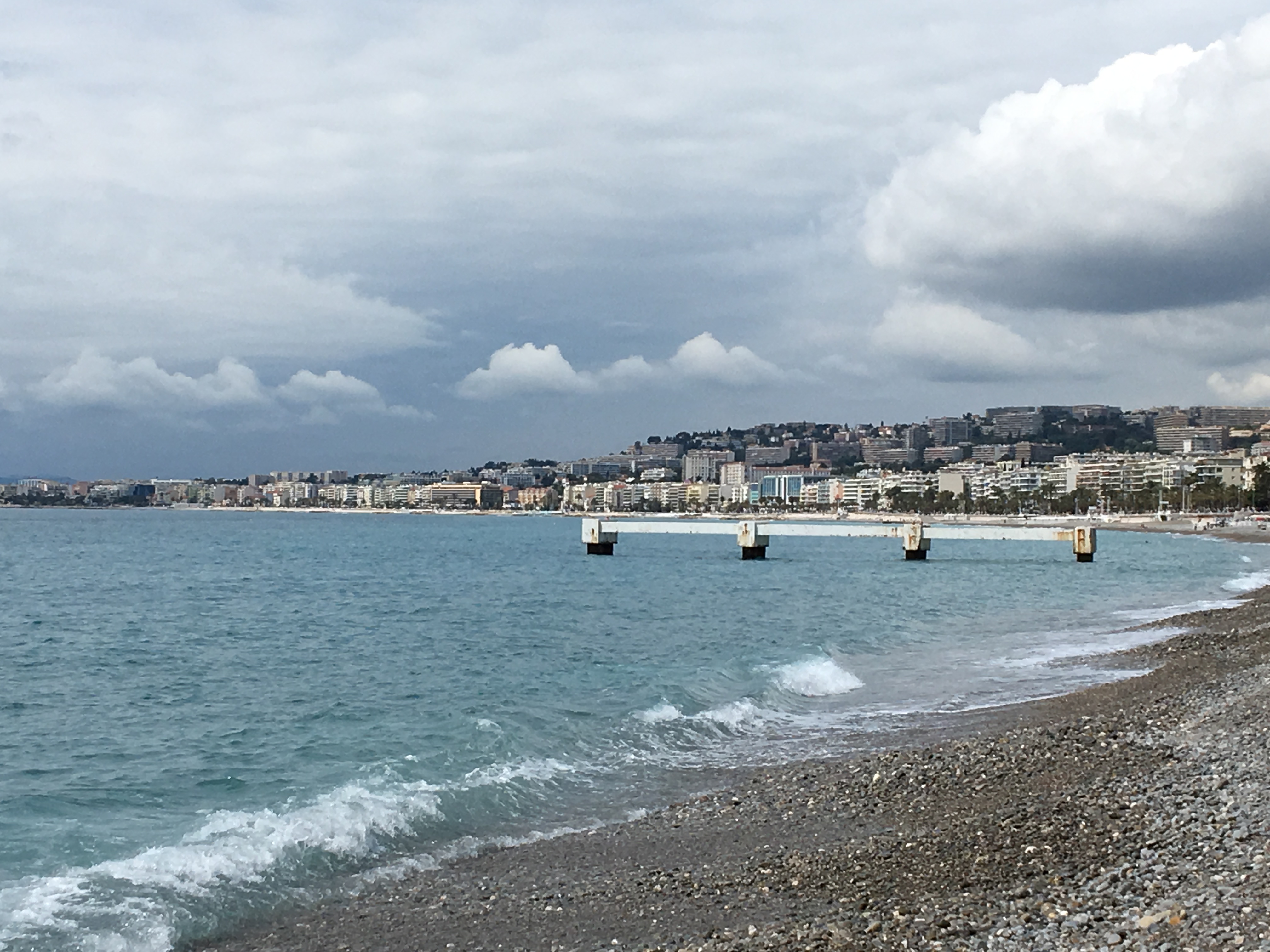 We walked down the Palais Anglais and had breakfast on the beach, saw some beautiful fountains and had a lovely time all round in Nice. We also had a tour booked in to go to Monaco for the evening. Our tour guide picked us up and drove us around the Formula 1 track that was all set up and ready to go. (The hubby was so keen on that!) She took us to the old town where the royalty lived, some beautiful spots with lovely views and of course to the Monte Carlo Casino. We had dinner at the Cafe De Paris and then we were brought safely back home again. I even managed to wear heels because we didn't do too much walking. Strangely enough I could walk normally in heels.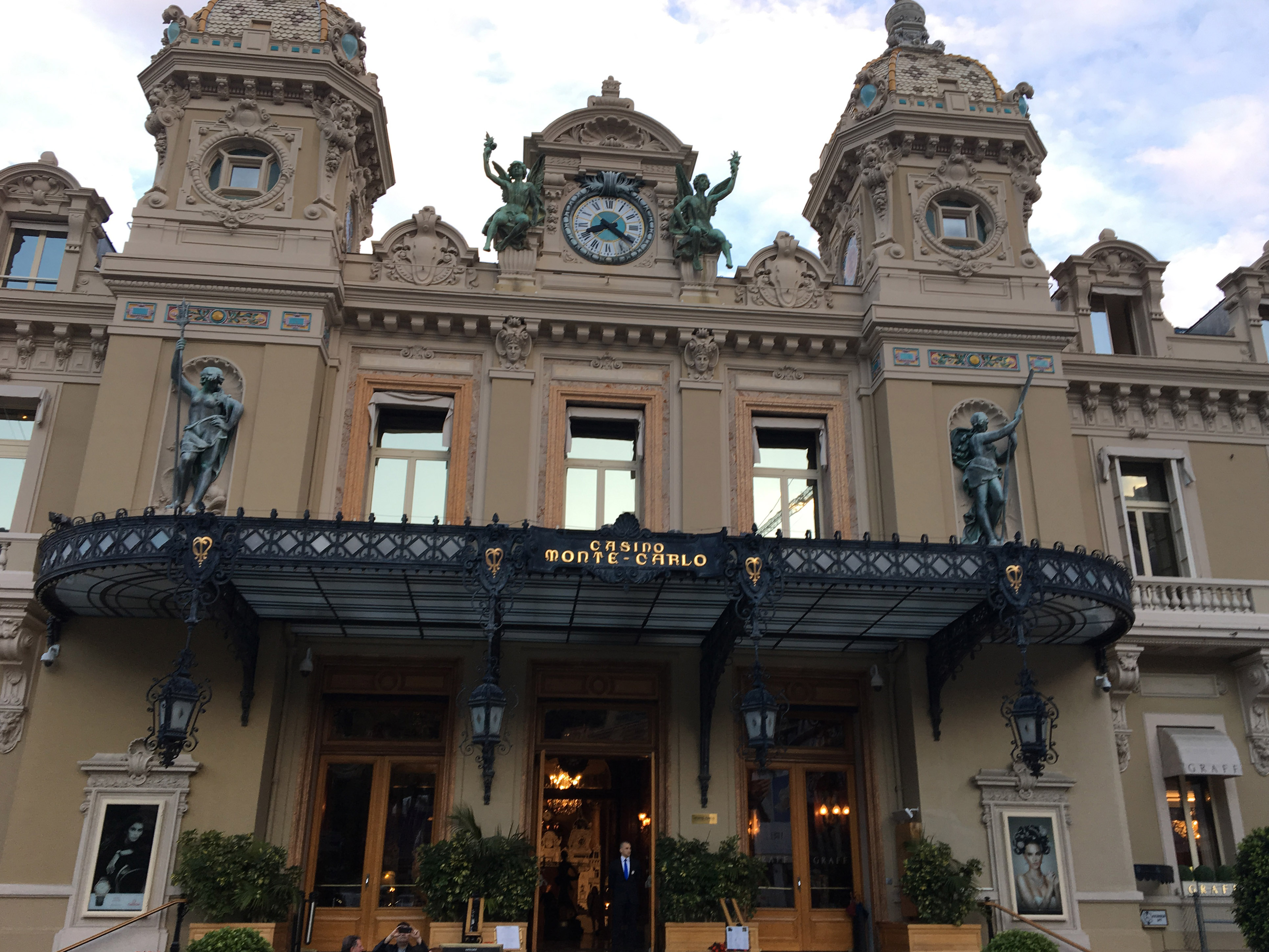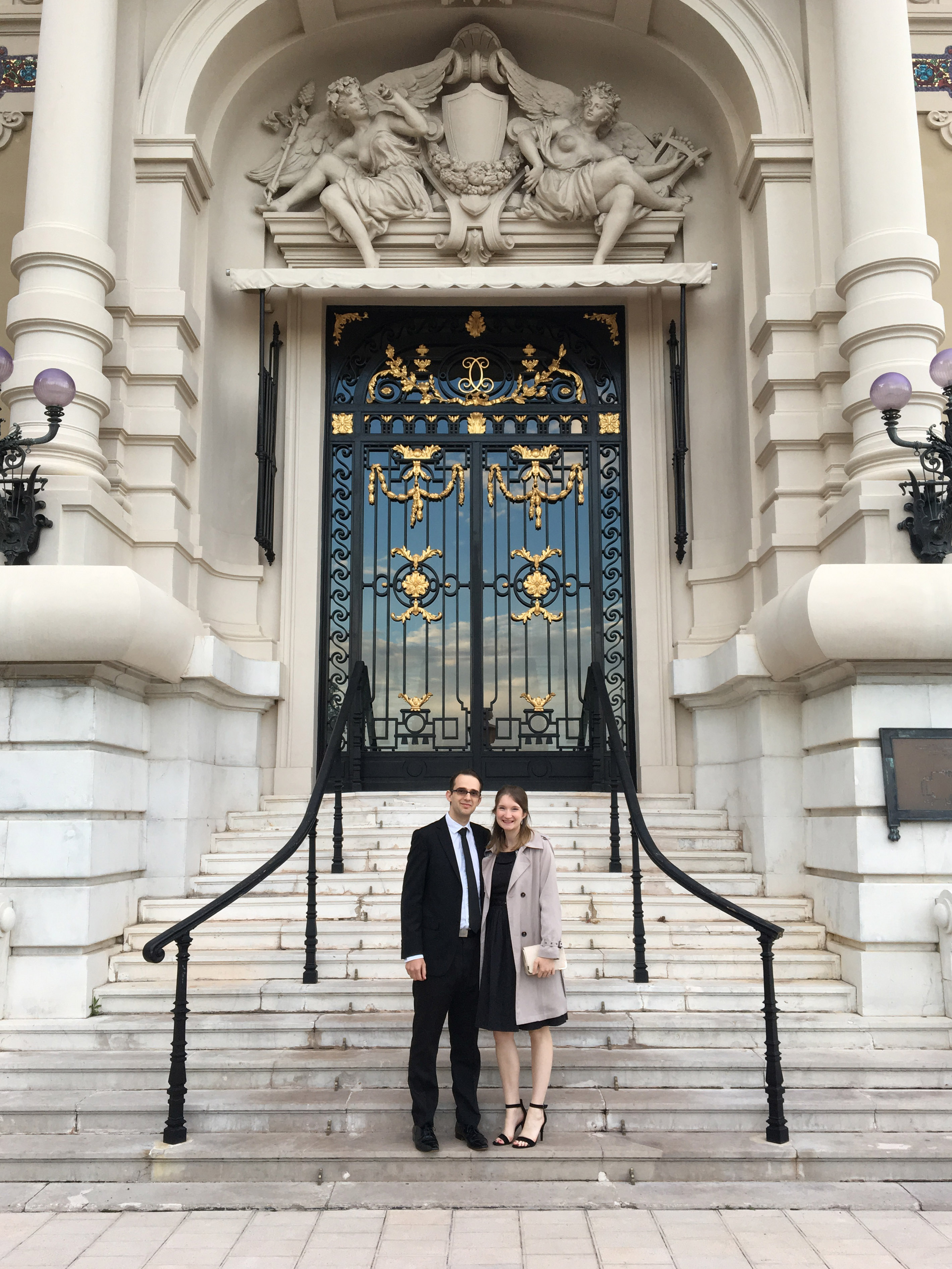 Marseilles:
From Nice we went to Marseilles where we met up with the first of my massive French family. We had lunch at a cute local patisserie and continued to try all that was on offer in France. Then we walked to Notre Dame de la Garde. Yes walked! All the way up! I was most definitely exhausted after that. I very well might have been crazy especially with my foot but there you go. It was amazing to see the 360 degree views in all directions of Marseilles.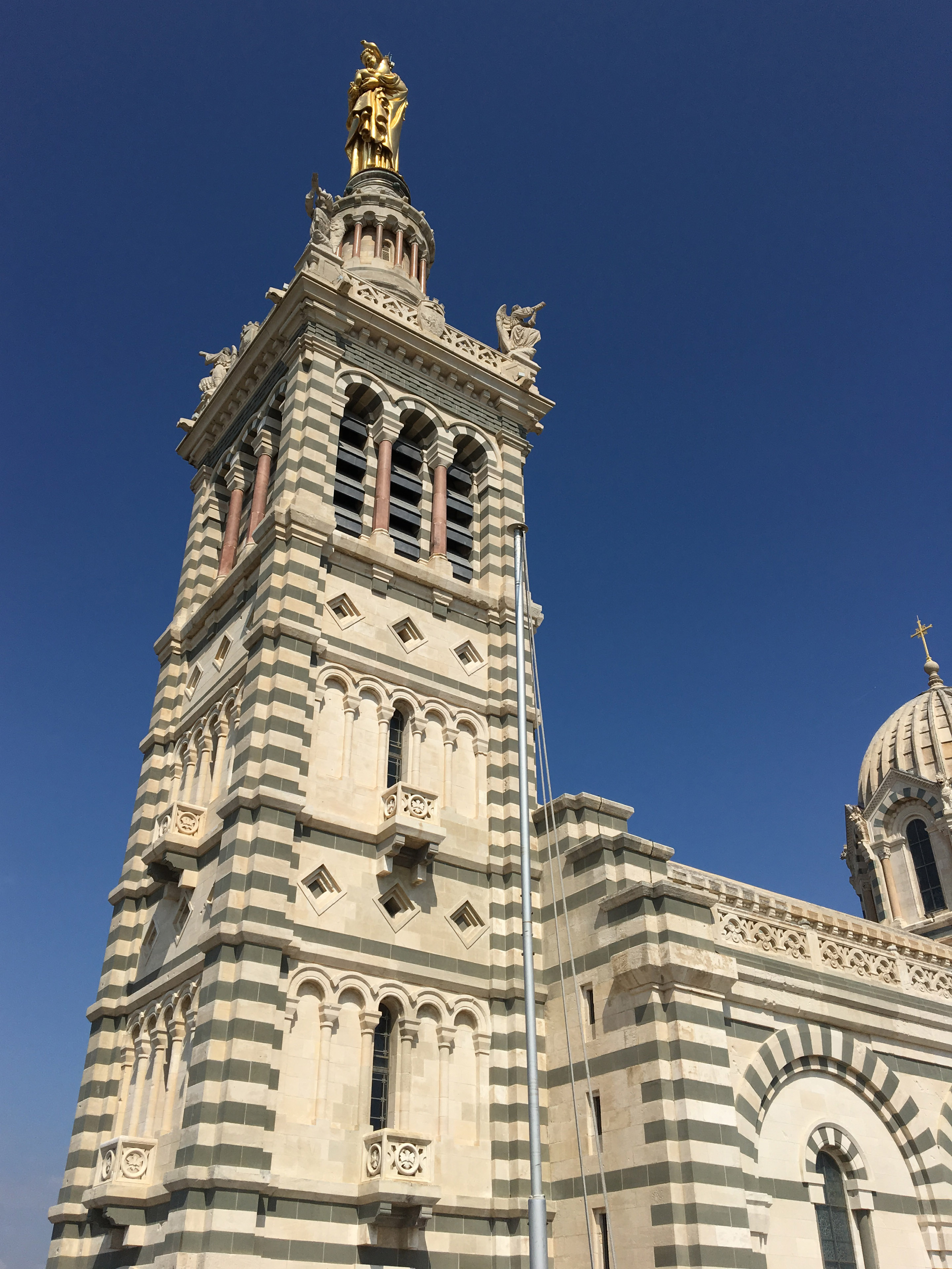 Other Random Bits of France:
The next morning we were off to a weekend countryside getaway with all my family in one big house. It was insane but a lot of fun. There were 26 of us altogether. A mini Olympic games was held, where all the older generation was paired with someone from the younger generation. Not bragging or anything but my team came second. I'm pretty happy with that.
My lovely past exchange student came and picked us up from the random country town we were in and we stayed with her for a few days in Tournon-sur-Rhône. There we went to the chocolate museum, La Cite du Chocolat Valrhona. It was incredibly interesting and not just because we got to taste test a lot of chocolate! Following that we stayed in Tullins with more family and visited the castle that we own… yes we own a castle, Domaine Saint Jean De Chepy. I've been there last time I visited but they have been doing renovations and it had changed quite a loto. The hubby was quite impressed too. Again we stayed with my family but I don't imagine that's too exciting for you guys to read about.
Paris:
Our last stop in France was Paris where we got lost in the Louvre and visited the Eiffel Tower. So we had wandered the Louvre for a few hours and just wanted to see the Mona Lisa before we left but we couldn't for the life of us find it. We were on the complete wrong side of the building. We figured instead of going all the way around we would just take the lift to the bottom floor, cross under the courtyard and then go back up the lift. So that's what we did but apparently we only crossed the mini courtyard not the main one. When we went back up the lift we were still on the wrong side of the building. Ahhhh! We ended up walking all the way around anyway. I think that was the most steps we've done in a day for the entire trip.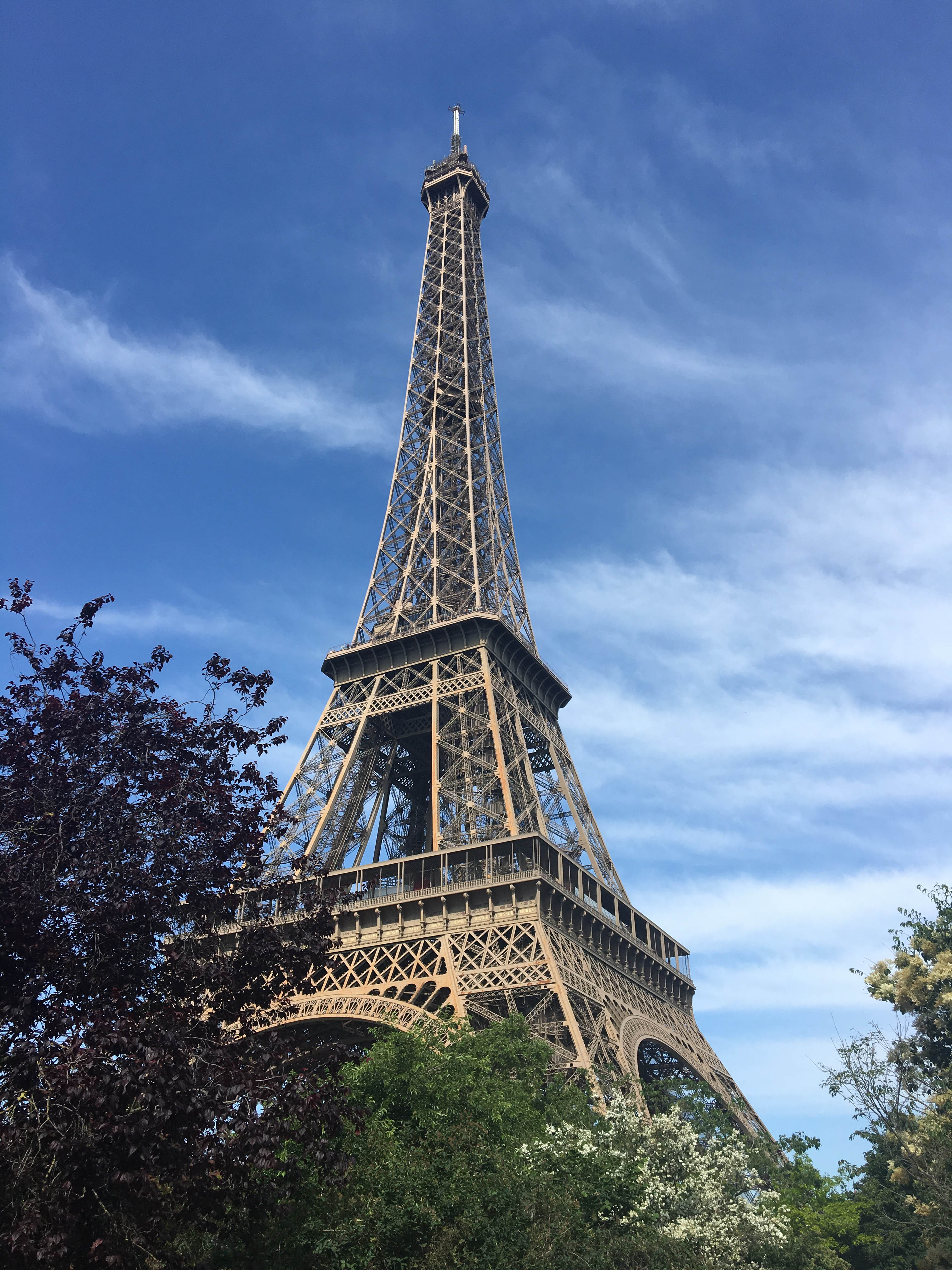 The next day we were up bright and early and were one of the first few people in line for the Eiffel Tower. We couldn't prebook tickets and we were scared we would be waiting in line for hours. Turns out we managed to be the very first lift ride up to the top. For a few pristine moments, we almost had the tower to ourselves. After we descended again, we saw the Arc De Triumph and had lunch in a little cafe just in view of it. A short but perfect stay in Paris! And thus ends our Eurotrip and now that you are up to date with all that's been going on since I last posted, I can get onto the outfits on my Instagram.
May:

This first week of outfits was the days in May leading up to our Euro trip. I brought out the white fur vest I diyed for it's first wear of the season. Matched with my black skinny jeans, while they still fitted me, a striped turtleneck top, a polka dot handbag for a nice print mix and my teal green heels. I had been thinking of saying goodbye to these heels for a while but I still had one more outfit with them that I hadn't worn and I wanted to give it a wear before I let them go. I'm glad I did. I really like how this outfit turned out.
The second outfit I came up with an outfit around these pink floral heels. I often find these hard to style but I really like this combination. The red dress is super comfy and the classic trench gives the whole lot a more classy, put together appeal. Ah cable knit and blanket scarves just scream winter to me! I then mixed in the suede texture of the skirt and this outfit was the most cosy thing ever! At this point it wasn't unbearable to wear bear legs, not that that stops me anyway.
June:

I really got into the winter coats in a big way this week, from classic long grey to statement red to my new favourite white grid pattern coat. You can really start to see my baby bump in these outfits so it was starting to become a challenge dressing for my increasing waistline. Oh if you haven't been keeping up to date with my social profiles you may not know… I'm pregnant, a little girl due in October. It's amazing news I'm so happy to share with you all so be prepared for a lot of baby bump fashion in my outfits of the day to come. I've been determined to go as long as possible without buying any maternity wear though.
My stretchy skirts were an easy choice even if they did show off the bump a great deal. Leggings were a great pant option and loose t-shirt dresses another comfortable fit! I tried to stick to flats after I got back from my trip, what with my arch problem. On top of that, I also started having back problems. My research suggested to me that staying away from the heels was probably a good idea. But I couldn't help myself with the thigh high boots and I found that it didn't make my back any worse than when I was wearing flats so I figured well why not wear heels while I still can. There will be plenty of time for flats after I've had the baby and I'm just puttering around the house half asleep.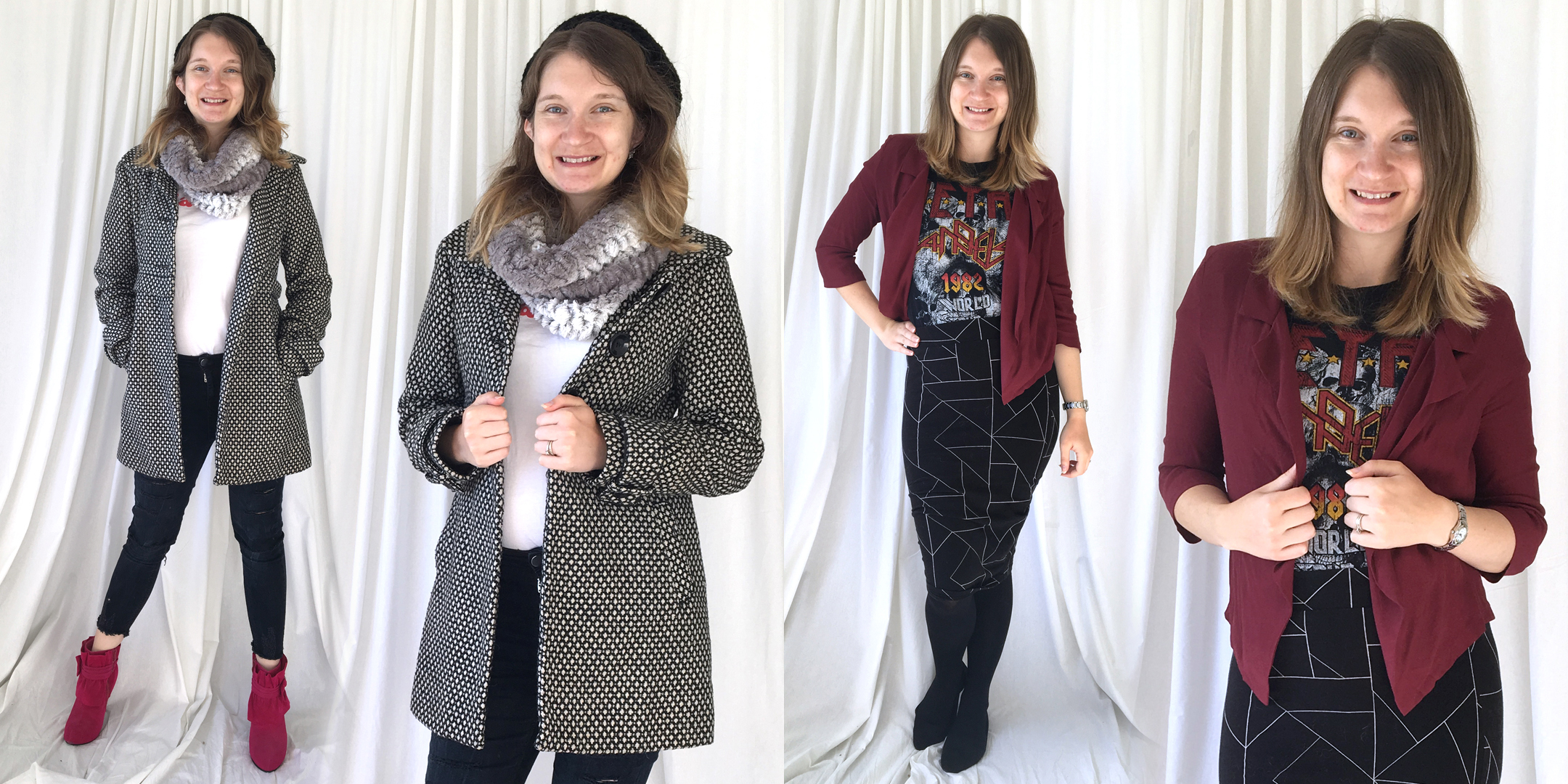 The outfit on the left here was my birthday outfit this year. It was the first time I've actually gone into work on my birthday. Normally I just take the day off. This year I kind of forgot my birthday was coming after I got back from my trip. It snuck up on me before I could plan anything about it. That's ok though. At least I got to wear my favourite magenta pink statement booties. The outfit on the right was what I call my rocker chic cross professional look. Those two things don't really sound like they go together but I really like this outfit combination! I think it works for the office. What do you think?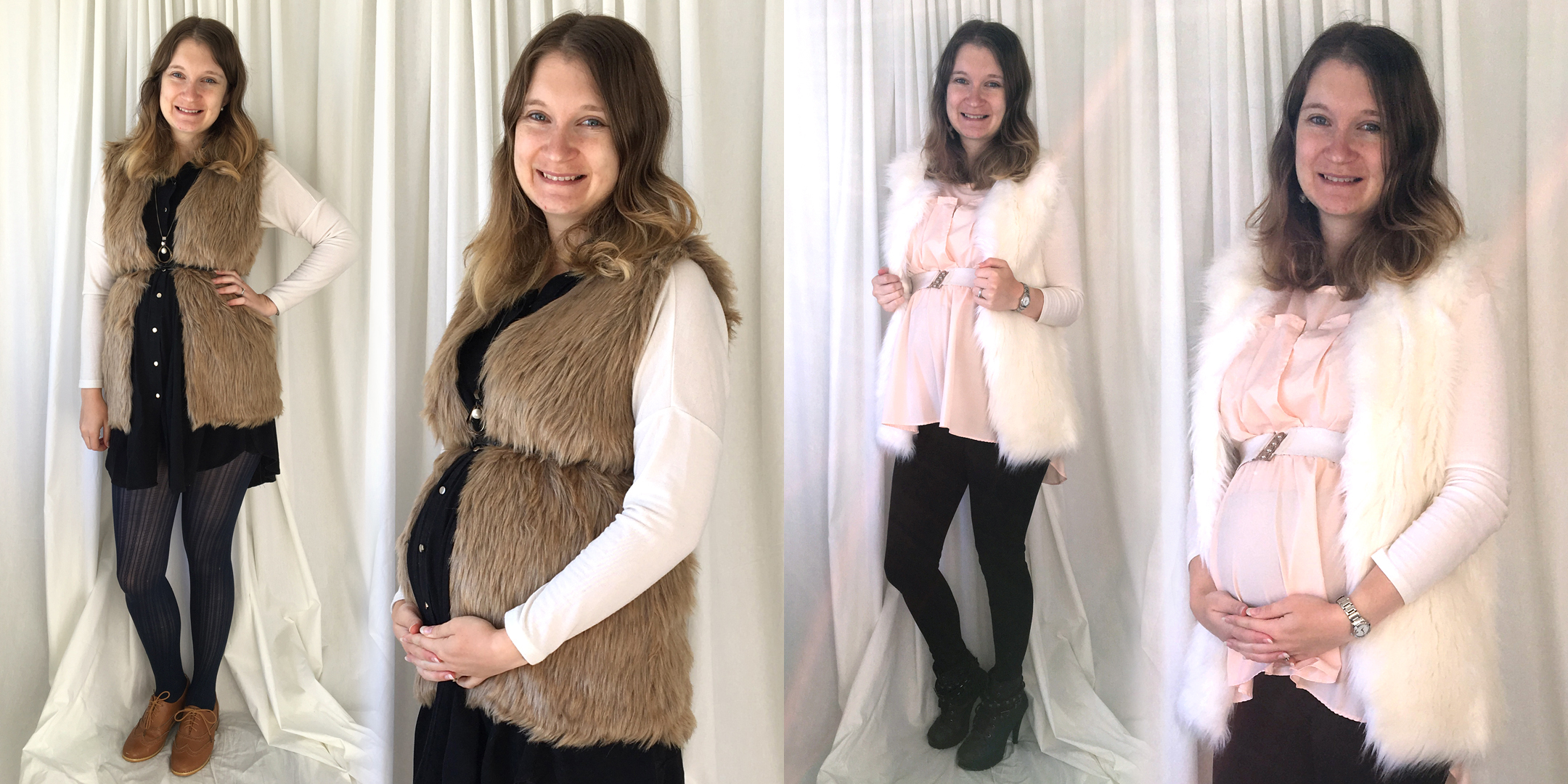 Then it turns out I entered into a big fur vest phase. I think this is the biggest jump in bump humpiness in photos. I feel like I'm looking especially pregnant in this outfit but at least I'm warm with my multi layered look! I love the versatility of a little black dress. This time I've layered a long sleeve top underneath with some cable knit stockings and a fur vest over the top belted so that I keep some shape even when that shape is very different to what I'm used to. When you are pregnant you no longer belt at your natural waist. Instead belt at the narrowest part of your body which is right underneath your bust. This little trick is a great way to stay fashionable while your shape is changing. I've done a similar thing with my pink top. This time layering a white cardigan over the top and belted that, with my fur vest to complete the look.
I really enjoyed all the layered looks this month but the whole ever increasing stomach thing is certainly a challenge. But hey I've always loved style challenges right so why not this one? Do you have any tips for maternity fashion? Share them with me in the comments below. I think in the coming months I'm going to have to start buying some actual maternity clothing. That could be another challenge again, figuring out what to get myself to last out the rest of my pregnancy. If you've been pregnant before, what were your maternity essentials? Lets have a discussion below. Until next time… Lady and the bump out!